Hwajeong: Episode 1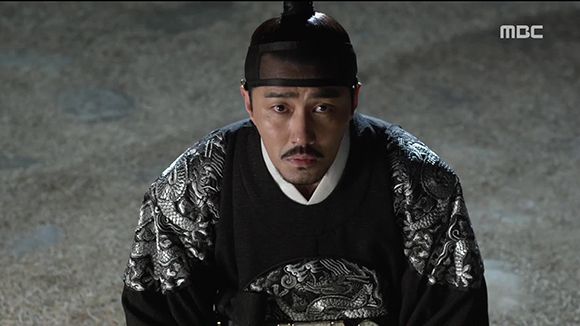 Hwajeong (or Splendid Politics, depending on your tolerance level) premiered earlier this week on MBC, and hits the ground running—no small feat considering that it comparatively has all the time in the world to tell the story of Gwanghae, the man who became king, and presumably a whole bunch of other things. My inability to sum up where the plot is headed shouldn't be considered a mark against the show in any way, only that in one episode we established the royal family we'll be focusing on along with a few key figures too wee to wield power (yet), a rough outline for the political strife to come, a taste of of the otherworldly, and practically endless possibilities for the future. All in all a solid if not densely packed first outing, not so much for the action fan as for the traditional one.
Ratings-wise: Hwajeong started off strong with 10.5% and 11.8% for its first and second episodes, though its only real competition at this point is SBS' Heard It Through The Grapevine, which ended the week at 11.7%. Poor Blood is just one week away from being put out of its misery, and clocked in at 4.4%.
SONG OF THE DAY
LEDApple – "Sadness" [ Download ]
Audio clip: Adobe Flash Player (version 9 or above) is required to play this audio clip. Download the latest version here. You also need to have JavaScript enabled in your browser.

EPISODE 1 RECAP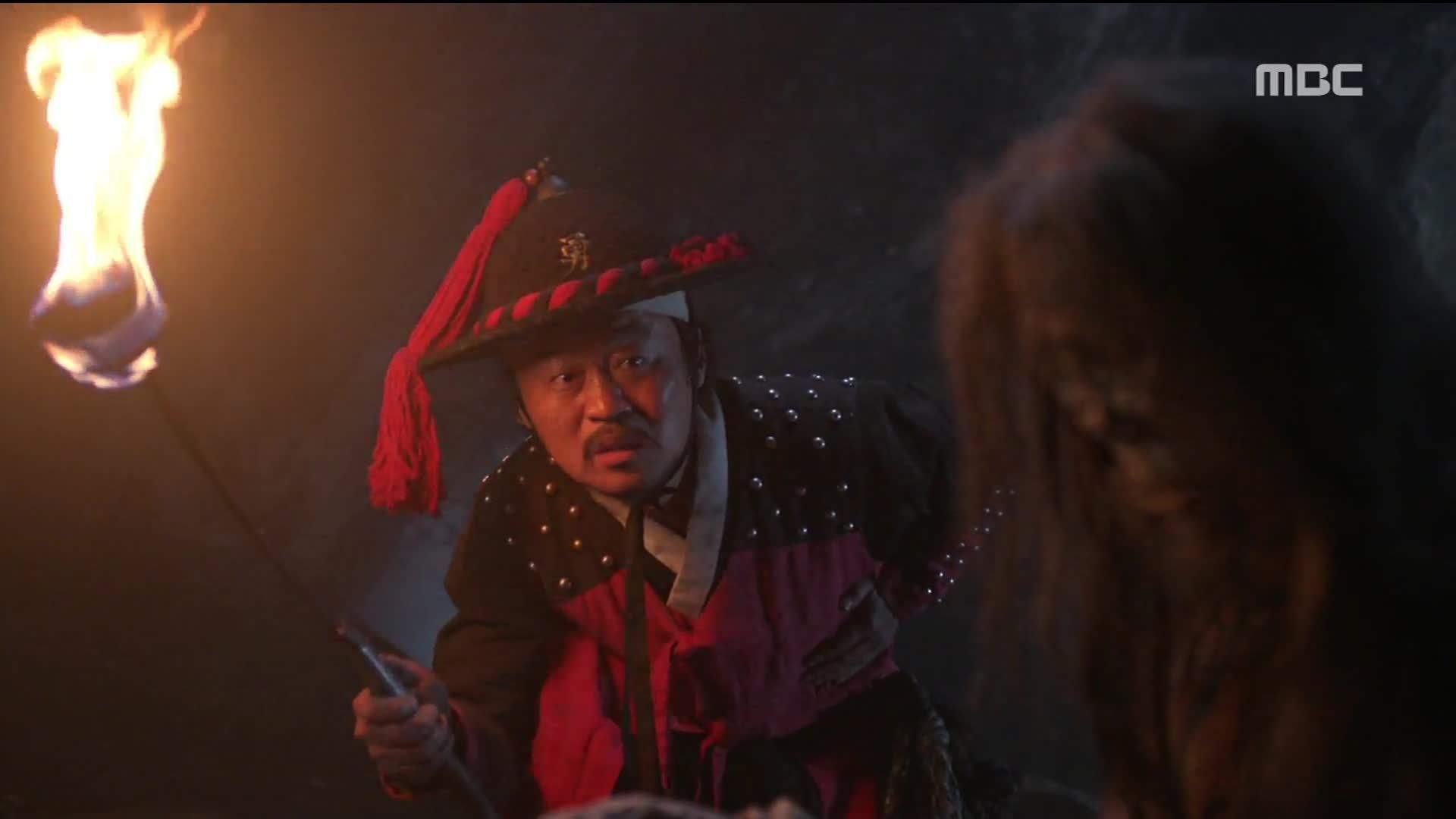 Two soldiers find themselves lost in the woods, circling back on paths they've already taken with a crude map in their hands. One of them falls into a deep pit, but finds relief when he spies a figure with long white hair sitting amongst countless sheets of paper.
Only, when he brings his torch nearer to the man's face, he sees a skull instead. The man has long since been dead.
When we next see the soldiers, they're carting the man's body in a coffin behind their horses as they near a military envoy camp straddling the border between Ming territory and Joseon.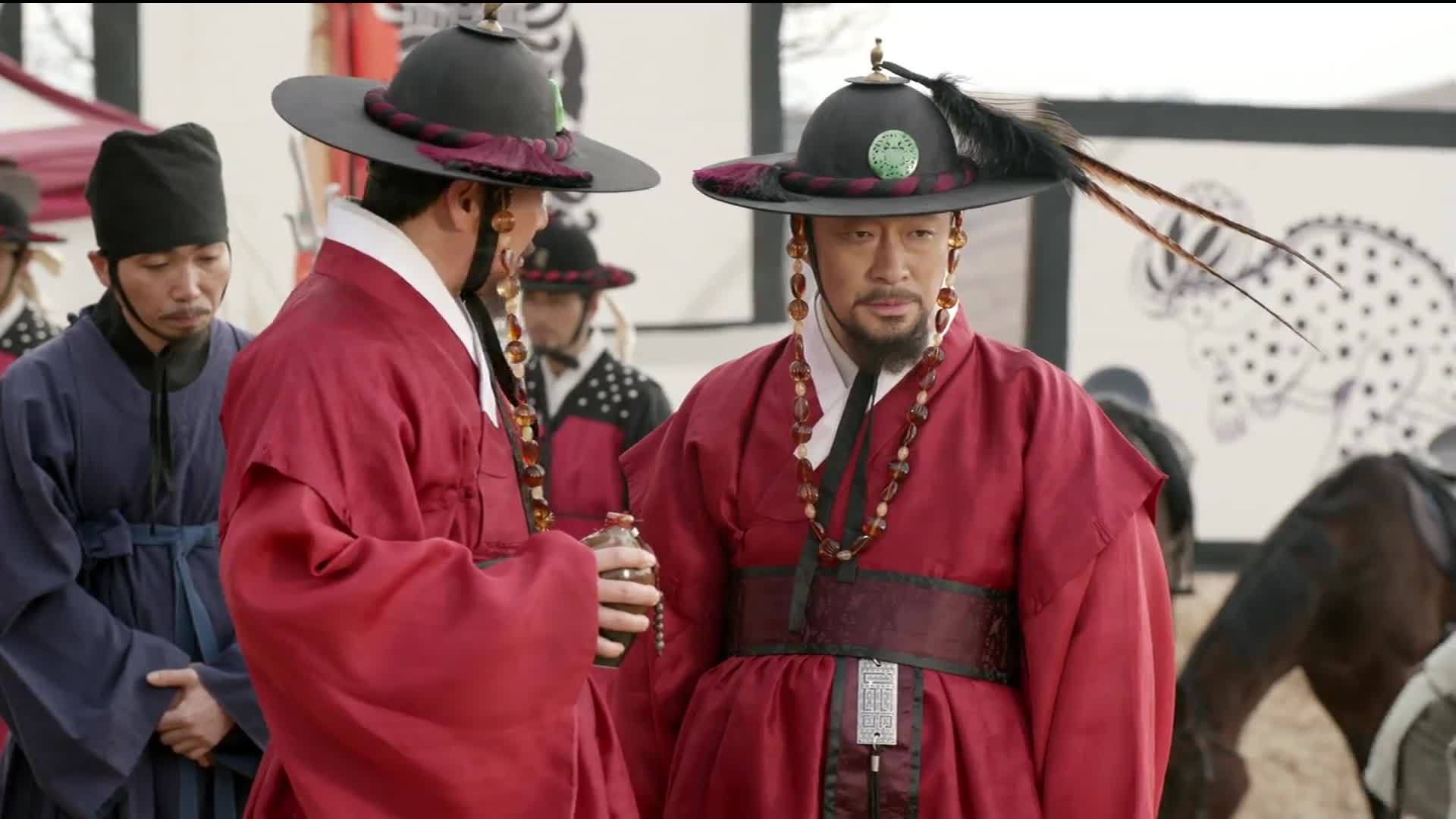 The officer overlooking the scene is LEE DEOK-HYUNG (Lee Sung-min), as the chyron tells us that it's been ten years since the Japanese invasions of Korea, which should put us in the year 1608, or what would become known as the first year of Gwanghae's reign.
Deok-hyung also goes by the name Haneum, which is what his officer buddy (also nicknamed Oseong, a possible reference to the folkloric tales of the fictional best buddies Oseong and Haneum) calls him in an attempt to cheer him up—Deok-hyung is uneasy about a message being sent from Ming to the royal court in Joseon, knowing that the response won't be a good one.
We move to Changdeok Palace as it's currently being rebuilt after the invasions, an achievement which would later be contributed to Gwanghae as one of his many positive contributions to Joseon.
It's here that we meet the man himself, PRINCE GWANGHAE (Cha Seung-won), who's not king yet. He's looking forward to having the construction done for the current king and his father, Seonjo.
But he has to abandon his inspection of the palace when a eunuch informs him that envoys from Ming have arrived, bearing news that will undoubtedly ruin what was shaping up to be a decent day.
Though Gwanghae is indeed the son of King Seonjo, he was born of a concubine, and not the current QUEEN INMOK (Shin Eun-jung), who's currently lost track of her young and wayward daughter, Gwanghae's half-sister Princess Jeongmyeong.
Gwanghae meets with his ailing father, the aforementioned King Seonjo, who is more than dubious about his son's efforts to rebuild Changdeok Palace. He sees it as Gwanghae's way of preparing the palace for when he will reign, though his son tries to gently affirm that he has it all wrong.
To prove his point and to try and put his supposedly covetous son down, Seonjo tosses him the message from Ming, stating that they've again denounced Gwanghae's legitimacy as Crown Prince because he was born of a concubine. So his chances of ever seeing the throne are zero.
Gwanghae looks distressed and heartbroken at his father's harsh words, even more so when the little Princess Jeongmyeong bursts in unannounced to hop into her father's lap.
She's too excited to notice the tension hanging in the air as she reminds her father that it's the Great Full Moon Day (the first full moon of the year), and that she wants to partake in a common custom called deowi palgi, which is to "sell" her struggles with the summer heat beforehand and place those struggles on someone else, in this case her father.
It's cute coming from her, but Seonjo's hearty laughs come to an abrupt end when he locks eyes with Gwanghae: "Do you see this? If not for this child, what could make me laugh?" Now that's just hurtful.
Queen Inmok arrives to take Jeongmyeong away, scolding her once they're outside for her impudence. Gwanghae comes to her defense as her older brother, a term which causes the queen to give him a scrutinizing glance before she reminds him, however politely, that his say-so can't trump palace rules and customs.
Still, he kneels before his little half-sister to ease her mind over her mother's harsh words. He asks her to call him the more familiar orabeoni (ye olde term for oppa), when they're alone, since her mother won't allow her to use the term otherwise.
Jeongmyeong's face lights up at his reassurance, and Gwanghae affectionately pats her cheek. Aw. But before he sends her off, he calls her name and says the magic superstitious words that allow him to "sell" her his summer heat along with a laugh. The little princess pouts that her orabeoni won this round.
While some suspicious medicine gets taken by a high ranking court lady in preparation for the full moon feast that evening, the marketplace sees a game of capture the flag being played by a group of rowdy young boys.
The revelry is broken up by officers from the capital bureau and police station, but the second the officers recognize the ringleaders as sons of wealthy noblemen they switch from using coarse banmal to calling the boys "Young Master." One is HONG JOO-WON (future Seo Kang-joon), the other we'll come to know as KANG IN-WOO (future Han Joo-wan).
Police Chief HONG YOUNG (Eom Hyo-seop) finds himself drawn away from the strange case of the not-so-decomposing body found in the cave to deal with his son, Joo-won, while fellow Minister KANG JOO-SUN (Jo Sung-ha) similarly deals with his son, In-woo, after the fiasco they instigated in the market.
Chief Hong wants to lock both boys up in jail for the night to teach them a lesson, only to get schooled by his own son on what's lawful when it comes to traditions like the game they were playing—there's a lot of leeway when it comes to the Great Full Moon Day. Little In-woo joins in as well, forcing Minister Kang to look to his friend and admit good-naturedly that they've lost this one.
Once they're alone, they discuss the unrest going on within the palace. There's talk that King Seonjo plans to depose Gwanghae as crown prince and instead make his youngest son, who's barely even a toddler, successor to the crown.
There's something supernatural going on though, but we only see a glimpse of it when the scroll found with the not-decomposing dead man unfurls seemingly on its own. The would-be readers have other things to worry about, like the festival.
Watching the line of King Seonjo's many illegitimate children all lining up to pay their respects to Queen Inmok and her two legitimate children has PRINCE IMHAE, Gwanghae's older brother from the same consort, absolutely incensed.
It doesn't help that he's egged on by another illegitimate prince who reminds him of his place, which is lower than that of the queen's infant son. He's even angry on Gwanghae's behalf, since he and his family are being all but ignored.
Imhae brings these concerns to Gwanghae, wanting him to get as riled up about this injustice as he is, though Gwanghae is his usual calm, understanding self. He reminds his hyungnim that he's been enduring this same kind of treatment for sixteen years, and can stand much more.
But Imhae still tries to get through to him, affectionately calling him Hon, his given name. It's only when he mentions that their father has called a gathering of every political faction but the Greater Northerners—the faction that supports Gwanghae—that his little brother seems to listen. Their father must be planning something.
The festivities continue, as lower ranking minister LEE YI-CHUM (Jung Woong-in) swallows his jealousy over being unable to play with the other reindeer.
He watches the higher ranking ministers enjoying wine and the king's company from a hiding spot in the woods, but turns when he hears tree branches snapping behind him. It's little In-woo and Joo-won, who've come across him by accident and hide before he sees their faces.
Minister Lee pulls out what amounts to a sharpened dinner spoon as he stalks toward the two boys murderously (because you don't cast Jung Woong-in to have him not kill people), only to be stopped by commotion nearby—little Princess Jeongmyeong has escaped her maids again.
"Who are you?" asks a voice from behind the two boys. They turn to see Princess Jeongmyeong standing before them, but end up blindsided into helping when she enlists them in her quest to evade authority.
While the king turns out to be a sour sport during the drunken poet festivities (where ministers take turns composing poems under a time constraint), his daughter ends up leading both In-woo and Joo-won within earshot of the gathering.
Since King Seonjo doesn't seem to be enjoying any poems that aren't about doom and gloom, he's asked to provide a topic for future poems, and sinisterly decides that it should be to discard the "fake" and establish the "authentic," a veiled way of promoting his young son Yeongchang over Gwanghae.
As if on cue (because it is), a teapot falls from Gwanghae's table and shatters ominously. The king becomes much more transparent about what he's getting at, which makes some of the ministers very, very uncomfortable. They're talking about deposing a crown prince, after all.
The ministers know this is a test of their loyalty, so King Seonjo can see where they side on the matter of his royal successor. The nearby Princess Jeongmyeong can't help the tears that spring to her eyes as she listens to her father say such bloodthirsty things.
It just takes one of the high-ranking ministers to recite a poem supporting Seonjo for word to spread around the palace, forcing Gwanghae's supporters into an anxious frenzy about what to do next.
One suggests acting first by storming the palace and killing the young Prince Yeongchang, but Gwanghae refuses, nearly in tears. "Why would I steal what I already have?" he asks, unable or unwilling to understand.
Deok-hyung is one of Gwanghae's staunchest supporters, and meets with other ministers of stature to discuss what's to be done. He volunteers to mobilize Chief Hong and Minister Kang's influence, since they can motivate Sungkyunkwan scholars to protest.
He refuses to believe in this "bloodline purity" nonsense going around, because he knows Gwanghae has the heart of a king—and that, to him, is more important than being a legitimate heir to the throne.
The political leader of the Great Northern faction, Jung In-hong meets with the king on Gwanghae's behalf, while Gwanghae kneels in silent protest outside the throne room.
Jung argues for King Seonjo to see reason, unaware that the more he touts Gwanghae's virtues, the more Seonjo sees him as a threat. Any good word about his son sends him into a tailspin of jealous hatred, and he similarly refuses to believe that Gwanghae is the most qualified for the throne. He's not the eldest son or even a legitimate son.
But, as Jung In-hong points out, Seonjo once thought him qualified enough to appoint him to the position of crown prince. The people love Gwanghae for protecting them during the Japanese invasions (King Seonjo fled during those years and left the ruling to him), and Jung is sure he'll be the king the people have been waiting for.
I don't think he's doing a great job of reading Seonjo's expression during all this, because that's probably the worst thing he could have said about Gwanghae to defend him, since Seonjo takes it personally to mean that Gwanghae will be a better king than him. And that's exactly why he wants to depose him.
All of this Gwanghae hears, so when his father comes storming out, he desperately grabs on to the bottom of his robe and takes the blame for everything. He's being genuine too, but his attempts to assuage his father's rage go unheeded.
Gwanghae flashes back to a time in his teenage years when he'd come to his hyungnim's defense in front of his father, only for Seonjo to ask, "Who are you?" The king had so many children with so many consorts at that point that Gwanghae was just another face in the crowd.
But when Seonjo was preparing to flee during the Japanese invasions, the people had been ready to riot, and Gwanghae protected his father's honor. That led to him being installed as crown prince, though still not out of respect—Seonjo only gave him that title during the war because it was too dangerous to give to any of his favorite sons.
Even so, Gwanghae had done more than simply rise to the occasion—he fought in the battles himself to show the people that the royal court was protecting them, and eventually led Joseon to victory.
Since Seonjo so despised Gwanghae's popularity after the war, he seemed to put effort into the production of a new heir to usurp Gwanghae, which came in the form of Prince Yeongchang.
In the present, Gwanghae remembers all of his father's slights against him with clenched fists while Queen Inmok worries for her far-too-young son's future now that Seonjo has made his intentions clear. If only Princess Jeongmyeong had been born a boy, Seonjo laments, she would have been old enough to rule.
No sooner does Deok-hyung come across the ominous scroll found with the caveman's corpse that morning does Seonjo announce to his inner circle that he'll be naming Prince Yeongchang as successor to the throne.
Court Lady Kim acts as the royal taste tester for King Seonjo and his only defense against being poisoned. But she's the same court lady we saw earlier in the episode taking a pre-measured amount of an unidentified powder, and watching her give the king his drink after taking a sip herself makes one wonder… has she been dosing herself with small quantities of poison to become immune?
Deok-hyung and Chief Hong examine the caveman's corpse and the scroll found with it, which seems to foretell of the strife happening within the palace as they speak. Deok-hyung suspects that this is a deliberate ploy, because it's too convenient that such a document was found now…
…At least until he recognizes the corpse by the bracelet on its wrist as a seer. He'd been a child when he last saw the man alive, and now grasps the scroll and reads the rest of the prophecy: "'Therefore death upon death, a bloodbath will take place where everything shall fall. Yet a ray of hope shall still remain, the destined one who wields fire and possesses the purest of the bloodline will come to rule the land.'"
Just then, Princess Jeongmyeong wakes up from a terrible dream. "Fire… my younger brother was on fire!" she cries.
And in the light of nearby burning fires, two soldiers kill the guards outside Prince Yeongchang's chambers to clear the way.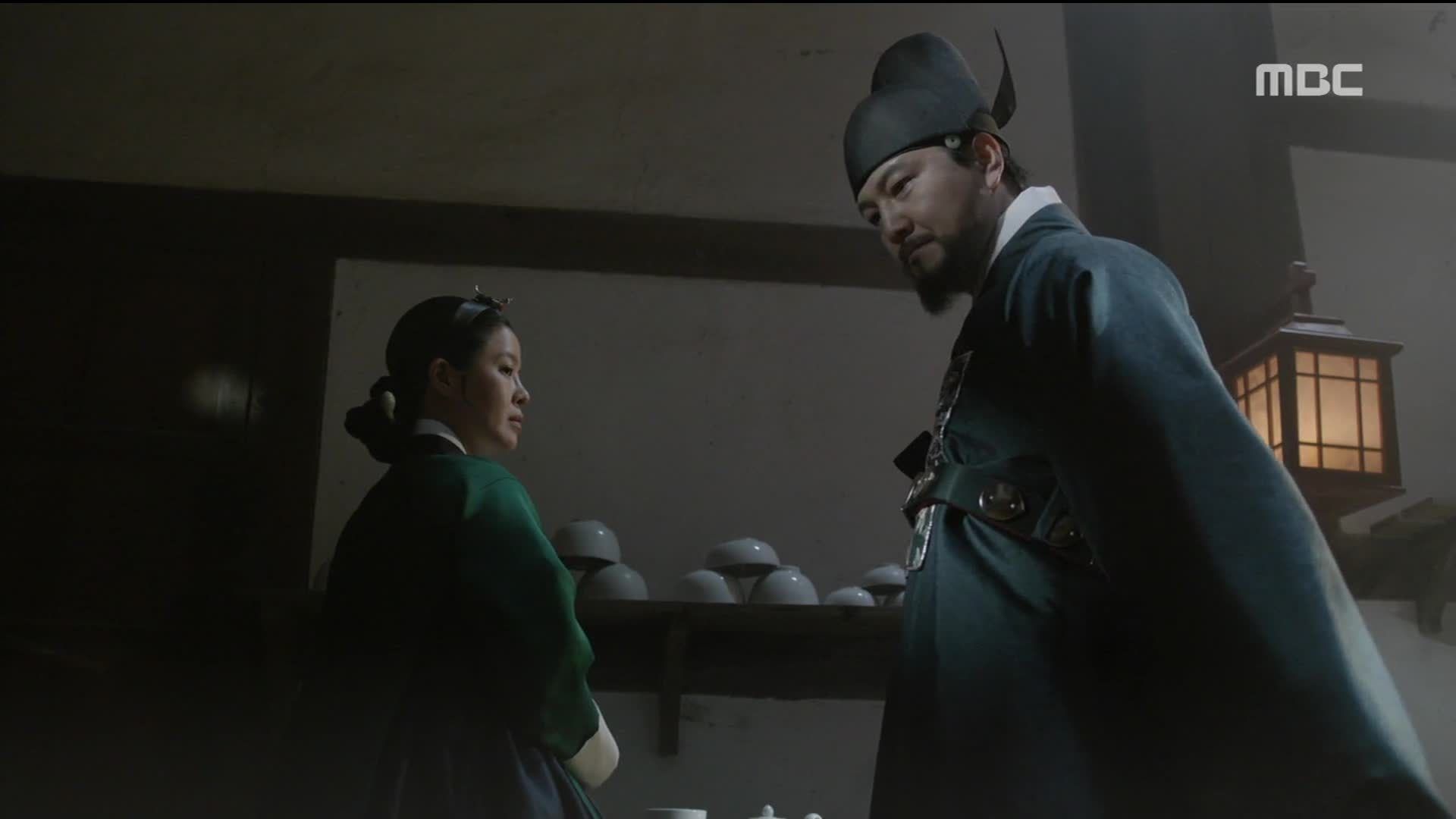 Court Lady Kim returns to the kitchen late at night to take her poison medicine, only to cough up blood before she can take the next dose. It's already having an effect on her, something which the lurking Minister Lee picks up on.
Then again, he would know best, since he's the one who asked her to dose herself. Which means he's behind the slow poisoning of King Seonjo, too.
Gwanghae comes to a moment of decision and rises from the kneeling position he's taken in front of his father's quarters and marches into the king's bedchamber unannounced.
"What would you have had me do?" Gwanghae demands of the prone form of his father, finally fed up. "Was I supposed to simply watch the royal court fall to pieces? Would that have served Your Majesty and the people?!"
He doesn't get an answer, and draws closer to his father's bed, ready to finish his justified tirade. But he draws back suddenly when he sees that Seonjo isn't sleeping, but pale and struggling to gasp for breath.
The palace is thrown into uproar as everyone mobilizes to fetch the royal doctor, leaving Gwanghae to tend to his father while they wait. He coaches his father on breathing calmly, but when his father asks for water, Gwanghae hesitates…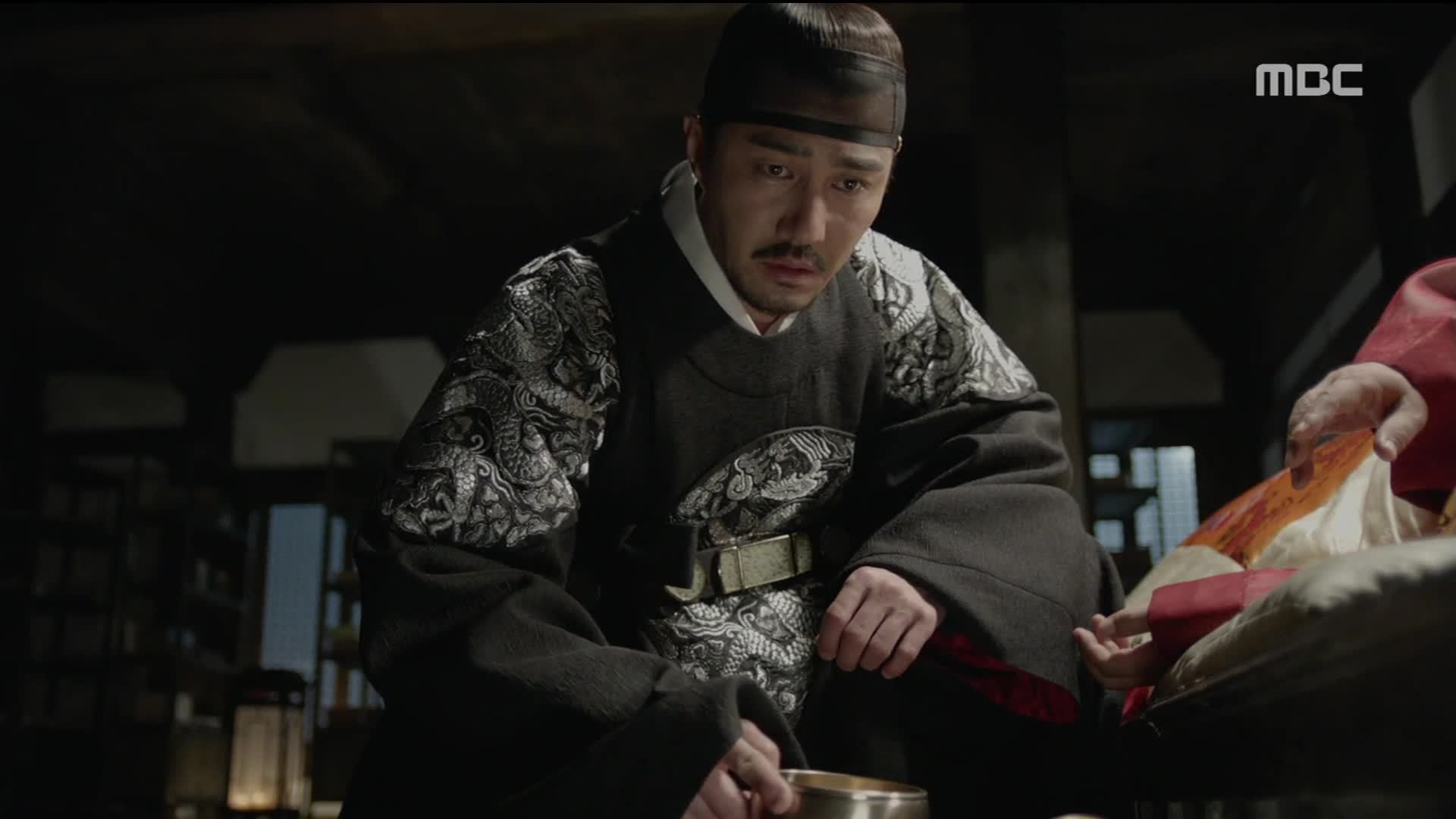 …And then decidedly doesn't give it to him. He claims that it's for medical reasons—whatever illness plaguing his father is at too late a stage to be helped, anyway. Having spent his entire life caring for Seonjo, he knows already that this is the end and even dares to suggest that he just accept his impending death.
Seonjo coughs up blood between the choked curses he directs at his son, but he can't muster up the strength to do little more than writhe and gasp.
Gwanghae looks outwardly calm, though his words bely the rage he's been containing until now: "Why did you hate me so? There hasn't been a day where I didn't try my hardest to get on your good side, but you never acknowledged my sincerity. Not even once. To Your Majesty, I was not your child. I was only your political enemy."
The king manages to reach the water bowl, only to be stopped when Gwanghae grabs his hand and searches his eyes. He knows exactly what he's doing.
Just like he knows that his father never liked him because he was different from him, even though he adds that it's because he's not incompetent like him.
"Yes, I am different," Gwanghae adds, his tone growing more purposeful with every syllable. "I won't be a king like you. Now I am the king of this country, Father."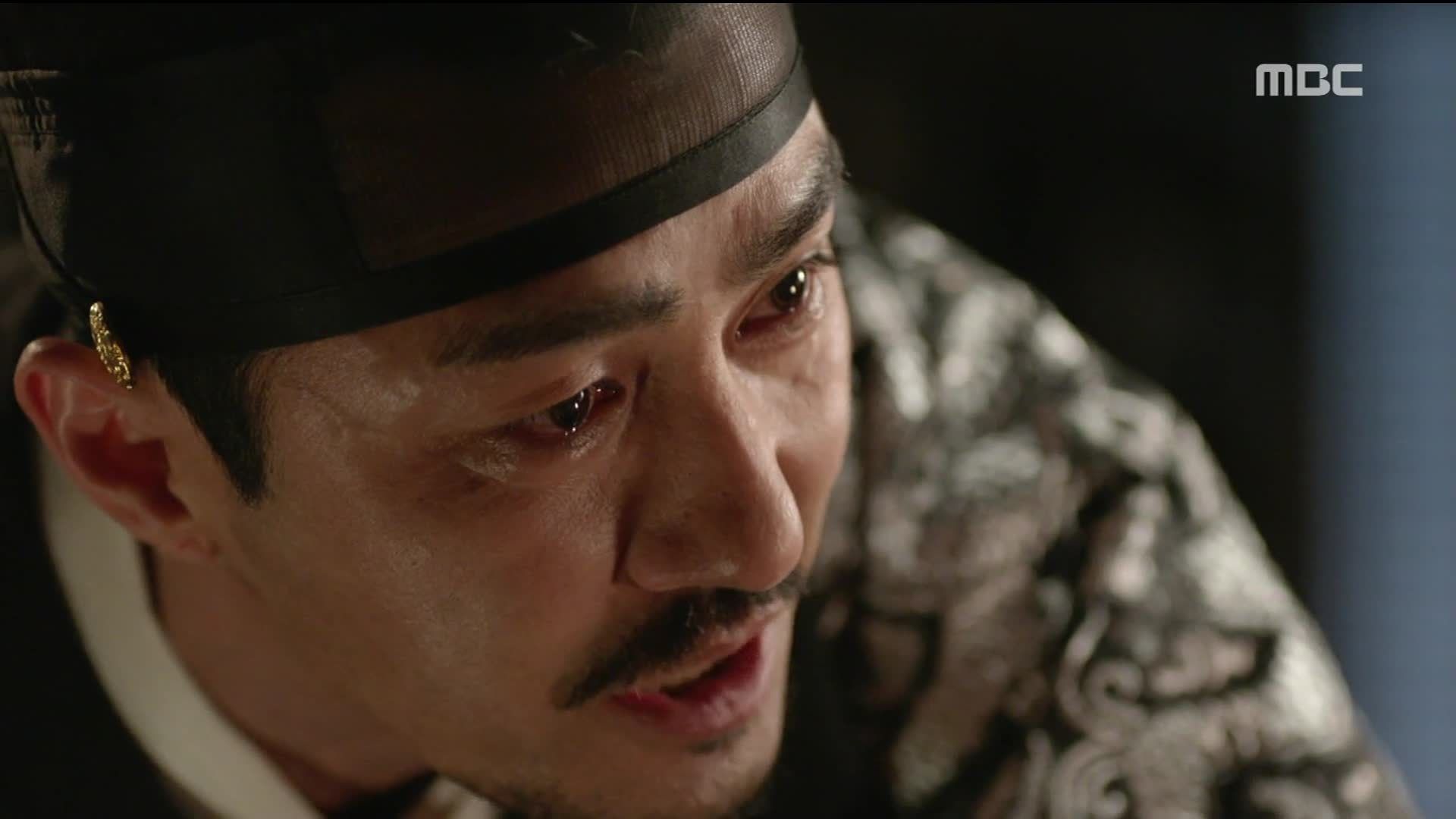 COMMENTS
Oooo. That drop in formality from "Your Majesty" to just plain "Father" at the end there is a big one, since Gwanghae has likely never been able to refer to his father that way for as long as he's been alive. Not only is it a level of closeness they obviously don't have (and never will now), his choice to use that word was a derogatory one, coming right on the heels of his announcement that he's the king now. Seonjo, powerless and dying, was reduced to nothing more than that thing which he always strove to avoid when it came to Gwanghae: being a father.
So what better way to torment Seonjo in his final moments than to call him something so horrible? To not acknowledge him as a king or even a great ruler, but as a man facing his inevitable end while the son he's always despised watches passively on? I loved that the use of the word also carried a sort of catharsis for Gwanghae, because in just one hour we saw how he's spent his entire life trying to please and placate his father, only to be ignored and even hated for it. The life of subservience he's led has all but been etched into his face, and in that haunted, anxious look in his eye—as though a restful night's sleep was always just out of his grasp.
As a historical figure, Prince Gwanghae's somewhat brief and tumultuous reign has garnered him some mixed reviews, though it's difficult to look at his recent media portrayals and not see him in a positive light. Gwanghae, the Man Who Became King and more recently the drama adaptation King's Face have portrayed him as a sympathetic figure and wise king who was simply overtaken by ruthless political strife in the palace, and it's not difficult to see that interpretation when reading about the real Gwanghae's achievements.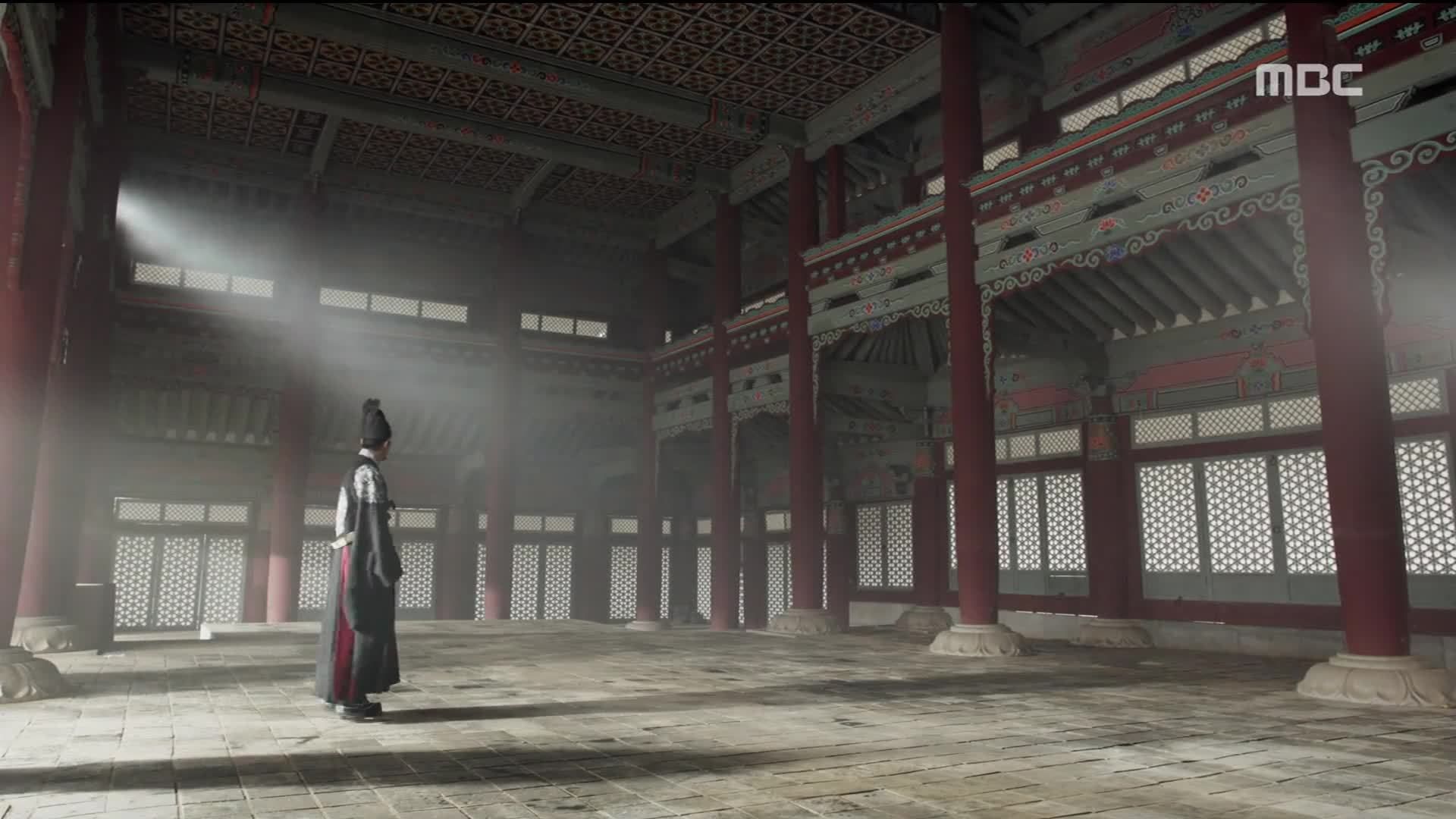 Admittedly, when I'd first read the promotional materials for this drama touting that it would show a villainous and ambitious Gwanghae, I was a bit skeptical. Not that it couldn't be done or that it shouldn't be done, but because the circumstances surrounding his rise and fall as a king are inherently tragic and it'd be hard to paint that in a way that'd make an audience believe any and all future suffering would be deserved. Hard, but not impossible.
The thing is, in just one hour this show has made that task almost insurmountably difficult to overcome for itself, not only in choosing an expressive actor like Cha Seung-won, but in giving him a past so tragic that he'll have to be truly terrible for us to disassociate his future actions from being intangibly tied to the hardships he faced as the son of such a cold and ruthless king. In just one episode we saw Gwanghae as a man who'd simply had too much to bear and couldn't bear it any more, which does make you wonder if he might have never hit the breaking point he did had his father even spared him an ounce of kindness once in their miserable lives.
But then we end up in some deep psychological territory I'm thoroughly unqualified to comment on, so in lieu of that I'll just say that Hwajeong has done a very good job in giving us a reason to empathize with Gwanghae now, forgive him for a lot of things going forward, and to hate ourselves for ever feeling sorry for him if he goes full-tilt villain. In that character sense, they've got us right where they want us. Or not, who knows. Because seriously, who does? It's a fifty episode drama that's already handled war and patricide in its first episode, literally anything can happen from here.
If I check in on this show in about ten episodes and see Gwanghae drinking the blood of virgins for sport, I'll feel pretty silly for defending him here, but in my future defense: I'm not a wizard, and Cha Seung-won was in Athena: Goddess of War. But if I check in and he's still being portrayed as a nuanced but inherently tortured ruler, my defense will be that I'm still not a wizard, and that Cha Seung-won was in Best Love and clearly knows how to make good choices. There's a lot of potential here to sustain such a long run, and though I'll be interested to keep watching, committing to forty-nine more recaps of just one thing is far too daunting a task. I will try to check in periodically though, if only to call myself out for being either the best judge of drama character or the most easily misled.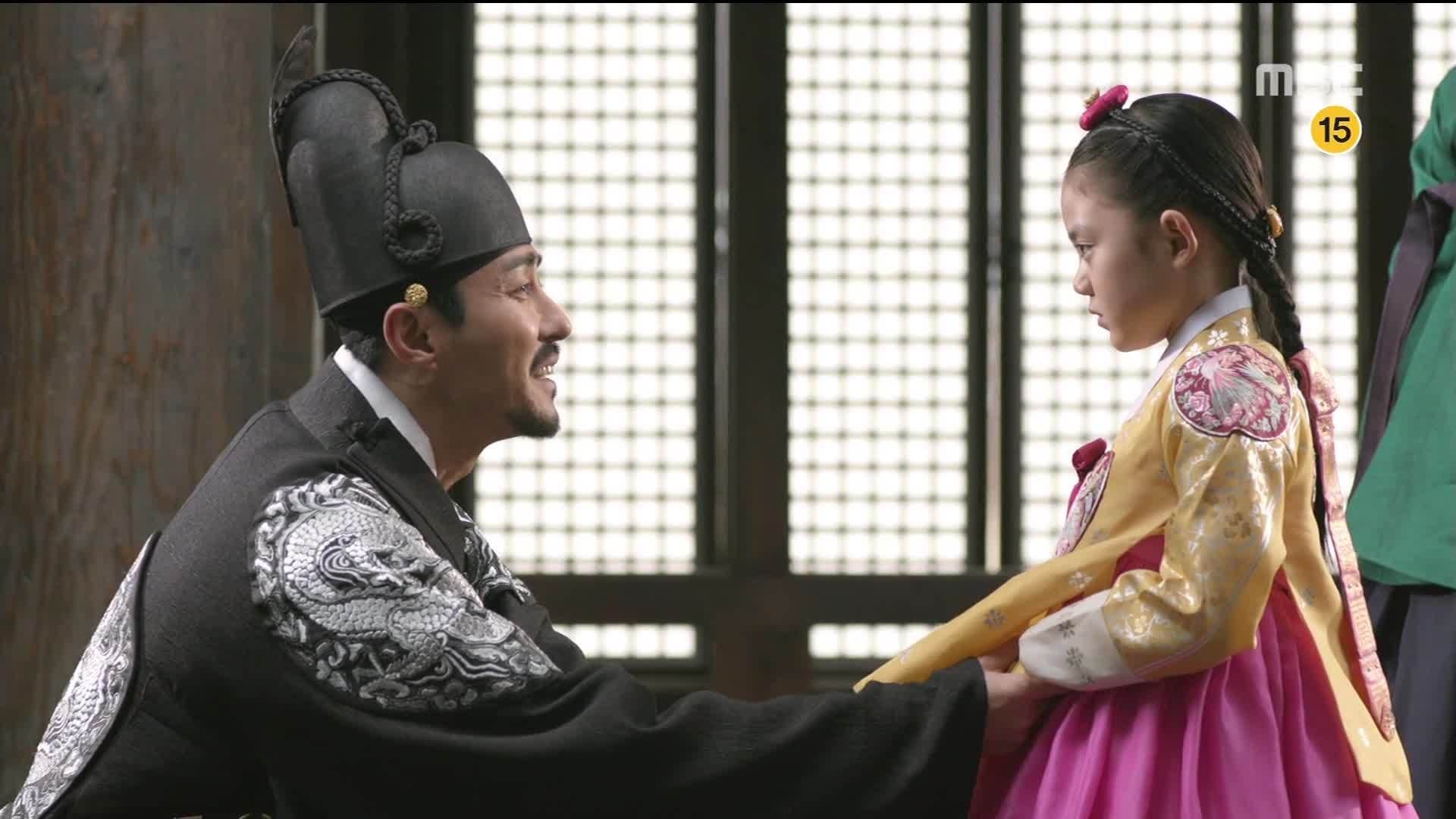 RELATED POSTS
Tags: Cha Seung-won, featured, first episodes, Hwajeong, Lee Sung-min, Lee Yeon-hee