Odds and Ends: Today's half-finished love
javabeans: So, last weekend girlfriday and I sat down for a rare movie-watching session, which we hardly ever do, which I guess is kind of odd given how many hours of our lives are devoted to watching our screens full of pretty Korean people.
girlfriday: It's just that movies always get back-burnered on the priority list, because there's always another episode of a show to be watched. I usually manage to watch the big ones throughout the year because of my parents, but it's fun for the two of us to sit down and watch something together. There's just more snark involved that way. Also, that may have been the wine.
javabeans: The movie we saw was Today's Love, mostly because girlfriday had the remote and Seung-gi's face won out. It was a totally cute movie and I especially liked Moon Chae-won in it (Seung-gi was, you know, Seung-gi), but I swear if I were watching it alone I would have stopped it halfway through and never resumed.
girlfriday: You ALWAYS stop your movies halfway through! I don't know how you do it.
javabeans: I have a really low tolerance for manufactured angst! As soon as the trouble hits at the hour mark, you just know how it's going to go down and I just can't finish it. It's a tic — like when you have to pause because a scene is too embarrassing to watch and have to force yourself through. With me, it's movies and stupid romance angst.
girlfriday: Which is a funny thing if you think about it, since dramas can be many many hours upon hours of manufactured angst.
javabeans: I realize this is not a consistent stance.
girlfriday: You could think of movies as very short dramas. Just two episodes, back to back!
javabeans: Nooooo, movies are completely different! Fine, so dramas use just as many stupid cliches and obvious tropes, but since a drama's so long, usually the one single trope is never the entirety of the point. It's a tool to get you on to the next thing, and it's the overall series arc that keeps me in. But in a movie… one stupid misunderstanding could very well BE the whole point, and then I'm annoyed, and then why waste the next hour? I could just watch the next episode of Girl Who Sees Smells.
girlfriday: Or the last episode of Angry Mom again. What? I like Bok-dongie that much!
javabeans: You and all of Korea. Get in line.
girlfriday: Bok-dongie aside, I do think that the time invested in character development and longer story arcs is what makes us love dramas in a way that most throwaway movies can't manage to do in two hours.
javabeans: I really do like Korean movies, and my queue is a mile long. It's just that in that half that mile is full of half-watched things, all stopped at the hour mark. I know it's a good movie when I don't reach for the pause button.
girlfriday: Your hard drive is a wasteland of half-finished movies. It's an interesting consistent thing with you though. Whereas for me, I either give up at the ten minute mark, or watch it all the way through. Never an hour in.
javabeans: I watch using a program that keeps track of where I left off, and that really enables the habit. Before that program, it was harder to remember where I'd left off and find that point again in the file, so I'd sit through the angst impatiently and force myself onward. But now I figure, "I'll just stop and pick up later." I just never get to later.
girlfriday: Because there are always shiny new movies lined up in the queue. And why does it always get longer, never shorter?
javabeans: And really, if I stopped halfway through the first time, shouldn't that be a message that it wasn't that great to begin with? It's just me, softening the blow… for me.
girlfriday: For a diehard rom-com fan, you are a pretty harsh critic of romantic angst.
javabeans: My heartstrings are always ready to be pulled, but c'mon movie, you've gotta put some effort into it. If you don't care to make it convincing, why should I care? If I watch a whole movie thinking of you as Seung-gi and not learning your name, really, have you done your job? That's not a fictional fantasy, that's just two straight hours of Seung-gi.
girlfriday: You say it like it's a bad thing. Two hours of Seung-gi giving piggyback rides, cleaning my apartment, making me dinner, singing and dancing to stupid songs to make me smile, carrying my purse and my shoes…
javabeans: Now that's a fictional fantasy. Snap out of it!
girlfriday: No. I like it here.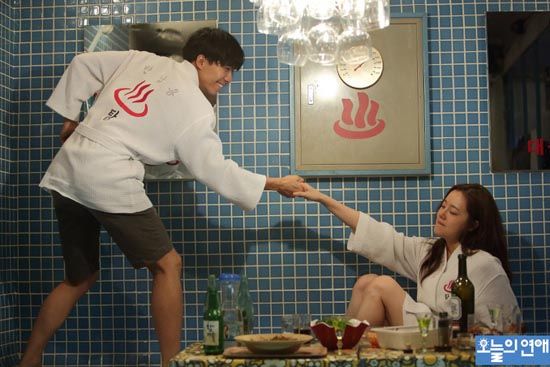 RELATED POSTS
Tags: conversation post, Odds and Ends