Superdaddy Yeol: Episode 11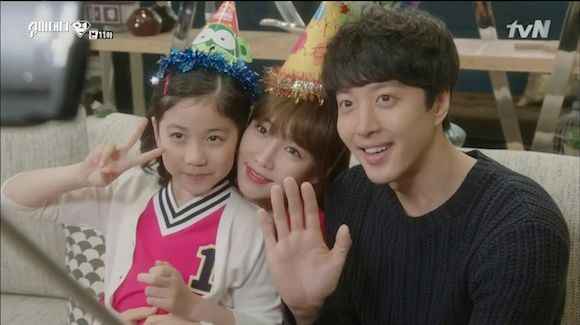 Unable to deny her feelings for Yeol to herself any longer, Mi-rae decides to send him away to keep him from getting hurt later. If that sounds like a complete reversal of her driving motivation since the beginning of the show, it's because it is. But Mi-rae soon encounters opposition from many sides, some of which she never could have expected. As hard as it was to bring her little family together, it may prove even harder to dismantle it.

EPISODE 11 RECAP
In the prologue, Mi-rae tells us in voiceover that when she was with Yeol and Sa-rang, she didn't feel sick even though she was. She enjoyed cooking for the family, cleaning, and spending time with her loved ones. It was the first time she looked to someone besides Sa-rang to be there for her, and Yeol hasn't let her down.
But Mi-rae's sickness is accelerating, which we see when Mi-rae ducks into the bathroom to throw up, while Yeol and Sa-rang prepare obliviously for her birthday. Mi-rae admits that she didn't understand something: When you're alone, it's impossible to be 100 percent. To be 100 percent, you have to be together.
Back to Questionable Decision Land, where Mi-rae has just told Yeol that she wants to break up. It takes him a minute to process, and then he asks calmly if Mi-rae is confident she won't regret this. Mi-rae is sure, so Yeol leaves the apartment without another word.
Mi-rae sinks to the floor once Yeol is gone, clutching her stomach in pain. "I'm sorry," she whispers. Sa-rang comes out from her room and looks at her mom in confusion.
Yeol stalks down the road, muttering that he's been fooled twice by Mi-rae now. But despite his roar of frustration, he looks back at the house and pleads: "Come after me. Before I leave again."
At breakfast, Sa-rang notes that Yeol didn't return to the house, which means he and Mi-rae had another fight. Sa-rang says that Mi-rae should have been more understanding, and it's nice to see her sticking up for Yeol. But Mi-rae asks Sa-rang what she thinks about just the two of them living together from now on.
Sang-hae finds Yeol sleeping on the couch in the office, empty soju bottles littered everywhere. Like Sa-rang, Sang-hae thinks Yeol and Mi-rae just had another fight, and asks when Yeol will buy him noodles (to celebrate a marriage).
Yeol rage-brushes his teeth, replaying Mi-rae's words when she rejected him, as a man and a father, for the second time. With a mouth full of toothpaste, he snorts angrily at the mirror that he won't regret this either.
Mi-rae meets with Director Hwang to request a transfer. She says she enjoyed her time at the rehab clinic, but she's more comfortable in a hospital where every day brings new conflicts. Director Hwang agrees to send her off, though she is shocked to hear that Mi-rae is no longer in a relationship with Yeol.
Sa-rang finds Mi-rae packing her things, and hurries in to try and stop her. She chastises Mi-rae for acting like a child (from the mouths of babes, right?) and asks her to patch things up with Yeol.
Yeol enters the apartment, only to see Mi-rae preparing to leave. Sa-rang tells him to apologize, since the man should swallow his pride in these situations. But Mi-rae is determined to leave—she offers her hand to Yeol, and angers him further when she refers to the three months they spent together as "fun."
Sa-rang pulls away from Mi-rae and runs to Yeol, calling him "Dad." She insists that he's her father and this is their home—Mi-rae promised her that she could choose, and she has.
Mi-rae tells Sa-rang that she lied; Mom will choose who the new father is, and Yeol is no longer an option. Sa-rang cries for Yeol to stop Mi-rae, but he won't go against her word where her daughter is concerned. Sa-rang runs out of the apartment, tears flowing in earnest.
Yeol asks why Mi-rae can't at least give Sa-rang time to adjust. But Mi-rae replies that if something must be done, it's best to do it quickly—that will make it easier for all of them to forget and move on.
Sa-rang is still bewildered and upset outside of the apartment. She can't understand why her mom is acting this way, when she used to like Yeol. Mi-rae lies that she was only pretending, but she can't pretend any more. Woo-hyuk arrives a second later to drive them away, but Sa-rang yells that she hates him and Mi-rae both.
Mi-rae resumes work at her old hospital, where Dr. Choi is overjoyed to see her back. He invites her out for drinks, but Mi-rae informs him—looking like a zoned-out zombie—that she quit drinking.
Mi-rae meets with a cancer patient who hopes that she may have been misdiagnosed. Mi-rae's colleague cowers, worried that she'll be scolded again for giving a patient false hope, but Mi-rae agrees that doctors aren't gods and there's nothing wrong with another set of tests. "Nothing is 100 percent," she says.
Woo-hyuk seems glad to have Mi-rae back at the hospital. He jokes around like before, hoping that Mi-rae will feel better by beating him up. Mi-rae sighs that it isn't fun for her anymore. Both doctors come to a halt when Ji-hye appears at the end of the hallway.
Mi-rae takes Ji-hye outside, and they talk about Yeol. Ji-hye asks if she can try to fill the gap that Mi-rae left in Yeol's life, and Mi-rae gives her permission. She goes on to recite a long list of instructions, such as limiting Yeol's drinking and downloading his favorite sci-fi movies every now and again.
The list goes on for a while, until Ji-hye asks, vexed, if Mi-rae is shooting a movie. Mi-rae asks Ji-hye to take care of Yeol, then walks away.
Mi-rae takes some painkillers in the bathroom, and sees a vision of Yeol in the mirror. Woo-hyuk barges in a second later, concerned about Mi-rae's condition. Once he is convinced she doesn't need to visit the emergency room, Woo-hyuk invites Mi-rae to go with him to buy a present for his mother.
Yeol goes about his work as if nothing is wrong, helping injured athletes to recover. Coach Bang and Director Hwang watch him, noting that he doesn't get angry like he used to, nor does he perform poorly at work for personal reasons. But he doesn't smile like he used to either, the director says. Since he had a family and lost it, Yeol must be feeling empty.
Yeol walks home with Sang-hae after grocery shopping, and Sang-hae comments that his tastes have really changed—he's bought fruit and vegetables and even fish! Yeol sighs that he's been craving that sort of food. Then Sang-hae hints broadly that he knows a nice girl, and Coach Bang has been suggesting that Yeol go on blind dates. Yeol surprises him by accepting the offer. Unseen by either coach, poor Sa-rang is watching them from afar.
Yeol prepares to go on his first blind date in over ten years, following the directions of an imaginary Mi-rae. She advises him to dress nicely, smile, and pay attention to what the other girl has to say. The effect is apparent, as Yeol's date seems smitten and compliments him on his dating acumen.
At that moment, Yeol catches a glimpse of Mi-rae and Woo-hyuk walking along the sidewalk. Almost in a trance, he gets up and leaves his date behind without a word. He searches for her, but she's nowhere to be found.
Woo-hyuk brings Mi-rae to a jewelry store, where he admits that he's not buying a gift for his mother—it's a present for Mi-rae, to welcome her back to the hospital. Mi-rae immediately walks out, where she sees Yeol getting into a taxi and freezes on the sidewalk.
At school, Sa-rang learns that Yeol is supposed to come in and teach the class again—they don't know that he's no longer part of the family. Even Bo-mi is excited, and the teacher asks Sa-rang to decide what Yeol will teach.
Back at his apartment, Yeol abandons his "healthy living" concept and reverts to classic Caveman Bachelor. He stocks his fridge with beer and processed meats, and returns his action figures to prominent positions in the living room.
Later, Yeol even meets Sang-hae and Ji-hye for a night of drinking and dancing. He claims that life is too short not to live to the fullest, but he stumbles drunkenly when he gets up to dance. Ji-hye hopes they will dance together, but when Yeol mistakenly calls her "Mi-rae," she cries that if he misses her so much he should go back to her. Tell it, Ji-hye!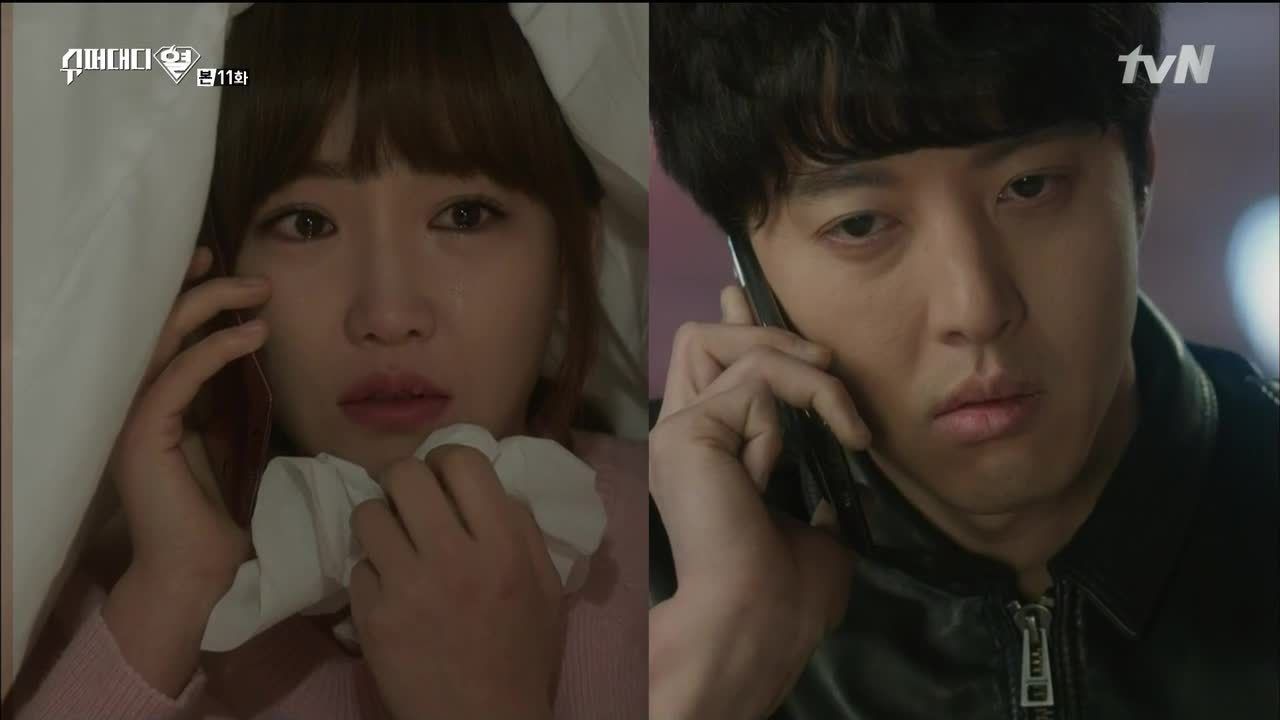 Yeol sits outside for a while, drafting several texts to Mi-rae. He accidentally sends the one that says how much he misses her, and looks frantically for a way to cancel the text before thinking that he might as well go all the way: He calls Mi-rae. She picks up the phone, and we see her crouched under the covers as if hiding from the world.
"Do you miss me?" Yeol asks. "At night, at work, during meals? I thought about you every day." Mi-rae claims not to have thought about him once, but her tears tell the real story. She guesses that Yeol is drunk, and ends the call before crying in earnest. Sa-rang calls from the living room that Woo-hyuk dropped by to check on her.
While Mi-rae collects herself, Sa-rang tells Woo-hyuk sternly to say what he came for and leave. He's hurt that she is so cold towards him, but Sa-rang reminds him that she has someone closer to her than Woo-hyuk. He asks if it's "Coach Han," but Sa-rang retorts immediately that Yeol is still "Dad," while Woo-hyuk is "Uncle." Aww, she hasn't given up on Yeol!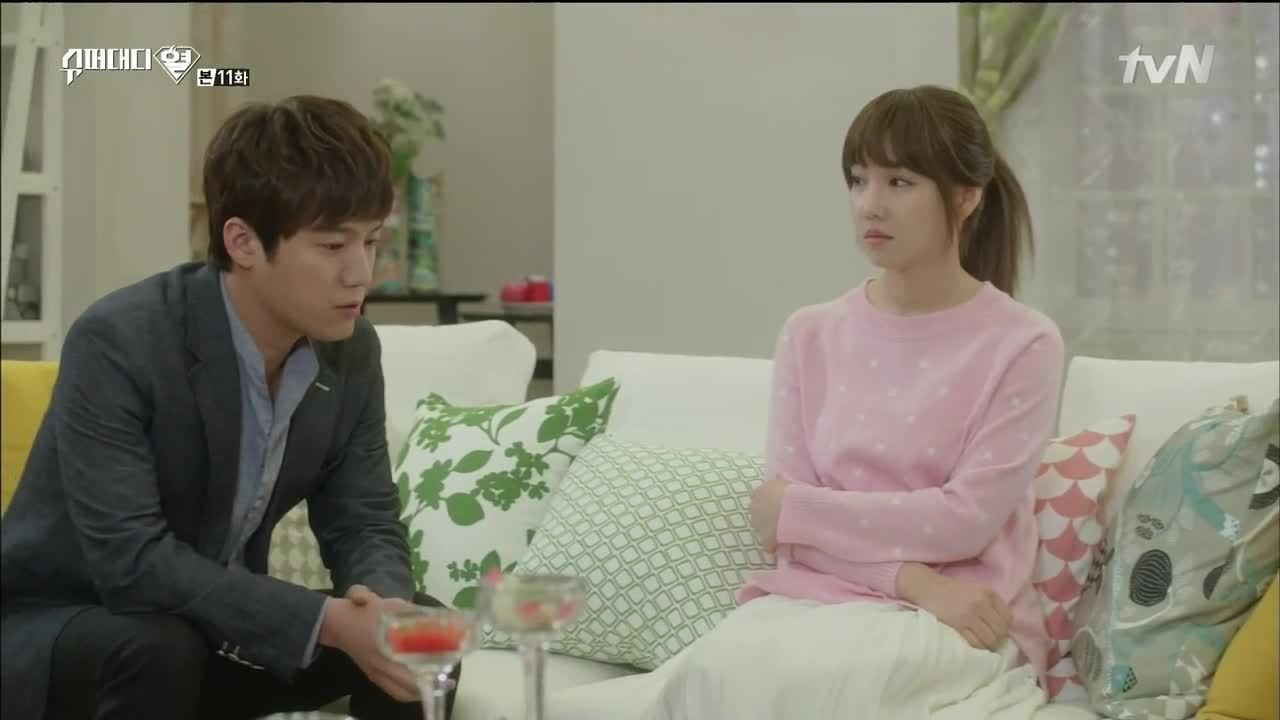 After Mi-rae hangs up, Yeol stares at his phone and demands to know if Mi-rae really didn't miss him at all. He staggers off to catch a cab. Meanwhile, at the apartment, Mi-rae explains to Woo-hyuk why she couldn't accept his gift of jewelry. His feelings for her are still apparent, and she can't accept them.
Woo-hyuk begs Mi-rae to do something—either accept his feelings, or receive cancer treatment, or even go back to Yeol. More than any of those things, though, she should tell Sa-rang that she's sick. A noise from the stairwell spooks both of them, and Mi-rae covers Woo-hyuk's mouth. She wants to protect Sa-rang's future, not taint what remains of their time together.
Yeol arrives at Mi-rae's apartment and bangs on the door. When he hears Woo-hyuk's voice inside he scurries off to the side of the building, doing a very poor job of being stealthy. Mi-rae tells Woo-hyuk to follow her lead, and walks into the street where Yeol can see. Woo-hyuk brings out a ring and kneels down… now Yeol has had enough, and charges between them.
Yeol starts out angry with Woo-hyuk, but he suddenly switches his attention to Mi-rae and sinks to his knees. "I can't be without you," he declares. Without Mi-rae he has no confidence to live well. He wants to be her husband, Sa-rang's father, and part of their household. But Mi-rae leaves him there and walks away with Woo-hyuk.
Sa-rang looks out the window of the apartment, and sees Yeol walking away. She rushes outside in her nightgown, and calls out after him: "Dad! DAD!!" Mi-rae puts a hand on her shoulder and asks Sa-rang to let him go.
Mi-rae lies that she doesn't love Yeol, and that she doesn't need him anymore. "What about me?" Sa-rang asks. She has come to need Yeol, and now Mi-rae keeps sending him away.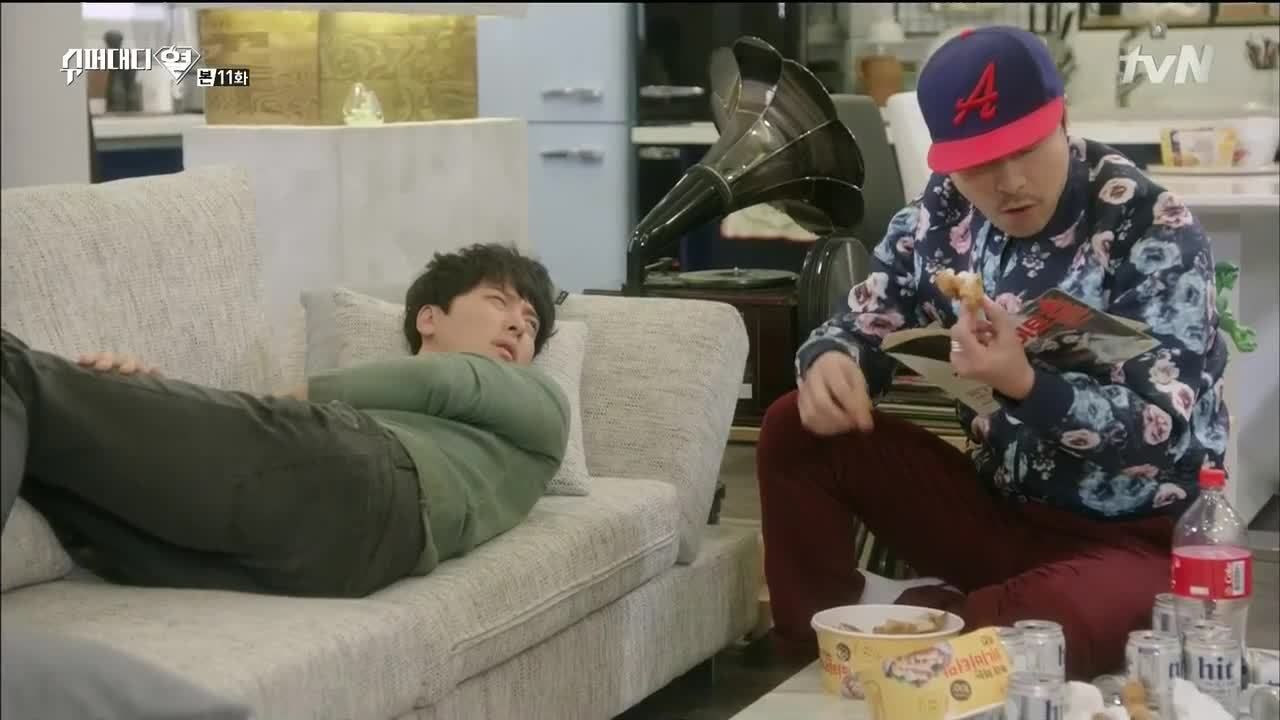 Yeol wakes up on the couch again, with Sang-hae next to him snacking on fried chicken. Sang-hae has come for some rehab documents, which Yeol left in Sa-rang's old room. After looking around, Sang-hae also finds Sa-rang's silver glove keychain and a diary.
The diary opens thanks to one of the keys, and Yeol reads the heading on the first page: "Dad-Making Project." He flips through the subsequent pages, each one documenting the ups and downs of the rehabilitation trial period. Sa-rang kept track of Yeol's failures and successes, including how she felt every time Yeol came through for her. Yeol breaks into a wide smile when he reads the page where Sa-rang officially accepts him as her father.
After reading the diary, Yeol receives a text from Sa-rang. She knows he visited the apartment the night before, and asks him to be understanding of Mi-rae. Sa-rang doesn't know why her mom has been so opposed to everything lately, but she knows Mi-rae didn't sleep at all after sending Yeol away. "Mom needs you," Sa-rang writes to Yeol.
Mi-rae goes to visit Yeol's parents' memorial, and apologizes for not staying by Yeol's side. She thinks that this is the last thing she can do for Yeol's sake: Leaving him now, rather than letting him get hurt when she passes away.
Yeol visits Mi-rae's hospital, sneaking around in sort-of-Stealth Mode with his jacket collar pulled up. He gets discouraged when he sees how comfortable Woo-hyuk and Mi-rae are with each other. Dr. Choi appears out of nowhere, startling him.
Outside the hospital, Dr. Choi has a hilariously twisted conversation with Yeol. He says that ever since Mi-rae came back to the hospital, she's become a completely different person. Now she cares about the patients' feelings, treating them like friends instead of paying patients (and we can't have that!). Dr. Choi thinks that Mi-rae has someone better than Yeol in Woo-hyuk, and hits below the belt when he asks Yeol if Woo-hyuk wouldn't be a better father to Sa-rang.
Mi-rae meets Woo-hyuk in the parking garage. He's worried about her coldness towards him, but she assures him that she's not mad and asks him to be her "caregiver" for the day. Of course he's over the moon that she asked, and they drive off together.
Yeol sees them leave, and Dr. Choi's words echo in his mind. He sees how Woo-hyuk might have even better qualifications to be Sa-rang's father than he does, as hard as that is to accept.
Woo-hyuk accompanies Mi-rae on what looks to the uninformed eye like a date; they ride bikes in the park, eat delicious food, and take photographs together. At the end of the day, Woo-hyuk takes Mi-rae back to her apartment.
Woo-hyuk is happy about spending time with Mi-rae, but he's no fool: He knows that he was just a pinch-hitter for Yeol. Still, he did the best he could. Mi-rae asks him for one last favor.
Mi-rae watches over Sa-rang that night, holding vigil by her bedside. "My Sa-rang," she whispers. "My everything."
Yeol shows up at Sa-rang's school the next morning, determined to at least say a final farewell. In the classroom Sa-rang fidgets uncomfortably, not wanting to admit that her father won't be coming. A knock sounds at the door, but it's Woo-hyuk who enters. He introduces himself as Sa-rang's uncle, here to fill in for her father.
Through the window of the classroom door, Yeol sees Woo-hyuk speaking to the class (and hilariously, Woo-hyuk is using the teacher as an example of bad posture, just like Yeol did when he explained what sports rehabilitation is). Yeol walks away without going inside, but just before he reaches his car, Woo-hyuk catches up to him.
Yeol says he only came to say goodbye to Sa-rang, but Woo-hyuk puts out his hand to stop Yeol from leaving. "How about a drink?" he asks. "Man to man."
At a nearby bar, Woo-hyuk struggles with what he's been keeping bottled up. He asks if Yeol really loves Mi-rae, since he's letting her go without putting up a fight. Yeol retorts that he did try to stop her, but Woo-hyuk scoffs that he only tried once, and with alcohol to spur him on.
Woo-hyuk reminds Yeol of what he asked before: Does Yeol have the confidence to take care of Mi-rae for the rest of her life, no matter what? "Is this taking responsibility?" Woo-hyuk demands. Yeol is just afraid of being hurt, Woo-hyuk says—in short, he's a coward. Yeol grabs Woo-hyuk by the collar, goaded into retaliation.
Mi-rae visits Yeol's parents once again, bearing a bouquet of fresh flowers. She says that this will be her final visit, although she expects to see them soon in the afterlife, where she will accept any scolding they think she deserves.
Then she hears Yeol's father's voice, and sees a vision of him dressed in his flashy white suit, complete with shades and snazzy hat. He comes towards her, smiling, and says he really did find a good daughter-in-law.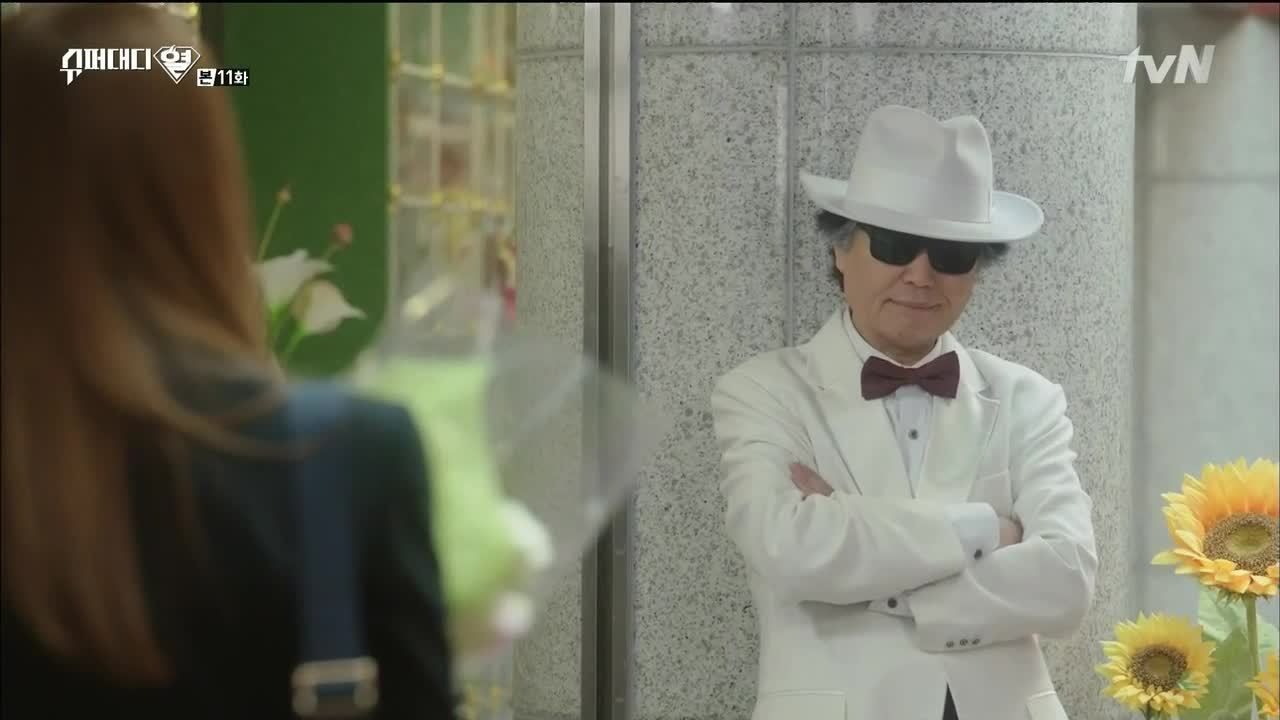 Yeol and Woo-hyuk take their fight outside, to a playground of all places. They start trading punches—sort of. Woo-hyuk frequently surrenders, then attacks Yeol when his guard is down, and they flounder like fighting chickens around the playground.
Woo-hyuk gets a bloody nose, but he keeps fighting (again, sort of). He yells that Yeol needs to stop being a coward.
At the memorial, Yeol's father asks Mi-rae if she remembers his final request.
After the fight, when the two combatants are resting on the swings (hey, fisticuffs is tiring!), Yeol admits that he was a coward. But rather than chase after Mi-rae more, he hopes that Woo-hyuk can take care of Mi-rae and Sa-rang. "It has to be you," Woo-hyuk objects. "Because Sa-rang's real father… is you."
At the memorial, Mi-rae recalls Yeol's father's final words. He reveals that he always knew that Yeol was Sa-rang's real father. Once Dad and Mi-rae both pass away, Yeol will be alone except for Sa-rang. Yeol's father asks Mi-rae to make sure that Sa-rang stays with Yeol.
Mi-rae gazes at the pictures of Yeol's parents, her expression softening. "I should do that," she thinks. "Because he's Sa-rang's father."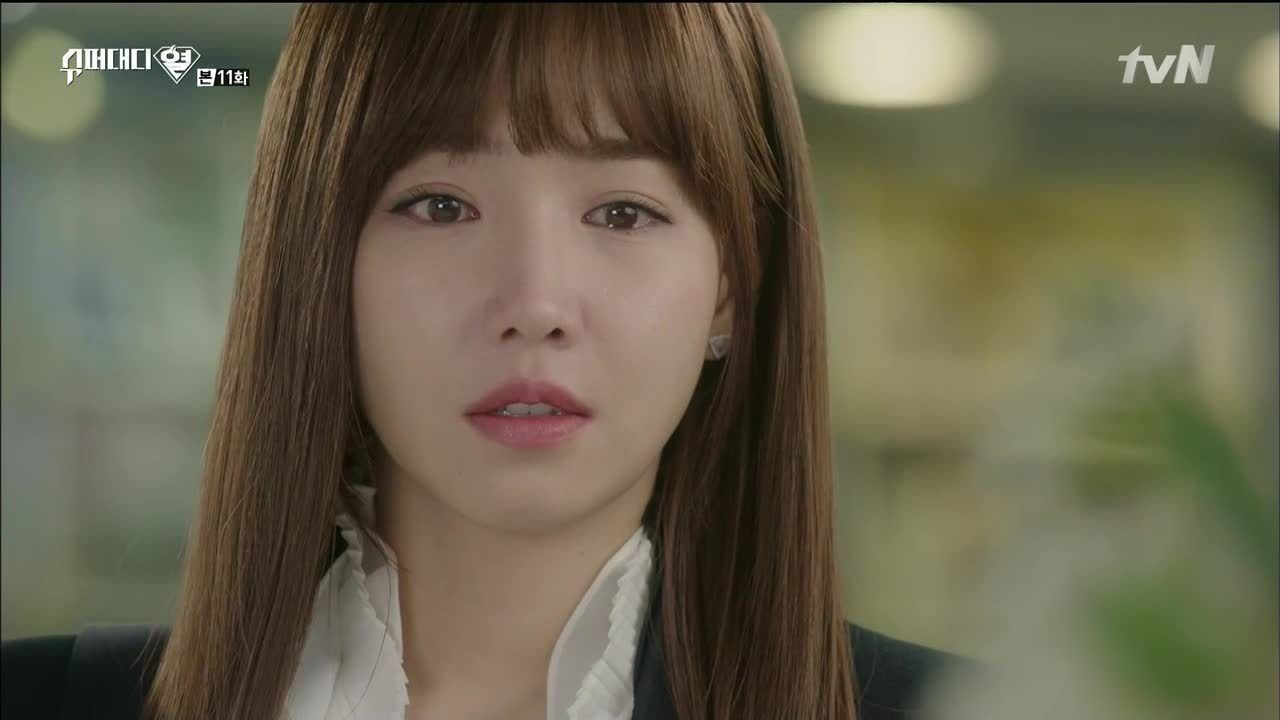 COMMENTS
I had to fight really hard to get over the rage that "Mi-rae's choice" (hardy har har) provoked in me, before I could write anything more rational than "AAAAAARGH!" Mi-rae's decision to push Yeol away falls squarely into the worst examples of Noble Idiocy ever, right up there with Edward ditching Bella in New Moon (thereby plunging her into crippling depression, for those of you with the good sense not to have read Twilight), and the protagonist of White Fang chucking rocks to drive away his faithful wolf companion (damn you, Jack London!).
What's worse is how cruel Mi-rae's decision was to Sa-rang. She just accepted someone as her father—a life-changing decision if there ever was one—only for Mom to literally say; "I lied. Next!" With Mi-rae's condition, I certainly don't think she had any easy choices… but did she really need to choose the one that made everyone she cares about as miserable as humanly possible?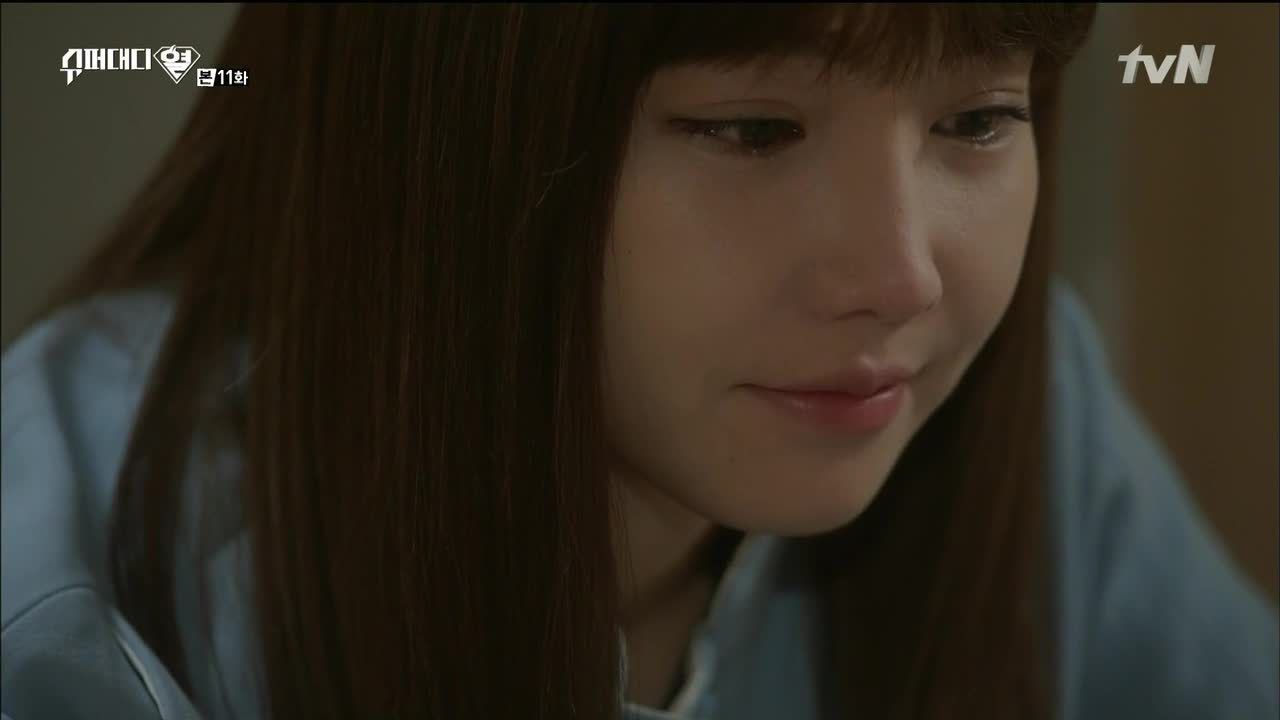 My college writing teacher told me never to criticize someone else's work without mentioning what I liked about it, and I tried very hard to do that with this episode. Somewhat to my surprise, when I began actively looking for parts of the episode I enjoyed, I found that there was a lot more there than I first realized.
For the first time, I actually felt that Woo-hyuk gained some depth of character and purpose in the fabric of the story. When Mi-rae pushes Yeol away, Woo-hyuk finally has his chance to be the man Mi-rae relies on. But he understands only too well that he's just a pinch-hitter—or rather, to emphasize the parallel to Yeol, a relief pitcher.
That was Yeol's position, as a baseball player: someone who comes into a losing game in the final innings, doing his best even though the outcome is already decided. In this episode, Woo-hyuk mirrors that role for Mi-rae. Even though Mi-rae's death is seemingly unavoidable, Woo-hyuk wants to be there for her to the bitter end. The frustrating part is that Yeol would most likely want to finish the game himself, so to speak—it's just that Mi-rae hasn't given him the chance, hoping to spare him more pain. But isn't that the kind of decision that people who love each other should make together?
I also liked Sa-rang very much in this episode. Having finally accepted Yeol, she holds to her conviction in the face of Mi-rae's inexplicable behavior. And even with ample reason to resent her mother, she actually asks Yeol to forgive Mi-rae and be understanding. Sa-rang accurately recognizes that both adults are acting like children, and she tries her best to keep this new family together.
But for exactly that reason, I HATED the way the episode ended—with the "bombshell" that Yeol is Sa-rang's birth father. Some of us probably called that way back around Episode 3 or so (for those who weren't familiar with the source material), and the need to rely on a birth secret to bring about a reconciliation between Yeol and Mi-rae seemed horribly forced to me.
Wasn't this entire drama supposed to be about opening one's heart to others, in order to create a new family? Yeol learned to put aside his pride and accept Mi-rae back into his life; Sa-rang learned to accept Yeol as a father, based purely on his actions rather than blood ties; and Mi-rae struggled to hold to her conviction when her heart began to love again.
Given that theme, I wanted to see Mi-rae realize independently that she made the wrong choice—to tell the truth and put her entire family first, the one she created and held together through sheer force of will. I wanted her to fulfill the words she spoke in the prologue section: "You have to be together to become 100 percent." Hopefully the focus in the last few episodes will shift away from half-assed birth secrets and back to individuals banding together and growing stronger in the face of tragedy—if that doesn't happen, I'ma punch somebody in the nose. Just saying.
RELATED POSTS
Tags: featured, Lee Dong-gun, Lee Yuri, Seo Joon-young, Superdaddy Yeol