Superdaddy Yeol: Episode 12
This episode is a daddy-daughter affair that tugs at my heartstrings and brings a genuine smile to my face. Yeol does his best to step up as Single Dad, but finds he's got big shoes to fill, as being both dad and mom to Sa-rang comes with more challenges than he thought.
Longing for each other plagues the broken family, but all those crossed wires have to come to a head soon. The clock's ticking on Mi-rae, and there are still too many secrets. But is the tide about to turn?
EPISODE 12 RECAP
In the prologue, Mi-rae lies bleeding on a hospital bed, while her doctors have to make a choice to save either her or the baby. Since she has no guardian, they decide to save the mother. Hearing this, Mi-rae clutches their hands, and shakes her head.
We cut to a row of incubators, and Mi-rae meets her precious newborn. In voiceover, she says she knew right away that her baby was "Sa-rang", and Sa-rang's voice chips in that she knew Mi-rae was Mom.
As baby grows up, we see Mi-rae nursing her, playing with her and loving her. Even in the next life, Sa-rang says, she wants to be born as Mom's daughter, and both voice joy at belonging to each other.
In the present, Yeol drives, and as the revelation sinks in, he's seized by elation (and a little craziness). A glance at the photo of himself and Sa-rang on the dashboard sends him U-turning, "Sa-rang…my daughter…my daughter!"
I'm not sure why Sa-rang has to tie her shoelaces in the middle of the night, but Mom sternly tells her she should do them on her own now. She packs a first-aid box for Sa-rang and says preparing for emergencies is something you do in advance.
She's going to go on a trip, she tells her, and adds that she wanted to go with Sa-rang, which sounds more like a regret than the promise Sa-rang hears. What about Yeol, Sa-rang wants to know, will he come?
Mi-rae knows Sa-rang wants to live with Yeol as her dad, and she tells her she should — just the two of them. Sa-rang wants Mom, too, but Mi-rae says it's her wish to be alone and recuperate from her tiring life. She's on the brink of telling Sa-rang what Yeol really is, when he bangs at her door.
She sends Sa-rang away, and by the time she lets Yeol in, her mask of stony indifference is in place. He confronts her about Sa-rang being his real daughter, and gets increasingly worked up by her lack of reaction. He contends that she's not Cha Sa-rang then, but Han Sa-rang, and Mi-rae asks if that's important. Uh, is that a trick question? 'cause I'm going with yes.
This proves too much for Yeol, and he pushes her back (not cool, even if she's crazy) with a yell. He's beside himself that she's hidden his daughter from him for ten years, and her only answer is that they were already over then. Girl, I want to shake you, too.
Sa-rang's exclamation surprises them both, and Yeol looks at her with new eyes. He pulls her into an embrace, but she's looking at Mom. Hugging her, Yeol says they're leaving — she'll live with him from now on. They don't need Mom who should be punished for her lies. O…kay? He takes her by the hand to go.
But Sa-rang stops and implores Mom — should she go? She won't go if Mom tells her not to. Finally meeting her eyes, Mi-rae gently says she's more comfortable being alone, and tears roll down Sa-rang's cheeks.
Yeol leads her out, and Sa-rang looks backwards at Mi-rae all the way.
Left alone, she drops her mask at last and a flashback shows us that last request she made of Woo-hyuk, to tell Yeol about Sa-rang's true paternity. He reels from the shock, insisting she do it herself, but she says it has to come from someone else so he can hate her forget her properly but still take full responsibility of Sa-rang. Since she's disappearing anyway, she surrenders to the inevitability of playing the role of the selfish, cruel one to the end, for Yeol's sake, so he can start over again easily. But…it doesn't…work that way?
She comes back to the present, cutting a diminutive figure in her big empty house, and her facade slowly crumbles. "I'm sorry," she cries to an absent Sa-rang, "There was no other way." She doesn't want Sa-rang to see her getting ever sicker, and this way she has at least given her a father.
Meanwhile, Yeol drives Sa-rang back to his house. Excited as a kid, he prattles about all the fun stuff they can do together, and he promises he'll do all the mom-things, too. He disses Mi-rae, saying she's the worst. Way to endear yourself to your kid. Sa-rang sharply cuts him off and tells him not to badmouth her. Mom isn't that kind of person, she says fiercely, she must have a reason.
The next day, Woo-hyuk checks in on Mi-rae at work, and her attitude is chipper. He asks if she's really okay without Sa-rang and what if she gets in trouble when she's alone? His concern makes her impatient. This is the best way, she says brightly, insisting that the freedom to be sick alone is GREAT. But she's struck by the sight of a mother with her crying daughter. Watching her, Woo-hyuk sighs.
Yeol gets Sa-rang settled in at his place again, but this time it's different as he actively throws himself into it. They have fun with a new bedspread and he even got her some textbooks to help her study, since he's not so academic himself. She reassures him she's happier with short "bag straps" ("bag straps" idiomatically refer to education level), and that makes him happy, too. He picks her up like she's tiny, and they laugh and tease each other, as if making up for lost time.
Echoing the happy family scene from before, but this time minus Mi-rae, Yeol makes a meal while Sa-rang drums on the table for food. She eats up, eager to please, although her expression says that nut-laden pizza is trouble. But she gives him a big thumbs-up, "Dad's the best!" which thrills Yeol.
But afterwards, she secretly pukes it all up.
Mi-rae calls Sa-rang to set the table, before she remembers she's alone. The shock makes her drop a plate, and it shatters at her feet.
Later, she packs up Sa-rang's clothes, and imaginary Sa-rang appears to keep her company. They argue over a cute dress which Mom cajoles her to try, but Sa-rang has no time for cringey pink. Laughing, Mom chases her down and stuffs her into it while Sa-rang squeals. The daydream fades and Mi-rae wonders with regret if she should have indulged Sa-rang more.
Yeol and Sang-hae grocery-shop together and Yeol is still angry and disgusted with Mi-rae. But Sang-hae has a hunch that things aren't quite as they appear — and didn't Mi-rae let go of Sa-rang a little too easily? He also thinks it's weird how amenable Sa-rang is being, considering how much you need your mom at her age — you can do without your dad, but you can't do without your mom. Yeol gives himself credit and huffs, determined to do everything a mom does and better. But buying her a pink princess dress isn't really the ticket, just sayin'.
Back home, he eagerly looks for Sa-rang to give her all the new things he got her, and deflates to find her seemingly asleep. But she's awake after all, and when he's gone, she secretly texts Mom to find out how she's doing.
In bed, Mi-rae's in bad shape, and can't focus on the message. When Sa-rang rings her, she tumbles to the floor in an effort to reach her phone. She manages to connect the call, but can't do any more, and Sa-rang's appeals go unanswered. Disappointed, Sa-rang hangs up.
Over a team dinner, Dr. Hwang tries to ask about Mi-rae but Yeol doesn't want to talk about it. She speculates that it must be hard for Sa-rang to be away from her mom, and no matter how diligent a father he is, he can't replace a mother's touch. He pooh-poohs it, boasting that Sa-rang hasn't mentioned her mom once. That, Dr. Hwang points out, is even more serious.
The arrival of Woo-hyuk (at Ji-hye's invitation) puts him on edge. He invites the younger man to sit, but immediately excuses himself. Woo-hyuk asks if Sa-rang is okay, and Yeol retorts that she's extreeemely fine. But his tirade goes ignored as Woo-hyuk gets a distress-call from Mi-rae and runs out first.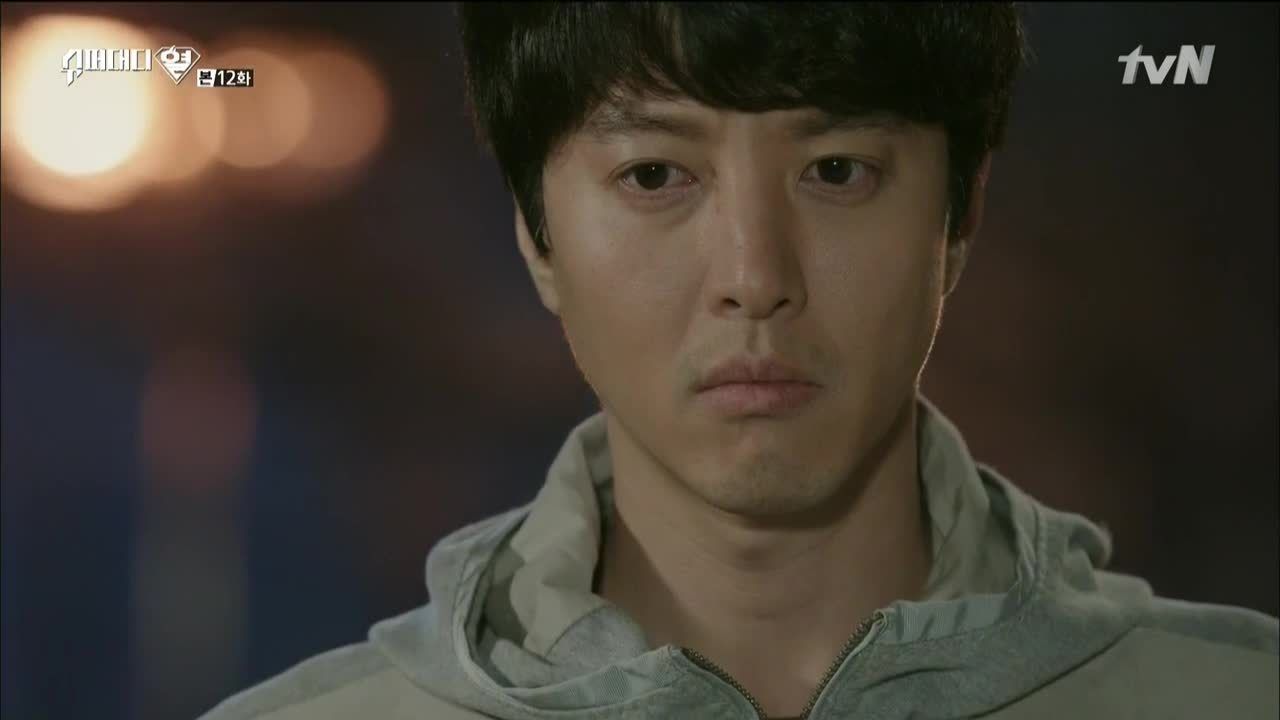 Trudging away, Yeol shrugs off his concern, scoffing that it's probably no more than a cold. Dr. Hwang's warning about Sa-rang struggling without her mom niggle at him, but he shrugs that off, too.
At home, he opens up a box from Mi-rae. It's full of Sa-rang's things, like her doll and art supplies. She's also included the photo album with all of Sa-rang's baby pictures. The pictures of the two of them make him wistful. "I should be here," he sighs.
Meanwhile, Mi-rae is rushed to hospital, Woo-hyuk urgently overseeing. When she comes around, Woo-hyuk's and Dr. Jang's concerned faces briefly morph to Yeol's and Sa-rang's.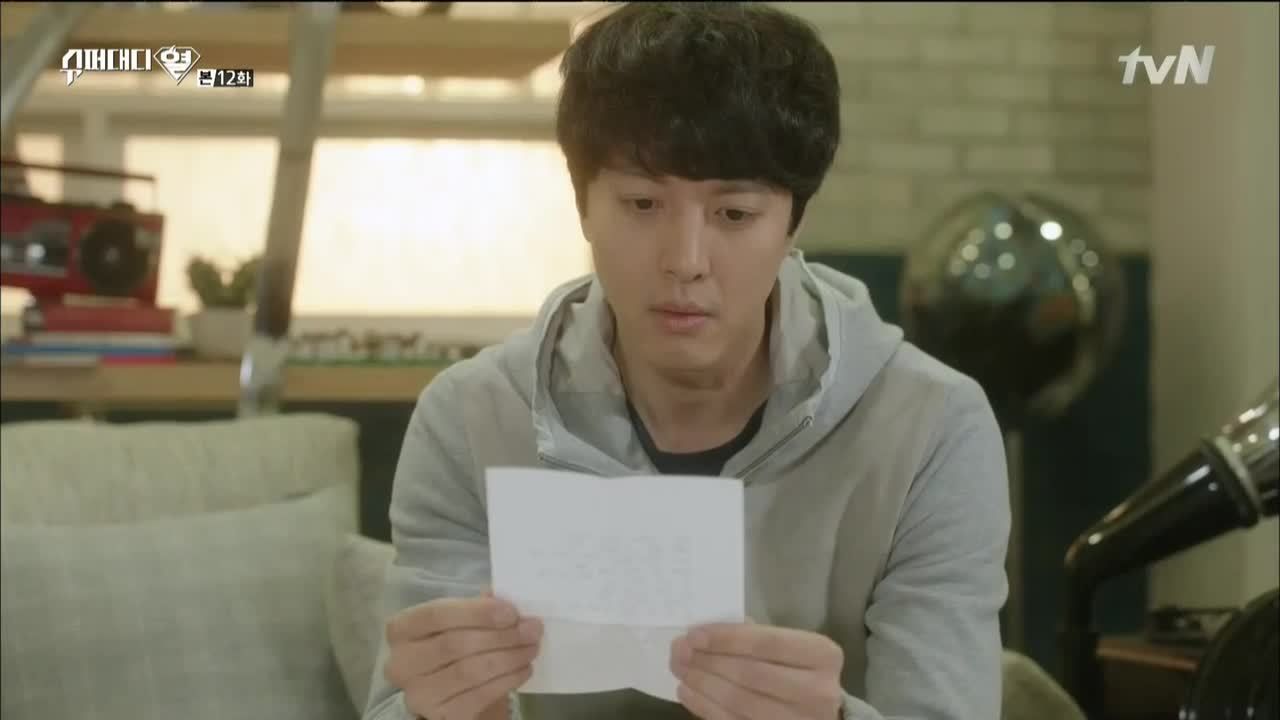 Yeol finds a letter from Mi-rae tucked inside the album, in which she tells him the little things about Sa-rang, like how she's allergic to peaches, and can only eat nuts when they're ground up. Mi-rae instructs him to pay attention to her, since even if she's smiling on the outside, she could be hurting inside. She asks Yeol to take Sa-rang on a trip — she wanted to take her herself, but was always too busy. She finishes up, "I'm sorry. Thank you. I believe, 100%, that you'll look after Sa-rang well."
He goes to check on sleeping Sa-rang, and promises to protect her from now on. As he smoothes her hair, he realizes she's sick with fever.
Hooked up to an IV in hospital, Sa-rang finally sleeps peacefully. The doc tells him she must have forced herself to eat those nuts, and become sick. She's also exhibiting signs of stress, she says. Lul, this doc.
When Sa-rang is awake, Yeol chides her for not telling him straight up that she couldn't eat them. It was the first time he'd made something for her, she explains, and she was touched and didn't want to spoil it. She reassures him she's fine now, and proves it by making faces. Yeol makes them back and they break into giggles. Aw, that's cute.
An ashen Mi-rae leaves the hospital, having also received a stress diagnosis, but Woo-hyuk catches her just in time. She doesn't want to stay because she's worried their boss will find out about her cancer. Woo-hyuk wants her to bring Sa-rang back, at least as a safety measure for herself, and Mi-rae vehemently refuses — no mother would hurt her child to stay alive herself. "That's poison," she says.
The next morning, Director Choi says he heard she was in the ER last night, and his comments about her performance at work strays into comments about her aborted marriage. She cuts him short by promising to resign if her personal matters compromise her work, and excuses herself.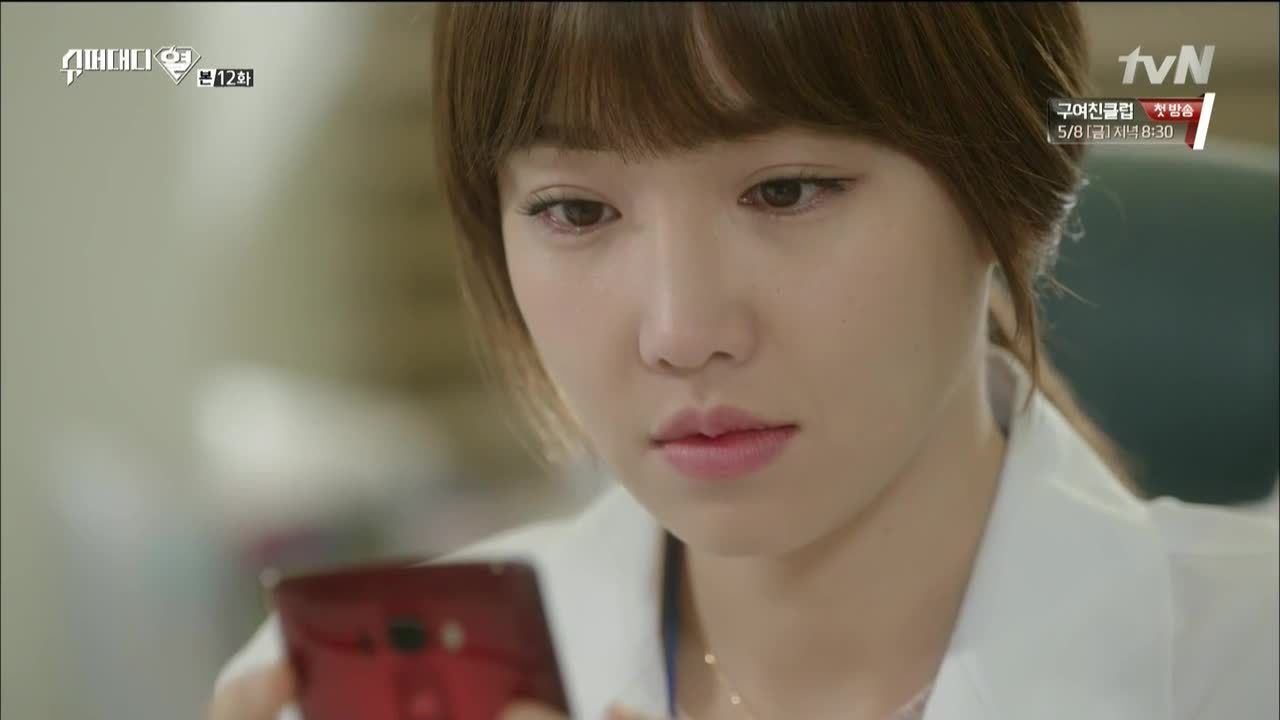 A nurse requites Mi-rae with her phone, which had been dropped in the tumult of the previous night's emergency, and she finally reads Sa-rang's message. She runs out of her office, abandoning a patient.
Coach Bang prepares Hyun-woo for a final test-pitch, and he needs Yeol on-hand. He instructs him to come right back after picking up Sa-rang from school.
Sa-rang, meanwhile, watches all the kids getting picked up by their moms. She takes out her phone, but it's out of battery. When Yeol arrives, there's no sign of her.
That's because she's at Mom's hospital…and Mom is at Sa-rang's school. She hides around a corner, trying to get a glimpse of Sa-rang. When Bo-mi catches her, Mi-rae pretends that she happened to be in the area, and asks her to keep her appearance there a secret from Sa-rang.
Yeol frantically searches all over for Sa-rang, while at the school gates, Mi-rae is the last mom standing.
Woo-hyuk discovers Sa-rang fruitlessly trying to get a glimpse of Mom. She swears him to secrecy about her visit, and Mi-rae comes along at that very moment. Sa-rang hides behind Woo-hyuk until she passes, although he nearly gives her away. She explains to him that she just wanted to see Mom's face. Whenever she can't bear it any longer, she'll just come and look her fill, she says, wiping her eyes.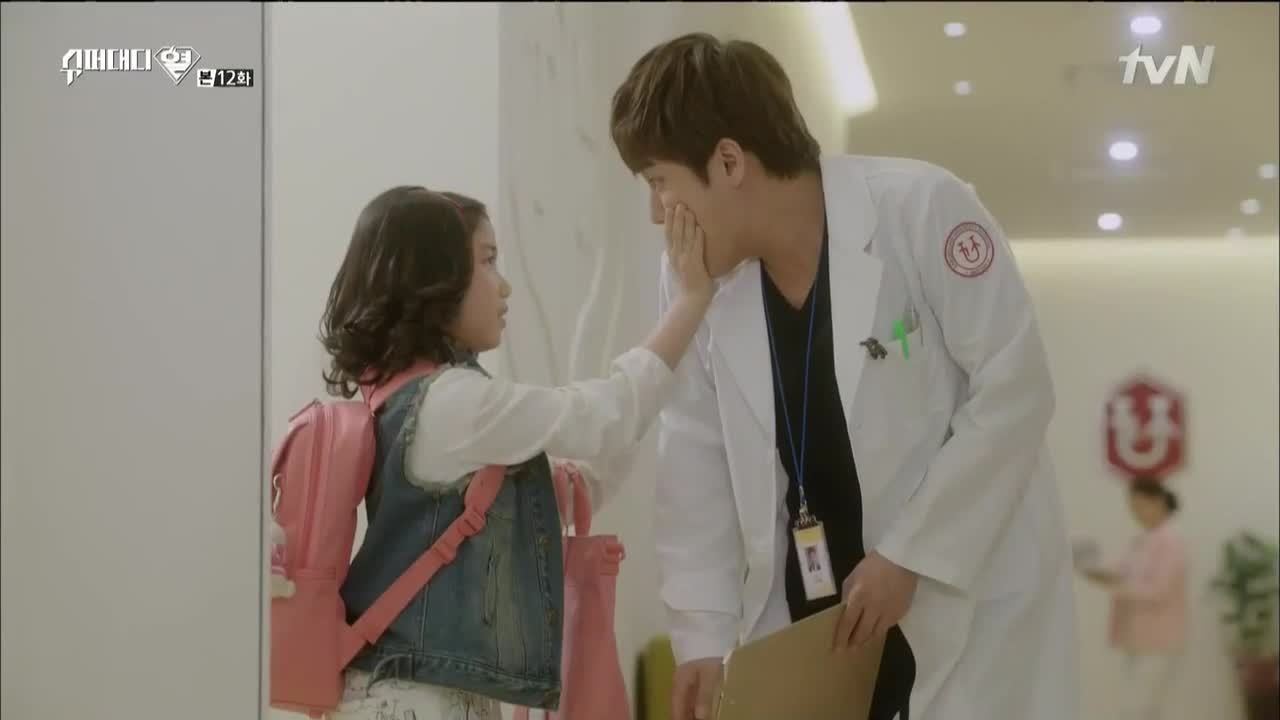 Yeol's still looking for her, and is on the brink of calling Mi-rae, when she finally gets home. He squishes her into a relieved hug, but she keeps it vague about where she's been. Coach Bang's call interrupts and she tells Dad to go on, she'll be fine.
He can't get everyone's words about how much Sa-rang needs her mom out of his head, but his musings are broken by Woo-hyuk calling him to ask if he knew where Sa-rang had been that afternoon.
Yeol skips out on work and meets Dr. Hwang instead. He's troubled by what she said about not being able to make up for a mother's touch. She tells him that the relationship between a mother and daughter is like that between the earth and the moon. Caught up in each other's push and pull, ultimately, they always have to be together. "It's possible to hate your wife, but you can't hate your mom," she tells him.
This time, when Yeol goes to check on Sa-rang, he catches her out in her fake-sleeping, haha. He suggests going on a "date".
He takes her to the batting cages and coaches her, and she squeals with pride at every hit. They cycle together in the park, and this date is the most adorable thing that's ever happened in this show fjdsf kgdf. They take photos in crazy wigs just like he did with Mi-rae, but the best/weirdest one is probably the Coneheads, ha.
Camping camp under the stars, Yeol asks her if she knows about why the earth and moon are stuck together. She interrupts his poetic flow with the matter of fact answer: the law of universal gravity, of course. Yeol is impressed by her smarts, and she basks in it. He tells her he wants to stay by her side, like the moon — even if she doesn't pull at him, he'll pull at her. "Like this," he says, pulling her into a glomp.
The next day, Mi-rae complains about Woo-hyuk's insistence on driving her around, and he reminds her of her collapse the other night — at least this way, they save the taxi fare to the hospital, he jokes. But he calls her back as she turns to leave, and reluctantly reveals that Sa-rang came to the hospital. Aw, you're a good friend.
Sa-rang notices Dad driving the wrong way, and Yeol confirms they're heading to Mom's. He knows what a hard time Sa-rang is having without her, so he's sending her back, "Since you still need your mom more than you need your dad." But he'll still be there for her, he promises — like the moon.
He's surprised by her refusal. She doesn't want to go to Mom, and pleads with him to leave Mi-rae alone so she won't be in pain. He's bewildered by her reaction, and she breaks down: Mom is sick and she's going to die, she sobs. Oh man.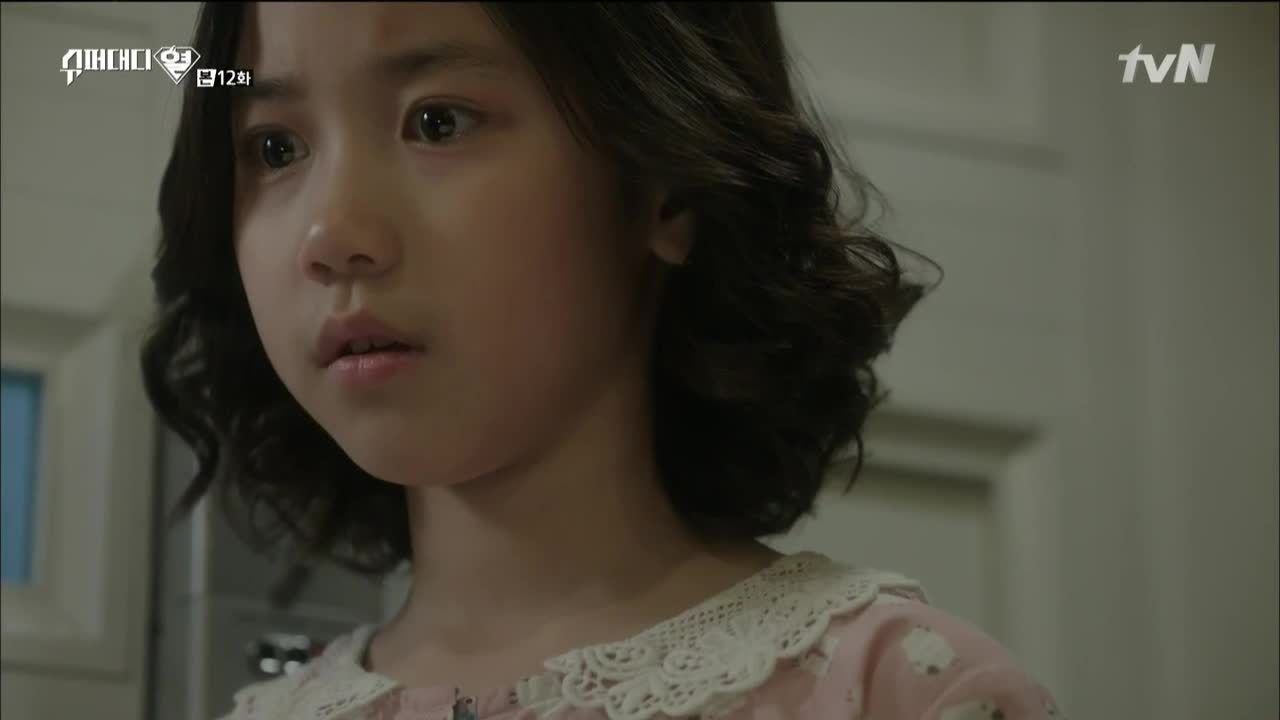 A flashback takes us back to when Woo-hyuk tried to get Mi-rae to tell Sa-rang the truth about how sick she is, and this time we see Sa-rang pressed against the wall, out of sight, while the adults talk. She further deliberately eavesdrops on another conversation, and finds out Mi-rae's plan to send her to Yeol.
Sa-rang cries that he shouldn't have broken up with her. That's why she's been enduring it, because it's Mom's last wish. Mom even said she wanted to take a trip with her, she says, still sobbing her heart out. Yeol is mute with shock.
After dropping Sa-rang home, he drives off alone, her words playing a loop in his head. Tears fill his eyes and he realizes he was fooled again.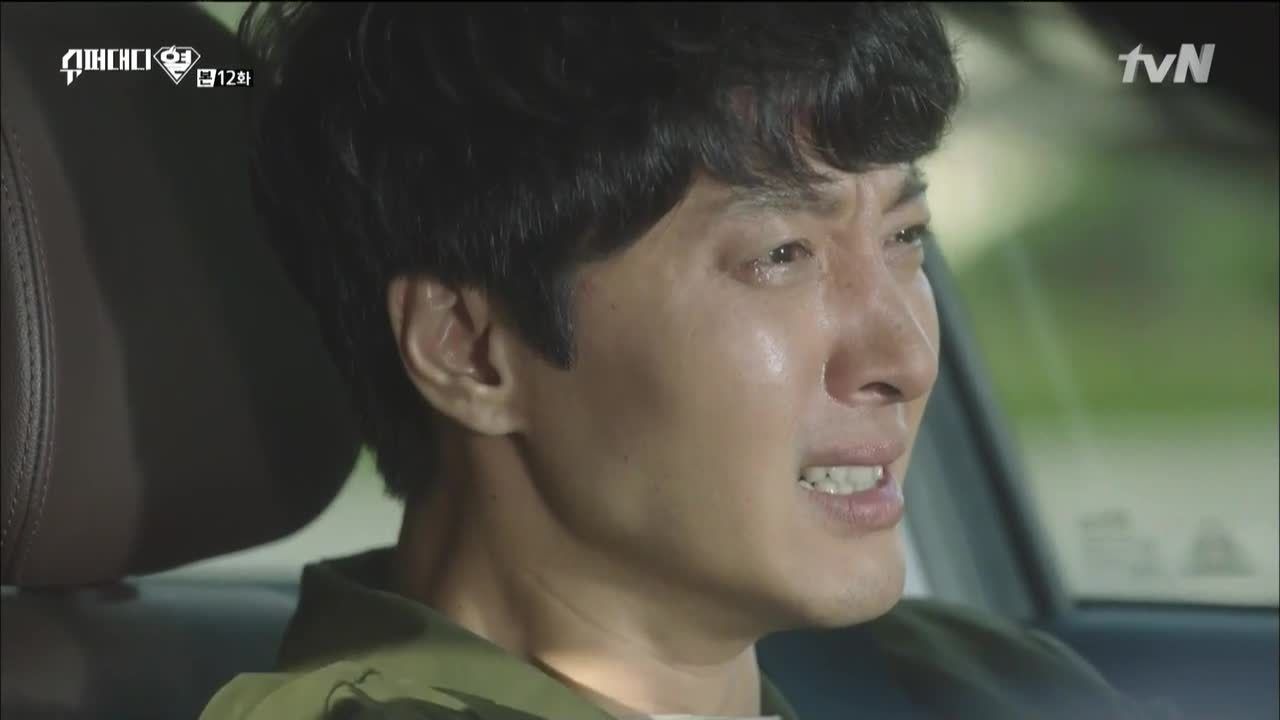 Mi-rae can't believe Sa-rang came all the way to the hospital, just to look at her from afar. Woo-hyuk gets choked up when he tells her that's how much she missed her, "That's why — "
But Yeol's noisy arrival cuts them short. Woo-hyuk steps protectively closer to Mi-rae as Yeol marches up to them, angry-faced. "HEY!" he yells, making them jump. She worries that something is up with Sa-rang. Nope, that's not it.
"Cha Mi-rae. Let's go on a trip together," he smiles.
COMMENTS
There's a trick to watching this show. It's a little weird but it works: You have to watch the episode twice. The first time, all your rage at the illogic and inconsistency gets burned off, so by the second time, you can actually feel the feels – I know, I'm shocked, too. But I felt the feels! The feels don't lie. Round 1 was a cynical grumpyfest (Mi-rae falls off the bed = "Well, at least you can reach the phone now")…but Round 2 was everything bittersweet, just like it wants to be. So, for a change, I'm going to skip all the "but this doesn't make seeeeense" comments this time and focus on the other stuff (but you guys feel free to carry on).
Sa-rang suppressing her feelings all this time is pretty hardcore. The show has been building its theme of grown-ups acting like kids and kids acting like grown-ups, but this is the maturest and most tragic we've seen her. Even if I don't like Mi-rae's choices (any of them), watching her in pain isn't easy, so I understand her desire not to let her daughter see her suffer. But the part of me that is forever mommy's girl thinks that in the hierarchy of selfish acts, sending her away is worse than letting her stay. To deprive her daughter of that last chance to be with her and show her as much love and care as time allows is selfish at best, but sharply cruel at worst.
While there's an equal theoretical argument for Sa-rang willingly granting Mom's wish (by sacrificing her desire to stay at her side), that's a terrible burden to put on a child. It's the same faulty thinking behind sending Yeol away, but now as a mother, if she really wants to be noble for Sa-rang's sake, Mi-rae needs to be the one to make that sacrifice. But cruellest of all would be to die alone without ever telling them she was sick, because after she dies and they find out…well, it's the kind of thing is really hard to forgive yourself for. Which means she's condemning them to a life of guilt while she goes her merry way to the afterlife.
The biggest reason this episode made me sad is that it didn't have to be like this, either with Mi-rae's suffering and loneliness, or the breaking hearts of the people who love her. It's increasingly evident that she's acting on some need to punish herself, unnecessarily taking on blame and responsibility for things she doesn't need to. It doesn't make sense to me, her mindset that she's a sinner who ought to suffer — if something isn't your fault, why make it your fault? Instead of clearing up misunderstandings by saying what ought to be said, she labors under their weight in a way that borders on self-pity (maybe even self-indulgence). Even controlling all the moves doesn't bring her any relief, so it's about time things are taken out of her hands.
I'm a tiny bit torn about the way Yeol's interest in Sa-rang changed on discovering she's his biological daughter, because does that mean he didn't mean it before? Is she more valuable now because of genetics? The biologist in me is mumbling about evolutionary imperatives blah blah blah, but I wanted the show to prove biology (occasionally) wrong, because of how much I liked the idea that he could be just as much a father even without a bond of blood.
But that said, it's probably down to a more practical reason: Their relationship until then had been mediated through (and existed because of) Mi-rae, which shaped how he was with Sa-rang. Even when Sa-rang willingly acknowledged him as her dad, there always had to be some necessary distance because Mi-rae still called all the shots as "real" mom. So I can understand his joy and elation at finding out she is his, with or without Mi-rae. Even if Mi-rae wants nothing to do with him, he unreservedly has a right to belong to Sa-rang, and she to him.
For the man without a family, I think we got a glimpse this hour of how enough Sa-rang is, and how having her fills him up completely, the same way it fills up Mi-rae. Just look how proud and happy he is every time he gets to call himself "dad". But the fly in the ointment (unfortunately, there are always flies, even when you try to ignore them) was having him suffer a jarring character-regression in the middle, back to the old, immature Yeol we started with. Again, it's this show's classic problem of undoing its own progress and coming out at cross-purposes against itself. But! No more of that! We're focusing on the good!
With only a few episodes to go, I'm really beginning to believe we'll go all the way to the end with Mi-rae, and I'm still in two minds. I like the idea of a show that doesn't flinch from the reality that people you love die, and there are no miracles. But…that's also why I hate it. Because if you give me a choice between death and miracles, I want miracles. But credible ones!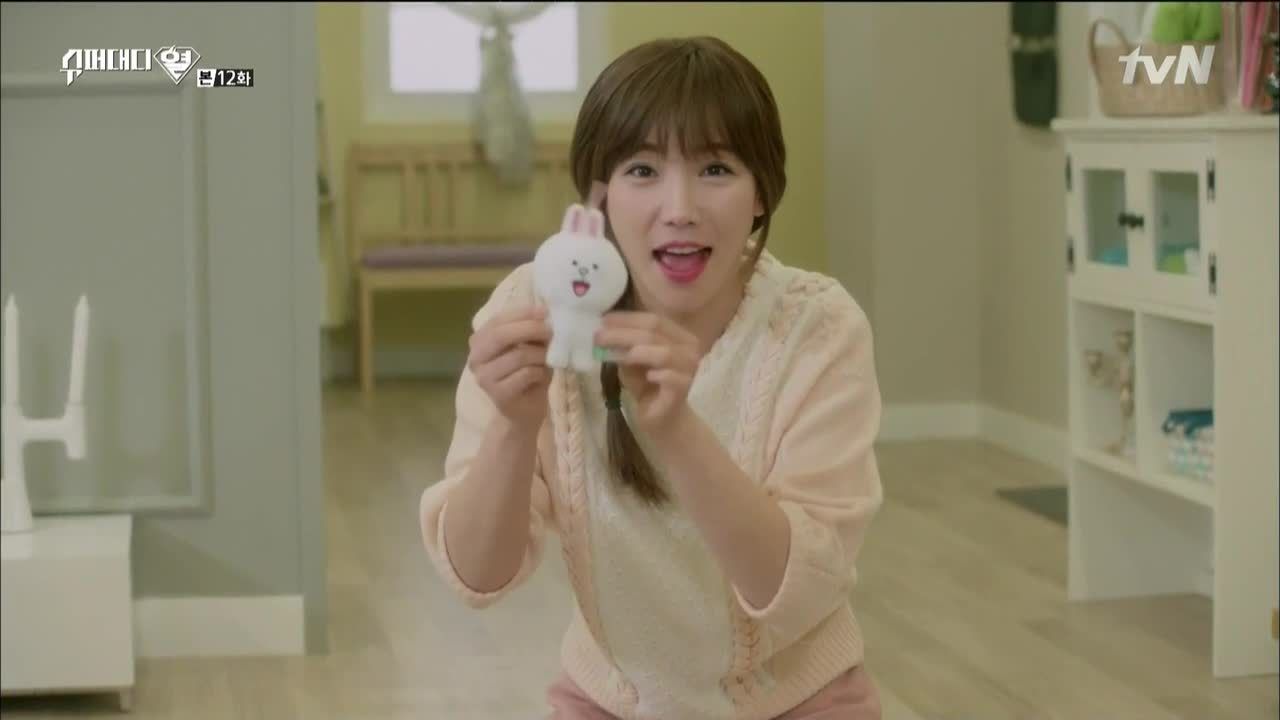 RELATED POSTS
Tags: featured, Lee Dong-gun, Lee Yuri, Seo Joon-young, Superdaddy Yeol