Winter Sonata gets sequel 13 years later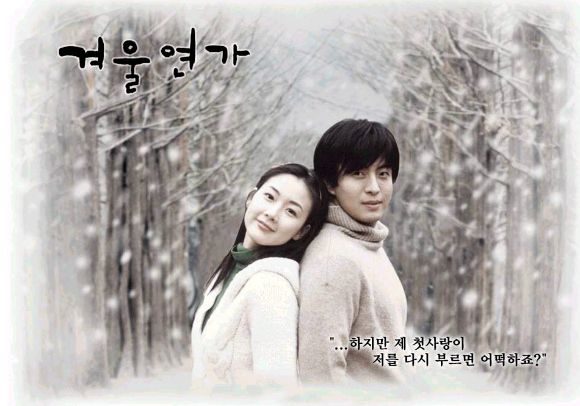 Just when you think you've seen everything under the sun being made and remade (and recycled and rehashed) for television, there's news that dramaland is going back in time to 2002 to revive one of its most iconic Hallyu hits, Winter Sonata. Have we officially run out of ideas, people? A sequel called Winter Sonata 2 is reportedly in the works at Pan Entertainment, and the original creative team is getting involved. I know that I shouldn't be surprised anymore when MBC tries to remake Dae Jang Geum every year and Full House Take 2 happened, but sometimes I just want to call an intervention and tell them to leave well enough alone.
Winter Sonata aired on KBS in 2002, as the second installment of PD Yoon Suk-ho's Season Drama series — the others included Autumn Fairytale, Summer Scent, and Spring Waltz — and catapulted lead actors Bae Yong-joon and Choi Ji-woo to megastardom. It's one of dramaland's classics, with every cliche in the book before it became a cliche: faux-dead first loves with amnesia, birth secrets, terminal illness, the works.
There's no arguing that it was a sensation in its time, but I wonder how you update a drama 13 years later and give it a fresh spin when the nature of your original source material is dated because everyone's already paid homage to your story in a thousand ways.
PD Yoon Suk-ho is aboard as the creative director in a producer's capacity, while Winter Sonata's original writing team Yoon Eun-kyung and Kim Eun-hee (Prime Minister and I, My Fair Lady, Snow Queen, Sweet 18, Summer Scent, and others) will be penning the script. A director isn't attached to the project yet.
The story synopsis is due out next month, so until then we won't really know how faithful a remake it'll be, with new actors playing the same characters in the same story (this has Bad Idea written all over it), a sequel that picks up after the original (how is this possible?), or a loose remake with a vaguely similar setup (like Full House Take 2). The last option seems the least risky, since you could get a new cast of fresh faces in a melodrama about star-crossed first loves and just call it Winter Sonata 2. Just don't pull a My Sassy Girl 2 on me, or we will have words.
Via Osen
RELATED POSTS
Tags: remakes, sequels, Winter Sonata