Falling for Innocence: Episode 10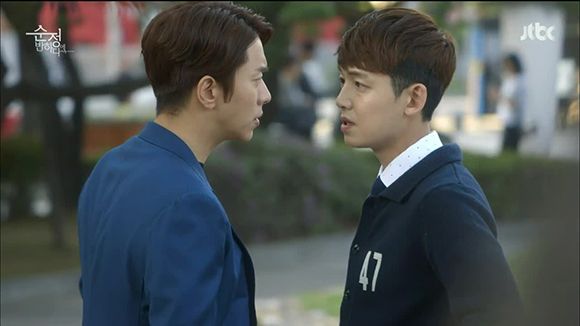 Some life gets breathed into the murder case that started it all this hour, bringing some pretty damning revelations to light regarding the whodunit and why. Even without knowing the full truth, the impact on Soon-jung is apparent, and only our newly revamped hero seems to know what emotions she's hiding inside—and more importantly, when she just needs a good cry. Ah, l'amour.
SONG OF THE DAY
CNBlue – "Blind Love" [ Download ]
Audio clip: Adobe Flash Player (version 9 or above) is required to play this audio clip. Download the latest version here. You also need to have JavaScript enabled in your browser.

EPISODE 10 RECAP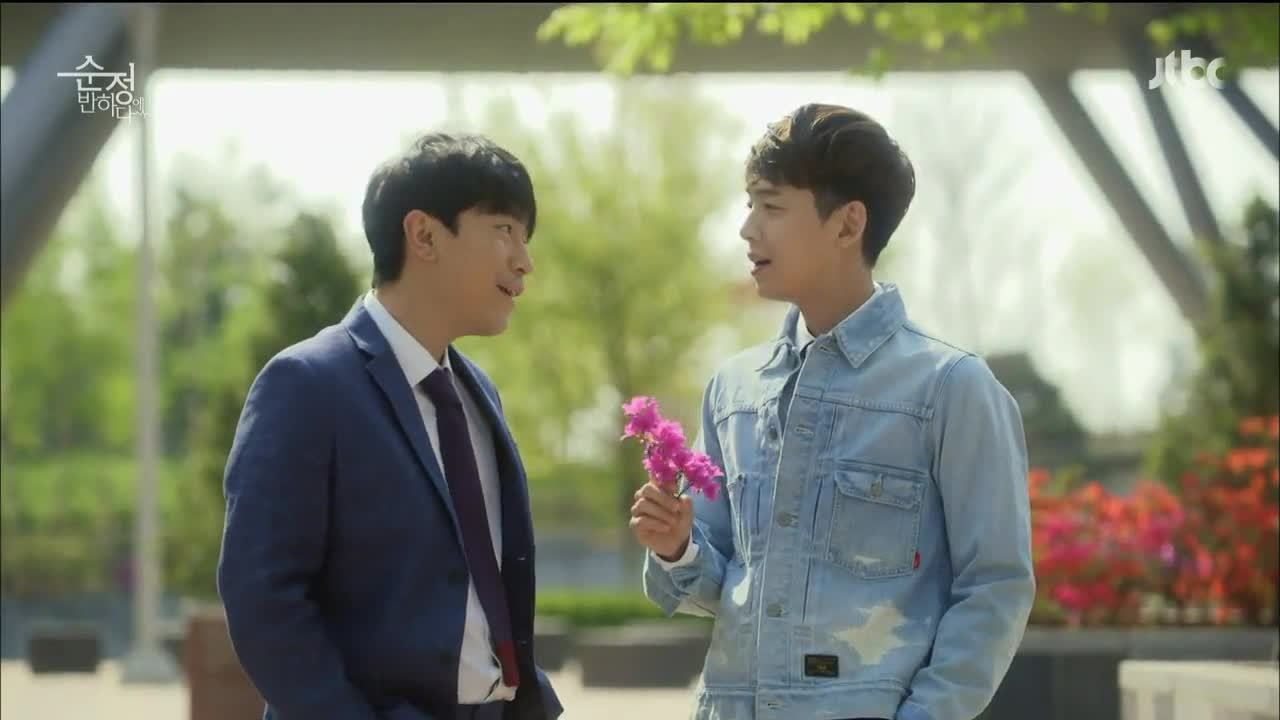 In order to get a loan to fund the development of Hermia's new product, Min-ho has to put up most of his earthly possessions as collateral. This, Secretary Oh reminds him, means that the product has to do well, or Min-ho will lose everything.
Despite Min-ho having the sniffles from a cold, Secretary Oh suggests they do a little celebrating now that Min-ho snagged investors. What shall it be: wine or champagne?
Min-ho thinks back to Soon-jung having a grand old time when they went out with the union members and smirks when he suggests makgulli instead. But for the two of them—Secretary Oh is not invited. Aw.
Meanwhile, Ok-hyun tries and fails to get answers out of the recently awoken Noh Hyungnim, who uses his medical state as an excuse not to answer her questions.
Joon-hee catches Soon-jung at work and asks for a private chat, considering that this is his last day at Hermia. He comments about how strange it feels to be leaving everything he knows, but she tries to point out the silver lining in all this (as well as the line delineating which zone is the friend zone) by saying that he won't have trouble finding a better job. Or a better someone.
But Joon-hee disagrees, since he hasn't been able to find that someone in twenty years. Soon-jung sticks to her guns while remaining as polite as possible, noting that them seeing less of each other will probably be a good thing—she doesn't want to start hating him, or feel sorry for him.
She even adds that they might be able to meet as friends again after the new product launches, which rattles Joon-hee. "Do you know what I find upsetting? Even when you're being this cold to me, I don't hate you at all," he sighs. As for their possible future, he's said it before and he'll say it again: He doesn't want to just be friends with her.
Now it's Min-ho's turn to catch Joon-hee on his way out, and he seems inordinately pleased to inform him that the man set to be his replacement is not only qualified for the job, but shorter than he is. Hah. Plus, it means he won't have to see Joon-hee and Soon-jung together anymore.
Joon-hee challenges him on this, wondering if it's going to be the same way outside of the office. Does Min-ho really think he can compete with their relationship of over twenty years? As if in answer, Min-ho looks at the heels of his shoes and sulks. (Aww, are the inserts not as magical as he'd hoped?)
Min-ho gets shot down in his effort to drink makgulli with Soon-jung when she mistakenly thinks he bought it only as a gift for his investors. Wamp wamp.
Then he thinks up a way they can spend more time together, though he hasn't seemed to have thought it through—why doesn't she take over Secretary Oh's duties too? He makes it sound all positive, like she's just that capable, even though he's saddling her with all the work. "You can do it! Fighting!" he chirps.
While Soon-jung's colleagues note that she's acting way too okay with the extra workload because she always works hard for Min-ho, Secretary Oh sighs that Min-ho just punished her because she didn't understand his feelings.
Min-ho adamantly denies it, citing that his only reason for saddling her with more tasks was because he wanted to see more of her. He's worried that she only likes him because of the flashes of Dong-wook she sees in him, so Secretary Oh proposes a way to help Min-ho show off his charm in order to woo Soon-jung and make her forget about her old flame.
So Secretary Oh turns to dramas to give Min-ho an idea of what the heroes do to woo the heroines—back hugs being a big winner. Min-ho can't understand how girls would actually like a surprise back hug (meta win), but Oh claims that it's all the rage and totally, tooootally works.
He shows Min-ho the power of the back hug by practicing it on him, and the two start laughing like maniacs as they realize that it actually is pretty fun. Unfortunately their lesson is cut short when one of the secretaries walks in on them mid-hug, assuming that she's seen something she wasn't supposed to. Haha.
Min-ho saunters into Soon-jung's office looking for an opportunity to try the back hug on her. But she catches him in the act, which he swiftly covers for by claiming he really just needed to see the file in her hand. And then he has to lamely pretend that the cafeteria menu he took from her is really important to him.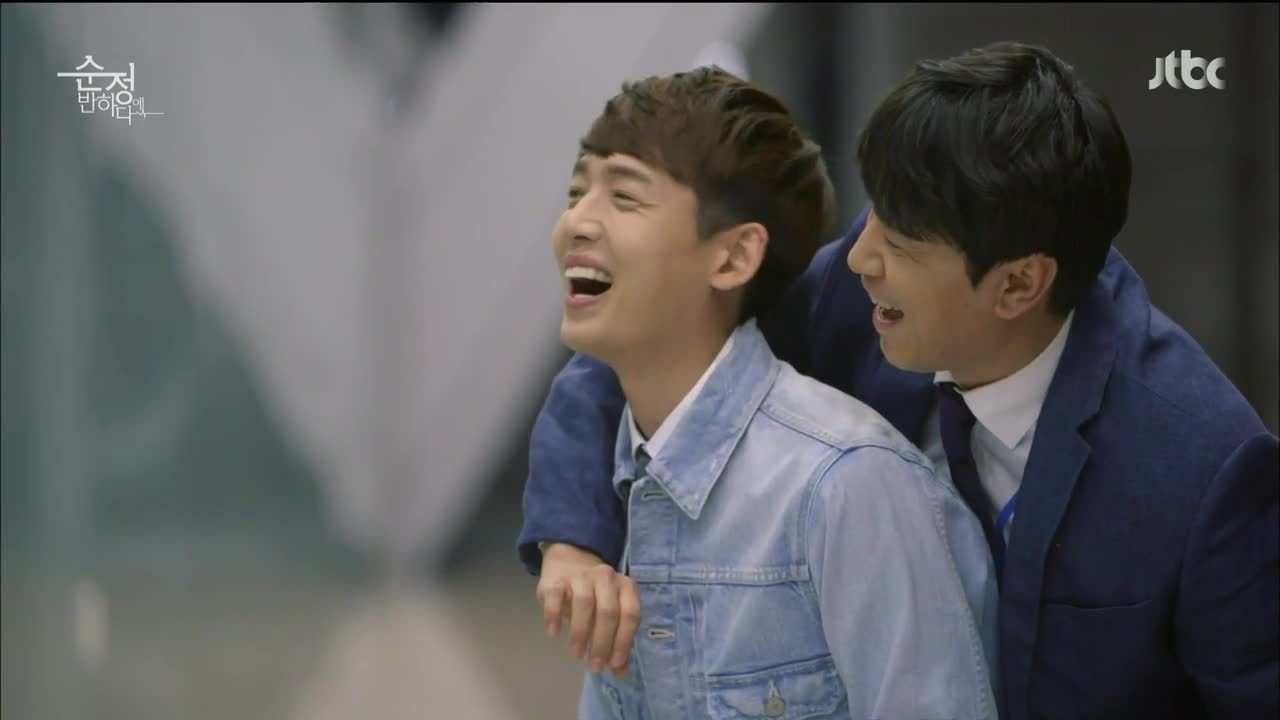 He reports his failure to Secretary Oh, who attempts to show him again how it's done by demonstrating the back hug on him. They both start giggling like crazy, and hilariously get spotted by the same secretary as before. Good luck explaining that one, guys.
Ok-hyun heads to Hermia in a huff after finding out that Min-ho's been digging into Dong-wook's case, meaning that she's already suspicious when she hears Dong-wook's ringtone coming through Min-ho's phone.
He doesn't realize her ire is directed at him, and innocently wonders if she's looking for the phone that disappeared from the crime scene. He saw someone pick it up in one of his flashback visions, but Ok-hyun's so keyed up that she immediately grabs his throat, wondering how he knew Dong-wook's phone was taken.
Any explanation on Min-ho's part is useless, and he gets thrown to the ground and beaten for the trouble. When they're eventually pulled apart, Ok-hyun demands to know why Min-ho's been poking around the case, but doesn't believe him when he says he's doing it for Soon-jung. Especially not when Dong-wook died investigating Min-ho in relation to the product tampering case, she argues.
Soon-jung drags Ok-hyun away and asks her how she could just go beating people without reason (and rightfully so). Ok-hyun picks up on Soon-jung's defensive attitude toward Min-ho and goes way out of line when she reminds Soon-jung that Dong-wook hasn't been in the ground long enough for her to be moving on like this. Jesus, woman. You suck at policing and friendship.
Joon-hee picks his father up and drives him to Seoul, explaining on the way that he's bought an apartment for him there. His father won't have to worry about his job anymore since his son will take care of him, even though Joon-hee says this like a lost child—he doesn't have Hermia anymore, or Soon-jung. His father is the only thing he has left.
He finds Min-ho waiting for him at the complex, since Min-ho's put his noggin to use and figured out that Joon-hee must've been behind the product tampering case. And since Ok-hyun believes that Dong-wook's death was because of that investigation, he outright asks Joon-hee if he used Noh Hyungnim to order a hit on Dong-wook.
Of course Joon-hee doesn't know what he's talking about, but his father does as he eavesdrops nervously nearby. He does remind Min-ho that revealing his involvement in the product tampering scandal could send him to jail, but Min-ho is past caring at this point. He just wants the truth.
To him, it all makes sense—but would Soon-jung ever forgive Joon-hee if she found out that he murdered her fiancé and his own best friend? Joon-hee does rankle at this accusation, and tells Min-ho to watch what he blurts out. Min-ho hopes he's wrong, only because of what it would do to Soon-jung if he isn't.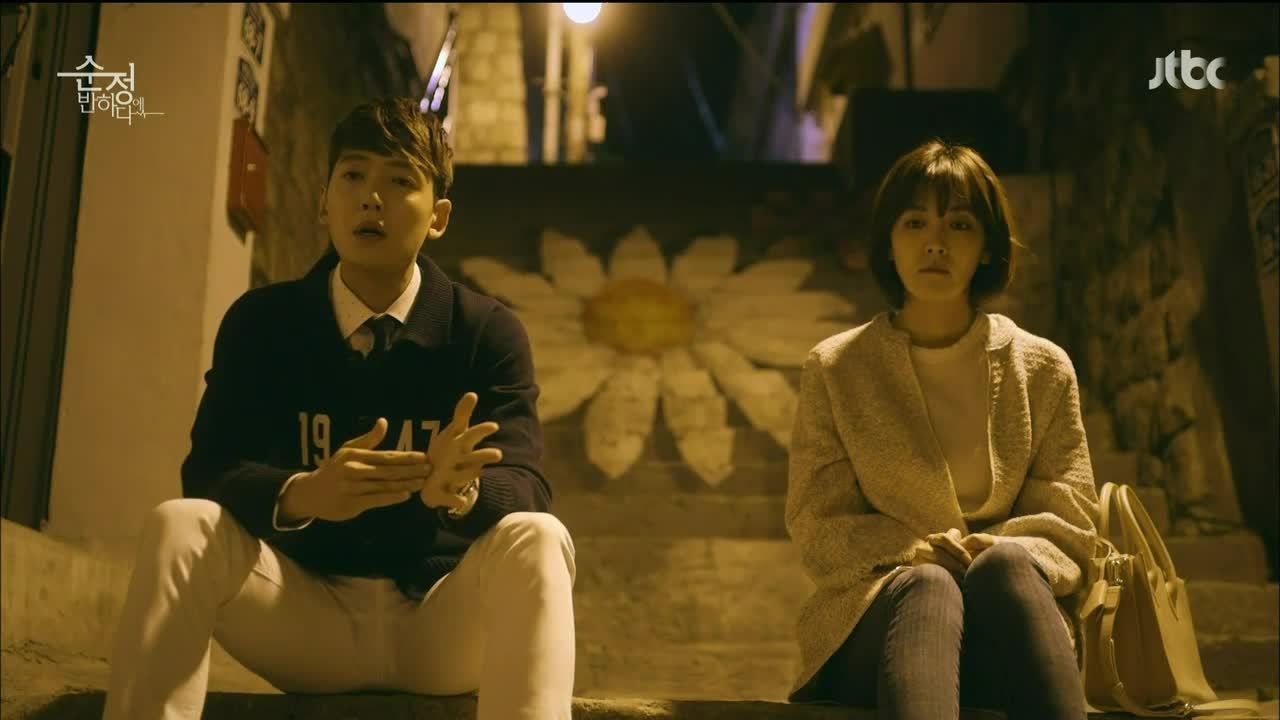 Soon-jung takes the walk home to sort through her conflicting feelings for Min-ho, trying to discern whether she likes him as a man or just respects him as her superior. It doesn't help that she finds Min-ho waiting outside her door with questions on his mind.
He's trying to sort through his feelings for her, and whether she likes him for him, or because he reminds her of Dong-wook. So he asks without really asking if he reminds her of someone, only for her to answer that he looks just like CNBLUE's Jung Yong-hwa. "Jung Yong-hwa looks like me," he corrects her under his breath. "I'm older than he is." Hah.
So he changes tactics and asks if he reminds her of anyone mentally, not physically. She doesn't hesitate before she starts to say "an elementary student," only for Min-ho to quickly cut her off. At least it gives him hope to think that she may like him just for being him.
They trade jokes over Min-ho's more refined looks as opposed to a classically masculine visage, which she claims Dong-wook had. Then they go back and forth over whether Dong-wook was so handsome, since Min-ho is just a teensy bit jealous. That's when Soon-jung adds that it wasn't so much her late fiancé's face, but his heart that appealed to her.
She remembers Dong-wook because he was always there for her when she needed him most, not just when she was happy and fine. Min-ho sighs with worry, wondering if he'll ever be able to top the memories she shared with Dong-wook.
Joon-hee's father visits Noh Hyungnim in the hospital that night, and while Noh can barely speak, he's frightened to death. Joon-hee's father threatens him to keep his mouth shut about what happened if he wants to protect his family, but as he gets up to leave, Noh begins to repeat one word over and over again: "Joon-hee… Joon-hee… Joon-hee…"
Speaking of, we find Joon-hee paying a shady dude to keep tabs on Noh Hyungnim now that he's awake. His father calls him with something urgent to share, but when Joon-hee isn't in the mood, his nervous father just wishes him well instead. (When in reality, he's going back to his hometown in Icheon.)
Meanwhile, Min-ho discovers that the police couldn't find any blood traces on Noh Hyungnim's car, nor did they during a secret test on Joon-hee's car. Ok-hyun gets alerted at the station when Dong-wook's previously dormant phone pings with a nearby tower, and they triangulate its location… to Icheon. Within a one mile radius of the house Joon-hee grew up in.
Joon-hee goes to his apartment only to find his father gone and a note left in his place. In it, his father blames himself for everything, and his pure adoration of his son becomes increasingly clear as we cut to his father sitting next to Dong-wook's phone in Icheon. He turned it on knowing what would happen.
Though he only alludes to it in writing, Joon-hee's father adds that whatever his son did—even on that day—was a result of his bad parenting. And so, he'll take the blame to save him.
We flash back to the night of Dong-wook's hit-and-run through Joon-hee's father's perspective, since he'd followed both his son and Dong-wook and ended up eavesdropping on their heated conversations.
Joon-hee, after hearing Dong-wook threaten to arrest him should he not turn himself in, couldn't help but think back to his tortured past as the kid who was never good enough, the one who had to claw his way up the ladder—even if it meant sacrificing his morals to do so.
Dong-wook's threat to end everything he'd worked so hard for is what drove Joon-hee over the edge, and literally over Dong-wook's body. Though he'd gunned it for his friend, he stumbled out of the car in shock, and Dong-wook was still alive enough to grab for his wrist and accidentally rid him of his watch. The fish design on the watch face is what Min-ho saw in his vision.
And Noh Hyungnim got involved only because he happened on the crime scene. He'd wanted to call an ambulance to help Dong-wook, but Joon-hee had threatened him against it, and promised to finance his family's future if Noh stayed quiet.
All this his father witnessed in horror, and why he was there to pick up Dong-wook's ringing phone. He'd heard Dong-wook's whispered cries for help and forced himself not to heed them, only able to apologize through a muffled sob as he left him to die.
In the present, Ok-hyun and her band of detectives raid Joon-hee's father's house, but find him lying still (dead?), clutching a picture of his son. Joon-hee finishes reading his father's letter, which tells only of his love and the coming sacrifice he'll make for him.
Joon-hee rushes to the hospital where his father has been taken, though there's no saving him now. Joon-hee cries pitifully for his father to wake while Ok-hyun watches unmoved. Are we just going to gloss over the fact that Joon-hee's father just willed himself to death?
She meets with Papa Ma next to give him his son's handphone, found along with a suicide(?) note with Joon-hee's father. In it, he claimed that he hit Dong-wook accidentally, using a truck that's already been scrapped, and only took the phone because he didn't want anyone passing by to see it.
Min-ho gets the same evidence but doesn't believe it—in his vision he saw a car, not a truck. Ok-hyun isn't quite sold on the case either, and gets called by Min-ho, referring to himself as Captain Hook since she'd compared herself to Wendy from Peter Pan.
Of course, when he tells her his "gut feeling" says that Joon-hee's father wasn't the perpetrator, he sounds crazy. He sounds even crazier when he grabs Ok-hyun by the shoulders and says in all seriousness, "There's another person inside of me."
He compares his situation to the movie Ghost before hurriedly adding that it's not quite like that—point being, Ok-hyun has to re-investigate. I don't know when these two turned into unwilling friends or the Comedy Hour, but I'll take it.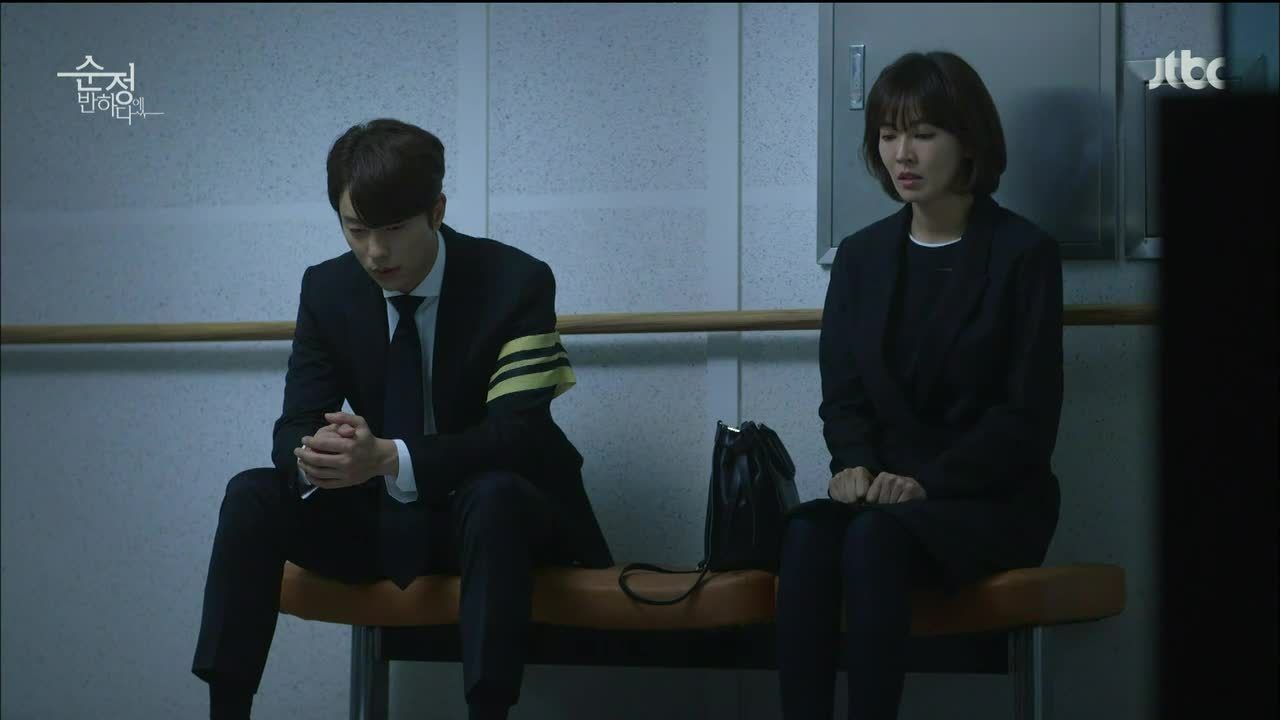 A somber Soon-jung attends Joon-hee's father's funeral, even knowing everything she does now. When she's alone with Joon-hee she reminisces about all the times he was there for her in the past, including him using his scholarship money to help pay for her father's hospital bills.
Even so, she's come to give her last farewell to both his father… and to Joon-hee. She admits that she knows it wasn't his fault, but she's not strong enough to overlook his father's crime even with the twenty plus years they've known each other.
"You were right," she adds. "From now on, I don't think we can even be friends." Joon-hee all but whispers that he wasn't expecting the words he said to her to come back to hurt him like this, and despite everything, it's hard not to feel for the guy. Until you remember that he's letting his dead father take the blame for a crime he committed.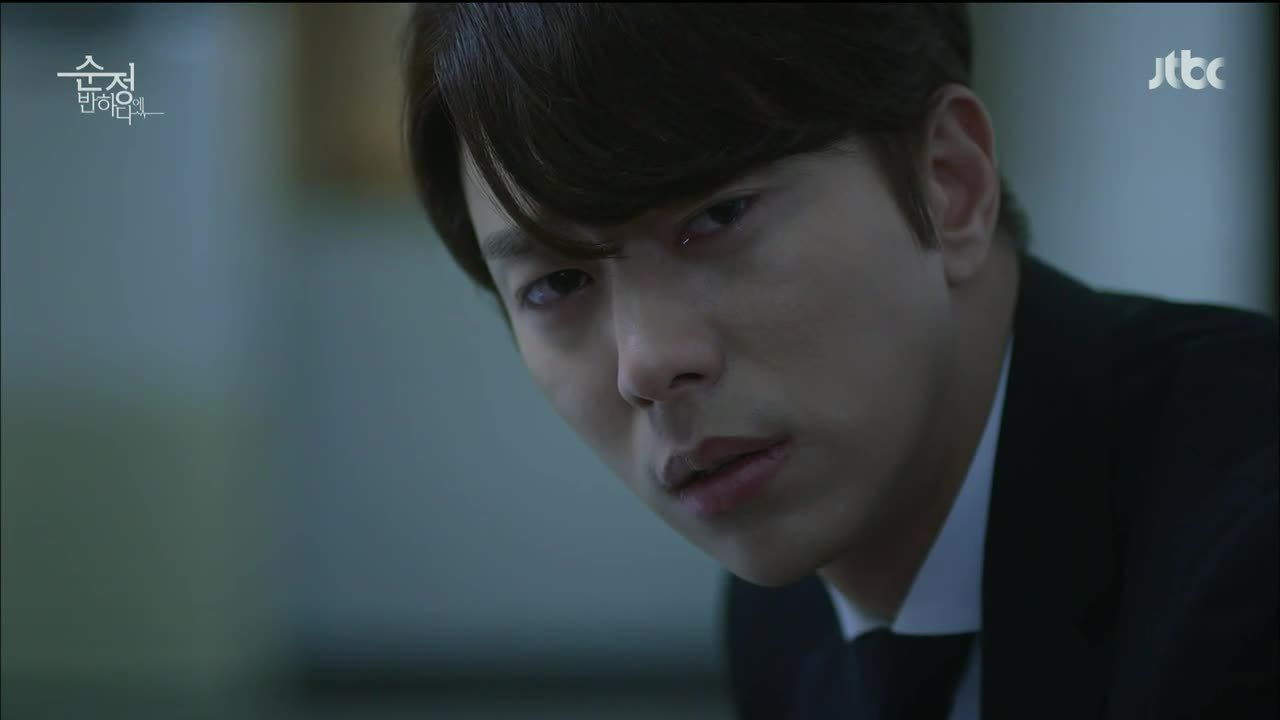 After adding that she's thankful for everything Joon-hee did for her, she leaves, and Joon-hee's left to sob all alone. Talk about kicking a murderer while he's down, sheesh.
Soon-jung's laptop is used for a presentation on the new mystery product and Ok-hyun, unable to get ahold of her by phone, sends her an instant message that shows up on the projection screen for everyone in the meeting room to see.
In it, Ok-hyun refers to Min-ho as "that crazy fool" as she talks about him, and Min-ho takes control of the laptop to type back as Soon-jung, who sings praises about how cool, handsome, and especially tall he is. But then he adds, "It's okay to cry if it hurts too much," so that Soon-jung can read it and understand that it is okay.
Soon-jung gets up to leave and Min-ho follows, eventually landing them on the steps outside her house. He gives her a hat to hide under when she doesn't want to be seen crying, water if her tears dehydrate her, a shoulder to cry on, and a free piggyback ride should she pass out during her cryfest.
It's really cute that he gives her a two hour period to just cry her eyes out, with no judgment from him. Soon-jung doesn't know what to do with that at first since she's still holding it together, and even at his steady, reasonable insistence, she still claims she's fine.
She feels bad when she thinks of Ok-hyun telling her she's moved on too quickly, but Min-ho's embrace stops her from literally and metaphorically escaping her feelings. It's only when Min-ho changes tactics and says he's the one who needs to be comforted after seeing her struggle with her emotions that she finally lets go of everything and cries.
Meanwhile, Joon-hee spreads his father's ashes as he thinks of the letter his father left behind. Min-ho dreams that night of the fish design on the watch face of the man at the crime scene…
…As Joon-hee thinks intense thoughts, eats from intense tupperware, and puts on the very same fish watch as intensely as possible.
After finding out that they're being stonewalled by their investors pending further clinical trials of The Product, Min-ho and Secretary Oh arrange a meeting to speak with the investor personally.
And after having to wait for two hours, their previously unknown investor shows up with an all too familiar face: it's Joon-hee. Dun dun dun.
Min-ho is less than happy to see him until he's told to respect Joon-hee as the new chairman of Gold Partners, who recently acquired the company investing in Hermia's product. The two adversaries lock eyes, unafraid and unimpressed.

COMMENTS
I'm inordinately pleased with the way Min-ho has been handling his identity crisis in the wake of finding out whose heart beats in his chest, since the premise seemed ripe for melodramatic agonizing over who he really was, why he felt the way he did for Soon-jung, whether it was truly him feeling it, so on and so forth ad infinitum.
And while that was a concern for him, it wasn't enough to eclipse the way he's come to feel for Soon-jung, no matter how he's come to feel that way. The fact that he's made that realization is kind of crazy when you consider how Min-ho was just a couple weeks ago, and though the change hasn't been mapped out in the smoothest of ways, I can't complain much when I appreciate the result. It's a dramatic change for him, but he has the whole heart transplant excuse, so let's just run with it.
The thing is, Min-ho falls into the role of nice guy so naturally that he could've fooled anyone who just decided to tune in as of last week, since the care and compassion he's giving to Soon-jung goes above and beyond the usual heroic call of duty. It may be hard to believe that the same guy who had to look up what a back hug was and questioned its efficacy could also pull out all the stops when it came to getting Soon-jung to just let go, which I guess just goes to prove that good things can happen when you're not actively gunning for them. Min-ho doesn't need a lesson in back hugging from a wannabe heartbreaker like Secretary Oh when he need only offer his shoulder, his understanding, and a bottle of water in case of dehydration to a damsel refusing to let herself be distressed. Too cute.
As for the big reveal, I'll admit I was mildly surprised, though maybe that's because I just really, really didn't want Joon-hee to be the murderer. Not out of any sort of loyalty or likability of the actor, but because the development would need to make sense, and it doesn't. While we could point to his father as the weak-willed one more likely to act before he thinks, Joon-hee couldn't have gotten this far if he was such a power hungry and impatient maniac, so it casts his characterization into question. It's fine to paint a person as so villainously amoral that they'd kill their best friend of over twenty years over some potentially damning information, but when you don't spend any time with that person's feelings, then you risk losing any sympathy and understanding for them. Again, it's not an uncommon practice for dramas to do with their generic villains, but it's just such a waste in this case.
So even if we bought the idea that Joon-hee went temporarily crazy at the thought of losing everything he'd worked for and did something he never would have done otherwise, showing him after as having little to no remorse for what he did puts him firmly in irredeemable territory and has the effect of making him a sort of tacked on addition to the emotional undercurrent being played out with Soon-jung and Min-ho. Meaning that he's just the villain now, and not a romantic contender for Soon-jung's heart—though that shouldn't come as a surprise to anyone who's been watching the show. And now that he's wearing the watch his dying friend tore off his arm for literally no reason other than convenient future recognition on Min-ho's part, Joon-hee can add being a complete sociopath right under being a second lead to his list of more unfortunate qualities.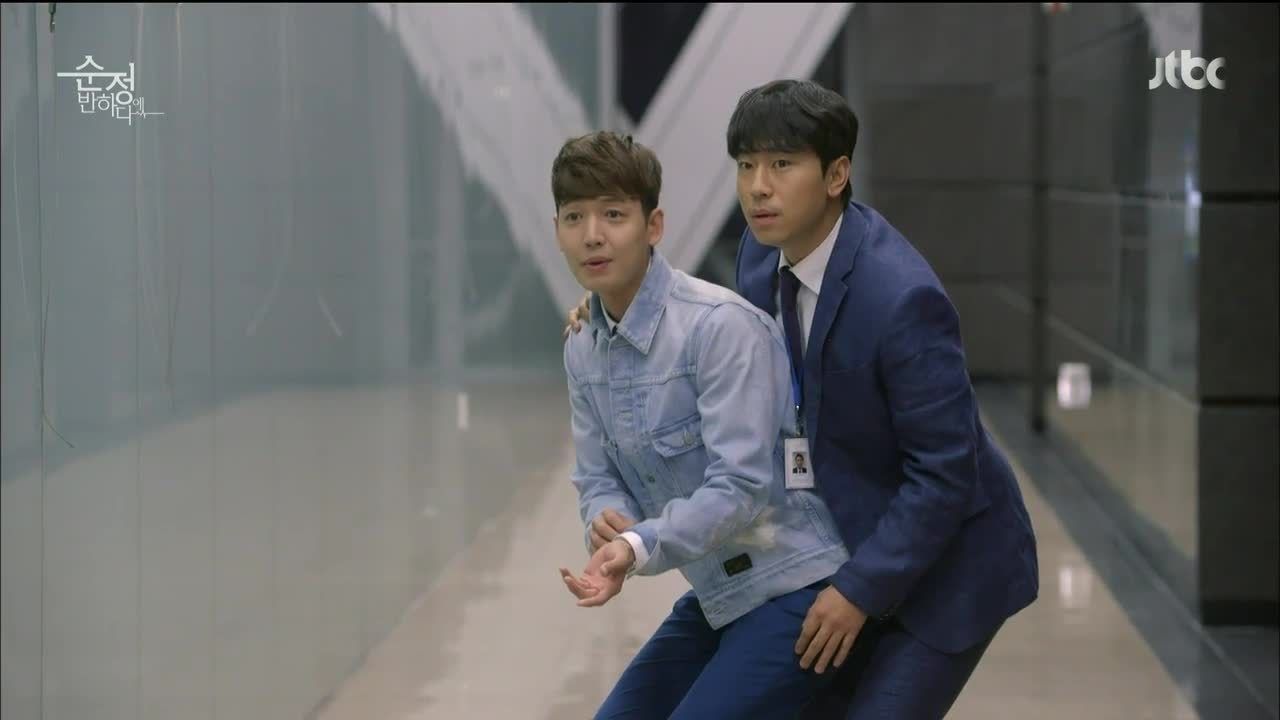 RELATED POSTS
Tags: Falling for Innocence, featured, Jung Kyung-ho, Kim So-yeon, Yoon Hyun-min