Falling for Innocence: Episode 12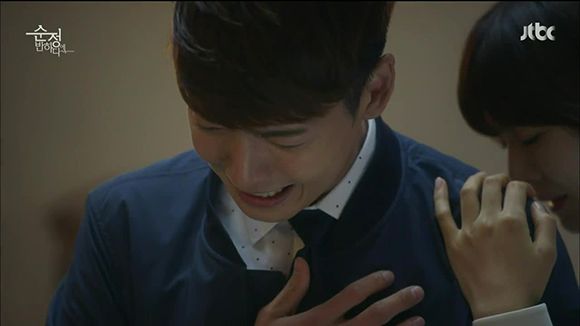 This hour is all about confronting the past, whether that means just learning how to let go or learning how to embrace and reconcile it with the present. Both Min-ho and Soon-jung find themselves tied to the ghosts of what came before in similarly eerie ways, but the result is all heart. Well, mostly heart. I'm not sure what's beating inside Joon-hee's chest, but I'm almost positive it can't be human. An ant farm filled with perpetually pissed off ants, perhaps, but not a heart.
SONG OF THE DAY
1sagain ft. Paul Kim – "너는 듣지 않았으면 해 (I Don't Want You To Hear)" [ Download ]
Audio clip: Adobe Flash Player (version 9 or above) is required to play this audio clip. Download the latest version here. You also need to have JavaScript enabled in your browser.

EPISODE 12 RECAP
Min-ho's face lights up when he asks Soon-jung if she maybe, just maybe has come to like him a little, but her response is to give no response.
Still, he's undeterred, happy with just the thought that her feelings toward him might be changing. She warns him not to put stock in her words so that he won't misunderstand her and get hurt in the end, but he simply answers that he's used to getting hurt. Even feelings like pain and sorrow remind him that he's alive.
After enjoying a villainously maniacal laugh over the discovery that Min-ho's new heart once belonged to Dong-wook, Joon-hee has his man look into the details of the transplant process with a triumphant smile.
Things start spiraling downward for Min-ho and Hermia now that Joon-hee's intervening, starting with them being unable to obtain the ingredients needed for the New Product to facing angry CEOs of their affiliate companies who've suddenly found their accounts frozen.
In fact, Gold Partners has frozen all of Hermia's accounts, making them unable to even pay their own employees. To make matters worse, the central factory has all its assets seized, causing its unpaid employees to turn to looting supplies to make up for their lost salaries.
Min-ho has to find a way to pay back the investments or risk going bankrupt, prompting Soon-jung to confront Joon-hee about his underhanded methods. For some insane reason, Joon-hee doesn't seem to understand why she's not throwing herself into his arms the more she sees Min-ho suffer, and his only answer to that is to promise her that Min-ho will suffer even more.
Naturally, Soon-jung says that her own pain is directly tied to the pain Min-ho is in, and asks what Joon-hee wants to be satisfied. He tells her to look forward to tomorrow, when she'll be able to see a whole new side of Min-ho after he's hit rock bottom. Ugh, Joon-hee. Do you still not get how this whole thing called "life" works?
She finds Min-ho feeling defeated, and all but picks him up by his bootstraps. There's no time for a pity party with so much to do, and his only job is to try, try, and try again.
In order to help, she's collected a list of wealthy individuals who might be interested in investing—it's just up to Min-ho to step up to the plate and go for it. Secretary Oh, the other Hermia secretaries, and herself all devote themselves to the cause as well.
While Ok-hyun (or more precisely, her detective buddy who does all the actual work) finds the designer of the fish watch as well as intel proving that Dong-wook once bought the watch for an acquaintance, Joon-hee hears from his minion that Min-ho might have been looking into his donor's family because of the personality changes he's been suffering since the transplant.
Joon-hee does some research into cellular memory, now thinking back to the mannerisms Min-ho seemed to have carbon copied from Dong-wook. Along with memories of Min-ho saying how unsettled he felt looking at him, Joon-hee wonders if it's possible that Min-ho inherited some of Dong-wook's traits and memories.
After being denied by every possible investor on the list save for one, Soon-jung stresses that they can't lose this last chance. Min-ho's dubious since the last possible investor is an old grandma, but looks can be deceiving—she's known as Madam Jang, and though she owns a humble red bean soup restaurant and has a son with special needs, she's one of the wealthiest people in the country.
Unfortunately for them, Madam Jang is a wise old crone and rejects Min-ho before he can even get a word in edgewise. He doesn't budge and stresses that she's his last hope, and hilariously switches from calling her "Grandmother" to trying more familiar terms like mother, aunt, and even the more flattering noona. But he's thrown out regardless.
They return to Hermia defeated, and Joon-hee catches Min-ho in time to invite him for a cup of tea. He all but gloats, seeing as Min-ho has less than a day to come up with funds they both know he doesn't have.
When Min-ho muses about how their positions have switched, Joon-hee remembers that it's Dong-wook's heart that now beats in his chest as he murmurs, "What kind of ill fate is this?"
But then it's back to business as he tells Min-ho that he's suffering under a system that he himself initially created—now he can't be angry at Joon-hee for flourishing under the same system. Besides, now that he's been given the all-clear from Gold Partners to oversee the sale of Hermia, he's just taken over the job that Min-ho was once in charge of.
Min-ho doesn't understand why Joon-hee's going after Hermia with such malicious fervor, though he doesn't get an answer. Instead, Joon-hee mentions how his father once knelt and begged to save the company—maybe if Min-ho were to do the same right here, right now, he'd give him more time to accrue the funds.
Alone, Min-ho is painfully reminded of the truth in Joon-hee's words about him being a victim of a system that he once perpetuated. All the evil that he did to bring Hermia down initially is now coming back to him, he knows, but he still asks Soon-jung in a lost voice whether there's something, anything, they can do.
She says nothing as Min-ho starts spiraling down into a pit of despair, wondering how his father must've felt when he had to kneel, and whether he was just so desperate that he had to. "The strange thing is," he begins, tears and emotion welling up in his voice, "I don't feel like I'm fighting against Gold Partners. I feel like I'm being attacked by my own past."
That idea is so frustrating to him that he can only let it out in an angry yell as he continues to beat himself up over the things he did in the past that are coming back to haunt him. "What can I possibly say? What right do I even have to say… that it's hard on me?"
Soon-jung can only reach out to give him support, and says nothing as Min-ho breaks down into sobs.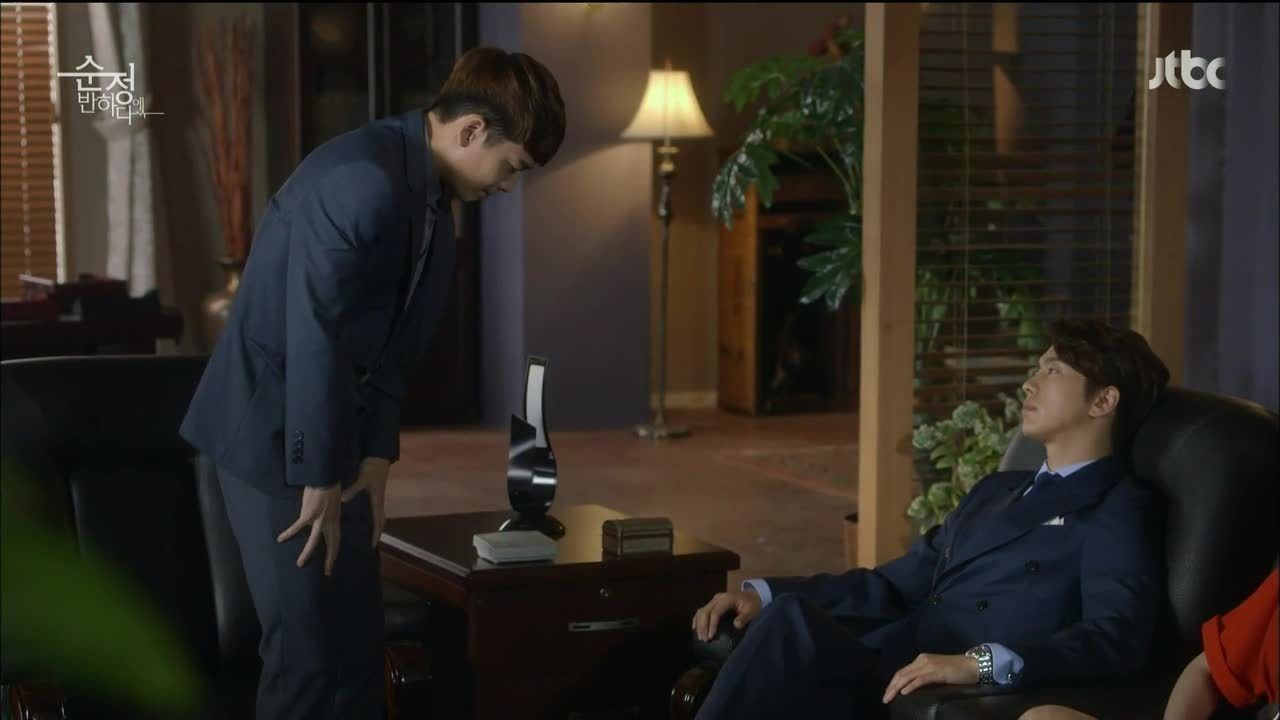 And while Joon-hee celebrates his nearly assured victory that evening, Madam Jang comes across the business card Min-ho dropped while she cleans up her restaurant that night. Something about the card gives her pause, like she recognizes the name.
During the next day's meeting, Joon-hee tries his best to act surprised when Min-ho reveals that he doesn't have the funds to repay him. "Oh my," he says in a comically flat tone. "What shall we do?" Well, there's only one option—Min-ho can either sign over the New Product to Gold Partners or get on his knees and beg for more time.
Joon-hee seems to want the latter more than the former, and Min-ho's face turns into a mask of determination as he slowly rises, as if readying himself… Don't do it, Min-ho! Not to this prick!
Just then Soon-jung receives a call to the office, while Joon-hee goads Min-ho to kneel and sits like a lazy king about to receive tribute. No sooner does Min-ho begin to bend his knees that Soon-jung comes flying into the office to announce that Madam Jang is on her way.
Her first order of business when she arrives is to shut Ji-hyun up in the way that only the old and powerful can, before she asks Min-ho how much he owes. He shows her the figure, and she makes a bank call to transfer five billion won (roughly five million dollars) over to him like it's nothing.
Joon-hee can't even get a word in, since Madam Jang announces that she's now taking over the New Product project. He and Ji-hyun make it their new job to find out why Madam Jang is helping Min-ho and how they can put a stop to it.
Min-ho is so thankful he's nearly speechless, as Madam Jang takes him back to her restaurant to feed him red bean soup. When asked why she helped him, she admits that she would never have thrown him out if she knew he was from Hermia.
He's surprised to hear that she knew his father, who was a regular at her restaurant. Cooking red bean soup was the only way she had to support her mentally disabled son after her husband died, but she'd lost all hope after her real estate agent swindled her out of the restaurant.
With nothing left to live for, she attempted to poison her son with pesticide-laden soup, planning to follow shortly after. That's when Min-ho's father had walked in, figured out what was happening after seeing the pesticide bottle, and ordered fifty bowls of soup for the next day.
He knew that the order would give her something to do and keep her and her son alive, and he was successful. But when he'd picked up the order the next day, he paid her with the deed to her restaurant, citing his own son's love for her red bean soup as the reason she'd have to keep making it for a long time.
That explains why she still runs the decrepit little restaurant, and why she gave Min-ho a heaping bowl of soup like she'd promised his father that day. She explains all this to Min-ho in the present, adding that she was able to build her bank account to what it is today because his father saved her and her son.
"Now I have to pay him back," Madam Jang says emphatically. "You have to live. You have to live so you can become a businessman like your father." Min-ho agrees, of course, but can't help thinking of all the terrible things he'd said of his father over a bowl of red bean soup later.
"What are you doing?" a voice asks, causing Min-ho to look up suddenly. His father sits next to him with a smile on his face, and starts asking his son questions like any father would. Does he have a girlfriend? Why is he so thin? Does he drink alcohol well?
Min-ho replies that he has someone he likes, and fortunately, she can drink well in his stead. They both have a laugh at this before Min-ho adds more thoughtfully that it's strange how his father will always look frozen in time to him, and will always appear the age he was when he died. "Even when I become a grandfather, you'll always look like this, won't you?"
His father jokes that at least he can observe his son getting old, but adds that a child is always a baby to his parents. "Life goes by quicker than you think," he cautions his son sagely. Min-ho begins to say something else only to look up and find the memory of his father gone. Aww.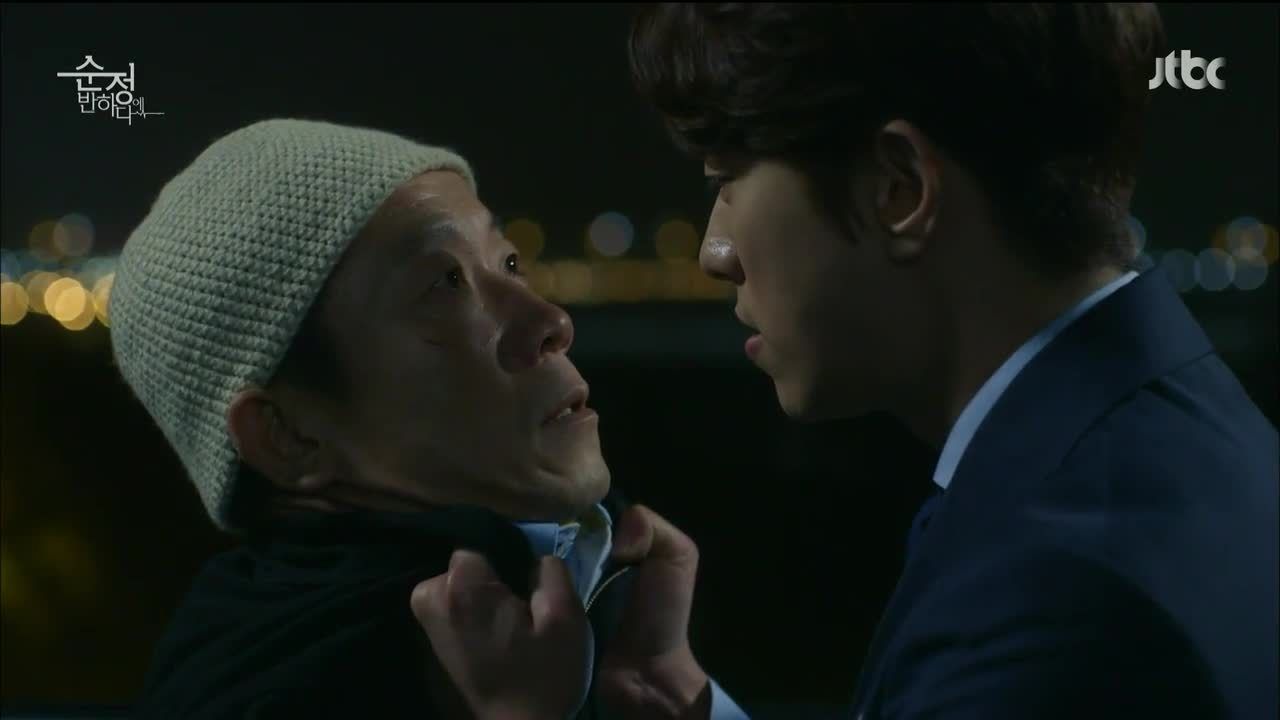 Noh Hyungnim appears in front of Joon-hee to demand that he make good on all the promises he made the night Dong-wook died, or else he'll go to the police with the truth. Joon-hee all but dares him to, confident that the police won't re-investigate the case when his father already paid the ultimate price to close it.
But Noh Hyungnim plays a recording of Joon-hee's voice from that night thanks to the black box in his car, implicating him in Dong-wook's death directly. He wants Joon-hee to pay for his wife's kidney transplant as of tomorrow, and should be a lot more worried when threatening someone like him.
Production at the central factory resumes thanks to Madam Jang, and now that things aren't so dire, Min-ho sneaks an opportunity to grab Soon-jung's hand. She freaks out on him and asks what he'd do if any of the employees saw, only for him to openly admit that he's just hitting on her, sheesh.
They bicker cutely over his actions, with him professing that he'll deal with her rejection as long as she deals with him showing his affection. He does wonder when her feelings will grow like his already have, both of them unaware that Papa Ma is watching them.
Joon-hee gives Noh Hyungnim cash for now, but refuses to be threatened just because he can't make his wife's surgery happen. He reminds Noh what kind of man he is and what he's done, insinuating that if pushed hard enough, he won't be able to control what he does.
Min-ho and Papa Ma bump heads at the factory, and go back and forth like a father and son while holding cold compresses to their heads after. Papa Ma uses the opportunity to ask Min-ho if he likes Soon-jung, since seeing the two of them together reminded him of how it felt to see his son and her together.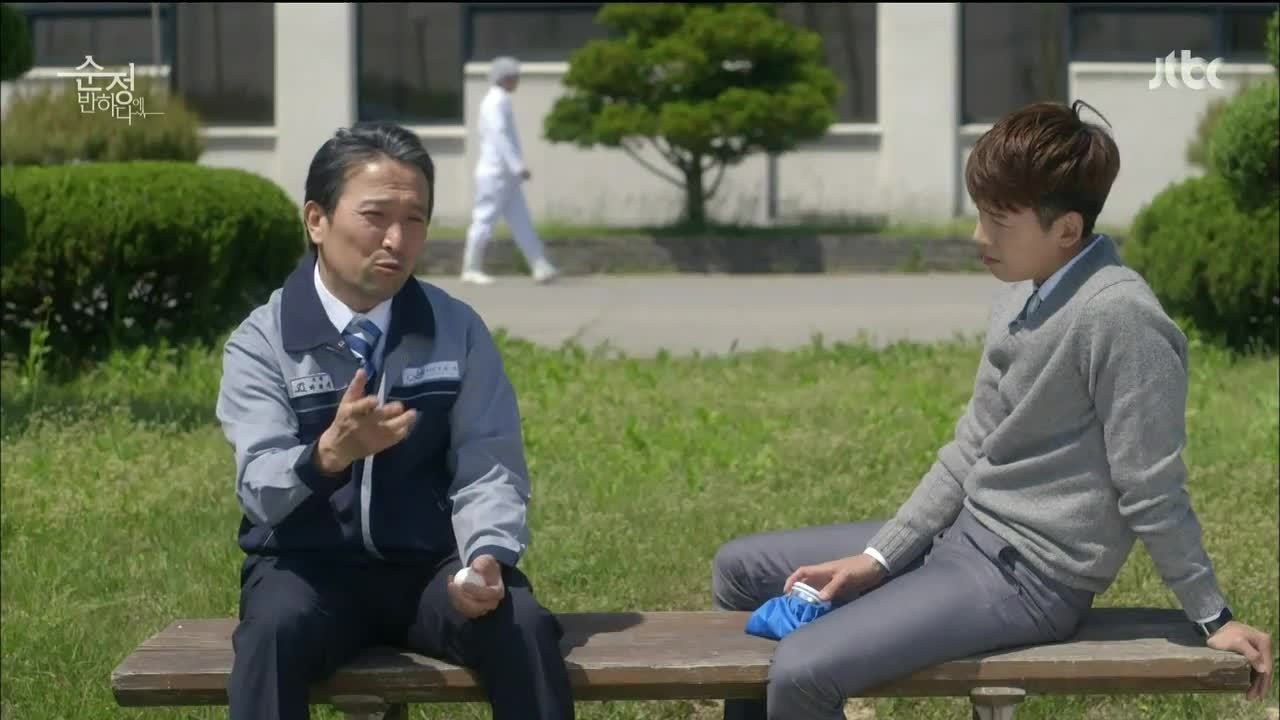 "Yes, I do," Min-ho answers. "I keep expressing my feelings to her, but she's not opening her heart easily to me." Papa Ma says it's because she has high standards, which Min-ho doesn't refute, even though he mumbles something about how hard it is to be in a love triangle with someone who's in Soon-jung's heart.
Plus, he adds, he'd brought her out here hoping for a date, but she only did the work she was supposed to do before returning to Seoul. Papa Ma asks half-jokingly if Min-ho doesn't feel bad for saying all this in front of her late fiancé's father, but Min-ho answers innocently, "Why would I be sorry? Love isn't something to be sorry about."
Something in his words or actions unsettles Papa Ma, perhaps because he reminds him so much of his own son when he kneels down to tie Ma's shoelaces for him. I love these two.
Under the pretext of asking her for ramyun, Min-ho invites Soon-jung into a room he's decorated for a celebratory party. They're celebrating the finished product at last, which he gives to her as a gift.
Min-ho: "Even in this exciting moment, all I could think about was you. Strange, isn't it? When I wake up in the morning, when the sun is out, when I eat something nice, when I listen to good music, and before I fall asleep… having a certain someone to think about during every good moment of my day is strangely fascinating."
Soon-jung looks vaguely uncomfortable as she voices her concerns to him, which he already took into account. He'll keep waiting for her to come around, as long as she doesn't run away.
But he asks her out on a fishing and ramyun date first, since it was an activity he used to do with his dad and he was reminded of it when he saw him recently. I love that he doesn't give Soon-jung too long to question that before he adds that he just wants her to take a small step closer to him. They'll start as slowly as she's comfortable with.
Joon-hee and Min-ho exchange some passive aggressive fighting words about his good luck in the bathroom, but the atmosphere changes completely when Min-ho recognizes the fish watch he's wearing and seizes his arm. "Was it you?" he asks incredulously. "You killed Ma Dong-wook, didn't you?"
Now his vision of that fateful night becomes clearer, as he sees Joon-hee's face there at the crime scene the way Dong-wook must've that night. He accuses Joon-hee of hitting Dong-wook with his car and even getting out to confirm what happened.
What's most appalling to Min-ho now is how Joon-hee could've done what he did and still stayed next to Soon-jung's side. Joon-hee keeps insisting that Min-ho's lost his mind, but Min-ho won't be deterred now that he knows the truth, and promises to uncover it for all to see.
Papa Ma continues his well-meaning meddling streak by asking Soon-jung directly whether she likes Min-ho or not. She starts to do her normal routine of shutting down, but Papa Ma is persistent, since he's known her long enough to know that she must feel something for him.
She waves the idea away, saying she'd be embarrassed to face Dong-wook, but Papa Ma says it's his son who should be ashamed of leaving such a beautiful woman behind. Then he adds, "There's something that Dong-wook always told me: 'Love isn't something to be sorry about.'" Ahhh, so that's why Min-ho saying that unsettled him so much.
He's all for Soon-jung moving on and wants her to see it that way too, since she can't live feeling chained to someone who's passed on. Besides, he's given his stamp of approval to Min-ho, even if he's less handsome and more childish than his own son was.
More importantly, he doesn't want her to waste her youth being stuck in the past. He's talking to her like her own father because he loves her as if he were, and Soon-jung is so overcome that she can't help but cry.
Min-ho goes to Ok-hyun/Wendy to tell her that Joon-hee is most definitely the murderer, because he caught him wearing the fish watch. Ok-hyun is actually skeptical for once, and mostly because they'd investigated his car already and came up with nothing.
He doesn't have a way to explain that away, but he tries to convince her of how sure he is Joon-hee was at least at the scene even if he can't reveal how he knows. At one point he does put her hand on his chest and say that Dong-wook is inside of him, but can't risk Soon-jung finding out and leaving him. Ok-hyun must reinvestigate, no matter what.
Soon-jung thinks back to what Papa Ma said to her while looking at pictures of Dong-wook. "Will it be okay?" she asks the photo. "For me to be happy… without you?"
"Of course it is, my lady," says Dong-wook in his usual style. Since everyone can apparently communicate with the dead this hour, Soon-jung looks up to see him sitting right in front of her. Even he wants her to move on, which she can't do if she's always thinking of him.
"My only wish is for you to be happy," he says. "Just that." Soon-jung cries at those words, but by the time she looks up again, he's gone. Meanwhile, Joon-hee calls a prosecutor buddy to look into the donor coordinator who had to have been paid to share Dong-wook's information with Min-ho.
Soon-jung and Min-ho are both getting ready for the fishing trip they'd planned when Min-ho is suddenly summoned by the police. Soon-jung goes outside to find Joon-hee waiting, and he doesn't mince words when he asks how she came to like Min-ho so quickly after Dong-wook's death, considering how she used to hate his guts.
He claims to know exactly why, and tells her she can find out by going to the police station. She does, and walks in just in time to hear one of the officers accuse Min-ho of paying someone to find out information about his heart donor, Ma Dong-wook.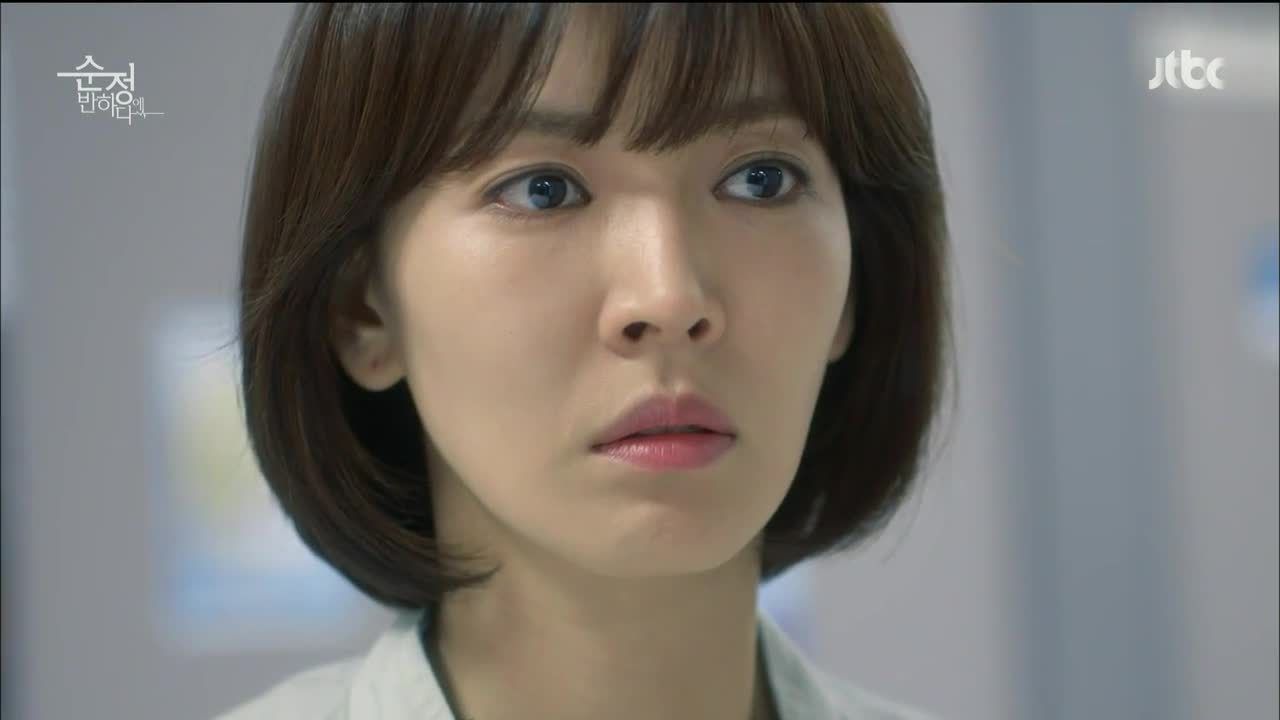 COMMENTS
Man, Joon-hee has some nerve. I wonder if making him a carbon copy of Old Min-ho has also brought with it Min-ho's more ambiguous characterizations of the past, most notably with regard to having no sense of self-awareness. Because really, what does Joon-hee expect to happen here?
Even if he can't see his own actions as being wrong, surely something must go off in his brain every time Soon-jung gives him the cold shoulder whenever he tries to woo her by being the absolute worst, right? Wrong—that's what a sane person would do. It isn't like drama villains can't be crazy and fun, since recent(-ish) examples like Liar Game have proven just the opposite. It's the simple fact that you can't use crazy as a catch-all motivator rather than actual motivations, because you're effectively sapping your own dramatic tension out when you have a character behaving erratically for reasons that are beyond anyone's realm of understanding.
As it stands, the show would have us believe that Joon-hee is just misguided in his affections, and that he somehow thinks that making Soon-jung miserable is the key to winning her heart. Compare that to when he prepared a grand romantic gesture for her in the wake of killing her fiancé, back when we could point to his feelings as being somewhat sincere. Maybe he's just so jealous that he can't see reason, or maybe he never could. Maybe he still doesn't see it, because a reasonable person would have a hundred reasons not to wear a watch their victim tore off them at the scene of the crime—and if he's wearing it simply because he finds it fashionable, then he needs more help than I thought.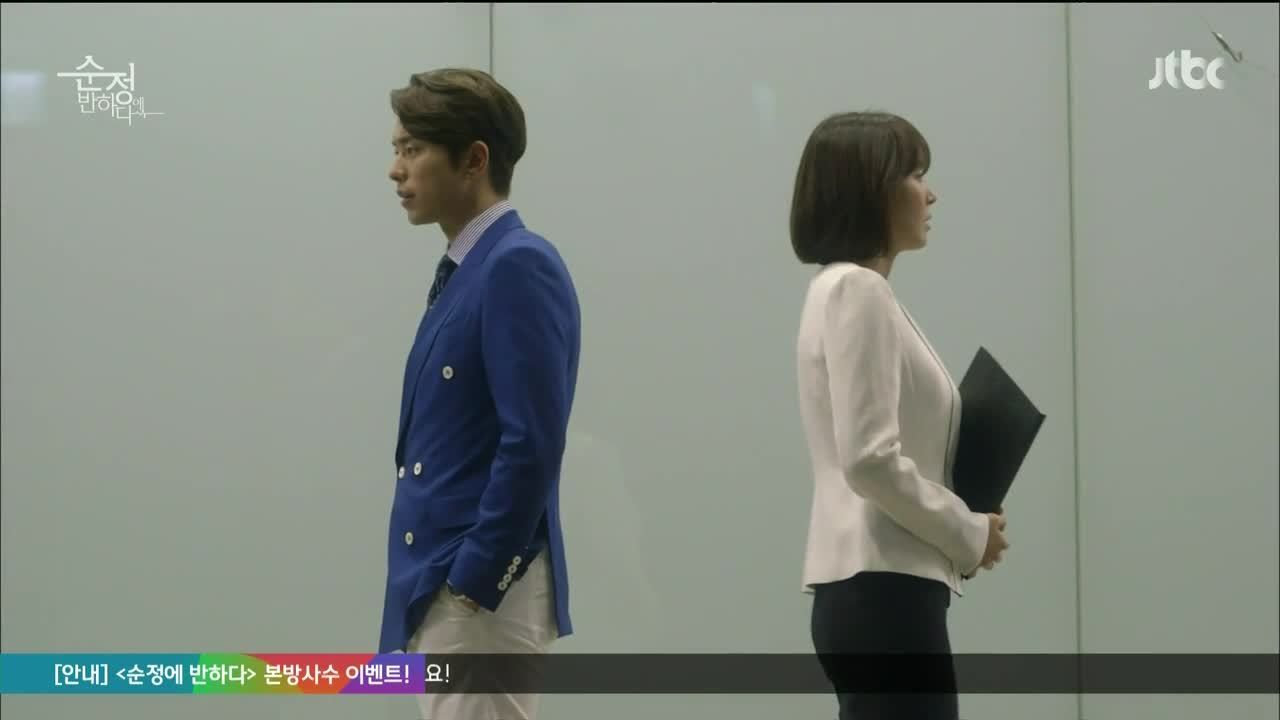 So while Joon-hee's regressed, Min-ho keeps progressing further and further, even if it means facing some hard truths from his past. The fact that he's facing them at all is amazing in and of itself, since it speaks so much to his change of heart (har) that he's able to look back on the life he's lived and see exactly where he went wrong. Not only that, he felt so guilty for the way he behaved that he would've just shut down had it not been for Soon-jung's encouragement, so convinced was he that he was on the receiving end of some karmic comeuppance.
The convenience of Madam Jang's last minute save may not have exactly woven itself into the fabric of the plot as much as it stuck out like a glued-on patch, but it's easier to forgive when the emotional undercurrent was so moving. Poor as far as deus ex machinas go, I came to accept that it was less about the pickle she got Min-ho out of and more about the revelations she shared regarding his father. Finally, Min-ho was able to reconcile the harsh and unforgiving view he always held of his dad with the reality that he was a good man before he was a good businessman, even if the two didn't always coincide.
And he wasn't the only one undergoing some serious soul-searching this hour, even if Soon-jung's inner turmoil was much more subdued. As much as Min-ho was having to face the past in a very real way, Soon-jung was having to do the same, even if she had to be pushed along by both Min-ho and Papa Ma to do it. She's the sort of person that needs the meddling though, since she likely would've just wallowed in guilt if left up to her own devices. But at the point where both her late fiancé's father and her late fiancé are telling her to go with her heart, what's there to stop her? Oh, right—finding out that your new crush never told you he had your late fiancé's heart would probably do the trick. Darn.

RELATED POSTS
Tags: Falling for Innocence, featured, Jung Kyung-ho, Kim So-yeon, Yoon Hyun-min