Falling for Innocence: Episode 13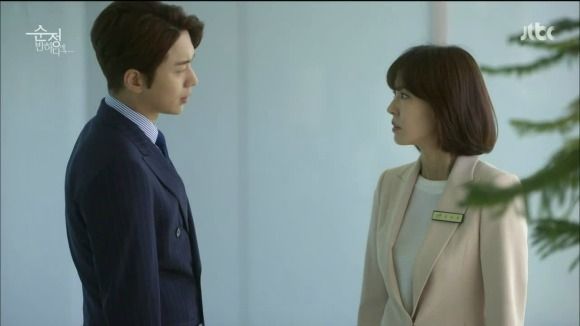 Le shit hits le fan this hour as truths comes tumbling out left and right mainly due to one man's big mouth. Unraveling the past causes things to go from bad to worse rather quickly when trying to tease apart the past and present takes an emotional toll on Soon-jung and puts a damper on her budding feelings for our childish yet lovable hero.
We knew that our characters would have to face this hurdle one day, but that doesn't mean that any of them would be prepared to deal with it when it would finally come.
SONG OF THE DAY
Yoo Seung-woo & Tarin – "너 그리고 너 (You and You)" [ Download ]
Audio clip: Adobe Flash Player (version 9 or above) is required to play this audio clip. Download the latest version here. You also need to have JavaScript enabled in your browser.
EPISODE 13 RECAP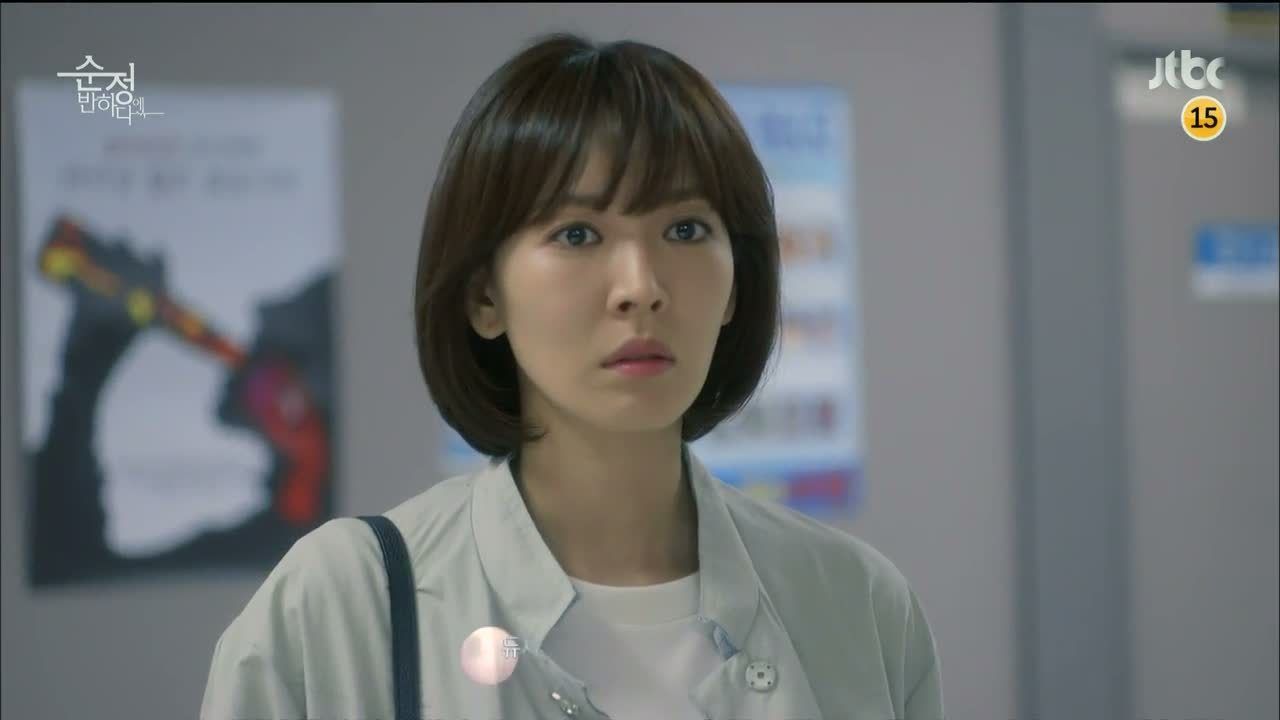 Stunned to hear that Min-ho was digging up info about his heart donor, Dong-wook, Soon-jung does an about-face and walks out of the police station. She beelines for Joon-hee, who isn't at all surprised that she'd come see him so soon.
He believes she should feel grateful towards him for helping her discover the truth now and pulling the brakes before her feelings for Min-ho deepened. Had it not been for him, Min-ho would've just kept deceiving her.
He asks her to examine why she fell for a man she used to hate so quickly, and has an answer at the ready: that Soon-jung could sense vibes of Dong-wook from Min-ho. He's experienced the same ineffable feeling, where looking at Min-ho practically feels like staring at Dong-wook himself.
She can't deny that the thought hadn't crossed her mind, and when Soon-jung refuses to hear any more, Joon-hee gets in the final word—that Min-ho stayed by her side despite knowing she once loved Dong-wook. "Do you get it now?"
After Secretary Oh's I told you so! parade, Min-ho freeeaakks out when he realizes he hadn't called Soon-jung all day. It's already nighttime, and Min-ho orders to turn the car around, worried she's been waiting for him for hours.
Min-ho is already waiting at the top of the steps by the time Soon-jung trudges home. She can barely bring herself to look at him and flatly accepts Min-ho's lie-excuse that Secretary Oh had to go to the hospital.
But Soon-jung refuses all of Min-ho's attempts to cheer her up or show concern for her, wrenching her hand away from his. Min-ho doesn't get why she's suddenly shutting him out, but is hurt all the same. Soon-jung drops to her knees once she's home and breaks down in sobs, all the eerie coincidences flooding back to her.
Soon-jung calls in sick the next morning, the mental strain having taken its toll. Worried, Min-ho stays glued to his phone, sending texts that go unanswered. He turns his attention back to strike a potential deal with a prospective distributor. The terms are attractive: selling 100,000 units of Hermia products and ten percent of the contract price as down payment.
While that all sounds very good, Min-ho says Hermia currently lacks the capital to meet that demand, and still has a lot of bonds to repay. Upon Director Yoon's insistence that this deal could ensure enough funds for repayment, Min-ho requests an increase of that down payment to twenty percent in cash instead.
What Min-ho doesn't know is that the prospective distributor is just a paper company set up by Joon-hee. It's all part of his new itemized Operation: Hermia Takedown 3.0 proposal, which Ji-hyun finds risky. Pouring funds in now will speed up production, then they'll do away with the paper company, Joon-hee argues.
By the time Hermia needs to pay up, the company will be facing an additional loan along with their unpaid bonds. And that's how Hermia will potentially fall (again).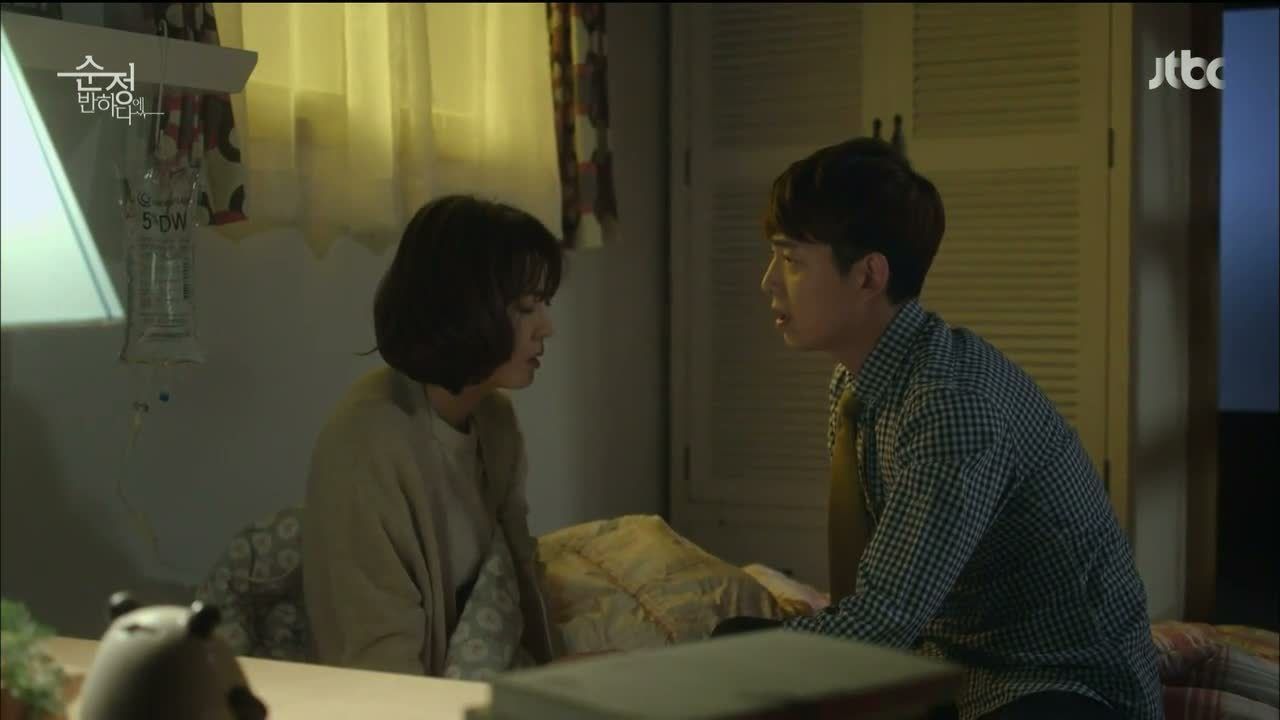 After annoying the landlady with his constant doorbell button pushing, Min-ho gains entry into Soon-jung's place. He stays by her bedside taking care of her until she finally wakes. He says was worried sick because he couldn't reach her, but then gets interrupted when his phone rings.
But that very ringtone sets off another round of chest pains and a need to hurl for Soon-jung, and Min-ho rushes to her side. She screams at him to leave her be, and Min-ho gently backs away to give her the space she demands.
He brightens to see Soon-jung at work the following morning, only to deflate when she excuses herself to run a work errand. When Joon-hee runs into Soon-jung in the hallway, he can't pass up the opportunity to be an ass in asking her how it feels to think of Dong-wook whenever she sees Min-ho now. Seriously dude, what the fuck—as if you haven't done enough already.
But Soon-jung fires back that his haughty expression is something else, and Joon-hee says if he can't have her, no one else will. Plus Dong-wook's lingering presence will always stand in the way of any potential happiness between her and Min-ho.
"Will you be able to handle it?" he asks, smirking. "Could you two… be happy together?" Er, could you, Mr. I-should-be-worrying-that-my-dead-best-friend-will-haunt-me-forever?
Secretary Oh picks up on the tension between the two lovebirds and figures that Min-ho's at fault somehow. Min-ho doesn't understand his whole "Men Are from Mars, Women Are from Venus" spiel (basically that men and women speak different languages), so Secretary Oh brings in backup in the form of the other two secretaries.
Once they're filled in, the ladies voice their disapproval the way Min-ho handled his apology-excuse with his ladyfriend. I love how Secretary Oh learns from the sidelines as the ladies teach clueless Min-ho that he should've used a life-or-death excuse instead.
More importantly, a woman never says what she means, so if that woman said she was okay with it, she wasn't, and Min-ho has done her a great wrong.
Ok-hyun calls Soon-jung out to ask about Joon-hee's fish watch. She and Joon-hee both got their positions around the same time, Soon-jung explains, and had promised to get each other congratulatory presents. But since she was too busy to get him one, Dong-wook had bought it for Joon-hee on her behalf.
Changing the subject now, Soon-jung admits that her heart did waver for Min-ho, but she thinks it's because Min-ho was the one who received Dong-wook's heart. Listening to Ok-hyun say that she did notice the similarity shakes Soon-jung once more, trembling at the thought of how Dong-wook's heart now beats within Min-ho.
The truth has left her in a constant state of confusion about who she likes and whether she's seeing Dong-wook in Min-ho in any given moment; it's become so difficult that she can't even bear to look at his face.
But Soon-jung bucks up the courage to face Min-ho anyway, who conveys his deepest apologies to her about standing her up on their date. Her answer that she's fine has Min-ho recall what he learned earlier, which makes him turn desperate with open and giving arms.
But Soon-jung cuts him off to hand him her resignation letter, which makes Min-ho wonder if he committed such an unforgivable wrong that he needs to beg for forgiveness on his knees. She has no idea what he's talking about, and when he explains about the unkept promise, Soon-jung says that's not why.
She wants to take time off now that Hermia has found its footing, to work elsewhere that isn't here. "You said you'd protect me," Min-ho counters, adding that he wouldn't have been able to come this far believing in her and won't be able to handle this position without her.
Min-ho must carry on his chairman duties with or without her, she says. Her mind is already made up, and she'll leave in two days' time.
Min-ho sits Papa Ma down for a proper lunch, denying that he'd already eaten. When Papa Ma asks how things with Soon-jung are going, Min-ho asks if he said something to her because she's been acting so standoffish with him lately.
Just like how Min-ho said to love someone isn't a sin, neither is not loving someone. Someone who's been through much pain like Soon-jung has needs time, Papa Ma advises. Perhaps Min-ho should do what Dong-wook did: quietly stay by Soon-jung's side, like a tree.
Noh Hyungnim drops by the office to see Soon-jung and invites-threatens Joon-hee to join them. Joon-hee arrives in time for Noh Hyungnim to talk about the product tampering case, saying that someone else is responsible for that incident.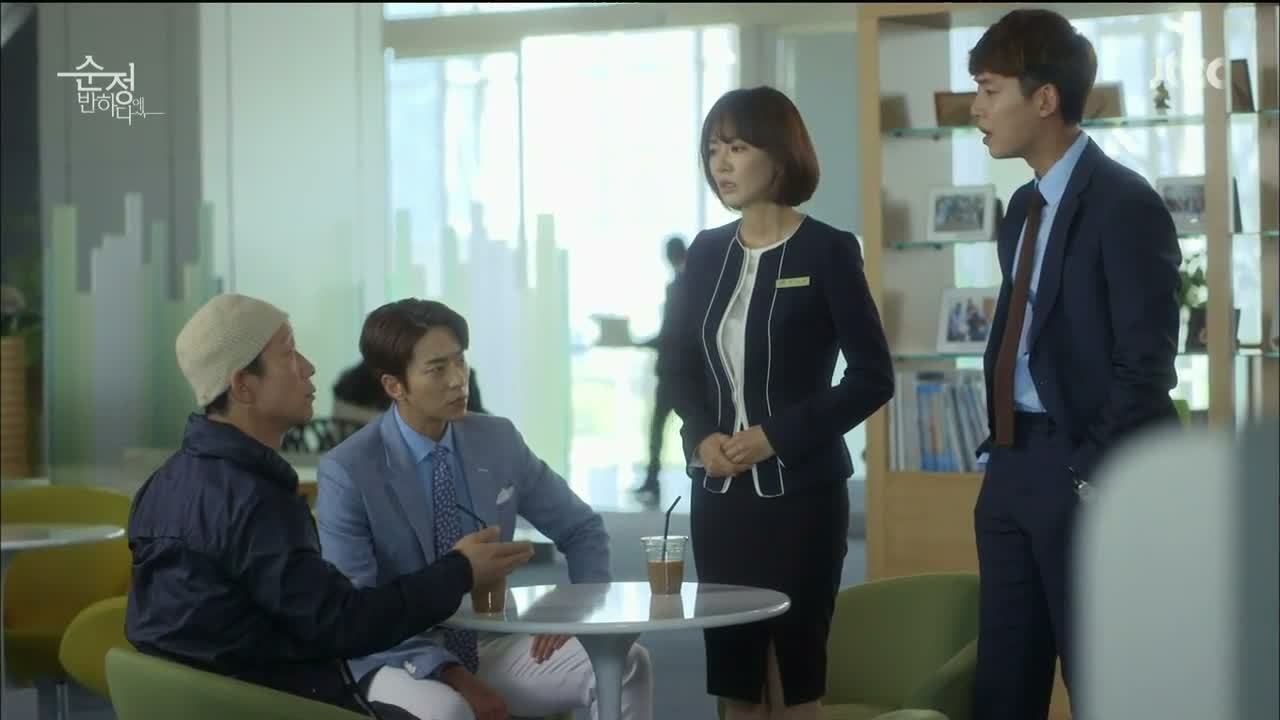 Noh Hyungnim feels super bad about not attending either Dong-wook or Joon-hee's father's funerals, speaking freely about his previously comatose state. Before the hyungnim can talk more about Dong-wook's murder case, Min-ho comes marching in to crash the party and sends Soon-jung away.
He tells both men not to call upon Soon-jung in the future, then pettily takes away their coffees. Hehe.
Back in his office, Min-ho doesn't want either Joon-hee or that hyungnim to upset her, though he outwardly says he doesn't want her seeing any other man. He also rejects her resignation, saying that she can take as much time as she wants off here at Hermia…
… which is why he's prepared coupons that put him at her beck and call 24/7. Why these have no expiration date, she can make copies and reuse them whenever! Hahaha… also can I have one?
I have to say his sales pitch is pretty hilarious, his enthusiasm about all the possible activities together clearly evident. Soon-jung doesn't find humor in any of it, and has an answer to his question of starting something between them: "I have no intention of starting anything with you."
With that, Soon-jung takes her leave. But Min-ho follows her out of the building, wanting to get his two cents in. He doesn't understand why she's quitting or treating him with indifference, and the only thing he knows to do is follow her around.
If she doesn't have a reason aside from that she wants to, then she shouldn't care about how he acts with her "because I won't stop liking or loving you. I don't know how to change my heart. What can I do when my heart already belongs to you? So I'm going to follow my heart. Even if it's difficult and painful, I'm going to revolve around you."
Those last few words are the same ones Dong-wook once told her, and Soon-jung says the sad truth about revolving around someone is that those paths won't ever cross. "You can't hold their hand, embrace that person, or be together with them. Always stuck on parallels."
If he's prepared for that, then Min-ho can go ahead and do as he likes—all she asks is that he doesn't ask for an explanation on her part.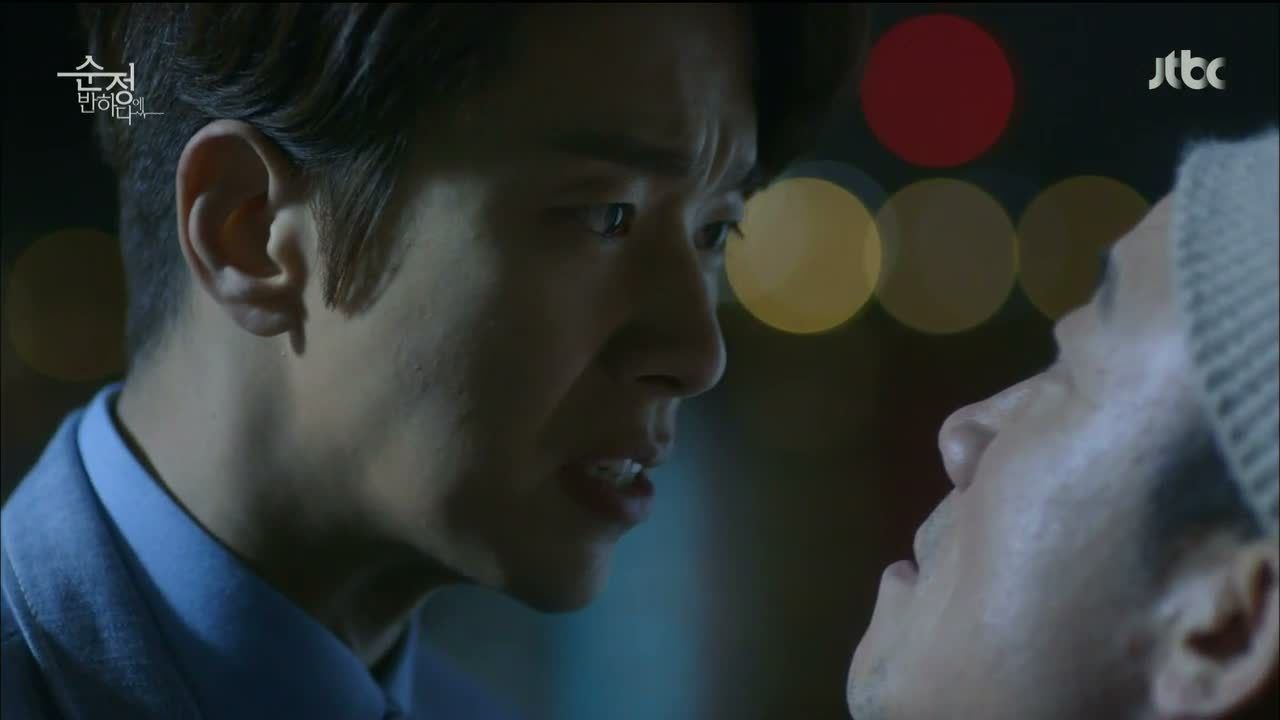 Joon-hee and Noh Hyungnim speak near the Han River, where the latter admits that he's crazy enough to bring everyone down with him, since nothing will matter if his wife dies. What would Soon-jung make of the black box video which recorded everything surrounding Dong-wook's death?
Joon-hee grabs a fistful of his jacket, but Noh Hyungnim isn't scared—there are public surveillance cameras around right now. Whoa—can someone go tell the other drama villains that? Telling Joon-hee to find his wife a kidney, he throws back the same threatening words Joon-hee spit at him.
One intense conversation leads to another when Min-ho climbs in Joon-hee's car. The two drive to an overpass where Min-ho confronts him about doing a poor job of hiding the truth. He'll find evidence on Joon-hee soon enough, though admits that a part of him ironically hopes that Joon-hee isn't the culprit.
That's because Min-ho can't bear the thought of Soon-jung breaking down at the idea of her childhood friend killed her late fiancé. Joon-hee proclaims his innocence once more, but then draws close to Min-ho, willing to entertain the idea of hypotheticals.
Let's say he was the culprit and watched Dong-wook dying at his feet, but there weren't any witnesses. Even if there were, what Min-ho would need is solid evidence. And if such evidence did exist, would Joon-hee have done nothing about it?
Debating with evidence is a game Min-ho liked to play at, and Joon-hee encourages him to go ahead and find whatever proof that doesn't exist.
Min-ho seeks out Ok-hyun, who asks if he mentioned all those weird dreams because Dong-wook's heart beats within him. He confirms it, and Ok-hyun says his testimony won't stand in court. But then Min-ho mentions that he saw Soon-jung with Joon-hee and Noh Hyungnim, and is convinced that the latter two must be involved somehow.
Aside from continuing the investigation, Min-ho has one more request: that Ok-hyun keep quiet about his heart from Soon-jung so that he can tell her himself.
The next step in Joon-hee's plan is on the verge of execution: the units are ready for shipment, but the paper company will declare bankruptcy in a few hours. However that isn't enough for Joon-hee, who has made preparations whereby Min-ho will be charged for professional negligence in this export deal.
That will put him behind bars for life, and he tells Ji-hyun to whisper to the shareholders that everything is Min-ho's fault.
So when Min-ho gets wind of the matter, he's left with a hundred thousand units of untouched merchandise and a group of angry shareholders. What's worse is that Min-ho has to deal with everything on his own now since Soon-jung is gone.
On one side, Ji-hyun points out Min-ho's lack of careful planning and research before striking an export deal while the stockholders gripe about how stock prices will surely plummet. Joon-hee points out that this means Hermia's debt has increased—how will Min-ho ever be able to repay anything now?
Secretary Oh enters the tension-filled room to announce that the units have safely arrived at their destination. Cue WTF expressions from Joon-hee and Ji-hyun as they hear that the New Product were sent to Thailand, not Vietnam with the other distributor.
Additionally, Min-ho won't be charged with negligence since he didn't take out a loan for this deal. There were a lot of things that didn't add up when they looked into that prospective distributor, and Min-ho had made the call to send the New Products units elsewhere long beforehand.
Min-ho laughs at his stroke of luck that he avoided handing over his product to a company that just went bankrupt. The stocks will jump 50 points by tomorrow, which make the once furious stockholders happy as a clam.
He also has a message to relay to that distributor: that he'll use that twenty percent advance as allowance money. Looking directly at Joon-hee, Min-ho continues, "If you mess with me again, be prepared to be hit with 100,000 units of our new product."
Needless to say, Ji-hyun is pissed at playing into Min-ho's hand. Joon-hee won't get another opportunity to strike on his own—all Gold Partners needed was a hunting dog. And one that doesn't listen to its master can easily go missing one day.
Soon-jung drops by the company to pick up her things, but Min-ho has one last-ditch effort up his sleeve: bringing Papa Ma in to try and persuade her into staying. Papa Ma is surprised to hear that she's quitting her job, and it's funny how Min-ho pushes the old man forward, all, Go forth and do you, Papa Ma.
Although Joon-hee finds out the identity of Min-ho's informant, he's also told that the man is believed to have gone into hiding. Furthermore, it's possible that the idea to demand a larger down payment was part of Min-ho's plan.
Intense Joon-hee crashes Soon-jung's farewell party to take things up with Min-ho, who denies paying someone to do some dirty work. But sure, let's pretend that he did bribe someone… but Joon-hee doesn't have any evidence to prove it. Oooh.
Plus, Joon-hee's the one who started this, and he should know that sometimes you have to get your hands dirty to keep this position. Two can play at this game, and Joon-hee marches up to tell Papa Ma that someone looked into Dong-wook's medical records.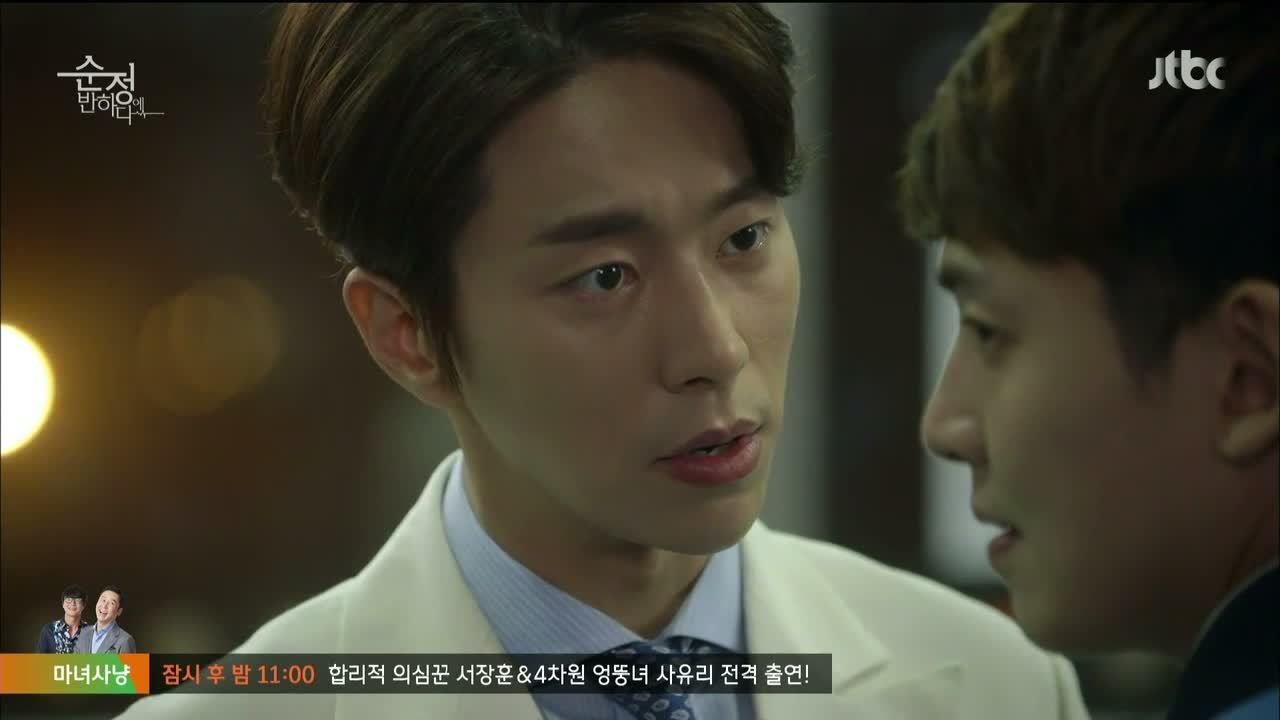 Min-ho grabs Joon-hee by the lapels, but Joon-hee goes on to specify that it was his organ transplant papers. And the reason behind that is because Min-ho was the recipient of Dong-wook's heart.
Soon-jung gasps to hear confirmation on her theory, and now Joon-hee spins half-truths, claiming that Min-ho stayed by Soon-jung's side to steal her away from Dong-wook. She cries for Joon-hee to stop, but he doesn't, going so far to spell out why Soon-jung can't be by his side: "Because you lived in exchange of the one precious to her."
But that's not all—Soon-jung quit her job because it was too hard for her to look at Min-ho, because seeing him only reminds her of Dong-wook. Unable to take any more, Soon-jung runs out.
Min-ho catches up to her and asks if she already knew where his new heart came from. Feeling extremely vulnerable, Soon-jung begs him to let her go since he now knows the truth about why she had to quit her job.
He lets her go, and his calls go unanswered while waiting all night on the steps in front of her house. He's still sitting there the following morning, turning in time to see Soon-jung lug her suitcase down the steps.
She says she's leaving because it's too hard to be around Min-ho. "We can never become close, because Dong-wook exists within those parallels. Everything will be so confusing, suspicious, and tortuous. If the love we share will truly be love, if I could leave Dong-wook behind and be happy… I'll always think of that. What sort of love is that?"
Min-ho says he still wanted to give them a chance in spite of all those things, but she can't do that? No she can't because of the many years she spent with Dong-wook and advises Min-ho to stop orbiting around her.
"But it wasn't my fault. It's not my fault that I lived." Min-ho cries as she walks down the steps. "So why must I lose you?!"

COMMENTS
Just when you think that Joon-hee couldn't be more of a snake than he already is, he cranks the treachery meter up to an eleven. But I guess that's what happens when one tries to become the embodiment of the evil that came before him, even if I still don't quite understand what he would gain from hurting others. If anything, Joon-hee has the most to lose right now, with a lackey threatening to expose the truth (albeit weakly) and a powerful position that can easily be taken away from him. His overconfidence drives him to make rushed decisions in everything even in the face of very costly consequences.
From what we can see, these outcomes only spur on more crazed behavior, often with the sole motivation to wound Min-ho by any means necessary. Because the villain is often the one who learns the full truth first, I get that Joon-hee is the primary candidate to expose Min-ho's literal connection to Dong-wook. Not only does blowing the story wide open set us up for the final angst-filled conflict for this series, doing so also essentially drives Min-ho into a position where the only way to top him is to accuse him as Dong-wook's killer.
But we know that's something Min-ho can't bring himself to do because the double-whammy would crush Soon-jung's spirit. Or maybe it wouldn't because Soon-jung has lots of reasons to hate Joon-hee by now. And yet it bothers me that Joon-hee's words still twist their way into Soon-jung's heart, that they speak enough sense to her that they affect her mindset and actions. Her shock about her late fiance's heart beating within Min-ho and the subsequent confusion about which man she sees at any moment are natural responses, although one would hope that she's seen enough of Min-ho's personality that doesn't overlap with Dong-wook's character quirks.
That's why I'm so glad that Min-ho in all of his well-meaning ways, continues to remind Soon-jung that his feelings for her are steadfast and sincere. He seems so helpless in trying to figure out ways to be helpful to Soon-jung, to try and figure out if it's something he's done that's upset her. For what it's worth, Soon-jung's desire to retreat into herself stems from an inner angst rather than at him. Instead of harping on Min-ho for not telling her who his heart once belonged to, she struggles more with the same emotional conflict that Min-ho once faced.
And while I love the idea that Min-ho and Soon-jung are each other's support system (though perhaps not very much at present), I did appreciate Soon-jung telling Min-ho that he also needs to learn how to stand on his own two feet without her. It's well known by now that the business politics setup and execution has never been this show's forte, but at least I could see that Min-ho can still outsmart his enemies and protect his own. There's a confidence within Min-ho that is slowly taking shape in his leadership, which has been a delight to watch as he becomes more and more of the man like his father once was.
Although it wasn't Min-ho's fault that he got to be the one to survive, it is his responsibility to live each and every day and make them count.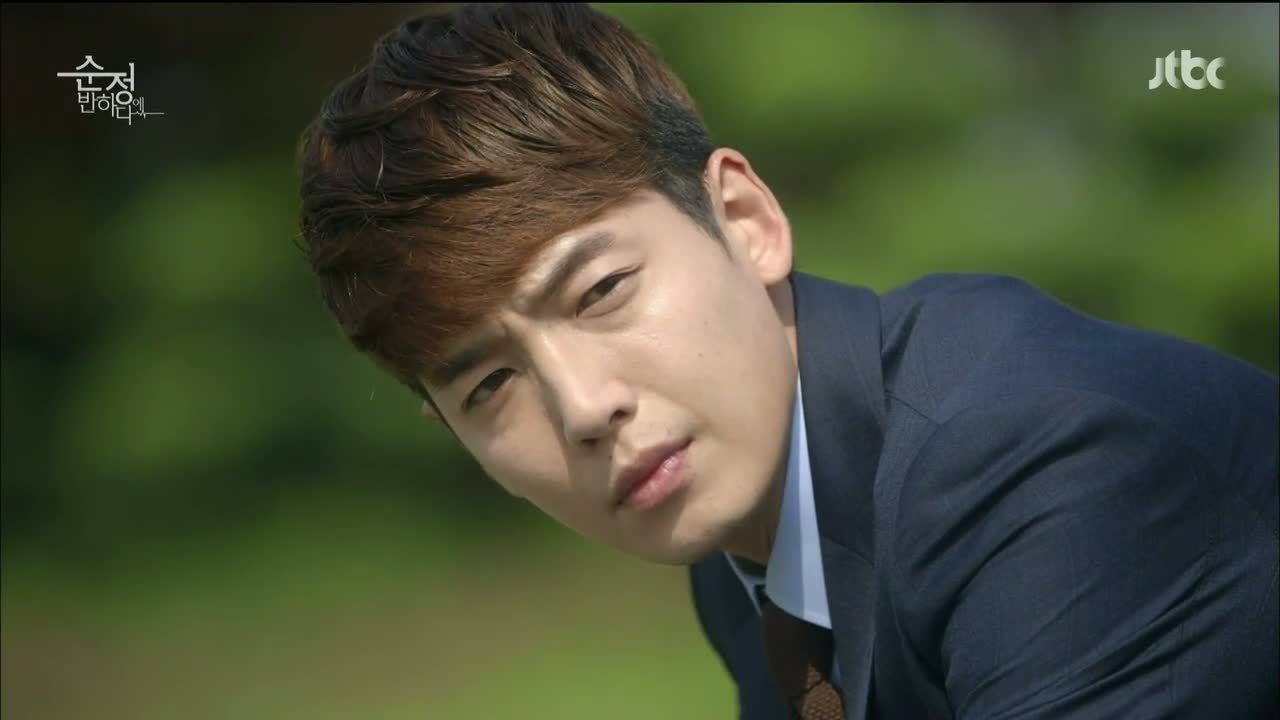 RELATED POSTS
Tags: Falling for Innocence, featured, Jung Kyung-ho, Kim So-yeon, Yoon Hyun-min