Girl Who Sees Smells: Episode 10
Mu-gak and Cho-rim spend some time together as a new couple, which is a good thing — they'll need that bond to be unbreakable as Lieutenant Yeom gets closer to discovering who Cho-rim really is. But she's not the only one, and Cho-rim's true identity is at risk of coming to the attention of the one person who could pose the most danger to her.
EPISODE 10 RECAP
Suspicious that Cho-rim seems to remember a woman who was a victim of the Barcode Killer, Yeom gives her a long searching look but decides not to mention anything at this time. She hides the sketch she finished alone, and suggests she and Cho-rim go finish the one they were working on. Mu-gak hangs back, telling Cho-rim to stick to the facts, which earns him a raspberry for his bossiness.
Yeom sends Cho-rim to the vending machines for drinks, and while she's out of the room, takes a photo of Cho-rim's ID card. To stall for time Yeom suggests they start from scratch, since Cho-rim keeps nixing every adjustment they make to the photo, saying they've all got the wrong "feel." But they're unsuccessful at creating the exact face in Cho-rim's memory tonight, too.
After Cho-rim and Mu-gak leave the station, Yeom pulls up Cho-rim's ID number in the police database, and discovers that former-detective Oh is listed as her father. She remembers asking him if he's hiding the witness who's supposed to be dead, and finally puts the pieces together that Cho-rim might actually be Choi Eun-seol.
Mu-gak seems more disappointed at the failure to reproduce the face than Cho-rim is, and begs a beer from her to cheer him up. She stops at the bathroom first and runs into a pervert, who jumps out the window giggling. She can see traces of cigarette scent left from his left shoeprints, and and drags Mu-gak outside to help her track the pervert.
They follow the trail to where it stops under a tree, and Mu-gak goes on to see if the pervert possibly got on a bike. But he's actually up the tree, and leaps down giggling and runs off with Cho-rim right behind. She chases him into the street, but a truck barrels down on her, and Cho-rim is frozen with a sudden memory of being hit by a car.
Thanks goodness Mu-gak manages to swing her out of harm's way just in time, but cuts his fussing short when he sees Cho-rim's shocked face streaming with tears. She says she just remembered the moment of her accident, and all Mu-gak can do is fold her into a warm hug and tell her it's okay.
He takes her to her house and does the dishes for her, while she relaxes and sprays a bit of perfume for relaxation. Cho-rim only remembers the accident itself but not what led up to it, but Mu-gak encourages her that it's a good start to regaining her memory.
Mu-gak's nose starts to itch and he gets Cho-rim to scratch it for him since his hands are all soapy, but Cho-rim is the one who realizes that he actually felt something. She lightly pops his forehead but he doesn't feel that, so she whaps him hard, hee.
He shoots her a dirty look but says he still didn't feel anything, then gets a flash of genius. Mu-gak puckers up and asks her to test if his lips can feel anything, and Cho-rim gives him a shy little peck. He angles for a bigger kiss and gets another smack on the forehead, and he says wonderingly that THAT felt ticklish. His entire face lights up and he sneaks a few more kisses in while she laughs at his excitement.
Jae-hee inspects the day's fresh ingredients for his restaurant, and Cho-rim shows up to work early to ask if she can watch the chefs prepare for the service. Jae-hee tells her that ingredients are the most important things to a chef, and asks how a performer like Cho-rim chooses her ingredients for comedy.
She says that she looks at things with an eye towards how to use them to make people laugh, and as an example she sticks a watermelon seed on her face to mimic an ugly mole. Jae-hee does laugh (I told you to stop smiling like that!) and says that he thinks Cho-rim is very funny, and it makes him want to know more about her. It's just flirty enough to make Cho-rim preen a bit, and make me nervous for her.
Mu-gak reports back to Yeom, who'd asked him to look into Detective Oh's whereabouts. Apparently he quit his job and his phone is turned off — he's nowhere to be found. If abandoning Cho-rim is his way of protecting the girl he promised to protect, it's a terrible plan. Yeom tells Mu-gak only that Detective Oh knows where the witness is, and that finding him is their only way of protecting her.
Yeom takes Cho-rim for ice cream, asking pointed questions about her past and her memory loss. Cho-rim tells her how she remembered the face after eating the soup, and Yeom says it must be a sense-memory from when she was younger. She asks if the woman she remembers might be Cho-rim's mother, but having seen photos of a woman that Detective Oh told her was her mother, Cho-rim denies the possibility.
Later Cho-rim helps Detectives Ki and Yeh put together a sketch of the bathroom pervert, which leads them to identifying him in a park (where he's apparently watching something nasty on his phone, and enjoying it immensely, ewww). They arrest him for installing cameras in women's bathrooms.
The detectives all go for lunch, where they run into the Chief of Police. He asks after Mu-gak's injury and offers to buy their lunch, and they immediately upgrade their orders to something more expensive, ha. The chief left his phone behind, and Mu-gak draws the short straw to run it out to him.
When he gets outside, he sees Detective Oh talking to the chief's attendants, and follows as Oh enters a coffee shop nearby. Detective Oh meets with the chief, who asks why Oh didn't take the cushy job he offered to him. He says he can't give Oh any information about the Barcode Killer case, so Oh makes a vague remark about how he doesn't want to talk to anyone about the chief, either. Huh. Interesting.
It's definitely blackmail, because Detective Oh pleasantly tells the chief to bring the information he wants about the case to him, if he doesn't want to worry about the people around him. He borrows a pad of paper from the waitress to write down where he's staying, and after the men leave, Mu-gak borrows the same pad. He uses a pencil to make a rubbing on the paper, revealing the location that Detective Oh wrote down for the chief.
Jae-hee is putting the books that Baek-kyung borrowed from him away in his Murder Library (luckily, he doesn't seem to notice the letter written to Cho-rim) when his phone notifies him that Mu-gak is making a call to Lieutenant Yeom. He hears that they have an address for Detective Oh, and writes down the address when Mu-gak reads it off, aware now that the police also know the witness is alive.
Yeom heads to the address to confront Detective Oh, and while she's gone, Detective Yeh comes running to tell the rest of the team that the Barcode Killer has been caught. They've found the man whose blood was left on that rebar, but Detective Ki says it can't be the killer, because the guy who is a DNA match is an arsonist.
It turns out, Jae-hee had nothing to do with that man being at the scene — it was just a coincidence that Mu-gak flushed him out from where he was hiding after starting a fire nearby. Mu-gak suddenly realizes that if Jae-hee has a gash on his arm like the arsonist, then he had to have been at the scene to know to mimic that injury. And if he was at the scene of the sting, then he had to have also been at the storage unit.
Mu-gak revisits Baek-kyung's storage unit himself, looking for more clues. He wonders what it was that Baek-kyung was trying to tell him, and notices the two missing books in the series on the shelf.
Jae-hee goes looking for Detective Oh at the address Mu-gak discovered, which turns out to be a restaurant in Gangwon Province. He's surprised when the waitress calls him Detective Oh, and she points to where he's out parking cars. Thinking fast, Jae-hee walks in front of a car while Detective Oh is driving, and fakes a back injury.
He gets Detective Oh's contact information and pretends to be badly hurt, so that Oh offers to drive him to the hospital. They drive away just as Lieutenant Yeom arrives, missing each other by mere inches.
Interestingly, when Yeom asks the restaurant owner about Oh, he claims to know of nobody by that name even though he'd just been talking to him a few minutes before. Yeom sits to eat and asks the waitress about Detective Oh, the same one who just pointed Jae-hee to him, but she also pretends not to know him.
Cho-rim calls Mu-gak to push back their date today, since her cooking show team is meeting at Jae-hee's house, and he's running late. When she hangs up the phone, Mu-gak gets a thoughtful look on his face and orders the cab driver to change destinations. He checks his texts, and sees one from Yeom telling him that there's no Detective Oh at the location he gave her.
Jae-hee is given a clean bill of health at the hospital, and Detective Oh begs him to let him buy lunch as an apology. Jae-hee declines but agrees to tea, and while they're at the shop he gets a copy of the text that Yeom didn't find Detective Oh at the restaurant. Mu-gak had responded that he was possibly using a pseudonym.
Oh belatedly recognizes Jae-hee as the famous Chef Kwon, mentioning his connection to a couple of the Barcode Killer's victims. He expresses a particular interest in the case and, aware that Oh's a former detective, this sets off all of Jae-hee's warning bells.
The men drive back to the restaurant, and this time Oh sees Yeom there looking for him. He carefully keeps his back towards her until she drives away, and asks Jae-hee to call him if he needs anything in the future.
Believing he has two hours, Mu-gak enlists the help of the man who had previously found Joo Ma-ri's missing wallet. He turns out to be a locksmith, and jimmies the lock to allow Mu-gak entry into Jae-hee's house. Looking around for anything suspicious, he sees little Moong-chi scratching at that same door again, and lets himself in.
Unaware that Jae-hee is heading home early, Mu-gak finds himself in a below-ground food storage area, not unexpected for a world-famous chef. But further into the room is Jae-hee's large elaborate dressing area, and Mu-gak stops to look through a few of the closets. Behind some suits, he exposes a wall of television screens, presumably where Jae-hee watches his captives while they're trapped in his home.
Jae-hee gets home at the same time that Cho-rim arrives for the shooting, and the two of them go inside. Mu-gak hears them talking and stands trapped on his side of the door, unable to escape. Jae-hee goes to change clothes and Cho-rim watches Moong-chi scratching at the door, and realizes that she can see Mu-gak's blue crystal scent wafting from under the door frame.
Thinking fast, Cho-rim knocks a glass pitcher onto the floor and shatters it, which stops Jae-hee from opening the door and revealing Mu-gak. When Jae-hee goes to get a broom, Mu-gak quickly slips out and Cho-rim motions for him to leave. Whew.
It's Mu-gak's turn to sit on the Bench of Shame while Cho-rim gives him a tongue-lashing for putting himself in danger like that. He humbly thanks her for saving him, but when he can't explain what he was doing there, she gets angry at him for hiding things from her again. All he'll say is that he suspects Jae-hee, and that he'll do anything to catch his sister's killer.
He asks with tears welling in his eyes if she knows what it feels like to see a family member lying dead, when she'd just been on the phone with them, not knowing that that's almost exactly what did happen to her. Though we know now her parents were only unconscious at the time, the young Cho-rim didn't know that.
A bit later she sits holding his hand, and he apologizes for snapping at her. Cho-rim asks if his sister was pretty, and when he says she was, Cho-rim holds her own hair up next to his face to see what she must have looked like. Cute. He shows her a picture, and tells her his sister's name was Choi Eun-seol.
They go to Cho-rim's to watch her on the cooking show, both of them now in their comfy clothes. Mu-gak adorably gapes at his girlfriend on television, laughing at her funny antics as she makes a hamburger. She cringes at herself, and shoots eye-daggers at Mu-gak when he quips dryly that the dress he bought sure is pretty.
Cho-rim's phone blows up with texts from friends congratulating her, even people she hasn't seen since school. Mu-gak does the dishes again while Cho-rim watches with hearts in her eyes — who can blame her, a guy who does dishes is damn sexy. She peppers him with getting-to-know-you questions, excited when he seems to have all the same preferences as she does.
Cho-rim gets up to give Mu-gak a backhug, and he stops washing dishes to turn and face her. With a smile, he says that he shares all her same preferences because he came to prefer them after meeting her. He asks her to stay by his side and continue defining what kind of person he is, and gives her a sweet hug. Oh, swoon.
Oh, HAHAHA, he drops a plate and Cho-rim startles out of her daydream, still sitting at the table staring at him. She decides to make it real and gets up to go for that backhug, but slips on the soap on the floor and knocks herself out. I'm so embarrassed for you right now.
She wakes up in bed and finds Mu-gak lying beside her, and he hugs her close and says he's sleepier than he's been for a long time, asking if he can stay where he is and sleep until morning. They snuggle in happily, but Cho-rim's stern voice snaps Mu-gak out of his daydream this time, as she catches him lying in her bed, grinning and snuggling her pillow. HAHAwhoops.
She says her head still hurts and he pulls her down on the bed for a real hug. She asks more questions only this time he purposely picks the opposite answers as hers, so that they can do both things together. Cho-rim cringes at the cheesy line, and Mu-gak is just all, "You just now noticed?" He pulls her in again and lays on more cheese, making Cho-rim giggle.
The next day Lieutenant Yeom thinks about Mu-gak's personal involvement in the Barcode Murders, and how she's figured out that Cho-rim could be the missing witness. She calls him for a meeting, and tells him that she's sending him back to his old job — he's off the case.
Mu-gak protests, but Yeom says that he's too close to the situation and that his personal feelings are getting in the way, and even endangering her job. She says that his trespassing at Jae-hee's house broke the ethics code, and Mu-gak says that he told her about it because she's been understanding so far, and he trusted her.
Yeom won't budge and tries to leave, but Mu-gak grabs her wrist and asks why she's doing this now, all of a sudden. She only thanks him for his hard work and leaves him there. On the way out she addresses the other three detectives who were hanging outside the door, telling them there's a meeting in an hour to redistribute responsibilities now that they're down one team member.
Jae-hee is filming an episode of his cooking show at his home, and Cho-rim prepares for her segment. One of the techs approaches her, calling her Choi Eun-seol, assuming she's going by a pseudonym for television. She's surprised Cho-rim doesn't seem to recognize her, as she says that she and Cho-rim used to be very close.
Jae-hee's head snaps up when he hears Cho-rim say the name "Choi Eun-seol," and he interrupts to send her to the Murder Library (okay, he doesn't actually call it that) for a cookbook. In the library she finds the book, which happens to be one of the ones Jae-hee lent to Baek-kyung.
It's on a high shelf, and in getting it down she knocks several other books off the shelf, along with the envelope from Baek-kyung. She reads the letter, and her face freezes as she takes in Baek-kyung's confession that he almost killed her, and the line where he called her by her real name: Choi Eun-seol. Meanwhile Jae-hee wonders what's taking so long, and goes down to the library to check on Cho-rim.
She's so engrossed in reading the letter that she doesn't hear Jae-hee coming up behind her, until he puts his hand on her shoulder to turn her around. He asks what she's doing, and looks curiously at the letter, as confused tears spill down Cho-rim's face.
COMMENTS
Oh this is bad, this is so very bad. Cho-rim's only hope of getting away is if she can somehow manage to keep Jae-hee from seeing that letter, but since he pretty much looked right at it just then, I'm guessing he's going to want to see what she found in his library. I'm terrified for her.
This whole episode was an exercise in frustration and confusion for me, though I know all this is right on cue for the flow of the story as we start to wind up towards the big showdown. I'm mostly annoyed with Lieutenant Yeom's behavior in this episode, because while I know she's doing all this in order to solve the case, I feel like her human compassion has sort of taken a backseat lately. I know she feels that Mu-gak is starting to become a loose cannon in acting on his own, and she's not wrong. But she was wrong in letting him be part of the investigation team in the first place (since detectives aren't supposed to be allowed to work on cases in which they are personally involved), so at the very least he deserved a discussion about his behavior and maybe to be allowed to at least consult on the case, given that he's the one who's made the most important strides forward in solving the murders of any of them. I don't know much about how these things work, but it seems that when you're trying to catch a serial killer, you don't send your smartest detective back to the police box without even letting him help from the sidelines.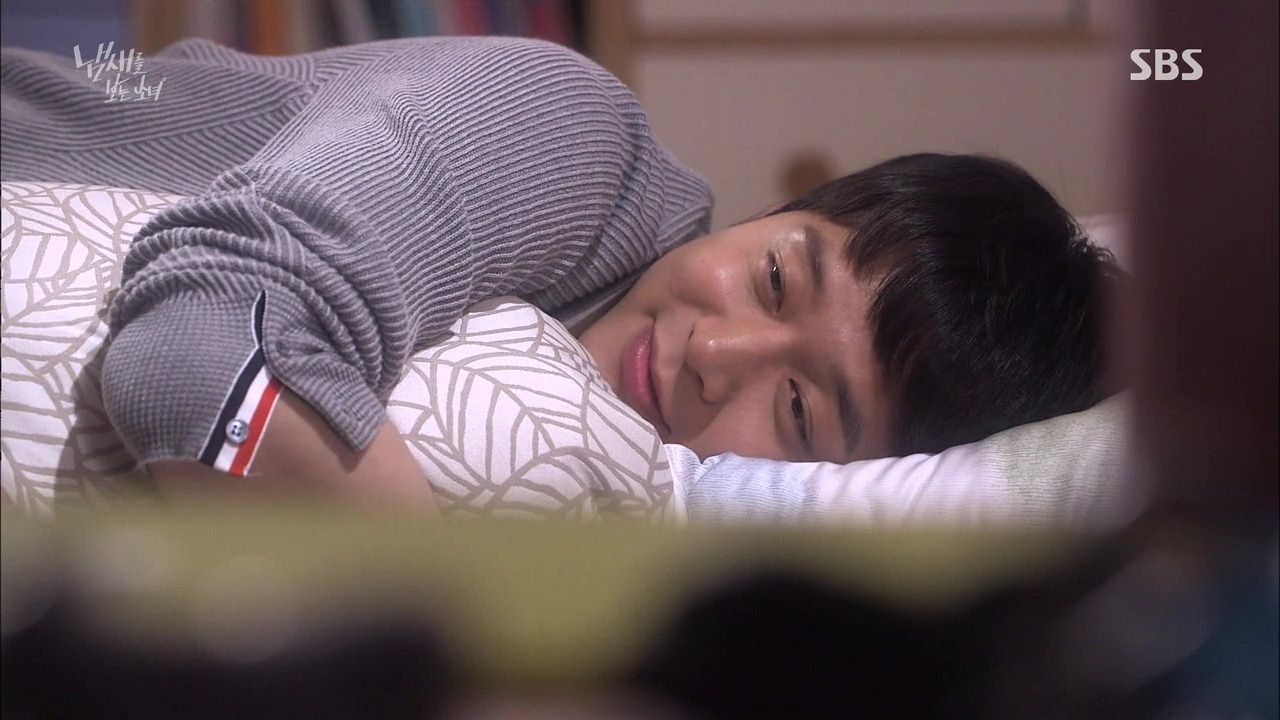 Especially since Yeom didn't exactly gain her information about Cho-rim in entirely legal ways. I'm pretty sure that even a detective isn't allowed to go in someone's wallet and take photos of their ID without their permission, and use that information to dig into their personal background. Of course, finding out where the witness Choi Eun-seol is, and if she's really alive and whether she knows who the killer is, is of critical importance in solving the case. But if she suspects that Cho-rim is that witness, and she knows that she has lost her memory and that finding out about her past could do serious emotional and possibly mental damage, Yeom could be going about her information-gathering in a better, more legal way.
Also, I am just so confused about whatever is going on with Detective Oh. Obviously it's not so simple as I assumed — that he took on Cho-rim's care and pretended to be her father because he wanted to protect the witness. First off, he doesn't seem interested in helping her recover her memories at all, which you'd think would be his top priority if he really does want to solve the Barcode Murders so badly. Second, he keeps leaving her alone, apparently for weeks at a time at least. He did initially seem worried about her welfare when she was still in high school, but lately he doesn't seem to care about her much at all. He just leaves, not telling her where he is or when he'll be back. That's not a reasonable thing to do, for a man who is supposedly trying to protect her. And last, what does he have on the Chief of Police, and how does that tie into the Barcode Murders, if at all? So many questions. Not to mention, we don't even know why he's so invested in solving this case in the first place… so invested that he reinvented his whole life to "adopt" Cho-rim.
But at least all this is tempered with plenty of cuteness from Cho-rim and Mu-gak as they build their new relationship together. I loved to see them talking and getting to know each other, and Mu-gak getting in plenty of smooches and cuddles as Cho-rim gets used to having him around. He's been so lonely and emotionally closed off, it's nice to see him really smiling and happy for the first time since he lost his sister, and being rewarded with a girl who likes him as much as he likes her. And I love seeing that his dry sarcasm and her snappy temper are still there, so they aren't afraid to really be themselves with each other. I just want them to get a little bit more of that bonding time in, before her memory really starts to return and they both have to face the truth about their as-yet-unknown connection. They'll need to face this as a strong united front if they want to get through it intact, as a couple and as individuals.
RELATED POSTS
Tags: featured, Girl Who Sees Smells, Micky Yoochun, Namgoong Min, Shin Se-kyung, Yoon Jin-seo