Girl Who Sees Smells: Episode 9
It's fascinating to see just how far our killer is willing to go to throw the detectives off his scent – so fascinating that I actually find myself cheering him on at times, because the chase is so exciting. We do find out some interesting facts about our friend the serial killer, giving insight into some things and raising questions at the same time. Meanwhile Mu-gak and Cho-rim experience their first lovers' quarrel, and someone has to step up and put their heart on the line.
EPISODE 9 RECAP
Mu-gak tries to comfort Cho-rim when she wells up after tasting Jae-hee's soup, but she's just as confused over her overly-emotional reaction as him. The taste does jog her missing memory, and suddenly Cho-rim remembers a woman's face. She has no idea who the woman is, and Mu-gak sighs that this is very frustrating.
They go for a walk to talk it over, and Cho-rim says that she's curious about the woman she seems to remember — she doesn't even know whether she liked or hated her. She admits that having no memory is scary, and Mu-gak just takes her hand and laces their fingers together like it's the most natural thing in the world.
In his Murder Library, Jae-hee contemplates Choi Eun-seol's nametag one more time. He thinks back to the night he kidnapped her parents, when they first met, only this time his face is clearly visible to us. Through his eyes, the young girl's face is indistinct, so when she's hit by the car out in the street, the nametag he tore from her jacket is the only thing he has to identify her.
Mu-gak walks Cho-rim home for the fifth time, circling the block to draw out their time together, ha. It's so cute how they're each reluctant to let go of the other's hand, and they say "goodnight" over and over but neither budges. Awww, after a few seconds Mu-gak just grabs Cho-rim's hand again, and he pokes her fears of being alone just enough to finagle an invitation to come in, at least until she falls asleep.
Only he won't get to be near Cho-rim as he hoped, since she plops her father's tent in front of him and tells him to set it up in the living room. PFFT. Poor Mu-gak can't control his What just happened? face when she heads to bed and actually locks her bedroom door.
Grumpy, he texts her to ask if she really just locked the door against him, and she reasons that she should since he'll be leaving once she falls asleep. Mu-gak texts again later to see if she's asleep, but she messages back that she's not. This goes on all night, as Cho-rim actively works to stay awake so that Mu-gak won't leave. So cute.
They go to the station in the morning, to use the police database to put together a sketch of the woman's face that Cho-rim remembered. Apparently Mu-gak isn't good with the software, and Cho-rim fusses that the sketches he's assembling look nothing like the face she saw. Lieutenant Yeom sees the two of them bickering on their way out, and another cop tells her they were using the software to put a face together.
The detective team have a meeting to go over evidence, but since the Barcode Killer changed the license plates on the trucks, it's nearly impossible to pinpoint exactly which trucks he drove. Yeom warns everyone to be careful, since it's clear from Mu-gak's stabbing that the killer knows they're after him. Detective Ki asks how they'll catch him then, and Mu-gak declares they'll have to make him come to them.
At the Jeju hospital, a man asks to see Choi Eun-seol's records, and an employee makes a call to Mu-gak. He tells the employee to proceed as they discussed, and notifies Yeom that the killer has begun to track down Choi Eun-seol. Luckily, he thought ahead and had the hospital change her records to show the girl was transferred to a different hospital.
They're smart enough to figure out that the killer's having someone else do the actual legwork. Sure enough, we see the man who inquired at the hospital make a call to Jae-hee, telling him that the records say Eun-seol was transferred.
The detectives all still believe the girl is dead, but concoct a plan to make it look like she's still alive to lure in the killer. At that exact moment, Mu-gak takes a call from the hospital where he made it appear the girl was transferred, letting him know that someone has indeed inquired about her. The bait is working.
The plan goes into action, and Mu-gak sits in the car with Detectives Ki and Yeh while they wait for the rest of the team to be ready. Yeh fusses at Ki when a phone rings, since his girlfriend always calls during stakeouts, but it's not his phone — HAHA, it's Cho-rim calling Mu-gak. He takes immense pleasure in being the one getting a call from his girl for once.
In the van with Yeom, Detective Kang gets nervous that the killer won't take the bait, so she gives the order for the undercover cop posing as Choi Eun-seol to leave the home where she's hiding. As soon as the woman leaves, a man in all-black approaches her, but finds himself swarmed by cops and handcuffed before he can blink.
Only, Mu-gak sees another man in black standing in the alley watching the scene — and we clearly see Jae-hee's face — and Mu-gak immediately gives chase. He runs through a maze of alleys after the man, nearly losing him a couple of times, but managing to stay on his tail. He's led to an abandoned building where the man in black manages to escape out a window, but not before cutting his arm on a loose length of rebar.
Back at the car, the man they've detained says that some other man told him to just approach the woman and call her "Choi Eun-seol." Unfortunately, the man spoke from behind him and he never saw the guy's face.
Mu-gak continues chasing the man in black, who's clutching his arm and bleeding from a gash. Mu-gak is hit by a car crossing the street, and he pops right back up seemingly uninjured, but Kang and Yeom arrive on the scene and stop him from pursing the man any further. They want to send him to the hospital, but instead he rushes back to find the rebar that cut the man's arm. There on the metal is blood and a scrap of cloth — evidence, and DNA evidence at that.
Now the detectives' main objective is to round up their suspects and obtain their DNA to test against the blood. Jae-hee is Yeom's primary suspect, and she pushes for getting a warrant for his DNA first, but Kang thinks the chef is innocent and accuses her of twisting their knowledge of the killer to fit Jae-hee.
Yeom goes to talk to Jae-hee anyway, and they play a dangerous game of verbal chess, every word sounding like either a challenge or a threat. Apparently Jae-hee was adopted at age three and was raised by an American couple, though he refuses to discuss his birth parents with Yeom. He's only been in Korea for six years, since his adoptive parents passed away.
It creeps me right out when Yeom asks if his parents died in an accident, and Jae-hee non-answers that when both parents die at the same time, it's likely that it was an accident. Yeom catches the nuance and asks flat-out if they were murdered, and Jae-hee says their RV caught fire while they were in it.
When Yeom asks if Jae-hee was abused by his adoptive father, he stops her — that's prejudiced and disrespectful to adoptive parents and children. He insists his parents were kind, and he has no complaints. But it's clear Yeom finds all of this highly suspect.
Jae-hee turns the tables and proves he's onto Yeom in return, as he asks if someone she was close to was murdered. She boldly admits her father was killed, but starts to squirm a bit when Jae-hee analyzes that she always stays in the back of the room because she doesn't like people behind her, and probably sleeps with the lights on.
Yeom tries to turn the subject back to Jae-hee's parents, but he's got her number now, and assumes she's deflecting because she was somehow involved in her father's death. She doesn't answer, only asking why he's wearing a jacket when it's warm in the restaurant. Is he hiding something?
Unruffled, Jae-hee takes his jacket off and there it is — a bandage on his lower right arm. He says he hurt himself in a kitchen accident, and eerily informs her that any tool in a kitchen can be used as a weapon. As he lists dangerous kitchen tools, Yeom interrupts to say that when people talk so long it's usually because they're hiding something, and for the first time, Jae-hee's composure slips.
Yeom heads back to the station, where Jae-hee's injury is enough to justify a warrant for his DNA. The boys head to Jae-hee's house, but when Detective Yeh tries to collect the DNA sample, Jae-hee refuses to comply. Mu-gak says he's a murder suspect and doesn't have the option of refusing, and things get tense when Mu-gak's anger boils over and he demands to see Jae-hee's injury.
With a quiet threat that Mu-gak will be apologizing for this later, Jae-hee removes his bandage to reveal a deep gouge in his arm, yowch. He claims to have cut himself on the sharp edge of his kitchen counter, and submits to the DNA collection.
Lieutenant Yeom orders surveillance on Jae-hee since he's a flight risk, until they have the DNA results back and get an arrest warrant. Curious, Mu-gak notices her intensity and asks when she started to suspect Jae-hee, and she says it was during her conversation with him today.
Cho-rim cleans the theater, telling the Frog Troupe director that she was supposed to do a screen test today to host a cooking show, but figured it wasn't the right job for a comedienne. The director calls her nuts, because it's exactly the right job for her, and fusses at her for giving up an opportunity any of the other troupe members would kill to have.
So Cho-rim goes for the screen test, and Jae-hee's producer likes her on-camera presence enough to hire her on the spot. In thanks, she offers to buy Jae-hee dinner at his own restaurant, guessing he's never been a guest there himself, and he seems genuinely touched. Don't smile like that — I don't wanna like you, not even a little bit.
The detectives anxiously await the DNA results, but when they come in, Yeom's face falls to see that the samples are not a match. What?! The team wonder how this is possible while Yeom tries to hold back her frustrated tears. She simply apologizes, and leaves the room.
Mu-gak goes back to Jae-hee's home to apologize, and Jae-hee asks to borrow his phone to call his own, which is missing. But instead, he installs a spy app on Mu-gak's phone while he's not looking. He places the phone face-down next to Mu-gak where he can see the reflection of the screen in the table as the app loads, pouring wine and drawing out Mu-gak's apology to stall for time.
He claims to understand why Mu-gak would suspect him, playing the gentle, forgiving act to the hilt. All the while he watches the app loading onto the phone oh-so-slowly, distracting Mu-gak every time he starts to reach for it.
Jae-hee quietly warns Mu-gak that he won't be so forgiving if this happens again, and Mu-gak finally does grab his phone to leave when the app is only at about 95% complete. But by the time he looks at the screen, it's done — and this round goes to Jae-hee.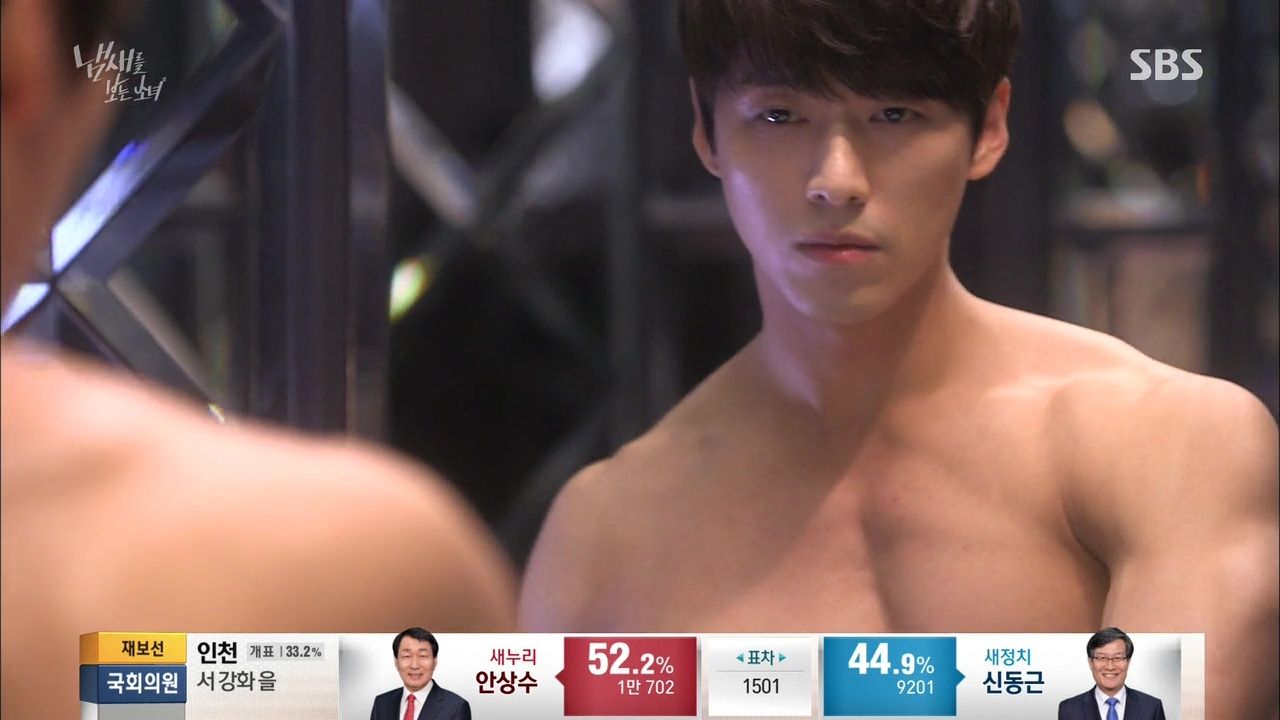 After Mu-gak leaves, Jae-hee re-bandages his own injury (with a bit of fan service), and we see that the night Mu-gak chased him through the streets, it was actually another man who'd escaped through the warehouse window and cut his arm.
So Jae-hee actually hired two men to deflect from his presence that night. He'd witnessed the other man cutting his arm, so he'd gone back to his home and used a meat fork to gouge a matching hole in his own arm. Damn, that's hardcore. And impressively forward-thinking, to know the police would want to do a DNA test, and to draw suspicion to himself then use the test to "prove" his innocence.
Cho-rim mentions to Ae-ri that she needs to buy some clothes for the cooking show, but Ae-ri is working and can't go shopping. Ae-ri says this is what boyfriends are for, and tells her to take Mu-gak. When Cho-rim denies that he's any such thing, Ae-ri calls him a bad guy for kissing her but not dating her, and Cho-rim doesn't disagree.
Ae-ri swipes Cho-rim's phone and calls Mu-gak, laughing when Cho-rim hangs up quickly and saying that's the best way to get a guy to call you. Or, you know, not play games and just call the guy, but whatever. Sure enough, he calls right back, and he agrees to help Cho-rim shop.
She tries on several dresses as Mu-gak adorably snarls behind her back — he disapproves of her working with Jae-hee. He tries not to enjoy seeing Cho-rim in the feminine dresses, but he can't keep his eye-popping entirely to himself, hee. She blushes when he admits she looks pretty, and when she can't choose, he buys all three of her favorite dresses.
Mu-gak's mood turns serious as he waits with Cho-rim for her bus, and he asks her not to do the cooking show. He can't give her a solid reason why, though, and Cho-rim gets a bit angry and asks who he thinks he is. This show is important to her career, and she says they're not in the kind of relationship where he has a right to ask her to give it up. Mu-gak gulps at the word "relationship," but he still can't really explain himself without sounding paranoid.
Yeom takes out her frustrations at the gun range and on her way out, runs into Cho-rim arriving at the station. Cho-rim's face falls when Yeom mentions Mu-gak, and she says she's not here to see him for once. She totally was, but covers by saying she was really here to see Yeom, and they go out for a drink on Yeom's suggestion.
As they drink, Cho-rim admits she was really at the station to drop off the dresses that Mu-gak bought for her at his desk. She tells Yeom that he didn't really buy them for her with good feelings, and gripes that he meddles in her business even though he's not her boyfriend. Yeom astutely figures that it's not the meddling Cho-rim is upset about, but the fact that Mu-gak isn't her boyfriend.
HA, Cho-rim is all, "Of course it's because he's not my boyfriend!" Then she realizes what she just admitted and claps her hands over her mouth in horror. Yeom takes the sisterly tack and agrees that this fight is all Mu-gak's fault.
She offers to help Cho-rim put together the woman's face that she remembers, and the two work late into the night with the sketch software. Yeom asks about Cho-rim's accident and memory loss, but Cho-rim just says she tries not to dwell on it. They get closer with the sketch, and agree to meet again later tomorrow on it some more.
The spy app that Jae-hee installed on Mu-gak's phone works perfectly, notifying him when Mu-gak makes a call and even allowing him to listen in on the conversation. He's only putting in an order for office supplies, but that's seriously creepy that Jae-hee has that kind of access to his phone.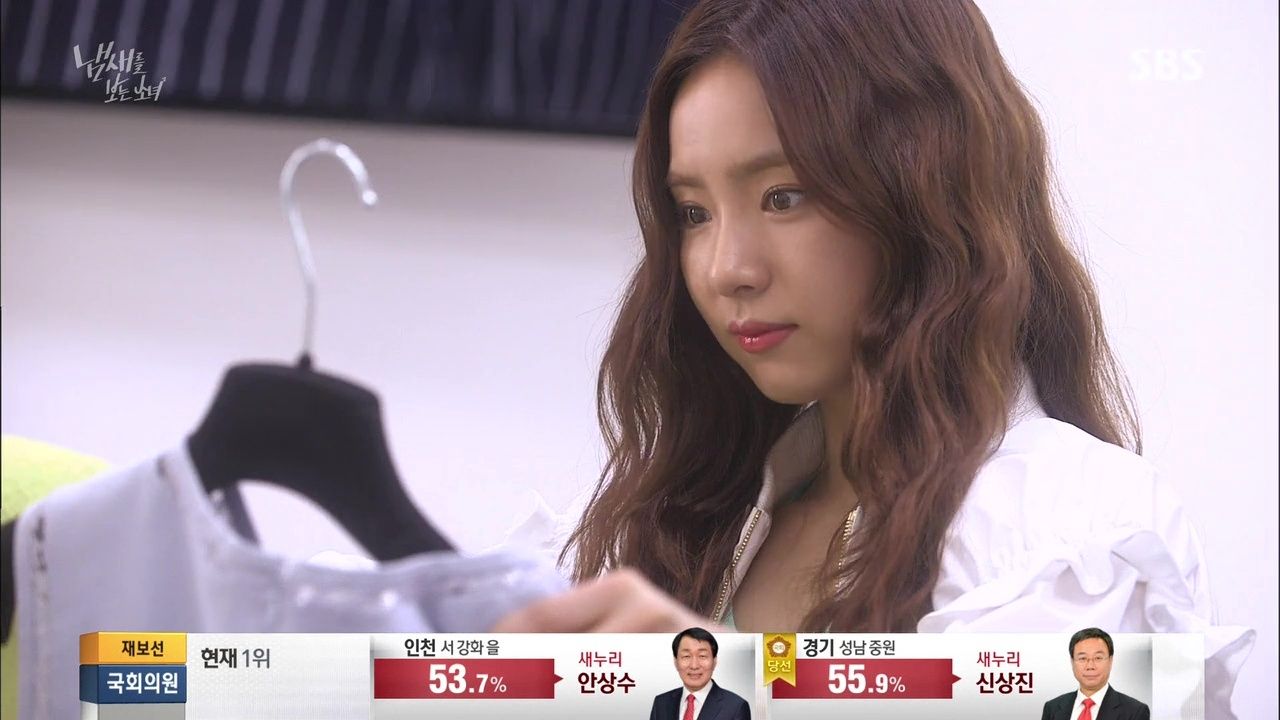 Cho-rim gets ready for her first appearance on Jae-hee's cooking show, and discovers that he's sent her a gift of a dress to wear for her first shooting. It's beautiful, and a text from Mu-gak that the yellow dress they bought is the "least weird" makes her scoff in annoyance. Ha, that's so Mu-gak.
But again Jae-hee gets a copy of the communication, so when Cho-rim shows up in the yellow dress after all, he immediately knows it's a dress that Mu-gak bought for her.
After the shooting Cho-rim sits at home in her raggedy clothes eating ramyun, complaining loudly that she called Mu-gak to ask him to dinner and he hung up on her. A text from him, asking her to come outside where he's waiting, makes her even more annoyed, and she goes out without changing clothes or fixing her hair ("It's not like he's my boyfriend!").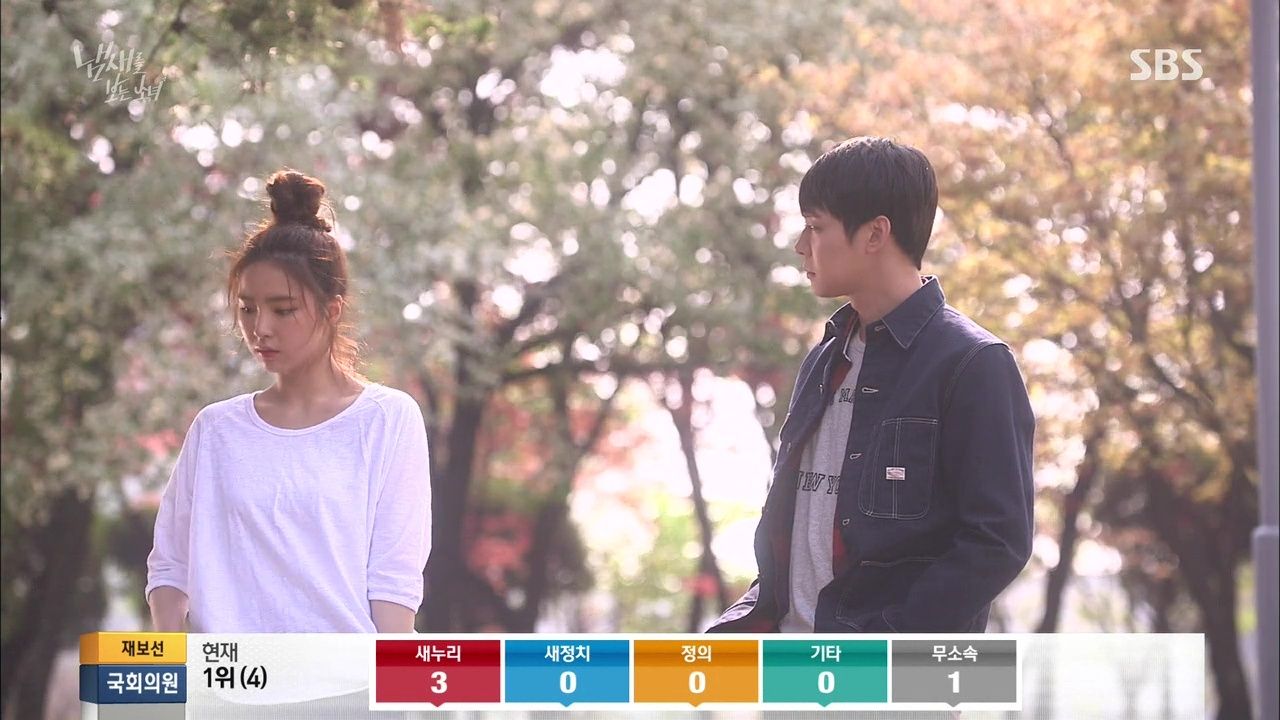 She's still got a huge chip on her shoulder when she meets him, refusing to look him in the eye even when he explains that he was in a meeting when she called. He asks her to look at him, so she does, reluctantly.
In a hesitant voice, Mu-gak asks, "What should I call you?" Cho-rim spits that she has a name, but Mu-gak clarifies — when people are dating, they call each other something else. Now he's got her attention! A bit more formally, he tells her, "Oh Cho-rim… 'lover,' 'woman,' 'darling,' 'girlfriend.' Pick one."
Adorably, Cho-rim tries to hide behind her hands when she realizes she's getting this romantic request from him while standing there with no makeup on and in her give-up clothes. She frantically says she'll just go get fixed up and come back and he can say it again, but Mu-gak just chuckles at her and says he already saw her. I'll say, since he's looking at her like he could happily eat her up like ice cream.
He takes her hand and starts walking, saying he's got to show the world how great his girlfriend is. So! Cute! She says she's got to go to the station to meet with Lieutenant Yeom, so Mu-gak offers to go with her.
Meanwhile Yeom works on some of the details of the sketch, and when she prints it out she realizes the woman looks familiar to her, too. She pulls up the photos of Cho-rim's mother who was murdered three years ago, and the sketch is a near-perfect match. When Cho-im and Mu-gak arrive, Yeom looks closely at Cho-rim, wondering if she really knows the dead woman.
COMMENTS
Noooo, I'm not ready! It feels too soon to reveal Cho-rim's true identity, because though I know it's a necessary part of the story and that we have to go through this rough patch in order to get to the happily-ever-after, I'm not looking forward to what this could do to Mu-gak and Cho-rim's infant relationship. I mean, they're literally only minutes into having an understanding of exactly where they stand with each other… it's too soon!
Most of my fear is in not knowing how Mu-gak will react. As precious and adorable-grumpybear-squishy as he is, he holds enough of himself close to the vest that he's still unpredictable when it comes to his emotional reactions. There's really no knowing whether he'll take the news that Cho-rim is actually Choi Eun-seol in stride and decide his sister's murder wasn't her fault, or blame her for his sister's death and distance himself. I'd like to trust in him that he'll react well (after a short period to process things, of course) because he's got a history of seeing things in a pretty realistic and rational way. But the one thing that makes him flip out, makes him really seriously lose it, is his sister's death. We saw him completely out of control at the police station when she was first killed, and again when he confronted Baek-kyung mistakenly, and one last time when Baek-kyung's body was found dead and Mu-gak thought his chance at revenge had been taken from him. For a guy who rarely shows his emotions, Mu-gak becomes all emotion when it comes to his sister. I'm so scared all that rage and fury could be turned on Cho-rim. Though I do admit that if he does turn on her, it should be fun to watch Cho-rim give him hell for it.
I keep being simultaneously amazed and horrified at Jae-hee's level of deviousness, and this episode only ratcheted that up another notch. He keeps staying one step ahead of the cops, as proven by the fact that he knew they were setting up a sting and hired not one, but two men to put the detectives off his scent. But he's not just an incredibly detailed planner, he's also able to take an unexpected event and turn it to his advantage. He could easily have asserted his innocence by showing that he wasn't injured, but he took it a step further and made certain he'd be proven innocent by DNA test. You can't help but be impressed by that level of forward-thinking and committment.
But we did learn some interesting things about Jae-hee in this episode, the most notable being that he was adopted and grew up in America (though it makes me wonder how his Korean is so good, if he didn't grow up in a Korean-speaking family). By his reactions to Yeom's questions, I'm assuming she wasn't far from the truth when she guessed he was abused — that could certainly have something to do, if not with his actual murders, then at least with his methods. And he's only been in the country for six years, which is about when the Barcode Murders started. There was a point in an earlier episode where the detectives wondered if there were any murders before the ones they know of, and I'm betting there were, but they just don't know about them because they were in a different country. I'll be interested to find out exactly how long Jae-hee has been doing his once-a-year killings, and why.
I had wondered why the show chose to reveal the Big Bad so soon in the run, but now I'm glad it did. The cat and mouse game that Jae-hee is playing, with Yeom and Mu-gak in particular, is really quite enjoyable to watch. I almost find myself rooting for Jae-hee to outsmart the detectives a bit longer, because it's so much fun to see what he'll be willing to do next. I know that won't last long, but as long as Jae-hee keeps showing off that intensely meticulous and devious brain of his, I'm happy to be along for the ride!
RELATED POSTS
Tags: featured, Girl Who Sees Smells, Micky Yoochun, Namgoong Min, Shin Se-kyung, Yoon Jin-seo