Grandpas Over Flowers in Greece: Episode 7 (Final)
javabeans: We're at the end of another Grandpas Over Flowers trip! It's been a fun ride, but I'd be lying if I didn't say I'll be disappointed if it doesn't end with wedding announcements. Fine, I'll take dating announcements. I'm not demanding.
girlfriday: I really hope that they're secretly dating by now. This entire series has been one giant buildup for their romance. The group reaches their guesthouse in Santorini, which is a really cute cavelike home with beds tucked away in little alcoves. It's adorable.
javabeans: It must make them all happy, because soon they're all out lighting candles for ambiance, and Gu halbae goes around snapping photos from all these angles.
girlfriday: Meanwhile, Seo-jin is out with a VJ looking for a place to park, and it seems to take forever. At one point he actually stops and moves someone else's scooter to MAKE a parking space where there wasn't enough room.
javabeans: That's the thing you always want to do but don't have the guts to do. Sometimes I really love Seo-jin's shamelessness, in his matter-of-fact way that sort of camouflages just how shameless he is.
girlfriday: The landlady comes by with heaters and sort of flirts with Gu halbae, which is really cute.
javabeans: Especially since it's through a translator, haha.
girlfriday: Seo-jin and Ji-woo go to the market to pick up dinner supplies, and Seo-jin picks out a bottle of ouzo and notices when Ji-woo helps pick out a lip balm for one of the VJs. Suddenly Seo-jin sidles up to her and asks her to pick out a face wash for him. Why? Why are you suddenly so insistent she do this? It's so funny.
javabeans: I love that she's all, "Just pick one" and he keeps pestering her to choose for him.
girlfriday: It's such an obvious cry for attention. They stop to buy Chinese food after that, and Seo-jin makes Ji-woo pay, which makes her pout.
javabeans: It's so obvious how much it hurt her to give up some of her precious cash. She totally has it, but worries that it feels unsettling to have to use it. LOL. But a feeling we can all understand, I'm sure.
girlfriday: Oh totally. It's just a security thing! Boys don't understand.
javabeans: What's extra hilarious about it to me is, Seo-jin is seeing their allowance as a joint fund thing — the show gives them money, it's theirs to use. Whereas, Ji-woo sees it as "Seo-jin has alllllll the money, and I have to make sure to scrimp on the side if I want to use any, otherwise we are at the mercy of the show and I can't buy anything!" Like in the market there was a tiny beat where she bought a staffer a package of candy, and it made her happy, but then she shot a look around to make sure Seojinnie didn't see.
girlfriday: If he weren't such a nag, she might not be so furtive about the spending. But then again, we wouldn't have this hilarity, so I like that he's a scrooge. They head back and make a quick kimchi stew to add to the table, then the halbaes gather for their last dinner on the trip, each of them musing that this one really passed by quickly.
javabeans: After dinner, Gu and Sub halbaes sit in silence for a long while, and then Sub halbae tells Gu halbae he has to stay healthy, and they both sigh that they've gotta take care of themselves.
girlfriday: All the halbaes' interviews include the same exact wish for each other: to stay healthy and live a long time. It's an obvious sentiment, but they mean it specifically in regards to one another, always thinking of the others first.
javabeans: Then it's morning, and Ji-woo's up early to get ready. Seo-jin pops in to ask for the hair dryer, and the show points out that the dryer is an excuse, and that he's gotten into the habit of coming to her room every morning.
girlfriday: See, what will he do when she's not around? I also love that she yells at him to hurry up, on the one day that she's ready before him.
javabeans: I wonder if she wanted to purposely do it, just so she could yell at him. She's weirdly fixated on going out for a walk ("We have to go out on a walk! Hurry!") and Seo-jin seems bewildered but complies laughingly.
girlfriday: She gets super excited to see a tiny peek of sunshine, and squeals to Seo-jin, "Isn't it romantic?" (She means dreamy, not hearts and kisses.) And I swear, he purposely wears the frowniest frown he can, just to be contrary. He complains that everything's romantic to her, while she grumps at his inability to see the romance in anything.
javabeans: Funny thing is, I swear his crankypants attitude only makes Ji-woo more determined to find something that'll crack his shell, while her exuberance makes him more determined to bah-humbug it.
girlfriday: Gah, sometimes I hate that Seo-jin so fits the stereotype of hot and broody.
javabeans: But when he does the tiniest thoughtful thing, it suddenly seems so meaningful and sweet. While he's probably grinning on the inside how he gets big results with little effort.
girlfriday: Yes! It sucks! Also, clearly it works for him, which is why it's infuriating.
javabeans: I just want Ji-woo to break him. Only a little! But break him.
girlfriday: They pack up and head out, feeling a little wistful about leaving so soon. At least they got nice weather for one day, even if it's just on their way out. They stop at a gift shop to look at souvenirs, and Seo-jin totally starts buying kitchen items to use on Three Meals a Day. Already thinking about the next job, eh?
javabeans: They fly out of Greece, and then we jump to a month later, to a restaurant in the Itaewon district of Seoul named Santorini Tavern. Haha. You know Na PD is so proud of himself for that one.
girlfriday: He's so pleased. He breaks out into an even bigger grin when Ji-woo and Seo-jin walk in together (looking amazing, might I add), and Ji-woo just casually slips her arm around Seo-jin's to show that they're friendly now.
javabeans: Ji-woo's all full of wistfulness and nostalgia, pointing to her menu and saying, "We were there, oppa! Isn't that something?" And Seo-jin says, "I don't remember."
girlfriday: Well that's just a lie. You just know he's doing it on purpose to push her buttons. They easily fall back into arguing over the menu, namely Seo-jin's cheapness and Ji-woo's insistence that he doesn't need to scrimp and save anymore. She cries that she's paying today, which means that it doesn't count as overspending, and he grunts back that the overspending is ingrained in her.
javabeans: He just likes getting a reaction from her. He baldly says (while smiling to himself) that they barely ate any Greek food, and of course the flashbacks show Seo-jin specifically introducing their Greek foods to the group at dinner. Then we rewind to show Ji-woo reserving a room that first time, when she was upset that the hotel wanted to charge more than she thought she reserved, and she very cutely pecks out a message in English to the hotel.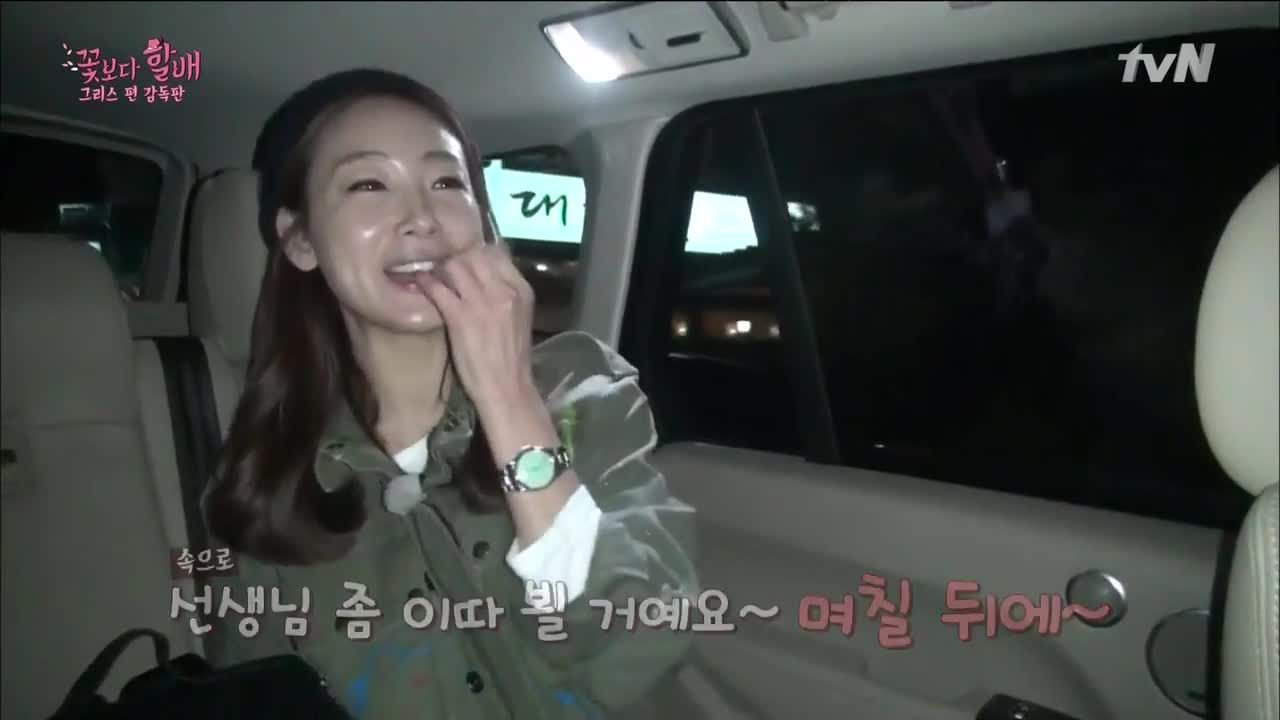 girlfriday: Back at the restaurant, Na PD asks how Ji-woo was able to keep her participation in the show under wraps, because he expected rumors to leak. But she says that she cut off communication entirely so that she wouldn't leak it accidentally, and even told her mom not to see her friends during that time. That's hardcore, but hey, it worked and she managed to surprise everyone.
javabeans: Even on the ride to the airport, she explains running into Soon-jae halbae at a screening, and how they chatted about Three Meals a Day, and on the inside she was giggling, "I'm going to see you in a few days!"
girlfriday: Na PD asks Ji-woo how she held up after the trip, like if she got sick or anything, and she says that she was totally fine and could go again right now. Seo-jin balks, "You weren't fine! You texted me that no matter how much you slept you were constantly sleepy!" I had to listen to that twice to hear the "text" part, because I was like, How do you know how she's sleeping, huh?
javabeans: I know, it was tucked away at the back of that sentence. "You kept saying you were sleepy!… in texts."
girlfriday: They start reminiscing about the delicious foods they ate (and by "they" I mean Na PD and Ji-woo), and we get flashbacks to one of their yummy dinners. Na PD randomly starts quizzing Ji-woo on the names of hotels she reserved, which is totally pointless but puts her on the spot, which the boys enjoy.
javabeans: When she comes up with the name, Seo-jin piggybacks on the moment to ask for the full name, and Ji-woo's enough of a perfectionist that she totally wants to get this right even though it doesn't matter. So while she's madly trying to remember the full hotel name (and Na PD prods that if she can't remember, how will viewers believe that she reserved the rooms personally?), she blurts out the name of the street it's on, and the boys are all, "But who asked about the streets? What's the hotel name?" She finally recalls the full name and then complains to Seo-jin, "Oppa, why are you being like this to me?!"
girlfriday: It's extra hilarious since Na PD is the instigator. I love that he calls her noona, by the by.
javabeans: Seo-jin: "Ask her about the Greece hotel." Ji-woo: "Byron!" Seo-jin: "And the one after that?" The best part is that Ji-woo totally gets absorbed in answering the question, which makes it extra fun to quiz her.
girlfriday: I'm shouting at my screen right now: "Don't fall for their tricks! Stop answering!" But I'm dying of laughter because it's so funny. This must be why Seo-jin teases her so much.
javabeans: They keep asking, and she finally kind of rolls her eyes when Seo-jin asks for the name of the tall building in Dubai… and then you see her eyes darting as she tries to remember that too.
girlfriday: She takes a sip of wine to buy herself time to think! I love that you can read everything on her face.
javabeans: She tries to turn it around on Seo-jin, prodding him to remember, but it doesn't work because he's just all, "I don't remember." It's no fun because he doesn't care, whereas she totally cares and it's hilarious.
girlfriday: Mention of the building makes her sigh to think about the part that got cut out of the show, and a flashback shows us why: It's miles and miles of moving walkway, just to get from the train to the mall, and Ji-woo practically shudders to remember how horrendous that trek was.
javabeans: How funny is it that Soon-jae halbae is the oldest, and he's the one who chooses to walk the whole way instead of stand on the moving belt, and he ends up way in front?
girlfriday: I know, he's like way ahead of them. It goes on forever and ever, Seo-jin can feel Il-sub halbae about to explode about twenty minutes in, so he sends Ji-woo over. The captions count down ominously 3… 2… 1… and then she runs up with a burst of aegyo, and suddenly Il-sub halbae smiles. That's so cute.
javabeans: It's adorable because she wasn't as aware as Seo-jin was (since he was right behind Il-sub halbae the whole way), and the moment she reads the situation, she defuses by complaining the thing he wants to complain about: "Isn't it sooooo far?"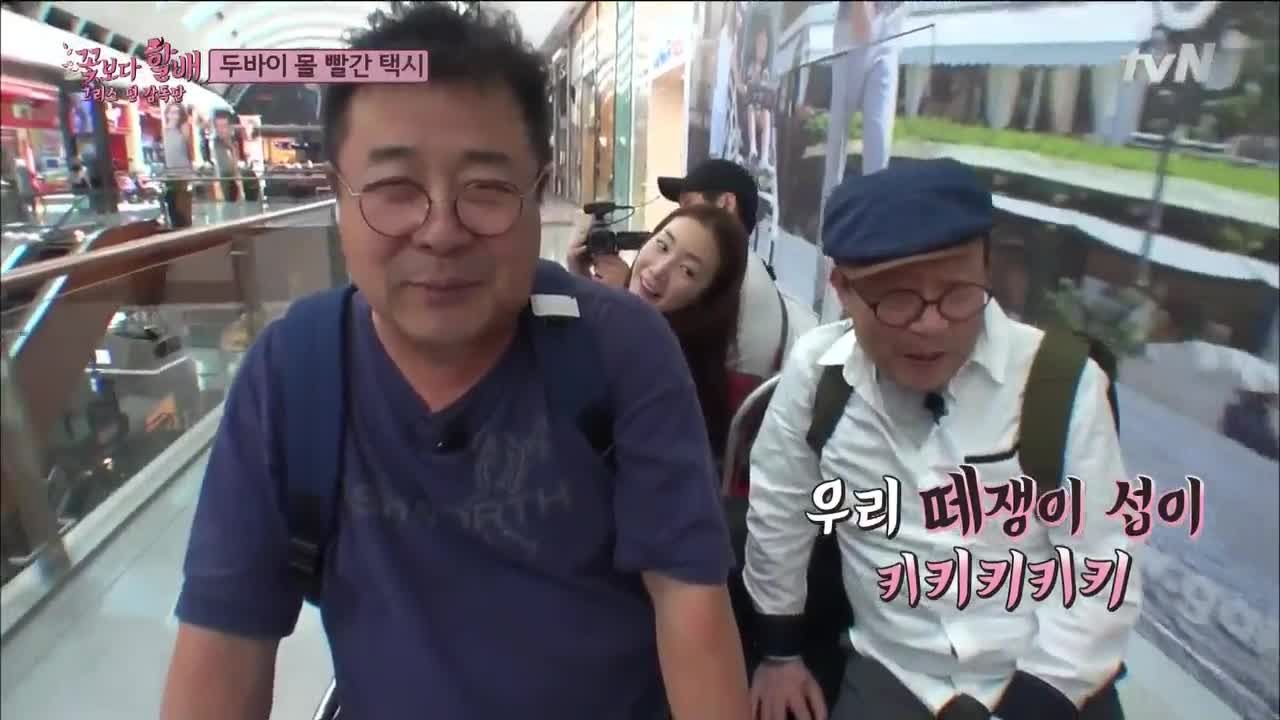 girlfriday: Thankfully Seo-jin discovers a taxi that shuttles people around inside the mall, and later sends Il-sub halbae on a ride with Ji-woo and Gu halbae. Na PD tells them that he made a mistake about the prince they met in Dubai, who was apparently just a regular worker at the tourism office. How that got lost in translation, I have no idea.
javabeans: That sounds terrible, because apparently it attracted a ton of negative comments accusing the guy of posing as their prince, like he was making claims he didn't have a right to. That is totally Na PD's fault! He says he wants to set it to rights, while Seo-jin keeps his eye on the important thing: He saved their trip a lot of money with that freebie up the tower.
girlfriday: Na PD brings up their differing music tastes, and we get flashbacks to their endless back and forth on the road trip, picking at each other's choices. They talk about how the halbaes' proclivity for snacks has really become a full-blown constant thing now, with them stopping to purchase sweets when before they'd just politely decline.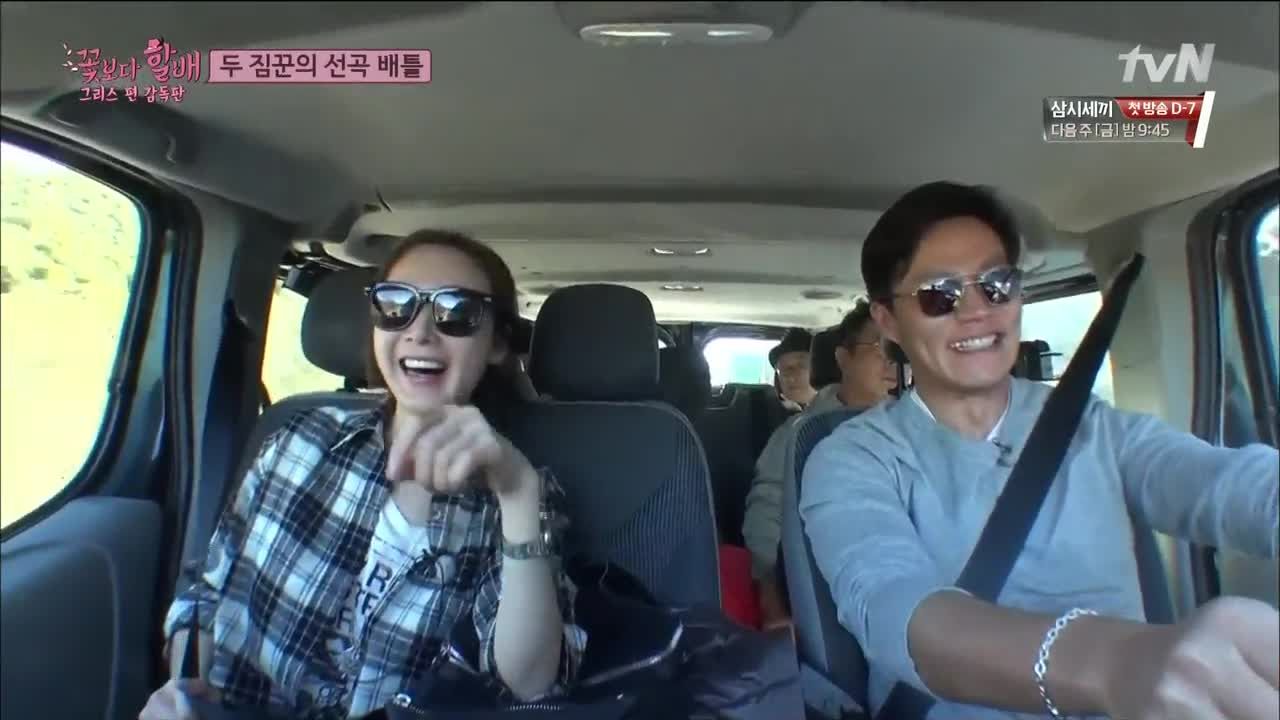 javabeans: They really are a snacky bunch. Ji-woo points out that when you travel a lot, you start craving sweet things, to which Seo-jin says flatly, "I don't." She's all, "But you ate everything I gave you!"
girlfriday: Talk turns to money, and Ji-woo admits how scared she was after The Ice Cream Incident, that she'd really be pegged as an overspender. Seo-jin fully admits that his heart lurched when he saw how much ice cream she'd bought, thinking that they were doomed for the whole trip.
javabeans: Na PD asks why Seo-jin kept the pursestrings rather than splitting it half with Ji-woo to manage, and he says that at first he'd given her money, but the Ice Cream Incident made him afraid, and she seemed the type to spend everything she was given. But you turned her into a hoarder! She totally looks hurt and pouty.
girlfriday: Na PD totally pokes at the open wounds, all, "I would've given her half!" No matter how many times Seo-jin explains his reasoning, all roads lead back to the Ice Cream Incident.
javabeans: We get tons of flashbacks, to Ji-woo basically begging for money. "Oppa, buy one more cotton candy!" and "Oppa, why won't you let me have fruit?"
girlfriday: Seo-jin: "We can't starve meals because we spent all our money on snacking!" It's great to see it all in montage, because it devolves from long arguments to whining, to just silent taps and tugging on oppa's shirt until he hands over some cash.
javabeans: Then Na PD asks his last question: "My mother thinks you two are going to get married. When will you marry? My mom kept telling me to ask you that."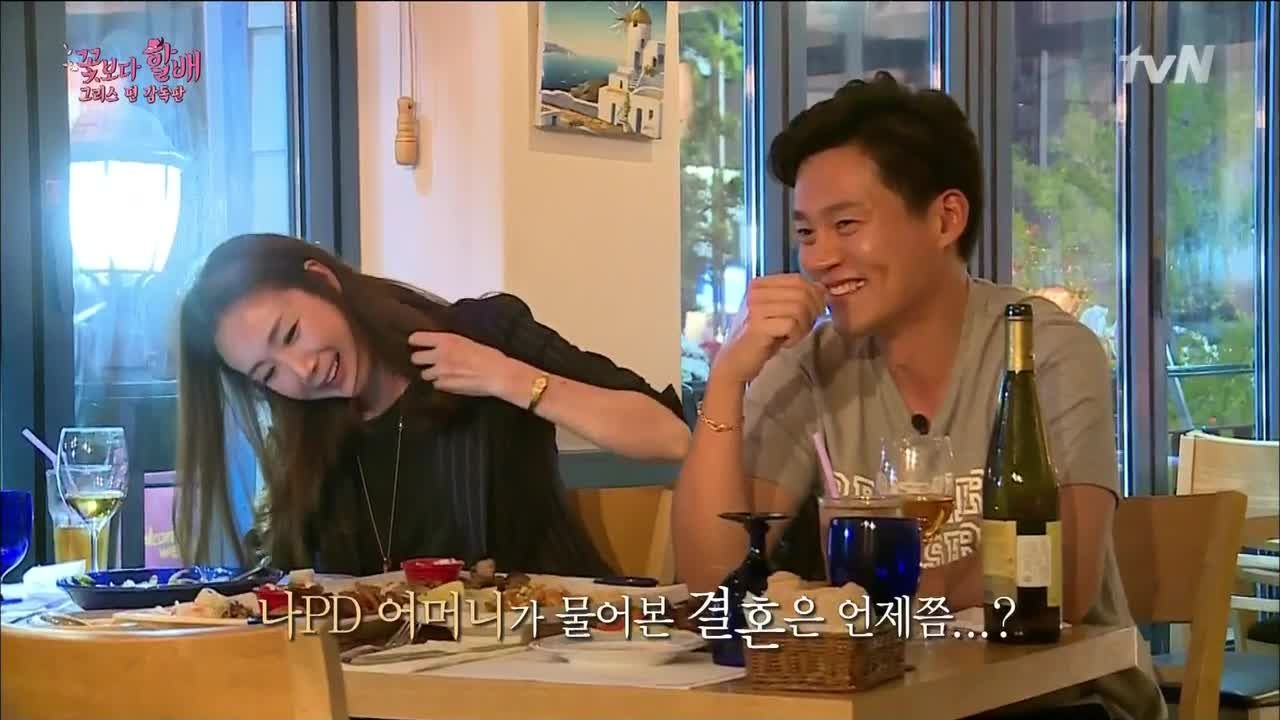 girlfriday: Nice, blame it on your mom. And then he follows up netizen comments with a text he got from Uhm Tae-woong: "Are Seo-jinnie and Ji-woo dating?" Na PD jokingly says that it might not be a bad idea for them to just get married to fulfill the country's wishes and all that, and SEO-JIN TOTALLY NODS HIS HEAD. Twice!
javabeans: Na PD points it out, and Seo-jin adds, "If she fixes her overspending habit."
girlfriday: That is a yes if I've ever heard one.
javabeans: Na PD hands over a box as a gift, and Seo-jin asks if it's a pair of lovebirds or something. Na PD's all, "What are you imagining?" and it turns out to be a box of lemons, haha, to commemorate their lemon water fixation throughout the trip.
girlfriday: The lemons apparently allowed her to drink like a fish and still be fine every morning. I think I'm going to try that.
javabeans: Na PD jokes that she picked up a drinking habit, and she laughs that she loved having a drink with the halbaes every night. We see a few clips of their drinking time converstaions, and it's so funny to hear the halbaes talking about venerated veteran actors as "That was when he was a baby!" (As in, rookie, not literal baby.)
girlfriday: And then we see what they did on the nights when the halbaes went to bed early. Ji-woo, Seo-jin, and Na PD sit around drinking, which seems to be the usual thing, and after one round Na PD makes a stealthy exit, leaving them to talk on their own.
javabeans: Ji-woo watches him leave, then asks, "We can take off our mics, can't we?" They hand in their mics and the staff lingers, and clearly both sides are waiting for the other side to turn in. Then we just get video, while they chat and giggle for a while afterward.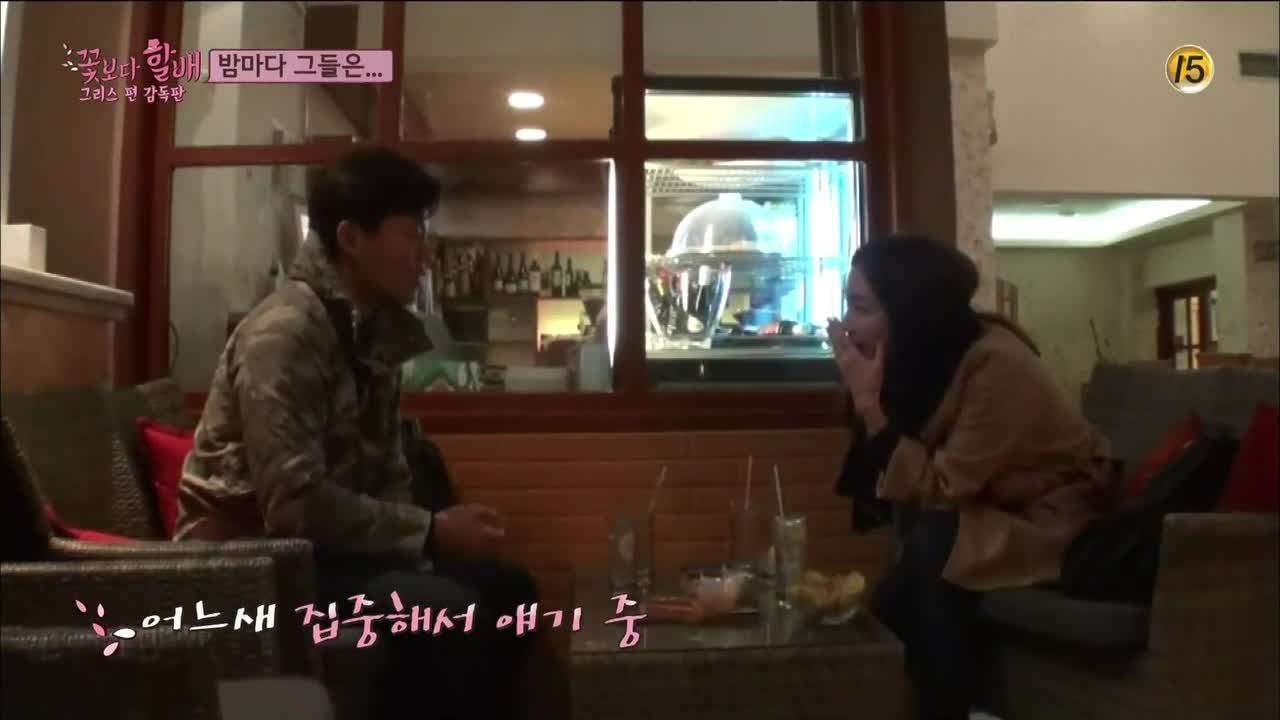 girlfriday: I know we're like a broken record, but they really need to date already.
javabeans:He says he almost did Winter Sonata, but because Bae Yong-joon signed on, he didn't get it. Then he says how he's probably an old bachelor at this point, all wistful, and Ji-woo is the one who exclaims that it's nothing to be sad about, that you live your life happily, and date and break up and life is good.
girlfriday: I like her outlook. He could use some sunshine in his life. Back in the present, Seo-jin brings up the one big fight they had over money, and claims that he went to go get her cotton candy in order to make her feel better. Aw, it's true — he goes over to the cotton candy stand and just buys one at first, and whispers at her to just eat it by herself. But then the halbaes ruin his (tiny) grand gesture by asking for cotton candy too.
javabeans: She says how they didn't know, and he says he doesn't even want his gestures to be recognized, or known, or for anybody to be touched by them. Why is that so funny?
girlfriday: But! You brought it up!
javabeans: I know! "Here's a thing I did for you. Don't acknowledge it!"
girlfriday: The show wraps up with wistful thoughts from the halbaes about how much they enjoyed this trip and traveling in general, and then when Na PD asks Seo-jin about what travel means to him, Seo-jin answers, "My dream vacation is the best hotel with the best treatment, where I can shop like crazy!"
javabeans: Basically, the complete opposite of every Over Flowers trip he's been on.
girlfriday: Yeah, this is no vacation for him. It's work. But we already knew that. Ji-woo says that she was worried before going on the trip, but once she was there, the halbaes were so nice to her that it just made her naturally happy around them.
javabeans: Seo-jin says how these two grandpas came up to him and asked to hold his hand, and shouted "Manseh!" because they felt a vicarious sense of gratification for him through watching him take care of these halbaes.
girlfriday: Awww. I mean, I know why WE love him, but it's sweet to think of it from that perspective too. The episode ends with Ji-woo casually asking Seo-jin about the farm, which maybe means that we'll be seeing her pop up on Three Meals?
javabeans: It's too strange of an edit otherwise! Aw man, does that mean I have to watch the farmhouse show now?
RELATED POSTS
Tags: Baek Il-sub, Choi Ji-woo, featured, Grandpas Over Flowers, Lee Seo-jin, Lee Soon-jae, Park Geun-hyung, Shin Gu