Let's Eat 2 dishes out two extra servings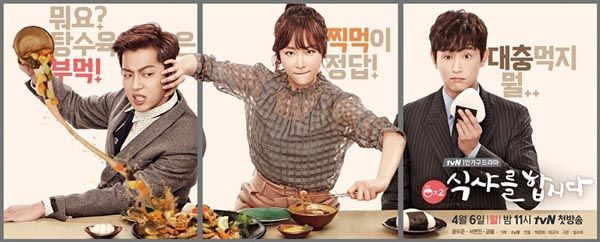 Thanks to a solid ratings performance and positive viewer response, cable drama Let's Eat 2 is getting a two-episode extension, putting its total episode count at 18. The drama has been pulling in respectable ratings numbers for tvN in the 2% range; the most recent episode drew an average rating of 2.3% with a high of 2.6%. There was a time when a tvN show would have expected higher, but the station has had a bumpy past year and must be relieved to have a reliable hit on their hands with Let's Eat 2.
The extension spurred momentary speculation of a possible Season 3, though a source with tvN quickly clarified that they haven't discussed that yet, and that they're focusing on the season at hand. But if they do go that route, it's probably for the better that they get that talk out early, so that producers are given ample opportunity to write in story possibilities now and pay them off in an organic way. After all, even though I missed the first season, I was a little weirded out by the way the show ended Season 1 with Lee Soo-kyung as the heroine, then launched Season 2 with a new lead in Seo Hyun-jin.
That said, I found Season 2 quite accessible even when diving in blind — simple concept, cute characters, tons of food porn. What's not to like? Most of all I really enjoy Seo Hyun-jin's performance in it (after having loved her just as much as the adorably wail-y princess of Three Musketeers); Yoon Doo-joon is great at being the glib charmer, but she makes the show for me.
Plus, the extension notice comes early enough that I don't feel too worried about the rest of the show taking a dive or getting dragged out painfully. (We can hope.) The show will air Episodes 9 and 10 this week, and now wraps on June 2.
Via Newsen
RELATED POSTS
Tags: Let's Eat 2