Mask: Episodes 1-2
SBS's Mask is off to a strong start, with an assured sense of style, a brisk plot, and another top-notch performance from Su Ae as an ordinary woman who suddenly gets the chance to live a chaebol life. (Not to mention a second performance as the woman whose chaebol life she supplants.) There are a number of cliches in place, no doubt—swapped lives, chaebol takeover machinations, adulterous affairs, a poor heroine with a debt-ridden father, mistresses and illegitimate children—but presentation is everything, and Mask feels like a show that uses its cliches in an entertaining way, rather than as crutches to carry it through lazy writing.
I'm not as drawn to melodramas as an overall genre as I am to other types of dramas, but whenever a show is executed well, I'm happy to give it a chance. Mask is just the right kind of melodrama for me, full of juicy conflict and entertainingly interesting characters, but low on cheesy camp factor. It's a fun kind of soap, the kind that moves quickly and keeps you engaged in the conflict without getting overwrought with pain.

SONG OF THE DAY
Jung Joon-young – "Take Off Mask" [ Download ]
Audio clip: Adobe Flash Player (version 9 or above) is required to play this audio clip. Download the latest version here. You also need to have JavaScript enabled in your browser.
THE STORY
Episode 1: "3 Million Won Happiness"
Episode 2: "Girl Who Walks in Memories"
The series opens on an immediate hook: Our heroine dies. Okay, you have my attention. Continueeee.
We're thrown into the thick of action as BYUN JI-SOOK (Su Ae) drives along a mountain road and swerves to avoid a collision, only to send her car crashing through the cable railing and down a rocky hillside. She's saved momentarily by the cables that catch the vehicle, but only barely, and not for long.
Ji-sook is handcuffed to the steering wheel, and manages to grab her phone to answer a call from a mysterious "Crazy Bastard," who pressures her into accepting his deal. Panicking and desperate, she agrees, only to have him declare that she must die.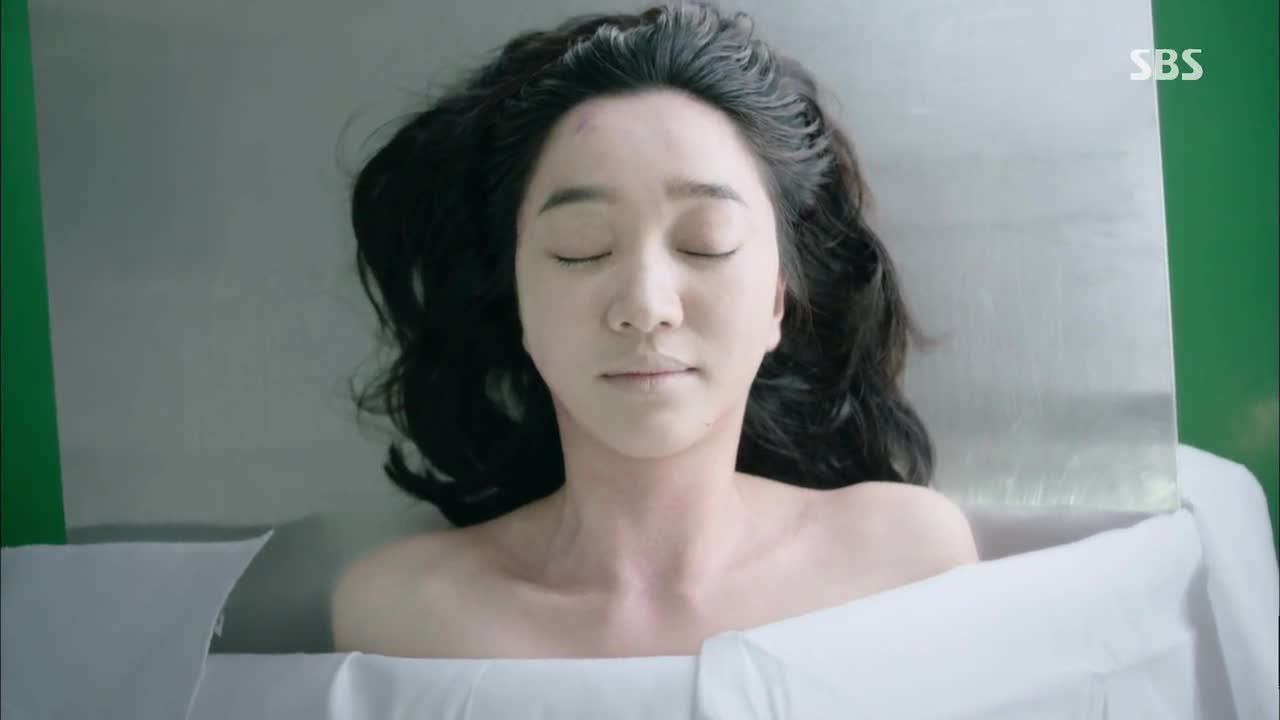 Facing imminent death, Ji-sook takes out her phone and records her last messages to her family—her wastrel of a father, always plunging the family into debt and trouble; her long-suffering mother; and her troublemaking younger brother.
The cables give way and the car plunges into the sea, with Ji-sook still handcuffed to it. Her body is identified in the morgue, her distraught family mourns, and then we jump back to two days prior.
CHOI MIN-WOO (Joo Ji-hoon) is the successor to SJ Group, a chaebol corporation that owns department stores, for which he serves as executive director. Yet despite his high rank and chaebol status, his position seems far from secure, with his exacting chairman father constantly barking warnings that he won't pass the company to an undeserving successor.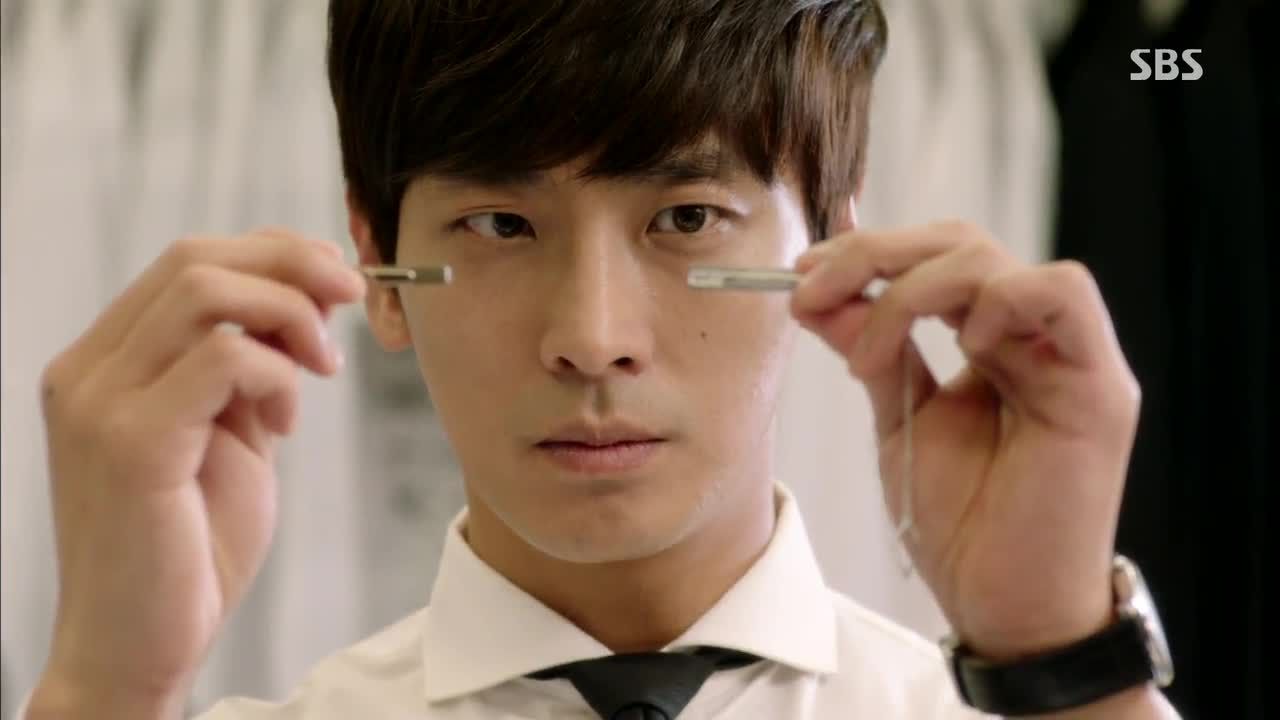 Min-woo seems like a nice guy living in a viper's nest, populated by family members who are all operating under their own agendas: His father rules with an iron fist and won't tolerate any mistakes; his stepmother makes barbed comments about his absent mother; his sister is in a loveless political marriage; and his brother-in-law seems to be waiting for his chance to usurp everything.
Min-woo is being steered into a political marriage of his own, into which he and his fiancee enter with jaded eyes wide open, treating it as a cold business deal. She's SEO EUN-HA—also played by Su Ae—though her lot in life is the complete opposite of Ji-sook's. Eun-ha is the daughter of a politician with presidential aspirations, and this marriage would give her father a financial backer for his campaign, while Min-woo's father would gain a powerful political ally.
Eun-ha draws clear boundaries for their arrangement, where she'll continue to see the man she loves, and refuses to have children with Min-woo. He's fine with that, though he comments, "I feel sorry for him and for you—truly." To which Eun-ha replies, "Do you not have someone you love? I feel sorry for you—truly." Touché.
Min-woo suffers from OCD and hallucinations that are initially depicted in a humorous light, but the tone grows increasingly more grave as it becomes clear just how debilitating his condition is. It's not just that he dislikes dirt; there are hints of a deeper problem, for which he's been undergoing long-term psychological treatment. He seems to have come to a good place of calm and control, but any hint of instability shakes his composure, and we see that the cause is rooted in a childhood trauma—his mother drowned, and he experiences recurring hallucinations of bodies floating in pools of water.
Ji-sook works a sales job at a department store—Min-woo's, in fact—where she's the lowest performer and gets yelled at frequently. She essentially supports her family and struggles to scrape together money to pay off her father's loan sharks, who dog her at every turn for exorbitant payments she can't afford. And her ne'er-do-well father is no help, sinking into defeated depression while his family agonizes in constant stress. Dad has a tendency to pursue get-rich-quick schemes, while kid bro has a gambling habit.
Ji-sook goes to a reunion of former schoolmates, among whom she's picked up the reputation for borrowing money. Her classmates snicker behind her back and one steps in to help—until it becomes clear he just wants to lord his privilege over her as a reason to pressure her into sexual favors. She rejects his advances, and he throws a wad of cash at her with contempt—but she's so desperate she can't refuse. It's enough to pay off the next loan installment, and she takes it.
She gets drunk at a pojangmacha and lies down in the street, which is where Min-woo comes across her and mistakes her for Eun-ha. He ends up taking her to a hotel room, where she vomits on his shirt and passes out on the toilet, after first making sure to drunkenly tuck away her cash in a "safe" place—his bathrobe. Baffled and discomposed, he leaves her there to sleep it off and wonders why she acted so differently.
The two Su Aes come face to face in a chance encounter at the department store, where Eun-ha is the first to spot Ji-sook. In this show this is a telling sign, since we are told that where doppelgangers are concerned, the first person to notice the other one will die. RIP, Eun-ha.
Both ladies are startled to see their mirror reflections, and Ji-sook asks her mother about a possible twin. Her mother scoffs at that idea, and while I wouldn't count out a twin possibility entirely, it does appear that the drama is approaching this as a true doppelganger scenario, where the two happen to look the same but aren't necessarily related.
Ji-sook's misplaced wad of cash is found by the servants in Min-woo's robe, and it's brother-in-law MIN SEOK-HOON (Yeon Jung-hoon) who intercepts it. Seok-hoon is a crafty son of a bitch, and while we don't quite understand what his ulterior motives are, it's patently clear that he has plenty of them. He hangs on to the cash, filing away that information for future use, while keeping a friendly face to most of the world.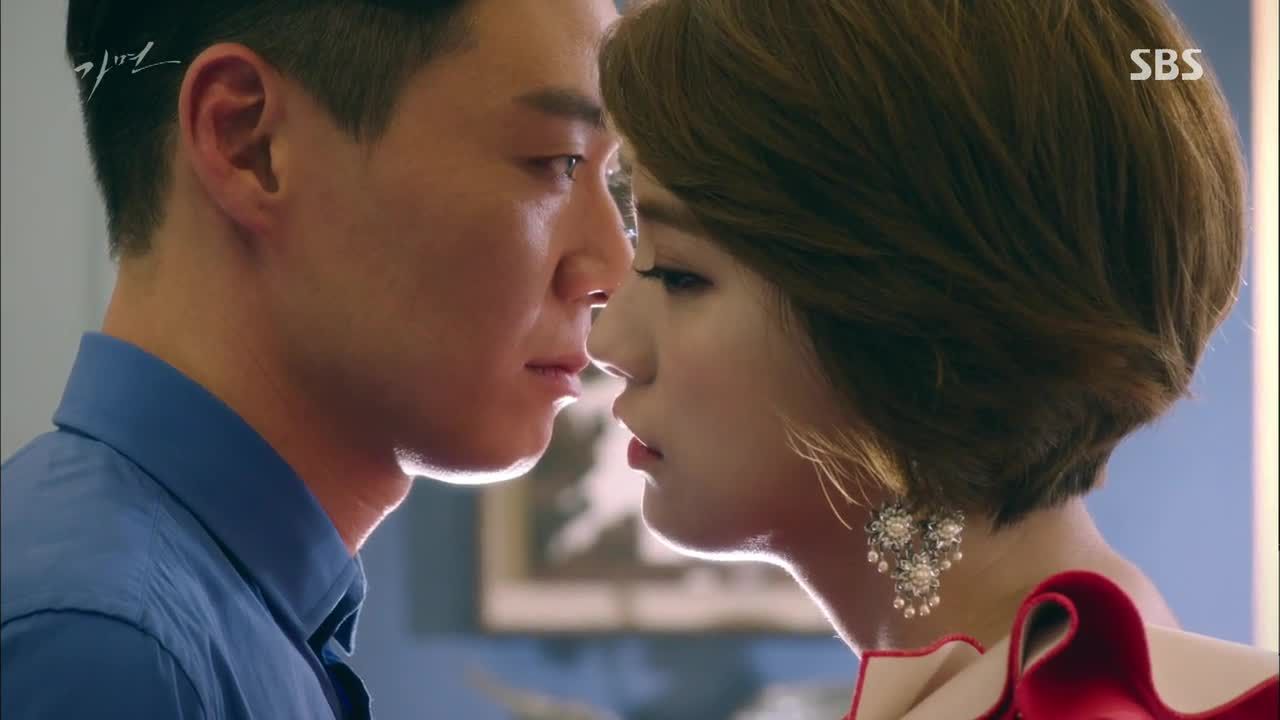 Seok-hoon's marriage to Min-woo's noona, CHOI MI-YEON (Yoo In-young), is all sorts of messed-up, full of crackling tension and bald-faced lies. Mi-yeon appears to care more for her husband than their business arrangement allows, and looks at him alternately with distrust and longing. She knows he doesn't love her and doesn't believe his occasional sweet words, making sure to keep her protective shell in place.
And as it turns out, Seok-hoon is the man Eun-ha loves, making for a supremely awkward love square: Brother, sister, and two adulterous in-laws. There's bad blood between the two ladies; it's not clear whether wife Mi-yeon knows about mistress Eun-ha, but there are other reasons for the tension. The ladies make barbs at each other that end with Eun-ha reminding them that they need her in this marriage more than she needs them. After all, her father can find sponsors other than the SJ Group chaebols, but their father is on the verge of embezzlement charges.
Min-woo puts on a good front to his psychiatrist about being all better these days, even though he hasn't been taking his medication. The doctor urges him to, but he's read up on the dangerous side effects like heart failure and insists he's fine. But that escalates into a full-scale outburst with him screaming at the man, "I'm not crazy!" First rule of crazy: Insisting you aren't just makes it seem you are.
But when Min-woo hallucinates a body in the swimming pool, he's spooked enough to take a pill.
Min-woo dines with Eun-ha (poolside with a full string ensemble, natch, lest you forget these people are rich), and a pill is dropped into the wine bottle before it's served to Eun-ha. The next thing we know, Eun-ha's floating in the pool, unconscious, and Min-woo's gasping in confusion, collapsed on the ground.
Seok-hoon races Eun-ha to the hospital and is the only one privy to the doctor's bad news that she's essentially brain-dead, with no hope of recovery. He recalls Eun-ha telling him of her run-in with her doppelganger, which sparks enough of an idea that he starts looking for Ji-sook, just in case. In the meantime he tells the family that Eun-ha's prospects for recovery are good—it's important to him that she not die, not just because he loves her but because he needs something that requires her to be alive.
Ji-sook realizes she's lost her cash and tries to get in touch with Min-woo. Through a series of miscommunications and misunderstandings—not least because he believes she was Eun-ha that drunken night—she concludes that he stole her money, while he suspects her of scheming to use that night against him, perhaps involving paparazzi.
After Eun-ha's accident, Min-woo curiously can't remember what happened, so his family turns to CCTV footage to fill in the gaps. He insists that he didn't do anything but is anxious nevertheless, while his family look half-convinced that he did do something to her—that his mysterious condition has reared its ugly head again.
But that exact segment of the security footage is erased, which only makes Min-woo look guiltier. He swears to find out what happened, to prove his innocence to his family—and, frankly, also to himself.
Ji-sook's family is terrorized by their loan sharks yet again, and the pressure mounts to scrape together a payment. Once again it falls to her—her kid brother (Hoya) means well but the extent of his brainpower is to try to rob a bank, which thankfully he's too scared to actually pull off. So she redoubles her efforts to recover her money from Min-woo and arranges a meeting with him at the department store.
But scheming Seok-hoon hears of this just as he's trying to locate Ji-sook himself, and he makes a mad dash to intercept her before she meets Min-woo and alerts him to the whole doppelganger situation. She's wary of his secretary's excuse to draw her away and manages to run away, hurrying to meet Min-woo.
But just before she gets there, Min-woo envisions his mother walking by in the crowd and fixates on following her, weaving through traffic to follow her car. But when he pulls up to her car, to his shock, the driver is a random man. He chugs down the water that's in his car—and it becomes evident that the water was tampered with, making him woozy.
Ji-sook sees him driving off and follows in a taxi, and is nearby to witness Min-woo getting into a car crash. As he fades into unconsciousness, he realizes that the water must be the culprit and wonders who would have done such a thing.
Ji-sook waits by Min-woo's bedside at the hospital, and Seok-hoon yanks her aside to show her the wad of cash, and also to make a proposal. He's done the research and knows she's deeply in debt and appeals to her dire straits, offering her riches and a new life—in exchange for impersonating Eun-ha. He's open with her about the circumstances (though not his reasons): Eun-ha's on the brink of death, and Ji-sook would be taking her place in the marriage to a chaebol.
"Even if a frog sits on a golden chair, it will jump into the pond," he says, sneering that it's because frogs are stupid. He urges her not to be a frog and to remain in her golden chair—but Ji-sook, after contemplating his offer for one hot second, turns him down decisively. She has no desire to get caught up in a mad scheme that could land her in prison.
Ji-sook takes the cash to the loan shark, and witnesses him in the process of beating up another victim/customer who hasn't been able to make his payments. Pushed too far, the victim fights back and attacks the loan shark, but he's quickly overpowered. The loan sharks turn on him viciously and beat him unconscious, until he's lying limp. Dead.
The loan sharks panic about this unintended consequence and scramble to cover their tails, wondering how to dispose of the body and deal with their witness. They end up handcuffing Ji-sook and taking her along as they drive up a mountain with the body, not too persuaded by Ji-sook's promises not to breathe a word.
Ji-sook sees that they're not likely to let her go, so when she gets an opening, she leaps into the driver's seat and screeches off without the loan sharks.
It turns out that the dead man isn't actually dead, and when she pauses to check on him, a loan shark catches up to her and jumps into the car. That's when she swerves to avoid hitting a deer, the car hurtles down the hillside, and Ji-sook finds herself facing death.
Seok-hoon then calls her to repeat his offer of a deal, having followed her here. He watches from a distance as the cables break and the car goes crashing into the sea. Ji-sook manages to uncuff herself but struggles to make it to safety, wondering if she's going to meet her end. And then, a body dives into the water to lend a hand…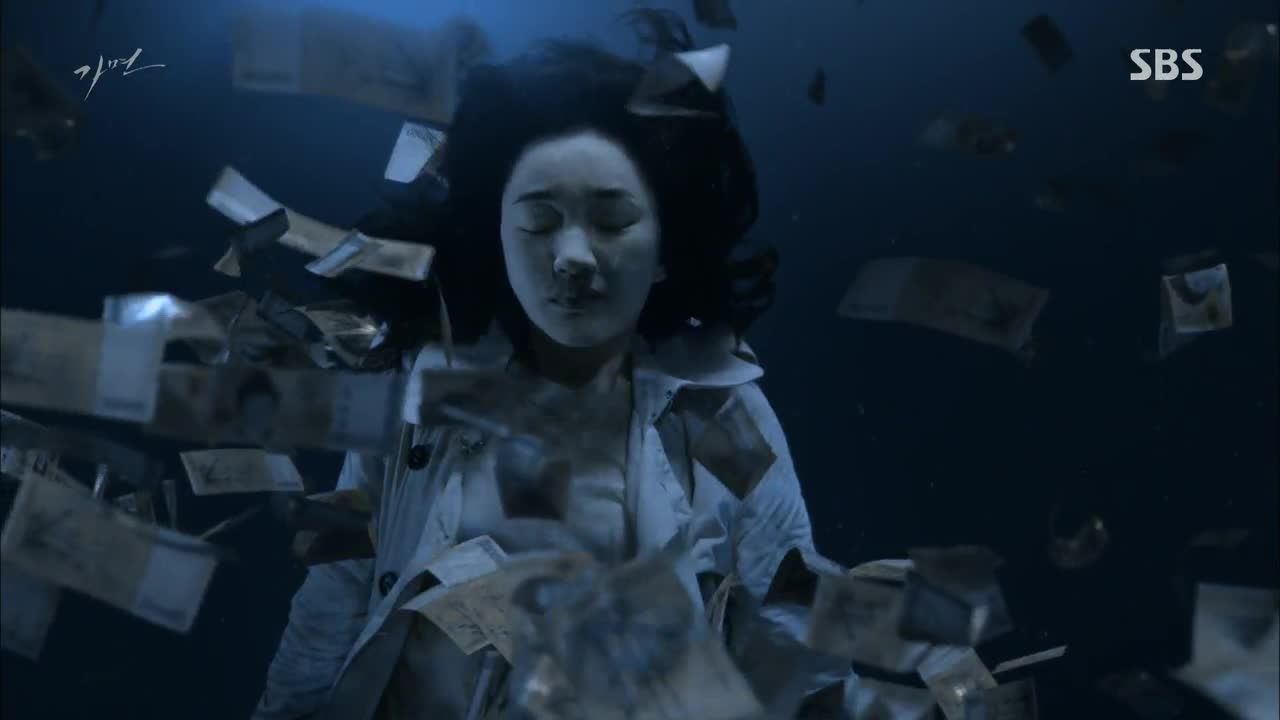 Min-woo undergoes hypnotherapy to try to uncover what happened at the poolside, determined to prove his innocence. Yet when the memories come back, he's horrified to recall himself attacking Eun-ha, pinning her to the ground and strangling her. He comes out of the hypnosis gasping that it can't be true.
He decides to hear the truth from Eun-ha herself and heads over to the hospital to see her. She's lying in bed, asleep… then opens her eyes and looks right at him.

COMMENTS
Mask hits a nice balance for me, with melodrama and soapy twists that are engaging, but stop short of being off-putting in its excess. I knew from Secret (the writer's previous drama) that this would probably be a well-made melo; the question was whether I'd like the plot, having found Secret just a little too crazy for my tastes.
I won't argue that there isn't a fair share of craziness or crazy characters in this drama, but I find them entertaining and within the realm of relatability. At least for the three main characters other than Yeon Jung-hoon, who is mad and evil—but that's no detractor, since it's rather delicious watching him storm around being all demanding and manipulative. I've never seen him being so outright villainous before, but he wears it well.
It doesn't seem like the drama's taking itself overly seriously, either, and I just about died laughing when he was in the middle of giving a dramatically broody speech to Ji-sook, who just hung up on him mid-rant. The drama isn't actively funny, but it has its moments of self-awareness and levity, which I enjoy (such as Ji-sook and her co-workers joking about makjang tropes such as secret chaebols and long-lost mothers).
I feel like we didn't get to know Eun-ha very well before she died (and I'm pretty sure that's Ji-sook in the hospital bed at the end), and I wonder if I'd have found her a sympathetic character. (That's one of the strengths in Who Are You—School 2015, where I found myself drawn to both twins, which was a nice bit of character work.) But that's not hugely important since this is Ji-sook's story, and one benefit to keeping Eun-ha a bit of a cipher is that we are watching through Ji-sook's eyes as she fills Eun-ha's shoes, and that confusion is intrinsic to that setup.
I suppose Ji-sook's circumstances are pretty cliched, to the extent that I don't really care that much about her family's plight; this strikes me as just the basic trope necessary to propel us into the story proper. Maybe this would bother me more if we were dealing with a lesser actor, but Su Ae is so good that even when the character itself doesn't do much for me, I'm sucked in by the emotional line in her performance.
Min-woo, on the other hand, is a fascinating character right off the bat, and I'm deeply curious what the hell is going on with him and his family. I've never been a huge Joo Ji-hoon fan (liked him okay in his movies, mostly), but I do like what he's doing here as the confused chaebol who is scared of his own self, wanting to believe that he's a good person but rattled by hints that he may not be. I'm more likely to suspect that he's being gaslighted in a major way than that he's suppressing a monster inside, since you've got all those pills—what's with those pills? Is his doctor helping him, or a party to those working against him? I have no doubt Seok-hoon is plotting against him, but the burning question is why, and how. Why is Eun-ha so integral to his scheme, and what is he setting in motion? And why is somebody going around dropping pills into everyone's drinks? What'll it take to keep Ji-sook safe in Maison Roofie?
Given that we know a lot of the setup going into Mask, I think the first week did a solid job of keeping us on our toes even knowing the direction things were taking, and it's that assured sense of pacing and directing that makes me feel at ease with the show. We don't know all the twisted directions the story will be shooting off into (and I can guarantee there will be twisted directions), but when I feel like I'm in competent hands, I'm much more able to enjoy the ride, crazy and all. In fact, crazy is really a selling point in a show like this, where the setup is so extreme that you can't really paint people with toned-down, muted colors—they've gotta hold up to the boldness of the plot. Here's to hoping the crazy is the good kind. Or, at least, the fun kind.
RELATED POSTS
Tags: featured, first episodes, Joo Ji-hoon, Mask, Su Ae, Yeon Jung-hoon, Yoo In-young