Masked Prosecutor: Episode 1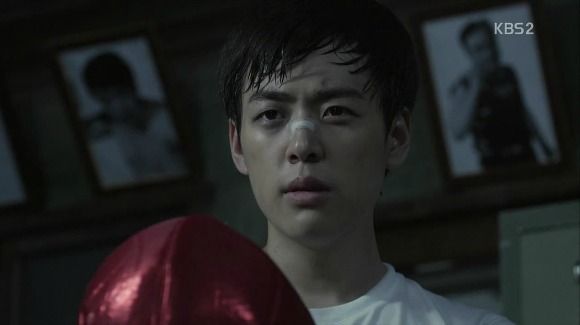 Every superhero needs an origin story, and the premiere of Masked Prosecutor gives us a peek at both when our hero decided to first don the mask and why prosecution is the name of the game. While it's still a little unclear exactly what tone the show is going for (Light and campy? Serious revenge thriller?), there are plenty of fun and interesting characters to focus on. Not to mention a lead couple who will hopefully be sizzling with chemistry because, after all, Kim Sun-ah is finally back!
EPISODE 1 RECAP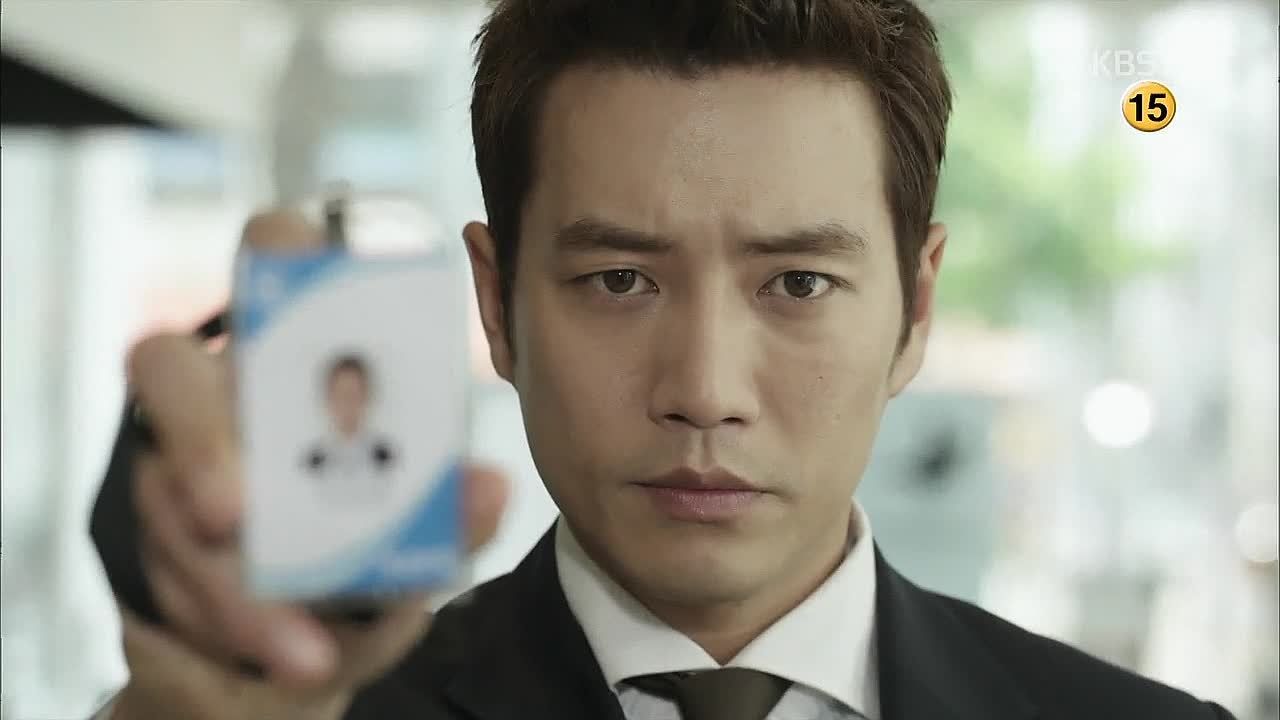 HA DAE-CHUL (Joo Sang-wook) holds out his ID badge in a very serious, official manner, stating that he's from Seoul Southern District Prosecutors Office. But this formal introduction is only so that he can get his 20% discount at the local coffee shop.
At a Gangnam Police Station interrogation room, Chief Inspector YOO MIN-HEE (Kim Sun-ah) calmly knits as an arrested thief (cameo by Super Junior's Choi Siwon) insists that he just happened to be in the wrong place at the wrong time and wasn't responsible for looting any stores, nope, not at all.
As she focuses on her knitting, seemingly ignoring him, he finally starts to crack. He admits that maybe he did loot one store, or two, or nearly all of the ones listed. In return for his confession, he desperately pleads with her to stop knitting.
The other detectives watch as the criminal is lead away in handcuffs, and one of them wonders if he should take up knitting in order to get such easy confessions. But another detective tells him that actually Min-hee knew the thief's mother runs a knitting business and used it as a way to exploit his filial weakness, resulting in a confession. He adds that Min-hee is a very scary woman.
She does seem pretty scary as she marches into the Prosecutors Office, wondering who this high-and-mighty Prosecutor Ha is and why he won't let her arrest someone who'd been caught in the act of physical violence so severe the victim needs weeks to recover. But Dae-chul ignores her protests as he pleasantly escorts the accused suspect and the suspect's lawyer (who'd he'd just been schmoozing) out of his office.
Min-hee continues to insist that they need to detain the suspect while the police continue their investigation, but she's stopped short when Dae-chul smilingly interrupts: "You've gotten taller." At her bewilderment, he rattles off all his specs, and she begins to piece together where she knows him. Leaning in to eye him closely, she wonders in disbelief if he really might be "that blockhead" from so long ago.
Flashback!
Teenage Dae-chul (No Young-hak) pines for teenage Min-hee (Joo Da-young), but he's from the wrong side of the tracks. Literally. He first sees her as they're headed to school in opposite directions, their path momentarily blocked by a passing train. He's immediately smitten, but she barely glances his way.
Dae-chul follows her to a Pro Wrestling/Martial Arts gym. As he hesitates outside, he's distracted by Min-hee's uncle, JI DONG-CHAN (Lee Won-jong) who tries to put him in a headlock. But Dae-chul spins out of reach, and an admiring Dong-chan decides that someone with his fighting spirit deserves to at least have a chance to talk to Min-hee.
Except it's a trap and Dong-chan finally gets him in a headlock, cheerfully warning him to rethink his life choices. But Dae-chul quickly frees himself, adding that he'll return later.
Return he does, cautiously approaching the gym, only to be surprised by the tiger-in-wait, aka Uncle Dong-chan. But Dong-chan has an opportunity for him — if Dae-chul can win a wrestling match against one of the other guys training there, then he can immediately start dating Min-hee.
She's none to thrilled to hear that she's being put up as a prize, but her uncle assures her he's just having a little fun, implying there's no chance Dae-chul will actually win. The other trainee does seem to have the upper hand as he easily knocks down and pins Dae-chul.
But Dae-chul isn't about to give up, and despite being pinned multiple times, he continues to insist that he can win. What he lacks in skill he makes up in determination, and even though he's bruised, bloody, and exhausted, he manages some fancy moves that ultimately make him the victor. An amazed Dong-chul agrees that he now has the right to date Min-hee, but she just rolls her eyes and stomps off.
The next day, as Dae-chul waits to cross the train tracks, a mysterious man (Park Young-kyu) appears next to him, telling him that he's Dae-chul's father. He's there to ask Dae-chul to help him get revenge on Dae-chul's birth mother, IM JI-SOOK (Jung Ae-ri) and her husband KANG JOONG-HO (Lee Ki-young).
Dae-chul isn't buying it, though, adding that it's cruel for a stranger to pretend to be an orphan's long-lost parent. But that night, he tosses and turns in his bunk at the orphanage, reliving the man's confession and the glimpse he'd given of Dae-chul's birth mother. When his phone rings, it's the mysterious man, and Dae-chul tells him to never contact him again.
In the meantime, he starts training with Dong-chan, who's impressed at his aptitude for wrestling. He asks if Dae-chul is any good at studying, then beams when Dae-chul admits he isn't. That leaves more time for training to be a professional wrestler! Dong-chan proudly shows off his old wrestling gear, particularly some of his favorite wrestling masks. He liked those best because then he got to play the villain in the ring.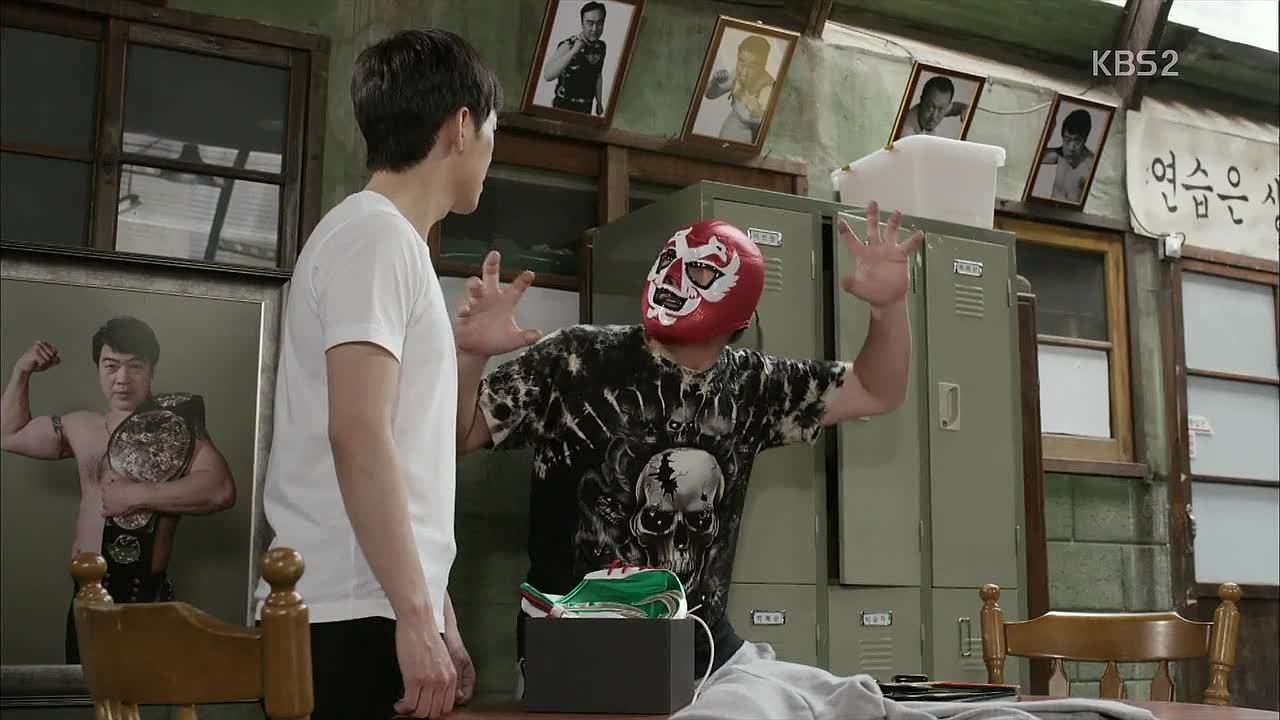 Dong-chan's phone rings, and he turns to Dae-chul, telling him it's his father. Min-hee rushes in, worried because she got a phone call that someone was trying to kill her uncle while he was wrestling. She turns around, accusing Dae-chul if it was him. So, too, the other trainee gets a call on his phone from someone asking to speak to Dae-chul.
Running out of the gym, Dae-chul finds the man claiming to be his father leaning against a car, waiting for him. Angry, Dae-chul asks him how he was able to get the phone numbers of the people around him. He admits that he used his "connections" in China, and Dae-chul scoffs that it was voice phishing — he's just a con-man, isn't he?
A skeptical Dae-chul wonders why, if the man is really his father, it took so long to come back and find him. The man admits that it was because he was stuck overseas, paying the price of being framed for a crime he did not commit. That's why he needs Dae-chul's help to seek revenge.
Bitterly, Dae-chul says that proves the man must be his father. After all, only the type of father who'd abandon his son would return years later just to ask for help in getting revenge. Dae-chul is walking away when the man calls him back to hand him a debit card, telling him there's enough on there for his college his tuition — he has no need for money if he's dead, anyway.
But before he drives off, he tells Dae-chul that the PIN to the card is 1225 — or December 25th, Dae-chul's birthday. Dae-chul is shaken to realize the man knows his birthday, but then realizes that's something a con-man could figure out pretty easily. Just as he's about to rip apart the card, the sound of a crash startles him.
Despite there being only one other car around, Dad manages to drive straight into the other car. Dae-chul runs back to see if he's okay, ready to call for an ambulence. But Dad tells him he doesn't want to go to the hospital. He's just suffering from a blood sugar spike due to diabetes and he tells Dae-chul to hand him an insulin shot found in the glove compartment.
Later, as Dae-chul hands over some bandages he bought at the pharmacy for Dad's head wound caused by his head hitting the sterring wheel, he tells him that they're now even — Dad originally gave him life, and now he's saved Dad's life. So please leave him alone. Dad: "Aren't you curious to know why your mother abandoned you?"
JO SANG-TAEK (Jeon Gwang-ryul) calmly intimidates a businessman into signing a contract by making it clear he and his henchman could easily hurt the CEO's family. In celebration of the contract that prevented his company from going under, Joong-ho pours Sang-taek a drink. But when his wife calls he quickly excuses himself to answer the phone.
That gives Sang-taek a moment alone with a man he only refers to as "hyung-nim." It seems like "hyung-nim" has a lot of influence, but is cautious about being indebted to Sang-taek, much to Sang-taek's annoyance.
Back to the question of Dae-chul's mother abandoning him. When Dae-chul was just a baby, Dad — a scientist — fled to China after being accused as a traitor and spy. Not only did Kang Joong-ho, a fellow scientist Dad had considered to be a friend, steal the technology Dad had invented, but he also stole Dae-chul's mother. She abandoned Dae-chul in foster care to be with Joong-ho.
Dae-chul thinks this story is too melodramatic to be true, plus it seems like it has nothing to do with him. What is he supposed to do — kill Joong-ho for his father? He's trying to point out how ridiculous this whole situation is, but Dad instead takes him seriously. It's too easy to just kill off Joong-ho and Mom. He needs to make their lives a living hell first. Clutching Dae-chul's hands, Dad passionately tells him that an animal doesn't deserve to live as a human being.
Dae-chul pulls his hand from Dad's grasp and calmly says that there doesn't seem to be much difference between a mother who abandoned him when he was a child and a father trying to use him for revenge. If it were him, the first thing he'd ask his long-lost son would be, "Are you happy? Were you happy without me all this time?"
At the gym, Dae-chul throws himself into his work-out. When he sees the poster of the professional wrestlers in their masks, he gets an idea and pulls out Dong-chan's old mask.
Wearing the mask, he leaps out in front of his mother's and Joong-ho's car. They panic at the sight of a crazed masked man pounding on their windows and desperately screaming that he just wants to talk to them. It isn't long before security is chasing Dae-chul away.
Running until no one is following him, he leans agains a building to catch his breath. Still wearing the mask which hides his tears, he wonders, "Why would you do that? Why would you abandon me?"
He's back to his calm and collected self when he knocks on the door to Dad's apartment. Dad is just astonished to see him again, but Dae-chul excuses it by saying Dad's not the type to give up and just leave him alone, so he might as well give in. When Dad goes to lie down after a celebratory drink, Dae-chul wanders around and finds an empty guest bedroom and a photo of Dad holding a small child — Dae-chul when he was young.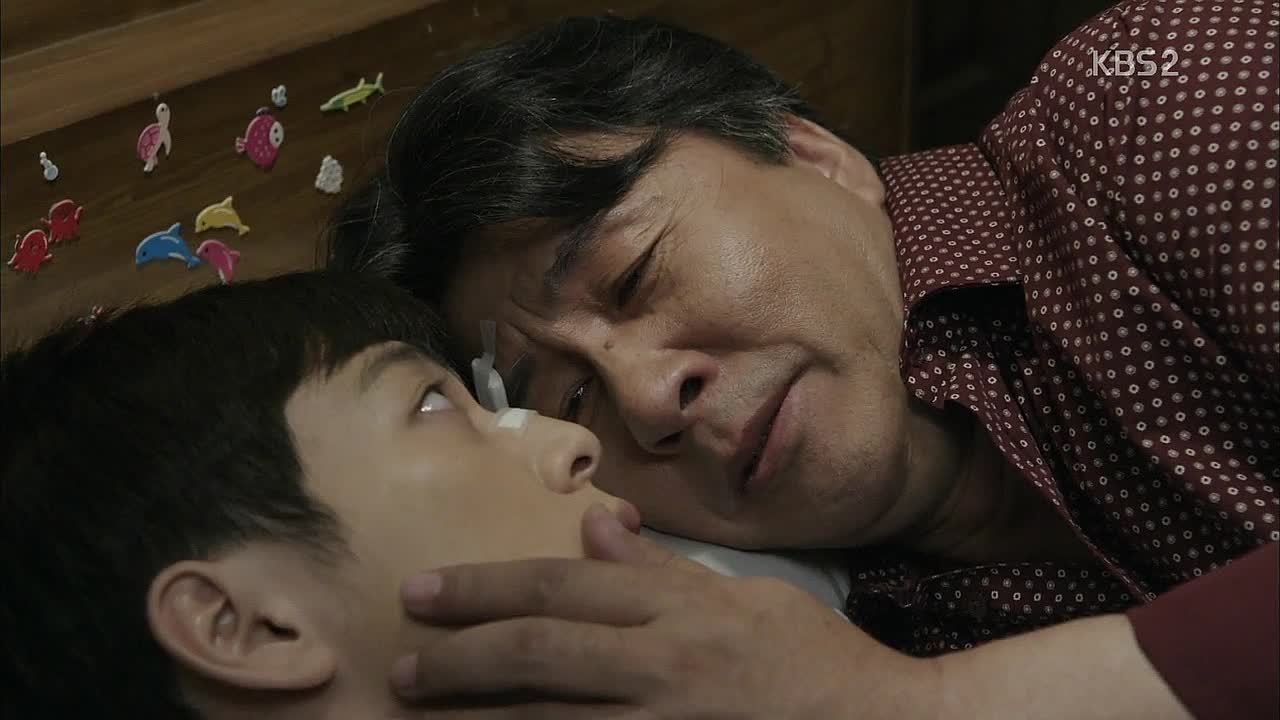 Dae-chul dozes off for a moment, and when he opens his eyes, Dad is there, weeping with tears of joy, overwhelmed now that he's able to be near his son. Cautiously, Dae-chul holds his father's hand, the one that gently strokes his cheek. For a moment Dae-chul's stoicism is stripped away as he allows himself to be held like a child.
Over breakfast, Dae-chul asks what exactly it is that he has to do. Dad says that he needs to study and become the most powerful prosecutor in the world. Dae-chul bursts out laughing, because the idea is pretty ridiculous. His homeroom teacher agrees, pointing out that Dae-chul's school records won't exactly make it easy for him to get into college.
But Dad's determined, and when Dae-chul asks why, he says it's because prosectors have governmental power backing them, and that's the power he needs to take down Joong-ho and his cronies. Dae-chul reiterates that there's nothing wrong with becoming a prosecutor — it's just impossible, given the circumstances.
"Give up" is definitely not in Dad's vocabulary, though, and as Dae-chul unpacks a stack of books into what is now his room at Dad's apartment, Dad hangs up the newspaper clippings that called him a spy and a traitor. It's incentive for both of them to study and get revenge.
Min-hee's busy applying to the Korean National Police University, much to her uncle's astonishment. He thinks that instead of a police officer, she should try to become a judge. But she doesn't want to just follow the law; she wants to become a police officer who shatters unjust laws.
Dong-chan thinks it'd be better if she pursued a more comfortable life — after all, considering how pretty she is, she could easily find a husband who would take good care of her. A husband like, oh, say, his favorite trainee Dae-chul, perhaps.
Annoyed, she tells him to stop pushing her towards Dae-chul. She has no interest in a blockhead who doesn't have any future goals. Of course, Dae-chul arrives just in time to overhear that last bit. Min-hee stomps out, leaving Dae-chul to inform Dong-chan about his father's sudden reappearance and plan to become a prosecutor.
Even though Dong-chan is disappointed to know that Dae-chul won't be training with him anymore, he cheerfully supports his decision, adding that if Dae-chul doesn't succeed in becoming a prosecutor, he'll always be welcome back at the gym. Dae-chul gives one last lingering look around the gym and sighs as he slowly walks out.
Min-hee's on her way out, too, and she scoffs as she passes him. But then she stops and turns back around, asking if he thinks he can really become a prosecutor. Eyeing him carefully, she adds that delusions are a type of dream, so he must really believe it. He asks what she'll do if he becomes a prosecutor. She ponders it for a moment and then decides that since the chances he'll succeed are one in a million, if he somehow does manage to become a prosecutor, she'll reconsider dating him.
At the sauna, Dae-chul gently washes his father's back, which is covered in the scars from when he was imprisoned and tortured. As they get dressed later, Dae-chul takes a picture of his father's scarred back. He tapes it up above his desk next to a photo of Min-hee. This is the true incentive he needs to succeed.
Back in the present day, Chief Inspector Min-hee glares at Prosecutor Ha, and he avoids her gaze as he asks what's the purpose of her visit. Sighing, she repeats that this case requires the accused to be detained and indicted so they can continue to interrogate. Dae-chul reminds her that a prosecutor is necessary to keep the police from infringing on the subject's rights, and she asks if that means he's already decided to acquit the accused.
He protests that if she can prove the accused's guilt without detaining him, he'd be happy to put him behind bars. Narrowing her eyes, Min-hee leans in, asking if that's what he really feels. She orders him to look her square in the eyes and tell her what he really thinks. To avoid answering, Dae-chul presses his palm against his eye, wondering why it suddenly hurts. Yeah, sure.
Annoyed as ever, Min-hee leaves his office, stopping only briefly as a vague memory crosses her mind — her teenage promise to reconsider dating him if he became a prosecutor. She shrugs it off.
Dae-chul follows her out, telling her it was nice to see her again, noting that her height wasn't the only thing that grew (implying her breasts did, too). Offended, she opens her mouth to yell at him, but he grins and shushes her, reminding her to watch what she says in front of a prosecutor. Which only serves to further annoy her, of course.
Alone in his office, Dae-chul reads through the case file again, his normal goofy grin replaced by a look of utter gravity. The suspect beat a woman so brutally that her nose shattered and required reconstructive surgery, but because he was drunk at the time, it can be considered an accident instead of premeditated.
Oooh, the mask comes out!
The smirking suspect from before enters his home, gloating about his release, only to be met with with three head-butts to his face and a flying kick to his chest, resulting in identical injuries to the ones he gave his girlfriend. When the trembling-in-fear suspect asks him why he's doing this, the masked man cracks his knuckles and growls out that it's because he's angry.
Dae-chul: "If the law can't catch the culprit, then I'll get him with my fists."
COMMENTS
I'll admit I was a little disappointed to get so little Kim Sun-ah (my queen!) and Joo Sang-wook this episode. Of course we need a back-story, but I was really hoping we'd jump right in to the main story. Or maybe I'm just so excited to have Kim Sun-ah in a drama after her three-year hiatus that every second she's not on screen feels like a waste to me.
Hopefully the origin story won't linger too long. I think the teenage versions are great (No Young-hak as teenage Dae-chul, especially — I kept cracking up at his practical arguments against his father's super dramatic revenge plot), but I really want to get started on solving crimes with masked vigilantes and the shenanigans that will surely ensue. Also I was promised some Uhm Ki-joon, who has yet to make his face known. I'm pretty excited that he's back for not just another drama, but also reunited with Kim Sun-ah (any other Scent of a Woman fans out there?).
Honestly, the entire cast is pretty fantastic, even the minor characters. Which is why I'm willing to give the languid pace of the "origin story" a free pass because my expectations are based on what the adult versions will do. I am curious how we get from point A to point B, though. Such as, isn't Sang-taek supposed to be a detective? So then, was he deep undercover, posing as a gangster-type, or what?
I also found it interesting how completely different teenage-Dae-chul is from adult-Dae-chul. Well, at least the skeptical-and-angry-teenage-Dae-chul from the schmoozing-happy-prosecutor-Dae-chul. Maybe not the masked-vigilante-Dae-chul, because that's not a far cry from teenage-Dae-chul. Who's the real Dae-chul, I wonder? I suppose that's the eternal question when it comes to superheroes and their secret identities and hopefully one we'll wrestle (heh) with throughout the rest of the show.
Really, so long as the show gives me lots of Kim Sun-ah being awesome and Joo Sang-wook being adorkable (and Eom Ki-joon just being Eom Ki-joon), I'll probably be a happy viewer. I'm willing to overlook a few plot weaknesses when I'm entertained and dazzled by the talent on-screen. But that doesn't mean I don't expect the show to pick up the pace a bit and match the tight editing of the first few minutes.
Oh, and I should probably mention that I know as much about professional wrestling as I do about legal matters. Which is to say, I know pretty much nothing about either. So I apologize now and in advance of all future recaps for any blunders I will surely make in my attempt to explain anything related to the law or wrestling. Don't laugh at me too much when I get something wrong, okay, Dae-chul?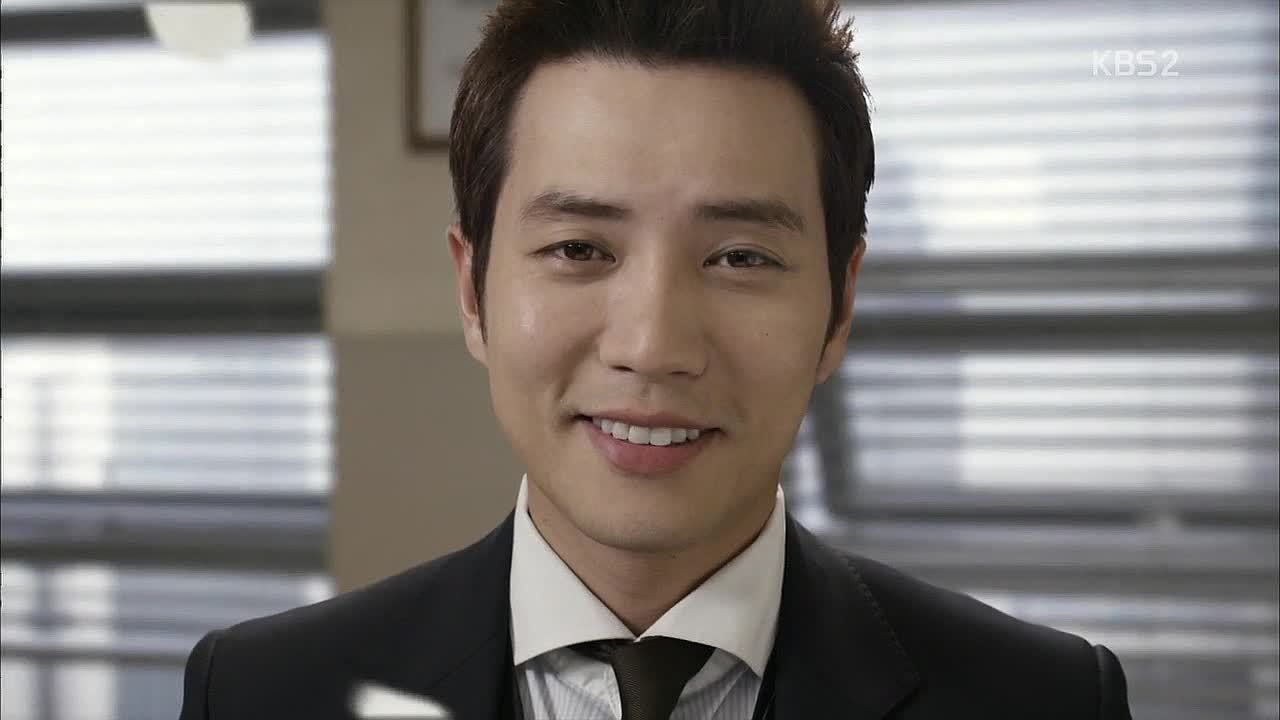 RELATED POSTS
Tags: featured, first episodes, Joo Sang-wook, Kim Sun-ah, Masked Prosecutor