Running Man: Episode 246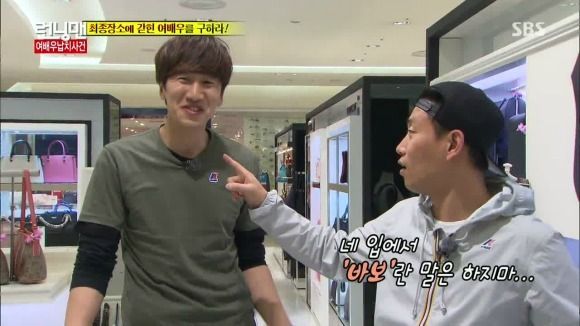 It's the Case of the Kidnapped Actress: Secret of the Fake Detective, where our team must tap into their sleuthing skills to figure out who's a true detective among them and who's just winging it. The secret ops need to be careful not to blow their cover, lest they implicate their partner-in-crime, as well.
EPISODE 246. Broadcast on May 10, 2015.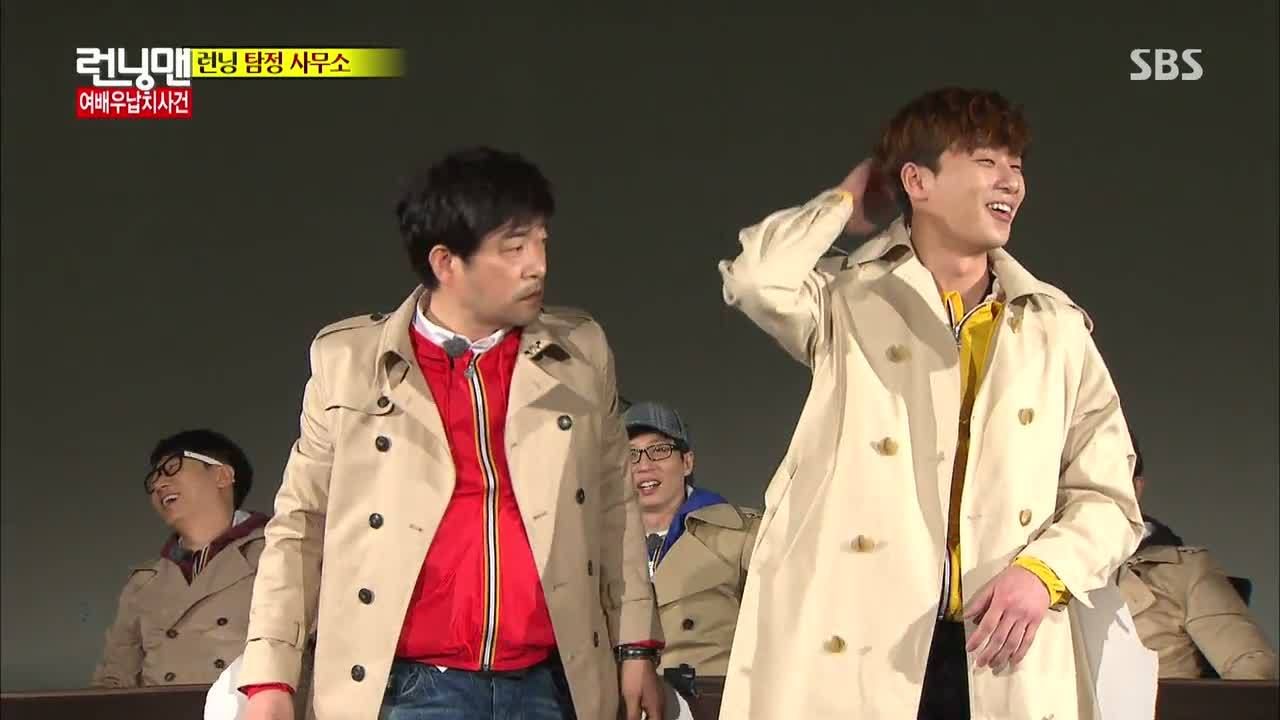 Our seven master detectives sit together around a table, where Jong-kook promptly turns Jae-suk's deerstalker hat sideways, then says he looks like Yoda. Hahaha. Then it's time to meet the two investigators who will be joining the team today…
… who literally pop out of the table and scares the bejesus out of everyone. Best. Entrance. Ever. I love that actor Sohn Hyun-joo keeps a straight face and cutie Park Seo-joon simply rearranges his hair. Keeping up with Running Man's rep of a promotion launching pad, our guests are here to promote the upcoming movie Chronicle of Malice.
It'd been a painful ten-minute wait crouched under the table, which only jogs Hyun-joo's memory of how tiring being on this show was the last time. Aw, he's even brought one of the gold rings he previously won.
Our detectives are informed of the case via headphones: an actress has been kidnapped and trapped in a cell, and it's up to our detectives to find her. Here comes the twist: one of them isn't listening to these rules, but to silence instead. Kwang-soo immediately reaches out to Gary after catching him smirking. Could it be?
That person is holding an important clue about the hostage as well as how many detectives aren't listening to this explanation. The only way to acquire any hints is to win the games today. The detective who solves the clues and saves the victim first will win.
The first detective who has to keep quiet and play the guessing games about the rules is Ji-hyo. She'll acquire clues about her partner-in-crime whenever she wins a game, and together they'll need to figure out the rules and win.
In her car, Ji-hyo suspects a couple of people to be her partner because she was busy reading faces. Caught up in today's them as usual, Kwang-soo says one must be most careful of their actions when alone. Haha, for example, just looks like a tired dad. Heh.
Jae-suk knows to be wary of SpartAce while Jong-kook thinks of Hyun-joo, who in turn shows off his gold ring. Then there's nervous Seo-joon who cryptically says, "I can't do it now that they've told me to."
Our detectives listen to yet another recording about the upcoming game before stepping out to their first mission location. It's a hurdle race where they are free to smash through all the hurdles save for the last one. Then their second task is to grab one of the hanging hats and run across the finish line. And of course, Ji-hyo doesn't know any of the rules.
They'll be playing three rounds, but the first one to succeed will of course, place first and gain the best clue. Subsequent winners will gain hints as well. Watching Gary do some stretching has Kwang-soo wonder if he doesn't know the rules, a fact Jae-suk turns back on him.
Hyun-joo gets called out for being rather quiet, to which the ajusshi replies, "I know [the rules]!"
Everyone runs off as soon as the whistle blows, and Ji-hyo jumps over the hurdles… and while Gary and Kwang-soo do the same, the others blow right past them. However Kwang-soo's the only one to jump over all of them, whereas Gary thinks to jump over the last one. Innnterrrestting.
Both mat-hyungs smash across the last real one, which has got to hurt, but Jong-kook's the first one to grab a hat and run across. Oh smart—Hyun-joo thinks of climbing the pole to grab a hat… which Suk-jin promptly steals away. HAH.
The group takes a moment to examine the destroyed last hurdles as well as the intact first ones in their wake. Suk-jin blames going underneath the first hurdle due to his bad knees, and Jong-kook says Seo-joon got a late start.
Jong-kook keeps a watchful eye in the second round, and whoooaaa Seo-joon can jump really far and high and easily wins the round. But that win doesn't clear him of suspicion from Jong-kook's mind because he's sure that one of the guests must be involved.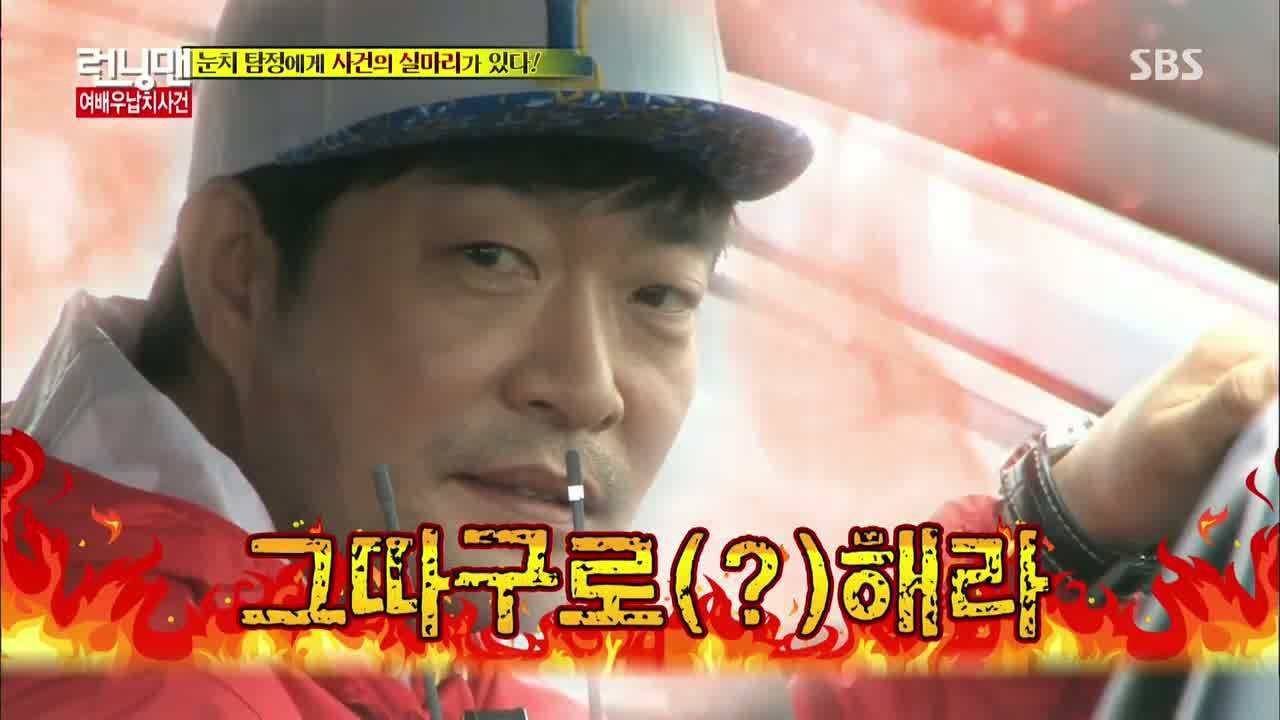 Seo-joon says he suspects Gary, which Jong-kook believes… but also thinks Seo-joon's possibly guilty too. Everyone's got one final shot to get that hint, and it's Jae-suk who scoops it up.
The three winners are given their hints, and it's clear that Hyun-joo has his eye on the envelope. Jae-suk's clue describes the mystery detective as someone shorter than 185 cm, which rules Kwang-soo out. Hyun-joo asks if Seo-joon saw his hint — some trophies — and offers to trade his gold ring for that clue.
When Seo-joon makes it clear that he isn't going to give it up, a flaming Hyun-joo fires back, "Just keep it up." 'Cause it's not like the two actors will cross paths or anything in the future.
Jong-kook receives a drama script, which has him think it could be Seo-joon again. Kwang-soo heads over to talk to Seo-joon, and Jae-suk thinks to drive Kwang-soo's car far away while he's busy.
Kwang-soo's too busy teaching the children of Korea that a detective should never let a criminal get away when they're alone. He's left baffled when everyone else starts to drive away and he can't find his own car.
So what does he do? Steal Suk-jin's car while the others watch. Ahahaha.
Ji-hyo is curious about both the rules and the hints, worried that Jong-kook gaining a hint will work against her. She doesn't hear about the second game either, though at this point, Taek PD's voice sounds like he's dangling a carrot in front of her. But it involves personal desks in an art hall auditorium.
The others know it's a charades-bingo game where they must find and construct their bingo card of 25 panels of trademark actions taken from movies. Upon announcement, they must mimic the actions and the first to get bingo, wins.
Ji-hyo clues into the idea of picking up all the panels she could see. She tries evading the question when Hyun-joo has just how many they each need. A little later, he rushes in, ready to steal some of her loot.
Hyun-joo has his arms full by the time he returns, kicking away Kwang-soo's help to rearrange the panels. But he openly stares at Jong-kook while the latter constructs his bingo card.
Suk-jin starts things off, and the others follow suit by delivering famous movie lines. Haha's impersonation of a frilled lizard leaves them confused, and although it seemed Ji-hyo was placing random stickers onto her board, it looks like she's caught on with her Home Alone.
Heh, Hyun-joo's Termination pose evolves into a Rocky impersonation. That last one is enough for Gary to get bingo. We skip ahead after Kwang-soo and Hyun-joo grab second and third place, respectively.
Hyun-joo's hint clues him into the idea of two mystery detectives, while Kwang-soo's says there's a big age difference, though it doesn't specify between the two detectives or in regards to Kwang-soo. Our giraffe thinks the former, which makes him think of Seo-joon… which would go well with Gary's "S" clue, if only there weren't five people with S in their names.
Jong-kook believes Ji-hyo is one mystery detective, since it appeared like she didn't have a clue about the bingo game. He's sure that Haha was just putting on an act. As for Ji-hyo, she starts to panic because she doesn't know what's going on and doesn't have any clues to her advantage.
Onto our final mission Operation: Rescue the Actress. The detectives must track her down, but the clue remains with the mystery detective, which means Ji-hyo and someone else has it.
Instead, the detectives must find phones that may or may not connect them to an intel line. Not only that, they have to hold the handset with the opposite hand a post that just cracks me up.
Interestingly, Gary only picks up a phone after watching Kwang-soo's failed attempt. He mimics everything down to a T, which leads Kwang-soo to suspect that Gary doesn't know what the rules are. Either that or he's a dummy, a word Gary refuses to let him say aloud.
Ji-hyo's partner-in-crime will respond to the passphrase, "my foot fell asleep" with the phrase "sesame oil!" Once they're paired together, they must figure out the rules and win.
The phrase works on neither Jae-suk or Hyun-joo, the latter of whom is busy figuring the phones out. Kwang-soo does a double-take when he sees Ji-hyo's face advertising a beauty product, and upon the mention that her foot fell asleep… he tries massaging the nerves for her. Awww, that's sweet.
So that rules out Kwang-soo, but also Suk-jin, who just ties her shoelaces for her. Suspicious Seo-joon doesn't even look back when she mentions her leg, and now she's really running out of options.
Kwang-soo finds Hyun-joo holding up a phone, and a few questions how he picked it up and if got through makes Hyun-joo hesitate. The ajusshi bumps into something as he backs away, then hobbles to the aisle and falls in pain.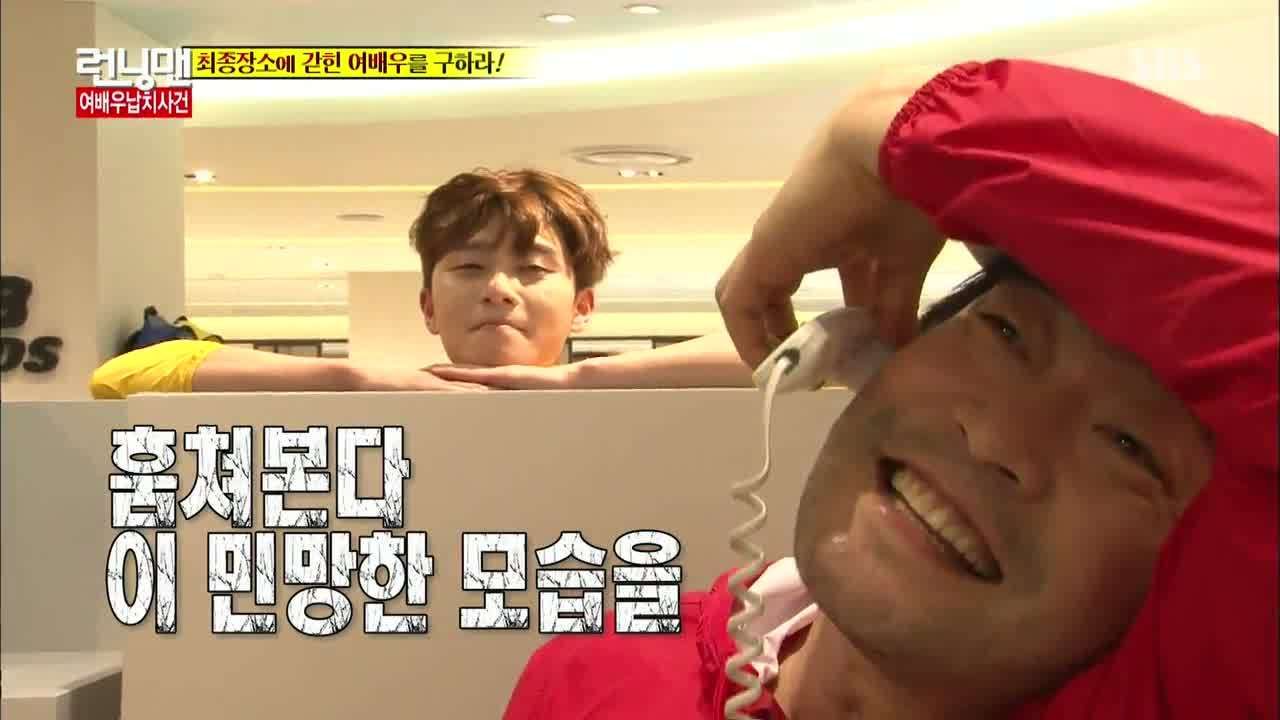 Hyun-joo catches Jong-kook using one of the handsets as well as Gary, but both calls are duds. So he picks up a handset and says the same doofus-like words… and Seo-joon pops up behind him to witness his sunbae in his most vulnerably silly state.
Seo-joon sticks around long enough to see that it's a dud… and then breaks into a smile. Hmm.
It looks like Haha knows the rules and he actually gets patched through, too. He's told that the clue is underneath the soles of the mystery detectives' shoes If, however, checks under a regular detective's shoe instead, he'll be the one to be eliminated.
Haha's feeling pretty confident now and takes off his own shoe—when did the staff hide this beneath his sole? But then he checks to see the word "OUT" stare back at him. LOL, did he forget what the rules were in that thirty-second timespan?
He's totally unwilling to accept this reality and tells his VJ to make a run for it. In the end, Haha gets dragged out kicking and screaming.
At least everyone else is just as surprised by the announcement of Haha's elimination as he was, and if we'd forgotten about the kidnapped actress already, we're reminded again for the umpteenth time.
Hyun-joo finally gets through to the intel line, and while Jong-kook gets close enough to overhear the clue, Kwang-soo isn't able to. Calling the line again doesn't work either.
Kwang-soo spots Jae-suk holding the receiver the proper way and speaking as one normally would. He puts a hand to his own mouth in shock, then admits he just got goosebumps. "I didn't even think that you'd be a possibility, hyung." And sweet Kwang-soo tells Jae-suk not to repeat what he just saw because that will make him stick out like a sore thumb.
For all we know, it could just be Jae-suk putting on an act to confuse Kwang-soo, but Jae-suk lets Kwang-soo jump to whatever conclusion he wants to believe.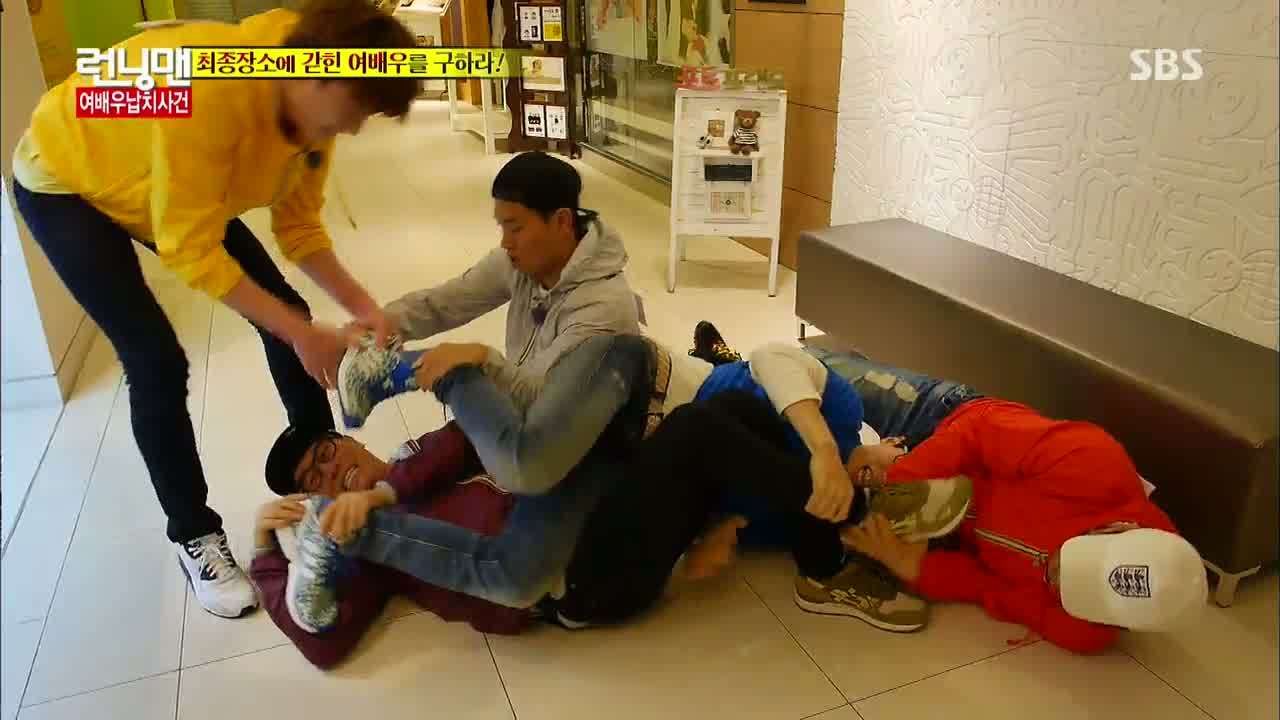 Seo-joon succeeds in listening to the clue, and then says he needs to steal the aforementioned sole first. Which means he's been a regular ol' detective all along. We see he's been listening to the rules all day, and in the present, he wonders if he has to get physical to see that clue.
And then it hits him: he saw Jae-suk acting strange with Kwang-soo earlier. So Seo-joon gives chase as Jae-suk flies down the hall. They're soon joined by a few others, and it turns into a five-way brawl of men trying to pull off each other's shoes.
Seo-joon takes off with Jae-suk's shoe, but doesn't get very far before Kwang-soo and Hyun-joo try to steal it away from him. But that's when Seo-joon remembers Hyun-joo's odd behavior too and pops off his sunbae's shoe.
Seo-joon takes off with Hyun-joo's shoe while Kwang-soo steals away Jae-suk's. Both check underneath the soles… and Seo-joon is eliminated. Aw, would you take a look at that sad shot of the puppy and the sneaker.
Just as Kwang-soo checks Jae-suk's sole and sees the number 94… Jae-suk goes up to Ji-hyo and delivers the passphrase. She smiles. Aha, so it was Jae-suk, who we saw hesitate at the very first hurdle.
He'd managed to escape suspicion during the first game, and paid close attention to the charades-bingo game to pick up on the movie lines theme. He'd also caught Seo-joon using a phone and realized that this final mission involves calling in on the phones that are specifically marked.
So it'd been a stroke of bad luck when Kwang-soo walked in on him taking a call and figured it out. Jae-suk had been unable to find his partner, but then overhead Ji-hyo speaking into a phone just like he did. And that's how he found her.
Now Jae-suk and Ji-hyo are finally clued in about the kidnapping and the final mission, then try calling the intel line the proper way.
Hahaha, Hyun-joo finds his own shoe left behind in the middle of the hallway. Tapping into his fifteen-year detective role-playing experience, Hyun-joo questions Suk-jin's suspicions about Ji-hyo and Jae-suk—what about Gary?
Everyone knows Gary has a hard time putting up a front; it'd only be too obvious if he was harboring a secret. Not too far off, Ji-hyo gets through and listens to the clue. She immediately checks her own soles for the number 61 and "lounge."
She immediately searches for Jae-suk, scolding him for losing one of his shoes. One of Jae-suk's clues is "fifth floor." Jong-kook follows Kwang-soo into the stairwell where Yooderella comes looking for his missing shoe.
Jong-kook is willing to risk looking at that sole, ready for the possible consequences. But then Kwang-soo tosses the shoe back to Jae-suk.
It isn't long before Jong-kook catches up to him and checks both soles. He heads straight for the fifth floor and Ji-hyo darts before she can be seen. Meanwhile in the stairwell, Hyun-joo has his eye on Kwang-soo's shoes. Caption: This man would be in trouble if he were a real detective.
It's then Hyun-joo finally realizes that he hasn't seen Ji-hyo around. That's because she's headed for the fifth floor lounge, but punches in only one half of the access code. Having finally seen the missing "94" clue, Jae-suk sets off looking for his partner.
Hyun-joo jogs over to Ji-hyo and realizes Jae-suk is her accomplice when the latter joins them. Hyun-joo remains resolute despite being overpowered, then goes pale-faced when Ji-hyo rips off his nametag and Jae-suk lies that he's eliminated.
Hyun-joo goes straight for Jae-suk's shoe instead, but refuses to let either Jae-suk or Ji-hyo out of his sight. Believing that he truly is ousted, Hyun-joo is left sitting on the floor.
Now it's a matter of who can get into the fifth floor lounge first: Ji-hyo and Jae-suk or Jong-kook and Kwang-soo. The former use the stairwell whereas Jong-kook climbs the escalator…
… and it's Ji-hyo and Jae-suk arrive first to rescue Seo Woo. Whoa, I seriously thought the crew might've tricked us by sending in our favorite maknae FD instead. Seo Woo has a present for the winners: the first few digits of her phone number. Ha, what a prize.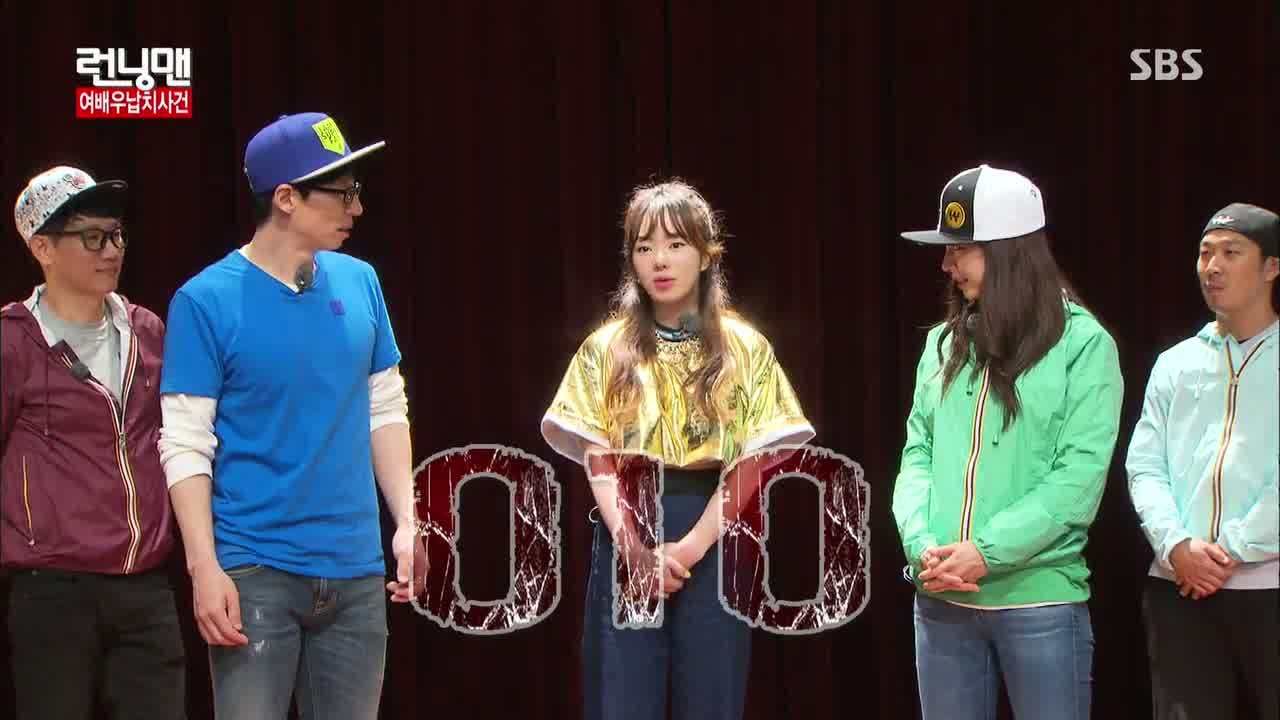 RELATED POSTS
Tags: featured, Haha, Ji Suk-jin, Kang Gary, Kim Jong-kook, Lee Kwang-soo, Running Man, Song Ji-hyo, Yoo Jae-suk