Superdaddy Yeol: Episode 16 (Final)
At last, it's the moment of truth: Live or die? Now that Mi-rae's finally decided to stay put, it's up to the new family to be there for her to the end, whatever that end may be. There are still bumps in the road, but the last few weeks have been all about miracles. And miracles come to those who wait. Right?
But better to take a leaf from Sa-rang's and Yeol's books: Run after them with all your heart, and make them happen — like father, like daughter! Come on, Mi-rae! Live!
FINAL EPISODE RECAP
In the prologue, Yeol narrates that when he was young, his family was poor and his mom was sick. Left to himself, he found joy in baseball. Since then, his dream was to become a pro-player, and give other kids like him a dream to chase.
He also dreamed of getting married on a baseball field to one woman, and become a good husband and father — but no matter how hard he tries, he just can't seem to catch hold of it. Cycling through a montage of his ups and downs with Mi-rae, he prays, "God, please save her. Now that is my only dream."
Yeol drops to one knee before Mi-rae is taken into surgery. Presenting her with a spray of flowers, he proposes. She takes the flowers with a heartbroken little smile, and is wheeled into theater.
An unspecified time later, Yeol and Sa-rang fight over the last egg roll at breakfast. Exasperated, she lets Dad have it, and he gleefully pops it into Sa-rang's mouth. Aw. She scolds him for being childish, and says that if Mom saw him —
"I saw," says Mi-rae, coming down. She's alive!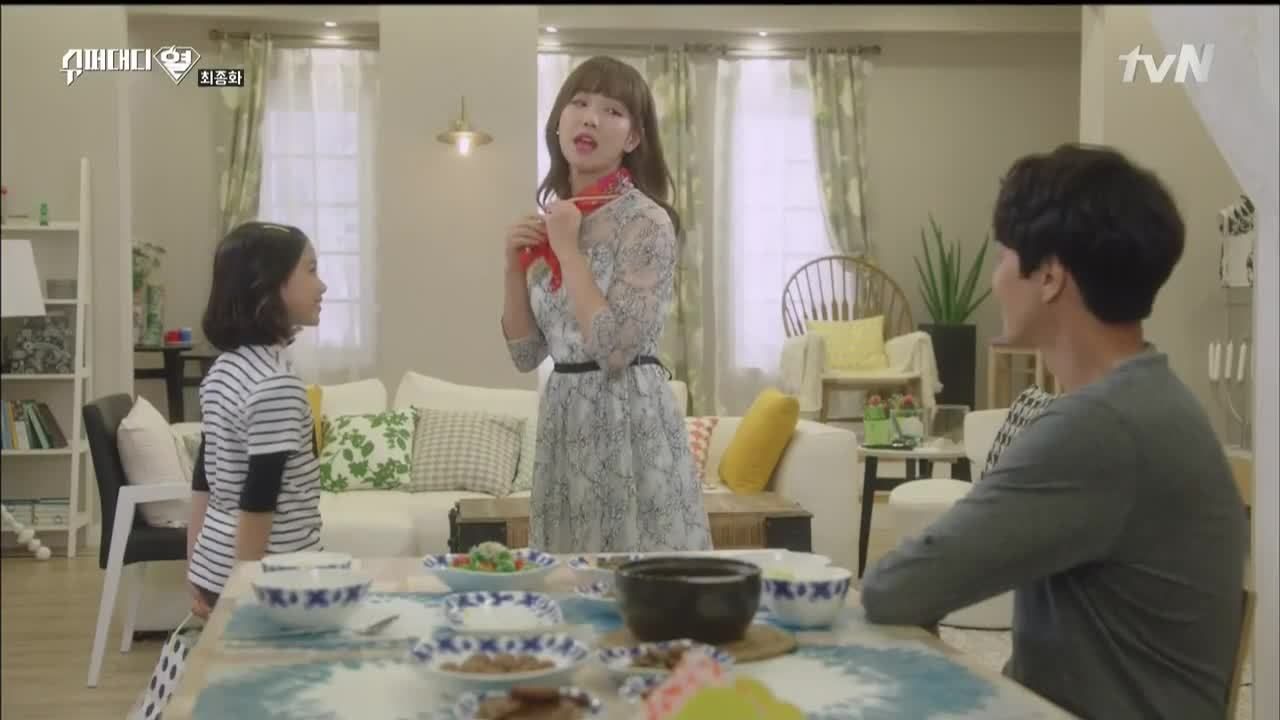 Sa-rang presents Mom with a homecoming gift bought with her own money — a scarf. Mi-rae compliments her for being more mature than her childish dad, throwing him a pointed look. She bosses him to hurry up because they've got so much to do, and he whines but loves it.
They view a wedding venue. Yeol likes it but Mi-rae thinks it's too expensive — after all, she's unemployed right now. When Yeol mentions hotel weddings are the thing these days, she snaps that he should marry someone like that then, and stalks off. Haha, touché.
Next, they go furniture-shopping, and Yeol goofs around on the display beds. Mi-rae whispers to him that they're just here to shop ideas — they'll go buy things cheap at an outlet afterwards. But…don't both of them already have fully-furnished houses?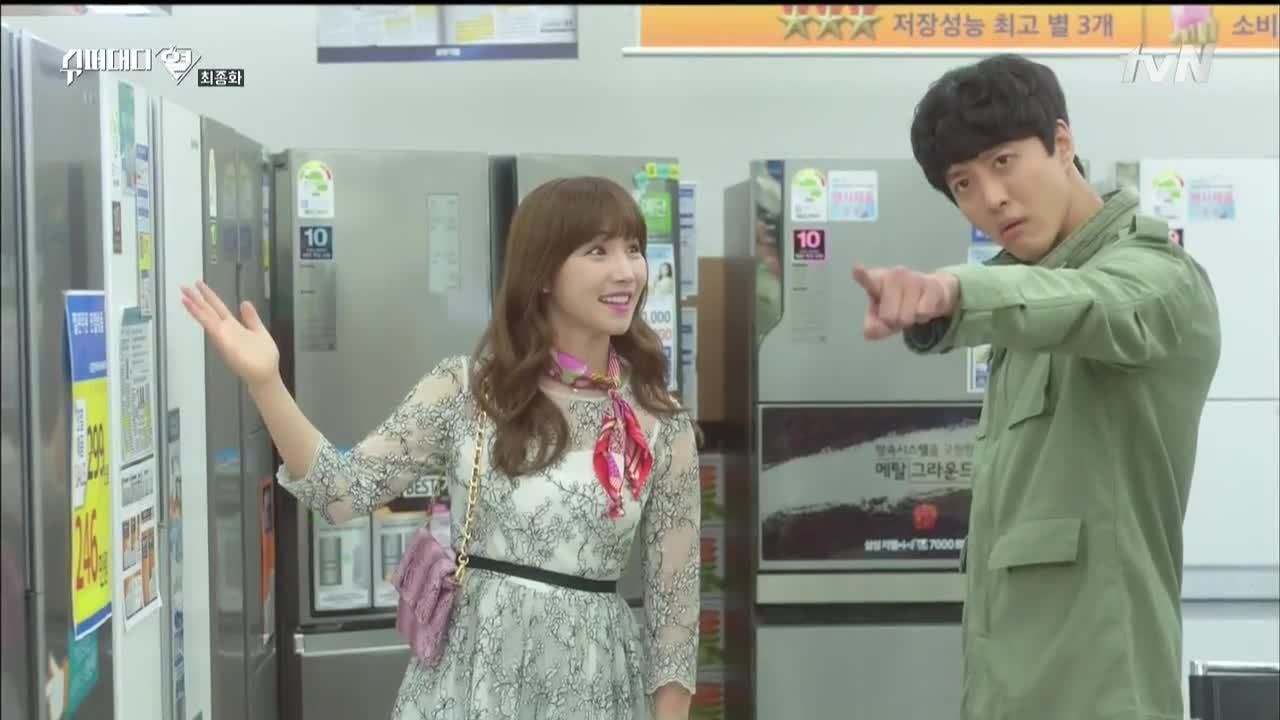 We'll skip the long ad-break — sorry, window-shopping — where Yeol gravitates to all the expensive goodies and Mi-rae steers him to the economy alternatives. The silent-movie sequence is pretty funny: He gestures longingly at the Pretty Things, and she's all smiling threat. He hangs his head.
When it's time to pick the ring, Yeol wants the BIG one, and Mi-rae throws him a knowing look. His horror at the price makes him downgrade until there are no diamonds at all, which annoys Mi-rae. To spite him, she picks out the costliest one there. They argue and end up scurrying out, leaving the saleslady hanging. It ain't your day, lady!
Over drinks, Yeol complains about his day to Sang-hae and Ji-hye. Ji-hye tells him that because you only do it once, you have to do it just right — that's how every woman feels. Or twice, Sang-hae chimes in with a wink, which is his dream. Lol. He advises Yeol to stick to his guns no matter what, unless he wants to be bossed his whole married life (I think he does, though).
Elsewhere, Mi-rae grumbles to Woo-hyuk (but his hair, though!) that Yeol is too impulsive and doesn't think practically. He echoes Ji-hye: You only get married once, so Yeol wants it to be awesome. But what about the practical things, like money and school, Mi-rae asks. She tuts that he's too young and unattached to understand.
He sighs that now she's finally leaving him, he might end up like Yeol, unloved and alone. She smacks him — what about Ji-hye?
The lady in question arrives just as he protests that they don't have anything going on. Her tone is dangerous (and a little drunk) as she tells him they'll find out today for sure exactly what they are. He edges away from her, and his long-suffering look is priceless. She even snaps at Mi-rae to go, which makes her jump. Yeol's looking for her, she clarifies.
Mi-rae and Yeol approach each other, cracking knuckles and spitting on palms. He argues that he's the boss, and she scoffs at his patriarchal mindset. They're about to fight it out when they're interrupted by the voice of reason — Sa-rang wrapped in a blanket.
She yells at them for scrapping in the street and threatens to run away if they keep it up. She turns an indignant heel and goes back in, leaving the adults appropriately ashamed.
Contrite, they silently brush each other down, and Mi-rae steps into Yeol's arms.
Ohhh looks like Woo-hyuk finally got some. He wakes up in bed next to Ji-hye and wonders what the heck happened. She, hilariously, wakes up and wonders who. She's too mortified to turn over and look, and pretends sleep through all of Woo-hyuk's mutterings about how she ever became a doctor. After he escapes, she flails. Aw, come on, he's a sweetheart! He even left her money — for hangover soup. Whew, for a second, I thought clueless Woo-hyuk left it for something else.
Mi-rae coaches the baseball wives in dancing a jive, which Yoo-ra picked as their special congratulatory wedding gift to the couple. Ki-tae proves cutely hapless and keeps treading on his wife's feet, while Sang-hae wails at the indignity.
Mi-rae picks up the beat, and gasps suddenly at a pain in her abdomen. She puts it down to skipping breakfast. Are you seriously dieting to get into the wedding dress?! You couldn't just find one that fit? I'm with Yoo-ra: You just had surgery! She waves away their concern and keeps going, although we can see she's still in pain.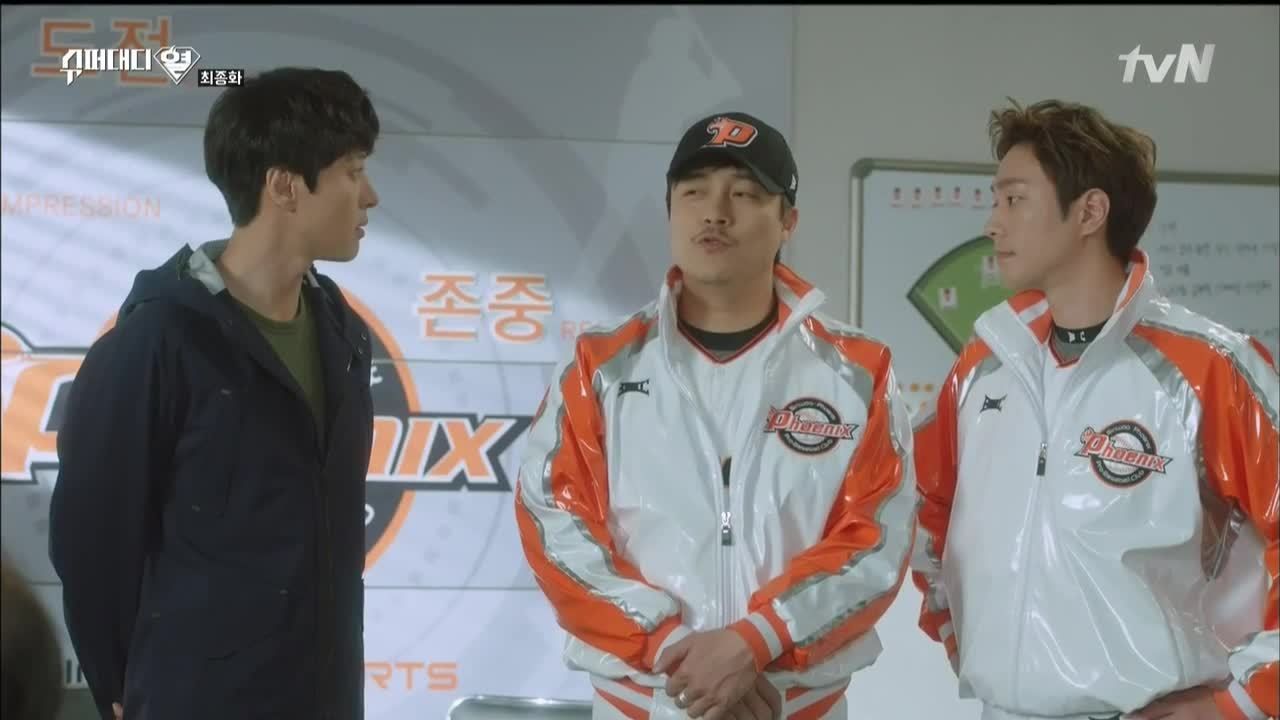 Yeol pays a visit to Coach Bang, asking him to officiate the wedding. Coach even suggests they hold the wedding on the baseball field, and do that first throw they missed out on last time. Hyun-woo enthusiastically approves, as he and Sang-hae arrive, and Yeol finds out that Mi-rae went to the hospital for stomach pain.
The doctor tells Mi-rae that her recovery from surgery is on course and the pain could be because she's doing a lot right now. He reminds her that surgery is only a step in her treatment, not a cure, and she'll need to continue chemo. He instructs her to eat properly (yeah!) and take her meds.
Looking at her prescription, she notices they're painkillers, not digestive aids.
Yeol arrives as Mi-rae leaves, and they just miss seeing each other. The doctor tells Yeol that Mi-rae's relief until now must have been a placebo effect from thinking the surgery had succeeded. What?! He adds that she'll figure it out soon enough, and Yeol pleads to keep it secret until the wedding at least. WHAT. He's afraid that she won't go through with the wedding if she finds out now. Is that really our priority right now? I'm with the doc: She needs to know!
A flashback to the surgery shows us what really happened: After opening her up, they found the cancer had spread too far to be operable any longer, so they closed her up again without doing anything. That was when Yeol made his request for secrecy.
He leaves the doc's office and takes a call from Mi-rae. She wants Dr. Hwang to walk her down the aisle, since she doesn't have any other family. That's a fantastic idea, she would be awesome! He tells her to do it how she wants to (she'll do what she wants anyway, he says), and adds — a little too urgently — that she shouldn't drink. She cheerfully reassures him that she won't. When she hangs up, she cutely kisses the phone.
Yeol sighs. The doctor's advice before the surgery comes back to him, to live in the moment: They can't control what happens, and they don't know what the future will bring. He comforts himself that everything will be okay.
Dr. Hwang is surprised by Mi-rae's request. She tells her old teacher that she thinks of her as a parent, and she's also a fellow single mother — she doesn't want anyone else. She also tells her that she's been feeling a little odd in the tumor area. The surgery went well, right? But she already looks doubtful.
Woo-hyuk calls to check on Ji-hye, but they actually come face to face, because he's at the clinic. Lul, awkward. She scrambles to hide him, mentioning yesterday. He loudly declares that nothing happened, "We just slept!" (Really?)
Unfortunately for them, mom Dr. Hwang overhears. Caught off-guard, they can't get their story straight. Mom hauls the two of them off by the ear, and Mi-rae mildly comments that he said there wasn't anything between them. As they're dragged away, Mi-rae yells her congratulations to Woo-hyuk, who still pleads misunderstanding. You're fighting a lost cause, Dr. Shin!
Sa-rang races around the track at practice while Yeol cheers at her from the sidelines, the only (embarrassing) parent present. Dr Hwang finds him there and they relocate for a chat. She tells him Mi-rae's on her way, but she came ahead to ask about the surgery: Did it really go well? She sees through his bluster, and reproves him for deceiving Mi-rae (that's what I'm saying!), asking how he could do such a fool thing.
Yeol's answer is that they've made it this far because he's a fool, and he's always been one. Because he's a fool, he can marry her. Dr. Hwang cuts in that Mi-rae's probably already figured it out; she is, after all, a doctor. He wants a few more days — just until the wedding. The true reason, he reveals, is because he wants to let her feel the sense of miracle, and encompassing happiness, even for a short time. (But isn't that crueller when she does find out the truth?)
But it's not that simple, and Dr. Hwang asks what happens after that. He replies that he'll stay with her to the end, and asks her to keep the secret, too. Dr. Hwang's face says what I'm feeling, and is a picture of dismay.
It's Mi-rae's turn to play embarrassing parent, and she cheers Sa-rang on solo as well. Afterwards, both parents make up for it by handing out snacks to the kids. Picnicking together afterwards, Sa-rang wonders whose idea it was, and each parent credits the other — a cheese-show that is too much for her. But it was a great idea, she congratulates, whoever's it was.
Mi-rae tells Sa-rang that she's just happy she's taking part. The other two shoot her looks, and Sa-rang wonders at her change of heart — she used to say if you weren't first, then you were a loser. Everything or nothing.
Mi-rae claims she has no memory of saying such a thing. Sa-rang says it's scary that she's becoming more and more like Dad, and he offers to show her real scariness. He roars at her, but she roars right back, taking him by surprise. Aw.
It's race day for Sa-rang, and coaches Ji-hye and Woo-hyuk come down to the track with last-minute advice for how to win a medal. Sa-rang starts fast, Ji-hye says, but her sprint in the final leg is too slow and she needs to pace herself properly. On her signal, she instructs Sa-rang to sprint for everything she's got.
Mi-rae drops by in time to catch this, and asks if she can give the signal. Today, she tells her daughter, the two of them are a team. Sa-rang is thrilled.
She takes off and the four adults cheer her on (Yeol's sign reads "Han Sa-rang"). She paces herself and Woo-hyuk is impressed by Ji-hye's insight on her performance. In the midst of her cheering, Ji-hye turns a stern face on him for weaselling out of blame with her mom, laying it all on her. Then she goes back to cheering and ignores him. Hehehe.
They worry when Sa-rang begins to lag behind, and Ji-hye calls for the signal. They're all so busy watching the track, they don't notice Mi-rae struggling. She grasps the scarf Sa-rang gave her, vision blurring.
Sa-rang looks towards the stands, where Mom is down. The others finally notice something is wrong, but Mi-rae fights her way up. She calls out to her daughter and waves the scarf — their signal.
Sa-rang puts on a final burst of speed and passes the finish line…first? They all celebrate, but Mi-rae collapses against Yeol. They rush her to hospital.
Sa-rang runs to the stands looking for her parents to show them her bronze (third place!), and Woo-hyuk meets her with a grave face.
At the hospital, Ji-hye takes care of Mi-rae, who's woken up. In the corridor, the doctor tells Yeol once again that they can't hide the truth of her condition from Mi-rae any longer. Yeol's reply is lost when they see Mi-rae mere feet away, where she's heard everything.
They walk to the car. Taking her hand, Yeol says they can put the wedding forward while they run more tests. She says no. She wants to go ahead. He's about to confess the failure of her surgery, but she tells him she already knew. A flashback reveals that she overheard his conversation with Dr. Hwang.
In the car, she marvels at how thoroughly he got his revenge — she was always the one to lie and conceal things, but this time, she was fooled completely. He apologizes, but she says he did well. She tells him she's not going to give up — she'll take part in every trial, and go the ends of the earth if necessary, to find her cure.
"Until the end, I'll fight. Until the end, I won't let go of your hand," she promises. Even if he's sick and tired of her, and wants her to go away, she won't, "Because I'm your 100%," she says. Nodding, he thanks her, eyes full.
Wedding day! Mi-rae is luminous (so pretty!) and ohh, there's the Lee Dong-gun we all know, all smart and styled (but I'm used to scruffbucket, bring him back!)…but Yeol is still Yeol, and he forgot the ring. Sa-rang and Hyun-woo speed off to fetch them and save the day.
At home, Sa-rang finally tracks the ring-box down (inside the first aid box, lol), and just as she's about to leave, a box and envelope with her name on it (and in her favorite sky-blue) catches her eye. She plugs the flash drive she finds into the TV.
It's a video-message from Mom, to guide Sa-rang through the contents of the hope chest. Mom has a gift for every milestone — which she clearly does not expect to see — and handwritten "guidance notes" to go with them, from sanitary towels for her first period, to her first day of middle school, all the way to college. She even leaves a special fund for a solo backpacking trip abroad, so Sa-rang can "see a bigger world."
She presents a hand-knitted scarf and mittens, and I'm getting a little choked up here. Sa-rang's eyes stream, and Mi-rae shows her the most special gift of all: a jewellery set for when she gets married. She tells her to listen to Dad, and just in case she isn't there, Dad will still take care of her. She instructs Sa-rang not to let Dad remarry — she's too jealous to let a stepmom in, and waves a cute fist in threat.
Noticing the time, Sa-rang grabs the ring and hurries out, face still wet.
Meanwhile, at the reception, guests arrive and Sang-hae hops with nervousness, practising his MC-ing. Coach Bang wonders why they haven't kicked off yet. Hyun-woo finally returns with Sa-rang, and Yeol rushes her back.
Sang-hae introduces the groom, and Yeol walks down to a chorus of cheers. Mi-rae gets ready for their turn, and she's absolutely radiant. Bridesmaid Sa-rang thanks Mom for the present, but says in a conspiratorial whisper that they should ditch Dad and go backbacking together, just the two of them. Mi-rae holds her composure, but hugs Sa-rang extra close.
Dr. Hwang, rocking a tux, walks Mi-rae down the aisle, and after a daddy-daughter high-five, Yeol adorkably has no idea what to do with himself when she gets there. He forcibly displaces Dr. Hwang at his bride's side, and won't release Mi-rae's hand despite Dr. Hwang's attempts to shepherd him. Sang-hae's running commentary makes this even funnier, as he explains that this is Yeol's first time.
Coach Bang asks for Yeol's wedding vow, and he shouts an enthusiastic "YES!" which makes everyone laugh. This is adorable, I love it. Coach Bang even wishes them well on their wedding night duties (Sa-rang cringes, hehe). He reminds them that with only one shot at life, they have to make it count.
The crowd chants at them to kiss. Yeol reflects in voiceover that "loving" is different to "living" and the person you love is the person who makes you really alive. "We — my Mi-rae and I — will always be alive, because we'll always be in love."
Ji-hye and Woo-hyuk sing a duet for the newlyweds, but their voices fade away as Mi-rae and Yeol's world concentrates into a private bubble, surrounded by their friends and loved ones. Still in voiceover, Yeol tells us that miracles aren't out of our reach.
While they take group photos, Yeol finishes: "This moment is a miracle. Everyone, please love. Now — before it's too late."
Mi-rae exchanges grins with Ji-hye, and throws her bouquet behind her — and in his first moment of athleticism, Woo-hyuk leaps up and catches it. He immediately presents it to Ji-hye. Aw, I guess your hair's not really so bad.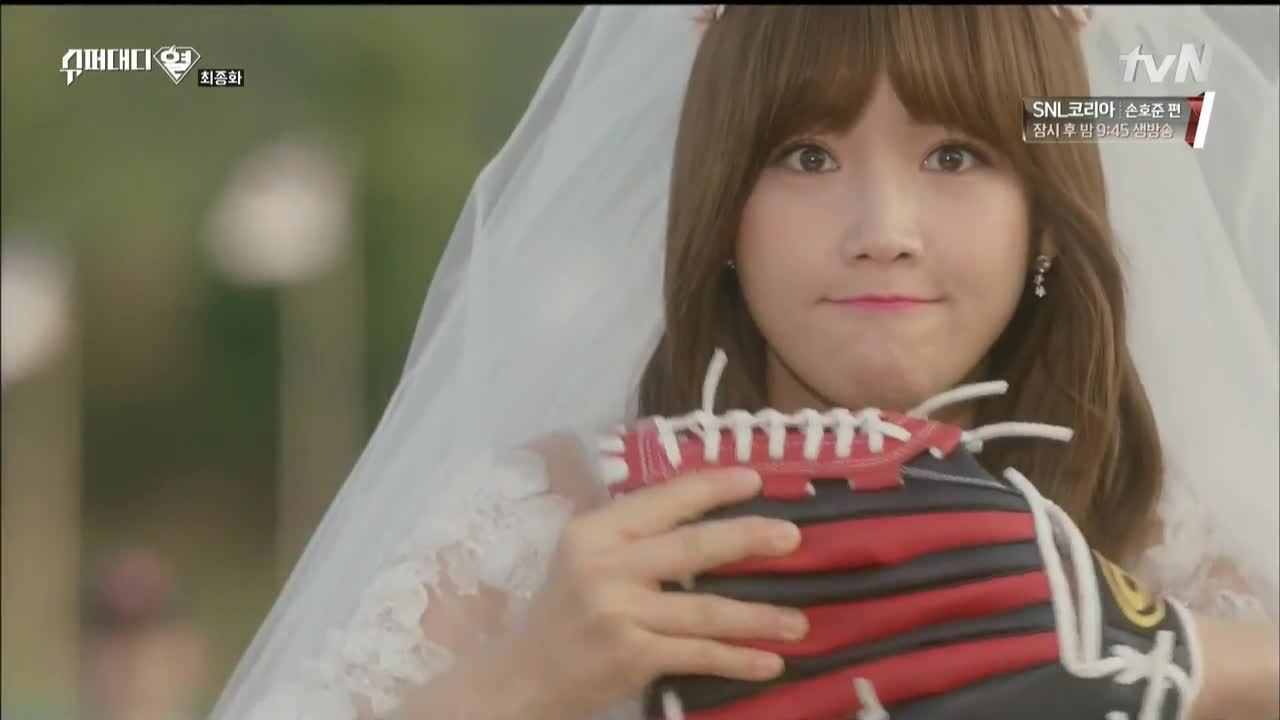 They crown the day in style with their celebratory pitch. Still in her wedding dress, Mi-rae throws. Batter Sa-rang swings…and misses. It gets Ki-tae full in the face, and he goes down.
Mi-rae, of course, styles out like she totally meant to give Ki-tae that black eye, and even challenges him to bring it, but runs away when he gives chase.
Yeol and Sa-rang catch her up. Hand-in-hand and grinning madly, the three of them run away from the crowd.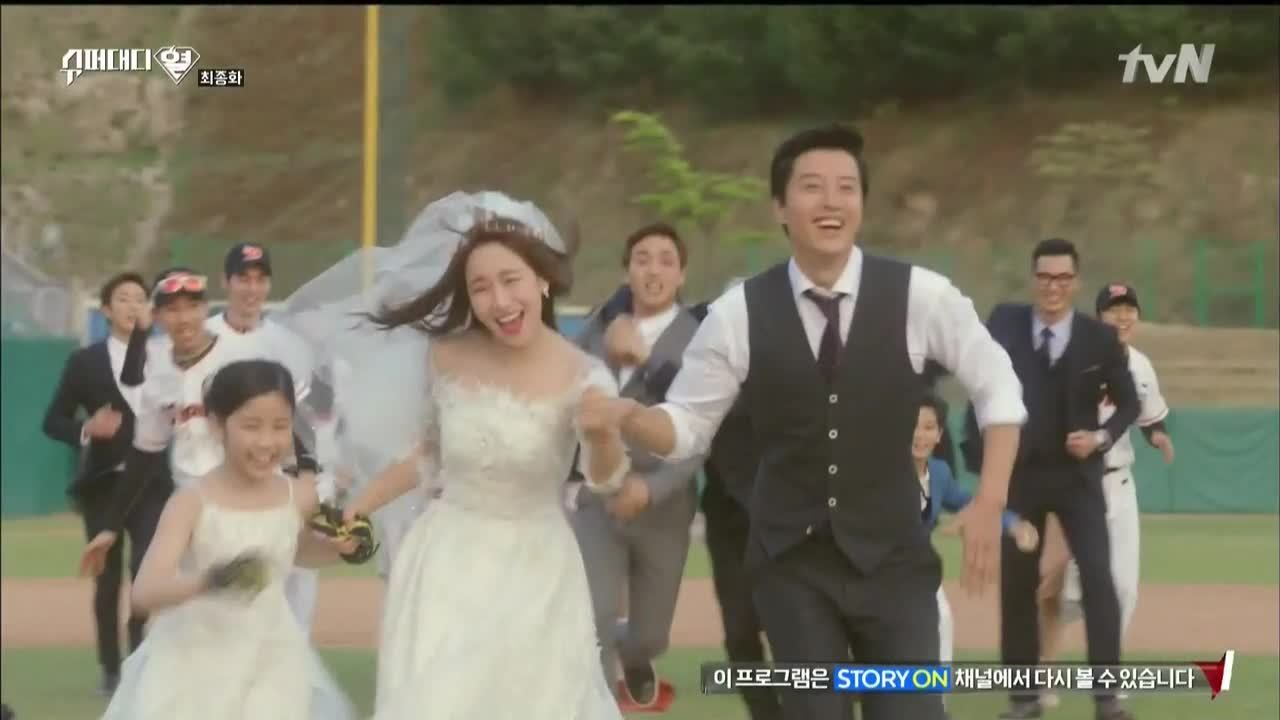 COMMENTS
Awwww.
No, seriously. I'm so happy that this show which has frustrated some of us so much was tied up in such a sweet, satisfying way. The wrap plays to Superdaddy's strengths, crafting a moment of emotional truth that makes you, in its moment, forget its flaws and wish the characters well. I'm as surprised as anyone that on its last (yes, meandering) leg, this show made me believe in its message and miracle. This is the miracle — to be able to have the moment despite the past, and that whatever future does or doesn't exist, it can't take your present away from you.
The wedding was so, so cute, and completely characteristic of Yeol and Mi-rae's entire relationship, all untidy and heartfelt. There was much more going on than I could write into the recap (the daddy-daughter high-five! Hyun-woo! Woo-hyuk and Ji-hye! MC Sang-hae! Everyone got their moment!), but guys, if you started this show and dropped it, just watch the last fifteen minutes of this episode and it will answer just about everything you wanted out of the show as a whole.
I think we really need to give big credit to Sa-rang's actress, Lee Re. She's shown a really impressive range for her age (only nine!), especially this episode, with all that intense emotion near the end. She's proven versatile over the course of the show, with an intuitive sense of timing.
A lot of the humor in her character came from the incongruous nature of her matureness pitted against the adults' childishness. But fundamentally, her success rested on how relatable she was to us as the viewers. This was a big role, and the mother-daughter relationship has been another consistent strength in a show otherwise riddled with character development issues and poor writing, especially for the mother. That palpable chemistry wouldn't have been possible if Sa-rang had been played by someone with lesser presence. I hope we see her in another meaty role soon!
There were definitely plenty of logic and storytelling problems even in this episode, but I've (pretty mercilessly) raked and combed at this show a lot over the past few weeks (sorry!). I'm content to let them rest in peace for now, so I can keep on enjoying the ending, and the way the central family of Yeol, Mi-rae and Sa-rang has become so much more than just the three of them. It did, ultimately, deliver the feels, and I'm an easy sell: Keep me happy in the present, and I'll forgive the past.
RELATED POSTS
Tags: featured, Lee Dong-gun, Lee Yuri, Seo Joon-young, Superdaddy Yeol