The gang is assembled for Answer Me 1988

Go Kyung-pyo, Hyeri, Park Bo-gum
Well that only took forever. Answer Me 1988, the third installment of tvN's throwback youth series from PD Shin Won-ho and writer Lee Woo-jung, has at last announced its main cast after months of speculation, rumors, retractions, and recriminations. First, the good news: Go Kyung-pyo (Cantabile Tomorrow)!! I love him and his awesome comedic chops, and I'm thrilled that he's scored his first leading role in a show that's easily going to make him a breakout star.
Idol Hyeri (Hyde, Jekyll, Me) has been attached to the show for quite some time as the lead character, and she's now been confirmed as the headliner. I know that Jung Eun-ji and Go Ara weren't established actresses before starring in Answer Me 1997 and Answer Me 1994, but I'm still not excited about Hyeri's casting when they could've gone for acting chops over cute. She'll have a lot to prove, but I hope for the drama's sake that she's got some hidden depth we've never seen before.
Park Bo-gum is also confirmed, after an early announcement. I'm looking forward to some bromance between him and Go Kyung-pyo, since these two have been co-stars in three other projects before this one (Cantabile Tomorrow, Chinatown, Roaring Currents). I know we were promised that 1988 wouldn't have a husband-hunting framing device, but that hardly means we won't be getting a love triangle. Somehow knowing that they're buddies in real life would ease the pain, I think.
The rest of the gang includes a few newer faces to dramaland, most of them from indie movies: film actress Ryu Hye-young (Spy, My Dictator, Slow Video), newbie Ryu Joon-yeol (Social Phobia), and funnyman Ahn Jae-hong (C'est Si Bon, Twenty, Joku King). Rounding out the youths are Lee Dong-hwi (Divorce Lawyer in Love, Joseon Gunman), and musical actor Choi Sung-won.
Lee Il-hwa, Sung Dong-il, and Kim Sung-kyun will return as Mom, Dad, and a neighbor ajusshi, in the story about three neighboring families. As a franchise that's known for casting fresh faces and launching careers, expectations have been high for producers to deliver a buzzworthy ensemble for the third time in a row. I'm pretty confident that Go Kyung-pyo will be in his element; here's hoping that the rest of the '88 gang is willing to put themselves out there for a laugh.
Answer Me 1988 airs on Fridays and Saturdays in September.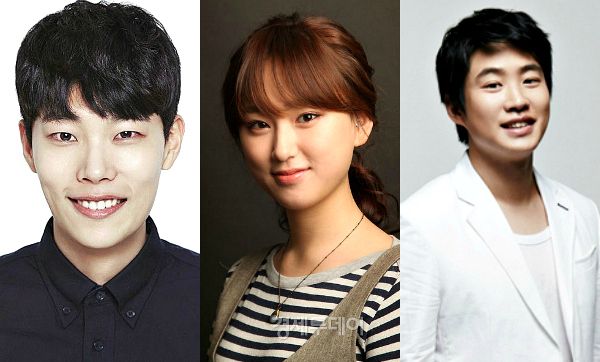 Ryu Joon-yeol, Ryu Hye-young, Ahn Jae-hong
Via TV Report
RELATED POSTS
Tags: Answer Me 1988, Go Kyung-pyo, Hyeri, Park Bo-gum