Warm and Cozy: Episode 2
Now I think they named this show pretty well, because it's all about giving you the warm fuzzies at every turn. Warm and Cozy isn't fast-paced and there's no central conflict beyond two young people trying to find their way in life, but it's full of such sweet, lovable characters that it makes you feel good while watching it. The second episode rounds out our main characters and brings the heroine down to Jeju Island so that small town hijinks—and romance—can properly ensue.

SONG OF THE DAY
K.Will – "Thank U" for the Warm and Cozy OST [ Download ]
Audio clip: Adobe Flash Player (version 9 or above) is required to play this audio clip. Download the latest version here. You also need to have JavaScript enabled in your browser.

EPISODE 2 RECAP
After being dumped by her two-timing ex-boyfriend and laid off via phone call, Jung-joo focuses all her anger on washing the horse dung out of her shoes, so lost in thought that she doesn't notice Gun-woo picking it up downstream.
He walks over and contemplates her for a moment before plopping the shoe down at her side, then announces that he was going to leave without her until he remembered that he got a beauty salon coupon for his birthday, which is also her birthday.
He offers to make her dinner too, but Jung-joo warns that she's in no mood to celebrate—she's so angry right now that she might misdirect all her spite towards him. Gun-woo rolls with that and offers to be her punching bag as a birthday present, and when she doesn't hit him, he extends his arms and changes his tack: "If you need comfort, then I'll be your teddy bear. You can hug me if you want." Um, WANT.
Jung-joo is startled by that, and reminds him that she hasn't changed in ten years—she isn't the type to turn down empty offers or feel bad about it. Gun-woo counters that he isn't the type to make empty offers—he means everything he says… "It's just that the shelf life on that sincerity is short." Heh.
They head back to his restaurant Warm and Cozy where he starts cooking up a meal for her, and he looks a little plaintive as he points out the bottle of pills and maps she left in his car earlier. We know they're mints, but he doesn't.
His sole employee Poong-san assumes that she's the Mok Ji-won, the first love that Gun-woo rushed to Seoul to see. They introduce themselves and he thinks it odd that Jung-joo insists on cleaning because she feels uncomfortable eating for free.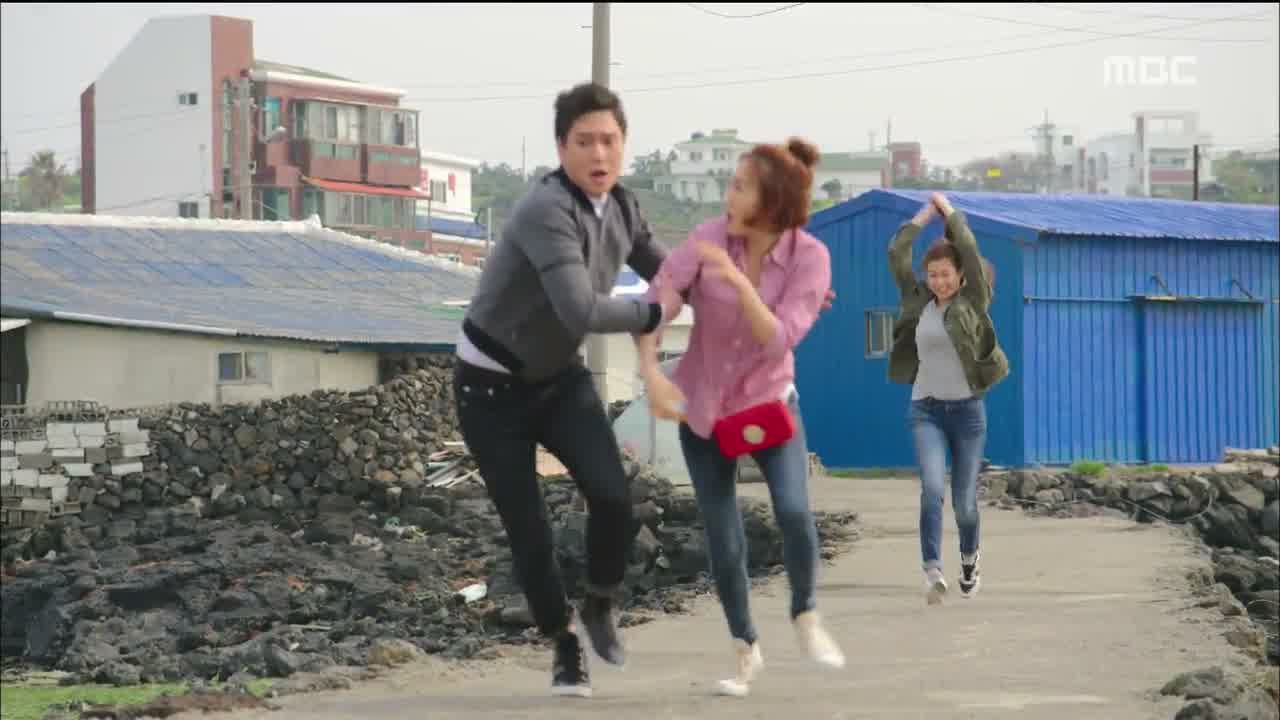 Just then, another customer comes in with a couple in tow, chatting away about how this is a good restaurant. Jung-joo freezes when she sees that it's her cousin Jung-min with his girlfriend, and runs after them swinging her purse wildly like a weapon.
They run and run and run, finally stopping when they're all too tired to keep up the chase. Jung-joo wants to know what he did with her apartment money, and he says he already put it down on the new house.
He points to the dilapidated monstrosity behind her repeating that it's a fixer-upper, and she assumes he must be mistaken. Her friend peeps, "It looks more houselike on the inside." Sure, houselike about three generations ago.
Jung-joo steps inside to find weeds growing out of the floor, and the doors crumbling around her—literally, as one falls on top of her head. She finally lets her anger out and screeeeaams, and her cousin scurries away like the coward that he is.
Gun-woo has followed her here and learns about the house deal from the town's real estate agent Gong Jung-bae. They watch from a distance as Jung-joo cries out by the ocean, and Jung-bae tells him that the cousin is headed to Brazil soon to work with coffee. That gives Gun-woo a chance to curse him out using non-swear swears.
Jung-bae asks if that's his girlfriend, and Gun-woo says no—it's just someone he's concerned about. He watches her pop another mint in her mouth and thinks back to earlier, when he first discovered the pill bottle in his car.
He asked Poong-san about them because he was once in pharmacy school, and learned they're really strong painkillers (the label reads Oxycodone), taken by people in lots of pain, like terminal cancer patients. Ha, he thinks she's going to die.
His sympathy and concern is very real, which makes it all the funnier. He takes her to the airport and hands her the dinner he packed for her, and when she says that she won't be coming around to Jeju for future birthdays, he thinks she means that she won't live to see another one and gets adorably speechy about how she WILL come back and see him on many birthdays.
It makes her smile and she thanks him for saying it even if they're empty words, and he reminds her to eat well, looking so sad as he watches her go.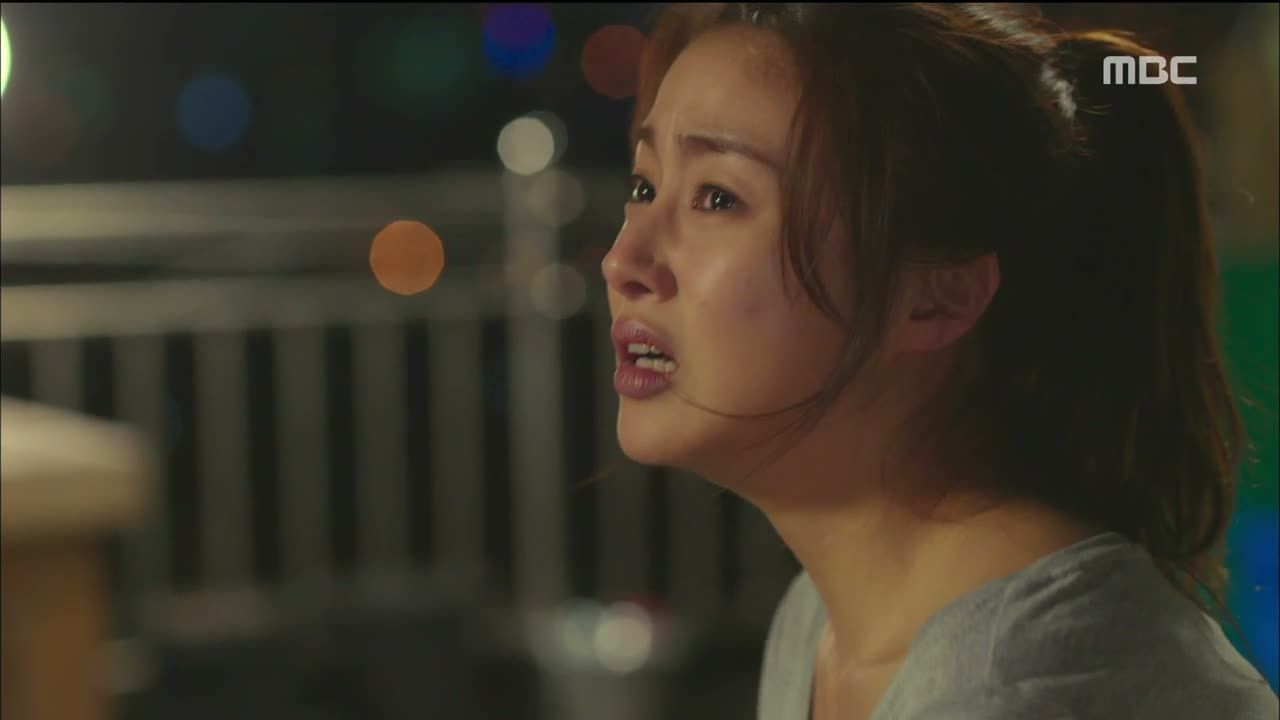 Jung-joo returns to her rooftop room in Seoul, where she fights to keep her tears in check. She opens up Gun-woo's dinner to find birthday soup, and again has to tamp down her tears as she eats. She tries to keep a stiff upper lip and tells herself that the house in Jeju will sell in no time and she can buy an apartment then, and she'll find a way to get her job back.
On cue, her noisy rooftop neighbor (cameo by Muzie) starts singing, "No, you can't, you can't," and it's the thing that makes her snap. She stomps out to ask him to stop, and when he doesn't comply, she flies off the handle and starts ranting expletives about his terrible music, his penchant for walking around in boxers, and the likely size of his wiener.
He scuttles away, embarrassed enough to stop, and for a second Jung-joo is riding high from the tiny victory. She shouts from her rooftop, "I'm not a loser! I'm not a loser!" But of course that's the thing to finally trigger her tears.
Some time later, Gun-woo swings away in his hammock, idling his time away as usual. The bus arrives in town and out comes Jung-joo, carting a bunch of luggage. She breathes in the sea air with a big smile on her face, and happily greets all the townspeople she meets. One man in particular stops to gaze at her curiously.
Gun-woo is shocked to see her waving from the street as she walks up. There's this awesome beat where he tries to get out of the hammock gracefully and just kind of topples out.
He asks if she's here on vacation, but she says that she's here to live: "I'm going to live here until I die." To him that's another meaning entirely, and he looks concerned as she just beams and shakes his hand as his new neighbor.
Jung-joo heads to her new house, and she tries her best to be positive about the place that her life savings has been sunk into. She comes up with: "You have a roof. That's houselike," and "Of course there's no electricity. I guess the bill will be low?"
Gun-woo comes by the house, worried about what it means for a terminal cancer patient to suddenly move down here. He tries to shrug it off like it's not his concern, but then he hears Jung-joo screaming from inside the house and goes running in to check on her in case she's in pain.
But the second she cries, "Snake!" he skedaddles out of there so fast you'd think his shoes were on fire. He's already outside when he calls for her to hurry up and come out before she gets bitten, and tells her that he's going home. You are such a coward. I can't stop laughing.
Jung-joo refuses to leave because she has to live here, and braces herself before grabbing a stick to try and kill it. Gun-woo can't actually bring himself to leave and snaps a reed in half to go help her, but when he gets inside he hangs back and starts reciting statistics on poisonous snakes. LOL.
She's determined to kill it herself, but when it falls on her, Gun-woo rushes to the rescue and stomps on it repeatedly before running out… when he smacks right into the wall and falls like a board.
It's only afterwards that Jung-joo discovers that it wasn't even a snake at all (though that doesn't keep Gun-woo from jumping at the power cord he killed). She says she'd have been grateful for the rescue if it'd been a real snake, but says that he's responsible for his own injuries in this case.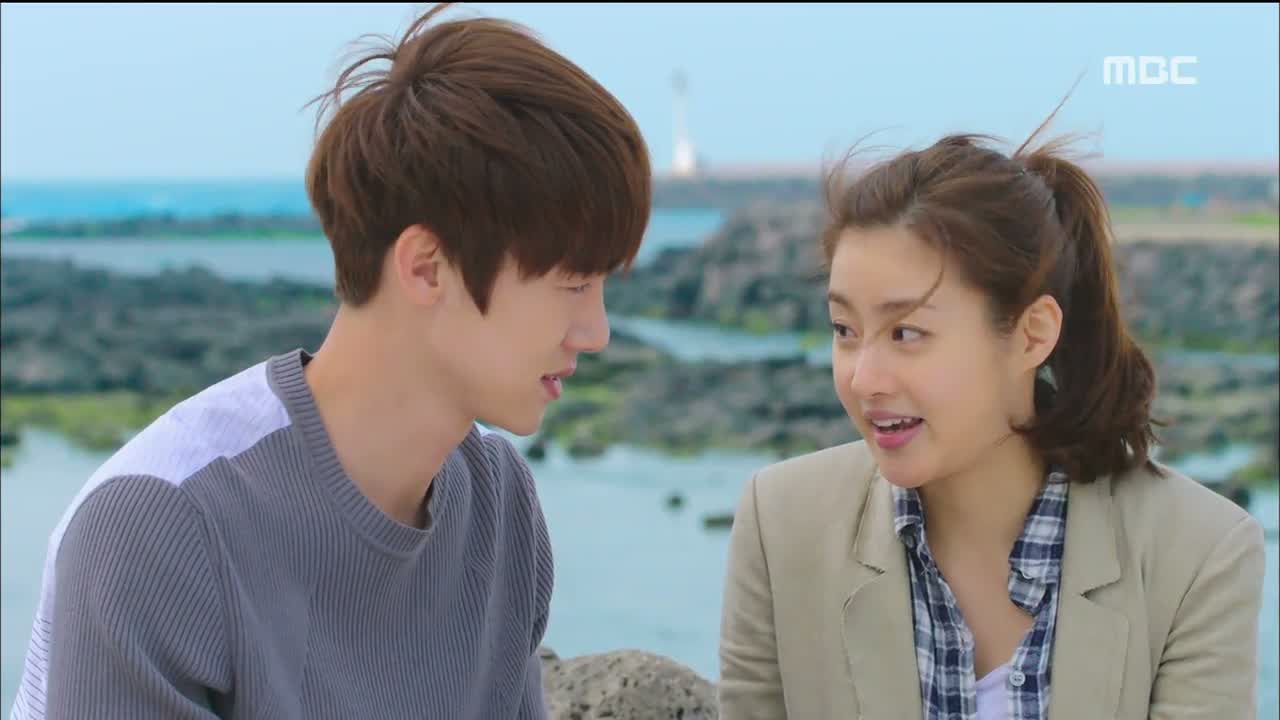 He doesn't see how she could be so calm about a snake, but she answers nonchalantly that the worst that could happen is you get bitten and die. This just feeds his suspicions that she's facing imminent death, and she fuels it further by saying that this house is the end for her. She means financial rock bottom, not that he understands.
She says that she's going to pour every last penny she has, down to her severance package from work, into fixing up this house. He calls that a risky gamble, but she says that she trusts him, reminding him of his big speech to her about this town being Jeju's next big destination. Er, back when he was trying to sell you his failing restaurant? Uh-oh.
Gun-woo listens nervously as Jung-joo outlines her plans to set up a café. She's under the false assumption that he started his restaurant because his chaebol brother's connections give him the inside track on sound investments.
At the same time, Poong-san tells the real estate ajusshi that Gun-woo opened Warm and Cozy for one reason only: to impress a girl. Of course you did. They agree that it won't sell easily, since there's hardly any tourism on this side of the island and the restaurant is failing.
Jung-joo tells Gun-woo that she wouldn't have had the courage to drop everything and move down here if it weren't for him, and he doesn't have the heart to tell her that he's full of crap. He cheers her on nervously and sighs at the mess he's made of things.
Up in Seoul, first love Ji-won stops Gun-woo's hyung SONG JUNG-GEUN (Lee Sung-jae) to say hello. He's busy rushing off to Jeju and promises to talk to her later, and Ji-won seems awfully interested when a staffer tells her that he's expanding the Jeju resort and could use her on the team.
Meanwhile Gun-woo plans to just pack up and leave without trying to sell his restaurant, then stops to wonder whether Jung-joo's café would do well here. Poong-san scoffs.
Jung-joo is encouraged when she sees two tour buses stop right in front of her house. They're filled with Chinese tourists, and she counts all the money she'd make with multiple buses daily… only she doesn't understand what the tour guide is saying: "There is nothing to see here, nothing at all, but we're stopping in case you need to use the restroom."
Gun-woo can't stop worrying about Jung-joo's gamble, saying that even in horse races you never go all-in on one horse. Poong-san suggests telling her the truth now, before she ends up penniless. Yes, dude, listen to your waiter! He seems smarter than you.
Gun-woo shakes it off and says that she's an adult and has done all her market research, but is haunted by a vision of her using her last breath to swear vengeance on him as a ghost.
He heads back to find Jung-joo brushing away the cobwebs from her house, and is horrified to learn that she plans to sleep here while fixing up the place. When she heads out in search of a working restroom, he leads her to the house that he rents—right across the street.
She worries about leaving her bags in the street, but he assures her that there are no thieves in Jeju. Uh, that's going to bite you in the ass later, isn't it? He hands her a spare key and happily offers up his place for whatever she needs while she's fixing up her house, insisting that it won't make him uncomfortable.
He asks her to consult him before making any major decisions about her house too, and she agrees. She accepts the key and stands around awkwardly hoping that he'll leave so she can poop in peace, and he gets the hint and heads out, though not before making multiple references to her pooping freely, which makes her cringe.
Gun-woo runs into that man on a bike that we saw earlier, and they exchange forced smiles. This is the town's mayor, HWANG WOOK (Kim Sung-oh), who's enough of a busybody and a stickler for rules that he regularly reports Gun-woo for mishandling of trash and slaps him with fines.
Gun-woo forces a laugh and says that the town must have a considerable amount of money collected from the fines he's paid, and says happily that he's leaving for Seoul soon. Wook seems genuinely happy at that news, and Gun-woo drops the fake smile to snipe that the mayor's failure to get the main road extended to their town has crushed someone's dream.
A text from Hyung sends Gun-woo reeling: It's just a picture of him with Jung-joo and the ominous statement that he's going to report her for marriage fraud. He realizes that Hyung has jumped to the wrong conclusion that she seduced him and ran off with his money, and Gun-woo goes into a full-on panic when he calls Hyung and hears that he's outside his house right now.
Gun-woo takes off running, and meanwhile Hyung discovers Jung-joo in the house, looking quite suspicious as she drops to the floor to scoop up loose change that she dropped.
Hyung confronts her and totally gets the wrong idea—that she's moved in with Gun-woo and is a golddigger—but then when she shows him the 100-won coin that she worked so hard to find, he's suddenly very curious.
He points out that most people would give up on a 100-won coin, but Jung-joo says that money doesn't just appear in the ground if you dig, and she'd never give up.
She points out that if she were a con artist, she'd have sold Gun-woo's expensive furniture instead of dig for her coin, and it's clear that Hyung is impressed with her. Gun-woo stays outside like the coward that he is and smiles to see that Hyung likes Jung-joo, though he goes overboard and asks if Hyung wants to date her. You earned that knee to the bum, buddy.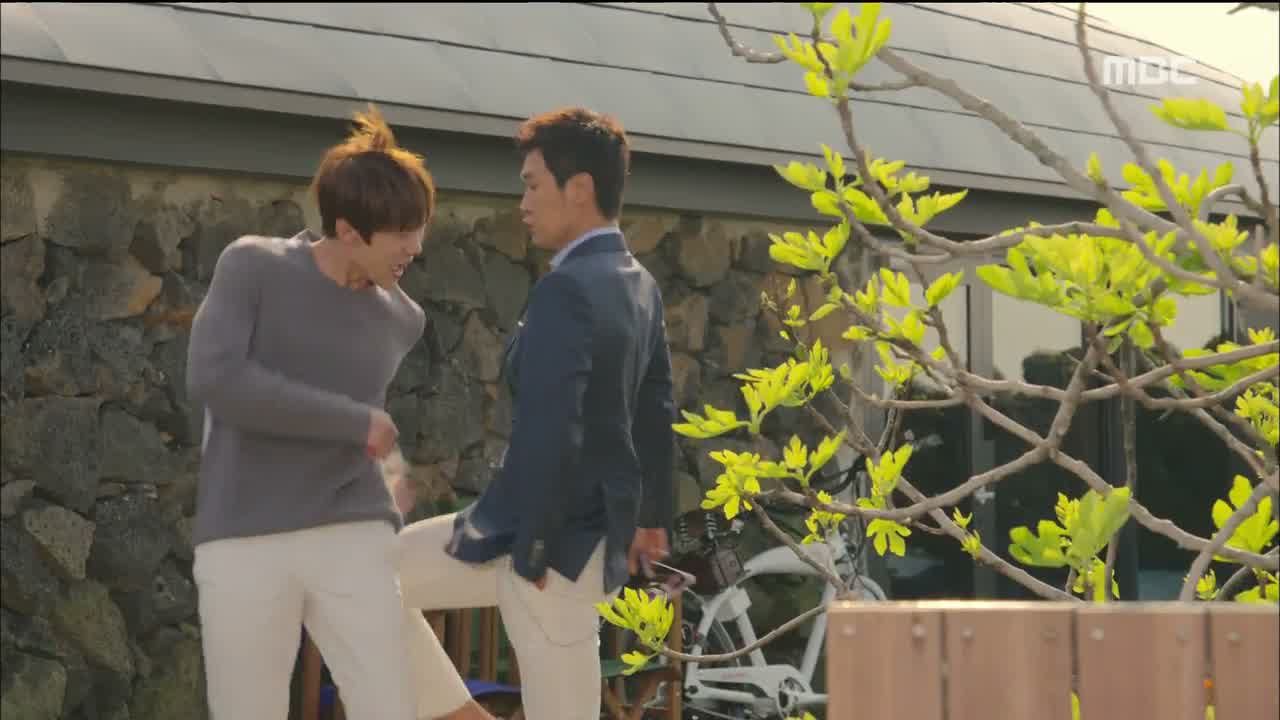 Hyung lays down the law that Gun-woo isn't stepping one foot off this island until his debt is paid back, and he's cutting off his credit cards too. Gun-woo then gets chastised for a second round with Jung-joo, who can't believe he turned her into a con artist.
He explains and apologizes for the lie, though he doesn't seem all that sorry. He's mostly upset that his plans to head back to Seoul have been derailed now. Jung-joo holds out his spare key, not wanting to get caught up in more misunderstandings, but that makes him pout because she's always twisting his gestures sideways.
That just makes her defensive and she accuses him of giving her the key for some nefarious reason, and he sputters that he did it because he felt guilty about leaving her alone. The argument actually devolves into: "I have plenty of other places to poop!" She returns the key and leaves in a huff.
She returns to her house only to find her luggage missing, and blames Gun-woo for telling her that there are no thieves in Jeju. He points out that she's blaming others (which is what she just accused him of doing), but feels bad enough to help her look.
She gets a call from the mayor who found her bags and reported them in case they were illegally disposed trash. She's huffy about it when she arrives to claim them, and he stares at the bras and underwear sticking out as she digs through her bags.
But when she hears someone call him the mayor, she quickly changes her attitude and thanks him for keeping her stuff safe. Wook offers to let her introduce herself to the town elders since they're here for a meeting, and the first greeting is met with icy indifference, until she remembers her bag full of underwear.
She dumps it out and tells them that they're all new items from her last company, and tells them to take whatever they want. That gets everyone smiling and chatting, and Wook is startled to see the label from Sunghan Apparel. He's familiar with the company and Jung-joo notes that he seems familiar to her too, but he insists that he's never worked outside of Jeju and deflects her questions.
And in case we missed the brief shot in the first episode, we cut to Jung-joo's old company where their top seller in men's underwear is being showcased, and Wook is the model in all the campaigns.
The ajummas ask in their impossible-to-understand Jeju dialect about Jung-joo's age (29) and marital status, deciding that she could marry their mayor. But the real estate ajusshi tells them that she's Gun-woo's girlfriend (he calls her Warm and Cozy's girl, so she can't understand in the least).
The one ajumma with laser eyes who can speak both languages, KIM HAE-SHIL (Kim Hee-jung), translates for her here and there. Jung-joo sees everyone's sour expressions at the mention of Gun-woo and swears that she's not his girlfriend.
But when she says that she's here to open up a café, they all sigh and refuse her gifts. To top it off, Gun-woo bursts in and throws his arm around her to introduce her as his friend, and Hae-shil eyes them both warily, deciding that they're all alike. So much for getting off on the right foot.
Gun-woo helps her carry her bags back, and she asks cautiously if he isn't very liked around here. It cracks me up that he agrees readily, though he's legitimately confused as to why: "I'm not the type to be outwardly disliked at all."
He offers to take her stuff to his place so that she can at least keep her valuables locked up. But he's surprised when it basically amounts to a small bag of a few things, including an award from her company for seven years of service, which she plans to sell for the gold. Jung-joo sighs to see that it wouldn't have mattered if she'd been robbed.
Ji-won is disappointed to hear that her chaebol boyfriend is getting married because of a family merger, not that she lets it show. She remains cold and distant as she says that she never thought of him that way, which I'm beginning to see is a pattern with her.
Ugh, and of course the first thing she does is call Gun-woo. Ugh. Ugh. He decides to ignore her call, which I'm taking as a sign of maturity. Gun-woo helps Jung-joo clean up her house a bit, and tells her that he really wouldn't be uncomfortable if she stayed with him.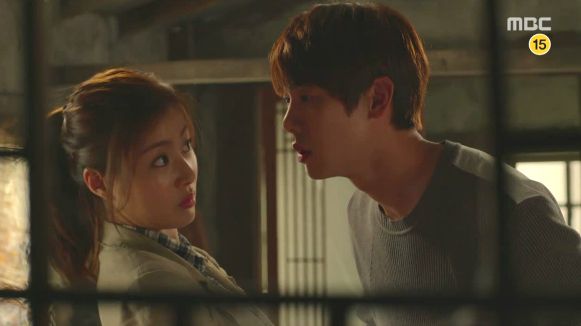 She doesn't want the townspeople to get the wrong idea about her though, when she plans to stick around here long-term. Gun-woo argues that being connected to him wouldn't be the worst thing: "Someone as young and pretty as you will have all of the ajummas trying to set you up with every aging bachelor here, like that Hwang Wook!"
I love the dreamy look she gets as soon as he calls her pretty, though she argues that the mayor seems like a nice guy and really great catch. Much to his horror, she calls Wook prime marriage material, and says that she'd be lucky to meet a man like that before dying.
At the mention of her dying again, Gun-woo gets super earnest and clutches her hand as he leans in close: "Don't sell yourself so short, okay?!" Aw. He gets distracted by her long eyelashes and leans in even closer to get another look, and Jung-joo fidgets uncomfortably.
He still doesn't feel right about her sleeping here, but she informs him that she won't be staying here for her first night. She plans to head to a lighthouse so that she can watch her very first sunrise in Jeju.
She packs some gear and heads out that night, and is startled when Gun-woo drives up, ready to take her. She thanks him and offers to take pictures of the sunrise for him, but he says he wants to see it for himself, and suggests that they sleep in his car until an hour before sunrise to make the hike.
She has a hard time falling asleep at first (who could, with Gun-woo sleeping so close), but by the time she wakes up, it's only half an hour till sunrise. Gun-woo says that they'll miss it by the time they get up there, and Jung-joo looks like she might burst into tears.
She sighs that she told herself that if she caught her first sunrise in Jeju she'd hit the jackpot and if she didn't, she'd fail. She berates herself for always failing everything, and Gun-woo can see how much this means to her.
He decides that he'll find a way for her to see the sunrise, and races down the highway to get to a different lighthouse that'll only require a five-minute hike. They run up the hill, gasping and laughing, and he takes her hand to help her up to the top, just in time to see the sun rise above the ocean.
She's near tears as she looks out at the horizon, and turns to thank him. She admits, "I was in the dark… but things are looking brighter now." She gets her emotions in check and closes her eyes to make a wish, and his eyes well up with sincerity as he watches her for a while, before joining her to make a wish.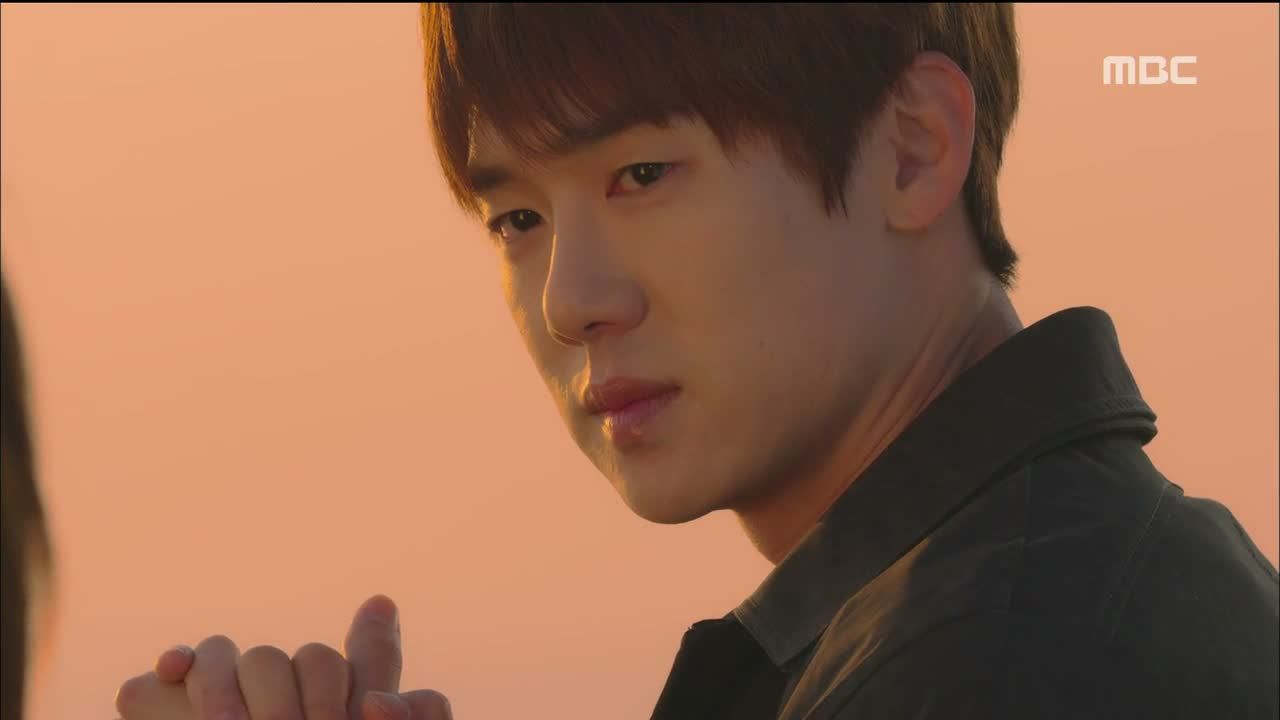 COMMENTS
Augh, every time I think Gun-woo is infuriatingly childish or too lackadaisical to be taken seriously, he busts out those tiny moments of genuine concern with those… those EYES, and I'm a pile of mushy goo. I do really like the terminal illness misunderstanding in this drama, because it gives an otherwise shallow character a surprising amount of depth. The moments are fleeting because he usually finds some way to brush off his concern and bring things back around to himself, but the way he looks at her in those small moments really sells the potential romance for me. It doesn't even matter that it's based on a misunderstanding, because maybe he should take death more seriously, or rather life and what he's not doing with his.
He's overall a great guy with genuine concern for Jung-joo as a friend and a sweet disposition that makes him so easy to like (why do I love so much that he's such a scaredy cat?). But I think that without the fleeting moments of sincerity, he'd also be easy to dismiss as entirely shallow. He certainly acts that way, and I have this feeling like Jung-joo is equal parts relieved and exasperated whenever he pisses her off, like she's grateful for more practical reasons not to fall in love with him. Because come on, she's already like three toes in, right?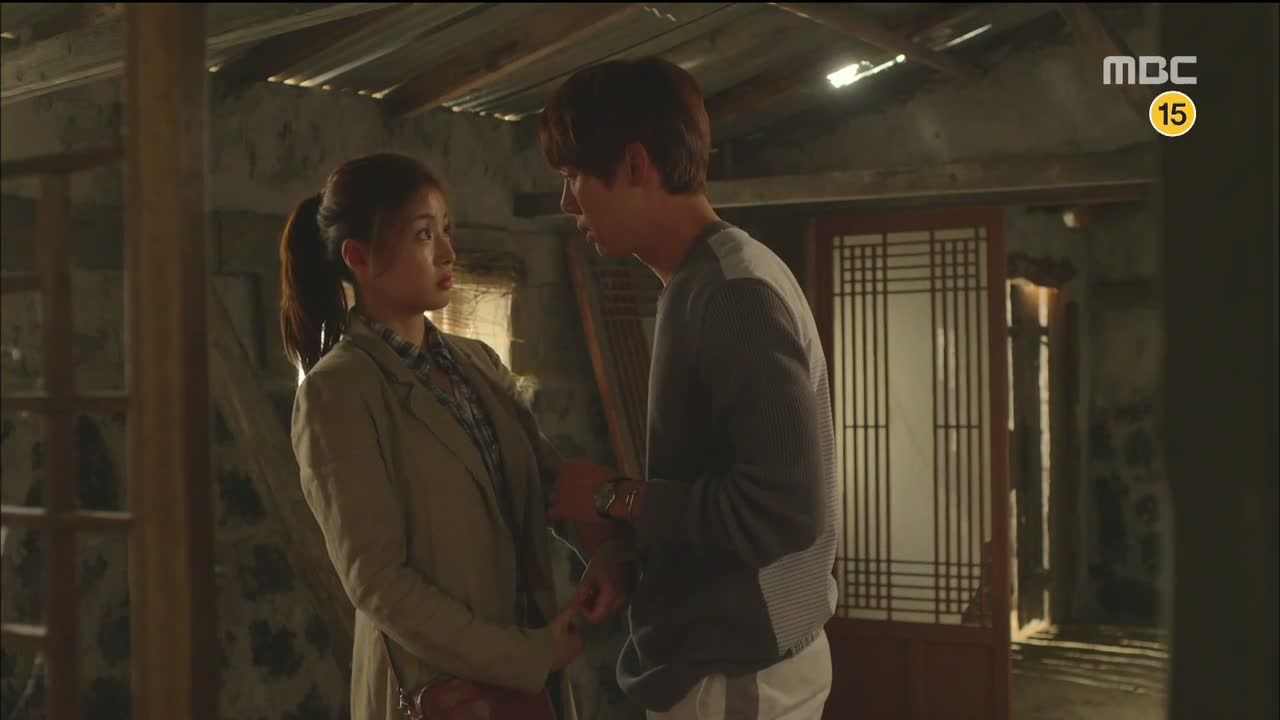 The second episode better showcased their easy rapport, and I'm really enjoying the natural flow of their camaraderie, from angry and defensive one minute to friendly again the next. Jung-joo is especially easy to root for because she feels so real—not so downtrodden a Candy that it makes me roll my eyes, but a regular girl who works hard and picks herself up when things don't go her way. Her cousin flittering away her life savings is too convenient a trope, naturally, but where would dramaland romance be without shady real estate contracts and financially irresponsible family members? I like that she moves down with the intention of turning her lemons into lemonade, while to Gun-woo it fits with his misunderstanding that she's come here to die. I hope for comedy's sake that he spends most of the drama in the dark about this.
The townsfolk will likely be a great source of fun, and from what we've seen of Kim Sung-oh as the mysterious model-turned-persnickety-mayor, I'm going to love the jealousy it induces in Gun-woo every time Jung-joo looks his way. I like Hyung too, because he seems to genuinely love his little bro and is clearly trying to act like a father figure in some way, plus he gets points for taking Jung-joo's side. I think we could up the zany factor a bit for a Hong sisters drama, but I already love the characters as they are, so I'm hopeful that the laughs will catch up. Because yunno, it's such a hardship to watch Yoo Yeon-seok offer himself up as a teddy bear.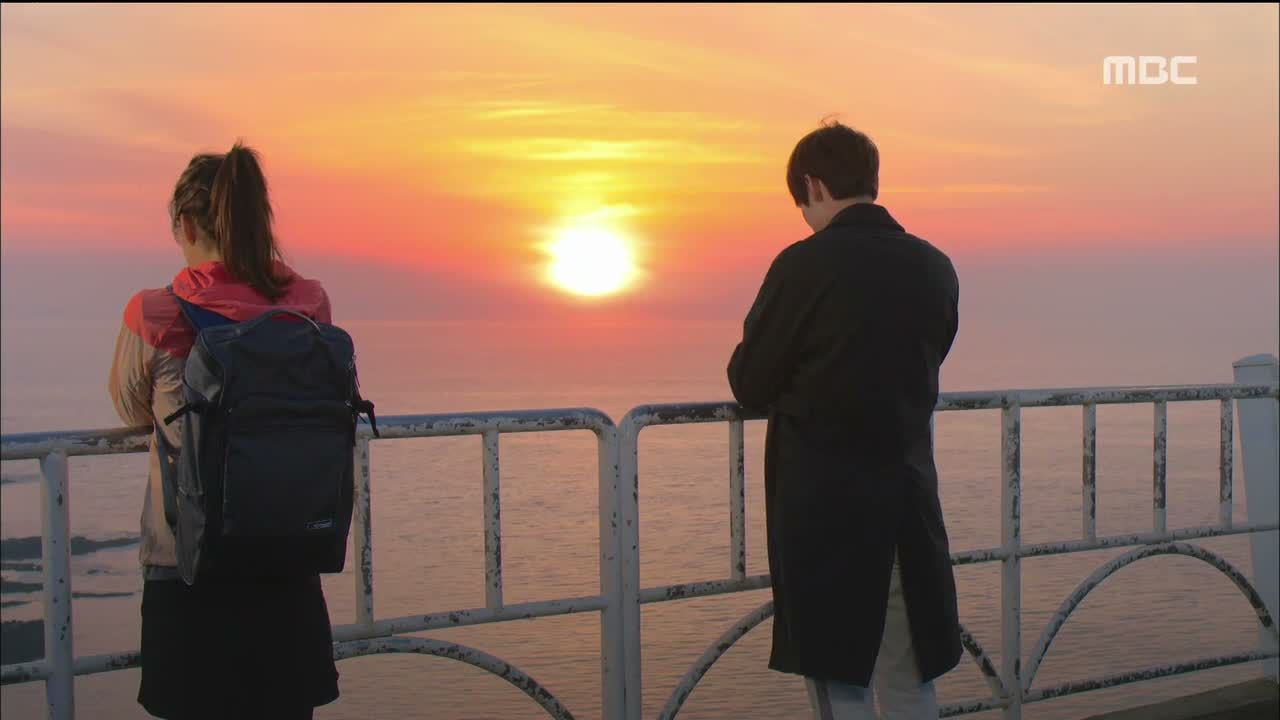 RELATED POSTS
Tags: featured, Kang So-ra, Warm and Cozy, Yoo Yeon-seok