Who Are You–School 2015: Episode 5
The mystery continues to build with significant developments in finding out who Eun-byul was. As much as Eun-bi would rather live in ignorance behind the veil of memory loss, adopting Eun-byul's life as her own comes with responsibility. Eun-bi slowly pieces together her twin sister's life with the few clues she left behind, but there are no easy answers. She sets out to delve deeper into Eun-byul's identity all the while confronting her own demons as Lee Eun-bi.

EPISODE 5 RECAP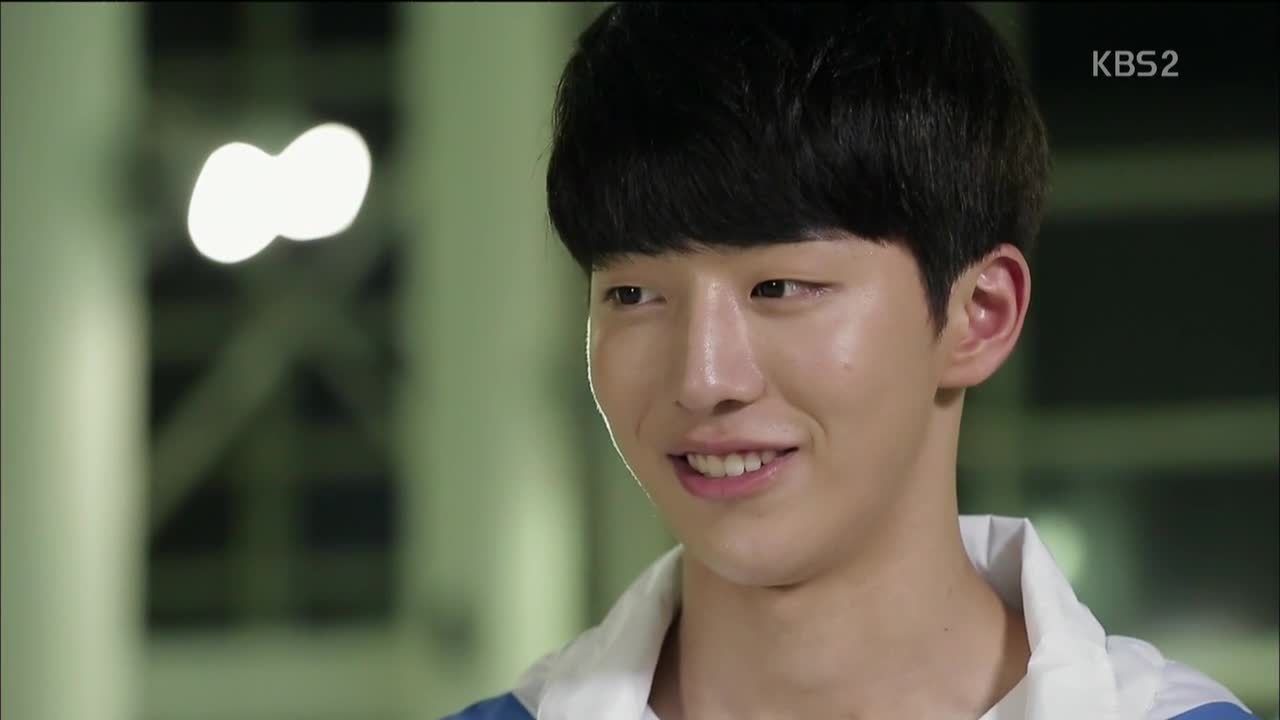 It's Yi-an's turn to interview, and he admits that the title "Swimming Prodigy" is great but burdensome. He wasn't always this good. Angered by everyone who swam ahead of him, he started to come to practice earlier and stay later. He decided that he wasn't going to watch himself lose in the water. It's hard work, not innate talent that got Yi-an there. Then he asks, "Does it disappoint you that I'm not a prodigy?"
When asked what's important to him, Yi-an puts a finger down for his father and then another one down for someone special. He doesn't say, but his sheepish grin tells us that it's Eun-byul.
Back to Yi-an with his swimming medal in hand, witnessing Eun-bi and Tae-gwang on the bridge. He looks disheartened by their friendliness. When Eun-bi returns home, she notices the medal hung on the fence post and looks around for Yi-an.
Once inside, she belatedly sees the text from Yi-an, and he confirms that the medal is for her. In text, he explains that he'd promised her this medal. But he lays on his bed, brooding and conflicted after witnessing the scene earlier.
Eun-bi opens up a drawer to place the medal in, and she discovers a box with a random library card, letters, and photos with Yi-an. She smiles at the photo of cute little Yi-an and Eun-byul, and places the medal in the box.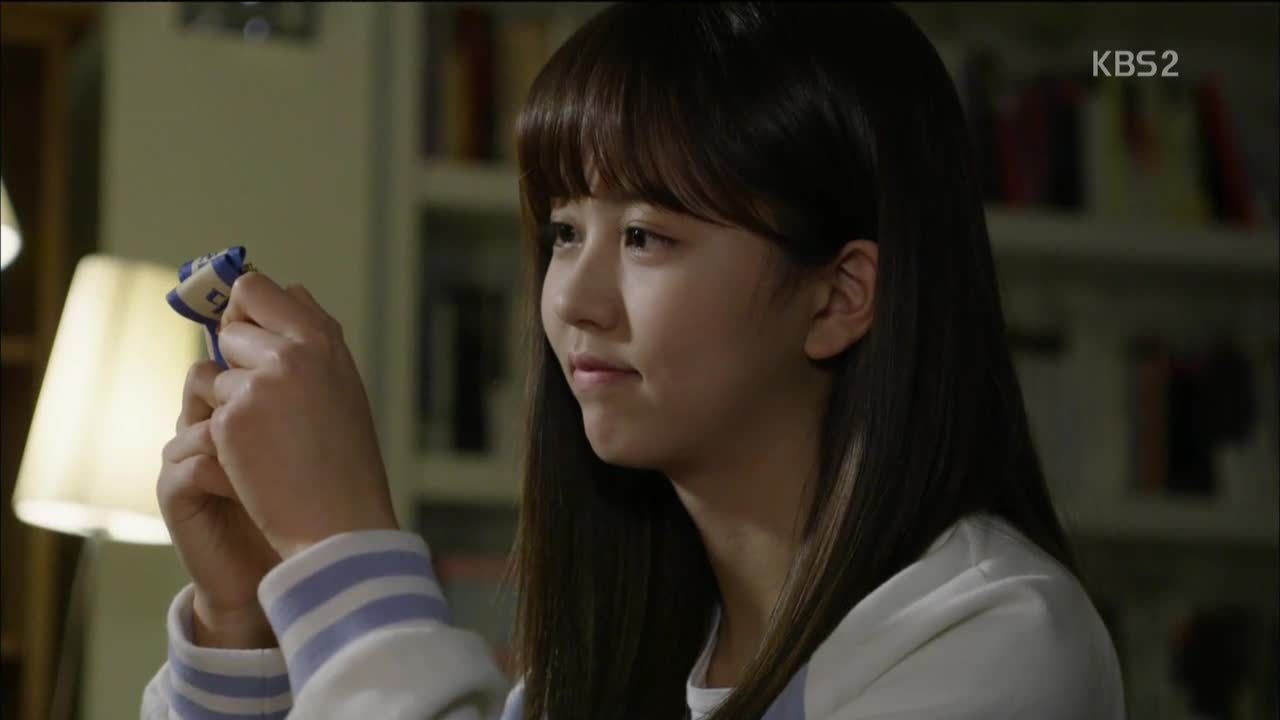 The next morning, Teacher Kim introduces a new student to the class. She's a new face to all but Eun-bi, and they lock gazes in mutual shock. It's So-young, Eun-bi's former bully from Tongyeong, and they continue to stare at each other while the class welcomes her with an applause.
During break, So-young sits down with Eun-bi and her friends. Behind them, a group of Yi-an's fangirls approach him with a gift, and he gratefully accepts it as they run off, squeeing. As he walks off to practice, Yi-an places the box on Eun-bi's head, and group enjoys the snacks. So-young comments on Eun-bi and Yi-an's friendship, noting that they must be close.
Eun-bi excuses herself to go to the bathroom and escape the discomfort, but So-young follows her there. So-young asks if she remembers her from Tongyeong, and Eun-bi fearfully deflects. So-young reminds her of their hair-pulling mishap at the hospital, and Eun-bi relaxes slightly at the extent of their interaction as Eun-byul.
Explaining that she mistakenly took Eun-bi for her friend, So-young apologizes and asks that she not misunderstand. Eun-bi asks if she treats her friends like that and looks back at her in disbelief.
As Teacher Ahn walks out after English class, she blocks the door from Song-joo and her friend, noting that they forget to bring homework but never their makeup. They nod in agreement and she throws out a bit of bad fortune as she leaves, "I hope your faces rot!" Ha.
Ki-tae and Tae-gwang stare each other down through the glass while cleaning under Teacher Kim's watch. He explains that he could care less about them hurting each other, but this is their punishment for disturbing the peace in the classroom. But it's not just cleaning. They must look each other in the eye and coordinate their movements through the glass.
Tae-gwang decides to have some fun with it, imitating Ki-tae's every move and provoking him to come to the other side. Ki-tae walks off in frustration just as Tae-gwang gets a message from his father (saved as "Legal Guardian" on his phone) to come right home after school.
At the study group, Shi-jin struggles to follow along and focus. Outside, Min-joon's mother advises Shi-jin's mother on how to get Shi-jin into an honorable university, stating that she needs to start getting college counseling now. When the kids finish with tutoring, they greet each other, and Min-joon's mother notes that Shi-jin must look like her father. Oof, shots fired.
Tae-gwang's father hands Tae-gwang an envelope with the study abroad documents. Tae-gwang merely smirks and walks away with the file. He tries to distract himself with his video games and ends up plopped on his couch. He glances at the handleless Segway, which reminds him of Eun-bi. He catches himself grinning at the memory and slaps himself, perhaps a little too hard.
Eun-bi looks up the news of her suicide and finds multiple articles revealing her to have been a victim of intense bullying. The truth seems to hurt even more, now that the whole word knows of her victimization. She buries her head in shame, but two messages from Jung Soo-in steal her attention.
The first one asks Eun-byul to meet one last time at the library and promises not to bother her again. The following message gives her the call number for the book. But when Eun-bi finds the book at the school library the next day, there's nothing inside the book.
When Eun-bi returns to class, she finds So-young getting along with her two friends. Soo-jung excitedly announces to Eun-bi that she got a callback for the school uniform modeling, and Eun-bi congratulates her. So-young asks Eun-bi to give her a tour of the campus later, and her friends note that she probably has trouble getting around herself. They explain Eun-bi's memory loss situation from Tongyeong, which adds to the look-a-like mystery in So-young's head.
At lunch, Tae-gwang sits next to Eun-bi, which seems to mildly irritate Yi-an sitting on her other side. Song-joo notices So-young aimlessly walking around and invites her to join them. She thanks them, admitting that she was scared she would have to eat alone.
With So-young at the table, Eun-bi chokes on her food, and when Yi-an offers her water, Tae-gwang snatches it. After taking a swig, he tells So-young that everyone eats alone. What do you expect? Someone to feed you? Shi-jin assures her to ignore what he says, but I somewhat appreciate his rude behavior.
So-young comments on how Yi-an and Eun-bi must be close, seeing that they've known each other since they were 8 years old. Tae-gwang commends Yi-an's personality, since he stuck around as Eun-byul's friend for all these years, despite her abrasiveness. So-young laughs at the contrast of the past and current Go Eun-byul. She also comments on how similar Eun-bi looks to her friend in Tongyeong, making Eun-bi uncomfortable.
So-young calls her bully friend in Tongyeong to share her encounter with this girl who looks exactly like Eun-bi. Her friend doesn't believe her, so she says she'll send her a picture. She quickly hangs up to catch Yi-an, empathizing with his disappointment that his longtime friend couldn't even remember his name. He nods in agreement and notes that So-young seems to be quick in sensing out her surroundings, so she won't have a problem adjusting to school.
Trying to stealthily snap a picture of Eun-bi, So-young hides around the corner. Tae-gwang suddenly appears on her screen, causing her to scream and drop her phone. Eun-bi and her friends gather as he jokingly tells her that it would be better to take a picture of him.
They find it strange that she was trying to secretly take a picture of them, but So-young makes an excuse that they looked so nice hanging out together. Song-joo offers to take a picture all together with So-young, but Eun-bi refuses. She looks at So-young accusingly and walks off. As she walks away, Tae-gwang notes that this is more like Eun-byul's personality and So-young glares at her.
In the meeting room, Teacher Kim asks Tae-gwang if he agreed with his father's decision to send him abroad. Tae-gwang shrugs that he'll follow his father's will and signs the school withdrawal form. He doesn't seem to care enough about school either way.
As Yi-an and his teammate head out after practice, he's approached by a manager of an advertising company. Yi-an already refused his offer, but the manager insists him to reconsider. Once again, Yi-an rejects the offer and says that he's going to focus on practice. As they leave, his teammate suggests that he can use one of his non-practice days for the ad, but Yi-an laughs it off, saying that it's not his kind of gig.
Yi-an goes out for a night run and stops by Eun-bi's house, jumping around to see if she's awake. He squats in front of the fence and drafts messages to Eun-bi just as she walks out. She's surprised by his sudden appearance, and Yi-an quickly stands up, awkwardly trying to cover up his presence.
She takes one step closer to Yi-an, and he looks like he's literally holding his breath. Then she breaks the silence by saying that she's hungry, so they go off for food in their usual rapport.
As they eat ramen outside the convenience store, Yi-an asks Eun-bi if she put the medal in safekeeping. She nods and asks about the promise. He explains that he promised to give her the first medal he won at a national competition and only now gave it to her because she refused to take it when he visited her at their class trip to Tongyeong.
Eun-bi remembers Yi-an mentioning that he briefly went to Tongyeong but only saw the person he wanted to see before leaving. She realizes now Yi-an's feelings for Eun-byul.
As he finishes Eun-bi's ramen, Yi-an mentions that they used to come to this convenience store often for food. He expresses his sadness and betrayal that she can't remember anything, and he seems even more hurt when Eun-bi refuses his help to regain her memories.
Back at home, Eun-bi opens up the memory box and takes out the medal. She looks at a picture of Eun-byul on her mirror and asks her, "Unni, did you know? It seems Han Yi-an really liked you."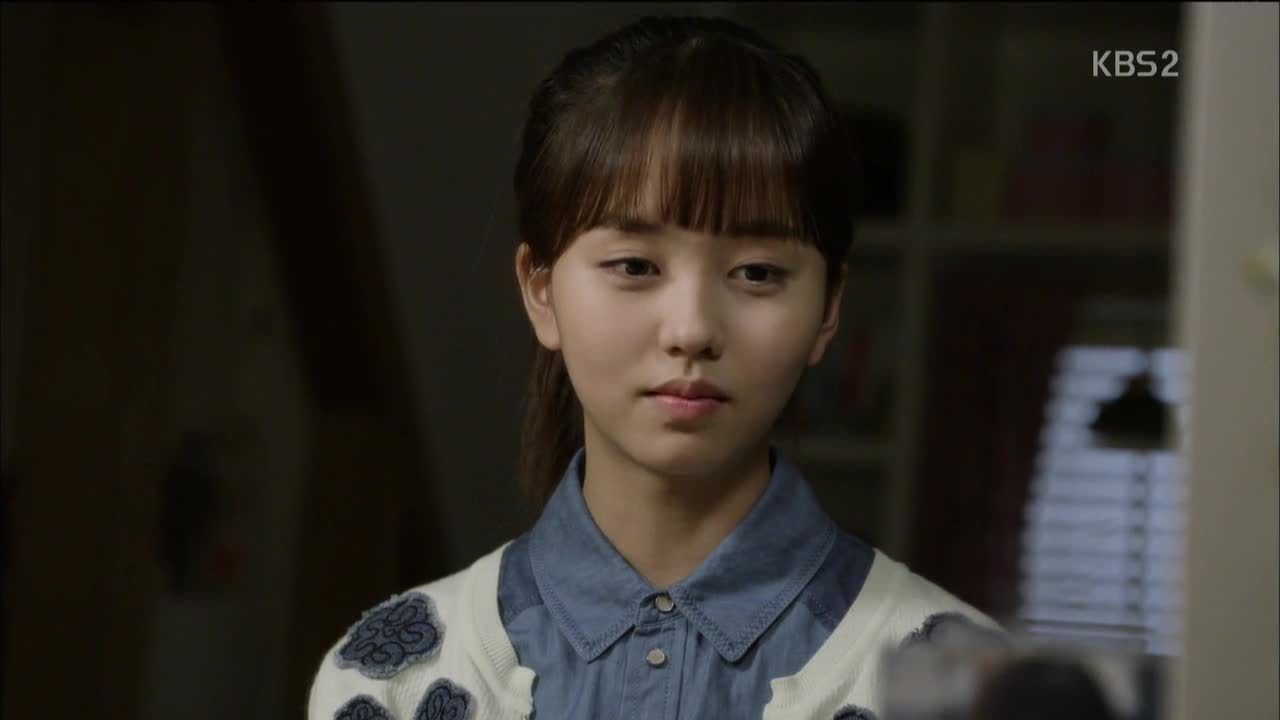 At school the next day, So-young finds the missing person ad with Eun-byul's face and puts the pieces together. Eun-bi and Eun-byul must be twins.
In attempts to make up with Eun-bi, So-young brings her a drink and apologizes. She extends her hand, but Eun-bi doesn't take it. She rejects the apology and walks out of the room, causing her classmates to note that abrasive Eun-byul must be back.
As she walks through the school, Eun-bi is suddenly stopped by a classmate. She asks the girl if she's Jung Soo-in, and the classmate replies that she must have not yet regained her memories. Soo-in is dead. She died last year.
Eun-bi thinks about all her interactions with the supposed Soo-in and rushes back home. She finds the library card from the box and looks for the book in the right library. Browsing the shelves, she finds the book and finds a bookmark. It reads: "Eun-byul. It's okay if you ignore me. You're still my one and only friend."
She flips through the book and finds a stack of letters at the end. Eun-bi looks frightened by this eerie finding as the papers slip out and scatter onto the floor.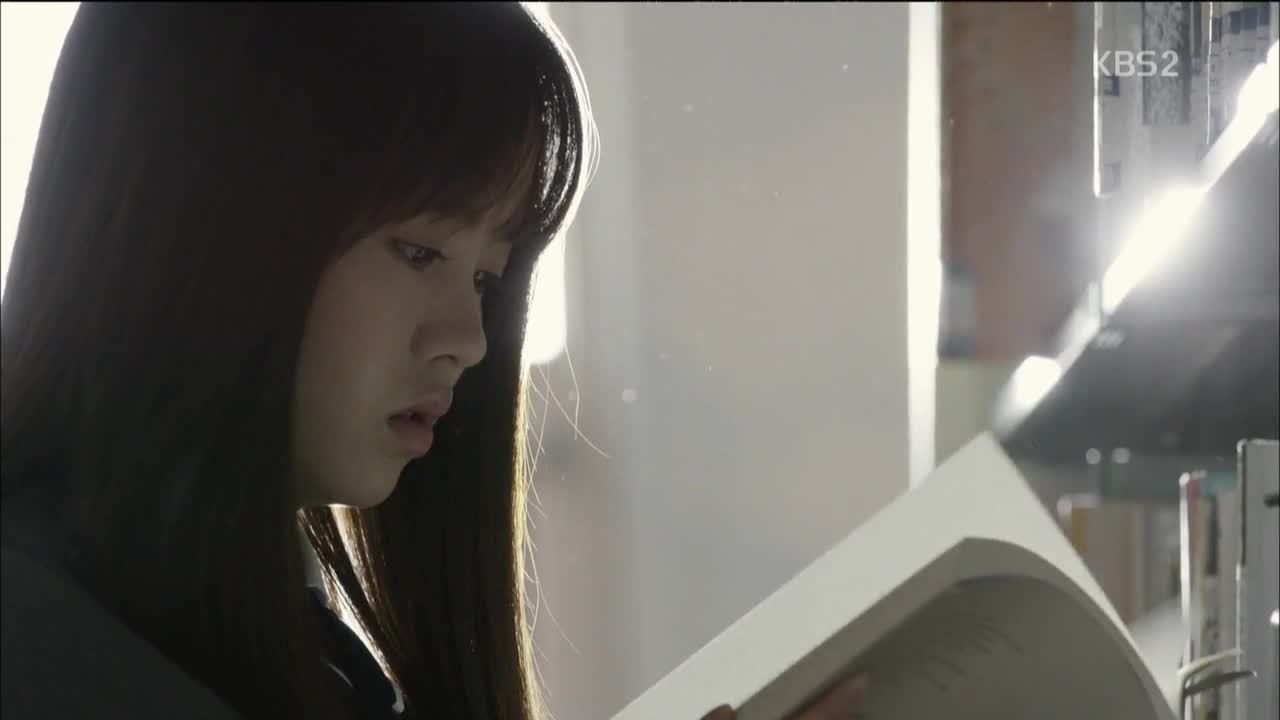 After school, Shi-jin and Song-joo wonder where Eun-bi disappeared to and why she seems to dislike So-young. As Tae-gwang passes by, Song-joo throws Eun-bi's backpack at him and asks him to carry it. When Tae-gwang is told that it belongs to Eun-bi, he happily runs off with it. Hee, looks like someone's got a new crush.
Shi-jin struggles to perform at the level of the other students in the study group, watching everyone finish each problem in one minute while she struggles to even start. During their break, Shi-jin overhears the students' conversation from the door as they express their annoyance that she's not at their level. But Min-joon explains that her addition to the group is saving them money, since the tutoring fees are divided among more people. At that, they change their attitude to pity and gratitude, which seems to hurt her pride even more.
After practice, Yi-an seems pained by his shoulder, a clear sign of an injury. To make matters worse, he watches his coach drop a teammate from their next swim competition because of a small injury. Coach reminds his team that not treating a small injury can ruin their whole swimming careers, so they should report any sign of pain to him. Yi-an seems conflicted but doesn't speak up.
On the car ride back from the study group, Shi-jin tells her mother that she wants to drop tutoring. She explains that it's not at her level, and her mother scolds her for being weak. She should work harder to be at their level. When Shi-jin starts to show tears, Mom pulls over and suggest that they change their focus to art. Min-joon's mother told her that if they put in the money for intensive art lessons now, Shi-jin could make it.
Shi-jin looks at her mom in disbelief and sobs. Mom seems frustrated that Shi-jin has no will to do anything even when they can afford for her to do anything. Having heard enough, Shi-jin walks out of the car and confronts her mother. "I'm crying because I don't want to do anything. I'm not smart like Dad or pretty like you. Why was I born this way? I'm not good at anything!" Shi-jin breaks down in tears, and Mom stands by helplessly.
That night, Eun-bi reads the letters written by Eun-byul. They record the events surrounding a threatening stalker. One night, as Eun-byul walks home, she hears someone behind her, but too afraid to confront her stalker, she runs away. Another night, the lights suddenly turn off while Eun-byul is studying. She slowly walks toward the door, but when she opens it, there is no one there.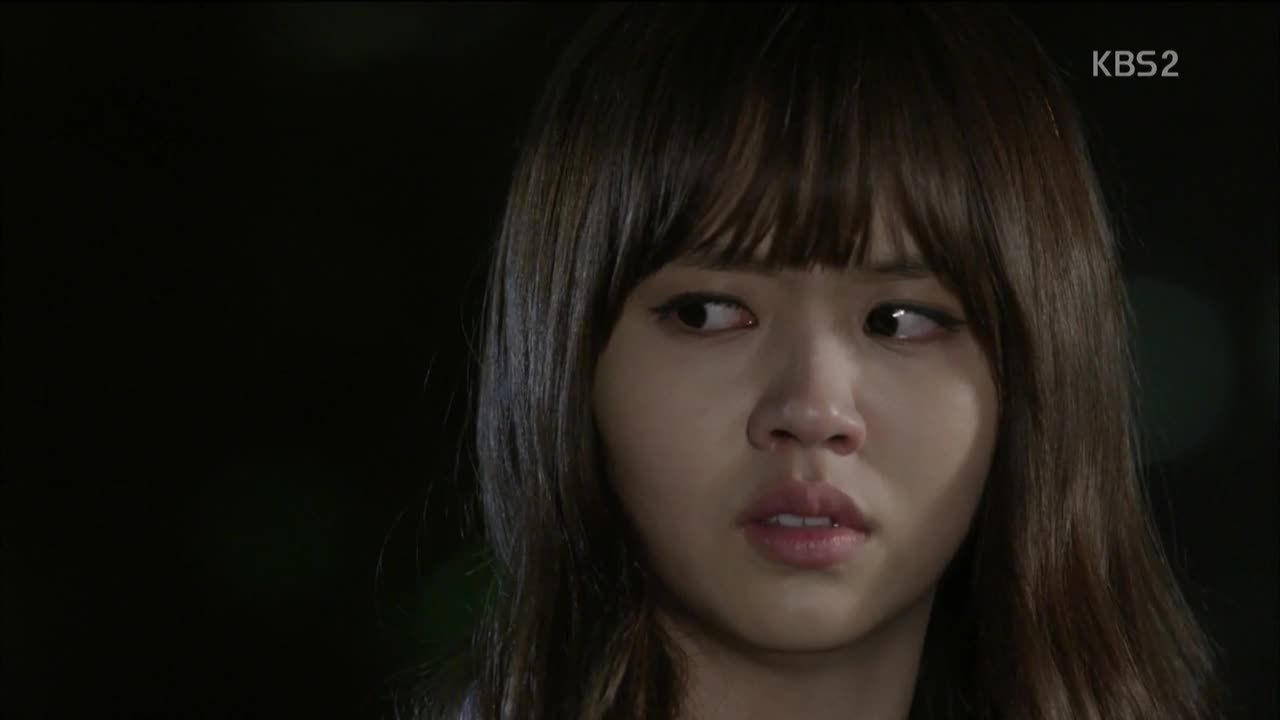 In the letters, Eun-byul writes that she cries silently and doesn't tell Mom because she believes that she deserves to be punished.
Eun-bi reads these letters in confusion and shock. Then she opens up Eun-byul's diary and finds that these pages match the missing ripped out section. Whoever this stalker was had access to Eun-byul's diary. That is creepy.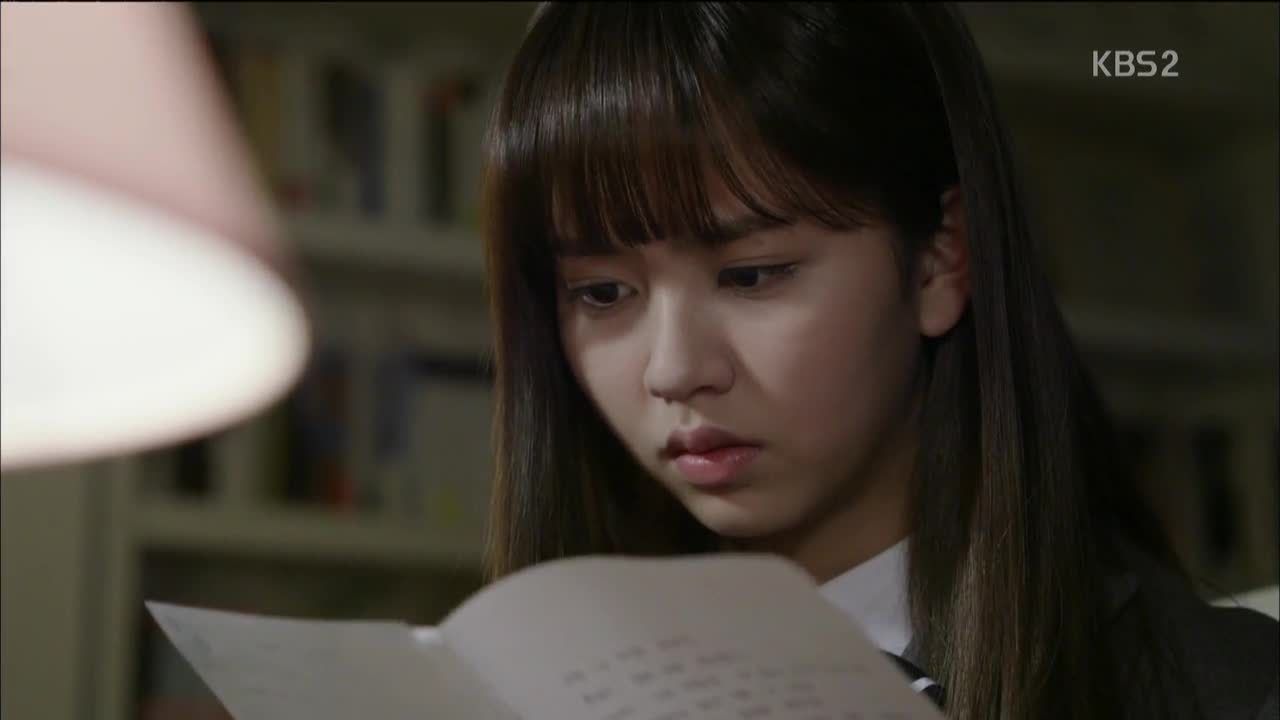 After swim practice, Yi-an notices Eun-bi waiting outside, much to his delight. He adorably waits for her to notice him, but she's too caught up in her own thoughts. He sits down next to her and immediately senses that something is wrong. Eun-bi reminds him of his offer to help her regain her memories. She wants to take that offer. "I need to know what I was like. I want to become the Go Eun-byul from before."
Yi-an agrees to help her, but only if she agrees to grant him a wish when she regains her memories. Eun-bi hesitates, but Yi-an grabs her hand to pinky promise him the wish. No turning back now.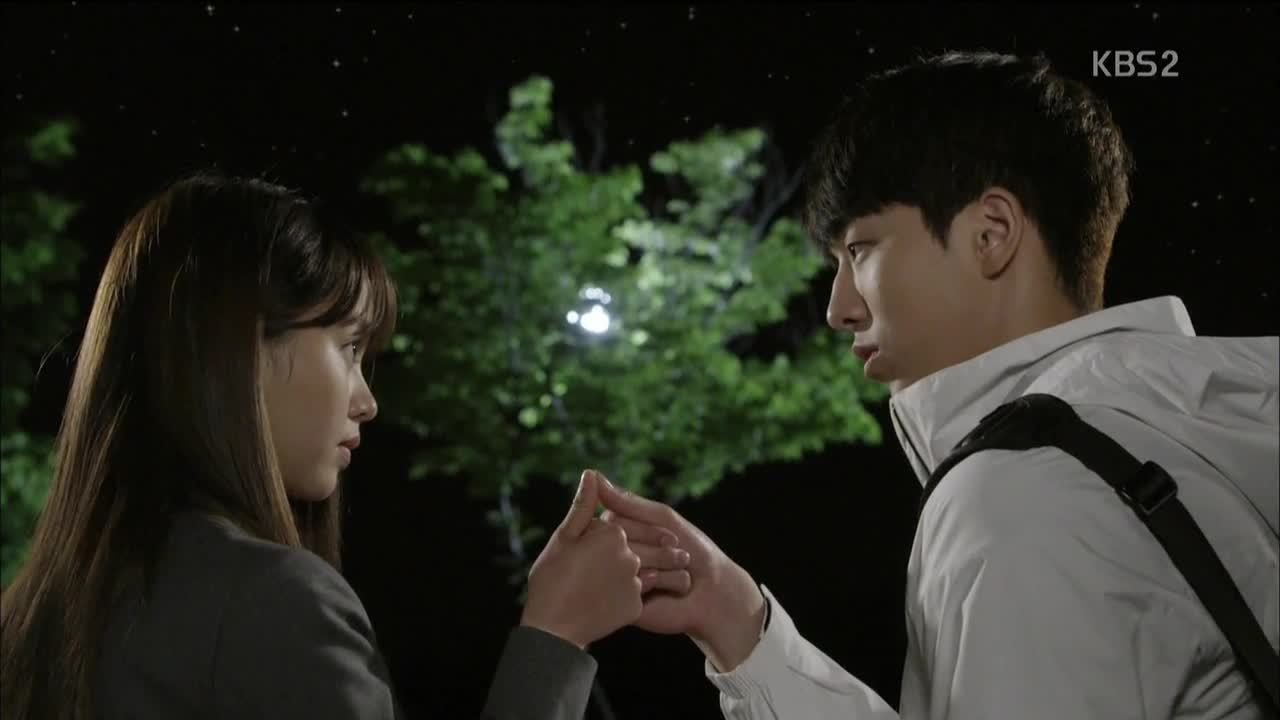 Meanwhile, Tae-gwang snaps a picture of himself dangling Eun-bi's backpack over the river. As soon as he gets the picture, he hugs the backpack close, with no intention to actually throw it into the water.
Yi-an walks Eun-bi home, tossing in some good natured jokes to lift up her mood. As they part ways, Eun-bi gets a message from Tae-gwang, giving her 10 seconds to retrieve her backpack before he throws it in the water. Yi-an sees the text and goes to retrieve it on her behalf.
Yi-an pulls the backpack from under Tae-gwang's head, causing him to wake up to a disappointing face. He looks around for Eun-bi, but she's nowhere in sight. Yi-an assumes that his intention was to just return Eun-bi's backpack, but Tae-gwang refutes his claim. He actually wanted to see Eun-bi.
At that comment, Yi-an clenches his fists, but he pats Tae-gwang's shoulder in a friendly manner and tells him to see her tomorrow. I smell a love triangle.
At home, Eun-bi looks at the newspaper clipping of Love's House that Eun-byul saved. She musters up the courage to call Love's House but quickly loses her calm when Ra-jin picks up. She mumbles Ra-jin's name before stopping herself, and Ra-jin recognizes her unni's voice. Eun-bi's eyes well up with tears, and she hangs up.
Mom sees Eun-bi crying and goes over to comfort her. She sees the newspaper clipping and pulls Eun-bi into an embrace. She tells her that she should cry if she wants to. "When we're having difficult times, let's share the pain and cry together." Eun-bi nods and cries on her mother's shoulder.
The next morning, Mom asks Eun-bi if there's anything she needs. She reminds Eun-bi that daughters are supposed to ask their mothers for what they need. Eun-bi starts to ask about Eun-byul's diary but doesn't finish her question. She changes the topic to her upcoming exam, worried that her grades may drop, but Mom tells her not to worry.
Walking into school, Song-joo is surprised to see Eun-byul with her backpack, since she expected Tae-gwang to throw it away somewhere. Tae-gwang passes by and walks into Yi-an's shoulder, beginning his petty rivalry.
Eun-bi's mother meets with Min-joon's mother to request that Eun-bi be excluded from all the future study groups. She doesn't want to load stress onto Eun-bi for her mother's ambitions. Min-joon's mother laughs at this act of love, clarifying that this isn't love. It's being irresponsible. If she stops now, she's ending it for good. Eun-bi's mother agrees that this is exactly what she wants and swiftly leaves.
Teacher Kim presents Tae-gwang's withdrawal from to Director Gong and mentions that the withdrawal did not seem to be Tae-gwang's decision. Director Gong insists that Tae-gwang is only acting up to show him, so it would be better to put some distance between them.
This seems to be a familiar scenario to Teacher Kim, as he accuses Director Gong of using the same rationale as he did one year ago. Director Gong tells him to follow his wishes, but Teacher Kim says that he will take care of Tae-gwang's future incidents on his own without reporting to Director Gong.
In the bathroom, So-young asks her classmates about Eun-byul, and they tell her about how much she changed after her memory loss. She suddenly became friendly and her handwriting even changed. The discrepancies tell So-young that her intuition may be correct.
So-young approaches Eun-bi in class and asks to talk to her. Outside, So-young asks Eun-bi to help her with her worries, and Eun-bi quickly declines. But as soon as So-young mentions a bullied girl from Tongyeong, Eun-bi stops in her tracks. This girl used to be president of the class, but one misstep resulted in her downfall.
In a flashback to Tongyeong, we see So-young taking a picture of a classmate solving a problem on the board and posting it in their class chatroom along with an insulting comment about her short height. The class collectively laughs, but Eun-bi stands up for the girl and singles out So-young for being too harsh. She's the class president, and the class pokes fun at her assuming her righteousness.
So-young has no plans on stopping this bullying, so Eun-bi stands up to have a word with their teacher. After a chat with the teacher, So-young returns to the classroom in rage. "I'm done after a three day suspension, but our class shorty is now our school shorty." She grabs the girls hair and throws her on the desk. Eun-bi tells her to back off and deal directly with her if she has a problem. In a menacing tone, So-young asks if Eun-bi will be okay to deal with what she asked for.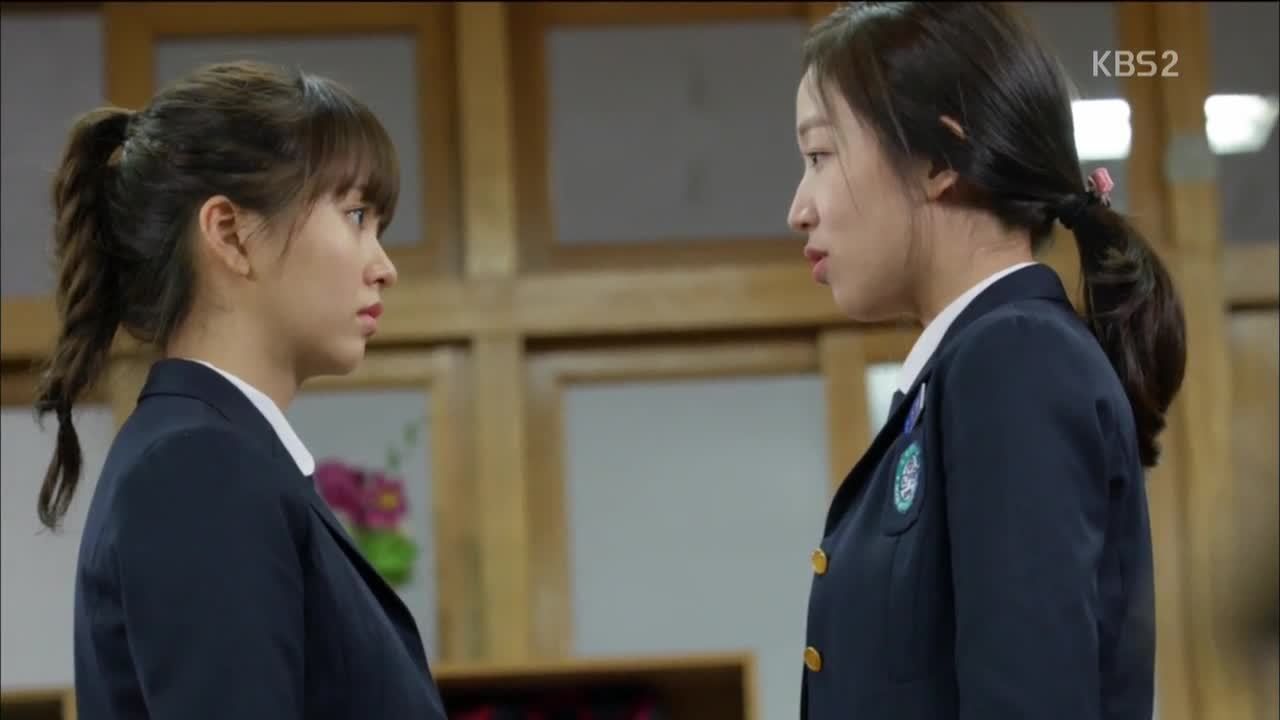 Back in the present, So-young says that friends can joke around, but because that girl died, she had to transfer. Eun-bi turns around and asks So-young what she wants to say. So-young wonders if a dead person can come back to life, acting as a different person, fooling everyone around her. Glaring at Eun-bi, So-young resolves that she's going to find out whether or not that bullied girl is dead or alive.
Eun-bi criticizes her thoughts: "Your friend died, and that's all you can think about? You're pitiful." So-young recalls when Eun-bi said those same words to her and smirks. "I knew you would say those words. You haven't changed one bit. It's been a while, Lee Eun-bi."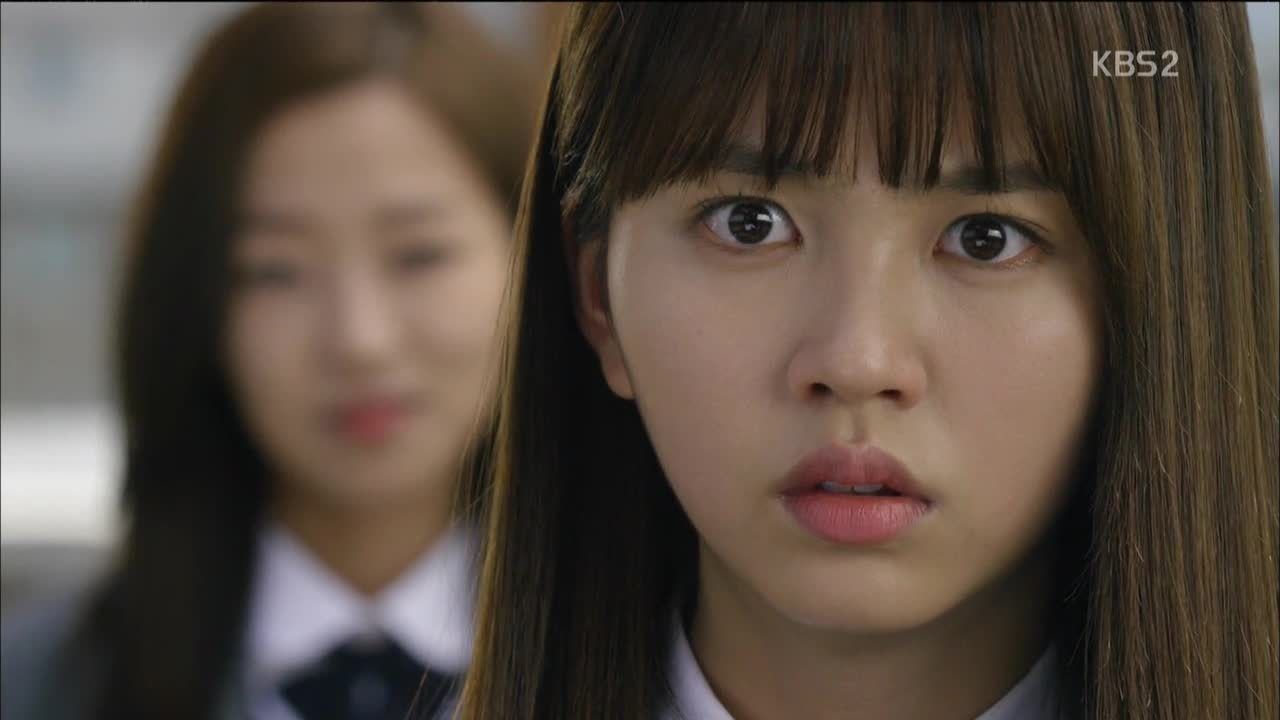 COMMENTS
This episode just gave me chills. That last scene makes me shudder just thinking about the injustices that So-young has and can get away with. Because of that, I would love some sweet revenge, but I know that's not how Eun-bi functions. Eun-bi fell right into the trap that So-young set up, but you can't blame her for being herself. She'll stand up for anyone but herself because she's willing to take the blow for what she believes in. And now that she's somewhat distanced herself from the old Eun-bi from Tongyeong, I think she's able to better stand up that Eun-bi. So-young may have discovered Eun-bi's secret, but she's not the same girl from before. She has the support of her friends and a new budding love triangle that's bound to give her an extra layer of defense.
At some point, part of me desperately wanted Eun-byul to come back, if not in physical form, through Eun-bi. So I was excited when Eun-bi decided to reach out to Yi-an to help her find who Eun-byul really was. Initially, I think it may have been obligation to her sister for saving her and giving her a new life, but now I think it's genuine curiosity and responsibility. Why did someone haunt Eun-byul? Why did she believe that she deserved this punishment? Who is playing this ghost of Jung Soo-in, and how is Teacher Kim involved?
Seeing that Jung Soo-in (or someone playing the ghost of Jung Soo-in) continues to harass Eun-byul, I presume that someone still has an intense grudge against her, or Eun-byul was also a victim of vicious bullying. I got goosebumps during the flashback scenes to Eun-byul and when I realized that those letters were actually the ripped out diary entries. It's completely unsettling to think that whoever threatened Eun-byul had access to her personal belongings. If Eun-byul's cause of death was suicide, this context may give us more insight into her decision. She could swim and saved her twin's life, but she died. It's a compelling mystery that, I trust, will unfold gradually with rich complexity.
I love Yi-an and his undying loyalty to Eun-byul, but I can sense Eun-bi's fear that his loyalty won't hold when he finds out that she's not Eun-byul. The truth will hurt them both, and in this case, I wonder if the truth will help at all. It's so obvious how much he cares for Eun-byul, and I think telling Yi-an the truth may destroy him. He so desperately wants the old Eun-byul back, even though she was much less pleasant, because that's the girl he's known forever. You could see the hurt in his eyes when Eun-bi initially refused his offer to help regain her memories. If only he knew that Eun-bi has no memories to regain. Because they aren't hers to remember.
Tae-gwang is growing on me, despite his volatile nature. His crush on Eun-bi is adorable, and in some ways, more genuine than the crush that Yi-an has on her (he's got the wrong girl). I especially appreciated Tae-gwang's rudeness towards So-young. Intended or not, he was an unexpected buffer and safeguard for Eun-bi. I expected her circle of friends to surround and protect her, especially Yi-an, who's dedication to Eun-byul seems to be unconditional. But Tae-gwang's insertion into Eun-bi's support circle was a pleasant surprise.
Everyone has a story, and that's something that this show portrays quite well. Even within the main storyline, we get a look into the individual struggles students face at school. The mystery element to this School installment is a darker nuance to the story without discounting the everyday pressures that students carry with them. I love what this show's been doing so far, and I'm looking forward to the intrigue, realism, and adorable crushing.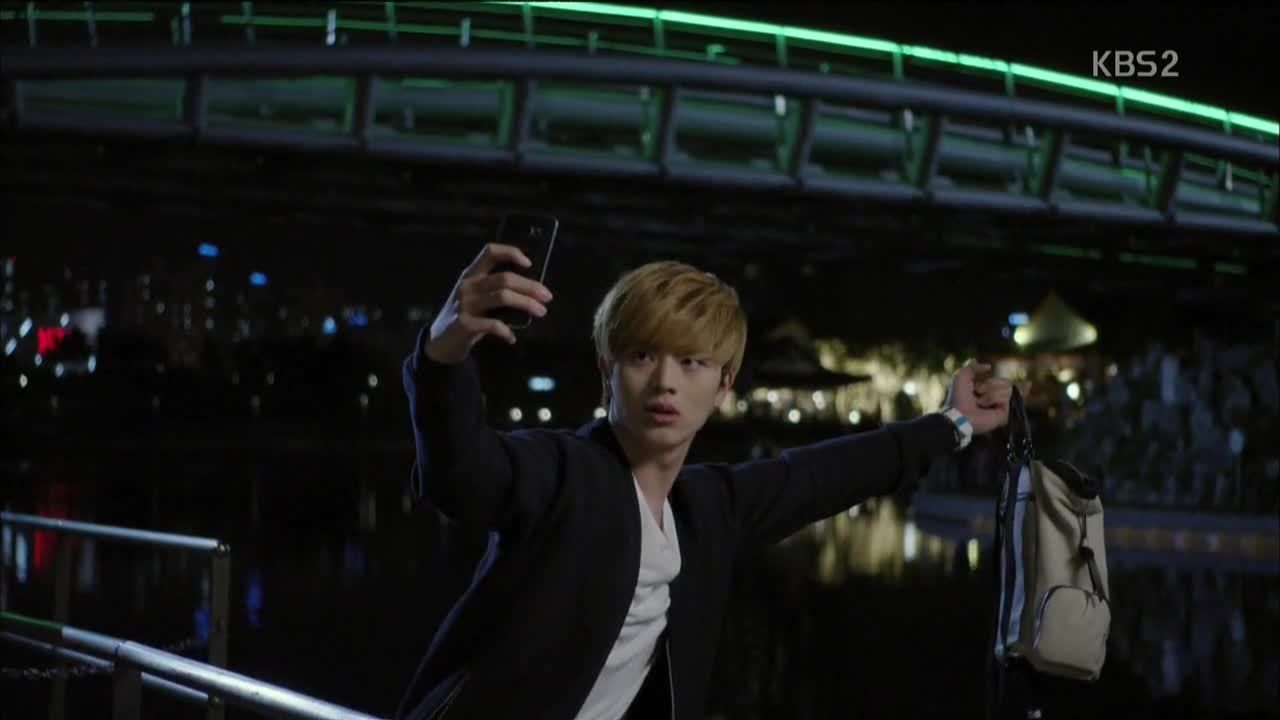 RELATED POSTS
Tags: featured, Kim So-hyun, Nam Joo-hyuk, Who Are You–School 2015, Yook Sung-jae