Who Are You–School 2015: Episode 6
With So-young on her trail, Eun-bi has to take even more care to guard her secrets. But secrecy has its consequences, and Eun-bi has to figure out how to deal with her old nemesis without becoming estranged from her friends. Meanwhile, Tae-gwang finds himself more confused than ever about Eun-bi and what he feels for her. It makes for a tense mixture of awkwardness, strained friendships and hormones—but then, when has high school been anything else?

EPISODE 6 RECAP
A short interview shows Tae-gwang in his room, playing video games. He says breezily that school is boring, and his only concern is figuring out ways to amuse himself. "But you know what's more boring than school?" he asks. "This interview." Pfft.
Back to the rooftop, where So-young has just accused Eun-bi of actually being Eun-bi. We see that Tae-gwang was napping around a corner, and has heard the entire conversation.
So-young pushes Eun-bi back violently, bitter about everything she went through after Eun-bi "died" (yeah, my heart cries rivers for you, So-young). Eun-bi grabs her hand, but So-young only raises her other hand to strike. Tae-gwang catches her wrist, bringing the fight to a stop.
"I really hate being bothered when I'm trying to nap!" Tae-gwang growls. So-young apologizes immediately, looking shocked—and possibly scared—that someone overheard her cruelty to Eun-bi.
With icy calm, Eun-bi declares that she has something to say too. She tells So-young that she only recently found out about her twin in Tongyeong, who died after being tormented by bullies. "So that was you," she says, locking eyes with So-young.
Eun-bi advances on So-young, who backs up a step. "What am I going to do about you?" Eun-bi says softly, delivering the threatening line without a blink. "I'm going to have to think about it." She leaves the rooftop without so much as a backwards glance.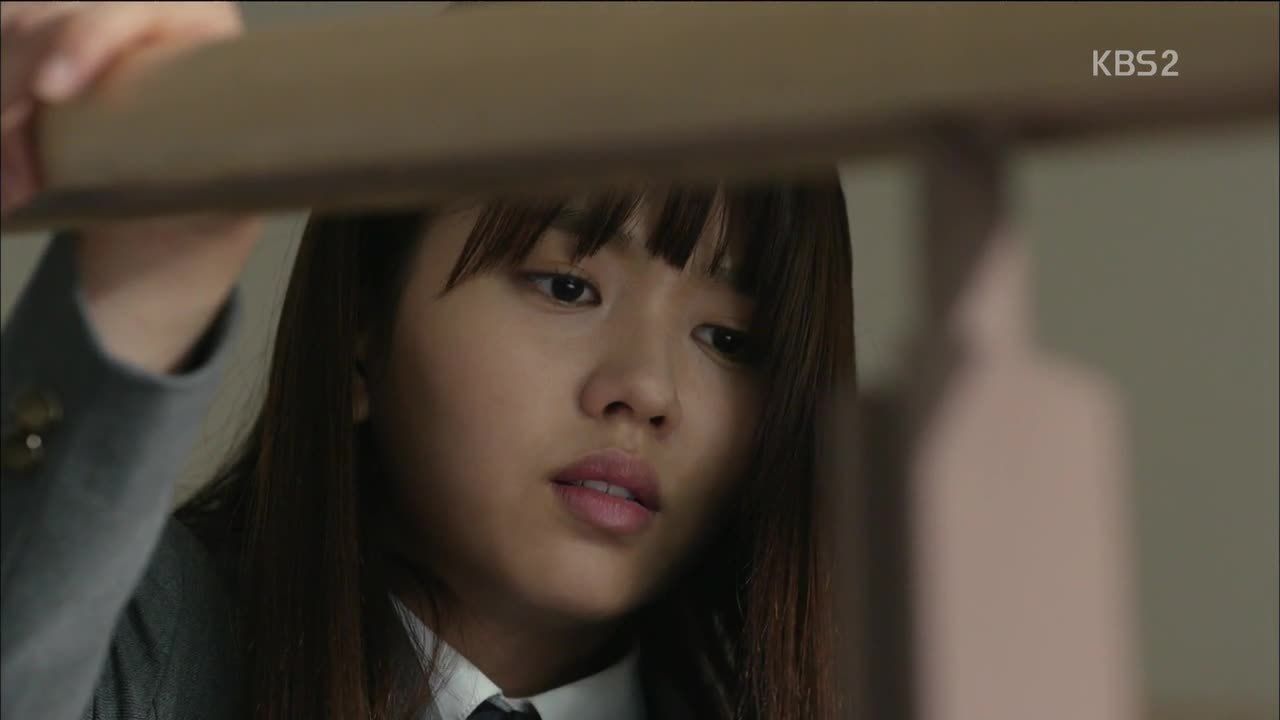 Eun-bi makes it as far as the stairwell, where she sinks down and clutches the railing for support. Tae-gwang follows and sees her, but instead of going down to talk to her he only watches from afar.
He's still watching her in English class (which is a hilarious discussion of Twilight—I am definitely going to steal this lesson!), remembering how Eun-bi once said she was a liar.
Tae-gwang's intense focus towards Eun-bi has the unintended effect of making it look like he's interested in the lecture, shocking students and the teacher alike. But he puts his head firmly down on his desk when Eun-bi turns around, which reassures his classmates that all is still right with the world.
So-young confronts Tae-gwang in the cafeteria and joins him for lunch. She grows hesitant as she asks him to keep quiet about what he overheard on the roof. Tae-gwang assures her cheerfully (suspiciously so) that he's a well-known crazy person and no one would believe him anyway. "But you should be saying this to Eun-byul, not me," he adds oh-so-innocently. "Nobody in this school can cross her."
After lunch, So-young makes a call to one of her minions in Tongyeong. She asks her to go to the Love's House orphanage and find something with Eun-bi's writing on it.
Back in class, Song-joo gets a text from the acting agency letting her know that she's been hired to shoot a commercial. She jumps up and shrieks with joy, startling her snoozing classmates. Everyone cheers… and then Teacher Kim says since she's already standing, Song-joo can come up to the board to model a math problem. Nice one, Teach.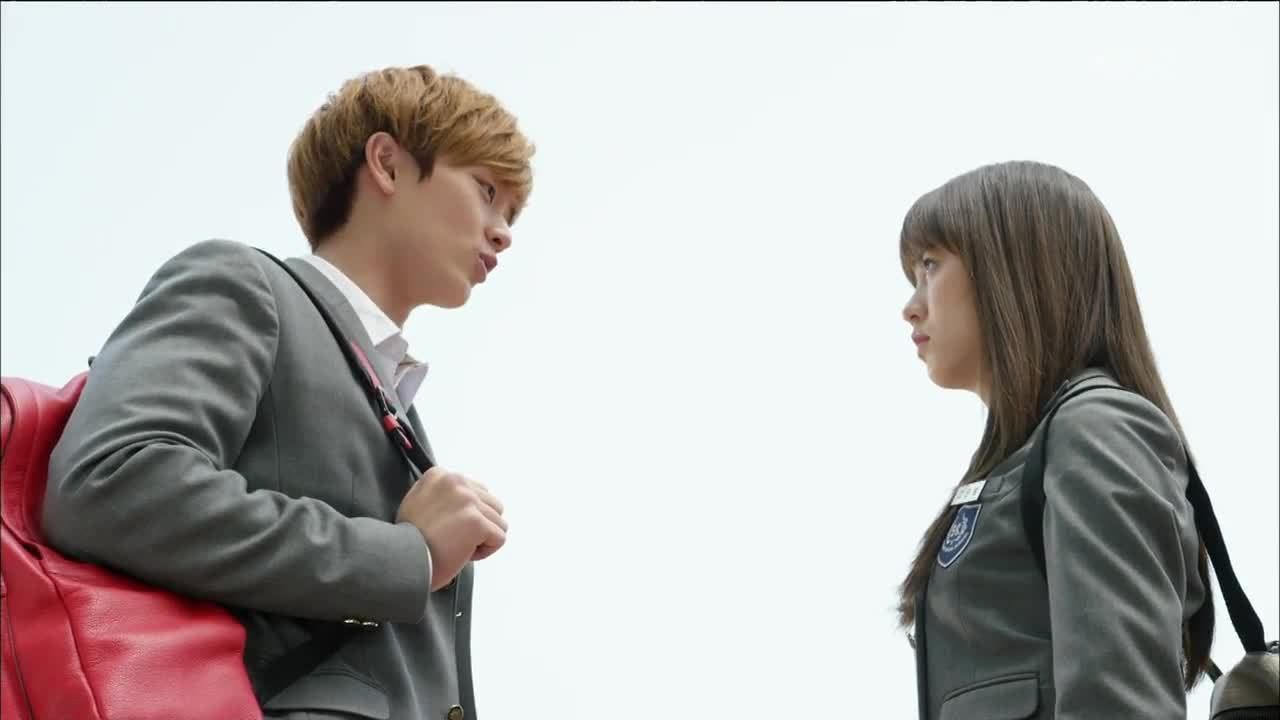 Eun-bi catches Tae-gwang following her after school and confronts him. She knows there must be a lot he wants to ask her, but she asks him to hold it in for now. Tae-gwang's all like, "I'm just going home—not everything's about you!" But when he walks off, he realizes he's going in the wrong direction and has to backpedal.
Eun-bi asks him again why he's following her, if there's nothing he wants to ask. "Because I'm worried about you!" he blurts out, then adds a weak, "…is that what you thought I'd say?" He tries to bluff his way out, ending with a not-so-rhetorical question: "Why would I worry about you?" (Ooh, I know this answer! *raises hand* Pick me, pick me!!)
Yi-an arrives home to find Dad getting scolded by the landlady. Their mortgage was raised (not for the first time, it seems), and Dad owes money. Yi-an asks if everything is all right, but Dad assures him that there's no need to worry.
Later that night Dad watches Yi-an's championship race on his phone, while Yi-an places pain-relieving patches on Dad's back. Dad asks Yi-an if he can expect a World Championship next, and replays the video of Yi-an's old race as soon as it ends.
Yi-an leaves the apartment alone and looks out at the city. He takes out the business card from the advertisement agency and calls the number, agreeing to shoot the commercial that the agency representative offered him before.
Eun-bi is clothes shopping with Mom when she gets a call from Yi-an. While waiting for Yi-an in a library, Eun-bi browses through the books. As she tries to reach one on the top shelf, Yi-an comes up behind her and reaches for the book. Eun-bi whirls around, realizing suddenly how very close Yi-an is.
They wander through the library together, and Eun-bi asks Yi-an if he knew of anyone harassing her before she lost her memory. He doesn't think so, but he lets her know that the wound on her neck was there before they met in Tongyeong.
After night falls, Yi-an takes Eun-bi to a soccer field where he and Eun-byul used to play as children. He's even brought the same toys, and he and Eun-bi have fun shooting flying discs back and forth and playing soccer. When they get tired, they sink down next to each other on the field.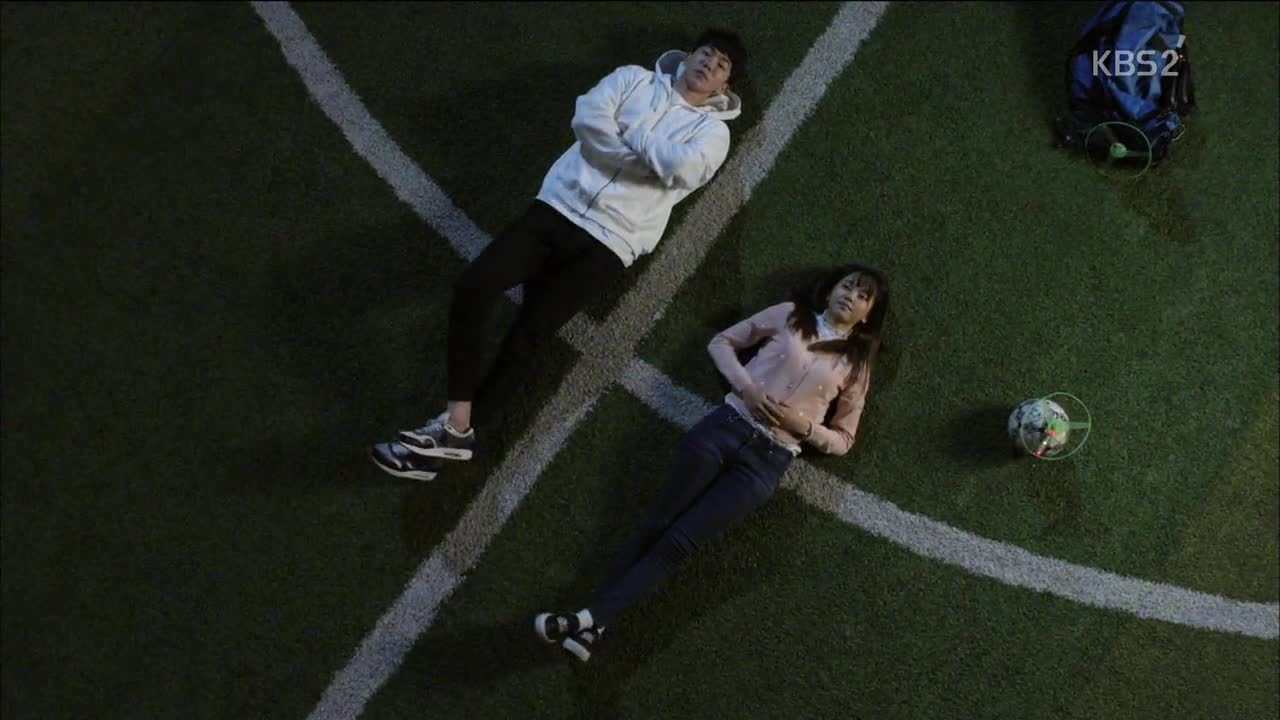 Eun-bi apologizes to Yi-an. She feels bad that two people's memories now only rest with one person, although Yi-an assures her that he will help her get those memories back. He puts an arm around her shoulder and asks her to be patient, "because relating twenty years of memories will take some time." Aww.
We shift to Class President Min-joon's house the next morning, when Min-joon prepares for school at his terrifying desk plastered with hundreds of post-it notes. He joins his parents for breakfast, where his dad—a teacher at his school—complains about having to tiptoe around his own home to keep Min-joon from being distracted in his studies.
Min-joon's mother (the boss of the Mafia Moms) urges her husband to be more respectful of their son, so he will grow up confident and successful. She is proud of Min-joon, and enjoys the status that he grants her, even among women who have more successful husbands.
So-young comes into school early to steal one of Eun-bi's workbooks and get a look at her handwriting. She's not early enough, however, as Min-joon walks in and almost catches her in the act. She manages to hide the workbook behind her back, and goes to the bathroom to compare the book with a sample of Eun-bi's writing from the orphanage. They're exactly the same.
Tae-gwang approaches Eun-bi, Song-joo and Shi-jin in the hallway and steals Song-joo's cola. The girls ask why he keeps following them around, instead of sleeping like usual. He asks cryptically: "Did you know two magnetic poles of the same polarity push each other apart?"
A second later So-young appears, and when she sees Tae-gwang she hurries away. "If a lunatic is beside you," Tae-gwang says to Eun-bi, "another lunatic won't come near." Aw, he's protecting her! Song-joo and Shi-jin usher Eun-bi away, muttering that Tae-gwang is acting really weird these days.
Song-joo flounces into the class with a signed pass to leave school for her shoot. Ki-tae snorts that it's only a print ad (and that his girlfriend is pretty too, ha), but Song-joo retorts that this is how every actress gets her start. Eun-bi and Shi-jin wish her luck as she leaves the classroom.
At the shoot, Song-joo finds out that Yi-an is part of the advertisement too. She is excited to be partners with her friend, but a second later she finds out that she isn't the main actress—in fact, there's a line of other students to play backup to Yi-an, and she's only one of the crowd.
Song-joo is far in the background for the photo shoot, but the director fixes on her for not smiling brightly enough. He stops the shoot cold and blames her for making them do another take, then makes fun of her up-do for good measure (maybe a bun isn't everybody's cup of tea, but I still think calling Song-joo a "poop-head" is a bit strong).
So-young intercepts Eun-bi on her way out of the classroom, asking to speak to her alone. Tae-gwang sees them leaving and jumps to his feet, following so quickly that he accidentally knocks into Ki-tae.
Ki-tae gets up in Tae-gwang's face, but Tae-gwang is in such a hurry that he blurts out multiple apologies and keeps moving. Stunned, Ki-tae muses that a few punches must have had an effect. He kisses his fist like a prizefighter, and I'm dying here.
So-young wanted to get Eun-bi alone to continue their earlier talk. She says that she was a victim too (I may barf), and that she wants to put the past behind her. Eun-bi isn't buying what she's selling, and informs So-young that she's still thinking about what to do to pay So-young back for what she did.
Advancing forward threateningly, So-young asks if Eun-bi is hesitating because she has something to hide. That's when Tae-gwang appears, walking in front of Eun-bi like a human shield. He suggests that they just reveal everyone's secrets: Eun-byul will tell everyone she has a twin who died, and So-young will admit that she was transferred for tormenting a classmate. Who will come out better in that scenario?
So-young knows it's time to retreat, but she doesn't appear scared of Tae-gwang anymore. "I'll see you later," she says, and walks away. Eun-bi's clenched fist finally relaxes as So-young turns her back.
Song-joo eats lunch alone while the other actors chat with the staff (and why do they have exactly one small table; is it actually for scapegoating purposes?!). Yi-an makes a point to join her, ignoring her complaint that he's only making her feel worse.
They walk home together from the shoot, and Song-joo admits that she's a bit jealous of Yi-an: He has a dream, and the skills to make it a reality. But Yi-an replies that becoming a star swimmer is a long process of small steps. First you have to learn to hold your breath underwater, and how to kick, and how to dive. Only after you master one step can you progress to the next one.
Yi-an advises Song-joo to think of her difficulties as skills she has to master, just like an aspiring swimmer. Song-joo is moved by his words, almost to the point of tears, but she pulls herself together and jokes that Yi-an could use some work on his acting. They continue down the road, bickering comfortably.
Tae-gwang walks Eun-bi back to her house, like the adorable blond puppy he is. On his way down the street he encounters Yi-an, and warns him not to call out Eun-bi. When Yi-an asks if anything happened, Tae-gwang replies, "You don't need to know."
The next morning at school, So-young shows up with her prosecutor father. They greet Director Gong, who already seems on friendly terms with So-young's dad or is eager to be. Eun-bi and her friends witness the scene on the way to school, as does Tae-gwang.
Teacher Kim has decided to mix things up by randomizing seating, ignoring the students who protest that they aren't in elementary school anymore. Of course Tae-gwang ends up right next to Yi-an, and the boys give each other the stink-eye. Eun-bi is excited to be near Song-joo and Shi-jin, but her joy is dampened somewhat when So-young turns out to be next to them too.
Yi-an and Tae-gwang continue their rivalry on the basketball court during gym class (Tae-gwang: "Are you good at anything besides sports?" Yi-an: "…You're short"). Tae-gwang can't beat Yi-an, but he isn't about to quit. Their antagonism doesn't escape their classmates, who wonder if they think they're in a romantic manhwa or webtoon.
Later in the classroom, students exclaim over the magazine advertisement with Yi-an and Song-joo. Song-joo looks small and insignificant in the background, and her classmates cruelly laugh at her tiny role in the ad.
Song-joo comes into the classroom in time to overhear her classmates laughing, and it upsets her so much that she runs away. Eun-bi and Shi-jin start to follow her, but Song-joo says she wants to be alone for a little while.
So-young finds Song-joo sitting outside, and tries to console her. She says that when she first transferred, she only noticed Song-joo because she was so pretty. Then So-young mentions that her uncle is the director of an entertainment company, and offers to introduce Song-joo to him.
After school, Song-joo meets Eun-bi and Shi-jin in a café. She tells them she's thrown off her funk, and treats them to a snack with the money she made from the shoot. Yi-an shows up a moment later, followed by So-young.
Unsurprisingly, Eun-bi gets up immediately and leaves. Yi-an rushes out after her, leaving So-young to eat with Song-joo and Shi-jin.
Yi-an asks Eun-bi what she dislikes so much about the transfer student; is it because she's a better student? Eun-bi is obviously unhappy with his teasing, which clues Yi-an in to the fact that something happened between them.
But when Yi-an asks what happened, Eun-bi yells at him. She says there are things that she doesn't want to say, things that Yi-an can't find out—it's similar to what Eun-byul told Yi-an in Tongyeong, and the effect this speech has on him is obvious. He asks if this was all their relationship amounted to, if she can't trust him enough to share when she's having a tough time. He walks away.
The next morning, Eun-bi meets Shi-jin just in time to see Song-joo walking arm-in-arm with So-young. Shi-jin shares the news that Song-joo has an audition the next day, thanks to So-young's connections.
Eun-bi talks to Song-joo in the restroom. She apologizes for leaving the café the day before, and warns Song-joo against trusting So-young. But since she doesn't say why she dislikes So-young, Song-joo thinks she's just being mean. She tells Eun-bi that friends don't try to turn friends against each other, and asks Eun-bi to stop disappointing her.
It turns out that So-young was in one of the stalls, and she comes out once Song-joo has left. With a superior smirk, she tells Eun-bi that she only wanted to help Song-joo. "If you hurt Song-joo," Eun-bi says with a steely look, "I won't let you get away with it."
Eun-bi sends the others to lunch and stays in the classroom. She puts her head down on her desk, looking weighed down with worry. Teacher Kim walks by in the hallway, and the sight of Eun-bi alone in the classroom with her head down reminds him of another student who once looked the same way. The memory affects Teacher Kim so much that he drops his notebook, and he stands there paralyzed until Tae-gwang comes along and asks what he's doing. Teacher Kim hurries away, looking shell-shocked.
Tae-gwang sits down in the seat next to Eun-bi and asks why she isn't eating lunch. Eun-bi replies that she just wanted to be alone; really alone, she insists, not like Tae-gwang when he said that but meant the opposite. Tae-gwang doesn't go anywhere, and Eun-bi sighs that he must be really bored.
Smiling, Eun-bi wonders aloud why she disliked Tae-gwang pre-amnesia, and he reminds her that she called him pathetic and didn't even want to spend enough time to say hello to him. He asks her if she thinks the time they're spending together right then is a waste too, an idea which Eun-bi shoots down immediately.
"I think I know why you're like this," Eun-bi says, smiling. "Because I didn't want people to hate me, even when I got angry I held it in. I tried everything. Like you." Tae-gwang looks at her for a long moment, then: "Don't tell the other kids that! And don't look at me like that, either!" The bell rings before he has a chance to be any more adorable.
Tae-gwang goes to Teacher Kim to retrieve his Withdrawal form. Then he marches into his father's office and declares his intention to stay at the school. Dad asks if the embarrassment he already caused wasn't enough, but Tae-gwang doesn't care what his dad thinks about his decision. He rips up the form and walks out (like a boss).
The entire class is in an uproar that day, because someone spread the article about the bully from Tongyeong who had to transfer after her victim committed suicide. When So-young enters the classroom, all the students go quiet. Song-joo shows So-young the article and asks if it's really about her.
So-young talks alone with Tae-gwang, away from the other students. She suspects that he spread the article, because he's the only person who knows aside from her and Eun-bi. She shows Tae-gwang the handwriting samples, and threatens to show them to her father. If they reveal everything like Tae-gwang suggested before, who would really be the worse off?
Tae-gwang broods by the railing, putting all the puzzle pieces together. He comes to a decision a moment later, and runs to find Eun-bi. "Let's skip class," he urges her. When she starts to walk away he takes hold of her arm, leading her away from school grounds.
The two of them get on a bus, just as Yi-an is getting off the bus. He sees them through the window and runs after them, but the driver doesn't stop. Eun-bi starts listening to music, resigned to this delinquent adventure.
At length, Tae-gwang turns to Eun-bi and asks: "Can't there be one person? One person… who calls you by your real name." Eun-bi can only stare at him, shocked. Tae-gwang: "Can't I be that person?"

COMMENTS
He knows!!! Let us just acknowledge, before we say anything else, that Tae-gwang is adorable. He's sweeter than sugarcane juice and cuter than a puppy and a kitten playing tug of war with a piece of string. Everyone should have a Tae-gwang.
Watching him step up to protect Eun-bi from So-young, all the while keeping up his don't-mind-me-I'm-crazy façade, was definitely the high point of this episode for me. I'm not sure whether it was more fun to see him in denial ("Why would I worry about you?!"), or to see him determined to compete with Yi-an. Tae-gwang may not be great shakes at basketball, but he's ahead in my book in terms of being there for Eun-bi. Yi-an has a point when he accuses Eun-bi of undervaluing their relationship by not telling him the truth, but it's also true that sometimes people need space and understanding. If Yi-an had been a little more observant and patient, maybe he could have been the one standing between Eun-bi and So-young.
Not, of course, that I think Eun-bi needs anyone to fight her battles. That's another thing I loved about this episode—Eun-bi showed some definite spine while standing up to So-young, even though it's clear she's still afraid. But she refused to back down in spite of her fear, and she grew even more determined when her friends were threatened.
That's the greatest part of Eun-bi's character in my mind: Her determination to look out for her friends, as well as her willingness to become a friend to anyone who needs one. No one needs her friendship more than Tae-gwang, what with that crappy father of his, so Eun-bi and Tae-gwang's relationship is one in which each supports and protects the other. And while there's definitely a strong connection between Eun-bi and Yi-an (just look at that moment in the library), I don't think anyone is as likely to understand what Eun-bi's been through and what kind of support she needs as well as Tae-gwang.
I really like how the show keeps itself anchored by the central mystery plot and love triangle, yet never stops rotating to give us a glimpse into the lives of students and teachers on the periphery. In dramas it can be easy to label people as "round" or "flat" characters, often with justification. But School 2015 keeps enlarging our understanding of its supporting characters little by little—first Yeong-eun, then Shi-jin and now Min-joon and especially Song-joo.
Everyone deserves to be the star of his or her own drama. But it often feels like we're stuck in the background, like Song-joo at the commercial shoot, overlooked and underappreciated. This show does a great job giving everyone a chance to shine. It also reminds us that no matter what we think we know about someone, there's always more to learn.
That probably came off as a little preachy (I do that sometimes), but I don't think School 2015 comes off that way. So far it's delivering a compelling story with a love triangle that hits all the right notes for me, and it even manages to flesh out its supporting cast along the way. That's definitely a win in my book.

RELATED POSTS
Tags: featured, Kim So-hyun, Nam Joo-hyuk, Who Are You–School 2015, Yook Sung-jae