Who Are You–School 2015: Episode 7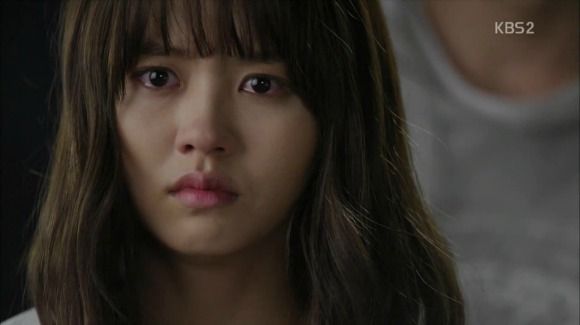 The mystery of Go Eun-byul slowly unravels, revealing complicated friendships marred with jealousy and guilt. Eun-bi finds herself at a crossroads in her commitment to this new life — to be someone she isn't or continue on as this new unfamiliar Go Eun-byul. But she may not get a choice, with a growing threat from her nemesis and increasing fragility of friendships that she desperately wants to protect.

EPISODE 7 RECAP
Witnessing Tae-gwang drag Eun-bi onto the bus, Yi-an chases the bus until he can no longer catch up. Tae-gwang turns to Eun-bi and asks if he can be the one person who calls her by her real name. She looks back at him, speechless and wide-eyed.
At school, Song-joo announces to the class that the bully from Tongyeong isn't So-young. They're mistaken: The bully was from a neighboring school, and So-young transferred because of her father's work placement. The truth about So-young's despicable past remains hidden for now.
Yi-an walks into class and stares at Eun-bi's desk then Tae-gwang's – both empty. He's clearly bothered by their absence together.
Sitting on a park bench, Eun-bi asks Tae-gwang what her real name is, challenging him to call her by it. His silence prompts her to leave, but he answers, "It's Go Eun-byul. Your name is Go Eun-byul, so start acting like her. I don't know why, but I hate seeing you shrink in front of Kang So-young."
Eun-bi tells Tae-gwang to stay out of her business, but he scolds her saying that she should be more responsible for herself. He reveals that So-young is starting a background check with her handwriting. Words are not enough anymore. She needs to embody her rejection that she's not Lee Eun-bi, and Tae-gwang offers to help her.
Tae-gwang returns to school without Eun-bi, and Yi-an glares at him accusingly. Teacher Kim ends class with the results from the latest math exam, and students rush to the front to check their scores. Min-joon is surprised to find that he's in second place, half a point under So-young's perfect score. The students comment on So-young's proficiency, and Min-joon feigns indifference.
Eun-bi surprises Mom by showing up at her shop. She tells Mom that she hasn't been feeling well, so she left school. Then she hugs her, saying that she'll feel better this way. Their sweet moment is interrupted by Soo-in's mother, who greets Eun-bi (as Eun-byul, of course) in a deliberately friendly manner. Mom quickly sends Eun-bi on her way, and she does as told, sensing the eeriness of their interaction.
Yi-an starts to leave class but turns back around to wake Tae-gwang, unable to subdue his frustrations. He asks where he went instead of coming to class, and Tae-gwang wonders aloud if Yi-an is worried about him. Yi-an replies to him in a roundabout way, "Yes, I'm very worried, so behave."
Looking at Yi-an's medal, Eun-bi thinks back to their argument, as does Yi-an after practice. She waits outside her house, hoping that Yi-an will show up as always. Yi-an passes by much later and looks up to Eun-bi's dark room. He waits in his usual spot outside the fence while Eun-bi waits outside Yi-an's practice pool.
The next morning, Eun-bi looks for Yi-an to join her routine morning bike ride. She smiles when she spots him jogging towards her, but he jogs past her without a glance. With eyes full of disappointment, she trails behind him.
Yi-an continues to ignore Eun-bi, and when her bike chain falls off, she calls out to him for help. She cries that her bike chain fell off, but her plea holds more implications: "I can't go to you, so can't you come to me?"
Responding to her plea for help, Yi-an runs to Eun-bi and scolds her for crying over her broken bike. He ruffles her hair, and Eun-bi smiles back at him, relieved that their unfriendly tension is over. Yi-an reminds her that she can tell him anything. Though she appreciates his earnest support, she knows better than to tell him everything.
As Eun-bi gets ready for school, she looks at her nametag that labels her as Go Eun-byul. Thinking back to her turbulent time being bullied as Eun-bi and the support she now gets – from Tae-gwang and Yi-an — as Eun-byul, she resolves that she'll fully play her part. She goes to school with a new look resembling Eun-byul's style. Tae-gwang notices the change when she walks in, and they give each other knowing smiles.
In the bathroom, Eun-bi encounters So-young, who pointedly asks if she skipped class because she heard something from Tae-gwang. Eun-bi doesn't seem affected by her taunting and leads her out to talk.
They enter an empty lecture hall, and Eun-bi begins her act. So-young tries to belittle Eun-bi, but her words don't demoralize her. Eun-bi pities So-young for transferring to this school of all places, since there's no chance for her to start fresh. Walking towards her, Eun-bi says, "I'm confident that I can make everyone not believe a word you say. I imagine it'll be tiring to adjust when you transfer again. Oh wait, it wouldn't be transferring schools, would it? When your actions to my sister are disclosed, you'll be headed elsewhere. You probably know where."
Provoked by Eun-bi's comment, So-young pushes her and dares her to tell her where she would be headed. But Eun-bi grabs her hand to stop the harassment. She once again affirms that So-young pinned the wrong girl, and So-young bitterly questions who will ultimately be right before walking out.
After So-young leaves, Eun-bi's loses her hostile façade and begins to tear up. She takes a moment to recover, and Tae-gwang watches her from behind.
Over dinner, So-young's mother asks about school, and she responds that there's one thing that's been bothering her. She explains the coincidence of Eun-bi's doppelganger and presents the handwriting evidence to her father. But he rips it up without a second thought. He left his ten-year career because of So-young, and the case officially recorded So-young as the victim. The rumors don't matter, so she should just forget about it.
As So-young studies furiously, the rumors gossiped by her classmates echo in her mind. She grows increasingly vengeful towards Eun-bi. Meanwhile, her father takes a second glance at the handwriting evidence.
Min-joon's mother nags Min-joon about the half point he missed on his math exam. He acknowledges his mistake, but his mother doesn't let it slide. As the leader of the Mommy Mafia who teaches others how to win, she can't have a son who fails. Min-joon's face falls ever so slightly, and he assures his mother that he won't fail. Mommy nods and calls him out to dinner with a smile. As soon as she leaves, he resentfully crumples up his exam.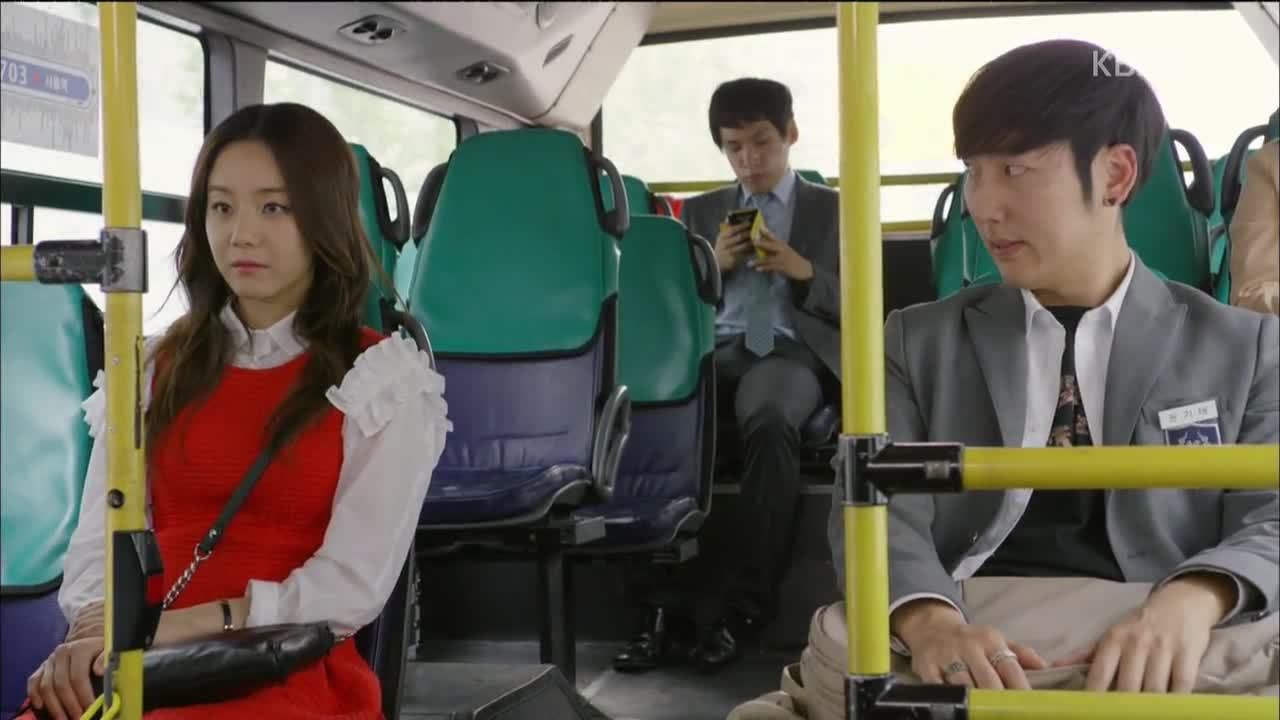 Ki-tae gets onto the bus for school, but he doesn't have enough money for the ride. He tries to get the attention of his friend, but he's fast asleep. The lady behind him pays for his ride, and he follows up by casually asking for her number in flirtati — er, gratitude.
Min-joon's mother chats with Shi-jin's mother as they wait for So-young's mother, and her face betrays annoyance when she's told that So-young was the top scorer on the math exam. When So-young's mother arrives, she cuts to the chase and presents So-young's past report cards. She's an exemplary student with high marks in all subjects, and Shi-jin's mother expresses her awe.
Min-joon's mother would rather not have So-young in the study group, but Shi-jin's mother lets slip that there's one spot. So-young's mother hits the nail on the head when she asks if Min-joon's mother feels threatened by So-young's academic performance, but Head Mommy refuses to acknowledge this.
Teacher Ahn assigns her class to create a brochure of Tongyeong. She's already grouped the class, and we get a look into the group most destined to fail: Ki-tae, Tae-gwang, and Yi-an. They make up puns for their group name instead of brainstorming ideas and ultimately decide to use a brochure company. Way to go, boys.
Yi-an calls out to Tae-gwang as they leave, warning him not to bother or harm Eun-byul. Tae-gwang tells him not to worry because he's not going to let her get hurt, which sounds a little too protective for Yi-an's taste. They stare each other down, their rivalry heating up.
In Eun-bi's group, the girls look at group picture from Tongyeong and tell Eun-bi that she was missing when the picture was taken. But in the corner, Eun-bi spots herself there, unintentionally included in a picture when she was still Lee Eun-bi in Tongyeong.
Eun-bi pieces together the clues about Eun-byul's neck wound and the class trip, leading her to track down her phone's call records from the past month. She narrows down the list to one unfamiliar number. She calls it, and the girl who picks up seems to know it's Eun-byul.
Shi-jin sees Song-joo and So-young having fun at a makeup shop and watches with envy. She's grouped with Song-joo and Min-joon for brochure project, and she's noticeably dismissive towards Song-joo at their meeting. As they look at their group photo, Song-joo notes that Eun-byul is the only one missing and regrets not retrieving her from the bathroom.
Min-joon remembers witnessing Shi-jin coming out of that bathroom and hearing a scream right as she left. When he mentions this, Shi-jin darts her eyes nervously, and Song-joo suspects her of some wrongdoing. Getting defensive Shi-jin explains.
Flashback to the Tongyeong class trip. Shi-jin returns to the bathroom to grab her pouch, when the lights suddenly turn off. She hears knocking from one of the bathroom stalls and approaches it. She recognizes that it's Eun-byul and wonders what's wrong. Eun-byul asks, "Is it you again? When will you stop doing this?" She presumes that Eun-byul is on the phone and walks out.
Back in the present, Shi-jin admits that she still feels guilty about overlooking Eun-byul's behavior and explains that she enjoyed spending alone time with Song-joo during the trip. Song-joo looks appalled by her friend's justification, and Shi-jin storms out saying that she wouldn't understand.
Eun-bi meets up with the classmate she called — Min-joo — and asks she was the one who called that night in Tongyeong. Min-joo ask if she got her memory back, and we get a flashback to that night.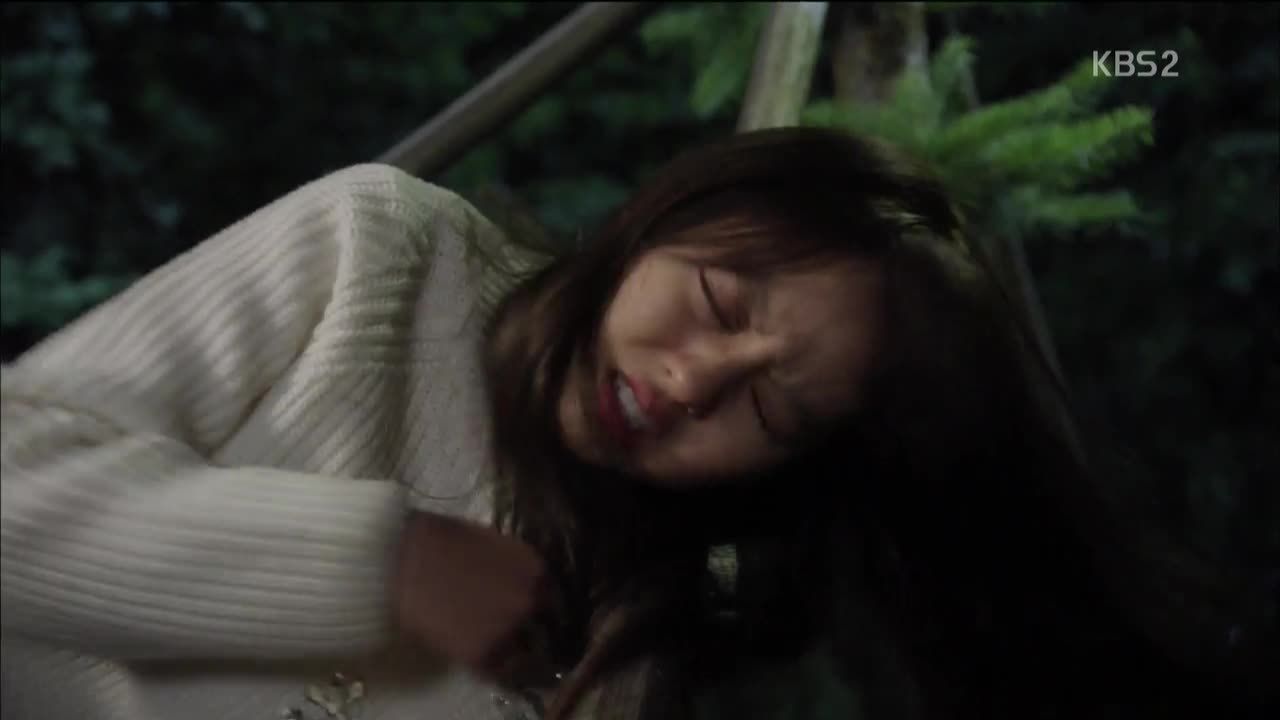 Eun-byul's "studying" is interrupted by a call from Min-joo, and they meet outside. Min-joo accuses Eun-byul of impersonating Soo-in and shows her the text she received. Initially, Eun-byul doesn't deny this, asking if Min-joo feels guilty or responsible. Desperate and anxious, Min-joo searches Eun-byul for Soo-in's phone and pushes her. Eun-byul falls and hits her neck on a wooden beam, resulting in her neck wound.
Eun-byul looks indignant as tears stream down her face. She tells Min-joo that she also received that text from Soo-in. She believes that it was Soo-in who sent those texts. Min-joo calls her crazy — a dead girl can't send texts — but Eun-byul knows that Soo-in is following her. She admits that she's frightened but can't tell her to stop because she's so apologetic towards her.
In the present, Eun-byul asks Min-joo how Soo-in died, but she doesn't know. One day, they were just told that Soo-in died the day before. Eun-byul wonders aloud what her relationship with Soo-in was like, and Min-joo tells her that from her knowledge, Eun-byul didn't like Soo-in.
At home, Eun-bi looks at the note written to Eun-byul, the girl's one and only friend. It has a new ring to it with this new perspective.
Mom looks through pictures of young Eun-byul, and she quickly closes the album when Eun-bi asks to sleep with her. Eun-bi begins to ask her mother something but decides against it. She rests her head on Mom's shoulder to sleep.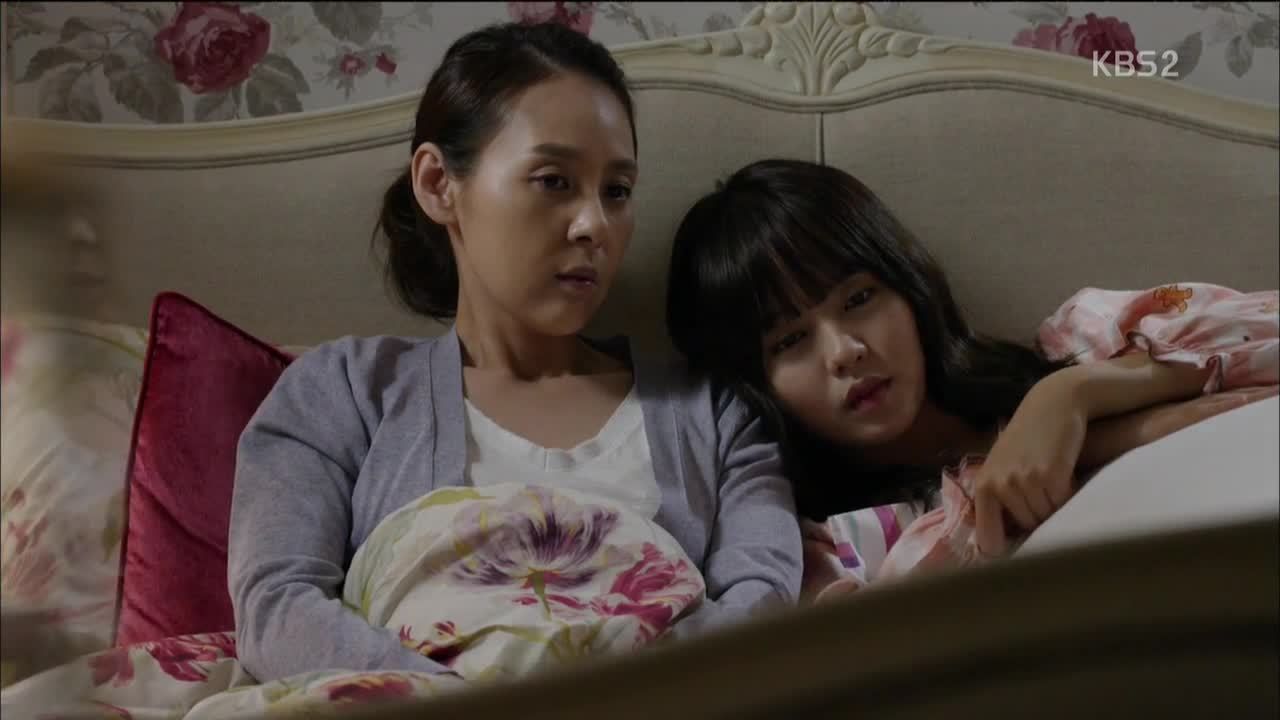 The next morning, Teacher Ahn catches two students with significantly shorter skirts. She scolds them and orders them to roll down their skirts. A new teacher enters in a short pink dress, introducing herself as Jung Min-young. Teacher Ahn mentions her too short dress, but the principal tells her not to overreact. The students snicker as Teacher Ahn freezes in disbelief.
Teacher Kim introduces their new addition to their staff, and the boys cheer at the sight of Teacher Jung. She introduces herself, and Ki-tae buries his head in embarrassment when he realizes that the nice bus lady he hit on is his teacher. Awwwkward.
As she follows Teacher Kim out, she gets pulled aside by Ki-tae, who requests that she ignore him. He blabbers on that he wants to focus on school, and she happily replies that he should contact her with any questions, since he has her number. Ha, they're clearly misunderstanding each other's message.
Eun-bi finds Tae-gwang taking a nap and "photosynthesizing" outside. She consults with him about her dilemma, "There's a person who I never want to reveal my secret to, and there's a person who I want to reveal everything to. But what do I do if that's the same person?" Tae-gwang knows it's Yi-an and advises her to do nothing.
So-young's father arrives on campus and spots Eun-bi from afar. He takes a long look at her and thinks back to the hearing at the Tongyeong high school, where Eun-bi firmly claimed that she was innocent. The pieces are coming together.
Eun-bi once again dresses up in Eun-byul fashion to meet Yi-an. She texts him to ask where he's at, and he replies that he's just about to leave the gym after practice. Little does she know, he's been waiting outside her fence and speedily races back to the gym, where he casually walks outside and greets her. It's too cute.
As they eat, Yi-an picks out all the carrots from the kimbap, and Eun-bi scolds him for being picky. He explains that he's doing this for her since she's the one who dislikes carrots. Aww. When she asks Yi-an what she liked and disliked, he starts to list all her detailed food preferences. Eun-bi notes that he knows her better than she knows herself.
She asks Yi-an if they're still good friends even though the Go Eun-byul now is much different than the Go Eun-byul from before. It's a sincere question, but he jokingly replies that he'll decide seeing how she does. Then he admits that sometimes, he likes the Go Eun-byul now better.
As if these two needed to be cuter, they're all smiles and laughs while they play at the arcade. They end up skipping rocks at a pond, and Eun-bi takes a hand in learning how. She falls, and when Yi-an helps her up, he notices a scar on her arm. She starts to explain that it's from when she was 10 and learned how to ride a bike. She abruptly stops herself, but it's too late.
Yi-an seems happy that she's remembering, but he corrects her. He taught her how to ride a bike when she was in middle school. Then he suddenly remembers all the discrepancies (not knowing how to swim) and apologies. Something's not right.
Eun-bi quickly gets up to leave, but Yi-an turns her around. Looking at her, he asks, "You're really Go Eun-byul, right?"

COMMENTS
Ack, he knows! I sensed this looming dark cloud when they started giving us too much cute. Were they not so cute though? Alas, cuteness comes with a price: the truth. I'm curious to see how Yi-an reacts to this. With his growing suspicious, the reveal had to happen eventually. I'd much rather that the reveal occur sooner than later, but I fear for Yi-an's sanity and denial. I think this reveal adds agency to Eun-bi's dual mission of searching for Eun-byul's story and facing her own demons, but it puts a friendship at risk. A very important friendship based on unconditional support. But does Yi-an's support still stand even though this really isn't Eun-byul?
I could sense the desperation and loneliness in Eun-bi when she was being completely ignored by Yi-an. Her fear of insignificance became a reality, and that fear probably contributed to her transformation into Eun-byul. Even though there were still cracks in her act, Eun-bi's transformation emphasized that confidence and composure can be manufactured. It's a powerful and risky concept — one that holds truth for both success and failure.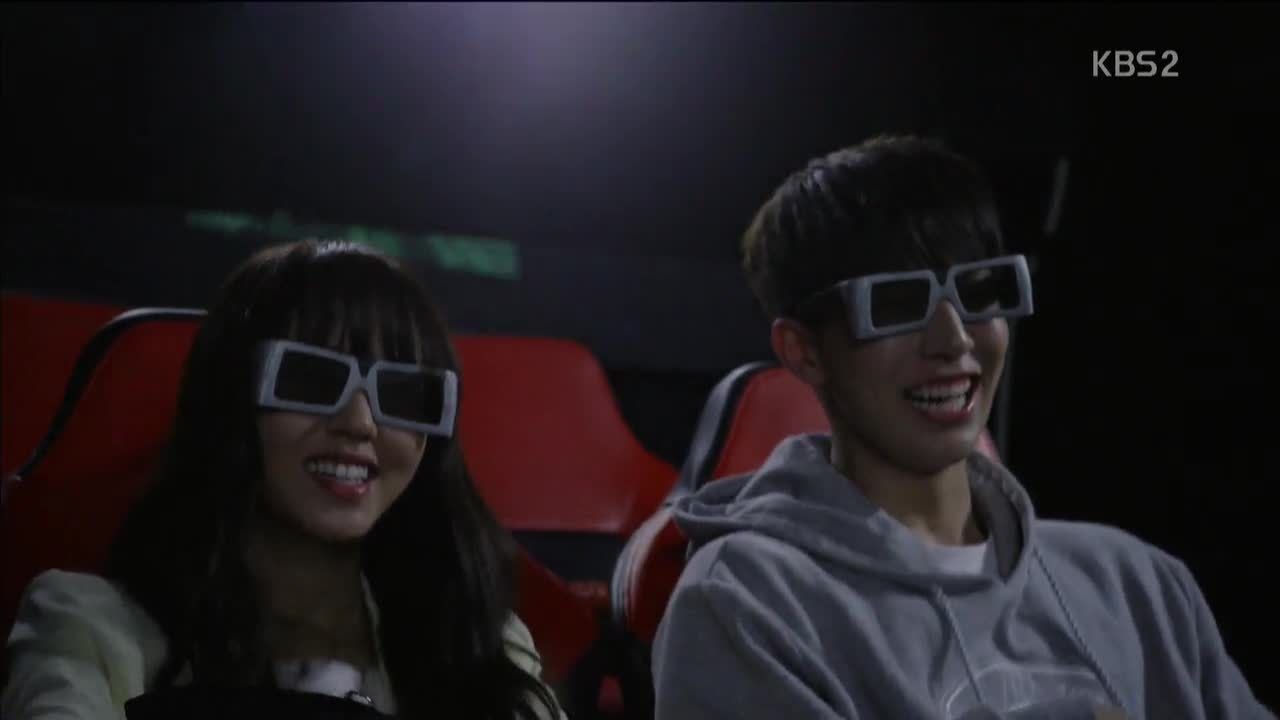 Regarding Eun-byul, I now wonder if she's been literally haunted, mentally unstable, or possibly both. Guilt seems to be the main factor motivating Eun-byul to acquiesce to the haunting, but is that guilt strong enough to compromise her mental state? There seems to be no doubt that Soo-in died, and that makes everything creepier. Also, Soo-in's mother keeps popping up randomly and gives off some creepy vibes, so I assume she'll play a significant role in this mystery. As with most things in this series, they will be much more complicated than they appear.
This show makes me switch off rooting for Yi-an and Tae-gwang. I appreciate Tae-gwang's care for Eun-bi as Eun-bi, not Eun-byul. That's his biggest advantage – actually caring for the right person. His request to call Eun-bi by her real name was the most sincere I've seen him yet, and I enjoy that Eun-bi is the one that brings out Tae-gwang's richer emotions. At the same time, I recognize that Yi-an is an adorable supporter, admirable individually but also as a loyal friend to Eun-byul. He's willing to sacrifice so much for Eun-byul, and sometimes, he's just the friend she needs. Even though the dramaland laws may not allow the best of both worlds, I'd say that Eun-bi (and also Kim So-hyun since she definitely carries this show) deserves to keep both.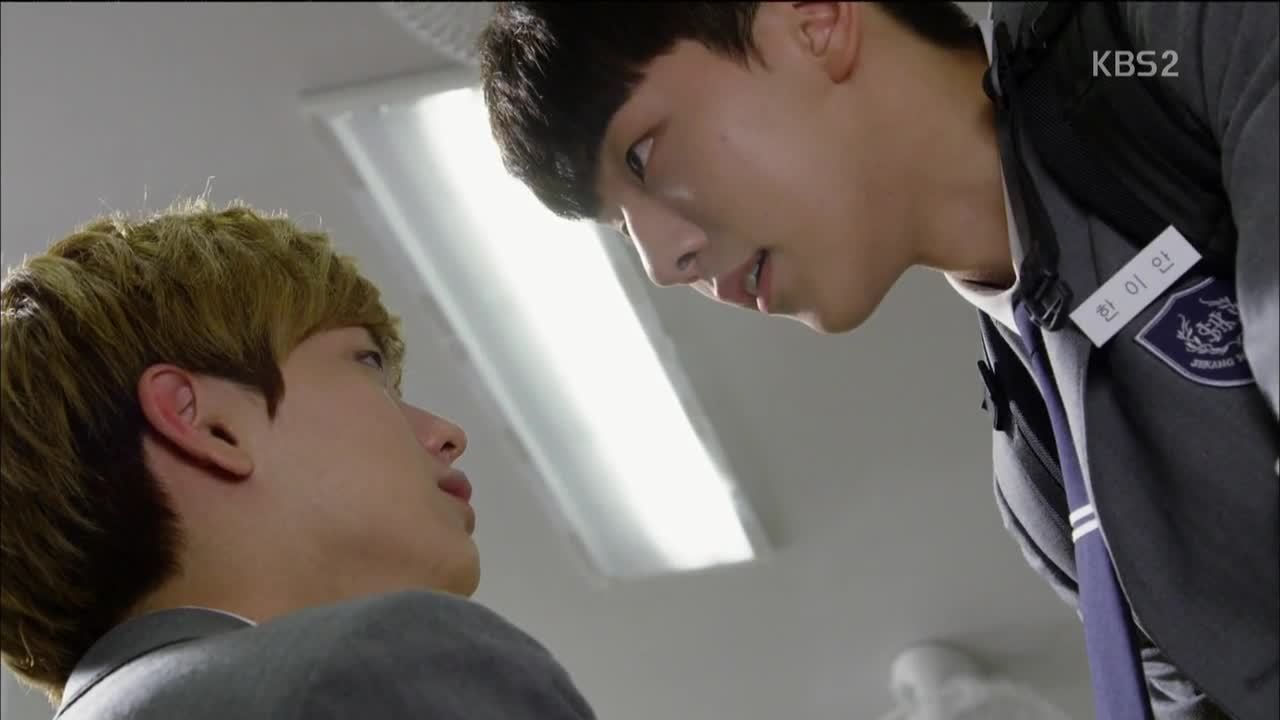 RELATED POSTS
Tags: featured, Kim So-hyun, Nam Joo-hyuk, Who Are You–School 2015, Yook Sung-jae