Who Are You–School 2015: Episode 8
Does a girl really have to choose between these two? Or is this some kind of cosmic reward for living through a really crappy childhood? Because in that case, can't she keep them both? It's enough to make you consider going back to high school. Almost.
I'm always happy to drop by and recap an episode of School 2015, because it's currently the show I'm clamoring all week to get to, partly because of those damn cliffhangers, and partly because of the deliciously angsty love triangle. But what I really love about the show is Eun-bi, and watching her grow a spine and come into her own week after week. She isn't Eun-byul, but she isn't the old Eun-bi either, and the people around her are starting to realize that she isn't what they expected at all.

SONG OF THE DAY
t Yoon Mi-rae – "너의 얘길 들어줄게" (I'll Listen to What You Have to Say) for the School 2015 OST [ Download ]
Audio clip: Adobe Flash Player (version 9 or above) is required to play this audio clip. Download the latest version here. You also need to have JavaScript enabled in your browser.

EPISODE 8 RECAP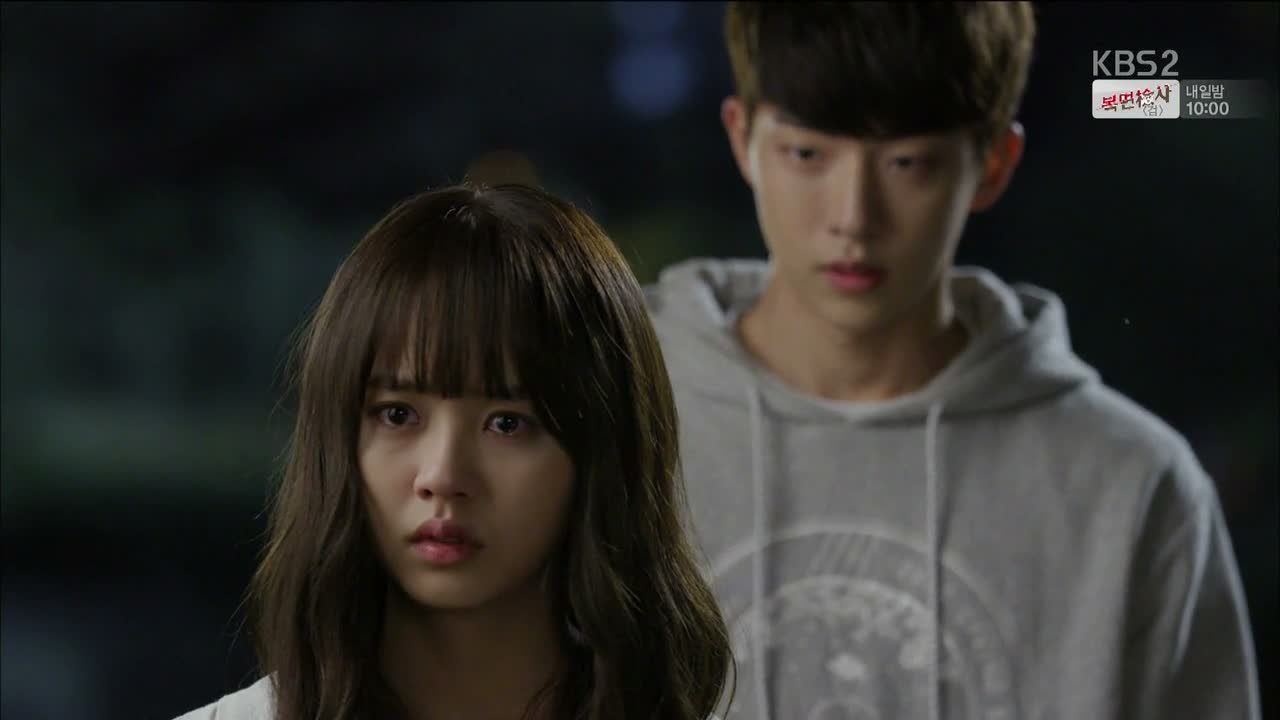 Eun-bi accidentally lets it slip that the scar on her arm is from learning to ride a bike at ten years old, and Yi-an corrects her that he was the one who taught her how to ride a bike. It suddenly dawns on him that this might not be Eun-byul sitting next to him, and he starts to remember all of the cryptic things Eun-bi said about wishing she'd never regain her memories.
He calls out her name and spins her around to face him: "Go Eun-byul. Eun-byul-ah. You're… Go Eun-byul, right?" The stricken look in her eyes says everything, but when she starts to answer him, he interrupts and laughs it off shakily.
He forces a light tone and says that she's so different lately that it's making him think crazy thoughts. She can see him clinging to his denial for dear life, and finally lets it go.
Yi-an sits up in bed forcing down the questions swirling in his head, and Eun-bi sits in her room wondering how to reconcile her feelings. She tells Mom that she's so happy to come home and have Mom here and go to school and have friends there, but she's worried that her presence actually makes things harder for the people around her.
She asks if having her here truly makes Mom happy, concerned about causing others pain for her own happiness. Mom assures her that she's wrong, and asks if she'd prefer to transfer to a new school and start fresh if things are hard on her.
And at the other end of the mom spectrum, we've got class president Min-joon's helicopter mom, who's actually hovering behind him the entire time he studies, refusing to leave in case he isn't going to focus on his schoolwork. How is anyone supposed to concentrate like that?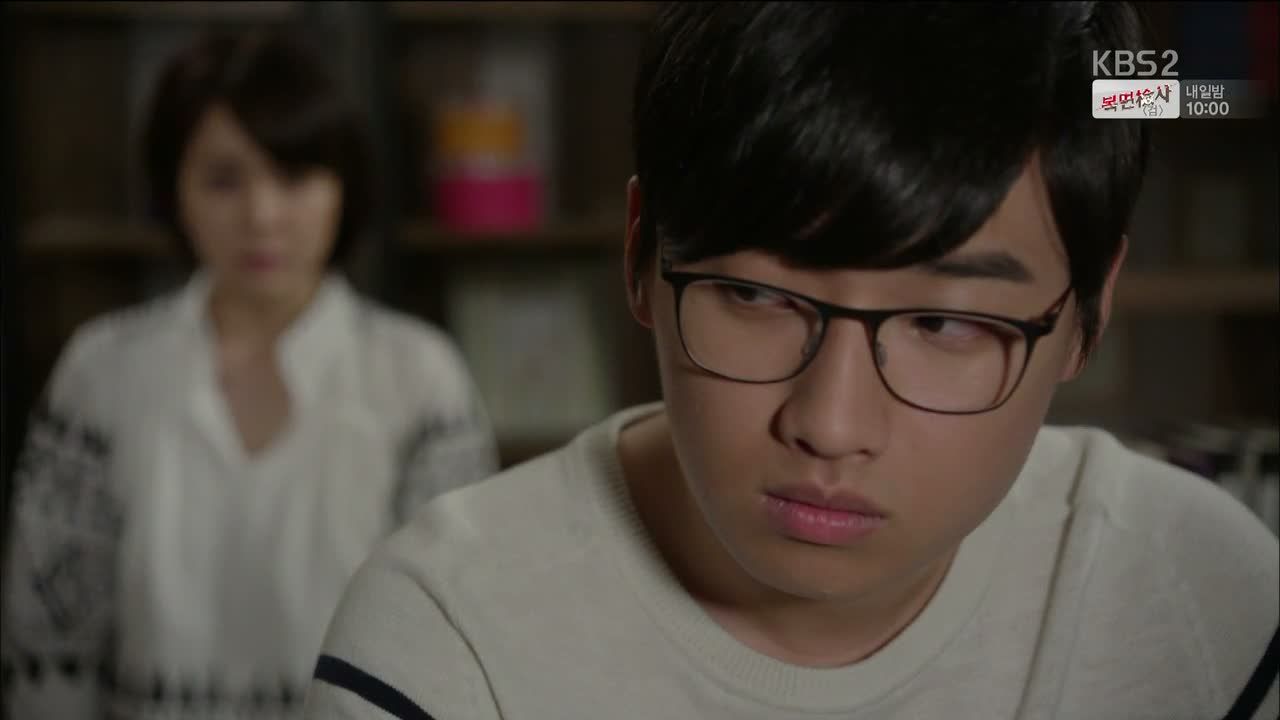 She yells at him to get perfect scores on his English midterm, and warns him not to dare let that So-young girl beat him by half a percentage point ever again. How he manages not to snap right then is beyond me, but he just silently digs his pen into his book, making angry scratches.
Tae-gwang shocks his chauffeur when he volunteers to take the bus to school, clearly wanting to run into Eun-bi. But it's Yi-an who sees her at the bus stop first, and the air is awkward between them as he asks why she didn't show up for their morning run.
Eun-bi lies that she overslept, but Yi-an makes her promise to show up for tomorrow's run and invites her to see a movie later tonight. Tae-gwang shows up just in time to answer that a movie sounds great. Please tag along. It would be so entertaining.
Just then, a motorcycle zooms right through them, and Tae-gwang moves to pull Eun-bi to his side out of the way, but Yi-an is stronger and pulls her into his arms just in time. Yi-an wins this round, and Tae-gwang scowls.
At lunch, Eun-bi decides to suck it up and sit with her friends even with So-young there, and Song-joo happily makes up with her. Tae-gwang heads over to join them, but again Yi-an beats him to the punch and snags the seat across from Eun-bi, forcing Tae-gwang next to So-young. Two points, Yi-an.
Eun-bi makes a point of asking about Song-joo's audition, and So-young makes the excuse that her talent agent uncle is away on a business trip. She then sneaks off to the library to call her uncle and asks him to meet her plain-looking friend and go through the motions of giving her an audition before saying no.
Eun-bi overhears the whole thing and calls her out on the lie, but So-young hardly feels threatened when it's Eun-bi's word against hers. Eun-bi warns her to go tell Song-joo the truth and cancel the audition, but So-young flat-out refuses.
When she sees Yi-an approaching behind them, So-young adds loudly that Eun-byul not only looks exactly like Lee Eun-bi, but she acts like her too. She feigns surprise that Yi-an is there and leaves, that witch.
Yi-an seems deflated as he asks if she fought with the new girl again, and simply reminds her about their movie date and doesn't ask anything else. The denial is strong with this one.
Eun-bi finally notices that one of her notebooks is missing, and taking Tae-gwang's advice not to just get trampled at every turn, she gets up and asks if anyone's seen it. So-young visibly cowers, and immediately starts pretending to have a stomachache.
Meanwhile her prosecutor father gets the results from the handwriting comparison he ran, and it's a 95% match for Eun-bi. So-young pretends to be sick to skip out on PE class, and heads back to the empty classroom on her own.
Eun-bi senses tension between her friends Song-joo and Shi-jin, and tries to get them talking. She pulls Song-joo aside to ask if she'll cancel on that audition, but Song-joo shuts down, seeing anything that Eun-bi says as a personal attack on So-young. Sigh, let's just let her experience this downfall for herself, shall we?
Tae-gwang sees Eun-bi looking down in the dumps and whooshes by to snap a picture of her. He shows her the face she was making and reminds her that she's supposed to hold her head up high, and she promises that she will.
She smiles and admits that it's nice to be caught in her lie—now in front of one person, she doesn't have to try so hard. Aw. He cheers her up by making silly faces at her until she laughs.
Back in class, So-young takes out her laptop to check on her group English midterm assignment and finds that it won't boot up. Two other groups check theirs, and they won't boot either. The other kids immediately suspect So-young of foul play since she was here alone, but Song-joo vouches for the fact that she was in the nurse's office last period. Tae-gwang and Eun-bi aren't convinced.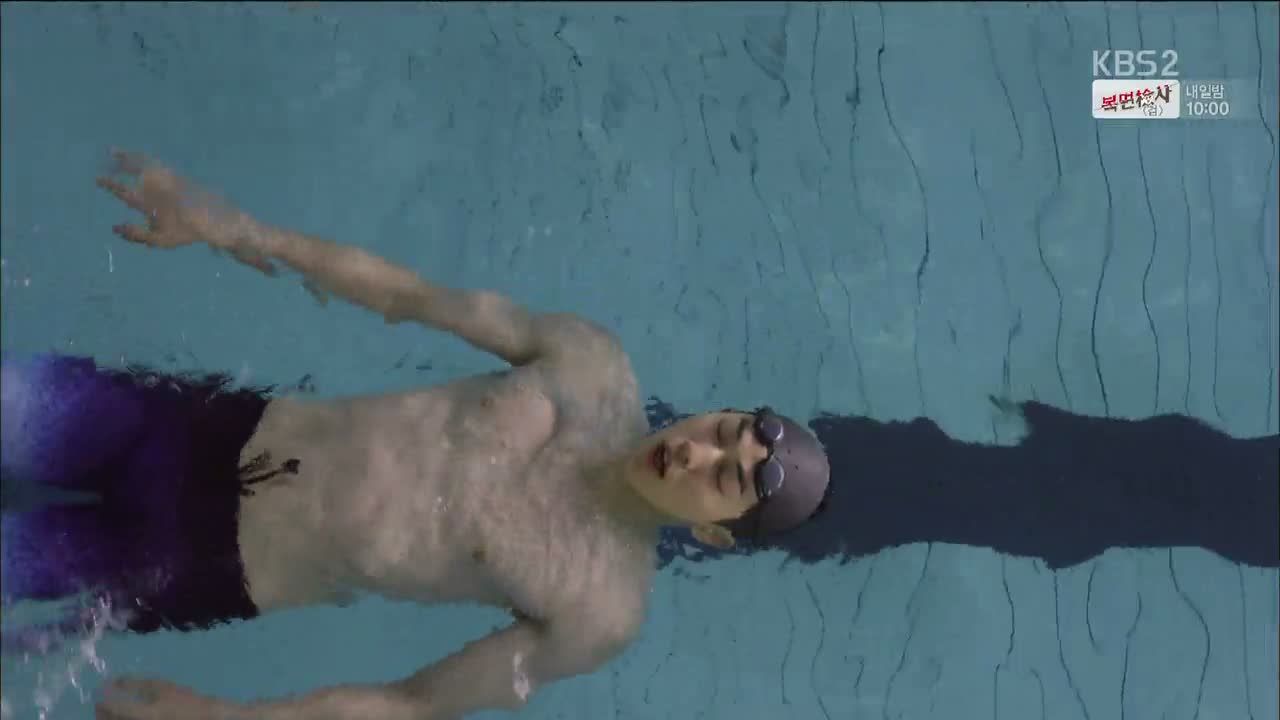 Teacher Kim has to argue on the students' behalf because the midterm is due later that day, and the English teacher finally allows an extension until tomorrow with a few points docked, and Teacher Kim is tasked with getting to the bottom of the computer sabotage.
Yi-an trains at the pool, and he remembers a conversation he had with Eun-byul a year ago, when she asked out of the blue what it would be like if she had a twin sister who looked just like her.
He said it'd be confusing, and teased that it would probably be really annoying to have two of her around all the time. The conversation had devolved into a water fight, but Yi-an sees Eun-byul's question very differently now.
Tae-gwang walks into his kitchen to find enough food for a party, and the housekeeper just gives him an awkward look when he asks about it. Dad tells him that he's having people from the school board over, and tells Tae-gwang to hide in his room. Ouch, and you wonder why the kid rebels?
Tae-gwang can barely hide the hurt in his eyes, and asks if Dad will be able to keep any of his food down when Tae-gwang could bust up his party at any moment. Dad reminds him that not going abroad means that he's chosen to live quietly now, and Tae-gwang loads up his plate before he gets banished to his room.
Eun-bi waits and waits at the movie theater, and Yi-an watches her from afar for a moment when he arrives. He can't bring himself to throw his arm around her like usual and remains pretty distant throughout the movie, and it isn't until afterwards that he softens a little and pulls her along by the shoulder like he used to.
They browse a toy store and Yi-an notes it curiously when Eun-bi picks up a teddy bear and hugs it close, calling it cute. He recalls trying to give Eun-byul a stuffed dog once, and the annoyed reaction he got from her when she told him that she hates anything furry.
His fear that this isn't Eun-byul starts to niggle at him, and he studies her carefully, a little sad and a little curious.
Tae-gwang tries to pass the time in his room, and his thoughts just float back to Eun-bi as he stares at the picture he took earlier that day. He sighs in his opposite-day way that he really really wants to be alone today, and tries calling. She doesn't pick up.
Yi-an walks Eun-bi to the bus stop, and she's carrying the big teddy bear that she loved so much in the store. She wonders why he got her a present when it's not even her birthday, and he just asks if she likes it.
They're both surprised to see Tae-gwang sitting at the bus stop waiting for them, and he says boldly that he's here waiting for Eun-bi. Yi-an grits his teeth and sends Eun-bi home on the bus, standing in between them to make sure that Tae-gwang doesn't follow. Does it seem wise to leave the two boys alone like that, all that hostile testosterone floating around?
Once the bus pulls away, Yi-an asks since when Tae-gwang is so interested in Eun-byul, and Tae-gwang says knowingly that the old Eun-byul never even looked his way. Yi-an demands to know what he means by that, and Tae-gwang takes it a step further: "It means that the present Go Eun-byul needs me more than she needs you."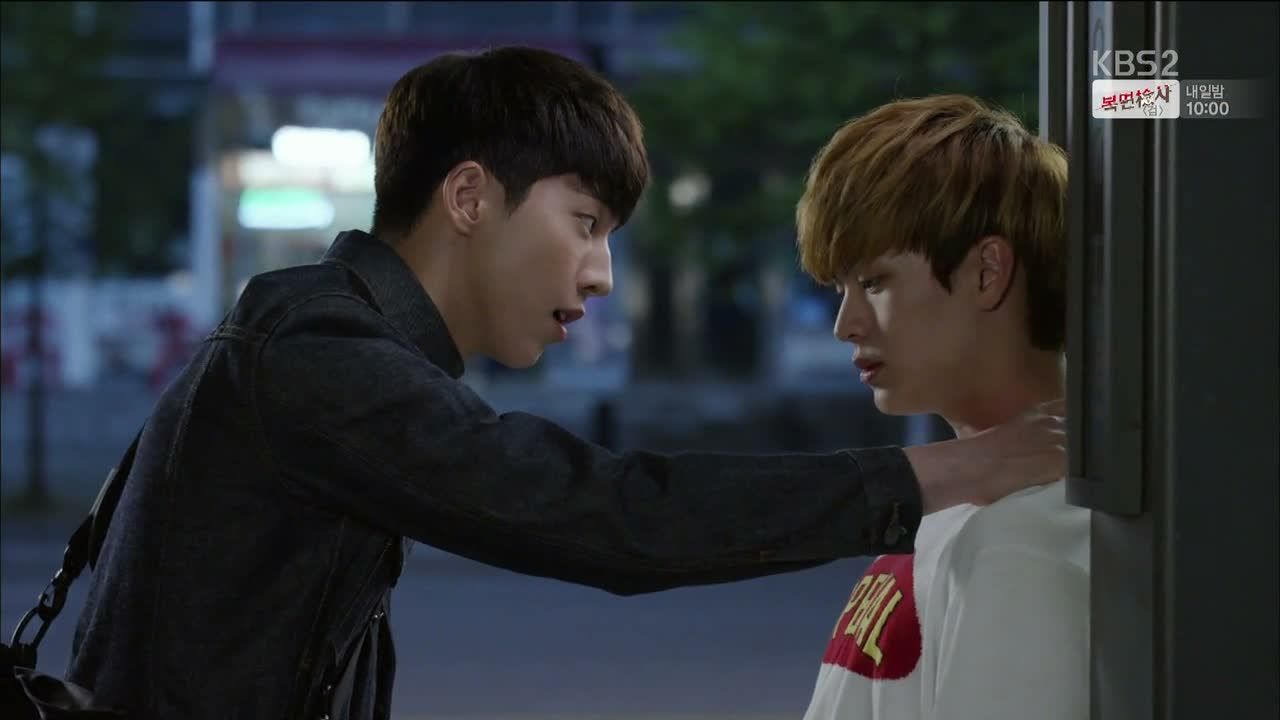 Yi-an is lightning fast when he strikes with a hand to Tae-gwang's throat, and he growls that Tae-gwang is crazy to think that Eun-byul needs him: "What are you saying, that the old Go Eun-byul and this one are different people?" Clearly he struck a nerve.
Tae-gwang knocks his hand away and makes sure to tell Yi-an to ignore the stuff he said since he's crazy. He leaves Yi-an seething in his wake.
Suspicions are running high at school, where the three groups who have to rewrite their English midterms are upset about having their grades docked when it wasn't their fault. Teacher Kim studies the CCTV footage from class that day, and finds that Min-joon was the last one out of class and So-young returned just minutes later.
He calls So-young into the office, but she swears that she isn't the one responsible. By the time she returns to class, everyone knows she was in the classroom instead of the nurse's office like she said, and they all assume that she's guilty.
Min-joon asks her about Eun-bi's notebook, remembering now that he saw her take something from Eun-bi's desk early one morning, and one of the girls empties her backpack, ignoring So-young's protests. Out tumbles Eun-bi's notebook, and this time even Song-joo doesn't jump to her defense.
So-young clutches Eun-bi's notebook and swears that she didn't wreck the computers, and the other students accuse her of sabotaging the other high-ranking students' computers because hers was glitching. So-young can only repeatedly insist that it wasn't her, and Eun-bi and Tae-gwang walk in just in time to witness a little karmic payback.
Min-joon tells Teacher Kim that he was late coming out of the classroom because he had to bring the materials for their PE class. That's true, but so is the crazy amount of pressure that your mom is putting on you to beat So-young on this midterm. Just sayin'.
Eun-bi finds So-young outside and asks how it feels to be on the other side for once, since this is the kind of stuff she did to her twin sister. So-young feigns indifference at suddenly having the entire class turn against her and says that she never touched those computers.
But that just makes Eun-bi happier: "You can feel what it's like to take the fall for something you didn't even do, and how painful it is when you didn't do anything but no one listens to you or believes a thing you say." I must be a vengeful person, because that little smirk Eun-bi gives her at the end just makes my day. It leaves So-young reeling though, and she vows with frightening determination: "I don't care who you are anymore. I'm going to kill you." *shudder*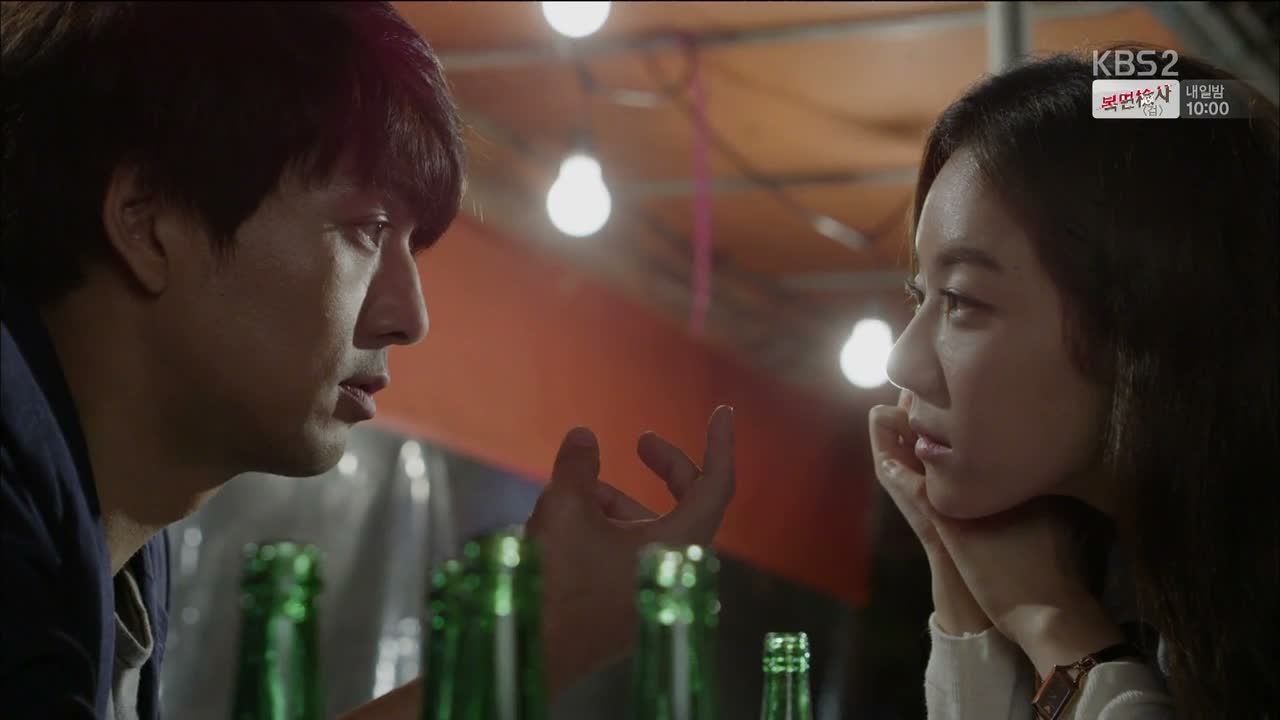 Teacher Kim and his new student teacher Jung Min-young take the three laptops to a specialist, who finds that one has hardware malfunction and the other two have been reformatted. They share a drink and Teacher Kim is lost in thought over his next step with the kids, and Min-young is wowed by his dedication to his students.
Five bottles of soju later, Teacher Kim is slurring that he's not qualified to lead kids and he has no idea what he's doing. He pauses when he realizes how close Min-young is leaning into the table, and he barely gets himself to stop staring at her lips to ask if she wants another drink.
Afterwards she stands outside on her phone as he pays, and at the same time he gets another text from Jung Soo-in: "Are you happy now that I've disappeared?" He looks terrified, and nearly jumps out of his skin when Min-young taps him on the shoulder to go.
That night, Eun-bi gets the same text from Soo-in's phone.
So-young's dad drops the handwriting comparison on her desk and says that it's a match, and warns her to act smartly. Seriously, are you giving your sociopathic daughter more fuel to terrorize people with? She smiles devilishly when she sees her suspicions proven true.
The next morning, Yi-an runs to catch the bus when he sees Eun-bi on it, but then stops mid-stride. That's when Eun-bi looks out the window and sees him standing there, purposely missing the bus that he used to run to catch every morning, and she cries to remember how different he was with her.
It still weighs on her at school, where she stares forlornly at Yi-an's empty seat. Naturally Tae-gwang notices it all, since he spends his day staring at her.
So-young relishes the moment when she hands Eun-bi the handwriting comparison, gloating that she was right and offering faux sympathy at how nervous she must've been to have her secret outed. Eun-bi doesn't even flinch and tells So-young to go ahead and do her worst.
So-young knows that she can't out Eun-bi's identity without bringing herself down too, so she lets Eun-bi choose between telling everyone the truth before they both leave this school, or having Eun-bi leave quietly, secret intact.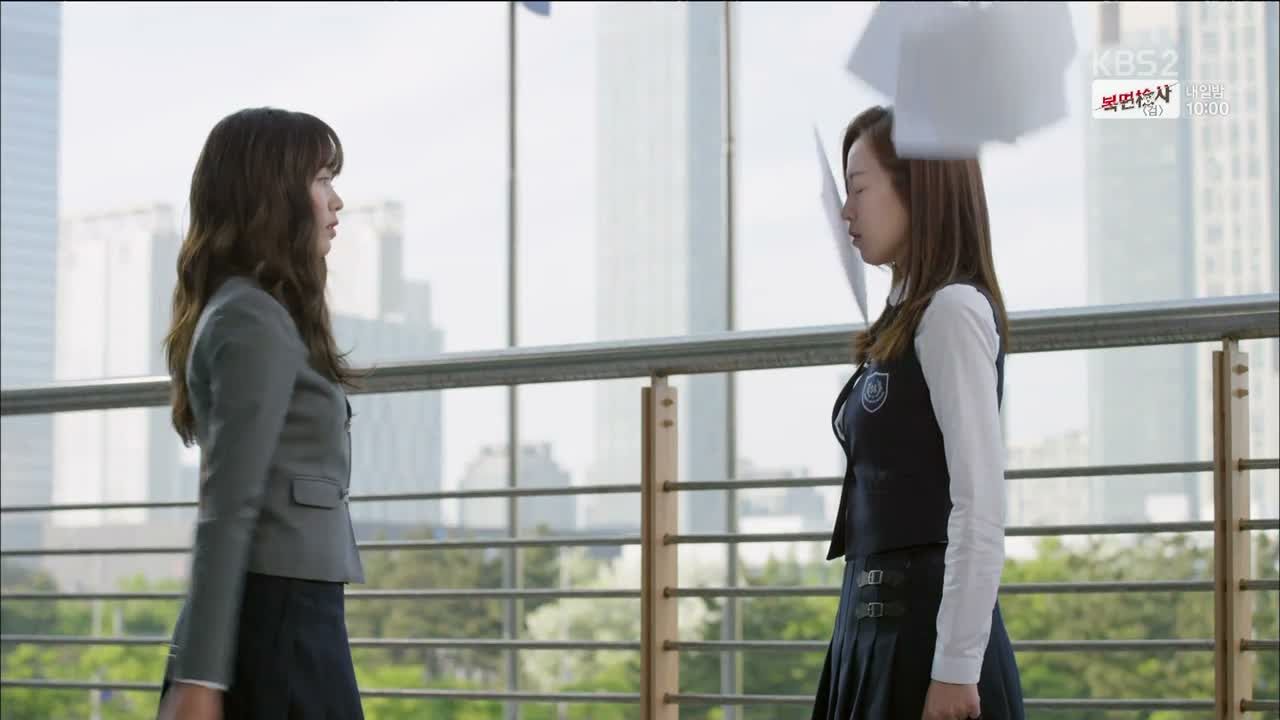 Eun-bi laughs at her and says that she won't be slinking off like So-young wants. She plans to leave this place eventually, "But not before I get rid of you first." Yessssssss. Bring. It.
She flings the papers back in So-young's face and walks off. It's so awesome that I have to rewind and watch it again.
So-young looks pretty shaken up and contemplates her next move, and then remembers that she has another angle to play. She looks up Yi-an's number in the directory…
Yi-an overdoes it during practice, swimming endless laps because he's so consumed with thoughts of Eun-byul, or Eun-bi, or whoever she is. He gets a stern lecture from Coach and heads to the locker room looking exhausted.
He gets a text from So-young saying that the person he's so curious about is right here, and attached is a group picture of Eun-bi at her orphanage and her old school ID. Yi-an finally sees for himself that Eun-byul really did have a twin, and is floored to see that they're identical.
He slumps down in shock, unable to hide behind his denial any longer—Eun-byul's disappearance, her seemingly random question about a twin, all of his doubts about Eun-bi—they hit him all at once.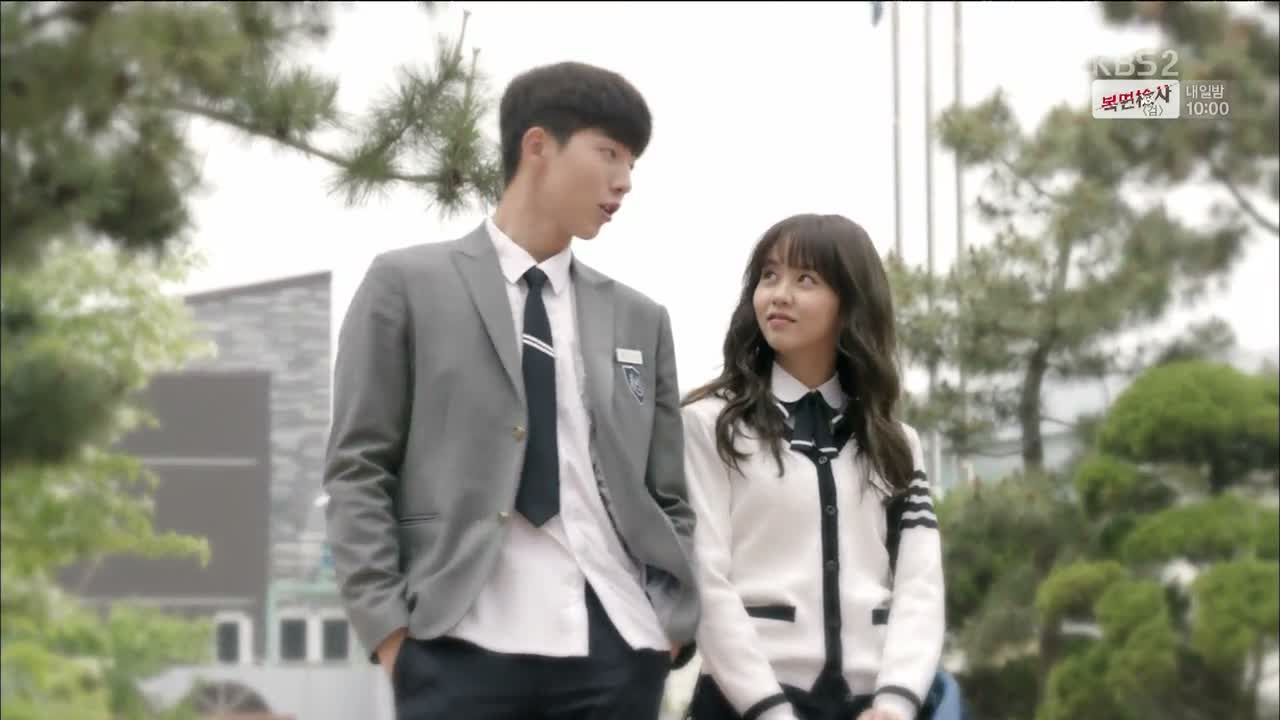 He gets a call from Eun-bi and ignores it, and at the same time, Tae-gwang calls Eun-bi and she doesn't pick up. He heads to the pool to ask after Yi-an, and a teammate tells him that he left with Eun-bi earlier.
But Eun-bi is sitting by herself, her thoughts wandering back to the time she walked Yi-an to practice on a different day, when he made her carry his gym bag. He tells her that she's a good swimmer, so she shouldn't be afraid of the water and scare him like she did the last time.
She shoves his bag back at him and tells him it's not even that heavy, and he grouses, "Dummy, do you really not know why I ask you to do useless things like this? Why I take your street of all streets on my morning runs, why I let multiple buses pass in the morning until yours arrives? Why when I have one hour before practice, I bother dragging you out here to see me?" Ooh, ooh, I know! Pick me! I know!
She deflects nervously, as usual, though she watches him go with a look of understanding on her face.
Back in the present, Eun-bi thinks back wistfully to all her easy interactions with Yi-an, including the time she promised to grant him a wish if he helped her regain her memories. Yi-an finally comes outside to meet her, and there's suddenly so much distance between them.
They walk home together and Eun-bi finally screws up the nerve to say that she has something to tell him. He actually lets her say it this time, and she admits that it's actually been a long while since she recovered her memories.
He tries his hardest to act like it's not a big deal, and reminds her of the wish she owes him since she has her memories now. He takes hold of her shoulders and asks for his wish: for her to answer yes, no matter what he says. Oh no. Then he asks, "You're Go Eun-byul, aren't you?"
Tears spill out of Eun-bi's eyes, and Yi-an hugs her, still trying to convince himself that it's not that difficult a wish for her to grant. But this time Eun-bi ekes out, "I'm sorry. I'm really sorry."
Yi-an starts to get angry and says it's not "sorry" but "yes," and starts yelling as he asks why she isn't Go Eun-byul, and if she's been lying to him this whole time. Augh, I know you're heartbroken, but don't be mean to Eun-bi!
He's shaking her by now, as he raises his voice: "Why didn't you say anything earlier? Who are you?!" Eun-bi can only hang her head.
Suddenly Tae-gwang pushes Yi-an off of her and takes Eun-bi away by the wrist. Yi-an chases after them and, I kid you not, grabs Eun-bi's other wrist, and they stand there like they're about to rip her in half.
Yi-an warns, "Gong Tae-gwang, let go of that hand. Let go of that hand." But this time, Tae-gwang doesn't let go.

COMMENTS
These boys really need to find a new expression of romantic interest beyond the wrist-grab, because I really like them otherwise. The next time they try to yo-yo her around, I want Eun-bi to confront them about their stupid ego contest, because half the time it doesn't even matter that she's standing there when they're more interested in one-upping each other. Not that I don't find their competitive back-and-forth amusing to watch; I just want Eun-bi to take them down a notch or two, and stop letting them boss her around like they have a right to. She's proven that she can think and act for herself, and needs an understanding friend more than a guard dog.
It was hard to watch Yi-an distance himself from Eun-bi in this episode, because he's been so steadfast and sweet, even back in the day when Eun-byul was regularly mean to him. But the secret really needed to come out, because I hated seeing Eun-bi maintain the lie for his sake when it was clearly killing her to be thought of as her sister. Obviously it wouldn't have mattered if she didn't like him, but it was becoming more and more like a love triangle where she had to compete with her sister's memory, and it's hard enough for her to live as Eun-byul at school without feeling like she can never compete with Eun-byul in Yi-an's eyes.
There's an argument in there for why Tae-gwang is better for her, and she even admits that she gets to just be herself around him, which counts for a hell of a lot in her situation. But I don't want to be unfair to Yi-an, who hasn't known until now that Eun-byul is missing and worse, could be dead. Tae-gwang, cute as he is (so, so cute), didn't lose his lifelong best friend, and has the luxury of immediately being loyal to Eun-bi without question. It's what makes him so lovable, but I empathize with Yi-an, who has to struggle with his feelings of loss and betrayal, not to mention possible guilt at developing feelings for Eun-bi and not knowing they weren't the same girl.
For Eun-bi's sake, I want him to hurry up and work through his feelings and stop crushing her heart by asking her to be Eun-byul. That wish was completely understandable for him but utterly cruel to her, which is why on a story level their angst is really compelling. And that's not even counting the fact that Tae-gwang is such a wounded puppy that it's impossible not to root for him to swoop in right now and pick up the pieces. It's impossible to choose, but I suppose that's what makes it a good love triangle.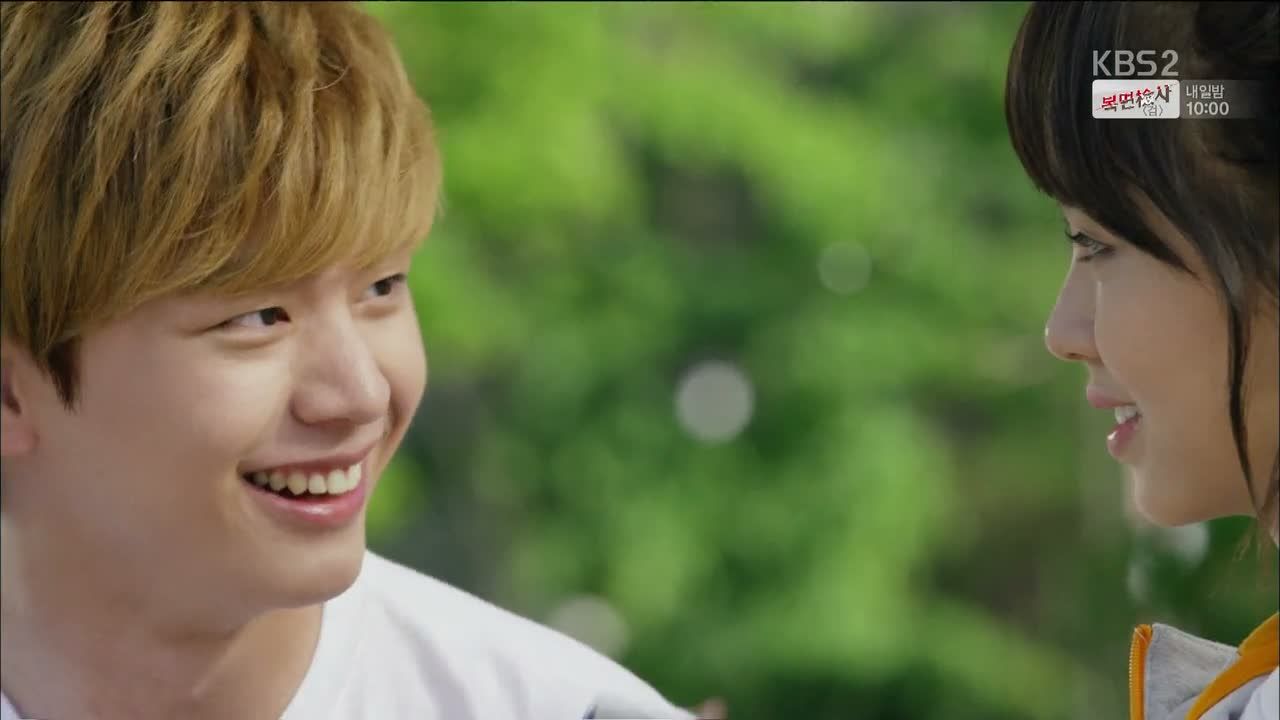 That's not to say that the love triangle is the only thing driving this train, because the So-young/Eun-bi saga is pretty damn epic. So-young frightens me to the core, but I like that we're seeing more sides to her—not enough to make her sympathetic, because I don't want to forgive her for anything—just enough to make her layered and interesting, and even vulnerable at times. I've been waiting for the moment when Eun-bi would turn the tables on her, and I have to say, it was worth the wait to see her reaction to a stronger, steelier Eun-bi. I can't wait to see her squirm in a hell of her own making, and I don't think I'll be satisfied until she's outed for every single thing she's ever done and has to pay, preferably in jail time.
It's actually really interesting that this show is so melodramatic—twins with swapped fates, a hidden identity, a psychotic enemy who holds your secret in the balance—it's pure melo if you just distill it into story tropes. But in a high school context I find it fitting and not too overwrought, probably because this is how teen angst feels—emotionally charged, life or death, all or nothing (so okay, still overwrought). Relationships can change completely in the course of one day, and misconception and gossip actually makes it feel like the world has turned against you. I don't know that I'd like this story as much played out in a bigger world or with older characters, but in this drama I find the conflict really compelling, and the characters wonderfully layered and believably torn between their lighter and darker selves. That they're still searching for who they are makes a big difference. I'm looking forward to seeing Eun-bi discover a new sense of self that isn't defined by her past or her sister's, and yeah, getting a little payback along the way wouldn't hurt either.

RELATED POSTS
Tags: featured, Kim So-hyun, Nam Joo-hyuk, Who Are You–School 2015, Yook Sung-jae