Who Are You–School 2015: Episode 9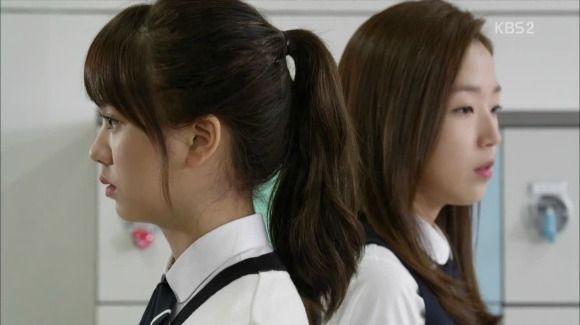 We put Eun-byul's mystery slightly on hold to focus on Eun-bi, and rightfully so. The somber tone of the episode gives more insight into our heroine's inner struggles, her guilt, and her desires. As the secret seeps through the cracks of Eun-bi's act, we come to realize the weight of her sister's identity on her life. Posing as another person has taken a toll on her relationships, and she finds herself increasingly vulnerable and fearful of being herself.

EPISODE 9 RECAP
We begin where we left off, at the double wrist grab. Tae-gwang orders Eun-bi to not say anything, but she responds that she has to tell Yi-an the truth. He reluctantly lets go of Eun-bi's wrist and leaves them to deal with the disclosure.
Eun-bi and Yi-an sit with a gap between them, and Eun-bi openly admits that she isn't Eun-byul. Still in denial, Yi-an convinces himself that he misunderstood and suggests that they talk later. But Eun-bi continues with her apology: "For the first time in my life, I felt loved. That feeling was so warm and comforting that I made the wrong choice. I didn't know that choice would hurt you so much. I know it's too late, but I'm sorry that I lied to you."
Yi-an shakes his head, unable to comprehend this situation. He tells Eun-bi that he needs some time to think.
The next day at school, Eun-bi notices Yi-an's absence. Teacher Kim ends his class with an announcement from Teacher Jung. She enthusiastically talks about the school's website update and cheers on the students. Her cutesy mannerisms seem to be gladly accepted by the boys, but as soon as she leaves, they make fun of her elementary teaching style.
As they leave the classroom, Teacher Kim and Teacher Jung encounter the vice principal and the dean of students. Teacher Jung happily reports to the vice principle that her students are well-behaved, to which Teacher Kim and the dean react with forced smiles.
She walks off to her next class, and the three watch her with pity. Teacher Kim says that he warned her about the students, but she dismissed his warning, saying that she trusts the students' innocence. Oh, the irony.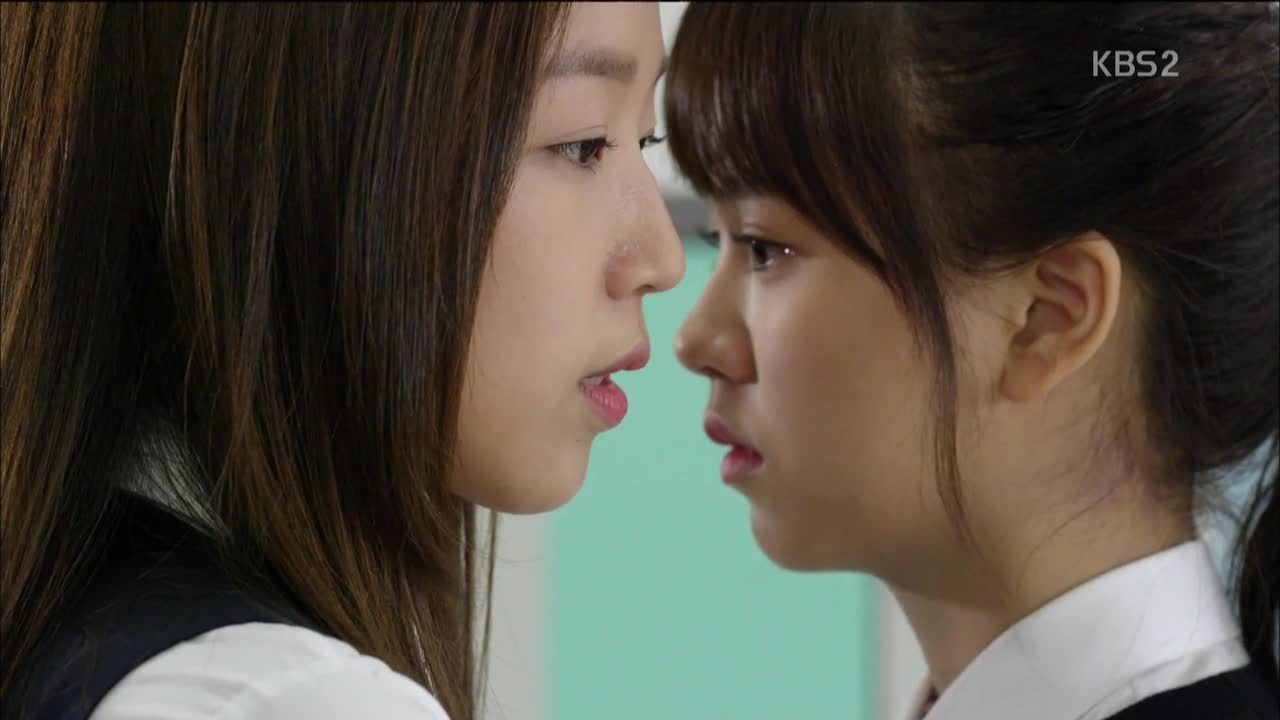 During break, So-young taunts Eun-bi about Yi-an's absence. She wonders how Yi-an will feel every time their classmates call Eun-bi by the wrong name. So-young gets close and whispers, "You should know that staying here and pretending to be Eun-byul hurts Yi-an." Eun-bi clenches her first but doesn't respond.
Head Mommy arrives on campus to take the laptop sabotage matter into her own hands. Min-joon hears from a classmate that his mother is at school, and he immediately leaves to find her. She's already in a meeting with the teachers, complaining about the unfair scoring and lack of punishment for So-young. She's convinced that Min-joon is absolutely innocent and demands that he receive full credit for the assignment.
Teacher Ahn remains steadfast and says that she won't change her policy. To that, Head Mommy decides that she'll need to get the police involved. Well, that escalated quickly.
Min-joon watches the meeting from the door and quickly hides as his mother walks out with the flustered vice principal trailing behind.
Song-joo receives notice about her audition date, and So-young tells her that she had to pester her uncle for that audition spot. She wishes her good luck, though we know that So-young doesn't mean it.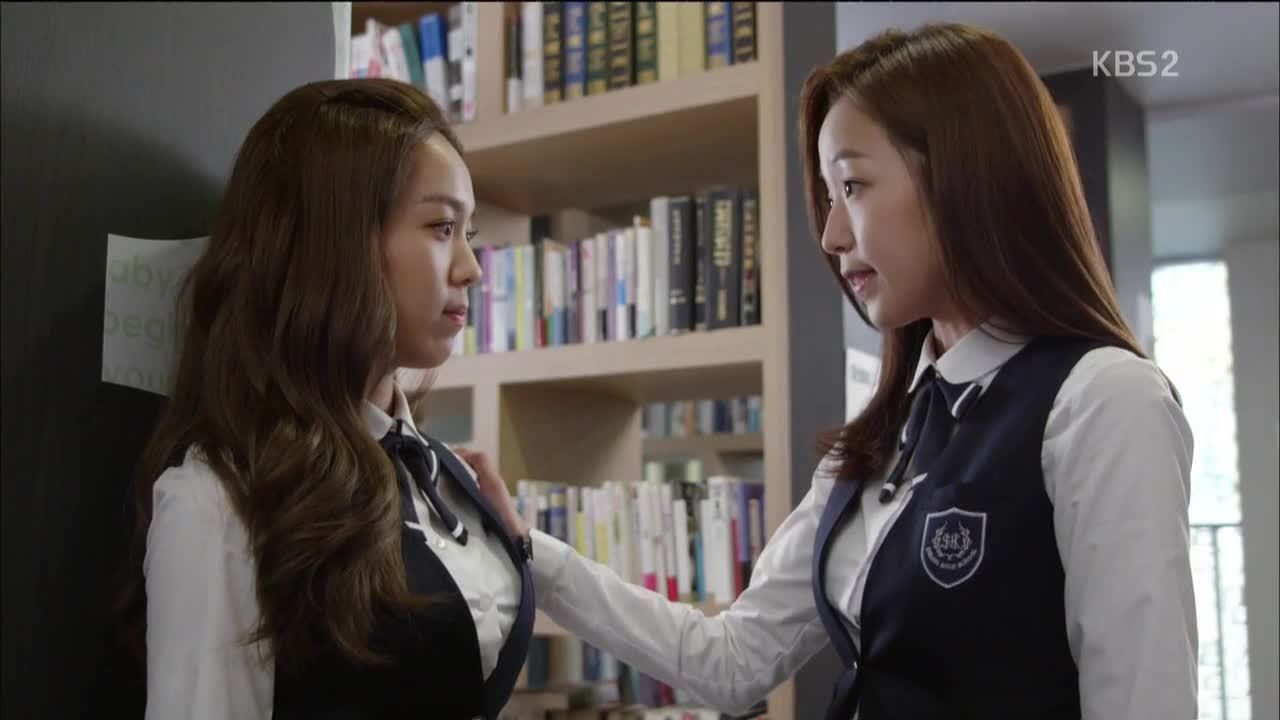 It's lunchtime, and everyone leaves except for Eun-bi. Tae-gwang notifies her of the time, but she declines his offer to get food. She claims she isn't hungry, and her mind is elsewhere, thinking about Yi-an.
Speaking of Yi-an, he sits on his bed, brooding with a picture of his younger self with Eun-byul in swim gear. He sets out to find answers by visiting Mom at her shop. She's surprised by his suddent visit but welcomes him warmly.
They go to a café to talk, and Yi-an hesitates, shifting his eyes to avoid eye contact. Mom knows that he wants to speak with her about Eun-byul and encourages him to ask.
Tae-gwang finds Eun-bi sitting by the field and joins her, claiming that he wasn't too hungry either. Then he jumps up and waves at the delivery guy bringing them jjajangmyun (ha, he called in as "Handsome Guy on the steps of Segang High School").
He inhales the food and asks Eun-bi how she feels after revealing her secret to Yi-an. She admits that she doesn't feel too good and seems slightly regretful — maybe she should have kept it a secret. Dissatisfied with that answer, Tae-gwang stuffs a mandu into Eun-bi's mouth and continues to eat.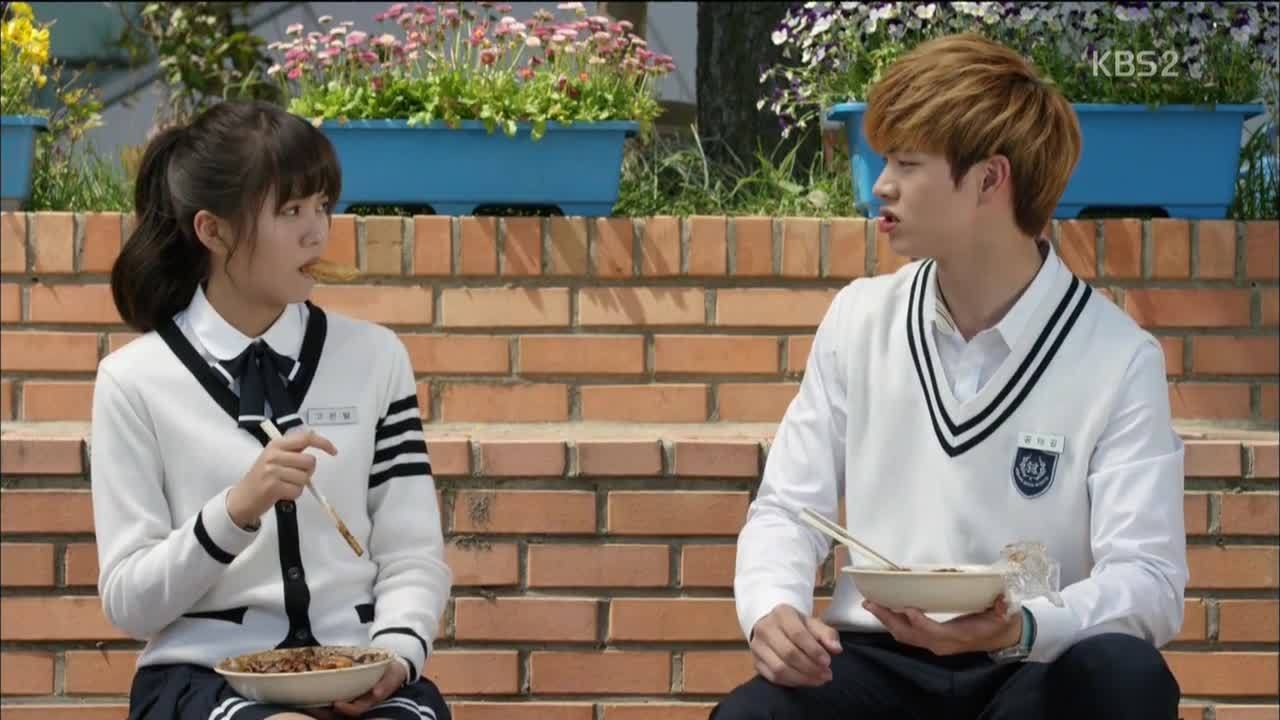 Mom explains to Yi-an that she and Eun-bi both needed each other at the time. In hindsight, she regrets putting Eun-bi in Eun-byul's place, forcing her to live another person's life. She plans on moving and transferring schools so that Eun-bi can start anew. Mom requests that Yi-an keep this secret, at least until they move.
Teacher Kim ends class and notices Min-joon scribbling in his notebook. After the students leave, he finds Min-joon's notebook ripped up and with (stress) scribbles everywhere. With his reasonable suspicions, Teacher Kim asks Min-joon about the laptop sabotage.
Min-joon admits his wrongdoing indirectly with "what ifs," fearing the consequences. Teacher Kim gives him a stern warning, "Correcting a lie is difficult. You may lose a lot and others may scornfully point fingers at you. But not correcting it now will make it even more difficult to correct in the future. You will become cowardly. The past does not disappear."
Teacher Kim advises Min-joon not to become a coward, speaking as if he knows from experience.
Song-joo enters her audition, prepared with her trifecta of talents: She can dance, sing, and act. The judges seem impressed by her skills and compliment her. But knowing that So-young is behind this set-up, let's not keep our hopes too high.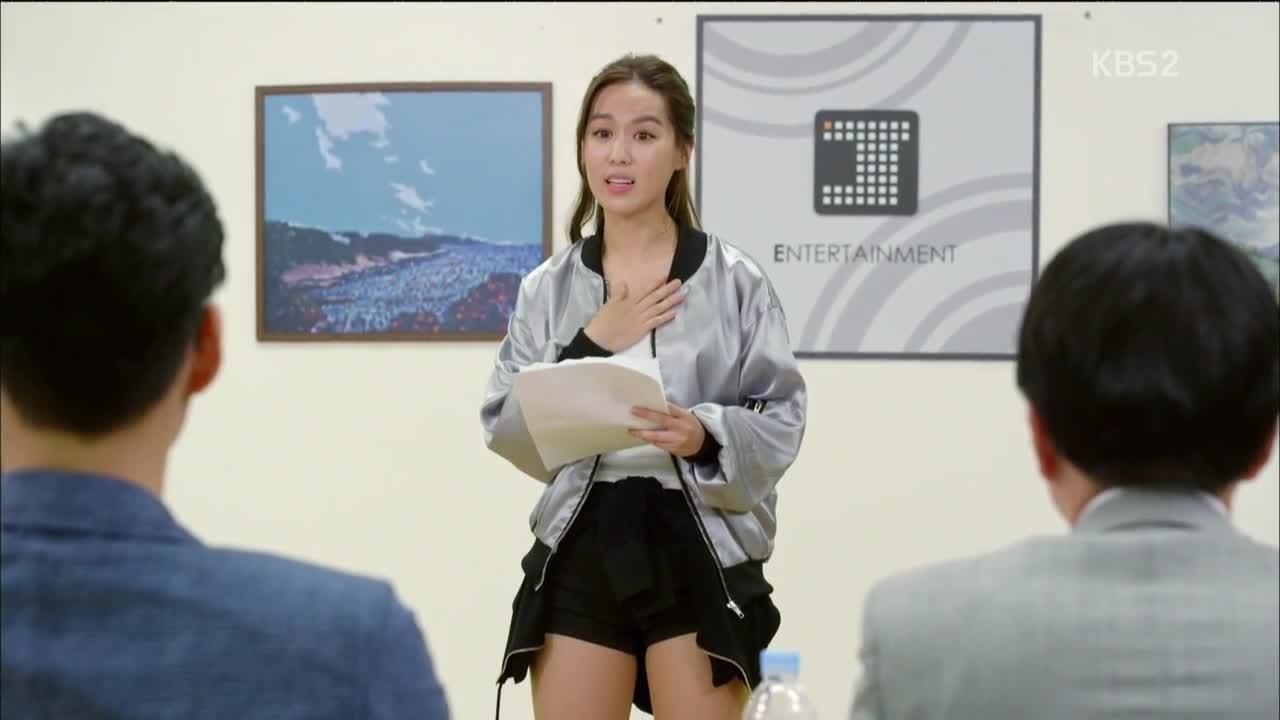 While walking behind her at school, Tae-gwang calls Eun-bi to make sure that she picks up his calls, since she hasn't picked up the last few times he's called her. He's worried because So-young seems too happy, spreading the news that Eun-bi is leaving. Eun-bi confirms this but assures him that she'll deal with So-young before she leaves.
Tae-gwang jokes that she should hurry and deal with So-young so that he doesn't need to see Eun-bi's face anymore. They scowl at each other, and Tae-gwang earns a kick to the shin. But they enjoy each other's company, just in the opposite way that high schoolers express their interest.
Yi-an broods through the night, skipping rocks and thinking about Mom's request to keep everything a secret until they move. Eun-bi takes out Yi-an's medal from the memory box, torn about her relationship with Yi-an.
The next morning, Eun-bi and Yi-an separately take a bus to Tongyeong to visit Eun-byul's memorial. When Yi-an arrives at the cemetery, he's slowly overwhelmed with the reality that Eun-byul is gone. He sees his medal where she's interred and mourns silently.
As Eun-bi leaves, she spots her younger siblings from Love's House, here to visit their older sister with awards from school. She quickly hides and tears up as she overhears her siblings longing for the real Eun-bi to come back. Now playing the older sister, Ra-jin quickly wipes away her tears and leads her siblings to visit Eun-bi.
From above, Yi-an watches this scene unfold, taking in the juxtaposition of Eun-bi's past and present.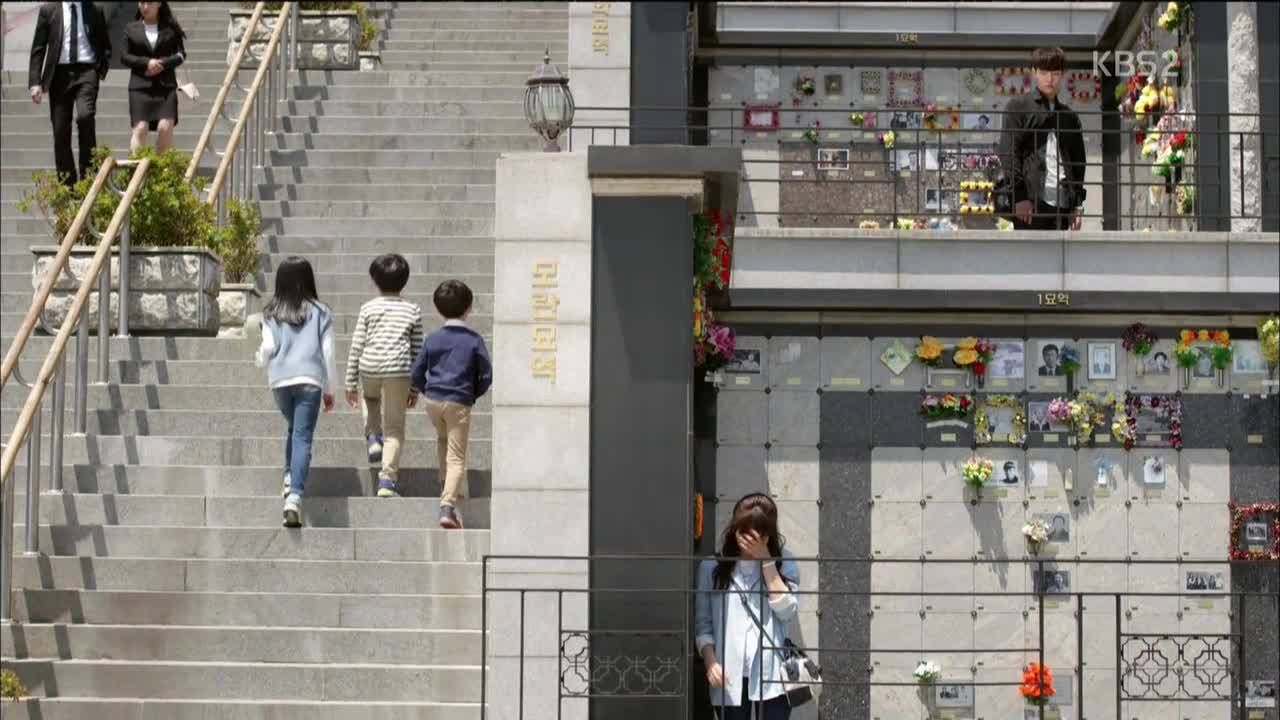 Yi-an boards the bus to return home, and a young girl accidently scratches his hand as she runs past. She apologizes and sticks a band-aid on his cut, which triggers a flashback to Yi-an's youth. Young Yi-an sobs at the funeral for his mother, and young Eun-byul sticks a band-aid on his jacket, where his heart is. Aww.
Back in the present, Yi-an looks through the window at the adjacent bus, where he sees Eun-bi. They look at each other, tears welling up and no way to communicate. Eun-bi's bus leaves, and Yi-an watches forlornly.
Teacher Kim breaks the news to Min-joon's mother, and she clearly doesn't take it well. She asks that he doesn't make any leaps in judgment, and he asks her to do the same.
When Min-joon returns home, Mommy drags him into his room and asks if he's the culprit. After a tense silence of guilt, Mom slaps his face. She orders him to keep his mouth shut, since there is no confirmed evidence. Then she holds his face in her hands and tells him to prepare to study. Ugh Mommy, you are relentless.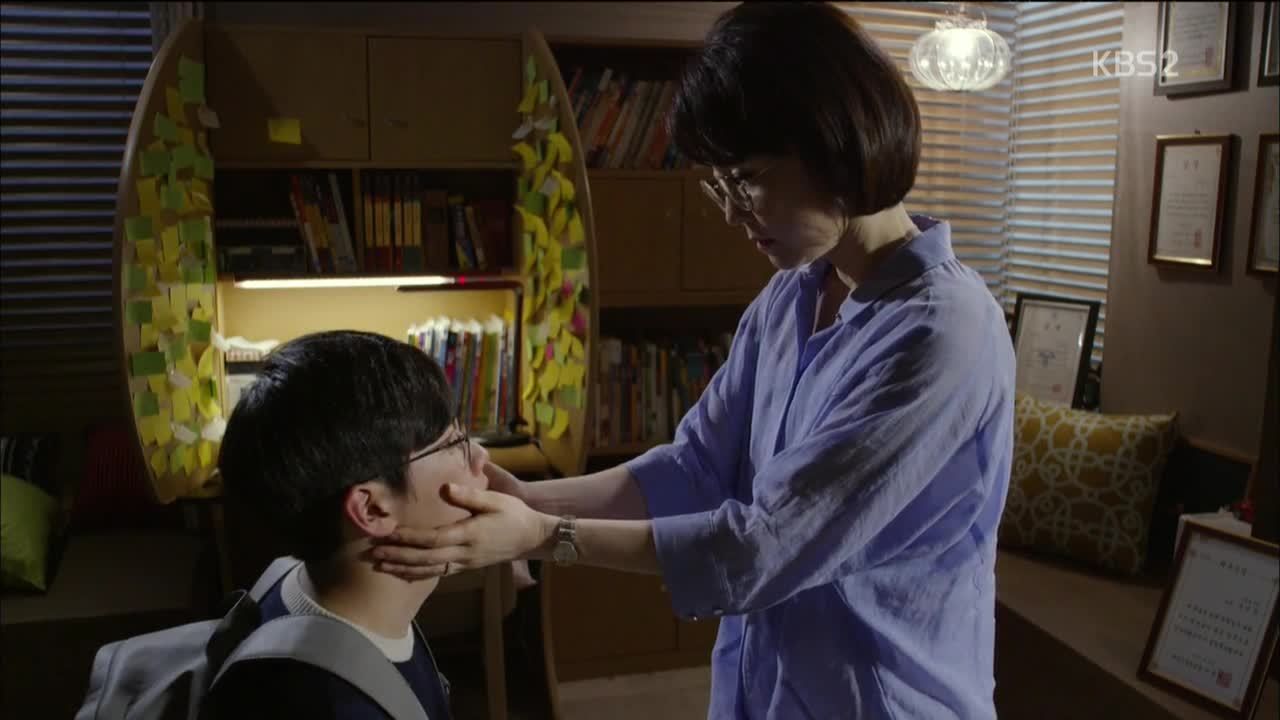 Yi-an returns home to his father, who's a couple drinks in. His father wonders when Yi-an will be old enough to share a drink with him, and Yi-an asks what alcohol tastes like. Dad describes it as something that fills you up you're feeling empty. He offers Yi-an a glass, but Yi-an defers to after his swim meet. He wonders aloud if it really will fill his void.
Eun-bi wakes up to Mom by her bedside, who's been nursing sick Eun-bi all night long. Mom insists that Eun-bi miss a day of school, but she feels well enough to attend. Eun-bi holds Mom's hand and weakly smiles at her in gratitude.
At school, Eun-bi runs into Song-joo in the bathroom. Song-joo tells her about the audition, saying that she did well and will probably sign a contract soon. Her excitement is dampened by their recent unfriendliness, and Song-joo asks Eun-bi why they ended up this way.
Teacher Kim updates the class on the laptop sabotage case, reporting that there is not enough evidence to accuse anyone. But the class directs their gazes towards So-young, having already decided that So-young is the culprit. Teacher Kim demands that they don't bully any classmates without appropriate evidence and gives the culprit until that night to admit their wrongdoing. Min-joon seems to be bothered by this weighing on his conscience.
Shi-jin notices Eun-byul's pallid face and guides her to the nurse's office. As they walk out, Eun-bi looks at Yi-an, but he tries to ignore her. He distracts himself with his headphones, and Song-joo notices their detachment.
Worried about Eun-bi, Tae-gwang visits he and decides to accompany her by taking a nap at the nurse's office. He faces her until he catches himself staring, and quickly turns the opposite direction. Later, Yi-an pays her a silent visit, which is noticed by Tae-gwang.
As Eun-bi returns to class, Teacher Jung asks if she has any worries. She reminds Eun-bi that she's here to listen and cheers her on. But as soon as Eun-bi leaves, Teacher Jung drops her smiley façade and stares with a deathly glare. *shudder*
When Teacher Jung leaves school, a car pulls up and Soo-in's mom greets her daughter. Omg, Teacher Jung is Soo-in's older sister.
Shi-jin complains to Eun-bi about the one minute math problems she's expected to complete, but their conversation is cut short by Tae-gwang, who pulls Eun-bi into his car. He checks her fever, and then they're off.
Teacher Kim waits in the counseling room for the culprit to confess. He hears a knock at the door, but no one is there when he opens it. Below, Min-joon sits against the wall, agonizing.
Tae-gwang leads Eun-bi through a dark empty building and brings her onto the roof overlooking the city. He asks if she remembers when the first met, with him hanging from a rope on the hospital building. Tae-gwang suggests that they reintroduce themselves and greets her as Lee Eun-bi.
He turns around, unsure of his bold move. But Eun-bi's eyes brim with tears of gratitude, and she thanks him. He sees her tearing up, and using potayto-potahto examples, he proves to her that it doesn't matter what she's called. "It doesn't matter if you're Lee Eun-bi or Go Eun-byul. You can be whoever you want in front of me." Aw, what a great friend.
The next day, So-young calls out to Yi-an as he's about to board the bus to his swim meet. He thinks back to Mom's words about Eun-bi being bullied at her previous school and confronts her about the issue. She says that he should look forward to more, but he tells her to save it. "You look pitiful." That definitely hit a nerve.
Teacher Kim looks through the new feature on the school's website, scrolling through the posts his students wrote for him. He laughs to himself reading through the trivial posts until he sees a post about the Tongyeong bully and victim. He reads through the article and the comments, which mention So-young by name.
As So-young walks through the school, students stare and point at her. When she enters the classroom, her classmates greet her as the notorious bully from Tongyeong. There's no way out now with her name disclosed, and Song-joo looks at her, betrayed.
Eun-bi enters, and Tae-gwang acts quickly to get her out of this setting. So-young stares at them walking out, trembling from humiliation.
Outside, Tae-gwang asks if this was Eun-bi's doing. It wasn't, but she admits that she's relieved by the convenient reveal. He asks if she's just going to leave now — she has no good memories here anyway, right? But Eun-bi says that she was happy here, and Tae-gwang is part of her happiness. He's flustered, but he reminds her that this fight is far from over.
Right before the swim meet begins, Yi-an receives a message from So-young. She regretfully informs him that he'll be missing out on her big reveal about Eun-byul's real identity. Nonono, why right before his big swim meet?!
So-young walks to the front of the class, confidently absorbing all the sneering insults from her classmates.
From his swim meet, Yi-an runs across the street just as the light changes. He gets hit by a car, rolling over the car and landing in pain. Oh no, his shoulder! People crowd around him, worried about the severity of his injuries, but he painfully gets back up.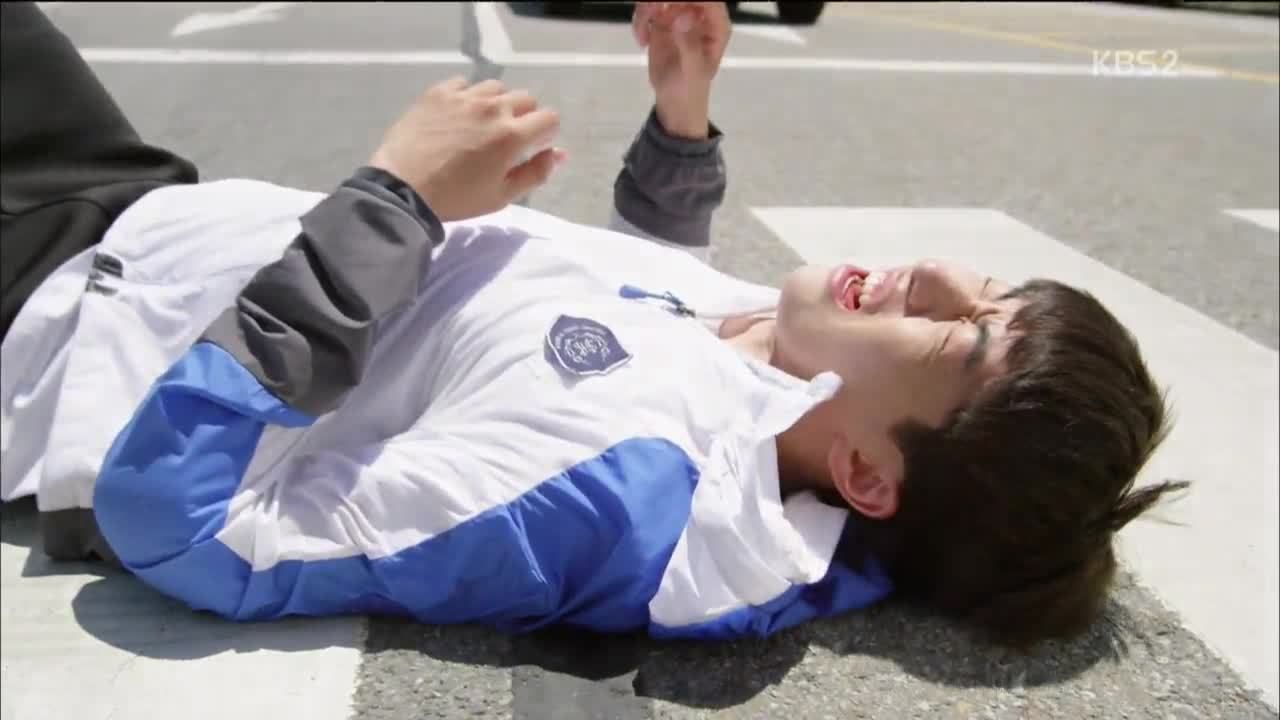 At the podium, So-young announces that she is the bully from Tongyeong. Then staring right at Eun-bi, she asks the class if they're curious about what her bully victim looked like.
Tae-gwang stands up to defend Eun-bi, but someone else beats him to it — Yi-an runs into the classroom, injured and breathing heavily. So-young smirks at his dedication and stares at Eun-bi with her phone in hand, ready to reveal her secret.

COMMENTS
Ahh this cliffhanger leaves me with many emotions. I believe we are at a consensus that So-young is the devil and deserves a downfall. Anything she does only adds to my hatred for her character, and boy, does she make my blood boil. I'm certainly happy with Yi-an's decision to support Eun-bi, even though he knows her true identity. I wouldn't believe his actions to have been motivated by romantic interest, but rather by loyalty.
Although Eun-bi isn't the Eun-byul he grew up with, Yi-an knows where his loyalties lie. Way to redeem yourself after that vehement denial earlier in the episode, Yi-an. But if redeeming yourself means losing your ability to swim, I will be so heartbroken for you. Please please please let all the foreshadowing about your painful shoulder be red herrings and don't have a severely injured shoulder after that car accident. I don't even want to think about Dad's reaction. *knocks on wood*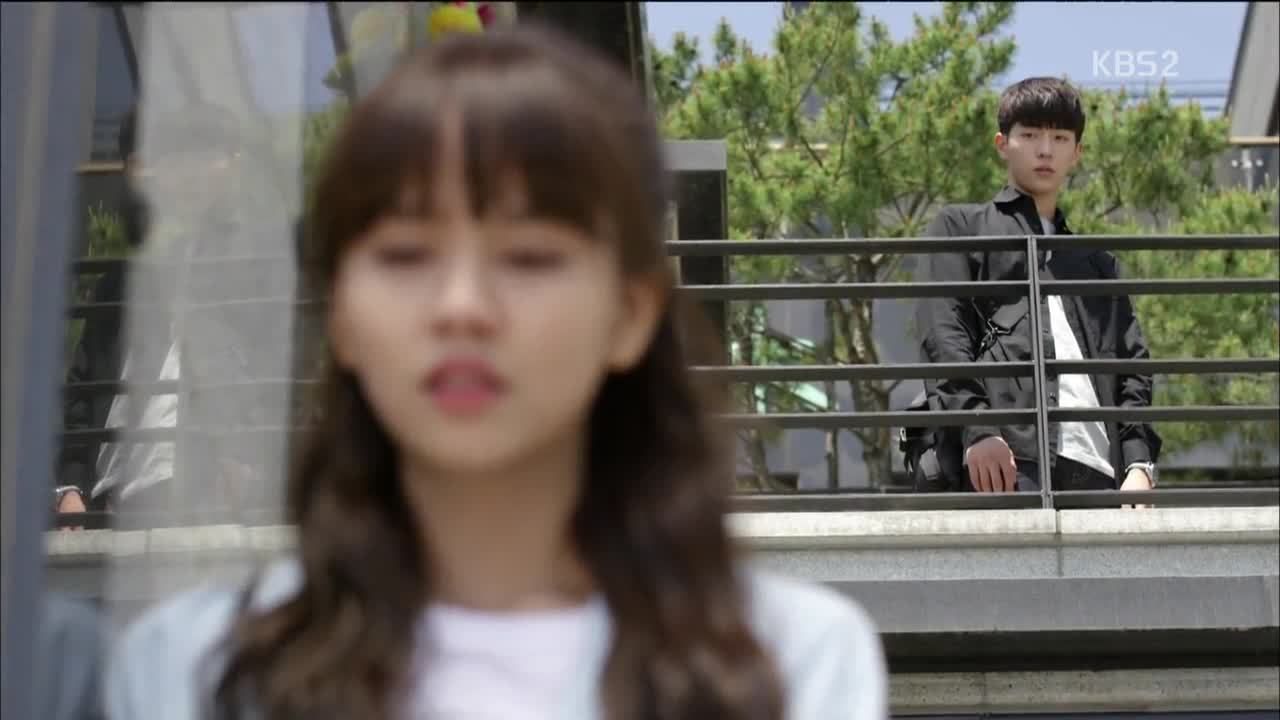 Joining So-young in our list of antagonists is Min-joon's mother, who I found extremely frustrating. She's become so obsessed with her helicopter parenting that she's causing more damage than good for her son's future. I am relieved that Min-joon seems to have more of a conscience than his mother, and I hope that Head Mommy treats her son with some dignity — not as some trophy son to prove her status among the other parents. Also joining Team Antagonist is an unexpected character: Teacher Jung. I initially thought her peppiness would serve as a relief from the teen angst and mystery thrills, so I felt the chills when I suddenly realized she was going after Eun-bi. Give the girl a break! She barely ever has time to be herself!
Speaking of which, can we talk about how wonderful Tae-gwang was in this episode? He's the one person with whom Eun-bi can truly be herself, and I love that he gives her the space to do so. His gruff exterior and completely opposite mushy interior is adorable because he says the complete opposite of what he means every time. It's rare to see him saying what he means and meaning what he says, so it was touching to see him genuinely reach out to Eun-bi. They build each other up in a way that Eun-bi can't do with anyone else because I think they fundamentally understand each other's insecurities. Their vulnerability — no matter the specific reason — speaks to the struggle of adolescence, and they're the support that the other one needs.
Although most of the episode was much slower to set us up for the big reveal, I appreciated the change of pace. Taking the time to feel the despair with our characters felt fitting. The complex feeling of guilt experienced by Eun-bi is hard to characterize — replacing her sister, leaving her siblings at Love's House, feeling loved — but I found that this episode aptly showed the different layers of guilt. It's a tragic concept to feel guilty for being loved, and I can't wait to see Eun-bi accept her own identity as one deserving of love, friendship, and all the good things in life.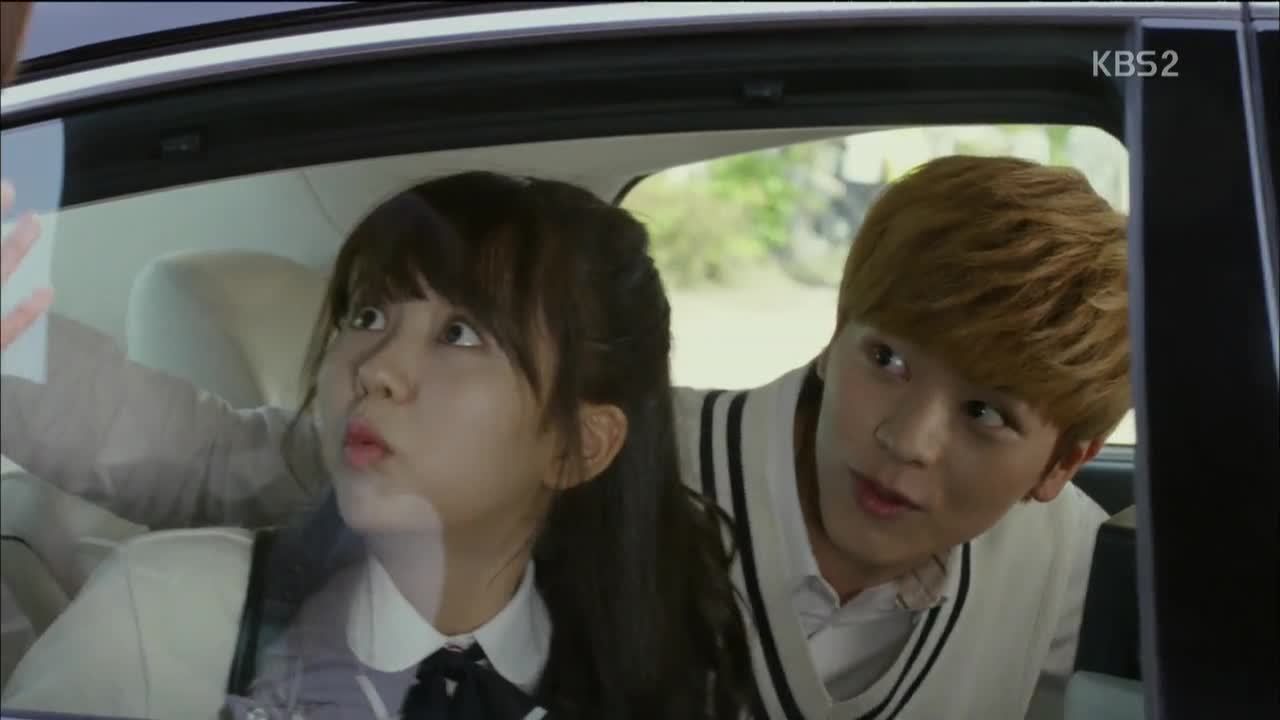 RELATED POSTS
Tags: featured, Kim So-hyun, Nam Joo-hyuk, Who Are You–School 2015, Yook Sung-jae