Comedy film franchise Marrying the Mafia gets drama remake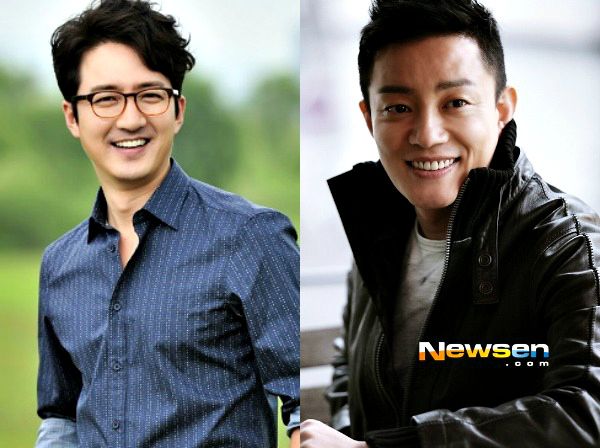 Jung Jun-ho, Lee Beom-soo
There's a new drama in the works that's being called a movie adaptation of the family comedy Marrying the Mafia (or more literally Family's Honor), the ten-year-long franchise that's put out five films from 2002 to 2012. It's a family-friendly series that basically does variations on the first movie: Jung Jun-ho (Mama) plays a law-school-educated elite businessman who ends up marrying into a mob family because of a night spent with a mafioso's daughter. Comedy ensues. The second, third, and fourth installments focused on a different mob family, and then the fifth movie came back to the original family along with a younger generation.
Taewon Entertainment, the production company behind the movies, is producing a drama called The Man With Two Faces, which in some reports is based on the original film franchise, and in others only loosely associated. In any case we're looking at a drama about a mob family, and it's probably going to diverge from the general plotlines of the movies.
The series is reportedly courting Jung Jun-ho (of movies 1 and 5), Lee Beom-soo (Triangle), Shin Hyun-joon (Oohlala Spouses, also of Marrying the Mafia 2, 3, and 4), Infinite's L (She's So Lovable), and Yoo Sun (Horse Doctor) to star. Jung Jun-ho and Shin Hyun-joon are obvious choices since they headlined the movies; Lee Beom-soo would be great since he's at his best in comedy, though I don't know how his schedule would shake out with his new JTBC drama Last, which is due to air in July.

Shin Hyun-joon, L
It'll be a series about a mobster father juggling a life of crime while still having to do normal dad things, like deal with grandparents, a wife, and a prickly teenage son. He has to bring home paychecks and be responsible for taking care of his family, and meanwhile he lives this other life as a scary gangster in order to make ends meet. The teenage son will have a Romeo-and-Juliet love affair, which I'm guessing means that he falls in love with a rival mobster's daughter.
The drama is hoping to land a spot on MBC's fall schedule as its October Wednesday-Thursday series, though MBC has issued statements that nothing has been decided yet. They're also looking at the webtoon adaptation Michelin Star about star chefs and restaurateurs for the same timeslot, so it might come down to securing a cast.
Whether or not they diverge greatly from the movies, I can see the formula being adapted to television quite easily, and could even see it being a weekend family drama if they played up the in-law dynamics. I sort of miss goofier dramas like this filled with misfits and losers (Bad Family is an old favorite, though perhaps the more recent Yoona's Street is the nearest comparison), but could also see it taking a much darker approach to the beleaguered mob boss's story. Not everyone can be Tony Soprano, not that it won't stop mobsters from trying.
The Man With Two Faces is aiming at a fall broadcast on MBC.
Via Star News, Newsen, TV Report
RELATED POSTS
Tags: Jung Jun-ho, L, Lee Beom-soo, remakes, Shin Hyun-joon