First script read for blockbuster melodrama Descended From the Sun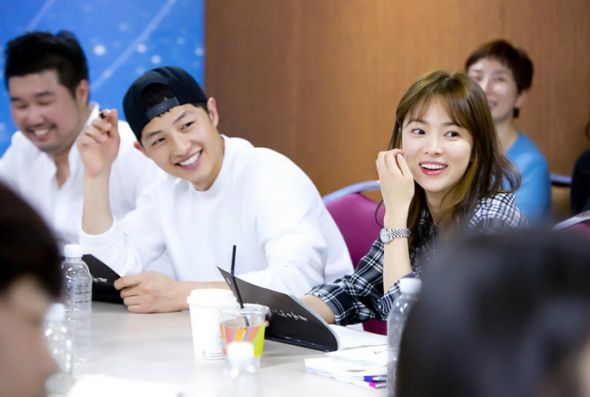 It's so nice to see Song Joong-ki (Nice Guy) fresh out of army and back at work. He wasted no time and jumped right into the first script read for his comeback drama Descended From the Sun, opposite Song Hye-gyo (That Winter, the Wind Blows). The new project from star writer Kim Eun-sook (Heirs, Gentleman's Dignity, Secret Garden) and the PD of Secret is a large blockbuster-scale production that's due out later this year, but is planning a few months in advance because of extended overseas shoots.
The drama is about doctors and soldiers stationed overseas in war zones, and will be a human melodrama about the people who deal with life and death on the front lines. The story centers around an army surgeon (played by Song Hye-gyo) and a special forces officer (Song Joong-ki), and their budding romance. Why do I have the feeling that the setting will be Saving Private Ryan but the story will be Secret Garden?
Kim Ji-won (Gap-dong) and Jin Gu (Falling for Innocence) will play another army surgeon-officer pair just like the first, with their own love story on the sidelines. Kang Shin-il (Pinocchio), Shinee's Onew, Hyun Joo-ni (Angel Eyes), Seo Jung-yeon (Heard It Through the Grapevine), and Lee Seung-joon (Hyde, Jekyll, Me) co-star.
The story will take place in a fictional war zone, which is curious since we're not exactly lacking for war-torn countries to set a triage story in, but I guess I can see the pitfalls of locking yourself into current events that way. Still, how do you determine what language is spoken in your fictional country, and why all the doctors and soldiers there are Korean? I don't know, maybe it won't matter, but what's wrong with setting your story a little in the past to use history to your advantage?
It'll be about the young people who are each there for a different reason but suddenly find themselves fighting for survival, surrounded by disease and war. The drama promises tense thrills and romance amidst the chaos, in a story about finding love and humanity in the darkest of times. It's a tall order, but I do hope that the scale of what they've been describing for the project comes across onscreen.
Descended From the Sun plans to air on KBS later this year.
Via TV Report
RELATED POSTS
Tags: Descended From the Sun, Jin Gu, Kim Ji-won, Song Hye-gyo, Song Joong-ki