Hidden Identity: Episode 4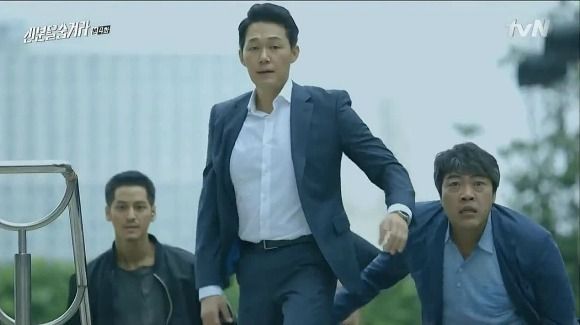 Who knew that in order to catch a ghost, you first have to catch a mermaid? Team Leader Jang seems to know, but then again, he seems to know everything — almost as much as the NIS. That would seem suspicious if the NIS weren't suspicious enough. Especially when it comes tracking down the man who ordered Teacher Jung's crew to steal the hologram code, and, more importantly, why.
EPISODE 4 RECAP
Teacher Jung realizes he's been cornered in the elevator by Team Leader Jang, and they leave behind their words in favor of their fists. It's a pretty even (and brutal) battle in the elevator, but Jang is the better of the two, and soon Teacher Jung is gasping in pain at Jang's feet. A handcuffed Teacher Jung is escorted away as his daughter sobs at the sight.
In the interrogation room, it's a silent staring contest between Jang and Teacher Jung, until Jang sighs and unlocks Teacher Jung's handcuffs. Teacher Jung agrees to cooperate if Jang promises to protect his wife and daughter by creating new identities for them.
Teacher Jung casually sips his coffee as he says that even with his help, Jang's team won't succeed. But Jang leans in, asking about "the Ghost." There's a flicker of surprise as Teacher Jung pauses, but then he leans in, too, asking if Jang knows why he's called the Ghost — it's because the only way to see him is if you die.
Unfazed, Jang says that they'll just have to find out if that's true, and he leaves the interrogation room. Min-joo and Tae-pyung have been holding their ground with the feds (even it means literally twisting the snotty agent's arm), but Jang says that the government can take the lead on retrieving the hologram code. His team will be there as back-up.
Snotty Agent is annoyed at Jang's easy way of talking about the case in front of the other Investigation 5 Unit members, but Jang says they deserve to know who they're targeting: the Ghost.
Jang debriefs his team about this mysterious Ghost. Not much is known about him, except for rumors: that he's an NIS agent, and possibly a double-agent responsible for many terrorist attacks. The CIA tried to assassinate the Ghost years ago, but instead most of their assassins were killed and they were barely able to arrest him.
Even with his capture, incidents still were happening under his name and leadership. But it's difficult to know more much more than that, since any information is strictly top secret and handled by the federal government. The only reason Tae-in knew about it (and was willing to sacrifice his life to find him) was due to personal reasons — his sister Tae-hee was killed due to one of the Ghost's acts of revenge.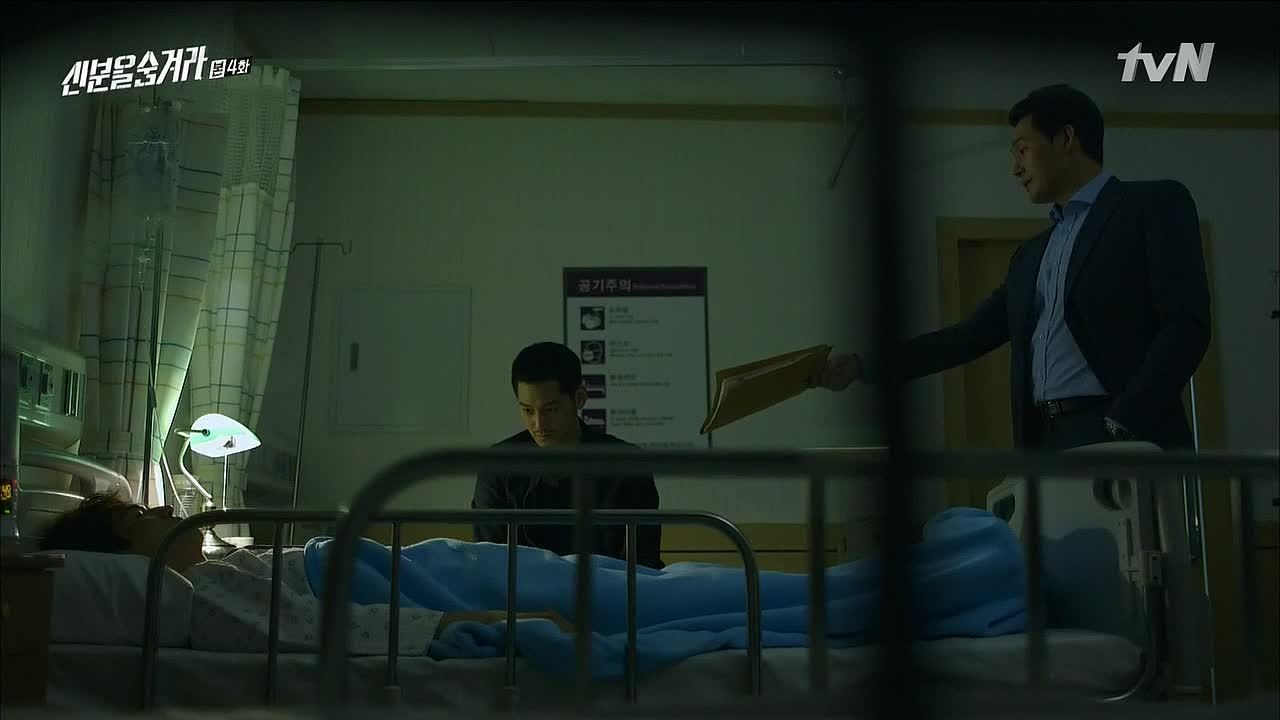 He gives the same debriefing to Gun-woo, who sits silently at Tae-in's hospital bedside. But now that Gun-woo knows who really killed Tae-hee, Jang asks Gun-woo to finish what Tae-in started.
Thanks to the code from the slip of paper Teacher Jung gave Jang, Snotty Agent is able to open a locker at the train station and retrieve the USB drive with the hologram code.
In an outdoor courtyard of a shopping mall, Teacher Jung sits at a table. He keeps a careful eye on his surroundings as he waits for the Ghost's phone-call. Surrounding him are various undercover federal agents, and the rest of the feds are set-up in a nearby store, keeping a careful eye on any suspicious people who enter the area.
At the appointed time, Teacher Jung receives the phone call, and even though the voice is digitally disguised, the feds are quick to record it and set up a phone trace. They also check out everyone nearby who's on the phone, narrowing in on a suspicious-looking man who's hidden behind his ajusshi hat.
In a nearby surveillance van, Investigation 5 Unit is listening in and watching through the cameras, but when the Ghost asks if Teacher Jung met with "the Mermaid," that sets off warning bells in Jang's mind. The Ghost says that they're still waiting for the results, and he's sorry that he and Teacher Jung won't be able to see the end together.
Jang tries to get the feds to stop the plan, warning them that something isn't right — they haven't even handed over the hologram code yet. Snotty Agent says they only need one more minute to trace the call and if they stop now, they'll lose the Ghost. But Jang is more worried that they'll lose Teacher Jung, and orders his team to move in.
As the feds confirm that the phone trace leads back to the suspicious nearby ajusshi, Teacher Jung stands still in the middle of the courtyard, a perfect target for the sniper whose bullet goes straight through his heart. It almost seems as though he knew what was coming.
There's mass panic in the courtyard as the civilians scream and flee to safety while the federal agents try to shoot in the direction of the sniper. Investigative 5 Unit rushes in to assist, as the sniper guns down a few more federal agents.
Tae-pyung tackles the suspicious ajusshi — but it's just a scared civilian who doesn't know what's going on. A device left in the bushes was able to reroute the tracer to that phone instead of the phone the Ghost actually used. Min-joo tries to find the sniper, knowing he can't be far away, but to no avail.
Jang and Gun-woo hurry to Teacher Jung's side. But it's too late. Just like he had said in the interrogation room, you can only meet the Ghost when you're dead.
A man — who's face we cannot see — watches children play and then answers his phone. Hmm, is this the Ghost, then?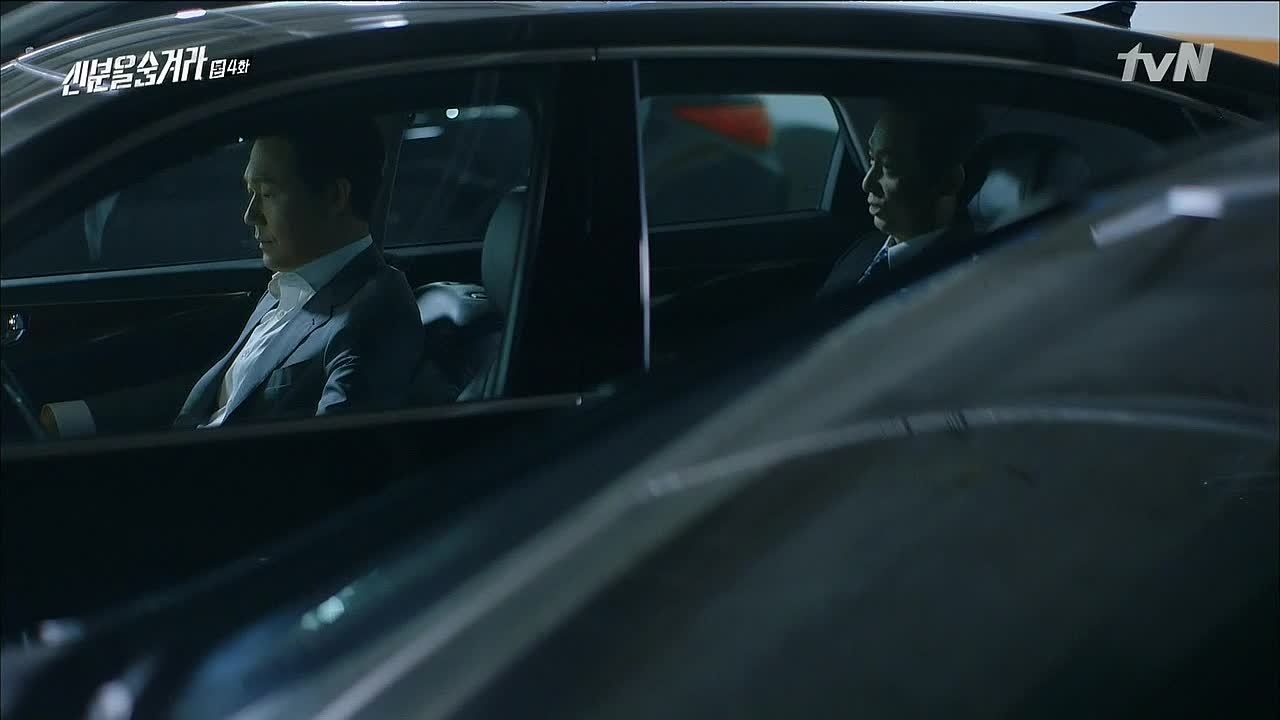 In a parking garage, Jang and the Chief of Police have a private meeting. The chief orders Jang to give up his mission to capture the Ghost and to just let the feds handle it. But Jang's got a new focus — this mysterious "Mermaid." The chief seems know it's pointless to dissuade Jang, so instead he reminds him that everything about the Ghost is still super top secret and only his team can know about it. Fine; can he add someone new to the team?
At a nearby bar, Gun-woo opens the envelope Jang gives him — it's a hiring notice. Jung tells him it's his choice to agree to it, and Gun-woo doesn't give an immediate answer. Min-joo, Tae-pyung, and Duk-hoo arrive just then, and their upbeat attitudes imply that they assume Gun-woo has already accepted the job. But Gun-woo's still got some brooding to do.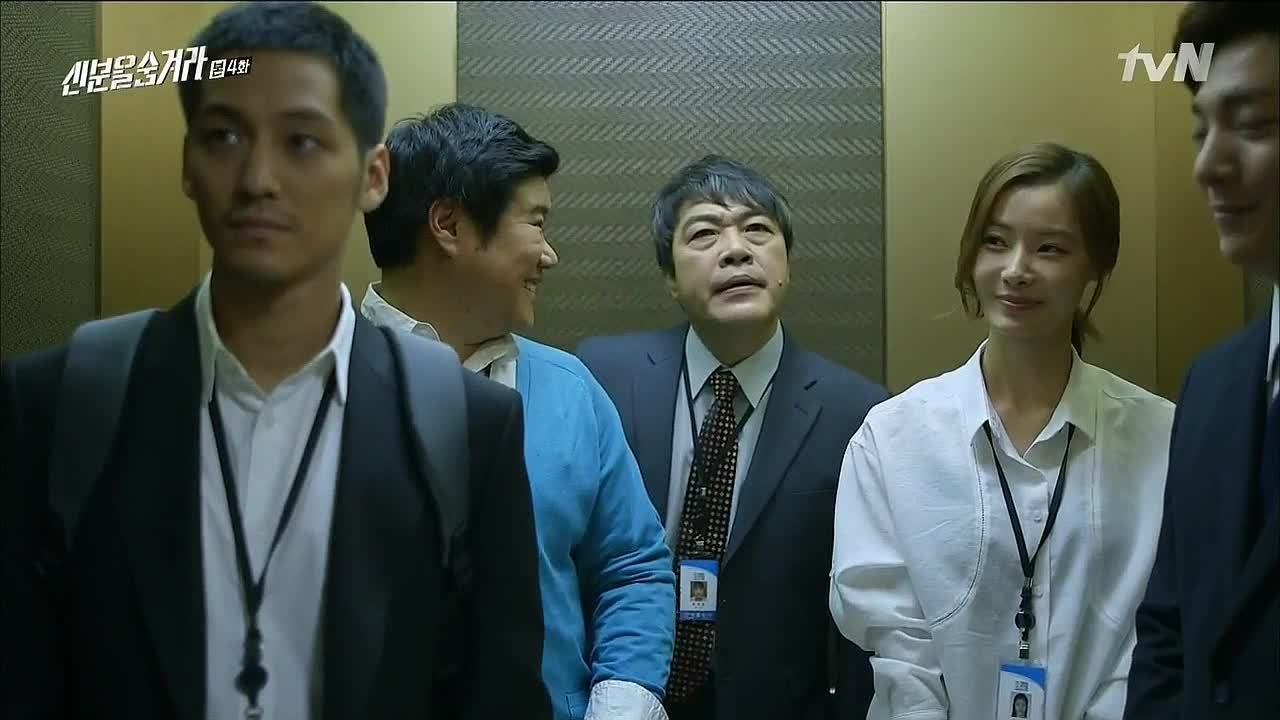 By the next morning, though, he shows up to the Investigative 5 Unit offices in a clean, pressed suit, ready to start his new job. He runs into the other three in elevator, who tease him for finally joining the team. Aw, Tae-pyung insists Gun-woo to call him "hyung-nim" instead of "sunbae-nim."
Jang relays their new mission — to investigate the Mermaid. He also reiterates that secrecy is of utmost important, since information leaked in the last case which resulted in the death of Teacher Jung and their being no closer to catching the Ghost.
Elsewhere, a mysterious man in sunglasses receives a phone call, and it's the distorted voice of the Ghost. He reassures the Ghost that the Mermaid is working on "it" and it should be completed in a few days.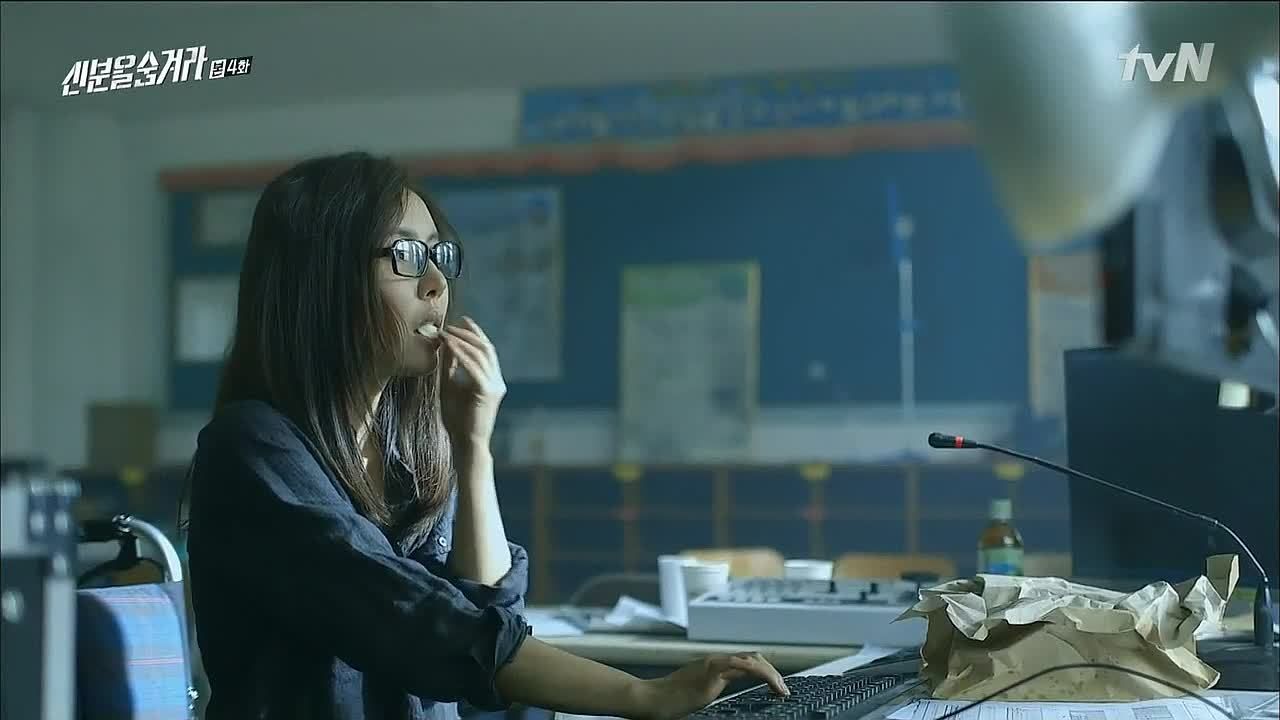 A young woman types at a computer as she simultaneously shoves potato chips into her mouth. She barely glances up when a man hands her a pill, which she immediately swallows with water. He seems a little nervous as he watches her — or maybe it's the other guy in the room who's carefully assembling a bomb that's nerve-wracking.
These are same two men that are connected to the case that Gun-woo and Tae-pyung are currently investigating due to it's relation to Teacher Jung. Tae-pyung drags Gun-woo to the subway station where a Seoul Court Chief Judge and his driver were murdered, since he always believes the answer to any case can be found at the crime scene. He notes that the photos of the crime scene show the victims wearing shoes, but the case report omits them.
Gun-woo wonders if the reason the men were killed was due to something hidden in the shoes, but when Tae-pyung spots a homeless man digging around under a vending machine for loose change, he gets another idea and orders Gun-woo to follow him.
A bewildered Gun-woo still has no idea what Tae-pyung is up to (aw, and he refuses to tell him until Gun-woo calls him "hyung-nim"), but Tae-pyung gives him a crash course on the homeless men who live in the subway station. He knows that at least one of them would have been around during the time of the judge's death and the missing shoes are likely on the feet of their witness.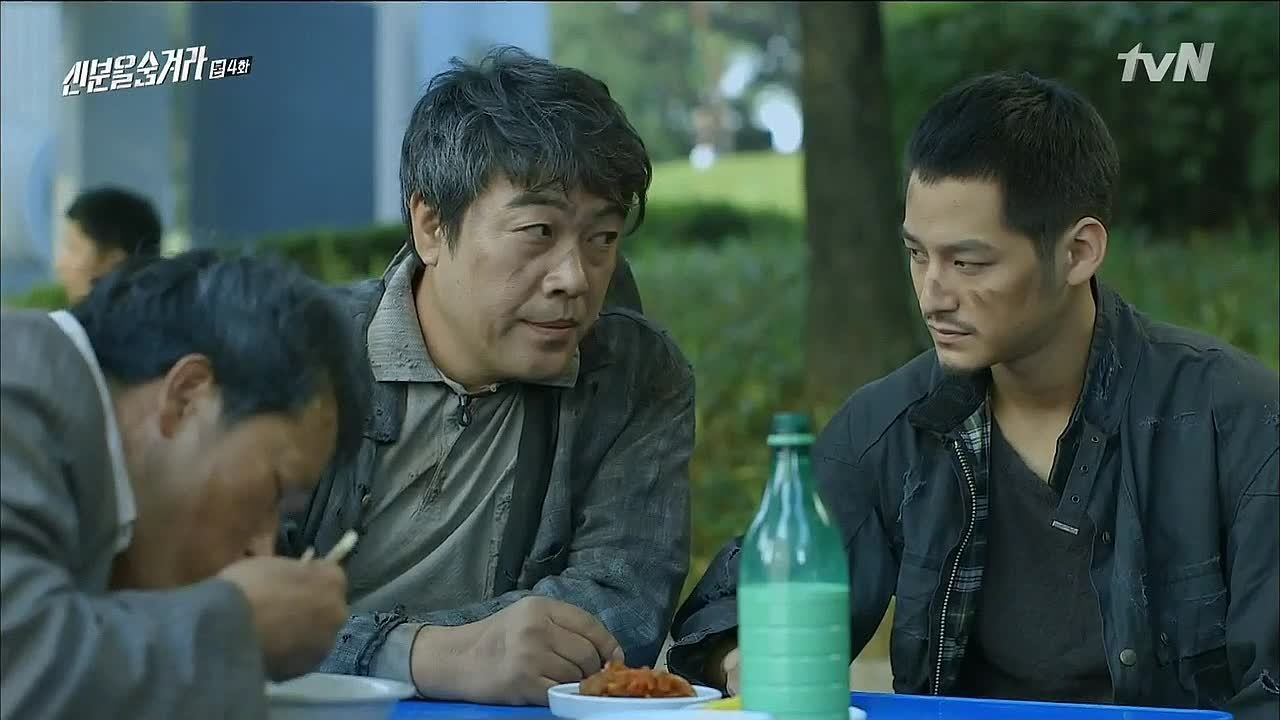 In order to get the information they need, Tae-pyung and Gun-woo go undercover as homeless men. Gun-woo seems a little hesitant about Tae-pyung's method, but Tae-pyung shares some soju and snacks with the men and easily begins to win their trust as he asks them about their lives. Gun-woo keeps an eye out for the men's footwear and they find someone who's wearing suspiciously shiny and expensive loafers.
They buy the man some lunch and while he wolfs it down, Gun-woo asks about what he saw that morning. What he saw were two thugs dragging in the bound-and-gagged judge and his driver. As one of the thugs slit their throats, the other let the Mermaid know via a video call that the deed was done, as promised.
Min-joo has figured out that the target wasn't the judge, but his driver. But in order to deflect attention from the real target, the judge was killed as well. That information combined with Gun-woo and Tae-pyung's discovery that this was a purposeful execution has them convinced it was a revenge killing as ordered by the Mermaid.
Now that they know the driver is the target, Min-joo reveals that the driver's last car accident resulted in a woman's injuries so severe that her spinal cord was irreparably damaged and she's permanently paralyzed from the waist down. This woman was Yoon-mi, who's currently focused on hacking into the NIS servers.
As the Investigation 5 Unit tries to figure out why killing the driver would be considered a "reward" for the Mermaid, Duk-hoo discovers that Yoon-mi was famous for her genius hacking skills. Jang knows that Teacher Jung contacted her as soon as he got the hologram code.
He orders his team to find out why Teacher Jung met with her and what the Ghost wants from her. After everyone else leaves, Jang tells Duk-hoo to secretly check in with NIS to see if they're doing anything unusual.
One of the thugs hands Yoon-mi another pill (a painkiller, presumably) and asks if she can't hurry it up. She calmly informs him that this is as fast as she goes. Just then the thug gets a warning phone-call that they're being tracked. The other thug nods over at Yoon-mi, still busy typing away, and the first thug reminds him that they need to stick to the plan and eliminate all evidence.
Duk-hoo reports back to Jang that the NIS isn't telling him anything about the Mermaid, which he finds suspicious. Perhaps because they're too busy trying to fend off her attacks on their database.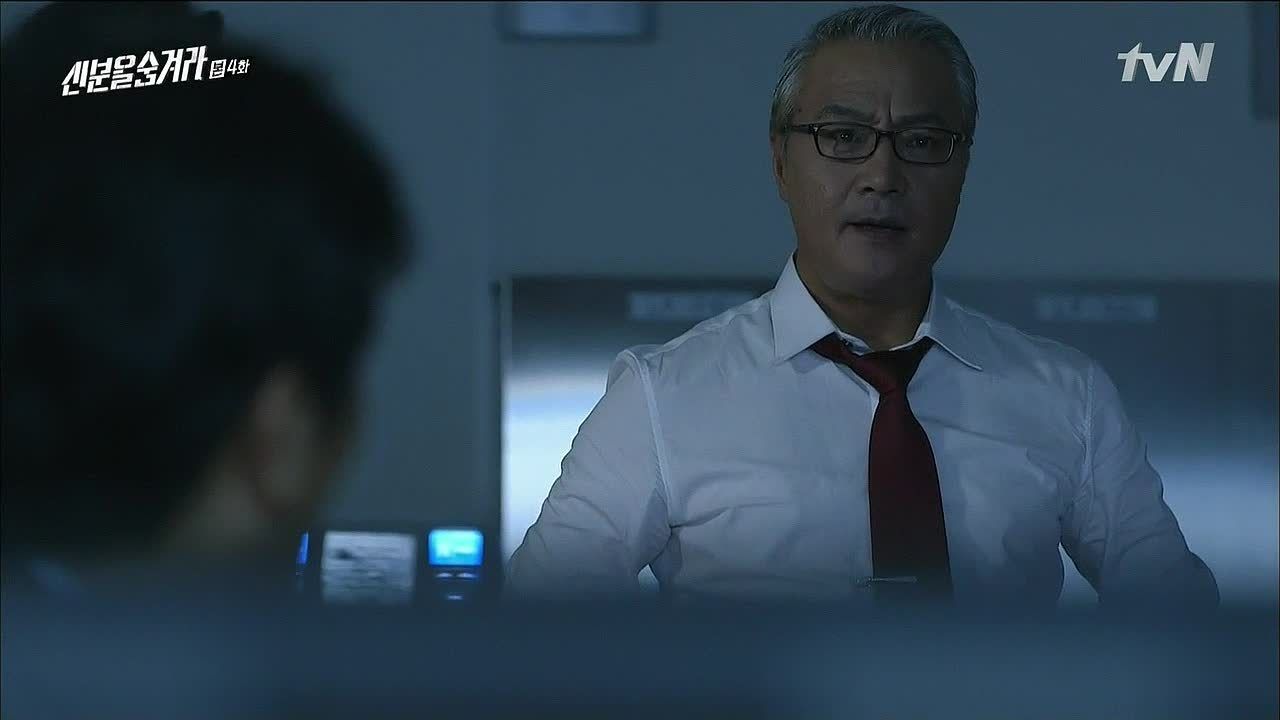 Oh, hey, it's Misaeng's Executive Director Choi! Okay, maybe he's not an executive director, but he's definitely something high-ranking at the NIS as he demands his tech team to find a way to subvert the attack. But there's no way to stop it — Yoon-mi will have the data within the hour, and they're still unable to trace her through the intricate network of web servers she's set up.
Jang makes a call to meet with the NIS director, who politely and pleasantly pours him a drink (which Jang refuses — he's on the job, after all). It's been eight years since these two men last met, so why the sudden appearance? Jang bluntly tells the NIS director to not stop the hacker.
The director is more amused than surprised that Jang knows that they're under attack. Jang explains that Teacher Jung had actually wanted the government to take the supernote hologram code from him because it actually contained a Trojan virus to allow them access to the servers. Or at least weaken them enough to let the Mermaid get through.
So he wants to make sure they keep the servers open so that they can catch the Mermaid and keep the data — as well as the Mermaid, and by extension, the Ghost — from disappearing forever. The NIS director wonders if he can trust Jang, but Jang reminds him that trust goes both ways. So what top secret information is the Mermaid is trying to steal?
The director hesitates, but then tells Jang about a new bomb that was being researched in China, back in the 1970's. If the bomb had been successful, it could have had incredible destructive power. Both the American CIA and the Korean NIS allied together in a secret operation to get rid of the Chinese bomb developers.
The file that the Mermaid is looking for contains information about that operation. It's such a top secret file that even the director doesn't have access to it, and if the file is leaked, it could have disastrous consequences.
Duk-hoo and Min-joo have been able to confirm Yoon-mi's connection to the two thugs and have pulled phone records for the two men. Jang warns them that Yoon-mi will close the line to the NIS servers soon, which means they can't guarantee the retrieval of the information she'll steal or, for that matter, her safety. He orders them to find Yoon-mi before the information is fully leaked.
The NIS director paces in the computer room as the agents report that 98% of the data has already gone through and that they're losing track of the Mermaid. There isn't much time left. Snotty Agent is annoyed that Jang knows so much, but the director retorts that maybe Snotty Agent doesn't know enough, and right now Jang's team is their only hope.
Duk-hoo tries to narrow down the range of where Yoon-mi might be based on the GPS data of one the thug's cellphone calls. As he rattles off a few potential places to the rest of the team who are already in their cars, hurrying to find Yoon-mi, Gun-woo recognizes the name of Yoon-mi's elementary school, currently abandoned.
With a few taps on the keyboard, Yoon-mi shows the men that she's managed to download all the information. One of the guys orders her to upload it to the server, but she cooly reminds them that her part of the deal ends here. The other guy grabs her by the hair and holds his knife to her throat. Hard to argue against that.
After starting the upload, Yoon-mi is chained to her wheelchair, and the bomb the guy was working on earlier is strapped to her chest. The timer begins to count-down from fifteen minutes and he tells her there's no way to escape. But she's resigned to her fate — she knew they wouldn't let her go after she completed her mission. It doesn't matter, anyway, because she didn't want to keep living in the first place.
But the men are surprised to see suddenly big "Disconnect" flashing warning signs on the computer screens (thanks to Duk-hoo cutting off the server access), and the mysterious man in the sunglasses who has been keeping tabs from far away is so annoyed that the upload was interrupted, he whips off his sunglasses and picks up his phone.
Min-joo is the first to arrive at the school, and as she carefully creeps around the corner of the abandoned building, she spots Yoon-mi and the men in one of the class rooms. But she also sees the bomb strapped to her chest. Even though Jang called for back-up, there's no chance the bomb-squad will get here in time. It's up to the Investigative 5 Unit to take care of it themselves.
After some arguement, Jang finally agrees to let Gun-woo help him diffuse the bomb, since he's been trained. He orders Tae-pyung to help Min-joo do whatever it takes to catch the other two guys. Haha! Tae-pyung seems delighted to have permission go all "action blockbuster." But he's not sneaky enough and when he noisily stumbles against some metal rubbish in the hallway, the thugs inside realize someone's onto them and go to investigate.
The abandoned school provides quite the maze as the Tae-pyung and Min-joo and the two thugs peer around corners and up stairwells, each hoping to be the first one to get in a shot. Min-joo surprises her thug by jumping from a doorway, effectively disarming him with a kick of her long legs. But he's still willing to fight her with his fists.
Meanwhile, Gun-woo and Jang find Yoon-mi. She orders them to leave her alone and save themselves. When Gun-woo sees the expertly made bomb, his face falls, but he still gingerly reaches for the wires, determined to try. She tries to shove him away, telling him it's pointless. Besides, she wants to die. That's a feeling he knows all too well.
But Gun-woo reminds her she has at least one person who would miss her if she died — her mother. That hits home, and she no longer tries to struggle as Gun-woo attempts to disarm the bomb. He's worried about Min-joo and Tae-pyung, though. Quietly, Jang simply tells him to trust them.
Tae-pyung follows his guy to the rooftop. After they manage to disarm each other, it's a fierce, brutal fight as they discover that old school desks make great weapons (and terrible landing pads). Min-joo looks like she might actually be winning against her guy as she twists him arm behind his back and then pins him against the wall, but he spins around and pulls out a knife.
Beads of sweat pool on Gun-woo's forehead as he carefully cuts one of the wires. But the countdown timer doesn't stop. Jang realizes it's a trap, and Gun-woo yells at Jang to get out — there isn't enough time. But Jang orders him to focus. After all, he trusts his team. The seconds tick down until there are only a few left, and Gun-woo selects a new wire to cut.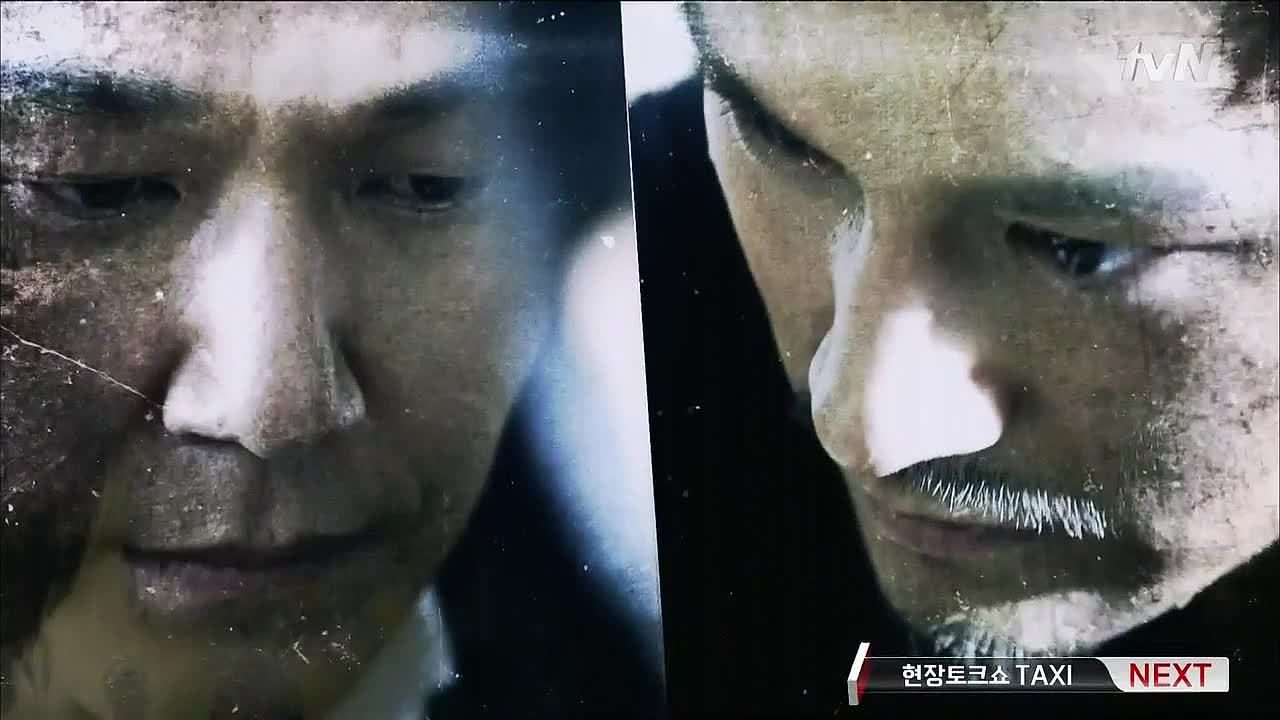 COMMENTS
This show sure does love its life-or-death cliffhangers. Speaking of life-or-death, let's take a moment to remember the charismatic-yet-criminal Teacher Jung. As Big Bads go, he was turning out to be be one of my favorites. But we're barely four episodes in and he's gone. Sniffle.
Which means, of course, there's another even worse Big Bad out there: this mysterious Ghost fellow. I'm ready to suspect everyone, especially since we know there's a leak in the NIS. I'm actually more-than-ready to suspect Executive Director Choi I mean the NIS director just because from my Misaeng days I know that actor is capable of playing a convincing and ruthless power-hungry (yet totally charming) character. But I'm also now wary to get too attached to anyone who seems like they have the potential to be a charming villain because I'm not ready to let them die on me in a few episodes.
But enough about the bad guys — how about the good guys? I do love that Gun-woo is officially part of the team, and especially that he's paired up with Tae-pyung. Hello, budding bromance! The brooding Gun-woo needs someone who's a little more light-hearted in his life, especially someone who will take Gun-woo under his wing and refuse to listen to him argue otherwise. Tae-pyung is like an older, friendly Labrador Retriever who finds an angry, mistreated, and abandoned kitten and adopts it, teaching it how to love and trust again.
I'm also still head-over-heels for the impulsive Min-joo who acts on her instincts (and is so often right!). I love that she's given a character that goes beyond "token female." She dresses in clothing that is practical for her job — loose fitting shirts and trousers, with lace-up flats. These are clothes meant to assist in chasing after bad guys and kicking their butts, not for selling PPL designer clothes. That isn't to say the show tries to deny her femininity — she's the one who comforts Teacher Jung's daughter; she's the one who seems to enjoy using her femininity in her undercover roles in order to get the information she needs (or distract someone); and she's the one who seems more capable of empathy.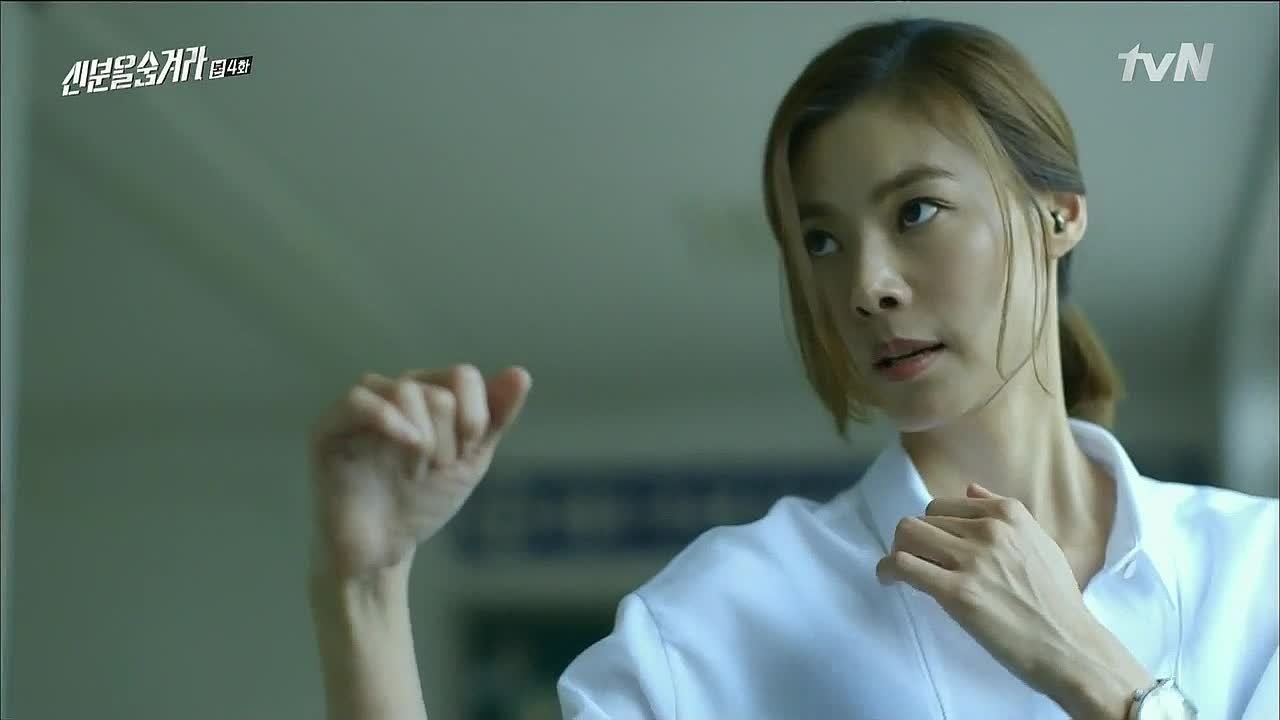 But I do really appreciate that they make her seem like a legit detective who also is really, really good at her job and loves what she does. That said, I still wouldn't mind adding another female to the team. Which is why I'm holding out hope that somehow Yoon-mi will survive the bomb (well, all of them need to survive the bomb or this series suddenly got wayyyyy shorter than intended). Because I want Yoon-mi to join the Investigative 5 team. She already knows so much about the top secret stuff, plus her hacker skills would undoubtedly be super useful. Not to mention she'd be another wounded kitty for Jang to save (except this time she'd be taken under Duk-hoo's wing, er, paw, if we're sticking with my original analogy).
All-in-all, I'm still greatly enjoying the show. While there might be some fridge-logic that can trip you up if you think about it too much, the show is such a fun watch that it's easy to kick back and just enjoy the ride. I had to chuckle a bit when Tae-pyung said they had to go-ahead for the "action blockbuster" because that's what this show feels like to me — one of those beat-'em-up-shoot'em-up'-bang! summer blockbusters that are light on substance but heavy on visual thrills — and in that aspect, I think the show is doing an excellent job living up to the archetypes and pacing of such a genre.
Maybe it's predictable at times, but it's very satisfying to see how it fulfills those anticipated story beats. Which means I suppose I better get used to the "Will so-and-so survive until the next episode? Tune in next time!" cliffhangers.
RELATED POSTS
Tags: featured, Hidden Identity, Kim Bum, Lee Won-jong, Park Sung-woong, Yoon So-yi