High Society: Episode 6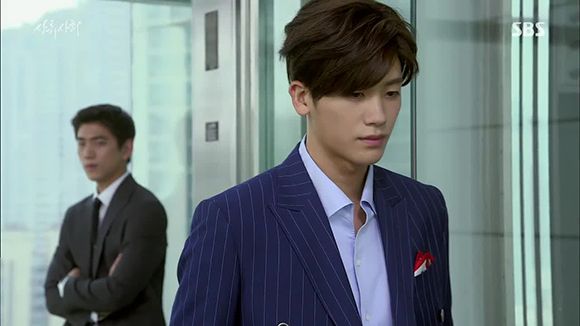 Dating revelations abound this hour as our core four arrive at conclusions that were all but common knowledge for everyone else, but ones which shake their faith in each other nonetheless. Secrets aren't fun for a reason, and now that the floodgates have at least partially opened there's room for more doubt and speculation from all sides. And in each case, the suspicion is pretty warranted—better late than never, as they say.
Ratings-wise, High Society has been on a small but steady rise since its premiere, and topped a series high of 9.8% this week. Saguek contender Hwajeong barely made the lead at 10.7%, while newcomer I Remember You finished its premiere week at 4.7%.
SONG OF THE DAY
Jung Yup – "눈부신 하루 (Dazzlingly Bright Day)" from the OST [ Download ]
Audio clip: Adobe Flash Player (version 9 or above) is required to play this audio clip. Download the latest version here. You also need to have JavaScript enabled in your browser.

EPISODE 6 RECAP
The morning after Madam Min's drunken tirade, her husband sits her down for a bit of berating, which she takes much more calmly than expected. She doesn't even balk at his reminder that Yoon-ha will be formally brought in to work at the company.
Yoon-ha gets a call from Butler Hong when he doesn't find her in her room, and hurriedly gets up to return home to prevent him from discovering that she spent the night at Joon-ki's house.
Joon-ki, however, isn't home. He's out with a buddy from the press, feeding him information on Yoon-ha's secret life as a part-timer while claiming to have no relationship with her.
He returns when Yoon-ha calls to wonder where he is and finds that she's made a full breakfast for him. She seems happy with her domestic art, backing up with a coy smile as Joon-ki approaches her…
…To turn off the stove. She's disappointed that's all he wanted, claiming that there's so much more men and women can do when they're alone together. She demonstrates by giving him a back hug.
"I think men and women are interesting," Yoon-ha muses. "How can they become this close this quickly? How can they form trust like this so quickly?" Joon-ki grows uncomfortable and finds a reason to pull away, not that Yoon-ha notices.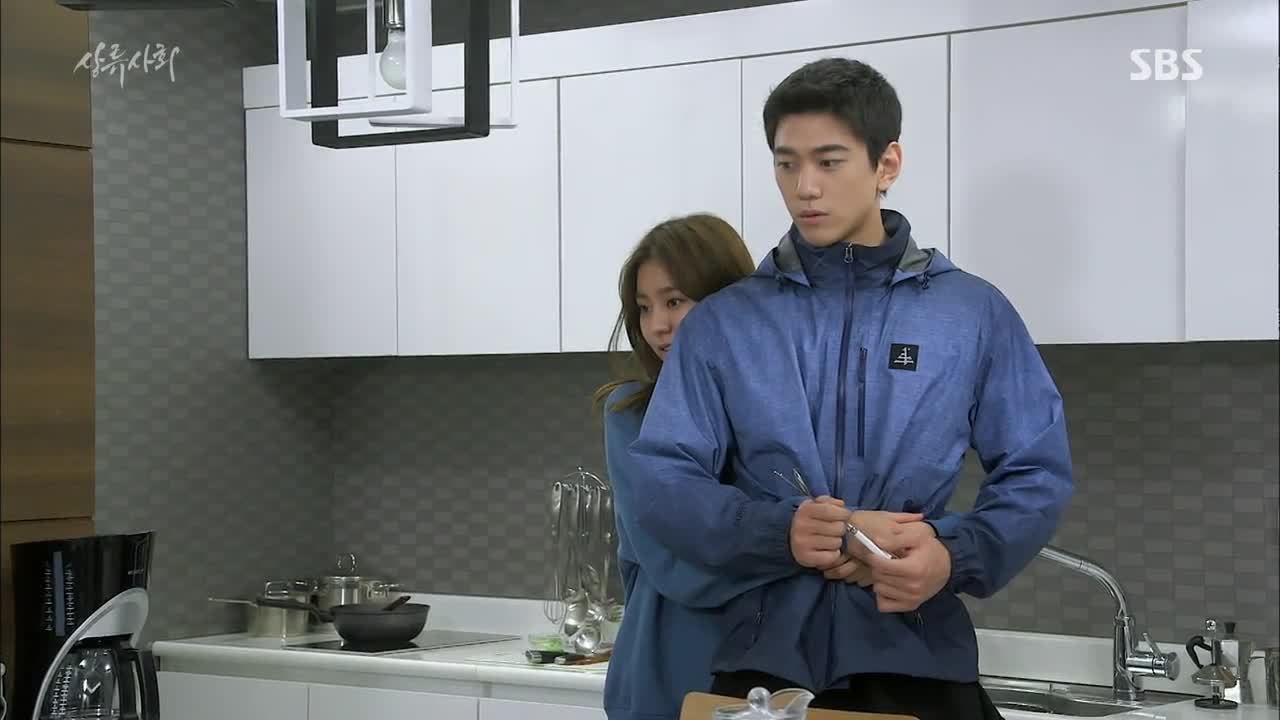 Before he goes, she makes sure to tell him that the way she's acting now is not how she usually is—though she's not at all unpleased with the new version of herself. Joon-ki has to be the one to tell her that changing everything about yourself isn't necessarily a good thing, but even that goes straight over her.
Instead of listening to his advice, she says she likes the objective way he talks to her. "What wouldn't you like?" Joon-ki asks, but again, Yoon-ha doesn't get it. Oy, if the man on the receiving end of your domestic housewifery is concerned that you're going at it with too much zeal, maybe some re-evaluation is in order.
Oh, and Yoon-ha's quitting her part-time job today too. Why would she up and quit something she's touted as being of chief and irreplaceable importance in her life until now? Your guess is as good as mine.
While preparing for a meeting with daughter Ye-won, Chairman Jang updates his secretary on his plans for Yoon-ha, which include placing her as a team leader for one of their Chinese offices. As for the stocks they assume Kyung-joon bought her, it's assumed that she's been interested in managing the company for a while now.
Ye-won breaks the news to both her parents that she's finalizing her divorce, seemingly fine with giving all custody rights to her soon-to-be ex. That way, she explains, she can take her rightful place as their eldest daughter and take over Kyung-joon's job as well as his old living quarters.
Madam Min is against all of this, but especially against Ye-won moving into Kyung-joon's residence. Her father is much more agreeable for once in his life, but urges Ye-won to convince her mother.
She finds her mother drinking despite her promise to stay sober, dropping her usual impassive demeanor when she starts talking about her mother's blatant favoritism when it comes to her children. Has Madam Min ever thought about how that would affect the children she doesn't love? All Ye-won wants to do is live with her parents, she cries.
Next up on Ye-won's visitation list is awful sister So-hyun, who's taking the time to raid Yoon-ha's closet since she's not home. Ye-won is the first one to theorize that there's something more to Yoon-ha's decision to leave home now, especially since she has stocks, causing So-hyun to remember Yoon-ha's threats that she'd leave only when she was darn well ready.
Speaking of, even Joon-ki questions Yoon-ha's sudden decision to quit her job without warning. She won't budge on any decision she makes, though she opens the floor for him to criticize her lack of responsibility. But she won't impose on him for a place to stay going forward, since she can use the resort and villa under her name—she is a chaebol's daughter, after all.
At least she seems a little self-aware when she recognizes that it must look silly to him, her not having to worry about money. "People like you who grew up with good parents wouldn't understand," she adds. How about people who grew up at all?
After agreeing to a post-work date with Chang-soo, Ji-yi finds herself faced with her immediate boss, who intends to do a lot of sucking up now that his subordinate is dating the department director.
Of course, the meta on how relationships like this usually go down in dramas isn't lost on him, since he feels obligated to tell her that she has a meeting with Chang-soo's hyung and that he'll either throw water in her face or offer her money. If it's the latter, she should definitely take it—relationships with chaebols are temporary, but money is forever.
The meeting with Chang-soo's hyung is about her relationship with his little brother, though to her surprise, he's all for it. He even suggests that they have a child should she encounter opposition from Chang-soo's parents, which definitely tells us that he's in this because he wants to bring his brother down in their family's eyes.
Yoon-ha isn't prepared for how amiably her boss takes her sudden resignation, though she finds out it's because he knows about her relationship with Joon-ki and doesn't want to rock the boat.
And while her relationship and Ji-yi's is common knowledge at this point, she had no idea her friend was dating Chang-soo until her ex-boss tells her. He sighs that they're both in over their heads with these high class boys, but at least Yoon-ha has a chance with Joon-ki because he's only a deputy manager. Ji-yi doesn't have a chance, comparatively.
With that news, Yoon-ha marches straight to Chang-soo's office to have a word about his intentions toward Ji-yi. But when he brings up the news that she'll be entering her father's company, Yoon-ha denies that's so without offering further details.
Yoon-ha: "I know I'm not in any position to tell you two what to do and what not to do, but—…" Chang-soo: "If you're not in that kind of position, then don't." Thank you. To make himself even more lovable, Chang-soo clarifies that he likes Ji-yi more than any other girl he's ever dated, but he won't guarantee he'll marry her. Ji-yi already knows that and understands.
Still, Yoon-ha insists on giving her two won by sharing that his hyung called Ji-yi in today, and that the rumors are already flying. (Rumors she literally just found out about.) She warns/threatens Chang-soo that she'll do anything for Ji-yi.
She leaves Chang-soo fuming over how to deal with his brother and pays a visit to Ji-yi to share news of the rumors going 'round. She's none too happy that she didn't find out from Ji-yi herself, and asks her why she picked Chang-soo of all people.
Ji-yi, being her usual sincere self, asks Yoon-ha why she picked Joon-ki before setting a boundary on neither of them saying things about each other's loves. Besides, she gave up Joon-ki for Yoon-ha and tried not to like Chang-soo, only to realize that she can't help but like him.
"I support your love," Ji-yi adds. "Why can't you support mine?" Yoon-ha changes gears to say that she does support Ji-yi in whatever she does, but she also has something to tell her about her family background.
Just then, Ji-yi gets a call from Chang-soo and opts to put Yoon-ha off for another time—or as she says, "When we meet men, men come first." (There's no missing context.) Yoon-ha doesn't want to wait and blurts that she's a daughter of Taejin Group, but Ji-yi thinks she's joking.
The first thing she tells Chang-soo is that she felt terrible after meeting with his brother, but feels better after talking to Yoon-ha. "I think I can see you as a human now," she says, adding that she realized there was nothing superhuman about his brother—in the end, he's just a person like everyone else.
Chang-soo doesn't know how to respond, and with some difficulty, Ji-yi says that it's all okay because they're dating. It's much easier to break up a relationship than it is a marriage if it becomes too hard.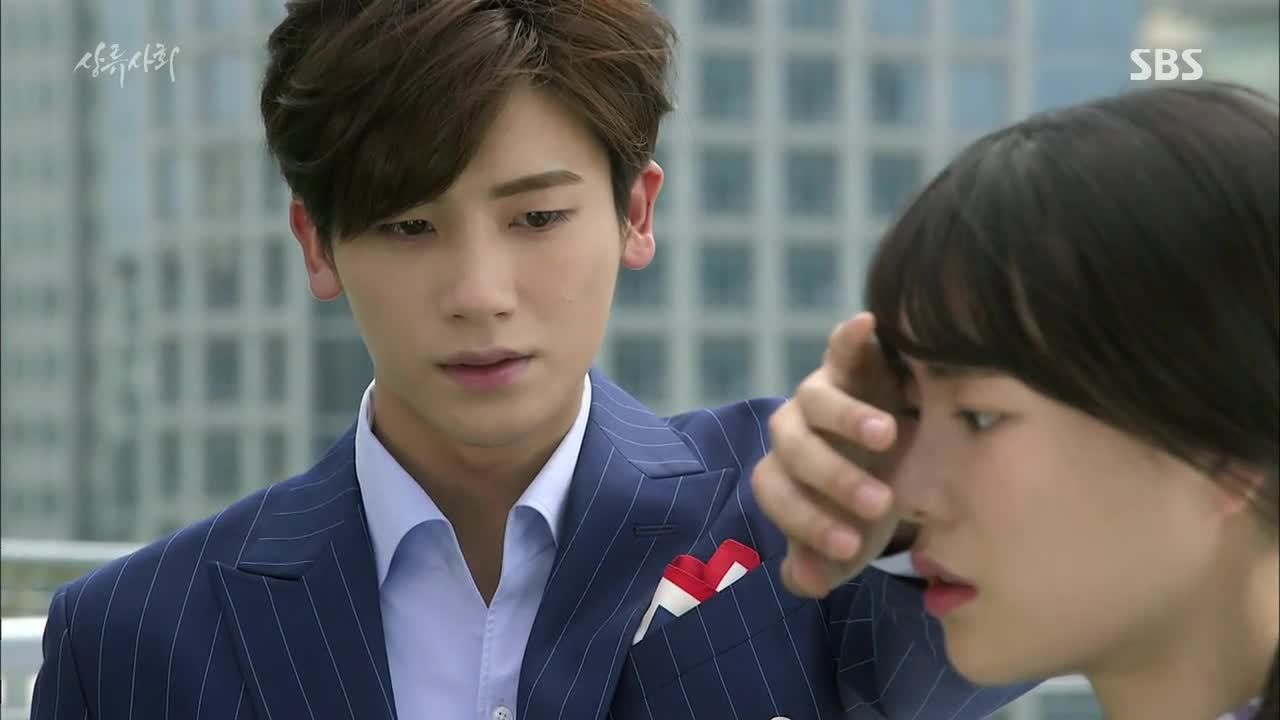 That's when Chang-soo holds his hand over her face to say that he's sorry, because he can't say it while looking directly into her eyes. Ji-yi lowers his hand and tells him that the whole point of an apology is to look the other person in the eye, but Chang-soo isn't keen on repeating it.
He'd rather bury the issue, and tells Ji-yi that there'll be something in it for her if she picks up his call later. She's not opposed to this sort of thing every once in a while, but doesn't want it to become a habit.
Joon-ki thinks of the reporter he tipped off about Yoon-ha's secret life as well as Yoon-ha's speech about her not being defined by her background, while Ji-yi has to find out from her boss that Yoon-ha just quit.
Yoon-ha meets with Joon-ki to tell him about Ji-yi's unfortunate meeting with Chang-soo's hyung, which he already knows about. She tries telling him that he may not understand, but she and Chang-soo come from families who do things a bit differently—again something he knows, because he's been friends with Chang-soo long enough.
On that note, Yoon-ha promises to protect Joon-ki from her family so that he won't ever have to endure being insulted by them. Joon-ki is unafraid however, since he only becomes more determined when people say things to him. He had to have a thick skin to go from rags to riches like he did.
His speech has Yoon-ha hanging on his every word. "I want to be with you… forever," she says. Joon-ki playfully scolds her by saying that he won't get to say things like that if she says everything, but doesn't repeat the "forever" sentiment back to her. She's too busy dreaming to notice.
Chang-soo confronts his hyung over Ji-yi, though Hyung maintains his innocence that he was only trying to be kind to her. But he throws Hyung off-kilter when he claims he'll be going on a seon with an important chaebol daughter, and if that doesn't work out, he'll set his sights on Yoon-ha again.
He's only saying this to downplay Ji-yi as a target in his brother's eyes, and to let his brother know that he's not out of the game yet. An advantageous marriage would make him a serious contender against Hyung, and he needs him to keep on thinking that.
But his hyung can't help but wonder how both he and Joon-ki ended up dating part-timers, which comes as a shock to Chang-soo, who's just realized Joon-ki and Yoon-ha have been dating behind his back. Luckily Hyung doesn't know who Yoon-ha really is.
Now that Chang-soo knows the truth, he calls Joon-ki out for a chat… but doesn't reveal that he knows. Instead, he pretends like he just wanted his friend's advice on how to play a trick on his brother, and spends the whole time studying Joon-ki intently.
As they prepare to part, Chang-soo can't help but ask, "Don't you have anything to say to me?" Joon-ki doesn't, and doesn't seem to catch onto Chang-soo's uneasy vibe, either. The ensuing elevator ride is one of silent reflection.
Meanwhile Lady Kim, who looks like she bedazzled the torn remnants of an 80s prom dress, preaches her personal credo to Mama Lee that it's better to be somebody's mistress than to be poor.
Mama Lee voices her disagreement with that statement only to herself: "Even though I'm poor, I live watching over and protecting the man I love. I wouldn't change that to become a rich man's concubine."
Madam Min is tired of doing work for her various foundations and would rather anyone else do it, even if that anyone else is Yoon-ha. Turns out that Yoon-ha's been a member of the board of directors for a while now despite never showing up for a meeting. Because the rest of the board doesn't like Yoon-ha for that reason, Madam Min appoints her to the spot.
Lady Kim, having butchered a wedding dress this time, hosts Chairman Jang over for lunch before complaining that his wife hit her. Chairman Jang only has patience for her if she wants to sleep with him, and rudely shoves her down when she talks instead.
He calls an end to their relationship since it's no longer what he wants, sending Lady Kim into fits. She'll expose him for having a mistress, she screams. Chairman Jang leaves his secretary to give her some advice about softening up her looks and demeanor to get her man back.
While Madam Min goes to Kyung-joon's former house to cry over the loss of her son, Chang-soo broods over his problems while working out. Mmm. To add to his problems, there's no way for him to get out of the seon planned for that day.
Yoon-ha has her meeting with her father, and notes that this is the first time she's been in his office since college. He matter-of-factly tells her she'll be starting work in the company next week, and she matter-of-factly thanks him for caring for her until now but she'll be moving out.
Her father seems amused by the very idea and dares her to do it, though he reminds her that all support will be cut off. But Chairman Jang wonders if she's taken into account that she'll also lose everything she's received until now.
Yoon-ha blinks, her expression hardening. She tells her father that she accounted for everything, but feels that she deserves to keep what she's already received (a resort being among them) as restitution for the psychological damage she's sustained from living as his daughter. Somewhere, a moderately small violin is playing.
"I didn't come home yesterday. Did you know that?" she asks. He clearly didn't. She also mentions that she has a man she loves now, and that she doesn't want him involved with her family—though I'm fairly sure that she could've achieved that goal by not mentioning him at all.
Chang-soo spends all of two seconds telling his arranged date he's not interested, while Yoon-ha lets herself into Joon-ki's home to find his mother inside. Mama Lee remembers her from their food market encounters, and is friendly to the girl her son is dating.
Yoon-ha refers to Mama Lee as "mother" and insists on cleaning up the dirty dishes she left behind. Mama Lee praises her for her beautiful smile, which prompts the younger girl to invite her prospective in-law out for a meal.
News breaks about Yoon-ha's part-time job, but Chairman Jang's secretary sees an opportunity to twist the story to better the company image. Still, Chairman Jang wants to know who released the article and who Yoon-ha's dating. Wonder if/when he'll find out they're one and the same.
Chang-soo picks Ji-yi up for a date as her reward for putting up with his brother, telling her they can go anywhere she wants to go. "Let's go to an amusement park!" she giggles, but Chang-soo's face falls. He doesn't want to do something so childish.
Cut to: The two of them doing something so childish. Awww. Ji-yi is the picture of giddiness next to his side, and Chang-soo the reluctant boyfriend who's too cool for school but a pushover when it comes to his girl. He doesn't want to wear matching headbands? No problem.
Cut to: The two of them wearing matching headbands. Haha. He doesn't want to take a picture wearing them, but Ji-yi need only pout to get him smiling for the camera. The cute. It's too much.
When posting the picture, Ji-yi finds social media ablaze with pictures of Yoon-ha accompanying her news article. It's with dawning horror that she realizes Yoon-ha was telling the truth about being a daughter of Taejin Group. Chang-soo doesn't help when he's all, "Duh! You didn't know that?"
She's affronted that he knew and didn't tell her, moreso because he went on a seon with her. She wonders how they don't feel anything for each other when they went on a blind date, but Chang-soo's quick to bring up that she used to like Joon-ki, too. "I helped Yoon-ha date him!" she says in her defense.
While Chang-soo's curious about that (since he only just found out Yoon-ha and Joon-ki were dating), he tries explaining to Ji-yi that blind dates mean nothing. He even went on one right before their real date, and asks sincerely, "Do you want to be a woman I go on a blind date with or a woman in front of me right now?"
I think he thinks he's saying all the right things, and to his credit he is trying, but Ji-yi's too worked up to listen. He stresses that he agreed to do everything she wanted to do in order to make her feel better, but she refuses to spend another minute with him or even accept a ride from him.
Joon-ki comes out to the restaurant where Mama Lee and Yoon-ha are already having a grand old time, and his mother makes no secret of the fact that she knows Yoon-ha slept over last night even though Yoon-ha claimed nothing happened between them.
What initially seems like an interrogation by Mama Lee turns into a joke played by both her and Yoon-ha on her son, effectively breaking the tension with laughs all around. But they're interrupted when Joon-ki gets a call from Chang-soo, who in no uncertain terms commands Joon-ki to come to the bar he's at.
Chang-soo's already been drinking his woes away by the time Joon-ki arrives, and he tells his friend forthright, "I trust you. Do you trust me?" He seems to be solemnly expecting the silent response Joon-ki gives him, and notes that Joon-ki's never once said he liked him.
Joon-ki tries to cover by saying that guys don't need to say things like that to each other, but Chang-soo sees only two reasons why he wouldn't speak his feelings aloud—either Joon-ki really doesn't like him or he doesn't like him, but still wants him around.
Joon-ki doesn't know what to say and drinks instead, until he hears a distinctly feminine voice call his name. It's Yoon-ha. "Why are you here?" they both ask each other.
"I called her," Chang-soo says. Joon-ki seems to have figured out that Chang-soo put two and two together, while Yoon-ha just looks confused.

COMMENTS
C'mon, Joon-ki. Are we supposed to believe that he'd go to such great lengths to manipulate people into thinking he likes them but can't bring himself to lie through direct statements? He can't be in this self-created game to win if he's unable or unwilling to lie straight to Chang-soo's face. And if he really can't do that, then he at least needs to be able to get himself out of a scrap like this. I'd say he should've seen this coming and prepared for it considering how small their world is, but baby steps. Baby steps.
As much as I'd like to put Chang-soo in protective casing so that nothing will ever hurt him (ever), I'm glad that he's started to doubt his best friend's intentions even a little. I felt sorry for him before and still do, but now I want him to find out the whole truth and take Joon-ki to task for it. We seem to be seeing the beginnings of that here, with Chang-soo giving Joon-ki every opportunity to come clean on his own before resorting to outing him. It was a sad moment of realization for Chang-soo, especially since he'd been caught so unaware by the idea that Joon-ki could keep any secrets from him at all. Poor guy.
We're still in the exact same place with Joon-ki emotionally, which is to say the starting point, and while I accept that as part of his design I keep hoping we'll see a glimmer of something more. Last episode's "Your reality is my dream" speech is the closest we've come yet to deciphering his underlying motivations, but it doesn't give us much of a new lens to view his actions through. He wants wealth and will do anything to get it—well, almost anything.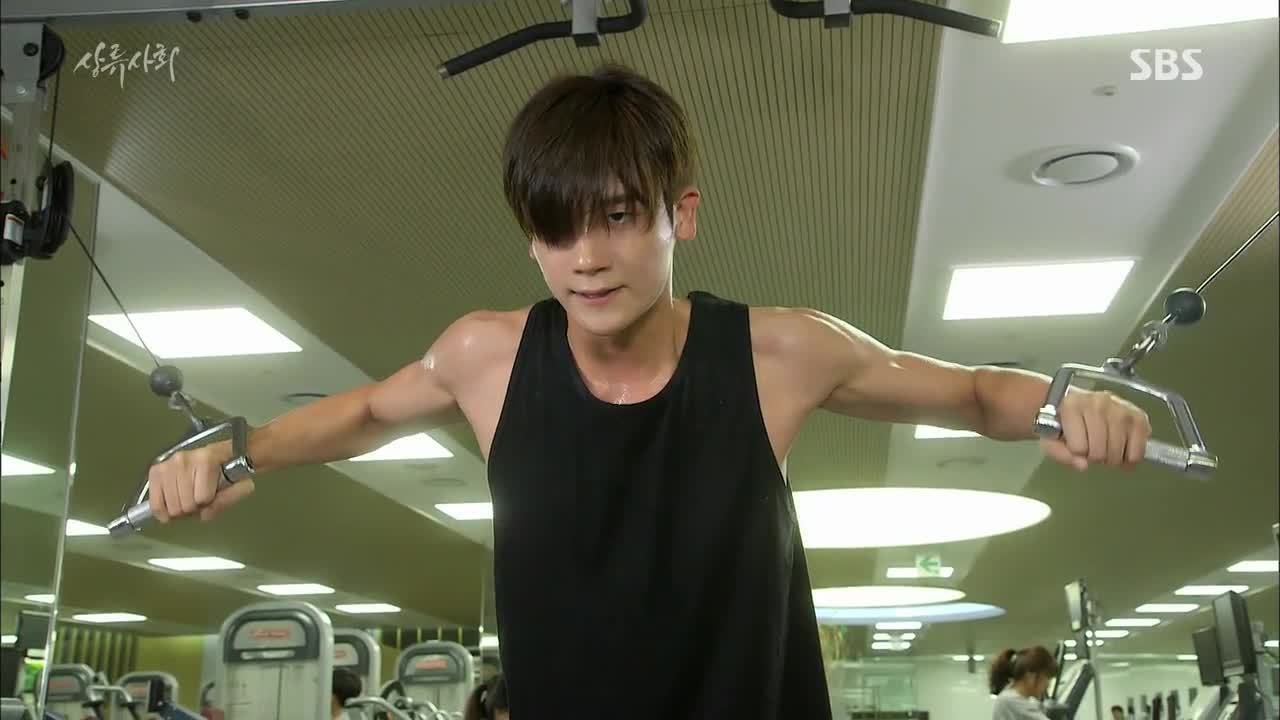 Which brings to question his interactions with Yoon-ha, though we have no real way to tell how much real emotion he's invested in his fake relationship, if he's invested any at all. There's a lot more telling as opposed to showing when it comes to them, because we're constantly being told how much Yoon-ha likes him, misses him, can't live without him, and wants to be with him forever. Yet I feel curiously unmoved whenever Yoon-ha professes her love, and not just because Joon-ki likely doesn't feel the same way. After all, one-sided crushes are as much the lifeblood of romantic fiction as any reciprocal relationship.
It's just Yoon-ha I don't quite buy, even though all the pieces are there. Why we should feel sorry for her has been well established by now, but why we should root for her hasn't. I want to see Ji-yi prevail in love and life because her heart practically dragged her kicking and screaming into a relationship she knows probably won't end well for her. Because she's making it a point to enjoy every little moment of happiness with Chang-soo not knowing when the end will come.
What can I say, it's easier to follow along with characters being developed in the here and now as opposed to parsing out who deserves what based on the kind of checkered past they endured. At least in Yoon-ha's world, pain can be quantified and addressed to the tune of dolla dolla bills and a few resort properties. I'm sure we can all relate.

RELATED POSTS
Tags: featured, High Society, Im Ji-yeon, Park Hyung-shik, Sung Joon, UEE