Time I've Loved You lines up string of cameos as ideal fantasy men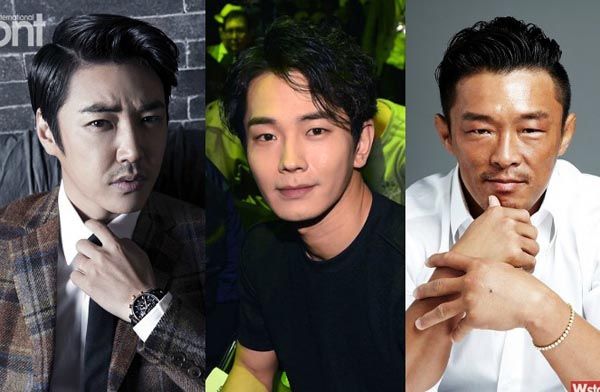 Yoon Sang-hyun, Ohn Joo-wan, Chu Sung-hoon
Upcoming romance drama The Time I've Loved You has lined up a trio of cameo appearances, to play lead star Ha Ji-won's fantasy men—literally, as they'll appear in her imagination to represent her ideal types.
That should make for a fun (albeit random?) sequence, since the three men in question have vastly disparate real-life images. Chu Sung-hoon is the tough-guy-turned-teddy-bear, a mixed martial arts fighter who softened up his image through Superman Returns, which made him a household name (though not as much of one as his adorable daughter Sarang). Ohn Joo-wan (Surplus Princess) falls more in the cute vein with that boyish smile and crinkly eyes, while Yoon Sang-hyun (Gap-dong)… well, is it too much to hope that Oska makes a comeback? Wouldn't that be perfectly fitting, given how he was Ha Ji-won's literal idol crush in Secret Garden?
The details of the scene aren't given, though I hope we'll get to see Lee Jin-wook reacting to them, especially if he gets to be jealous and petty about it. Especially since he'll be playing Ha Ji-won's longtime best friend who'll eventually win her heart. (Ostensibly they're already halfway there since they'll already have some feelings for each other, though they haven't worked those out to the surface yet—that'll be the drama's job.)
The Time I've Loved You airs as a Saturday-Sunday SBS drama, premiering on June 27.
Via Osen
RELATED POSTS