Who Are You–School 2015: Episode 11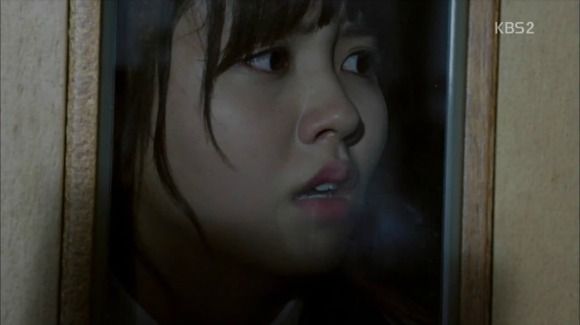 We're given a more reflective episode, taking a moment to contextualize Eun-bi as herself living Eun-byul's life. The plot thickens as Eun-bi becomes more involved in solving Eun-byul's mystery. With the distinction between the twins in place, relationships begin to complicate while also illuminating the hidden details of Soo-in's death. It's a complex sentiment of guilt, revenge, and confusion fueling the mystery, and it requires delicate unraveling.
We also take some time to focus on Min-joon, the perfect student who desperately wants to escape the mold of his mother's expectations. For Mommy, imperfection is hard to live with when all you've known is perfection.

EPISODE 11 RECAP
Yi-an sits by the pool and thinks back to his medal-winning swim. He cries as he stares at the pool longingly.
When he walks out, he runs into this swim sunbaes. They wish him well with his recovery, except for one bitter sunbae. He criticizes Yi-an's decision to ditch the swim meet, since Yi-an was given the special privilege to swim in his race. Now with his injury, he'll see how it's like to be inferior. Come on, Yi-an needs a hug, not your bitter jealousy.
Director Gong notices the change in Tae-gwang's behavior and asks him about Eun-bi. Tae-gwang is taken aback by his father's sudden interest and sarcastically commends his father for taking this great interest in his life. Then Director Gong lets it go, seeing that Tae-gwang writes her off as a random classmate.
Mom gets called to a parent conference with Teacher Kim and the vice principal. She notes that the wrongdoings charged against Eun-bi are telling — it seems that they want to get rid of Eun-bi. Teacher Kim bows his head and apologizes, but the vice principal confidently justifies Eun-bi's transfer order.
Two can play this game, and Mom decides that she'll charge the school for losing her daughter on the class trip, wiping the smirk off of the vice principal's face.
Tae-gwang sees the poster of Eun-bi's transfer order and thinks back to his father's interest in her. He rips down the poster, and So-young watches smugly.
Outside, So-young approaches Eun-bi and laments her transfer order. Referring to Yi-an's injury, Eun-bi asks how many more lives So-young will have to ruin. So-young turns the blame on Eun-bi, claiming that Yi-an injured him trying to cover her secret.
So-young says that she's going to stay at this school, but Eun-bi disagrees. "The power of protecting people is much greater than the power of hating people." So-young scoffs, "It's boring to have everything work out the way you want to. That's the fun in a reversal. Look forward to it."
Walking out of school, Mom sees the interaction and calls out to Eun-bi. Mom catches a glimpse at So-young's nametag before So-young nervously walks away. She admits to Eun-bi that she was a bit shocked at the transfer order and tells her that they'll discuss the matter at home.
Yi-an's coach scolds him for refusing to undergo rehab for his shoulder. Dispirited by his injury, Yi-an doesn't respond to his coach's well-meaning threats about dropping him from the team. Eun-bi watches this behind the corner, and though she and Yi-an meet eyes, he gives her the cold shoulder (too soon?) and walks on.
Min-joon finally fesses up the courage to admit his laptop sabotage to Teacher Kim. He's not confident with the consequences of facing his mother, but he knows this is the right thing to do. He fears that he'll forget his wrongdoing completely if he doesn't address this now. Teacher Kim silently takes his hand in encouragement.
In class, Teacher Kim announces that the culprit of the laptop sabotage has confessed; therefore, the deductions on the class project have been rescinded. The class cheers at the good news and asks Teacher Kim to reveal the culprit while continuing to glare at So-young accusingly.
In an appeal for clemency, Teacher Kim reminds the students that the culprit accepted no credit for the project so that the rest of the class could receive full credit. Then Min-joon stands up to give a formal apology to the class: "I apologize for my cowardly actions. I won't forget how embarrassed and regretful I am." He looks at So-young apologetically, but she doesn't look touched.
Teacher Kim concludes that Min-joon's apology may not be enough, but his intentions are clear — he didn't want to lose his friends. Class ends, and Min-joon's classmates approach him, rather than ostracize him. Enraged by true friendship and forgiveness, So-young storms out of the class.
But of course, not all is forgiven. As punishment, Min-joon is given the task of reshelving all the overdue books from the class. The tall unsteady stack of books slips from Min-joon's hands, and Eun-bi turns around to help him. He finds it uncharacteristic of Eun-bi to help him and says that she's never lent a helping hand during the two years they were in the same class.
A memory suddenly occurs to him, and we flash back to one year ago. Min-joon returned to school to retrieve an item, and he coincidentally saw Eun-byul. She screams after looking into the classroom and falls down in shock. Then, Eun-byul runs off.
Back in the present, Min-joon explains that he clearly remembers this day because it was the night before Soo-in was found dead. Eun-bi takes in this information, and Teacher Jung creepily watches her from afar.
At home, Tae-gwang vaguely mentions to his father about a friend who got a transfer order. He finds it ironic that she received a transfer order while he — having caused much more trouble — remains safe because of his father.
Director Gong says that Eun-bi is simply receiving rightful punishment and that Tae-gwang even admitted that she was a random classmate. Tae-gwang catches his father in his assumption: He didn't mention that his expelled friend was Eun-bi. Funny, that Director Gong is suddenly very interested in Eun-bi, eh?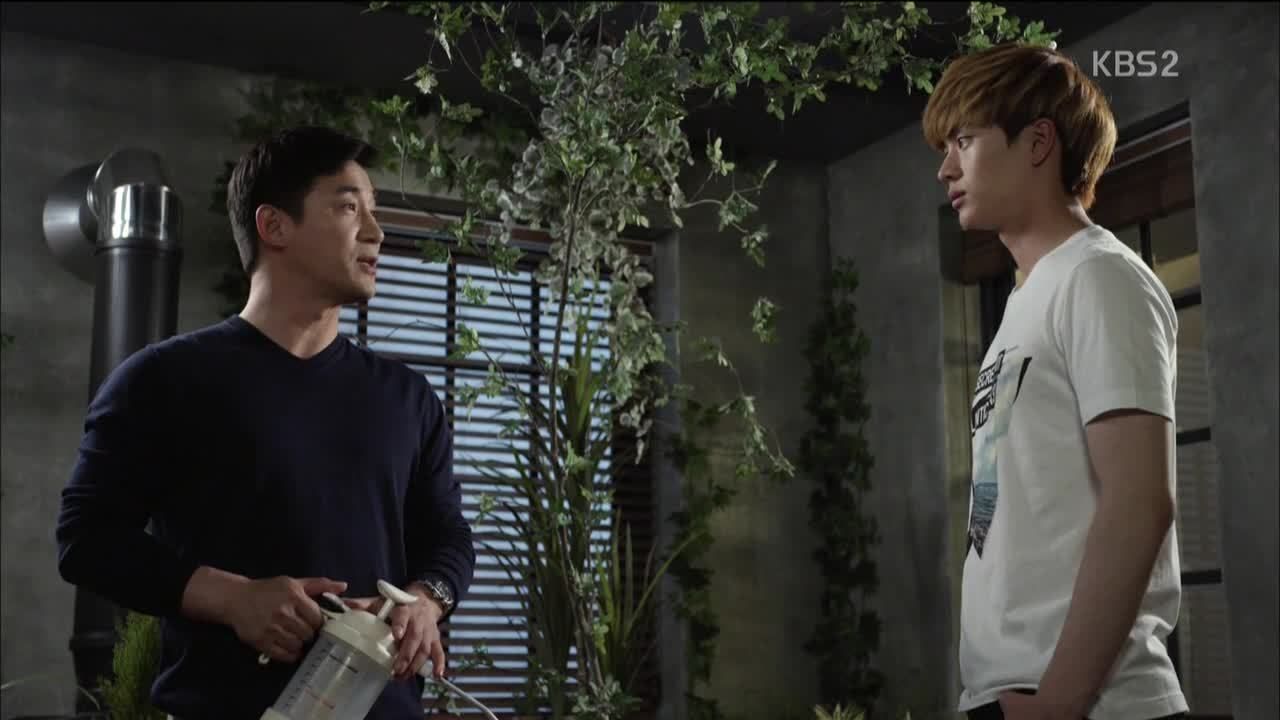 Yi-an somberly walks home and finds Eun-bi waiting for him. She confronts him about what she overheard. Why isn't he getting treatment for his shoulder? He reminds her that she has no relation to him whatsoever and walk up to his home. Eun-bi hopefully waits outside but eventually walks back home while Yi-an watches from above.
Mom recalls that So-young was the Tongyeong bully and confirms this with Eun-bi. She suggests that they move and transfer schools as soon as possible, and Eun-bi agrees. But Eun-bi wants to do one last thing before they move. Even though she needs to face her bully every day, she needs to fulfill this task here.
Min-joon arrives at school with his mother, and Head Mommy is ready for a fight. She enters the teacher's room and confronts Teacher Kim. She accuses him of forcing Min-joon's confession, convinced that her son would never do such a thing. Her priorities are with Min-joon's grades and how that will ruin his future.
Teacher Kim addresses her concerns with a dose of reality. "It's lethal to give your child the wings to fly while forcing them on their knees. Don't just worry about Min-joon's grades and please look beyond to find what is hidden." Mommy's lips tremble in silence.
During an assignment, Teacher Kim notices Min-joon staring off into space. He comes from behind and gives him an encouraging pat on the shoulder, which seems to break him out of his trance of anxiety.
The teachers gather for a meeting and discuss Head Mommy's illegal tutoring activities. They discuss the conundrum of the school's curriculum in comparison to tutoring services. Teacher Kim's mind is elsewhere, and he attempts to address Eun-bi's transfer again. But the vice principal shakes his head at his futile efforts.
Outside, Teacher Kim catches Tae-gwang about to smoke, to which Tae-gwang puts up his hands in innocence. They stand side by side against the railing and discuss their predicaments. Teacher Kim explains, "My hands are dirty while my fallen friend has clean hands. Would I even be qualified to help my friend up?"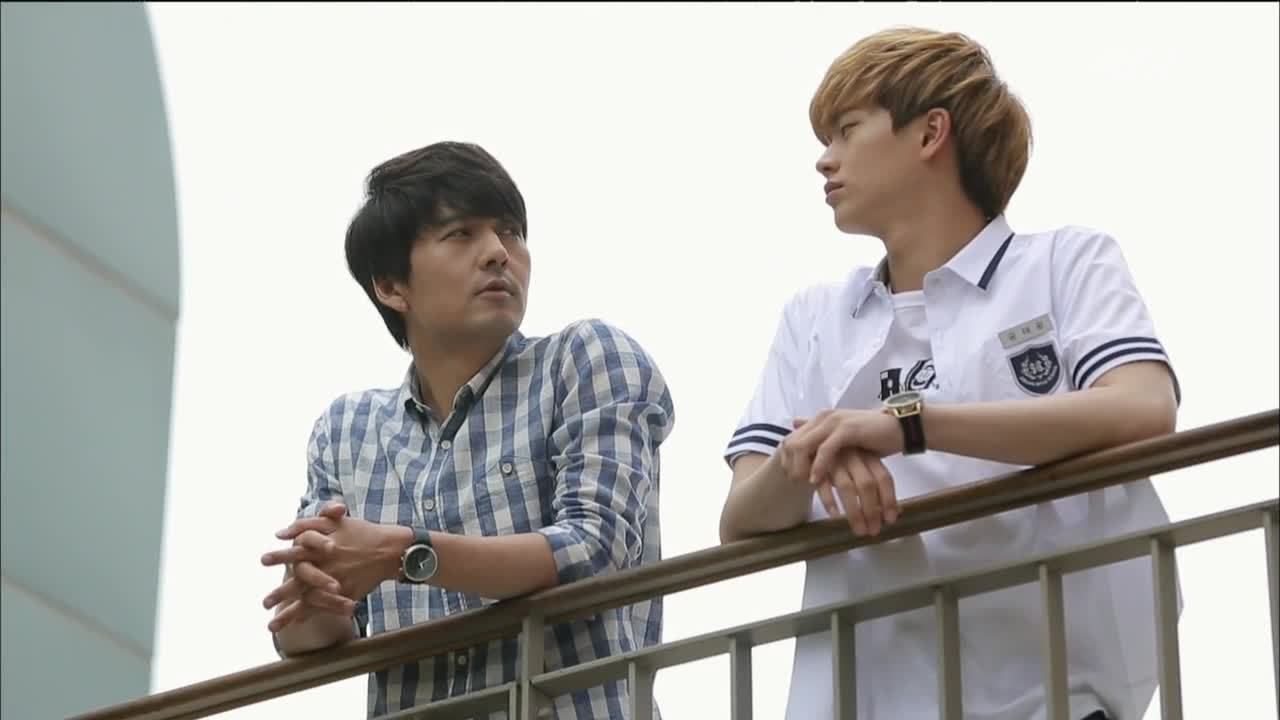 Tae-gwang grabs Teacher Kim's hands and wipes them. He asks what qualification one needs to help another out. He can simply help the friend out and wash their hands together. Teacher Kim laughs at the simplicity of the answer and asks what worries Tae-gwang.
Tae-gwang asks about Eun-bi, if her transfer order is his father's doing. He knows that Teacher Kim can't tell him the reasons for her expulsion, but he asks anyways and walks away.
Teacher Kim walks into Director Gong's room, demanding him to cancel Eun-bi's transfer order. He suspects that the transfer is due to Soo-in, but Director Gong vehemently denies it. Teacher Kim requests the withdrawal of the transfer order again, this time calling Director Gong "teacher." Tae-gwang eavesdrops the tense conversation from outside the office.
Min-joon's mother tries to continue her tutoring business with her mother customers; however, they refuse to do any business with her. They're bothered by her exposed illegal practices, and the fact that Min-joon turned in his own mother makes matters even worse. Shi-jin's mother tries to retreat as well, but Head Mommy ignores her and takes a call.
After school, Eun-bi follows Yi-an home and waits outside again. Yi-an's father pulls up in his truck and upon seeing Eun-bi, he invites her inside. Yi-an puts on his content façade in front of his father, but Dad notices the awkward silence between the two friends.
Dad walks out with Eun-bi and asks her to support Yi-an through this difficult time. He knows that Yi-an is forcing a smile while giving himself a hard time, so he asks Eun-bi to be by his side, like they've always been since they were young.
Yi-an steps outside, and Dad forces him to walk Eun-bi home since it's late at night. Although Eun-bi and Yi-an initially reject the idea, Dad pushes Yi-an to escort her home. They walk silently side by side, and when Eun-bi tells Yi-an to head back, he insists that he just walk her all the way home.
Min-joon roams the city streets, when his mother messages him to come home for the new tutor. She tells him to get his head on straight and not let this case be an excuse for laziness. When Min-joon returns home, his hand hoovers over the third floor button to his home, but he decides to ride the elevator up to the top floor. Uh-oh.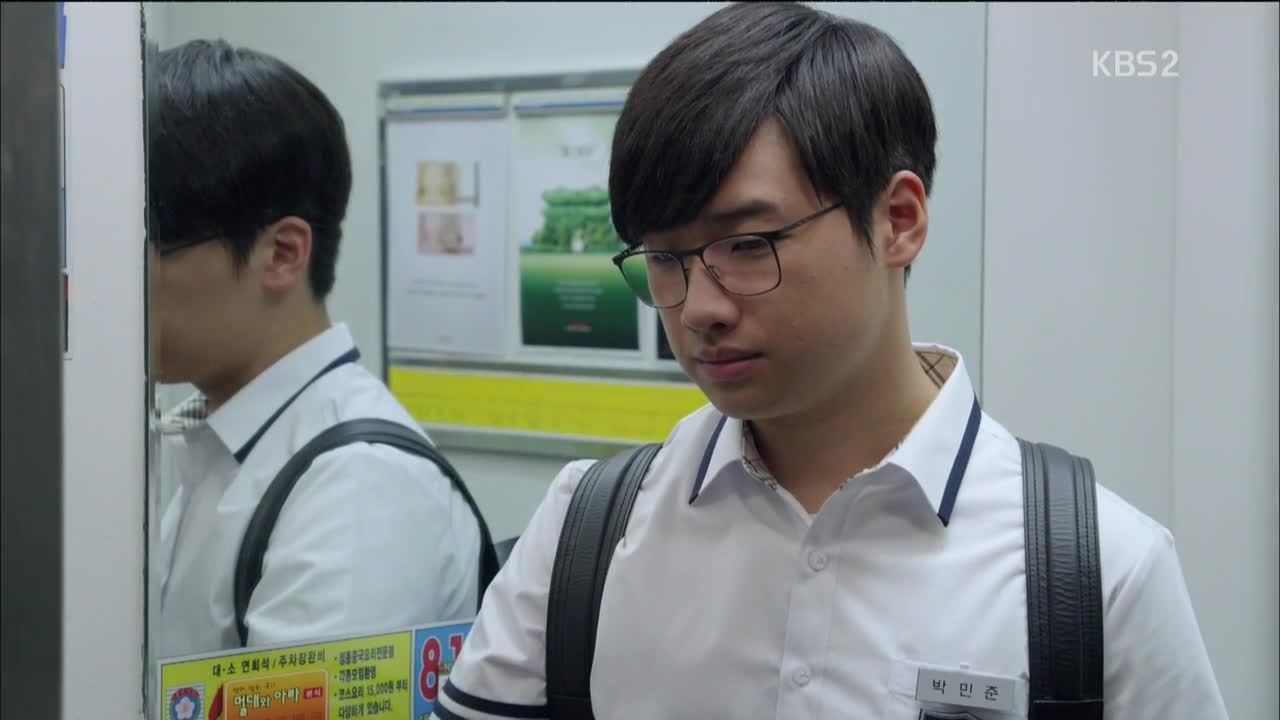 Mommy begins to worry when Min-joon doesn't pick up her calls. Min-joon's father (Detective Park) nervously waits for a response from Min-joon, and he looks to his wife anxiously when he receives a call.
Dad runs up the stairs to find Min-joon crouched down by the rooftop door. He scolds him for coming all the way up here, and Min-joon admits that he couldn't get himself to go home. Unfortunately, the rooftop door was locked shut (phew).
Sitting down with Min-joon, Dad asks the reasons for his behavior. Min-joon replies, "Because I despised Mom. I didn't want to hate her anymore." To that, Dad apologizes for not taking the effort to understand his feelings of despair. He pleads that Min-joon not consider the worst ever again and embraces his son. Min-joon cries on his father's shoulder, and Mom lets out a sigh of relief after frantically running to the top of the stairs.
In his room, Min-joon faces the wrath of his mother. She demands to know why he went to the top floor, and her demands escalate into cries. Min-joon is everything to her, so why would he do such a thing? He did it for this exact reason: "You live for me, so you can't live without me. Mom, isn't it better to get rid of your ambitions than to lose me?" Mom breaks down in tears, and Dad watches from afar, in tears as well.
Teacher Jung passes by a classroom and offers to take the attendance sheet for the student. After the students leave, she enters the classroom and finds Soo-in's old desk. She sits down and silently cries at the thought of her younger sister.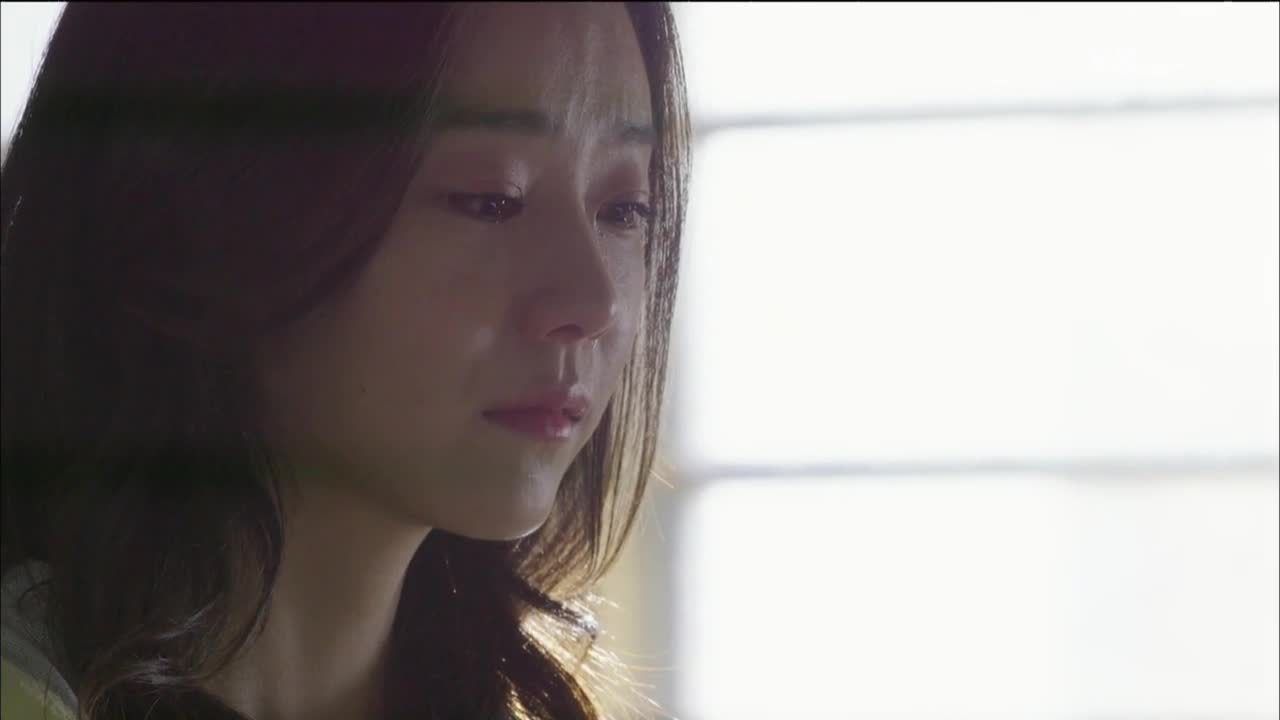 Song-joo runs in with three shoulder bags from her recent modeling gig. She offers them to Eun-bi and Shi-jin, who both excitedly accept the gift. Teacher Jung watches while passing by.
Yi-an stares at an empty pool once again, and this time, Eun-bi finds him there. She asks why he comes to the pool alone when no one is there, like he doesn't belong there. He tries to brush off her questions, but she continues. "Remember you once said that people's expectations are so burdensome that you just want to let down the burden. So is it better now? It isn't like that, is it?."
Turning to Eun-bi, Yi-an tells her to stop and back off — she has no relation to him. Eun-bi challenges him by asking if he doesn't like her or is scared of water, like her. Recalling the moment when her memory returned, Eun-bi explains that she became fearful of water because she remembered her suicide attempt. She remembered that when she fell into the water, she desperately wanted to escape and live.
Every time she met Yi-an, she was thankful that she was alive. So she can't stand to see Yi-an fall apart. Still, Yi-an refuses to address Eun-bi and walks past her.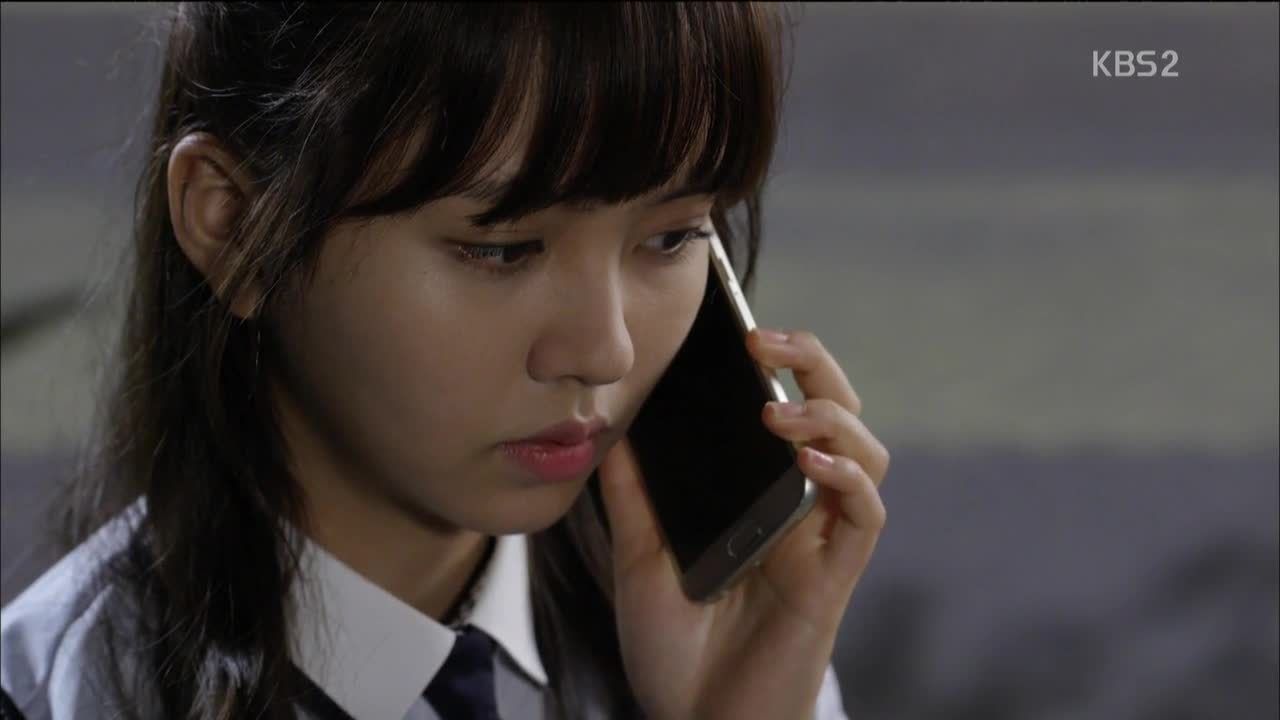 Walking out of school, Eun-bi gets a message from Soo-in requesting that she come to a specific classroom. I have a bad feeling about this.
Tae-gwang sees his father preoccupied with a phone call, so he quickly sneaks into his father's room to find any hints of Eun-bi's transfer order. He finds the police report about Soo-in's death and then finds a copy of Eun-bi's identification from Tongyeong. Tae-gwang recalls his father denying that Eun-bi's transfer was because of Soo-in, and he starts to put together the clues.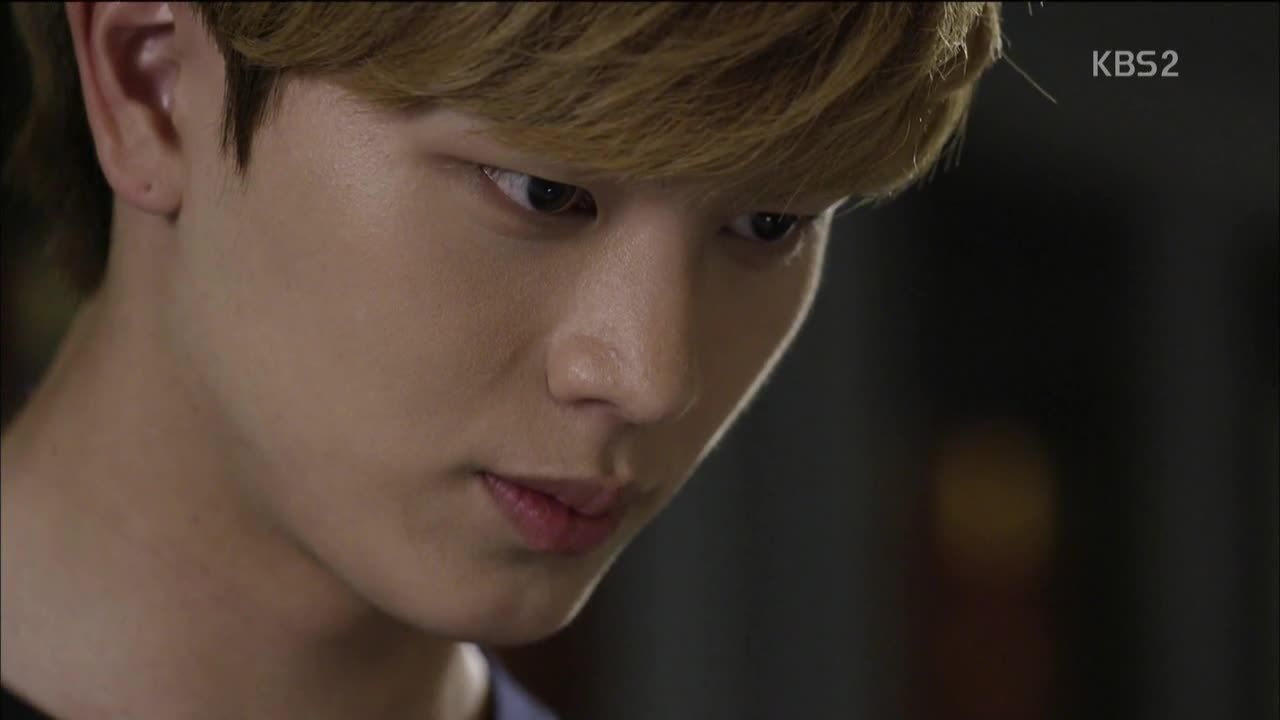 Eun-bi enters the dark and empty classroom. There is no one around, but suddenly a hooded figure follows her inside. The face of the figure is covered, and Eun-bi can't recognize this person.
Meanwhile, Yi-an returns to the pool to retrieve his backpack and finds a note telling him to stay strong. He looks around but doesn't find anyone.
Back to the hooded figure and Eun-bi. When the figure speaks, we find out that it is a woman, and she asks about Eun-bi's memories of Soo-in. She accuses Eun-bi of neglecting Soo-in, even though she was her friend. The day that Soo-in died, if only Eun-byul had reached out to her, she wouldn't have died. Then she tells Eun-bi to experience what it's like to be alone in this dark empty classroom. She pushes Eun-bi down and locks the classroom door.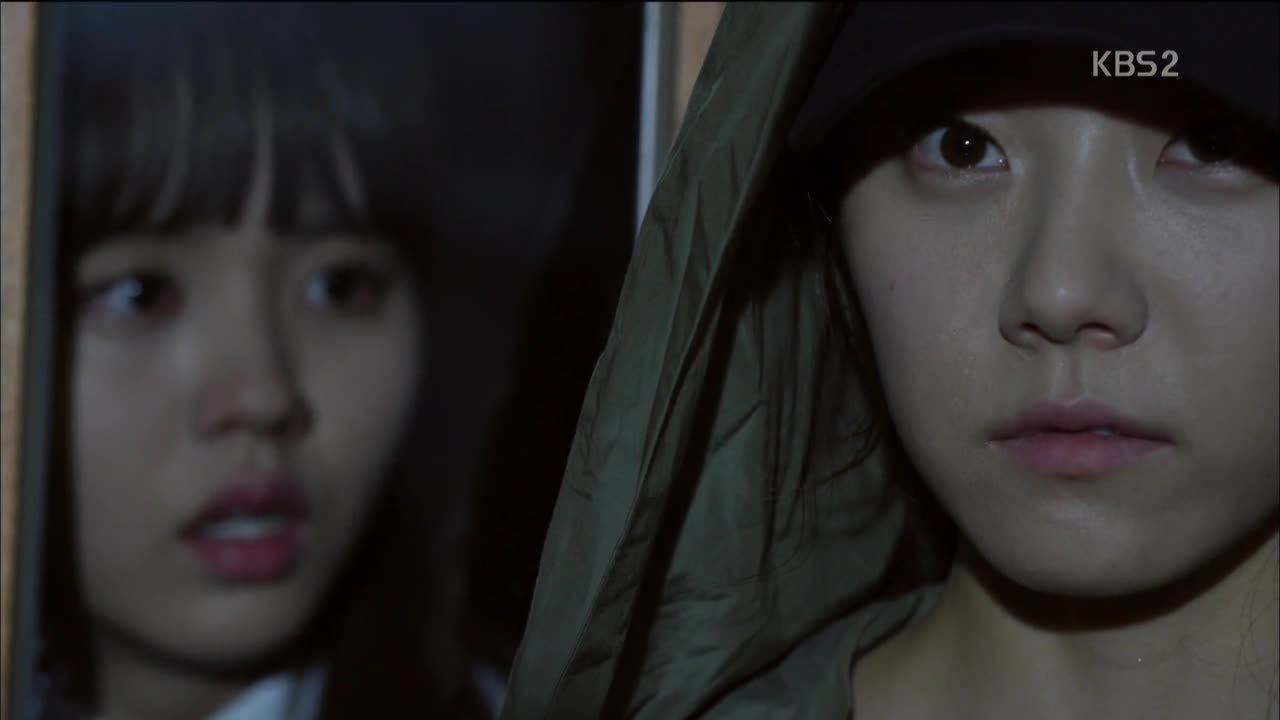 When the woman lifts her head after locking the door, we see that the figure is Teacher Jung, Soo-in's older sister. Eun-bi knocks on the door, begging to be let out, but Teacher Jung walks away. Scared and desperate, Eun-bi calls her mother.
Mom picks up, but the line suddenly goes dead. Another call follows it, but it's not Eun-bi this time. It's Eun-byul calling from a payphone. She doesn't say anything, hangs up, and stealthily exits the building in a hat and glasses to disguise her appearance.
Eun-bi's phone dies just as Mom picked up, so she's stuck inside the classroom. Tae-gwang paces in his room and calls Eun-bi, but it goes right to voicemail. Nooo, someone help!
Eun-bi pounds on the door and yells for help. It seems impossible to get out, and she eventually sinks down whimpering for help. Tears fill up her eyes in fear and distress. Then suddenly, the doors slide open.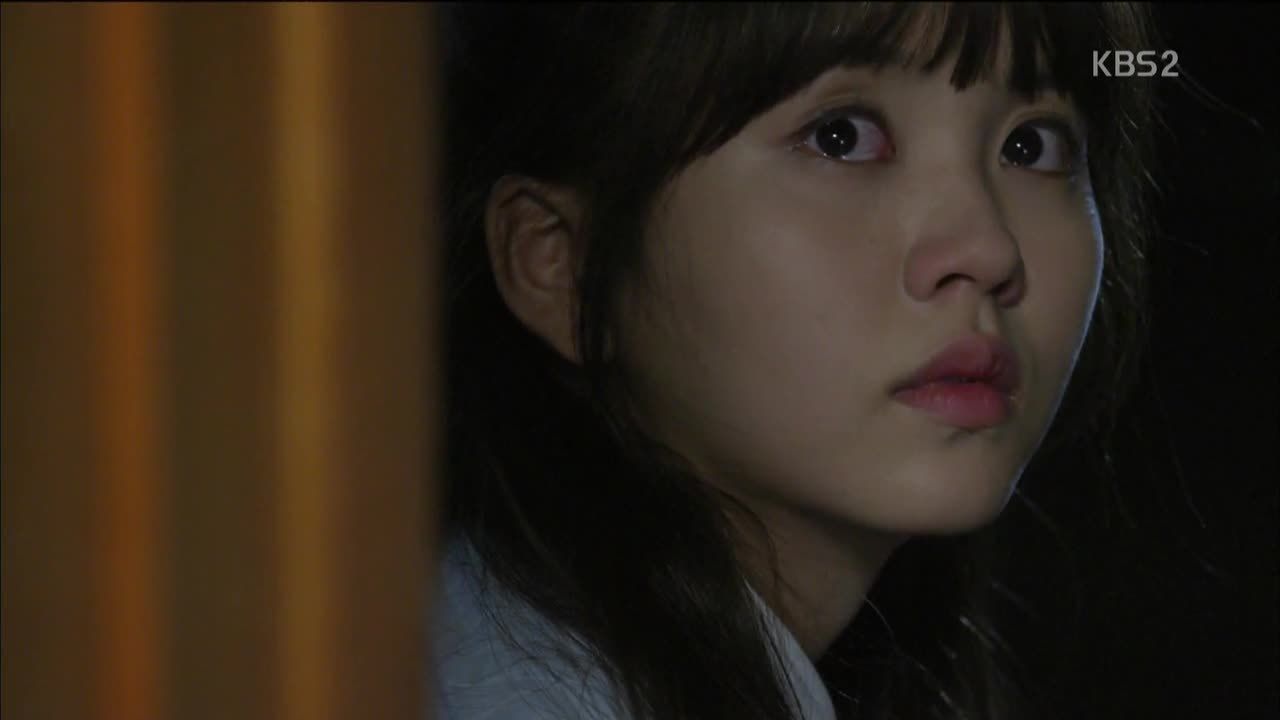 COMMENTS
At this point, Eun-bi's savior could be anyone. I like the ambiguity in this, and I'm pleasantly surprised to say that I wouldn't mind anyone being her savior from the locked classroom, as long as the person holds some significance in Eun-bi's life. Everyone invested in Eun-bi's life has a reason to sincerely care for her, which is a comforting thought. Despite the misfortune she faces as Eun-byul, Eun-bi has been given opportunity to develop genuine relationships and experience belonging. She's learning that nothing should be and can be done alone. Even though she may feel alone, she's surely finding people who care about her as Eun-bi.
Min-joon's storyline in this episode was heartbreaking, but it was a necessary wake-up call for his mother. My heart stopped for a moment when he took the elevator to the top floor. It's a scary and serious thought to consider, and I hope his mother holds onto this sobering moment to change her oppressive treatment of her son. I could feel the frustration and despair expressed by Min-joon throughout these past episodes, but it was his poignant question in the episode that got me. Ambition or your son's life? It's ironic that his mother had always linked these two things as an inseparable unit. She had rationalized her actions by convincing herself that her ambitions would improve her son's life, but it was a destructive assumption. I think many ambitious parents fail to realize the separation of their own intentions and their children's freedom. The metaphor of giving one the wings to fly while forcing them on their knees was a perfect way to describe the tragedy of suppressed freedom.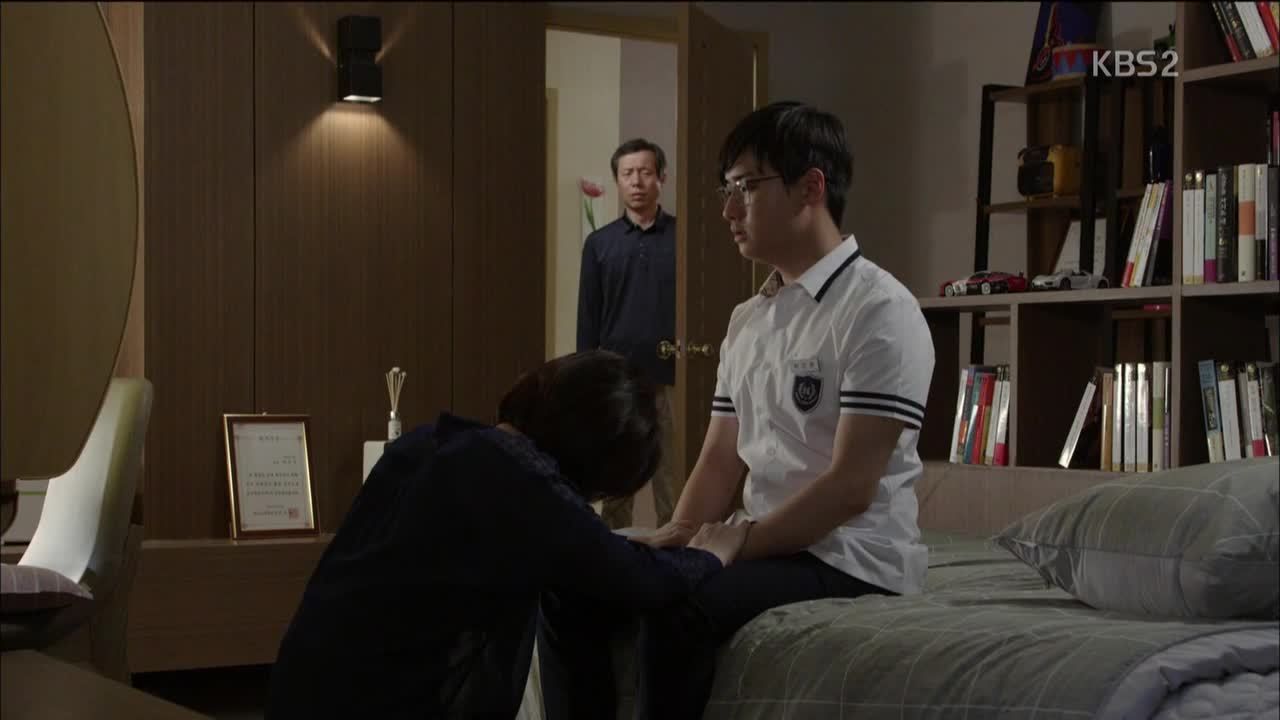 I enjoyed the reflective nature of this episode to let Eun-bi's transition to owning her identity with the people she holds dear. Yi-an's aloof attitude sprinkled with moments of concern Eun-bi seems fitting in his gradual acknowledgement of Eun-bi as her own person. Though he seems to dismiss Eun-bi as a stranger, I can't blame him for feeling betrayed. It's a valid sentiment, especially since he doesn't completely understand the complexities behind Eun-bi's and Eun-byul's lives yet. In his place, Tae-gwang has stepped up as the unconditionally loyal friend to Eun-bi. Even without direct interaction with Eun-bi, his actions show that he cares about her happiness.
I did notice the repetition in the unnecessary time being spent on the transfer issue. The time could have been spent to emphasize the Eun-bi/Eun-byul storyline more. Now that the loose ends seemed to be tied up, I'm hoping for more development in how our twins' storylines cross. I couldn't be happier to see Eun-byul alive because that opens up all sorts of possibilities for the story. I have no doubt we'll be given a compelling reason for Eun-byul's absence and a well-deserved reunion for everyone.

RELATED POSTS
Tags: featured, Kim So-hyun, Nam Joo-hyuk, Who Are You–School 2015, Yook Sung-jae