Who Are You–School 2015: Episode 13
It's interesting to see the interaction between the twins and the differences that distinguish them. Their attitudes and rationales define their interactions, and the surrounding characters can notice the difference. With the twins reunited, we're finally given some answers and details about Eun-byul's disappearance. Having realized the power of truth, Eun-byul and Teacher Kim both commit to disclosing the reason for Soo-in's death. Even with a flawed system and corrupt leadership, sometimes all it takes is one person's integrity to peel away the lies.

EPISODE 13 RECAP
Eun-byul walks in, and Mom walks back in shock. Mom raises her shaking hands to her daughter's face and then scolds her for her absence. Eun-byul tells Mom that it's so nice to see her again and they embrace, tears falling incessantly.
Their heartfelt reunion is cut short when Eun-bi drops her book in shock and calls out to her sister. Eun-byul smiles back and greets her twin.
Eun-bi asks her sister what she's been doing during this time. Eun-byul turns to Mom and says that she's been staying at Hope Orphanage, where they first met. She knew that the child Mom first met was Eun-bi, and she couldn't live with the guilt. She thought she could make things right by switching now.
We flashback to the Tongyeong class trip. Eun-byul stands at a corner and sees Eun-bi walk right past her. She follows Eun-bi and watches her get bullied by So-young, who taunts and slaps her repeatedly. Eun-byul narrates that she couldn't step up or greet Eun-bi because she felt that everything was her fault. She compares this bystander moment to when she ignored a dying Soo-in.
Eun-byul follows Eun-bi to the bridge and jumps into the water after her. She saves Eun-bi from drowning, pulling her out of the water and onto the shore. She calls out frantically to Eun-bi and runs to find help. At the hospital, Eun-byul overhears the nurses talk about Eun-bi having woken up but with no memory.
As we see Eun-byul leaving Mom's scarf with a sleeping Eun-bi, she narrates that she felt like she needed to experience the misfortunes of Eun-bi and Soo-in before making things right. Then she corrects herself, "Actually, I may have been looking for an excuse to evade confrontation with Soo-in's death."
Back in the present, Eun-byul admits to Mom that she's been having a difficult time ever since Soo-in died. She was scared because she could only think of everything she's done wrong. Then, she saw the post on the school's website about Soo-in. "I realized that not taking out a thorn only worsens the wound."
Mom apologizes for not taking the time to understand Eun-byul's hardships, and Eun-bi watches sympathetically. Eun-bi tells her sister that she's been wanting to do so much with her, and Eun-byul agrees to do it all. They smile in relief, happy to be all together at last.
So-young's father visits Director Gong, who thanks him for taking care of the Soo-in scandal. He also congratulates Prosecutor Kang in advance for his political nomination. Tae-gwang (with a sharp new haircut) watches their interaction and recognizes Prosecutor Kang as So-young's father.
Continuing with the conversation, Director Gong says that he cannot take any requests for political funding, since the school foundation's money is not his personal money. Director Gong tries to negotiate: He will cover up So-young's bully scandal for Prosecutor Kang's political ambitions, and Prosecutor Kang will overlook Soo-in's publicized scandal with the school.
But Prosecutor Kang has the upper hand. He shows Director Gong the legal documents outlining the investigation of Soo-in's death and notes the discrepancies in the time of death. The legal document and obituaries record different times — the real time of death, if publicized, would reveal the school's ignorance toward Soo-in.
Prosecutor Kang leaves with a smug smile, and Director Gong follows. Tae-gwang sneaks into the room, skims through the documents, and takes pictures on his phone.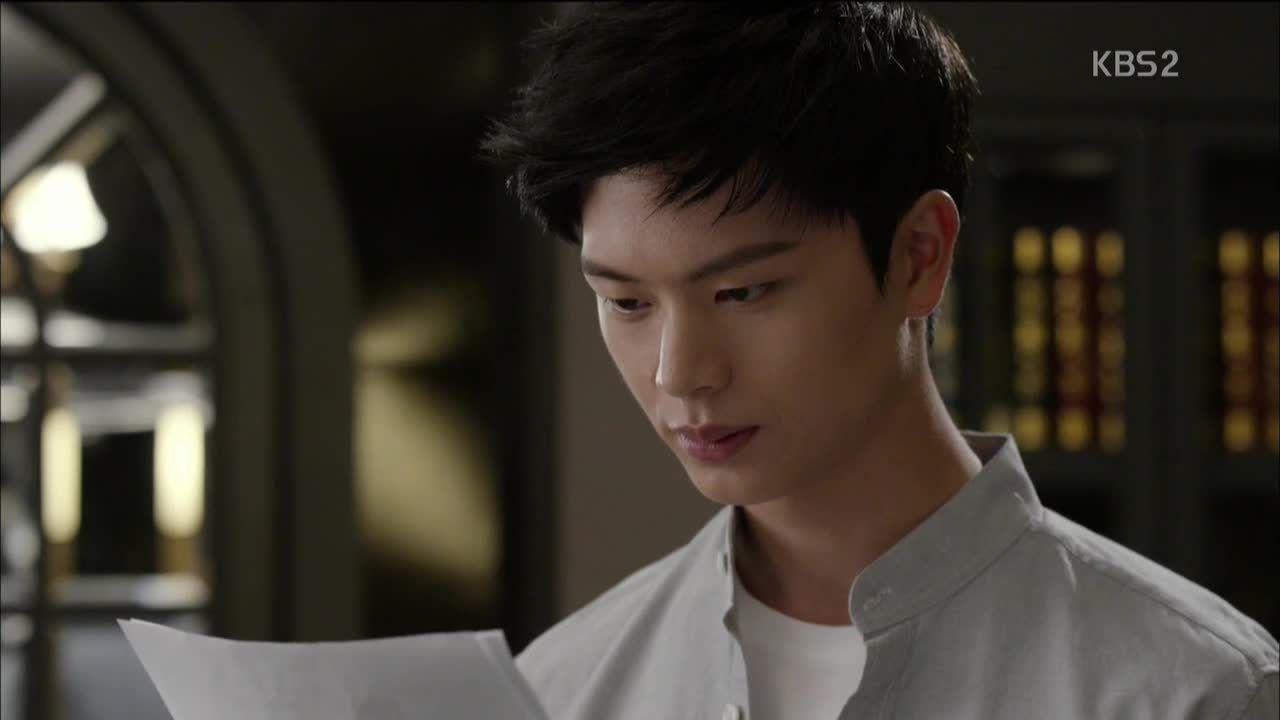 In their room, Eun-bi and Eun-byul stare at each other, weirded out that they look exactly the same. Getting into bed, Eun-bi thanks her sister for saving her and for coming back alive. Then she requests that Eun-byul return to school; she wants to return to living as Eun-bi and prove that she can live fully as herself so that Eun-byul need not feel guilty.
Eun-byul nods in agreement and says that she'll face her fears at school. She needs to do things before it's too late. She knows that resolving Soo-in's death won't be easy, but she's ready to face the truth.
Taking a break from his morning workout, Yi-an takes out the swimming medal that Eun-bi gave him and thinks back to her encouraging words. He begins to text her that he began rehabilitation treatment, but he remembers her promise: She won't bother him once he starts treatment. He decides not to send her the update and continues on his run.
Walking to school, Eun-byul spots Song-joo and Shi-jin, and she happily greets them. She's missed them, and they joke around that their friendship is so tight knit that she would miss them overnight.
A classmate tells Song-joo and Shi-jin that they overheard their teachers talking about Eun-byul's transfer. They doubt that the rumor is true, but So-young confirms this rumor. She mockingly laments Eun-byul's departure and teases them with a goodbye gift.
Eun-byul enters the room, and So-young walks to the front of the classroom to announce her big surprise: Lee Eun-bi has been playing the role of Go Eun-byul this whole time.
Eun-byul smiles and tells her that she's wrong. She won't be transferring, and she is Go Eun-byul. So-young waves the envelope with the handwriting test, claiming she has proof, but Eun-byul doesn't waver. She confidently tells her that she can write and even get a fingerprint test to prove her identity. Then she turns the attention to So-young, asking what she did to her sister.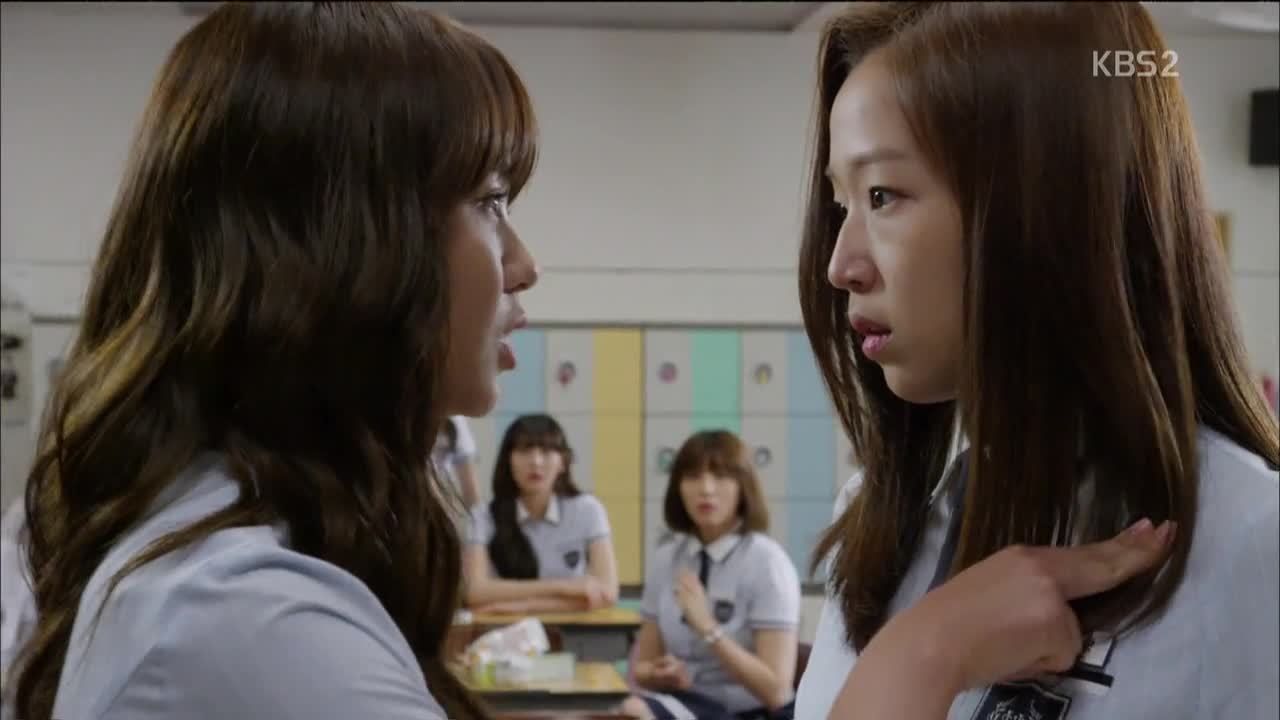 Pushing her backwards, Eun-byul accuses her of all the misconduct — most strikingly her unapologetic attitude towards Eun-bi's death. So-young raises her hand to hit her, but Eun-byul blocks it and raises her own hand. So-young closes her eyes and flinches back. Her classmates are taken aback, but Eun-byul stops midair.
Trembling with anger, she drops her hand and tells So-young that she won't sink so low as to respond to violence with violence. She returns to her seat, and her classmates respond with admiration. Tae-gwang enters the class, and So-young looks at him with contempt. The only person to notice Tae-gwang's new hair is his archenemy, Ki-tae, who mocks him for changing his hair after being rejected by Shi-jin. That earns him a smack on the head.
Eun-byul enters Director Gong's office to address her transfer issue. She notes that it's rare for the director to directly force a transfer and refuses to transfer out of the school. He tries to assert his authority in the decision, but Eun-byul tells him that she found no reason to leave this school and walks out.
During lunch, Tae-gwang sits next to Eun-byul, much to her distaste. Her friends recount the moment in the classroom and commend Eun-byul for stepping up to So-young. Tae-gwang looks at Eun-byul curiously, wondering if this is the same Eun-bi he's known.
Before Eun-byul leaves, he tells her to come to the roof. She glares at him with annoyance and leaves. Tae-gwang waits on the roof and messages Eun-bi, but no one shows up.
He finds Eun-byul in the hallway and asks if she's okay after So-young bothered her. Eun-byul nonchalantly replies that she's fine, and Tae-gwang interprets her confidence as a front. He jokingly pokes her forehead back, and she responds by smacking his head. HA, the look of confusion on his face is priceless.
Tae-gwang mind starts to race and he carefully examines Eun-byul's face. He asks why she's so different, almost like the Go Eun –. Then he stops and his face falls, realizing that this is the real Go Eun-byul. She smiles back and greets him as Eun-byul.
Confused as ever, Tae-gwang asks for an explanation. Where is Eun-bi? He demands to know where she is, and his urgency surprises Eun-byul. He runs out of school and to Eun-bi's home, where he yells for Eun-bi.
But she's not home. She's on her way to Tongyeong with Mom to change official documents about her death. Mom still struggles to call Eun-bi by her real name, but Eun-bi assures her that they'll take it slowly. Mom tells her that they should forget the pain in their past and live happily together, now the three of them.
Yi-an gets updates on his rehabilitation progress. He's progressing well, and the doctor encourages him to continue working hard for recovery.
The vice principal reminds Teacher Ahn about a new English support teacher joining their faculty, and she confirms that she's been getting updates about the teacher's arrival. He then summons Teacher Jung to talk privately. He's figured out that Teacher Jung is Soo-in's older sister and accuses her of posting the message about Soo-in on the school's online forum. She rejects his accusations, but the connection between her sister's death and the reason for entering this school seem too obvious.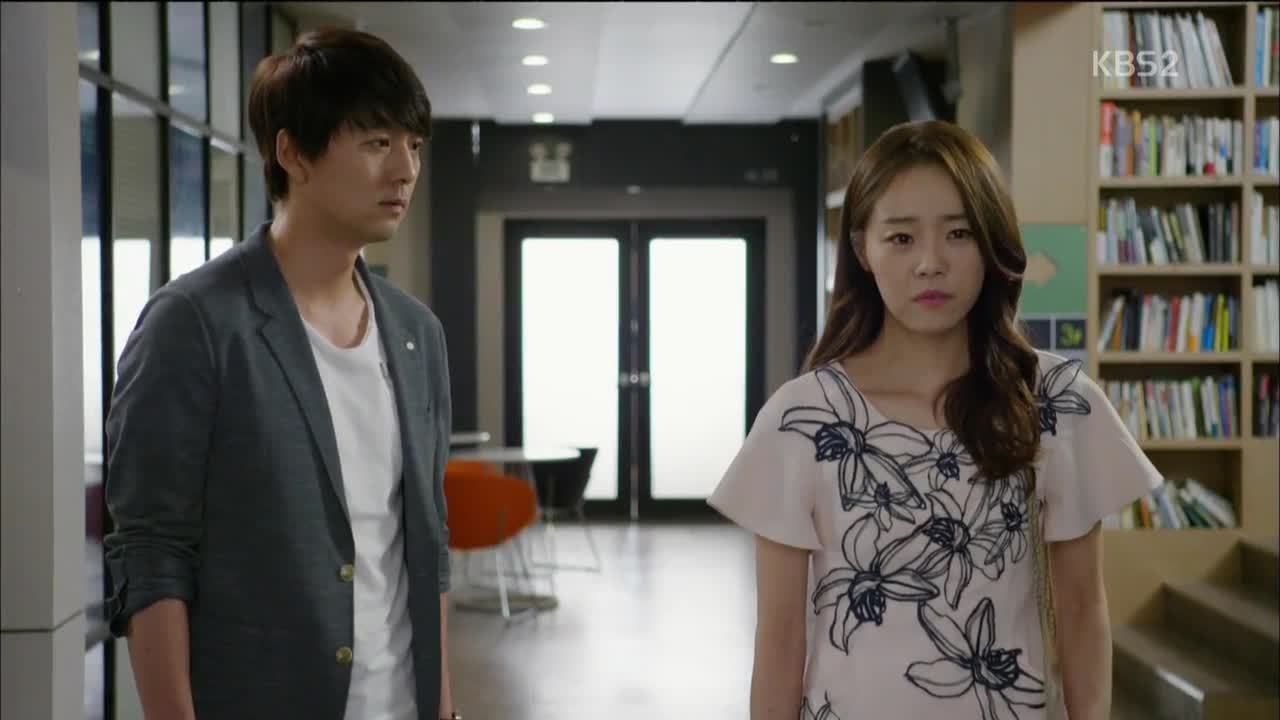 Teacher Jung walks out of the office, followed by Teacher Kim. He believes that she didn't post the message because he was the one who wrote it. Oh, interesting. Teacher Kim promises to help her keep the job, but she shakes her head. She's getting fired because she's Soo-in's sister, not because of the online sabotage. Teacher Kim promises to do his best to get justice for Soo-in, as Teacher Jung leaves dispirited.
Eun-bi arrives at Love's House and tells Mom that she'll enter alone. When she enters the room, Ra-jin notices her and begins to cry. The children all rush to Eun-bi to give her a hug, and one of the boys tells her that he wrote a letter everyday wishing that Eun-bi would come back.
Then, Ra-jin apologizes. She thinks that Eun-bi left them because they've been bad and promises her unni that they'll behave from now on. They beg that she stay with them. Eun-bi cries with guilt and apologizes profusely.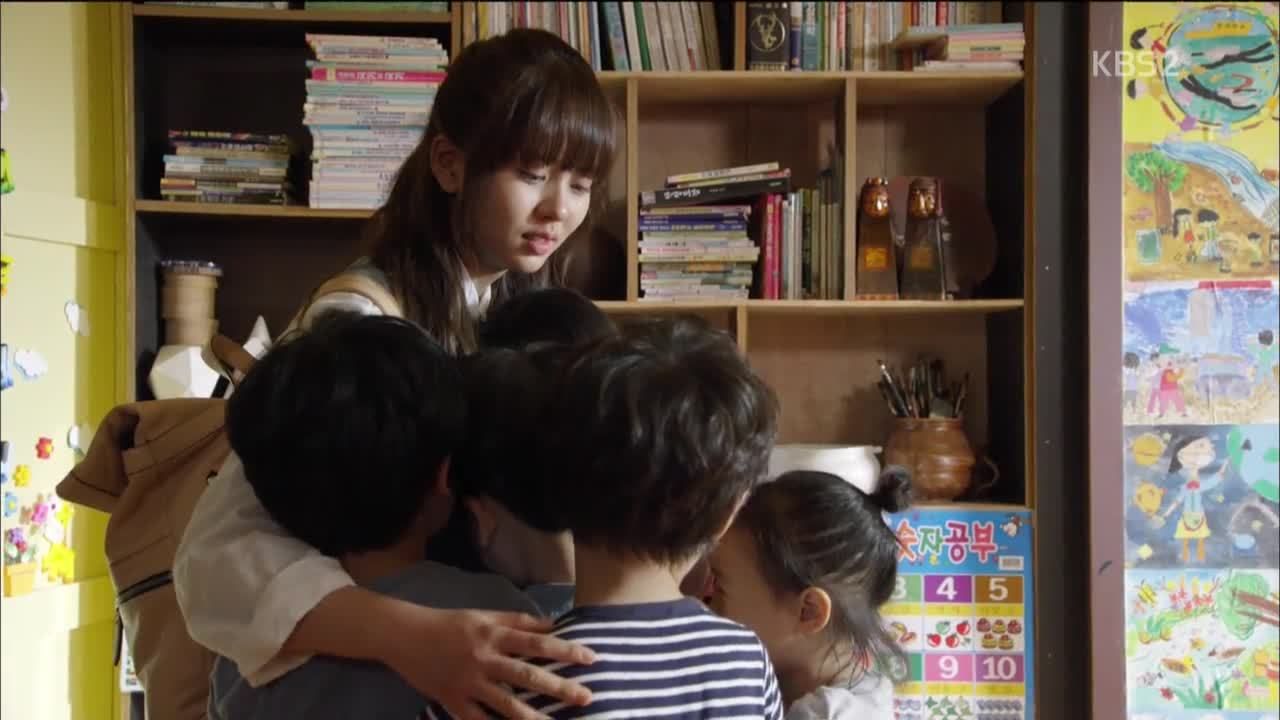 In the car, Eun-bi tells Mom that she'll be staying at Love's House to take care of things. Mom seems hesitant, but once Eun-bi promises to return home, she agrees to let Eun-bi stay for a couple days.
Eun-bi waves goodbye to Mom, and when she turns around, she finds none other than Tae-gwang. Upon seeing Eun-bi, he scolds her for leaving without saying goodbye. She assures him that she won't be gone forever, and their conversation is interrupted by Eun-bi's trio of kids. They hold up their toys threateningly at Tae-gwang, accusing him of yelling at Eun-bi. He doesn't take them seriously until they refuse to back down. Sensing their loyalty, he hides behind Eun-bi. Hehe.
Tae-gwang eats under the children's watch (more like glares). Eun-bi tells him to eat quickly and head back home for school tomorrow. He arrogantly says that he never really attended school regularly, which earns him a glare from Eun-bi.
Eun-bi orders the children to head to bed, and they listen obediently. She asks if they've brushed their teeth, and Seung-min swiftly turns his head and covers his mouth, as if that would fool Eun-bi. She orders the other two to go right to bed and tells Seung-min to brush his teeth. The children do as told, and Tae-gwang admires Eun-bi thriving in her element.
Eun-bi tells Tae-gwang that he'll miss the last bus if he doesn't eat quickly, and he replies with a mischievous smile. Don't get too giddy, the children will come after you.
Outside, Tae-gwang asks what Eun-bi will do now. She's not sure — torn between her two homes — but she knows that whatever decision she makes will be hers, not someone else's. Tae-gwang accepts that answer and reminds her to tell him where she goes before disappearing.
As he leaves, Eun-bi calls out to him to thank him for everything. "Thank you for letting me be myself, for calling my name, and making me smile. And I'm sorry that I can't be that person for you."
Tae-gwang stops her there. Then, she walks towards him and offers out her hand as a goodbye gesture. He considers it but slaps her hand away. Looking at his watch, he notifies her that he just missed the last bus and walks back towards the house. Tae-gwang says that he won't give up until Eun-bi stops apologizing and asks if he should also brush his teeth. Hee, I love cheeky Tae-gwang.
Yi-an and Eun-byul meet, and he tells her about his rehabilitation treatment. She didn't know that he was injured and scolds him for not taking care of himself. Bewildered by her response, he asks why she's acting so strangely. Eun-byul begins to explain their argument during the Tongyeong class trip, and that puts Yi-an over the edge.
He grabs Eun-byul's shoulder and asks what's going on. She apologizes and says that she'll behave until he recovers. Yi-an calls out her name, and Eun-byul confirms that it's her. He's baffled and rightfully so, but Eun-byul asks him to understand.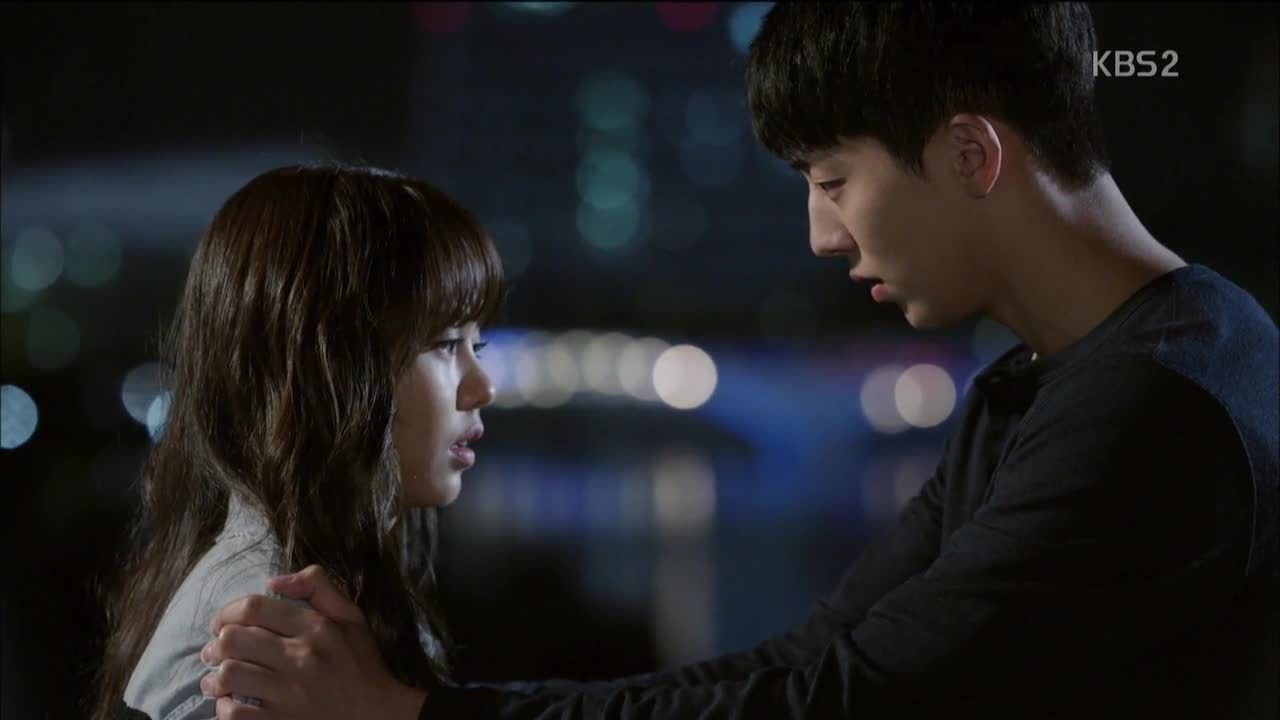 Yi-an looks too hurt to understand and accuses Eun-byul of not thinking about his feelings. "Have you ever imagined how I would feel when I discovered that you died? Or when you suddenly came back like this? You probably never thought about my feelings."
Eun-byul seems offended that he would think this way, but his anger has built up to its tipping point. It's always this way with Eun-byul. He blames his excessive worry for getting angry and tells her that he's overjoyed that she's back alive. But he can't welcome her back with warm smile, especially after all he's been through.
At school, Eun-byul sees Teacher Kim brooding on the roof and approaches him. She tells him that her memory has returned and that she wants to give Soo-in a proper apology. Before she lost her memory, she dreaded every day of school. "Ever since the day I discovered Soo-in last year, she's been following me. At school, on the streets, at home, she was there. I feared that my classmates would look at me like they looked at Soo-in. No matter how much I regret, I won't be able to return to that moment, but I want to reveal the truth."
Teacher Kim apologizes for his shortcomings that resulted in Eun-byul's suffering, and he promises to make things right. Later that day, Teacher Kim stands in front of the police station and resolves to report the truth.
Eun-bi wakes up to Tae-gwang yelling at her to get up. She walks outside and sees him playing soccer with the children. He drags her into the group to play, and they enjoy a carefree morning together.
Yi-an looks out the window and thinks back to Eun-bi confession about concealing the truth. Eun-byul approaches him and asks about his injury. He vaguely says that it was from an accident and asks where Eun-bi went. She explains that her sister went back to Tongyeong, and they're currently waiting for her decision on whether or not to return.
Eun-byul asks Yi-an how Eun-bi seemed to hold up at school, and So-young interjects, having eavesdropped on their conversation. She tells Eun-byul that Eun-bi had loyal supportive friends here and clears up the confusion about who's who, since it seemed out of character for Eun-bi to step up for herself.
So-young then clarifies the reason for Yi-an's injury. He ditched a swim meet and got into an accident while running back to school to defend Eun-bi. She turns to Yi-an and asks with mocking curiosity: So who do you really like? Go Eun-byul or Lee Eun-bi?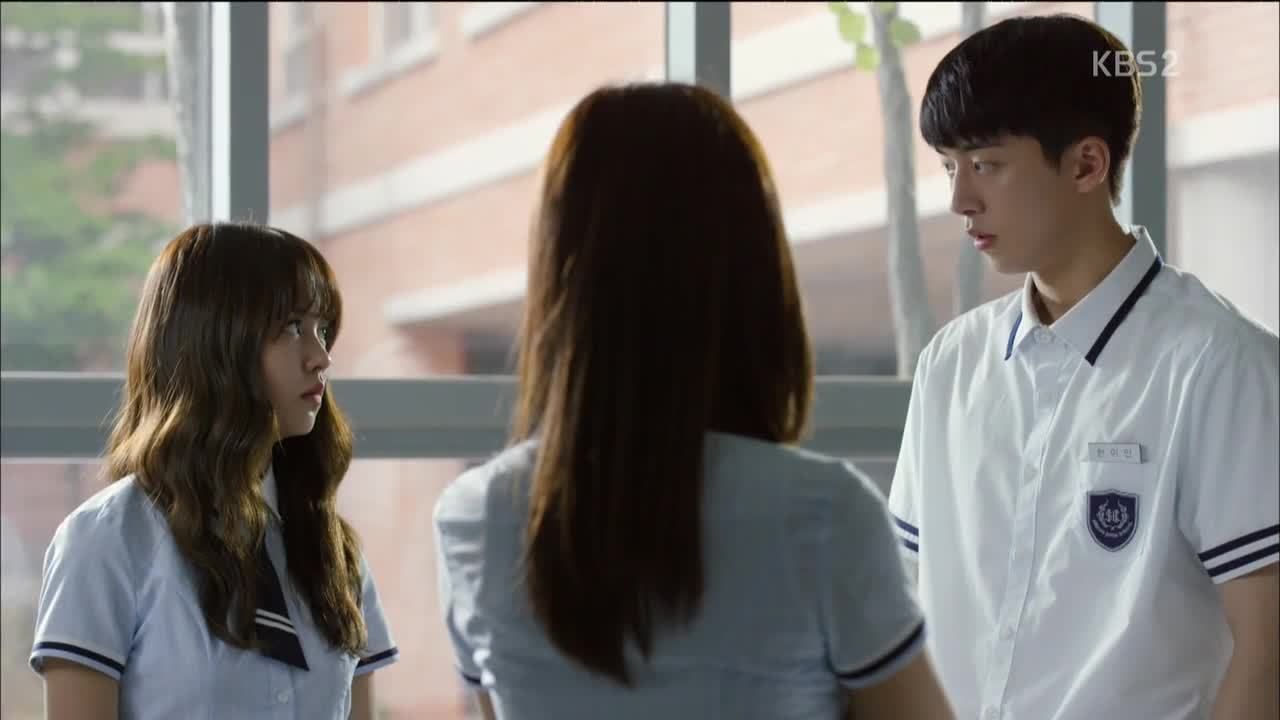 COMMENTS
Finally having both twins in the picture illuminates the different charms of Eun-bi and Eun-byul. We see the range in acting with Kim So-hyun and her talent in creating these distinct characters simultaneously. Eun-bi, while more meek and unassuming, gives off a warm energy when she interacts with others. She's the kind soul, selfless and giving to the point where she forgets about herself. On the other hand, Eun-byul definitely seems the opposite — irritable and selfish. But she exudes confidence in a manner that shields her from any insult or threat. Her flaw also comes from her confidence, in that she fears vulnerability. She tends to avoid confrontation and remains private in her pain. That was what led her to escape home, and it's probably what's burning the bridge between her and Yi-an.
I'm slightly frustrated with Yi-an's character development. I missed the part where this final question that So-young proposes is actually a question. I've always been convinced that Yi-an likes Eun-byul. He's a loyal friend, and he's been warming up to Eun-bi, but I'm still set on Yi-an with Eun-byul. Confusion and wavering may be part of the process, since Eun-bi is the reason for his injury and also the reason for his decision to start recovery. But I was under the impression that this ship had already sailed. There's something precious about the shared memories between Yi-an and Eun-byul that cannot be replaced, and it's their relationship that would grow from this experience. Eun-byul is definitely prickly and selfish, but Yi-an seems to be the only one to care about what's behind her irritable behaviors. She just needs to meet him halfway.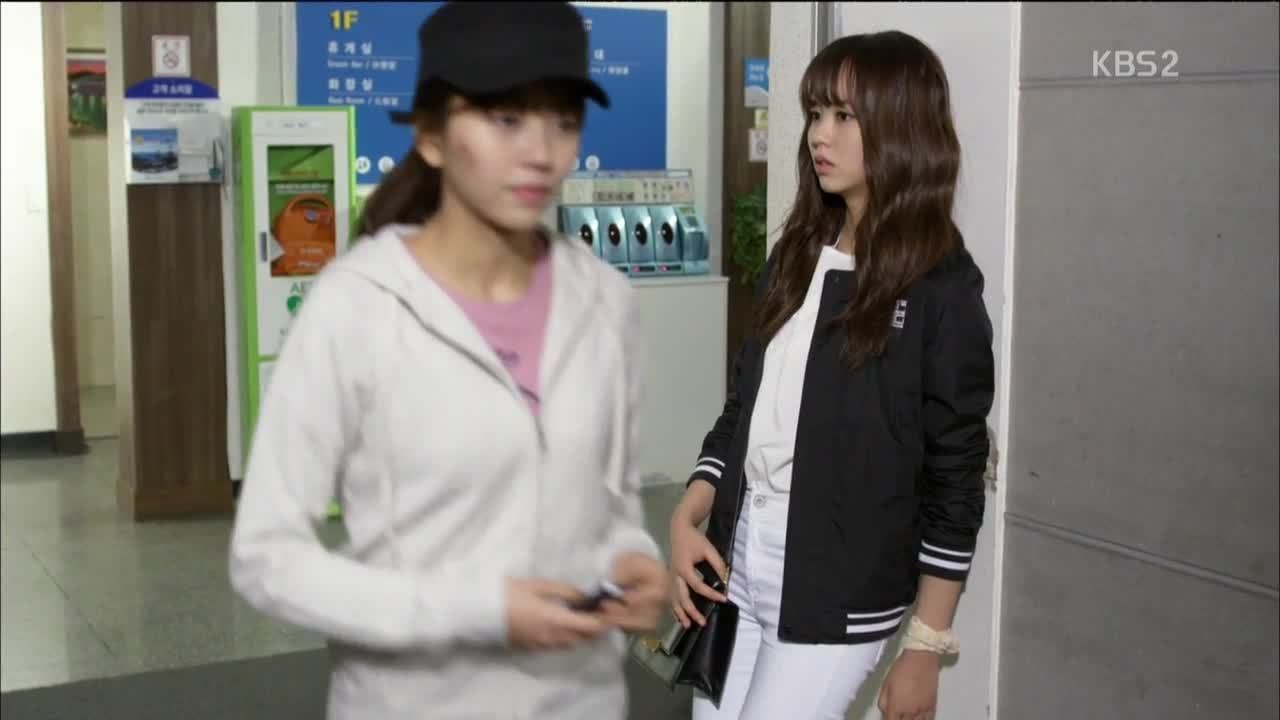 Although I can see Eun-bi really thriving Love's House, I want her to return to school to confront So-young as herself. She's been able to fight off So-young under the guise of Eun-byul, but, as rewarding as that has been, seeing Eun-bi step up for herself would be such a winning moment. I enjoyed So-young getting taste of her own medicine, thanks to Eun-byul's fearless and vengeful spirit. But I would find it much more satisfying to see Eun-bi stand up to So-young, fearless and confident in her established support system.
Tae-gwang wins all around in this episode. His resilience makes me forget that he was rejected by Eun-bi. Wait, was he rejected? See, I don't even remember! His undying loyalty for Eun-bi may seem one-sided, but I don't think that's the case. His loyalty is just an added bonus to the friendship that they share because what they both fundamentally needed was a friend. Someone who can look past the rebellion and silence to recognize pain. I think they both found that in each other. And while I totally ship these two, their friendship as it is now is a delightful sight.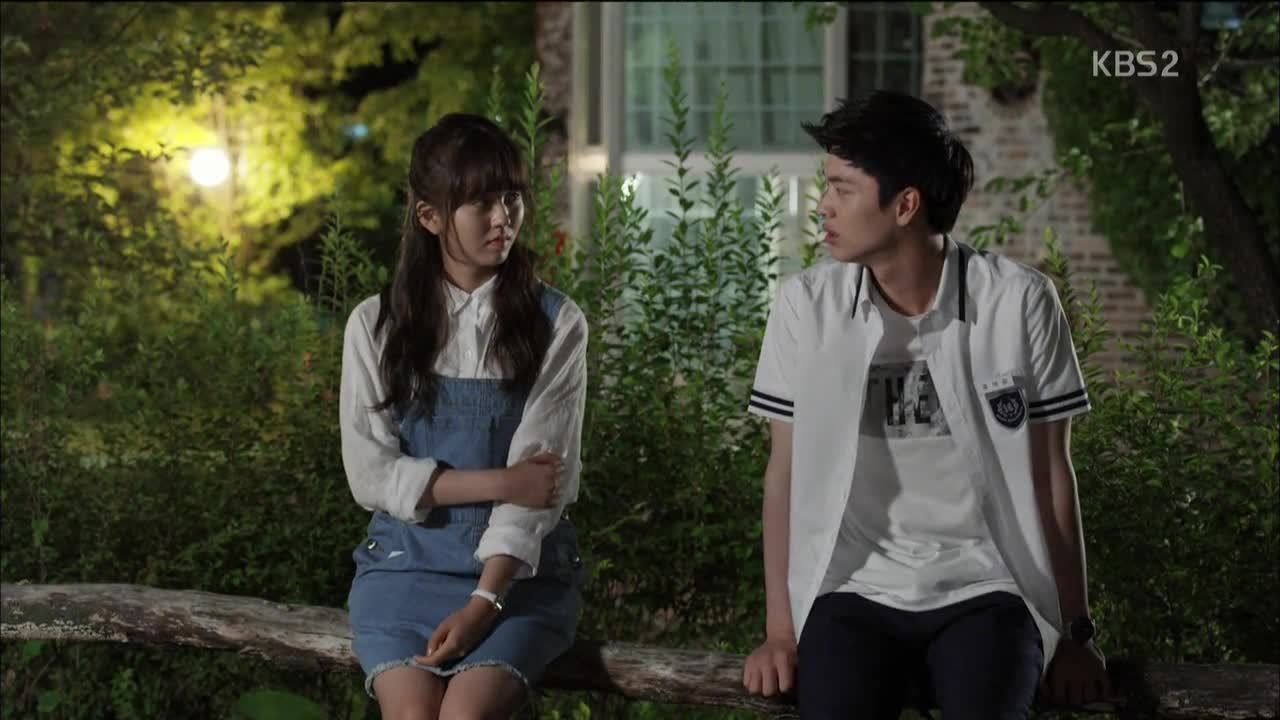 RELATED POSTS
Tags: featured, Kim So-hyun, Nam Joo-hyuk, Who Are You–School 2015, Yook Sung-jae