Yoo Jae-suk heads to JTBC for new variety show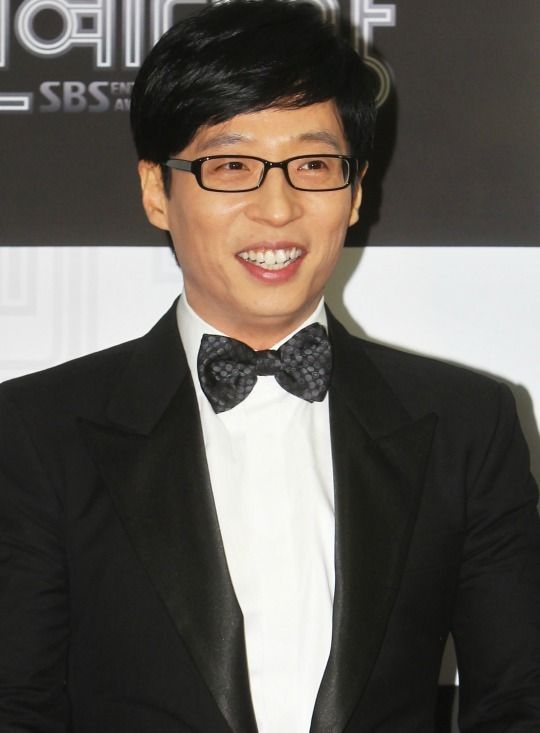 javabeans: Yoo Jae-suk (Infinity Challenge, Running Man, Happy Together) is doing a new program on JTBC! Do you think the cable executives are throwing a party and celebrating the get? Maybe while singing neener-neener over in the direction of KBS-MBC-SBS, who seem to be bleeding all their talent to cable these days?
girlfriday: It certainly feels that way, what with PDs and writers leaving in droves for tvN and JTBC. Now that "national MC" Yoo Jae-suk is among them, there's no advantage that the Big 3 hold.
javabeans: In my imagination, every time they lost a star PD or writer, the broadcasters would say, "It's okay if Na PD goes, we still have Yoo Jae-suk." Except now, their biggest fish is checking out that other pond too.
girlfriday: To be fair, the talent doesn't have to belong to one station like a PD does. Na PD is under contract, while Yoo Jae-suk can have a show on every network under the sun (which he's going to have, pretty soon). It makes the move less of a killing blow. Just a sock to the gut, maybe.
javabeans: More than anything, it's an extra stamp of legitimization to the fledgling cable outlets, that everyone wants to be on them despite the lower exposure and ratings. Already cable is gaining the reputation and cred for high quality programming, but if they steal all the talent away too, will broadcast have any advantage?
girlfriday: Maybe it'll be a kick in the pants to step up their game. I'd like to see more variety in variety shows, more innovative formats, and less of the stock studio stuff. That said, JTBC has done a good job of putting its own spin on variety and talk shows, even in the studio format.
javabeans: I actually think JTBC has better variety programs than it does dramas. Not that their dramas aren't good, but they have more variety at the moment, such as Abnormal Summit, Witch Hunt, Crime Scene, Hidden Singer, I'm Going to School…
girlfriday: Yeah I like their variety shows. Yoo Jae-suk is pairing up with PD Yoon Hyun-joon, who worked with him on KBS's Happy Together back in the day. PD Yoon's recent shows are Abnormal Summit and Crime Scene, so I'm hoping that they continue the hot streak with a great new show. The concept is still undecided, of course, so it could really be anything.
javabeans: It's crazy how nothing is known about this show, yet just the fact that Yoo Jae-suk is moving to cable is enough to make it the top news story of the day. It's even crazier still that the show has no concept in place but has a launch scheduled, for August.
girlfriday: I'm pretty sure that if you have Yooneunim (Yoo-god), you don't even need a concept.
javabeans: I would almost say yes, but in variety, you really need more than one awesome star. Remember I Am a Man on KBS? Or half of Kang Ho-dong's newest programs?
girlfriday: No, nobody remembers those shows because nobody watched them. (Okay, maybe I watched them, and they were bad). Speaking of Kang Ho-dong, it's funny how now all eyes turn to him, because he's the last one left on broadcast TV. There are actual stories being written speculating if/when he'll jump too.
javabeans: The bigger question is: tvN or JTBC?
girlfriday: It's gotta be tvN, just so he can continue his friendly rivalry for "national MC" crown with Yoo Jae-suk.
javabeans: Or they can both be on JTBC and share the crown.
girlfriday: Poor tvN.
javabeans: More like, poor KBS-MBC-SBS.
Via DongA
RELATED POSTS