Choi Ji-woo goes back to school for Twenty Again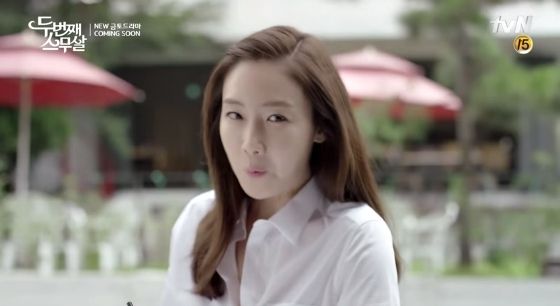 Could Choi Ji-woo be any cuter? The first teaser for new tvN rom-com Twenty Again is just her adorable reaction to getting her student ID card on her first day back at school, but seriously, if she's just going to be her bubbly self like this in the whole drama, I'm going to love it. (Also, is that picture on her student ID from Grandpas Overs Flowers? Because, LOL.)
The new coming-of-age story stars Choi Ji-woo as a former dancer who became a wife and mother at 19 and devoted her youth to her family. She finally gets a chance to go back to school later in life and live as if she's twenty again, rediscovering herself and chasing after her own dreams. Choi Won-young (I Remember You) plays her psychology professor husband — he's an intellectual snob who looks down on his wife for being uneducated, and asks her for a divorce.
Kim Min-jae (The Producers, Persevere Gu Hae-ra) plays her son, a typical young man who thinks that his mother's entire life revolves around him. He'll have the shock of his life when Mom attends his university as a fellow freshman. She'll even be classmates with his girlfriend Sohn Na-eun (Childless Good Fortune).
Lee Sang-yoon (Liar Game) plays Choi Ji-woo's first love who's now a theater/film professor (at the same school, natch). Park Hyo-joo (Secret Door) is the daughter of the university chairman who's in love with Choi Won-young, and Noh Young-hak (Masked Prosecutor) plays Choi Ji-woo's dance sunbae.
In the teaser, she introduces herself: "Married at 19. Wife of a professor. Min-soo's mom." But then she shows off her new student ID and revises, "Starting today… I'm [entering] class of '15, Ha No-ra!" She looks so freaking excited to go back to school, and she doesn't even know yet that Lee Sang-yoon is there waiting for her!
Twenty Again follows Oh My Ghostess on Fridays and Saturdays in August.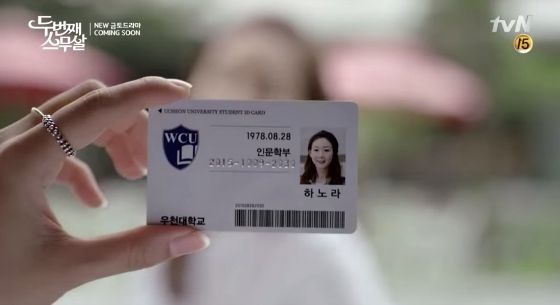 Via Enews24
RELATED POSTS
Tags: Choi Ji-woo, Twenty Again