Hidden Identity: Episode 5
Hidden Identity is turning into a bit of a police procedural, as each case leads the Investigative 5 Team closer to their ultimate target — the Ghost. This week they're after a smuggler, but he's not smuggling anything so tame as guns or drugs… he's smuggling people. They have to catch the human trafficker in order to get one step closer to the Ghost, and the team is going to have to step up their game as their targets get smarter and scarier.
EPISODE 5 RECAP
Team Leader Jang looks on trustingly while Gun-woo sweats over the bomb strapped to Yoon-mi, but when Gun-woo cuts the wire, it actually speeds up the countdown. Crap. He's only got enough time to try one more wire, and luckily, he chooses the right one.
Backup finally arrives, though the team has the remaining thugs well in hand by that time. Tae-pyung starts to arrest his thug but the man just laughs, then pitches himself backwards off the roof to his death. Meanwhile Min-joo's opponent actually uses a piece of broken glass to slash his own jugular.
Although Tae-pyung recovers the USB from his thug, they're pretty shell-shocked at seeing the men so willing to die rather than be captured. Tae-pyung gives Team Leader Jang a sweetly stern talking-to about how he and Gun-woo almost sacrificed themselves, reminding them that they're a team and none of them are allowed to die. Awww.
He gets serious and explains to Jang that both men they were after chose to die rather than be caught, which indicates that more than just money is involved here. Jang doesn't comment and just leaves them to finish up at the crime scene.
Duk-hoo is nervous when Jang gets back to the station, because the NIS director has found their little secret headquarters. He praises Jang for the successful operation today, and Jang hands over the USB to him. The director orders him to stop here, though Jang wants to keep going after the Ghost.
Jang reminds him that he's not an NIS agent, thus not the director's to command, but the director says he can still have Jang's job yanked out from under him. In turn, Jang calmly offers to tell the police and the press about all the errors the NIS made in this case. The NIS director backs down for now, but leaves with a cryptic parting shot that he and Jang could have had a better relationship eight years ago.
As the cops investigate the abandoned school crime scene, a suspicious masked man finds the spot where one of the thugs taped something (a microchip?) to a power line, and retrieves it secretly.
Tae-in finally wakes to find Gun-woo asleep by his hospital bed, but he doesn't look as happy to see him as Gun-woo does. Gun-woo tells Tae-in that he's joined the team, which Tae-in thinks is a bad idea. When pressed, he says that it's okay for him to live in darkness since Tae-hee as his sister, but Gun-woo can just forget her.
Back at the headquarters Jang calls the team for a briefing on Lee Moo-sung, a black market smuggler and all-around bad guy. Gun-woo wonders why they're suddenly going after a smuggler, and it turns out that he actually smuggled their two dead thugs into the country, making him another probable connection to the Ghost.
One of the people Lee Moo-sung has smuggled into the country is an Uzbekistan bomb expert named Yasuru Bajef. Jang puts Duk-hoo on the job of finding out more about Bajef, and has the rest of the team focus on Lee Moo-sung. The Ghost is planning something big, and they need to find him fast before more innocent people die.
Jang talks privately to Tae-in about Gun-woo's addition to the team, but Tae-in says the team doesn't need Gun-woo — Jang does. Jang knows Tae-in isn't happy about this, but asks him to think about everything they've worked towards. Tae-in cryptically refuses to repeat his mistakes.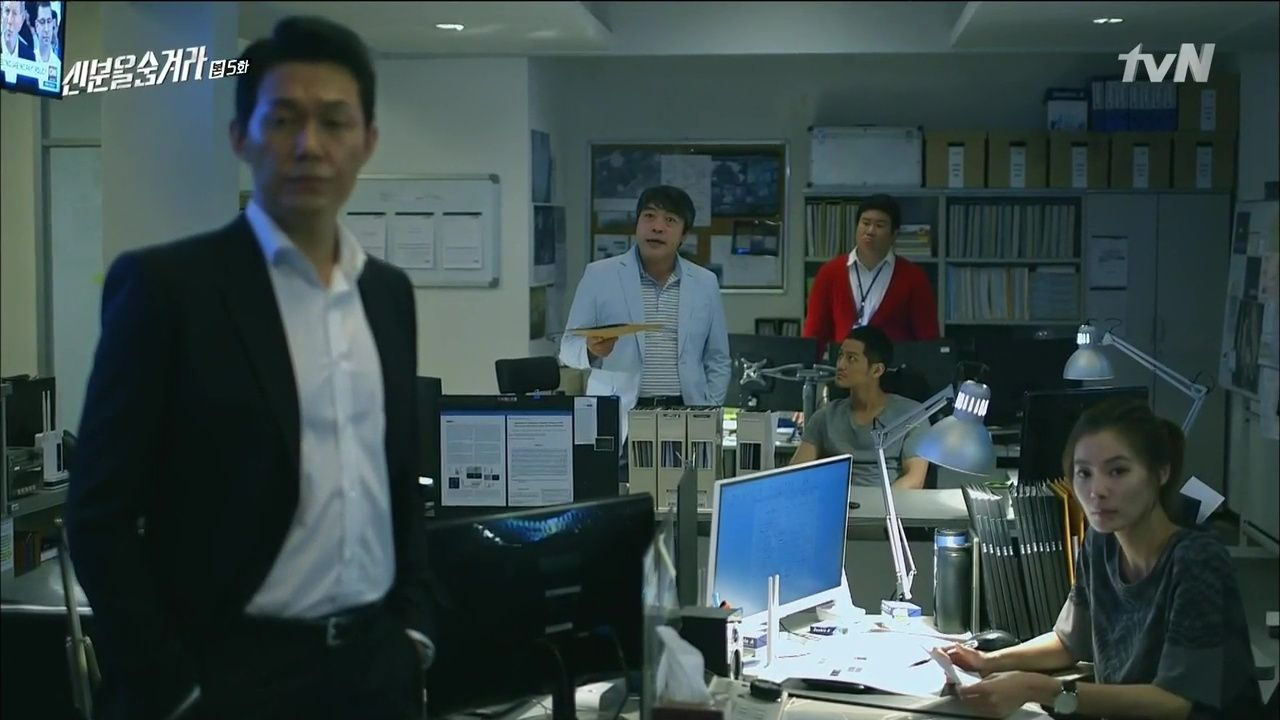 Min-joo does some digging and finds that Lee Moo-sung owns a modeling agency, that's a front for his illicit activities. Tae-pyung adds that he has no record of anything even so tame as a parking ticket prior to 2009, indicating that he's probably got a cop on the payroll.
They observed him with a couple of other baddies, and Jang asks the team to find some evidence to prove that Moo-sung smuggled in the now-dead men. Tae-pyung pegs one of the men, Park Choong-sik, as the weakest link amongst Moo-sung's men. He offers to go to a photo shoot to ogle the models (which makes Min-joo giggle) and see what info he can gather.
Duk-hoo suggests instead that Min-joo go disguised as a model, which she reluctantly agrees to. Choong-sik immediately notices the new girl in the studio, and it's cute to see how quickly she takes to the spotlight once the cameras start flashing, hee. Choong-sik singles her out to talk, so she suggests they go for drinks.
He puts the moves on Min-joo right away, flattering her and offering to help her improve her portfolio. Of course this requires a private nighttime studio session, and Min-joo pretends to be dim enough to fall for it. She suggests a love shot and spills her drink all over him, and uses the distraction to slip his phone out of Choong-sik's pocket and over to Duk-hoo at a nearby table.
Duk-hoo quickly hacks into the phone and Gun-woo returns it, and Min-joo goes back to the studio with Choong-sik. Instead of taking pictures, he pours more drinks, and starts to get handsy with Min-joo. Min-joo plays innocent until Gun-woo sets off the jerk's car alarm, and while Choong-sik runs down to check on it, Min-joo breaks into Moo-sung's office.
She picks the lock on the desk, but downstairs all is not well. Gun-woo and Tae-pyung watch as Choong-sik turns off his car alarm, but Moo-sung and another thug arrive and the three have some sort of argument, complete with flying fists. Gun-woo calls Min-joo to tell her Moo-sung is on his way up, but she just insists she can finish.
In the desk, she finds several passports, including those of the two dead thugs. In another drawer she finds a whole handful of passports, and thank goodness she manages to get out of there before Moo-sung gets to his office. Moo-sung asks if Min-joo wants to model for them, and says creepily that she has to pass his inspection first.
He asks to see her cell phone, and wants to know who she just spoke to a minute ago (ha, she's got Gun-woo saved as "Big Jerk"). She breezes that he's just an oppa she knows, but Moo-sung calls the number to check. Figuring something is up, Tae-pyung answers and acts like, well, a big jerk, which fools Moo-sung and he hangs up. He lets Min-joo go, but holds Choong-sik back to talk.
Moo-sung yells at Choong-sik for bringing a strange girl to the office, then proceeds to beat him to a pulp. He breaks Choong-sik's finger, and Min-joo barely gets out of there safely while all this is going on.
With the passports as evidence, the team prepares to arrest Lee Moo-sung, but Duk-hoo breathlessly interrupts to announce that he found Bajef — unfortunately, he was found dead with his throat slit two days prior. Based on the wound it's most likely a carabiner knife, usually used by the Special Forces, and Gun-woo notes the skill with which the job was done. Min-joo tells them that the man who was with Moo-sung tonight had a knife like that.
They know the who and the how, but not the why — but Min-joo says she thinks she knows. She posits that it has something to do with all the passports she found in the desk, which were all for young Uzbekistani women. Including, she realized, a passport for the same young woman whose picture was in a locket found on Bajef's body.
The young woman's name is Yekatrina, and she's been reported as missing. The Uzbekistan Embassy confirmed about thirty cases like hers in the last two years — Lee Moo-sung is running a human trafficking ring.
Duk-hoo tells them that Bajef and Yekatrina were engaged, and that Bajef came to Korea to try to buy his fiancee back from Moo-sung. Moo-sung took his money, then had Bajef killed. Min-joo seems troubled and says that simply arresting Moo-sung won't solve the case, because the missing girls could never be found. Jang says without emotion that their first priority is to arrest Moo-sung — but allows the team to try to get the missing girls' information so they can get them to safety.
An opportunity presents itself when Choong-sik sends a text message from his hacked phone to a college professor of his, Professor Hwang. Jang tells the team to get the professor's cooperation.
We see Choong-sik the next day with the missing woman, Yekatrina, who sadly thinks of Bajef and how happy they were together. Gun-woo and Min-joo follow them to a motel, where it seems Yekatrina is being sold to Professor Hwang. Thankfully, Hwang is in on the sting, and Tae-pyung is in the room with him.
Tae=pyung introduces himself to Yekatrina as police, but the girl doesn't begin to relax until Min-joo joins them and speaks with her. She doesn't tell her yet that her fiance has been killed, and Yekatrina reveals that she knows of at least twenty other girls that are being bought and sold by Moo-sung.
But she doesn't know where they are, since they are given sleeping pills and blindfolded while being transferred. She's been kept with five other women recently, and Yekatrina volunteers to go back with Choong-sik so as not to endanger the other women. They can't even put a tracker on her without endangering her and the others, but she puts her trust in the team to rescue her and her friends.
Before she goes, Yekatrina sadly says that Bajef won't love her anymore even if she gets home, because she's no longer a virgin. Min-joo assures her that no matter what, his love will never change. Oof… ~tears~
The team hones in on another missing girl named Maya, pretty certain she's also been smuggled in by Moo-sung, and they decide to use her to get to Moo-sung. In order to execute the plan, they need someone named Tae-poong, who they refer to with hilarious tragic descriptions such as "he lives in the shadow of darkness." HAHAHA, it's one of Tae-pyung's secret identities.
As they wait for "Tae-poong" to meet with Moo-sung, Gun-woo tells Min-joo out of the blue not to get too emotionally involved in this case. She says she was just showing sympathy to Yekatrina in order to convince her to help them, but Gun-woo could tell she was overly-invested. He reminds her that getting emotional can cause you to make mistakes, and I guess he would know.
Tae-pyung shows up in disguise (which turns out to be… a mustache) and gets right to the point with Moo-sung — he does business in Uzbekistan, and he's trying to find someone. Moo-sung says he's got the wrong guy, but a large bag of cash plunked on the table, and a promise of more if they find the girl, gets his attention.
Moo-sung's scary bodyguard surreptitiously pulls a knife on Tae-pyung, and Min-joo has to hold Gun-woo back from barging in to break the place up. She tells him to trust Tae-pyung — the thugs won't do anything to harm him in such a public place.
Tae=pyung's fake ID checks out, through a cop that Moo-sung has on his side. But when he mentions the girl Maya's name, Moo-sung suddenly wants more money. Tae-pyung agrees and gives him his contact info, and Moo-sung tells his lackey to find the girl.
Then Moo-sung gets a call and storms out of the café, furious at Choong-sik (who's keeping watch outside), and literally snatches him up by the hair. He snarls that he told Choong-sik to take care of the girls, and leaves in a fury.
Moo-sung and his lackeys go to the house where the women are being held, and he viciously kicks one woman nearly unconscious, calling her ungrateful for his generosity. Apparently she tried to run away, and he creepily tells her that if she wants to go home, he'll just send her home, then.
He orders the stabby guy, Bo-pil, to take her, but Yekatrina overcomes her fear and begs him not to kill the woman. He complains that one rebel makes them all brave, and holds a knife to Yekatrina's throat. She stammers that the police are outside, and Moo-sung goes to the window to see Gun-woo and Min-joo sitting in a car nearby.
Moo-sung calls Tae-pyung at the number he left, to tell "Tae-poong" that he found the girl Maya and wants to exchange her for the money now. Ha, it's hilarious how Tae-pyung gets upset when Moo-sung hangs up on "an elder," as if that's what's important right now.
Jang wants to send backup with him since they killed Bajef once he handed over the money for Yekatrina, but Tae-pyung argues that that could make them suspicious. He says confidently that he can take care of himself.
Choong-sik leaves the house where the girls are being held, and Gun-woo follows him while Min-joo stays behind. In the house, Moo-sung orders the girls taken to a factory, and his men's current cell phones all destroyed. He also tells Bo-pil to pick up Min-joo from outside and take her to the factory as well. Sure enough, Choong-sik has orders to kill "Tae-poong" after her gets the payment, though he looks nervous about carrying out that order.
Min-joo watches the men load the women into a van, and reports to Jang that Yekatrina is with them. She says that she's going to try something, and it's Gun-woo who figures out that she's planning on being caught so they can track where the women are being taken. Jang is against it, but Min-joo can't risk losing Yekatrina — she promised to rescue her.
Jang calls for backup in that case, and Min-joo is almost immediately nabbed by Bo-pil. He chokes her until she faints, and she loses her phone and earpiece but she manages to plant the GPS tracker in his coat pocket before she passes out. Jang has the backup team follow the tracker, and runs to catch up with Tae-pyung.
Gun-woo requests the backup be sent to Tae-pyung instead, as he wants to go after Min-joo. Team Leader Jang agrees, but Bo-pil finds the tracker in his pocket and tosses it out the van window.
Choong-sik follows Tae-pyung with knife at the ready, but Tae-pung leads him to an alley then kicks the knife out of Choong-sik's hand. He gains the upper hand right away and brandishes the knife at Choong-sik, demanding to know where Moo-sung is right now. Gun-woo finds the crushed tracker in the street, but Tae-pyung already knows where Moo-sung took the women.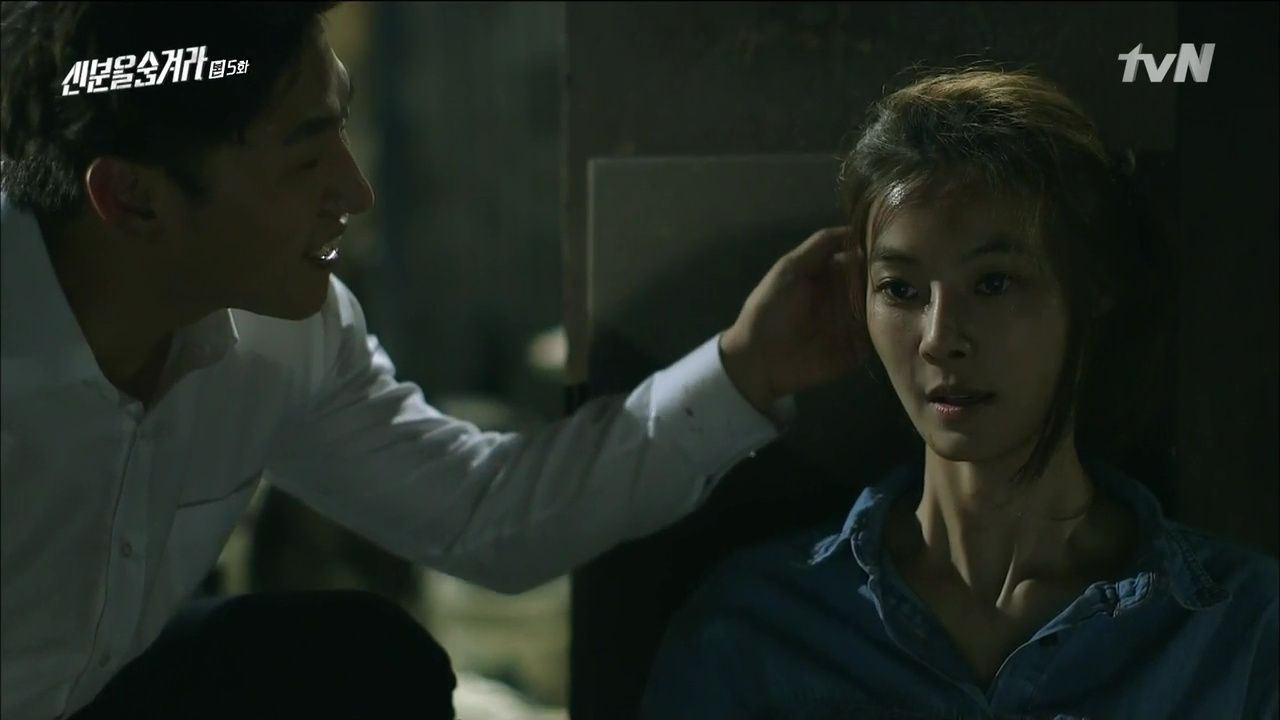 Min-joo wakes up to find herself tied up and alone with Moo-sung. He cruelly teases that he doesn't hear any backup coming for her, but she growls that the police won't give up on finding him. He brushes her off and asks why they're chasing him, and when she refuses to answer he just shrugs that she'll die either way.
Moo-sung says he's leaving the country soon and wants to "make a good memory" with a cop before he goes. He leers at her, so Min-joo spits right in his face. This earns her some vicious kicks in return.
Moo-sung's men have other the women outside, and seem to be busy mixing up a large batch of cement. Gun-woo and Team Leader Jang find them, and Jang sends Gun-woo to look for Min-joo while he handles these guys.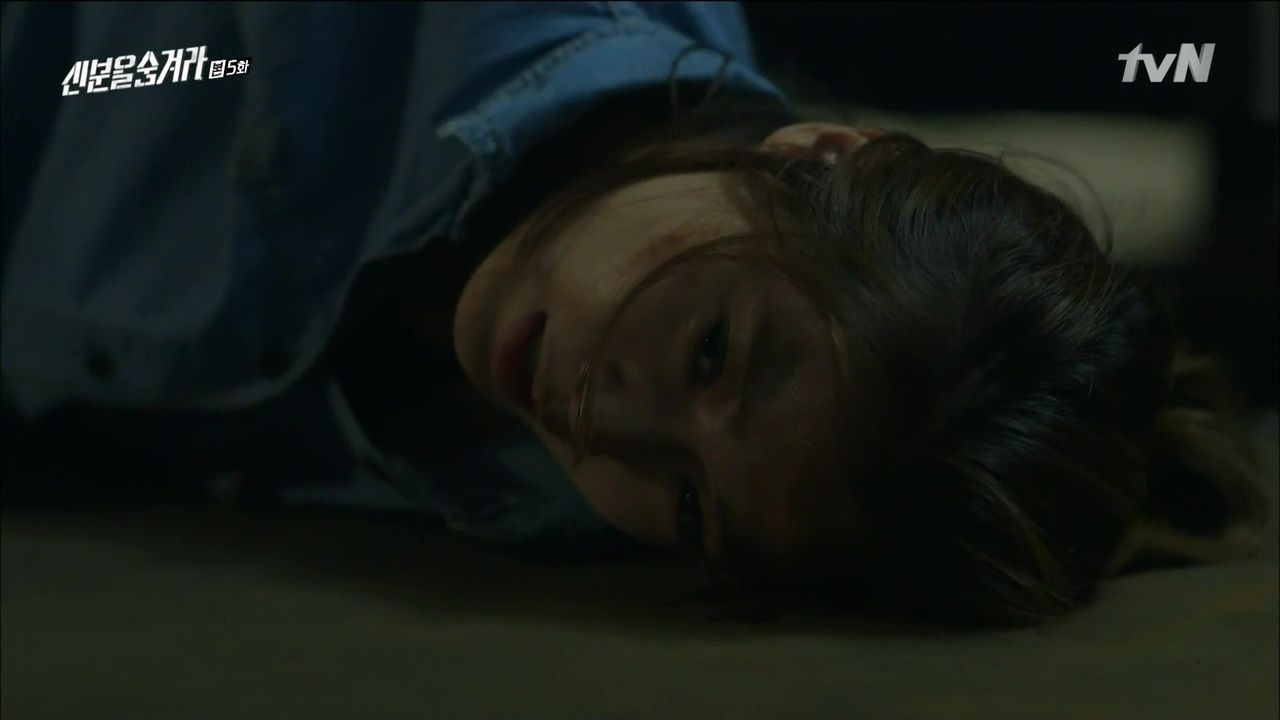 Gun-woo bursts in on Moo-sung just as he's swinging a pipe to end Min-joo's life, and Jang takes on the rest of the thugs barehanded when his gun is kicked away. Whoa, he's an awesome fighter, and barely even breaks a sweat while he incapacitates them all.
Gun-woo goes head-to-head with Bo-pil, where his creative fighting tactics keep him out of range of the bodyguards' wicked knife for a while, but soon Bo-pil manages to sink the knife into Gun-woo's shoulder. He hardly even reacts — but on the floor, Min-joo's eyes widen in shock.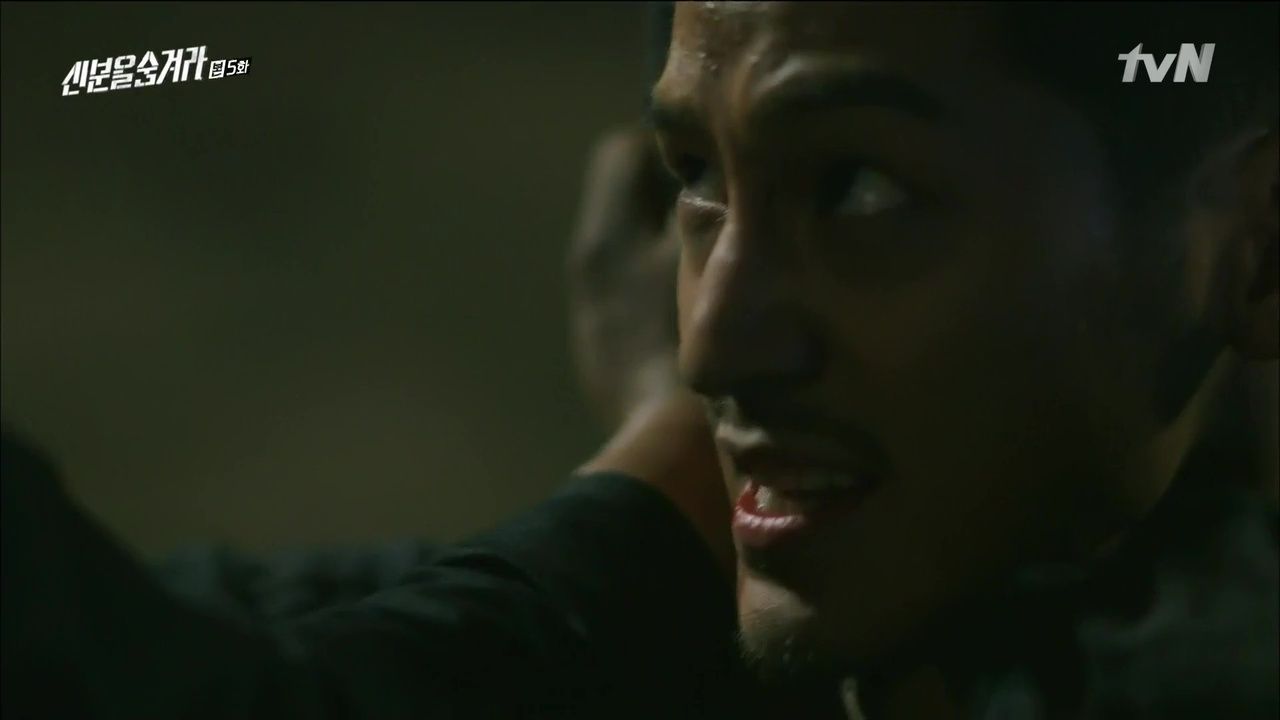 COMMENTS
At first I wasn't happy when it seemed the show was going a bit police-procedural on us, but as we got into the meat of the human-trafficking story, I changed my mind. I find this case a lot more relatable than the USB/hologram case, probably because now there are actual people to care about. Human trafficking is a real problem, and there are real women suffering, and that makes this case a lot easier for me to get invested in as a viewer. I can relate to a story about people much more than one about computer chips and counterfeit money, so I'm pleased with this case and find it compelling and emotional. And on a selfish level, I'm glad the plot isn't JUST about stealing a hologram to print fake money, because that could have easily gotten old pretty fast. Mixing it up, and presenting new cases and new baddies closer and closer up the ladder to the Ghost, will keep the show fresh and revitalize our emotional investment each week, and it's a good choice for how to lay out the "find the Ghost" plotline.
I don't personally enjoy case-of-the-week setups when there's no connection between the stories, but I love when each story gives us more clues about the Big Bad and his motives. I like the idea that each case will lead us closer to the Ghost and our final showdown to avenge Tae-hee and Tae-in. Slowly meting out the clues as to Tae-in and Gun-woo's history makes more narrative sense when the closer we get to Tae-hee's killer, the more the team will need to know about her death and why they're chasing the Ghost in the first place. Yeah, he needs to be caught to stop his crime spree, but it's more personal than that for Tae-in and Gun-woo. I hope Tae-in gets better soon and rejoins the team, so that he and Gun-woo can start to mend their relationship and work together. Doing it alone isn't working out for Tae-in, and ignoring it hasn't helped Gun-woo move on. Being friends and a team again is the best way to get justice AND repair their relationship.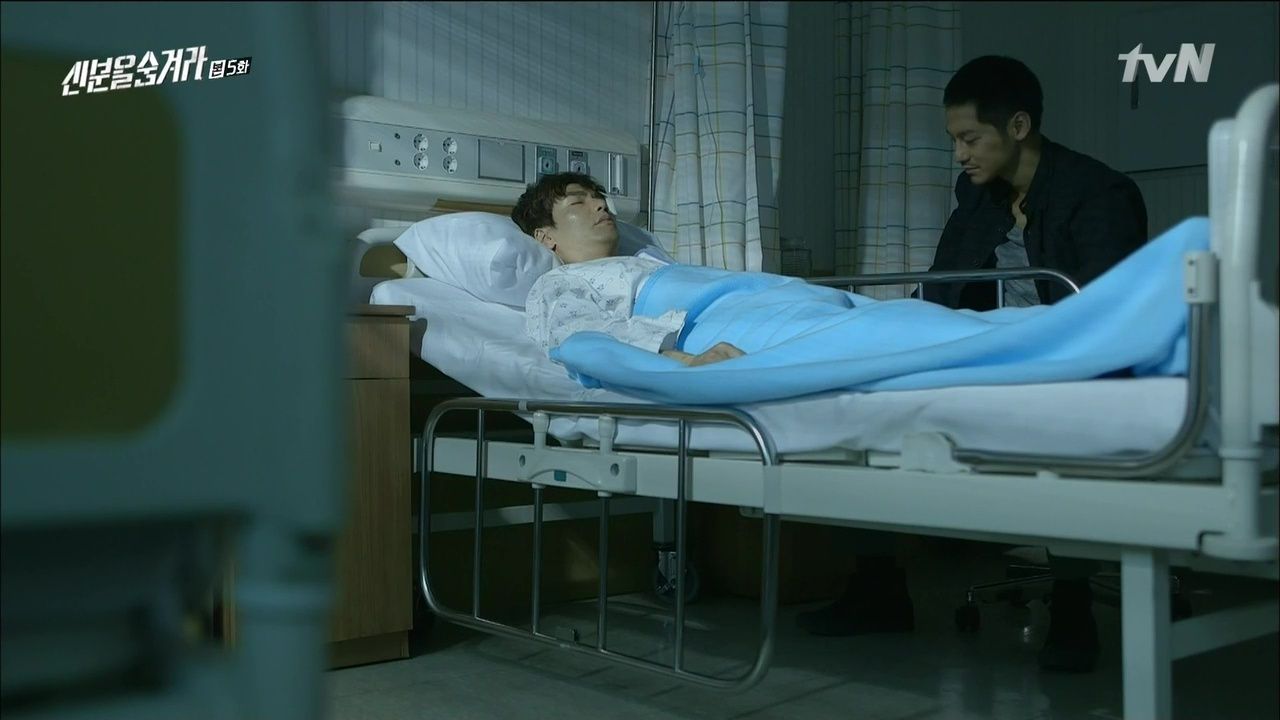 The show is good and it upholding the promise of it's first week. And like I said last week — even though it's not my usual style, I'm enjoying it more than I expected I would do. It's visually appealing, meticulously shot, and the acting is top-notch. The characters are compelling and I want to learn more about Gun-woo and Tae-in, and how Tae-hee died and why Tae-in distanced himself from Gun-woo afterwards. I know there's a lot of trauma and broken bromance and tragedy to be mined there, and I'm a bit frustrated that it's being dished out so slowly, but as I said I'm willing to hang in there for the payoff.
But the show is far from perfect, and some of the flaws are getting distracting. I have some issues with the way the Investigative 5 Team operate — specifically in the way they don't really seem too adept at the actual investigation part. What I want to know is, what is it about these people that make them so special, they're not even on the official police force? I know there are way too many geeeeeniuses in Dramaland, but in this case, I need to know why these particular people are more than just good at their jobs. They all seem competent, but I expect more than competence in an elite investigative team, and I just don't see that. Their disguises are flimsy (when they even bother to use one), and I have to contain my eyroll whenever Gun-soo and Min-joo just sit outside the place they're casing, right in the open and obviously looking around for the person they're casing. They may as well put a flashing neon sign on the car saying "Secret Police Team, Criminals Please Introduce Yourself," and it's frustrating. Not to mention how under-utilized Gun-woo is, as a team member and a character. Pretty much all he's done is diffuse one bomb and sit in cars watching for bad guys. It's a waste of Kim Bum as an actor, because I would be shocked if he had ten lines in this whole episode.
It sounds like I'm trashing the show, but honestly, I do like it quite a lot. I suppose it's just that the promo material gave me such high hopes, so while I'm getting "good," I expected "excellent." And I still feel the show has all the right ingredients for "excellent," which is why I feel myself a bit let down even while enjoying the show for what it is. But it's still early days, and I feel like Hidden Identity is just now getting it's footing, so maybe now that we have a clear direction and the major conflicts have been well established, it can get on with creating the excellence I know it's capable of producing.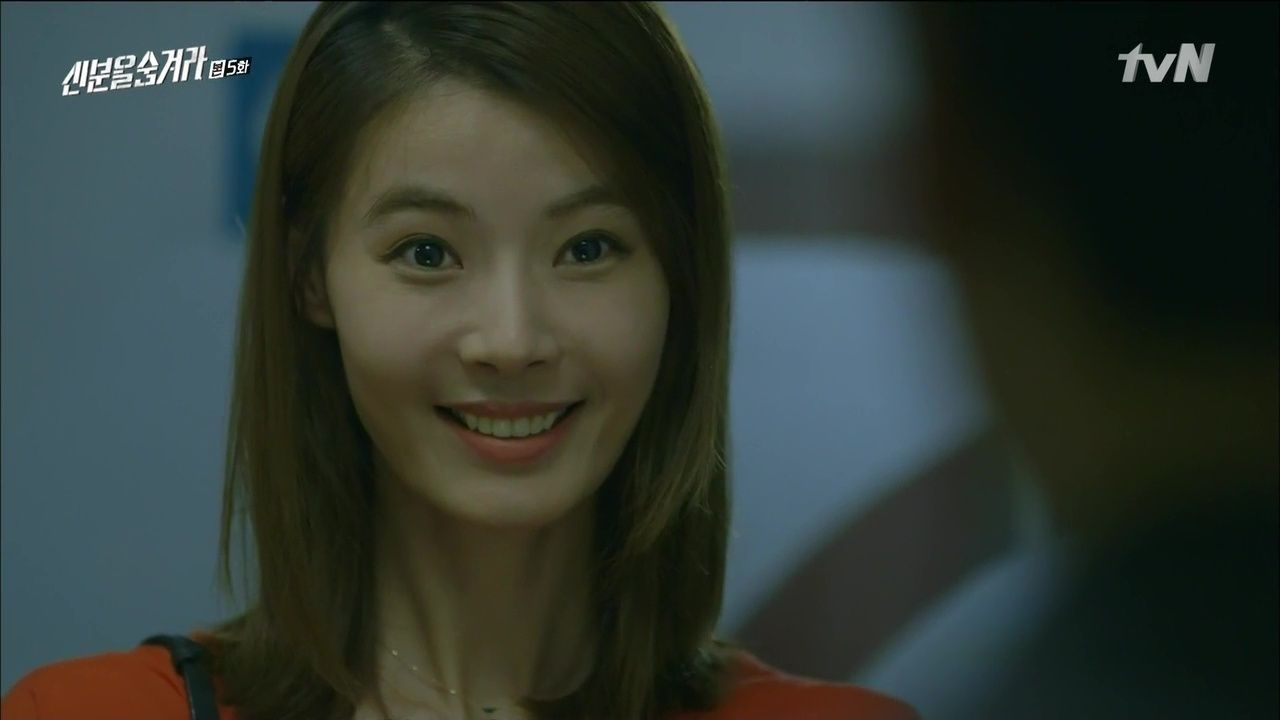 RELATED POSTS
Tags: featured, Hidden Identity, Kim Bum, Lee Won-jong, Park Sung-woong, Yoon So-yi