Hidden Identity: Episode 6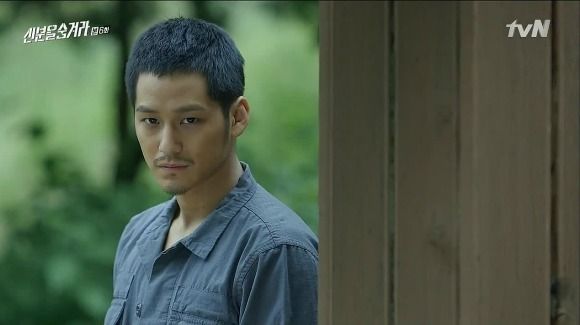 As if trying to hunt down the Ghost and avoid getting tangled up with the NIS wasn't a headache enough, the Investigative 5 Unit now has to deal with an idealistic prosecutor who's determined to make them pay for all the times they've captured criminals by breaking the law themselves. At least Tae-in is well enough again to rejoin the team. Sorta. Kinda. For at least a few minutes, anyway.
EPISODE 6 RECAP
This week's baddie Moo-sung, the human trafficker, gets ready to smash in Min-joo's head with a lead pipe. But when Gun-woo bursts onto the scene, faithful bodyguard Bo-pil jumps in to bring Gun-woo down. A knife to the shoulder doesn't stop Gun-woo and he puts his thighs to good use as he strangles Bo-pil with them.
When Gun-woo staggers back to a standing position, Moo-sung whacks him over the head and in the back with the lead pipe. Gun-woo is down for the count as he writhes in pain on the floor, but Moo-sung yells at him to stand up. Slowly he does, and as Moo-sung prepares for the final blow, the sound of a gun cocking behind him stays his hand.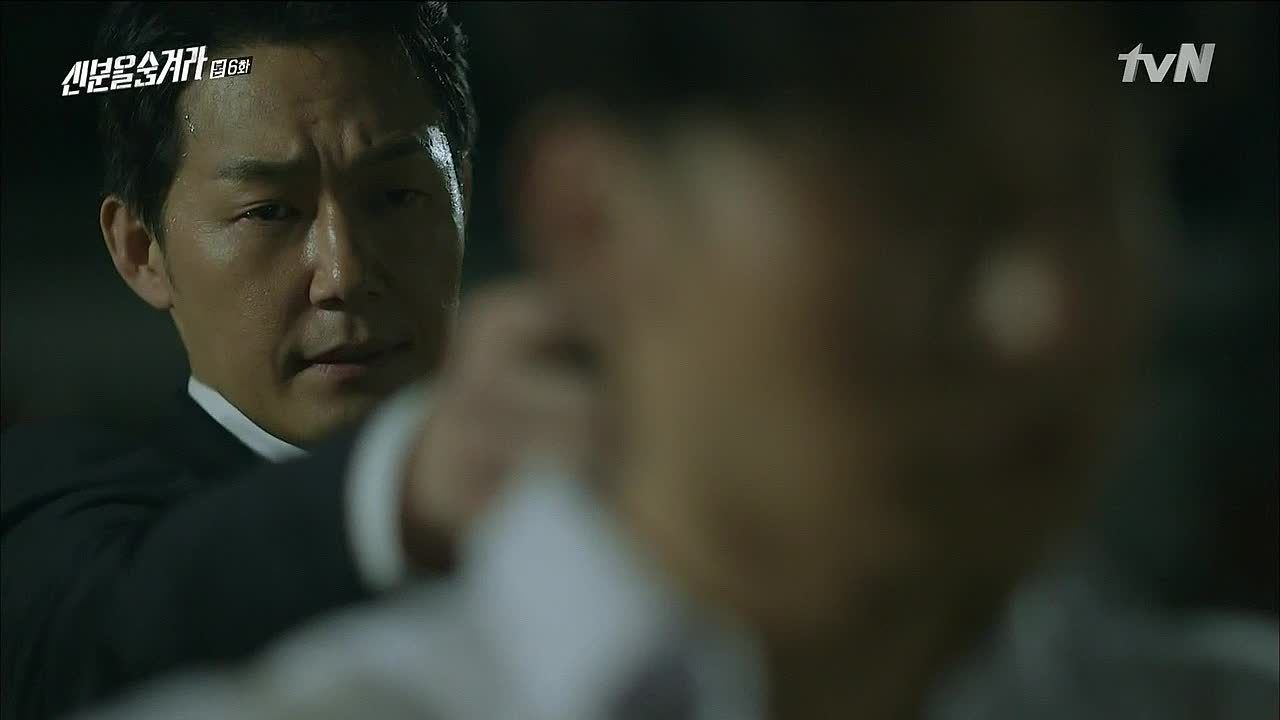 It's Team Leader Jang, and he's here to protect his team. As Gun-woo collapses back down to the floor, Jang gets in some fierce punches as he tells Moo-sung that these are for his team and with one last upper cut (for himself, 'cause now it's personal), Moo-sung is KO'd.
Later, the paramedics and the police look over the scene and the injured girls (and detectives). Min-joo gives the locket to Yekatrina, who quietly weeps as she clutches it to her chest.
The dazed and injured Investigative 5 team watch as Moo-sung and his cronies are led away in handcuffs. But one of the federal agents arrive to hand over a phone — it's the NIS director, Director Choi. He passive-aggressively congratulates Jang's team for catching Moo-sung faster then they could. He tells Jang that they'll take over the case now, and even has the official warrants to prove it. The director warns Jang to leave the Ghost hunting to them.
Whoa, Tae-in is up and about, which is impressive considering it wasn't all that long ago he was nearly tortured to death, including having his toes bashed in. As he rides up in an elevator, he toys with the lighter Gun-woo left for him, remembering the Director Choi's recent visit to the hospital. The director had asked Tae-in if he would work for him now, and even though Tae-in is defensive, we don't hear if he gives a direct answer.
He steps off the elevator into the Investigative 5 offices, much to their surprise and delight. They all greet him with smiles and pats on the back, except for Gun-woo, who keeps his distance — but the two men still share a meaningful look.
The celebration is interrupted by a visit from Prosecutor Park Min-young who's there issue Gun-woo a citation for negligent manslaughter. As Tae-in looks over the documents, Tae-pyung puts in a call to Jang, who reassures him that he'll take care of it. Tae-in doesn't look so reassured, though, as he watches Gun-woo leave for the prosecutor's office.
In the interrogation room, Prosecutor Park lays out the pictures Park Sung-ho (the man that Gun-woo had jumped off the building with back in episode 1) as well as Bo-pil. She says that she doesn't blame him for wanting to avenge his partner's death, but until he can promise that he won't interfere with the investigation (as in, stop killing the baddies), she can't allow him to work on other cases.
Tae-in meets with Director Choi, promising him that if he can remove the citation on Gun-woo, he'll rethink the offer to work for him. The director points out that he didn't have anything to do with the prosecutor suddenly showing up, but Tae-in finds that hard to believe.
The director then brings up Tae-hee, sympathizing with how hard it must have been for Tae-in to have endured the past three years spent undercover trying to find out the truth behind her death. But does he really think that working for Jang will get him close to the Ghost?
Leaning forward, he dangles the proverbial carrot in front of Tae-in's nose. If Tae-in agrees to work with Director Choi and they find the Ghost before Jang does, he promises that Tae-in will be the first to meet the Ghost.
Prosecutor Park has now turned her attention to Jang, wondering exactly how much above the law the Investigative 5 Unit can be. He defends his team, pointing out that they don't think they're outside the law — it's the criminals who act like they're above the law which requires his team to act in unorthodox ways.
But they still don't abide by enough governmental rules for Prosecutor Park, and she says that if Jang agrees to accept responsibility for his team and their unlawful actions, then she won't cause more problems for Gun-woo or the rest of the team. Just then she receives a phone call from a superior, and her eyes grow wide as she glances over at Jang.
Gun-woo is free to go, and Prosecutor Park is chided by her boss for interfering with important police work. She's none too pleased that the Chief of Police has excused the Investigative 5 Unit, and despite warnings to stay out of it, she vows that she'll find more evidence to back up her original citation.
Her first stop is with everyone's least favorite federal agent, who was apparently the one who first reported Jang. She wants to know why he did it, and she rolls her eyes when he smarmily tells her it was for no real reason except he believes in her philosophy of upholding the law.
He reassures her that he's looking for more evidence, but she brusquely tells him that there's no need — she'll handle it herself. Outside the coffee shop, Tae-in discreetly takes photographs of the two of them meeting together.
In a secluded spot by the river, a man gets into Jang's car and sighs that nothing ever good seems to come from meeting with him. Maybe that's because you meet by the river? Just sayin'.
The last time they met was three years ago for the "big case," which he swears he totally erased from his memory, as he'd promised. But Jang wants to know if he still has the materials left over from that job, and the man scoffs — he gave it all to Jang at the end of the assignment. He swears he didn't even keep a copy of it.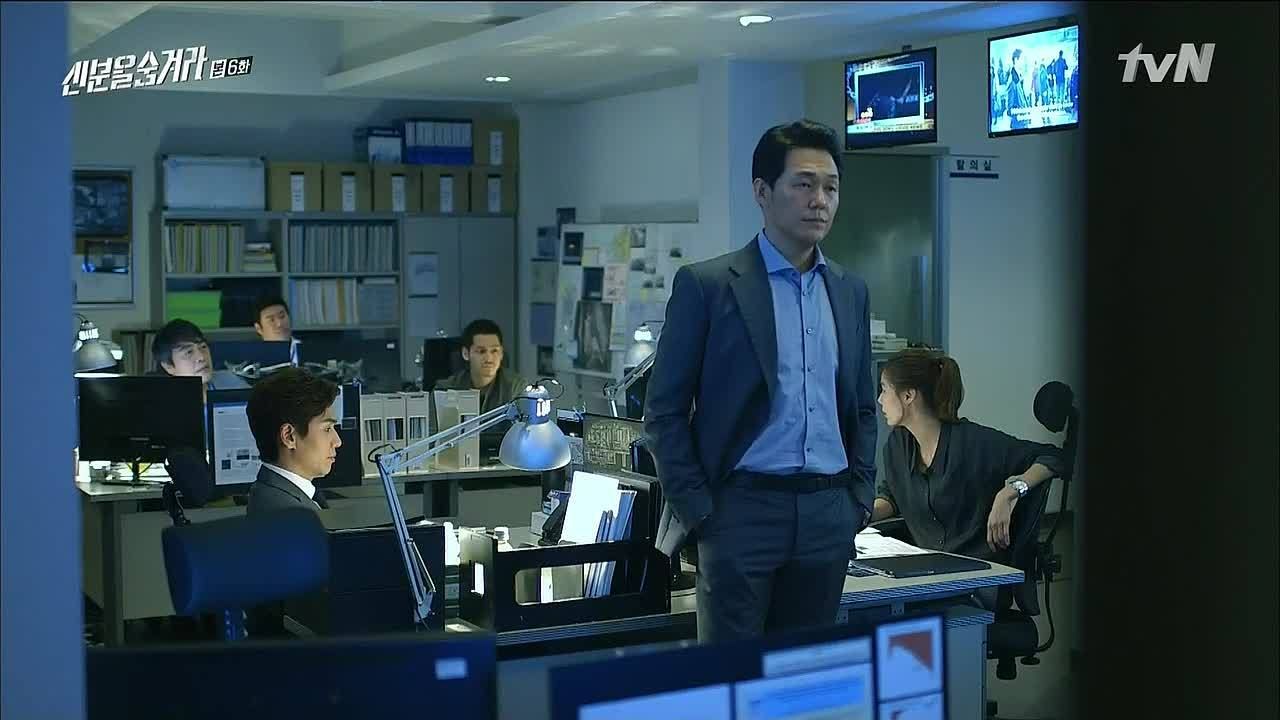 At the office, Jang studies the photos Tae-in took of Prosecutor Park and Snotty Agent. The team speculate as to why Prosecutor Park is taking orders from the NIS, but Jang knows that she's doing this on her own, fueled by her idealistic belief that criminals who break the law should be punished.
In her view, the Investigative 5 Unit are criminals because they work outside the law to catch other criminals. He orders his team to get closer to her and show what they're capable of, and the first step is to look into her caseload.
Tae-in meets with Jang privately in his office, and Jang tells Tae-in that since Gun-woo was freed, he can ignore Director Choi's offer. But Tae-in says that he's planning to accept — after all, they all have the same goal, which is to catch the Ghost. Jang warns him that this offer may not be as beneficial as it appears and it will surely cost him something in the end.
Not to mention that, if he accepts this new assignment, Tae-in will have to cut off all ties with the Investigative 5 team. Tae-in points out that he'll be able to keep a close eye on Director Choi and be in a position to perhaps protect the team by being a spy for them. He did that for three years already Teacher Jung — how different can it be doing the same thing with the NIS?
That night, Gun-woo makes him a simple dinner. Aw, he's so nervous about how Tae-in will like it, but Tae-in teases him that it actually tastes good. He casually sets the lighter down the table, lightly asking if Gun-woo is sad that he's leaving for his new assignment already. Tae-in promises Gun-woo that no matter where he is, he'll always be with him.
Min-joo is busy looking into Prosecutor Park's history and old cases. She's got a clean record and high success rate with her trials, but the team notices that she makes regular hefty payments to someone named Park Yun-soo. Gun-woo wonders if it's family, but Jang remembers that name — it's from a ten-year-old case of a young hearing-impaired girl who was raped.
The rapist got off with just probation after making a settlement with the parents. Jang orders his team to look into this case and see if there was anything Prosecutor Park originally missed.
As the Investigative 5 Unit researches Prosecutor Park, she does the same to them. Prosecutor Park tracks down a familiar face — it's the man who met with Jang by the river.
His name is Lee Gwang-hyun and he's a money launderer, and through some subtle coercion, she gets him to confess that three years ago Jang had asked for his help in laundering 10 billion won. She's able to figure out that the money was laundered through drug dealers, with drugs taken from one of the drug busts Jang's team did.
Min-joo's excited about discovering there exists some proof that will prove Yun-soo was raped on her thirteenth birthday. No matter what settlement was originally reached, if she was thirteen years or older, the rapist can still be prosecuted. The catch is finding the video tape with the proof and getting their hands on it legally so it can be used as evidence in court.
But Jang points out it only has to look like it was taken legally. New undercover mission!
Their target is Chairman Lee Kang-jun, the rapist. He arrives home after a day at the country club and Min-joo meets him, posing as a concerned police officer and reporting an anonymous threatening letter they received about him. Ugh, Chairman Lee is winning no favors with the way he insists on calling Min-joo "Miss" instead of "Officer."
He insists he hasn't done anything wrong, even when Min-joo suggests that it might have something to do with the rape case from ten years ago. But Chairman Lee is of the opinion that it was the girl's fault — she seduced him in order for her family to get the settlement money. Ugh, ugh, ugh.
Min-joo warns him that whomever sent the letter may escalate the situation. Chairman Lee says that a "victim" like himself can't be caught up in another case like that again and asks that she catch the letter-writer as soon as possible. Forcing a smile, Min-joo agrees, adding that all criminals deserve to punished.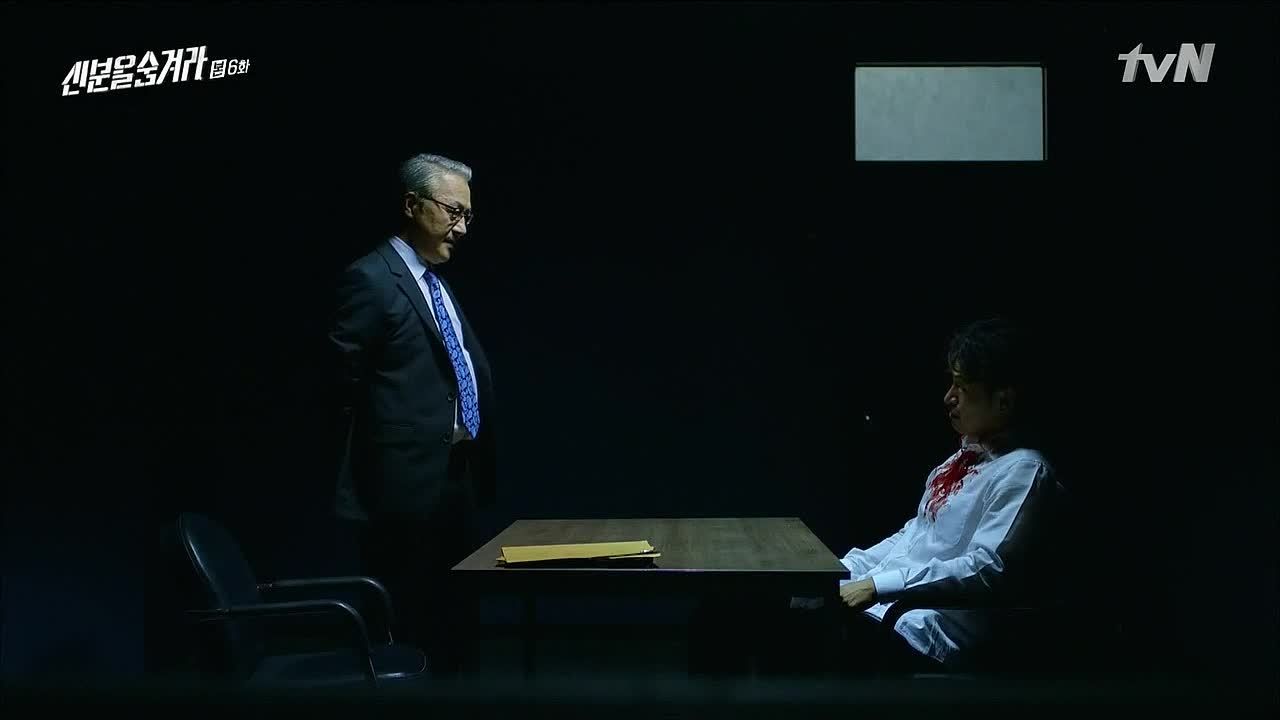 Director Choi takes over the interrogation of Moo-sung (much to Snotty Agent's dismay, which is only increased tenfold when he sees Tae-in is now working for the director, too). Moo-sung still refuses to talk, but Director Choi says he doesn't care. He'll put Moo-sung into the Witness Protection Program anyway, and when the Ghost finds out, he'll assume Moo-sung told them all he knows. And who knows what the Ghost will do then.
That sends a frisson of terror through Moo-sung, and as Director Choi casually gets ready to leave, he sputters out that he'll tell him everything. Except he only knows the person who gives him the money. A composite sketch is uploaded to the database as Director Choi, Tae-in, and Snotty Agent stare intently at it.
It doesn't look like a face we know, but the dramatic music has me convinced it must be somebody and that I'm just terrible at recognizing faces.
As Chairman Lee practices at the driving range, Tae-pyung and Gun-woo arrive, posing as Private Investigators who were assigned to get blackmail-worthy photos of Chairman Lee with another woman. Tae-pyung tells them that they came to warn him from out of the concern of their heart, and Chairman Lee throws a few large bills down on the table. But they're not doing it for the money, oh no, of course not.
Which is code for "pay us more to keep this quiet" and Chairman Lee pretty much dumps out his entire wallet. But Tae-pyung still won't spill the beans about the "client" who hired them, despite warning Chairman Lee that their client could cause trouble for him. He warns Chairman Lee to consider how much his life is worth, implying that the amount he paid Tae-pyung today isn't enough to buy the information.
As they leave, Chairman's Lee bodyguard puts a hand on Gun-woo's shoulder to stop them, and Gun-woo knocks him out with one punch. He warns Chairman Lee that he'll need a better bodyguard if he wants to live.
The bodyguard is nursing his hurt shoulder as he eats his convenience food lunch (while the chairman eats at his fancy restaurant) when Min-joo plops down next to him, offering him a drink. She commiserates with how difficult it is for both of them to have jobs where they risk their lives for other people.
They eat their lunch together and she tells him that they've managed to find out more about the "mysterious letter sender," and she says that he's pretty unhinged. He even bought a machete recently. Of course, she's only telling this out of concern for him. But it's enough to make the bodyguard totally unnerved, just as she'd planned.
After lunch, the bodyguard cautiously drives the chairman and on the way, the car's engine starts acting up and dies on the side of the road. It's clearly sabotage — we know it was Gun-woo, but the bodyguard is convinced it's the work of the crazy letter writer. He tries to call for help, but Gun-woo also put a short-range cell phone jammer on their car, so the phones don't work.
When the bodyguard sees a masked man wielding a machete suddenly come at him, he takes off running. The masked man turns his attention to Chairman Lee, still sitting in the back seat of the car. The chairman hurriedly makes sure all the doors are locked, but still cowers in fear when the man waves the machete around like he's about to bust open a window.
A terrified and near-tears Chairman Lee crawls into the front seat and then nearly wets his pants when Tae-pyung casually raps on the window. He calmly tells the chairman that it's too dangerous and he should come with them. Ha! He was the masked man and just quickly changed out of the mask and coveralls (and machete).
Now that he's back in the safety of his home, Chairman Lee begs Tae-pyung and Gun-woo to tell him who is this crazy person that hired them, but that's still client confidentiality. He then remembers that his bodyguard fled the scene and asks if Gun-woo will be his new bodyguard. But Gun-woo reminds him this is likely the first incident of many.
The chairman asks if there's any way to escape this terrorizing madness, and Tae-pyung says he has a possible solution, but he's not sure if Chairman Lee will accept it.
Gun-woo pretends to idly look through all of Chairman Lee's awards, stopping in front of an elaborately decorated shotgun. Tae-pyung continues to reassure the chairman that they can be trusted — after all, they're all in the same boat. If something goes wrong, they'll all go jail, and Tae-pyung sighs that if he goes to jail one more time, he'll probably never get out again.
Their plan is for the chairman is to disable his security system, and when the masked man breaks in later tomorrow night, he'll likely be carrying a gun. Gun-woo holds up the shotgun, telling Chairman Lee that he'll shoot the man in self-defense. Chairman Lee is all for it, but Tae-pyung politely tells him that they'll need a payment for their services. When he balks at the amount (200 million won in cash), Tae-pyung reminds him that they're sacrificing their lives for him.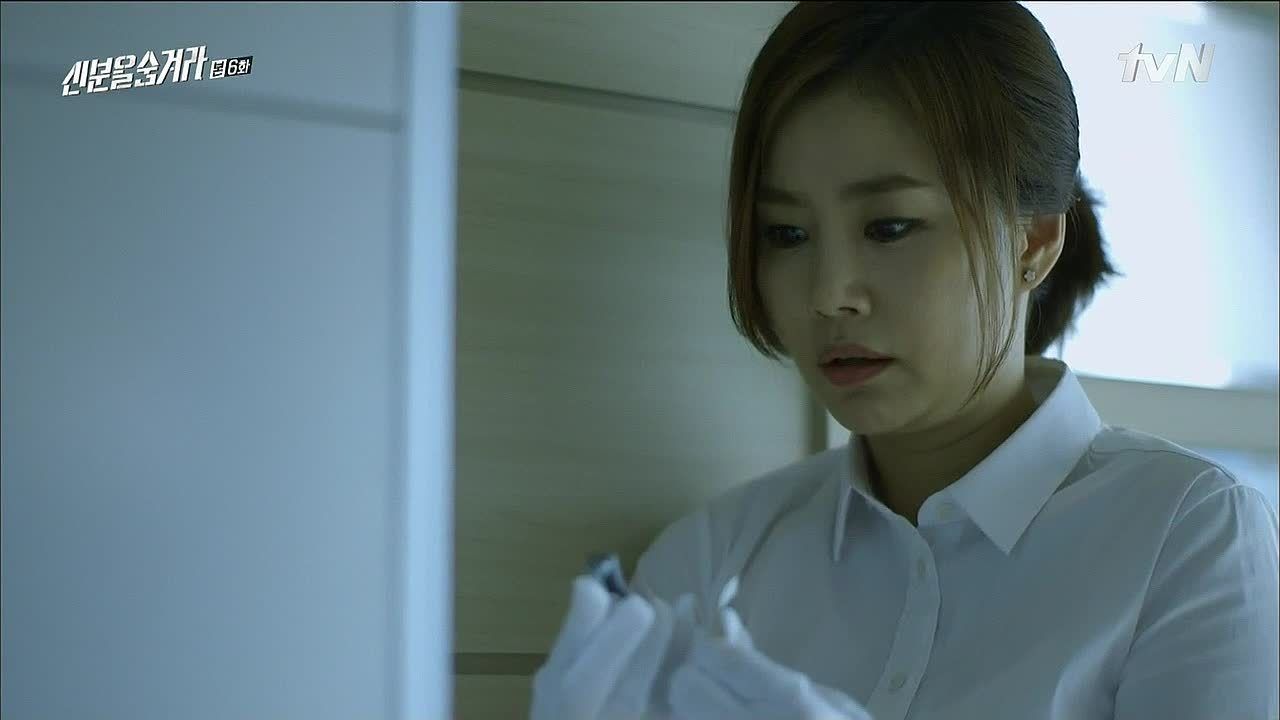 Meanwhile, Prosecutor Park has managed to track down the last address of the drug dealer Jang used to launder the money. She orders her team to search every square inch, looking for evidence. Just when she thinks that they're unable to find anything, she discovers a small flash drive taped to the back of the entertainment center.
The Investigative 5 Unit is pleased with their work in getting the video from the chairman (and Tae-pyung proudly poses in his mask, so cute), when Prosecutor Park and her team barge into the office. She's found a video of her own — a secret recording of the meeting between Jang and the drug dealer.
She plays the pertinent part for them, where Jang says that if the drug dealer launders the money for him, he'll keep his name off the list of drug dealers about to be busted by the cops. Everyone on Jang's team (except, of course, the stone-faced Jang) is astonished to see the video, and they're especially taken aback when Prosecutor Park officially charges Jang for illegal acquisition and sale of drugs.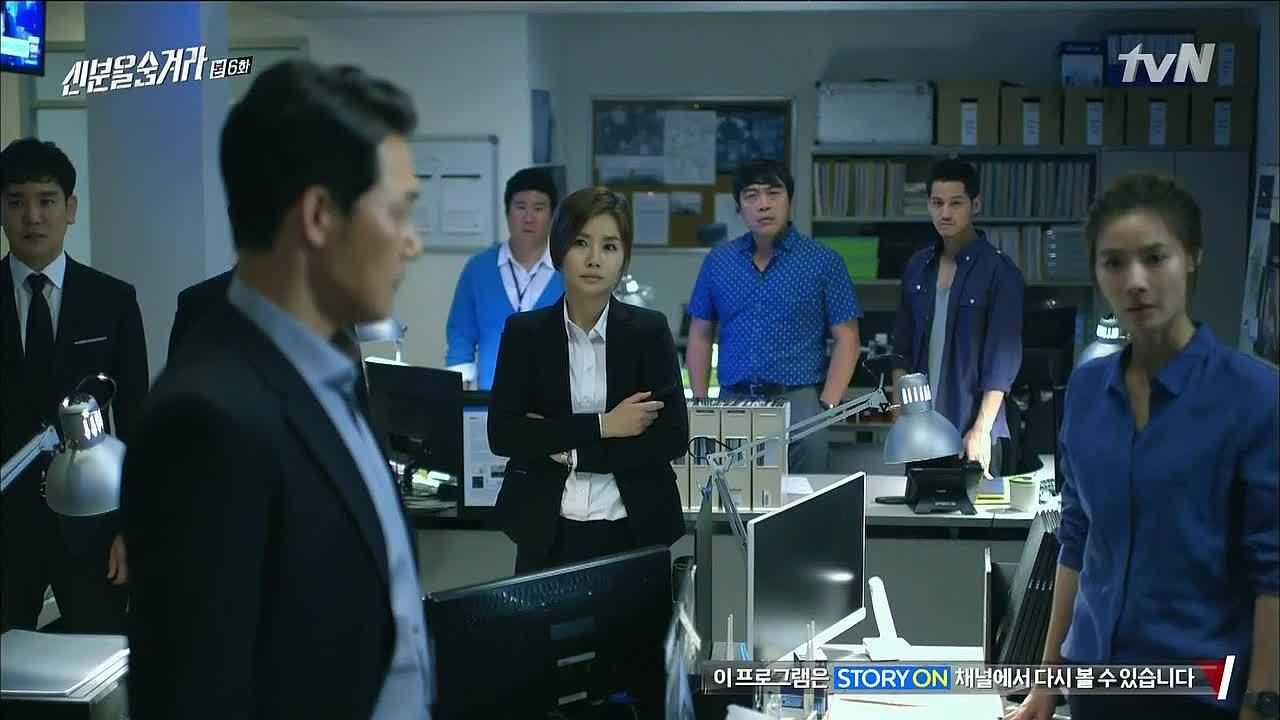 COMMENTS
I love the addition of Prosecutor Park. She can neither be classified as "good" or "bad" — she's merely doing her job as someone who believes that no one is above the law. In that sense, she's a worthy foe, because our team will have to be on their toes to avoid being caught by her as they try to also find a way to get to the Ghost before the NIS does. This also keeps the power struggle a bit more dynamic. It's not just Jang v. the Ghost or Jang v. the NIS. This now requires his team to work with even more finesse as they try to tiptoe the line of what's officially legal and what will get the job done.
Honestly, I think I'm most excited about the fact that we're six episodes in and the show hasn't yet forgotten what it's all about — the undercover cops. Yes, there's a Big Bad they've got to catch, with mini missions along the way to unlock more secrets about that Big Bad. But in the meantime, we're given lots of interesting (and gut-wrenching) cases that require them to put their undercover skills to the test. And there's no denying that Tae-pyung is their best undercover agent. Or maybe I just love the utter delight he takes in donning a new disguise.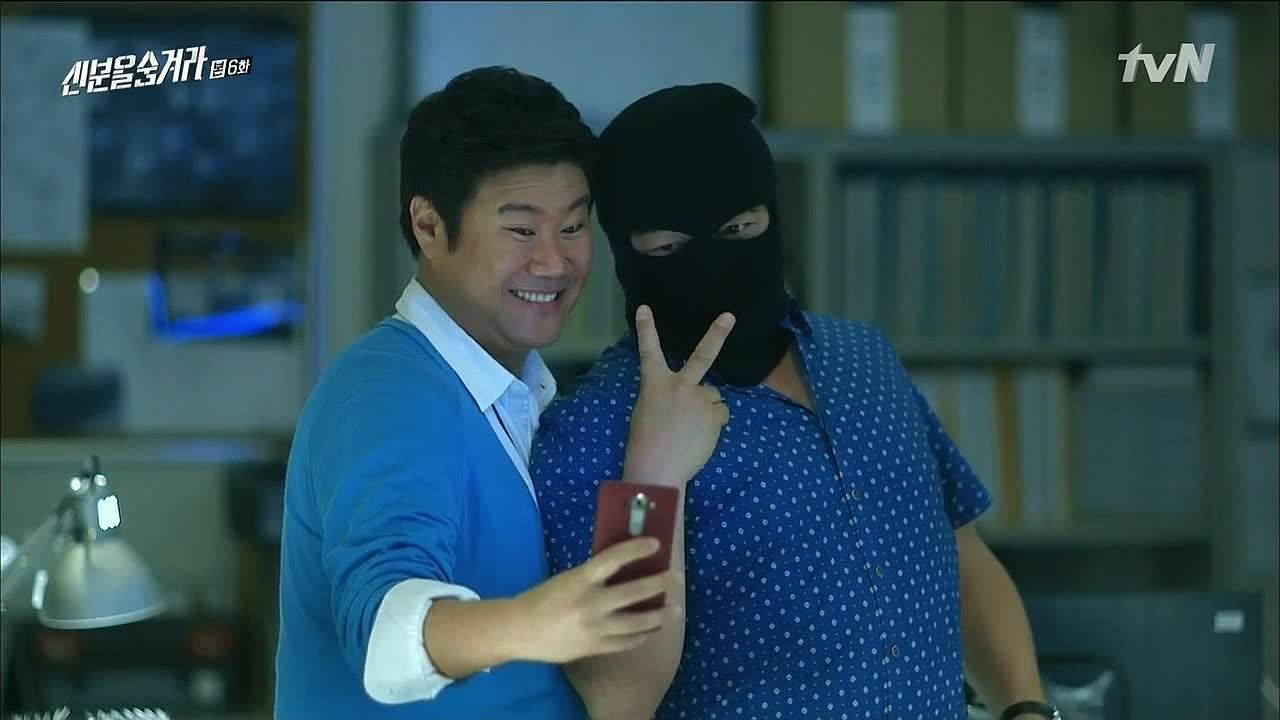 As for Jang's potential arrest, well, I'm sure the show will find a way to get him out of it (that Chief of Police sure comes in handy). But I'd like to see our little Investigative 5 team be forced to work together even more now that their leader is taken from them. One of my favorite parts of the show is watching everyone interact with each other — there's such a sense of familiarity, camaraderie and trust within the team. You just know it's been hard-won through various difficult cases, but watching them just hang out and laugh together is so refreshing. This isn't a show that's strictly centered around one or two people — it's an ensemble.
Maybe that's what I love most about the show — the people. Yes, there's lots of brooding and bloodshed and darkness — all of which can make up an interesting action-mystery-thriller. But there's also a thread of joy, oddly enough, and that all comes down to the Investigative 5 team. They take such pride and delight in working together to stop bad guys. They're not just a team, they're almost like a little family — and I can't wait to see what they will do now that their Papa Bear is about to be taken from them. Considering the lengths they were willing to go in order to free Gun-woo, I can only imagine what they'll try to do for Team Leader Jang.
RELATED POSTS
Tags: featured, Hidden Identity, Kim Bum, Lee Won-jong, Park Sung-woong, Yoon So-yi