Hidden Identity: Episode 9
Nobody knows what's going on in Gun-woo's head, and goodness knows the guy isn't talking. But it's time to learn what really happened on the day of Tae-hee's death — how did she end up in that dangerous situation, and why did Jang shoot Gun-woo? The answers are important, and can help the team as they try to discover why Gun-woo's gone rogue.
EPISODE 9 RECAP
Having handed over his gun to Chinese black market broker Kim Sae-jin in an effort to earn his trust, Gun-woo finds that gun pointed right back at his own head. Gun-woo and Sae-jin have a staredown, then Sae-jin pistol-wips Gun-woo and orders his men to bring him along. They're long gone by the time Team Leader Jang and the SWAT team show up.
Outside, Tae-pyung asks Jang if he knows what in the world Gun-woo is planning, but Jang just takes responsibility for not recognizing the signs that Gun-woo wasn't stable. Tae-pyung has a hard time believing that Gun-woo would betray them, and Jang figures that it's because he doesn't think of them as a team.
Tae-pyung asks what really happened on the day that Tae-hee died, and Jang's mind flashes back to her stabbing and his shooting Gun-woo in the shoulder. We see those events more clearly as Jang remembers them, when he had been on the trail of a missing person, and had gone to stake out the last confirmed place he'd been.
Th emissing person was the fourth CIA agent who'd been kidnapped in recent times, and the other three had all been murdered. Jang had felt it was more than a simple serial murder case, but before he could explain further to his partner, a body had been found.
Back in the present, Jang finds Min-joo recovering from her injury, and tells her that Sae-jin and Gun-woo have both run off. She's angry, but then Jang notices strange black markings on her shirt, so they send the shirt for testing in case it's a clue.
Tae-pyung is really taking Gun-woo's betrayal hard, and Duk-hoo mopes at the happy selca he took of their group at dinner. Min-joo is less conflicted, still angry with Gun-woo, and tells Duk-hoo to delete the photo. Jang brings them all back to focus, reminding them that their current target is Sae-jin and the virus, and to consider Gun-woo to be in league with Sae-jin and arrest him.
Gun-woo is currently tied to a chair and still unconscious, and he dreams of Tae-hee when she was still alive. He'd arranged a picnic on a roof for her one night, and they'd sat contentedly and stargazed. Gun-woo had said that someone told him once that when someone dies, they become a star.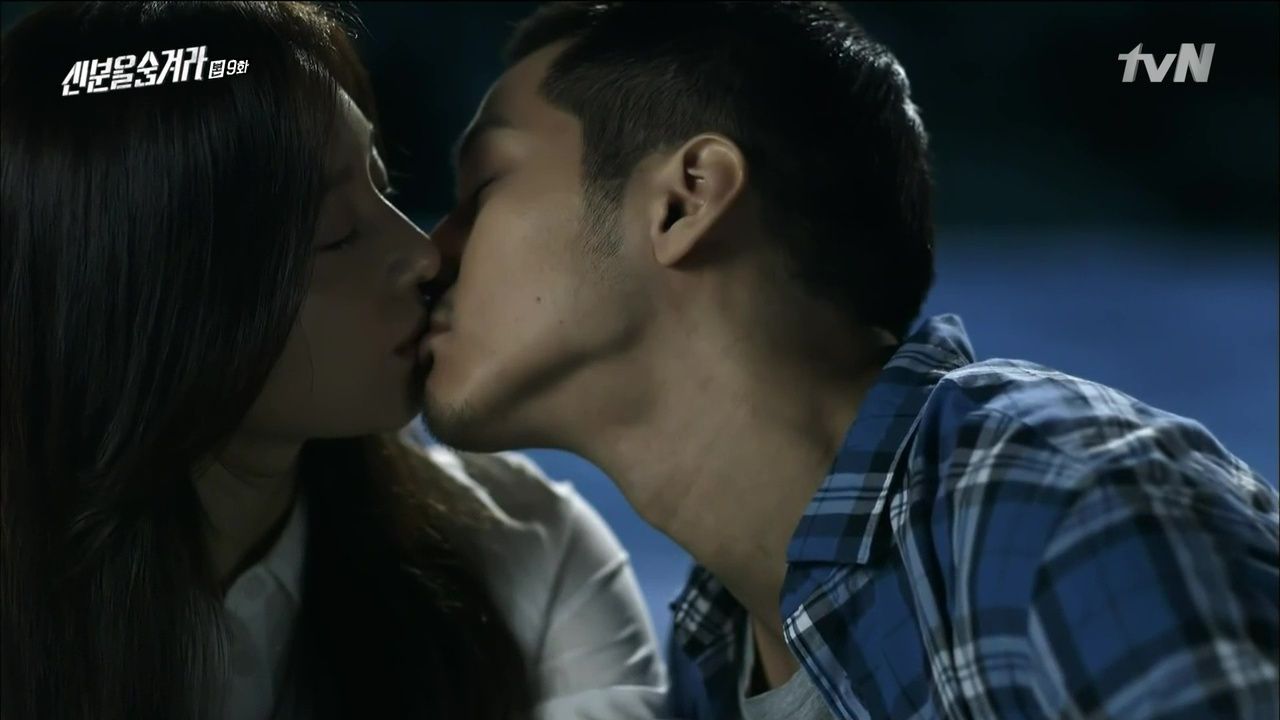 He'd started to light a cigarette but couldn't find his lighter, and she'd folded the lighter which he's always fondling into his hand (it says "Stop Smoking" on the case). Tae-hee had asked if it was his mother who brought him here, and said that she's have been worried about his smoking — just like she is. Gun-woo had just looked at her fondly for a moment, then kissed her.
At dawn Gun-woo is slapped awake, and Sae-jin gets right to the point — is he a cop? Gun-woo says that he was, until a few hours ago. That earns him a harder slap and a warning, but Gun-woo points out that if he were planning to arrest Sae-jin, he'd have done it back at the building.
Sae-jin asks why he would betray his team, but the name Nam In-ho doesn't ring a bell for Sae-jin. Gun-woo says that Sae-jin is supposed to make a deal with In-ho, and asks permission to kill him himself. Sae-jin says he'll decide after Gun-woo tells him more about In-ho.
Gun-woo tells him about that night when he'd been with Tae-hee, when he'd noticed lights on the ground and had witnessed two men dragging a third man out of a car. Nam In-ho had joined them and drawled that, though this man was supposed to be the most talented of the CIA members, he wasn't much better than "the other three."
The CIA agent had told In-ho to tell the Ghost he'll see him in Hell, and In-ho had motioned to his thug to stab him. He'd surprised the thugs by grabbing the knife and fighting back, and at this point Tae-hee had joined Gun-woo and seen the scuffle below. Gun-woo had covered her mouth, and In-ho had pulled out a huge knife and killed the CIA agent.
Gun-woo had called in the murder, and had left Tae-hee on the roof and gone downstairs to scope the situation. Tae-hee had begged him to wait for the cops, but Gun-woo had urged her to trust him. But one of In-ho's men tells In-ho he thinks there's someone in the building, and In-ho had looked up and seen Tae-hee.
Gun-woo had found himself downstairs with a gun to his head, but had managed to get the gun away from the thug. They'd been fighting when Jang responded to his report of the murder, and Gun-woo had killed the thug by throttling him then picked up the man's gun.
Gun-woo stops his story to Sae-jin to say it's not safe where they are, and suggests a safer place to hide until the deal with In-ho is over. Suddenly there's a commotion and everyone goes on alert to see two cops near the door, who make it almost all the way to the threshold before they convince the homeless man he can't stay here. That was close, and Sae-jin is now a lot more interested in Gun-woo's "safer place."
Min-joo and Tae-pyung go to Gun-woo's apartment, which is pretty stark and bare except for a photo of him with Tae-hee and Tae-in. Tae-pyung finds a box of letters from Tae-hee each posted a week apart, and Tae-pyung smiles at the sweetness of their relationship. Min-joo says that doesn't excuse Gun-woo's actions, but even she seems moved when she finds a painting of Gun-woo with Tae-hee.
But she reminds Tae-pyung of what she said when she first met Gun-woo, that an injured person can be dangerous and is bound to hurt others. She muses that she should have told Gun-woo that he's not the only person who's been hurt. Everyone has pain.
Jang goes over Gun-woo's recent phone records but Duk-hoo hays there's not much besides calls to the team and to Tae-in. Jang figures that he must have a safe house somewhere (I don't follow his logic, but we'll go with it) but Duk-hoo says he only owns his apartment, so Jang posits that someone may be helping him.
Tae-pyung and Min-joo get back to the office to report that they found nothing at Gun-woo's apartment — he's too good to leave any evidence even if there were something — but that he did recently buy a prepaid international phone card. Jang orders the team to talk to anyone who may know Gun-woo, and not to overlook even the smallest detail.
Gun-woo takes Sae-jin and his thugs to a studio that "a friend" owns, and asks if a trade of the virus for files is really necessary. After all, if they let him get rid of In-ho, they can have both the files and the virus, and sell them for double the profit. Sae-jin looks intrigued, but has Gun-woo tied up again.
One of the thugs picks up a painting that happens to be of Tae-hee, and Gun-woo's expression goes dark. He calmly tells the man to put down the painting, or he'll kill him. Sae-jin is smart, and immediately figures out that the girl in the painting is the same one from Gun-woo's story.
Jang meets with one of Gun-woo's sunbaes from the police department, but the guy doesn't know much about him — Gun-woo isn't much of a talker, you know. Jang asks him to call if he or the other officers hear from Gun-woo.
The sunbae asks Jang to be understanding of Gun-woo, since he had a partner who died during a stakeout. The partner's wife asked him to tell Gun-woo that it wasn't his fault. He kindly says that Gun-woo tends to blame himself for everything.
Tae-in goes to visit the team, unaware that he has someone watching his every move. He asks for a private word with Team Leader Jang, who refuses to discuss Gun-woo. Tae-in can't believe he didn't see this coming and asks if Jang considered why Gun-woo would go to this extreme.
Jang reminds Tae-in that if he hadn't shot Gun-woo in the shoulder eight years ago, he'd now be a murderer, not a cop. Tae-in says that he can believe whatever helps him sleep at night, and notably doesn't answer when Jang asks if he hates him, too.
Instead Tae-in asks a question of his own — what's the real reason Jang brought Gun-woo into the team? Wasn't he just going to use him as a weapon? It's Jang's turn not to answer.
The test results come back on the strange markings from Min-joo's shirt. It's charcoal powder, the same that's used by artists when making charcoal drawings.
Sae-jin wants to hear the rest of Gun-woo's story before deciding whether to trust him, so Gun-woo continues. He'd killed the thug and picked up his gun, only to find himself face-to-face with In-ho, hiding behind Tae-hee with a knife to her throat. He'd screamed to let her go but In-ho had only taunted him to shoot, saying he'd more likely shoot his girl.
Jang had arrived behind Gun-woo and told him to put the gun down and let them take over, but Gun-woo was too panicked to listen, swinging the gun from In-ho to Jang and back again. In-ho had pressed the knife harder to Tae-hee's throat and Gun-woo had surrendered his gun, but In-ho had still stabbed Tae-hee in the stomach.
Tae-hee fell to the ground, In-ho dropped the knife and held his hands up, and Gun-woo picked up the gun he'd put down. To stop him killing an unarmed man, Team Leader Jang shot Gun-woo in the shoulder. Still focused on Tae-hee, Gun-woo reached out to her, but she died before he could grasp her hand.
Tae-in visits an old schoolmate of Tae-hee's, Mi-jung, to ask if she's seen Gun-woo lately. He apologizes for not contacting her in eight years, and she says that the few times she's seen Gun-woo, it's painful — it makes her think of Tae-hee. But she hasn't seen or heard from Gun-woo since about this time last year.
Evidently Min-joo found out about Tae-hee's old school friend, too, because she shows up, and she doesn't look at all happy to see Tae-in. She's frustrated that he's stepping on their toes, and insists that they're trying to help Gun-woo before he gets worse.
She suddenly thinks of something, and asks Mi-jung if Gun-woo has any friends who live in other countries. She does remember a school sunbae named Jung Eun-suh, who would always invite Gun-woo and Tae-hee to use her studio. Min-joo remembers the painting at Gun-woo's place, which was signed with the initials "JES." Jackpot.
Min-joo calls Eun-suh, but the moment she gets her on the phone Tae-in snatches it away. He introduces himself in a cold voice as Tae-hee's brother, and Eun-suh tells him that Gun-woo did call him recently to ask to borrow her studio. Duk-hoo locates the studio, and Jang and Tae-pyung head over there in a hurry.
Sae-jin gets a call from In-ho, who's ready to make the trade, and sets up the exchange for three hours from now. But Sae-jin still doesn't quite believe that Gun-woo doesn't want the files or the virus, just In-ho himself. Gun-woo says in a quavering voice that he gambled his whole life for this… no, he threw his life away.
Sae-jin decides to trust Gun-woo, but he still has to prove himself. He opens Gun-woo's backpack, where he's stashed the pieces of his sniper rifle, and gives him 30 seconds to put it together. Gun-woo does, like the pro that he is, and Sae-jin is obviously impressed.
On his way to the meeting, In-ho runs into the same man who was following Tae-in, calling him Chief Han. Chief Han is carrying an impressive sniper rifle of his own, and says they have a problem. In-ho says there are no problems, only fun for him.
The team — with Tae-in tagging along — arrive at the studio just a bit too late. Sae-jin and Gun-woo are gone. Jang calls Duk-hoo to check the CCTV cameras in the area for any sign of Gun-woo.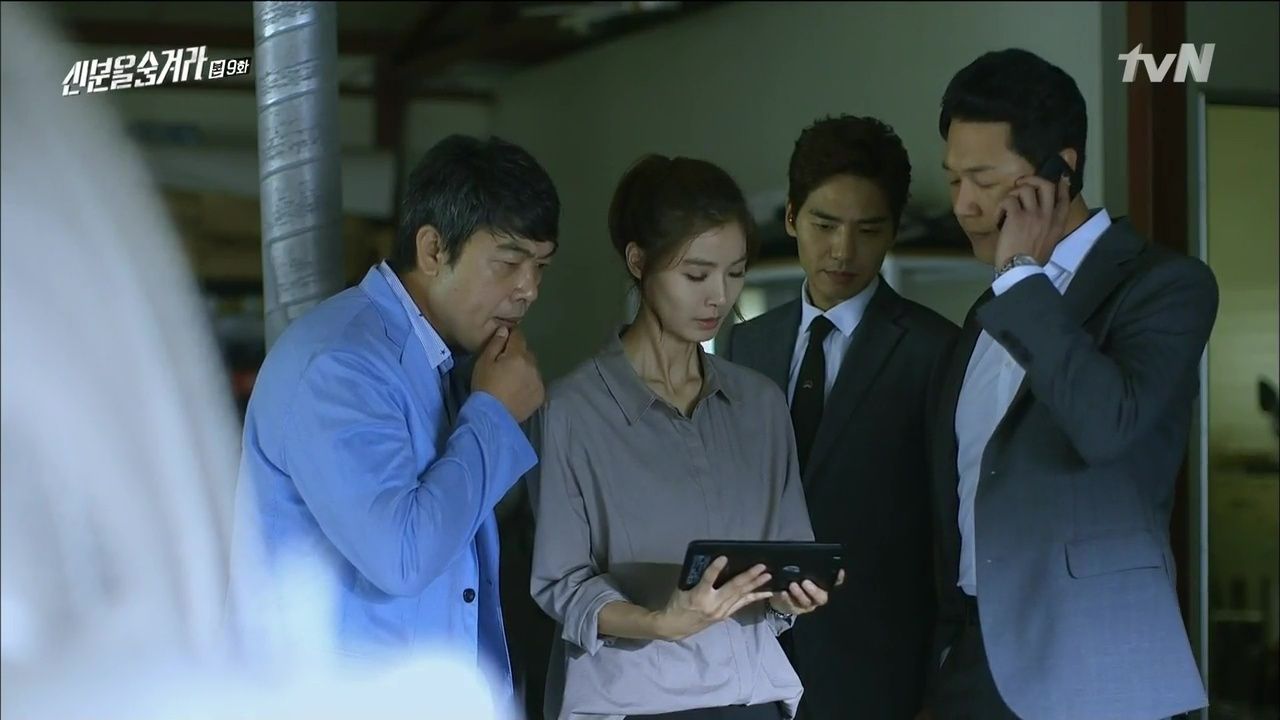 Just before Sae-jin and his men get in a taxi, Gun-woo goes into a convenience store for lighter fluid and cigarettes. He notes the CCTV and makes sure to look right at it, which Duk-hoo finds and sends the video to Jang. Tae-pyung notices that Gun-woo purposely looked into the camera, and Tae-in says he must be telling them something.
They get the full video from Duk-hoo, and notice that Gun-woo was tapping his hands in Morse code — he'd tapped out the location where they were going. Tae-pyung is practically giddy to realize Gun-woo was on their side all along. We see now that Gun-woo used the lighter fluid to set a fire in the trash can outside the convenience store.
Tae-in suddenly realizes that Gun-woo left the charcoal on Min-joo's shirt to lead them to his artist friend and her warehouse. He proudly says that the Gun-woo he knows never does anything without a reason.
Gun-woo is taken to a building roof to set up (and he's still not entirely trusted, as there's a man with a gun trained on him at all times), while Sae-jin and his lackey go to meet with In-ho and make the trade.
Jang and the team get out of their cars to walk closer to the meeting site, and Jang warns them to wait for the SWAT team before making any arrests. He tells Tae-pyung that Gun-woo is still on the other side for the time being, and to arrest him also. Tae-in argues that Gun-woo was on their side all this time, but Jang says that his actions were still against the law.
Gun-woo waits with his rifle trained, and In-ho finally approaches Sae-jin. Seeing his face for the first time since Tae-hee's murder seems to shake Gun-woo, but he gets himself together. In-ho and Sae-jin quickly make their exchange, but when In-ho turns to leave, Sae-jin stops him and pulls his gun.
He demands the virus back, but In-ho just smirks and points his finger at Sae-jin's lackey like a gun. He pulls the "trigger" and the man is shot from an unknown direction. Crap, they have a sniper too — it must be Chief Han. Gun-woo looks around for In-ho's sniper, but the man guarding him orders him to shoot In-ho, now.
He looks through the scope and sees In-ho's man pull a gun on Sae-jin, and he shoots the man in the leg. At the same time, his guard is shot by the other sniper. Gun-woo quickly triangulates and sees the sniper on a nearby rooftop, and shoots at him but misses.
The other sniper is Chief Han, and next he shoots Sae-jin in the shoulder. In-ho takes Sae-jin's gun, and shoots him point-blank in the head. He picks up the case with the virus, and shoots his own injured man dead. He starts to walk away just as Gun-woo gets an opening, and his finger tightens on the trigger.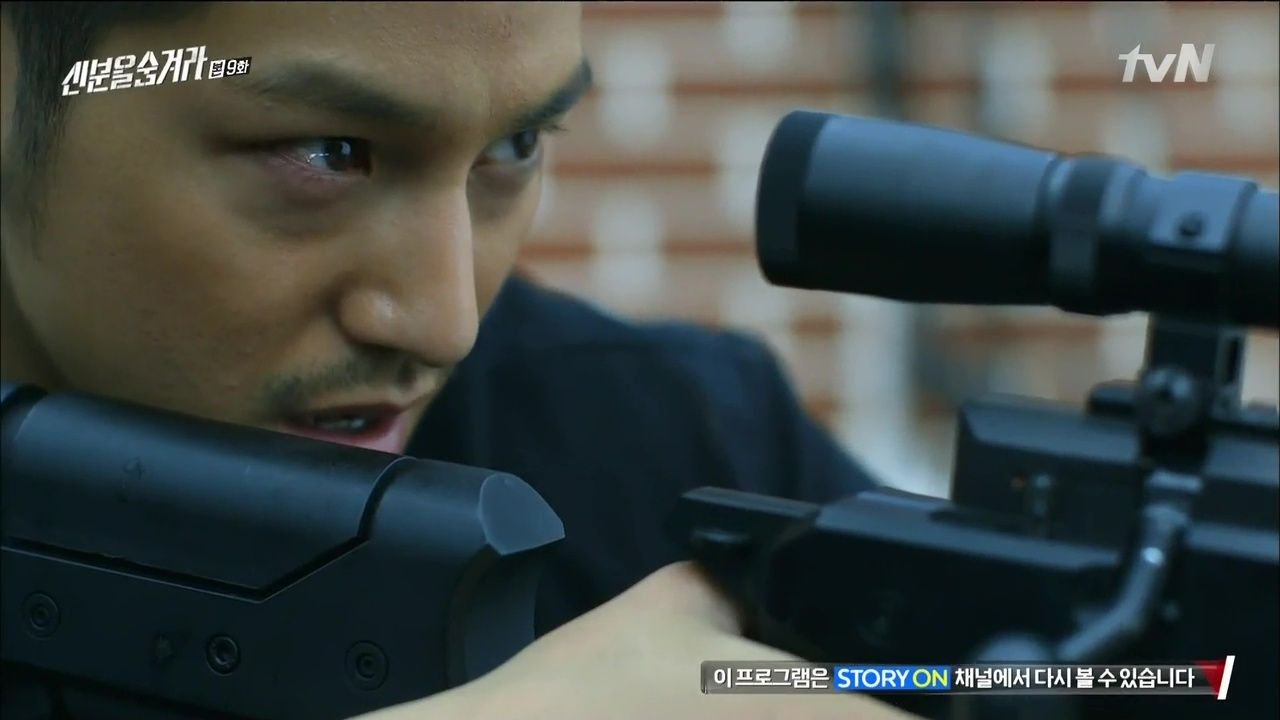 COMMENTS
Whew, that was a lot of shooting. I'll admit, I almost hope In-ho isn't killed in the next episode and sticks around a while longer, because besides the whole conundrum of Gun-woo's innocence or guilt if he kills In-ho, he's actually the first baddie in the whole show that actually scares me. When his scarred face shows up and his (DUN DUUUNNN) theme song plays, I shiver all over. Like I said last week, if this is only one bad guy on the way to the Ghost, I don't want to meet the Ghost! In-ho even shot his own man once he became a loose end — I have no doubt he can and will do just about anything to anyone without a care in the world. Let's keep him around a bit longer, mostly because he's actually the first guy on the ladder to the Ghost who actually makes me think the team won't be able to just McGyver their way around him.
While I generally thought this was a good episode, and I appreciated finally getting the story behind Gun-woo's past so we can connect with him a bit more, I'm still not entirely happy with the show. There are just so many areas in which the logic and the natural order of events don't make much sense to me. It's disappointing because all of the components are there for a really gripping, tight, suspenseful show, and yet it just keeps falling short of the mark. Things like the team not generally wearing bulletproof vests for dangerous missions — unless, of course, one of them has a bad dream. Because that's the only reason a member of an elite investigative team would wear a vest when transporting a dangerous criminal? I actually never felt any worry that Tae-pyung was dead, because in my mind, of course he was wearing a vest. I was more shocked that he wasn't expected to be wearing one. Not to mention the odd logic jumps, such as when Jang suddenly assumes that Gun-woo's not having called any friends lately must mean he's got a safehouse. What in the what now?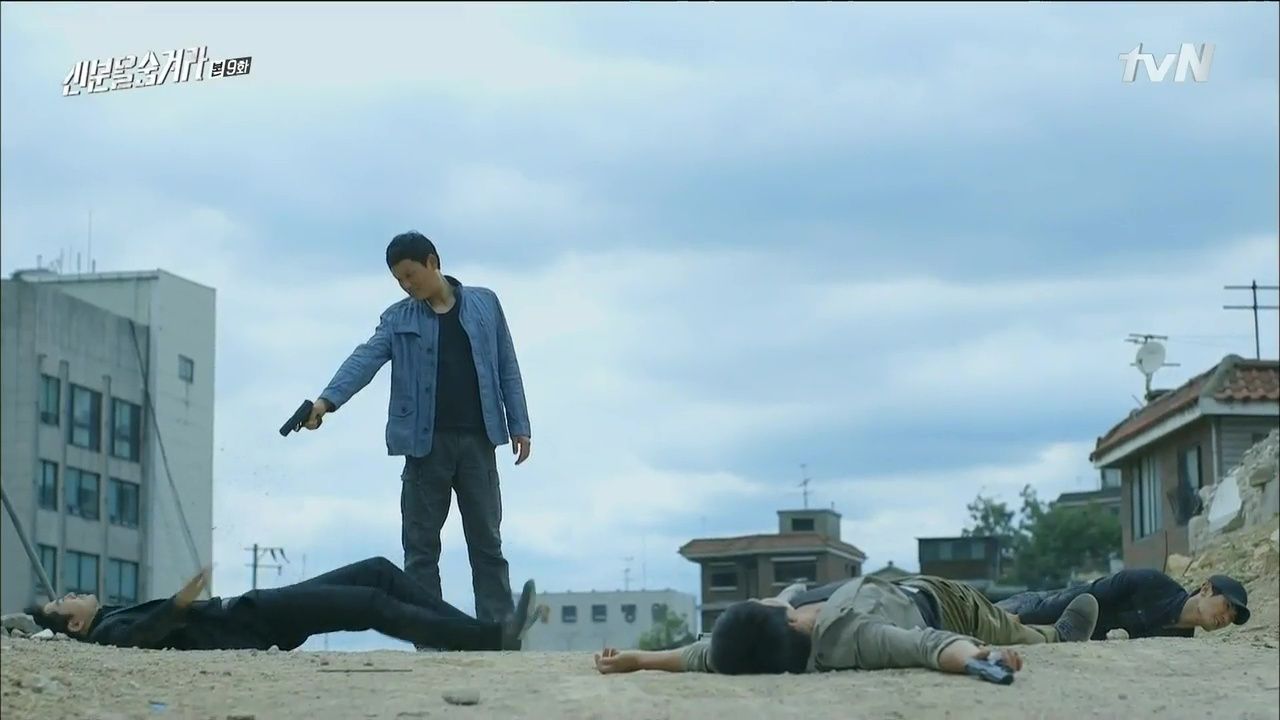 I did enjoy Gun-woo's whole trail of bread crumbs to lead the team to him and prove he wasn't against them, which was really pretty clever of him, but yet again I sort of have to wonder… why? Why couldn't he just tell Jang and his teammates his plan to go undercover? Possibly it's because Jang wouldn't have let him put himself in such danger, but if he'd made a reasonable case for his plan, Jang would have listened. I'm starting to feel like the show is just jerking me around for the sake of attempting to wrench emotional reactions out of me, but it's not doing a very good job of setting up situations I can get caught up in. It kind of takes the suspense away from the entire episode when I'm left thinking, "Well that was interesting and clever, but was it really necessary?" Not to mention, I don't appreciate, as an intelligent thinking person, the assumption that I won't catch the mistakes or figure out that yeah, there was really no reason for Gun-woo to pretend to go rogue except to create dramatic tension.
And let's talk about all the guns. I get that it's a police drama, but it's a bit excessive, yeah? When everyone and their pet monkey are waving guns around, I'm not really that concerned anymore when Gun-woo gets yet another gun pointed at his head. I'm sure I was supposed to be worried when he was on that roof with his sniper rifle and a huge dude with a gun pointed at him the whole time, but by now I'm sort of just feeling like, "Meh. Another gun. It's not like he's actually in danger of being shot." Again, it undermines your purpose — to make us scared for Gun-woo — when Gun-woo apparently spends more time with a gun pointed at him than not.
I'm sure a lot of you are reading this and thinking I'm being awfully negative, and it's true… but it's because I know the show can do better. It's got all the right ingredients, but instead of making me a full, hearty meal, it's feeding me snacks and telling me it's a 7-course gourmet supper. The snacks aren't bad, in fact they're pretty good — but when you're not serving the fancy meal you promised, I'm gonna wonder what exactly I'm paying for. Come on, Show, you're only half over, I know you've got it in you to be a five-star banquet!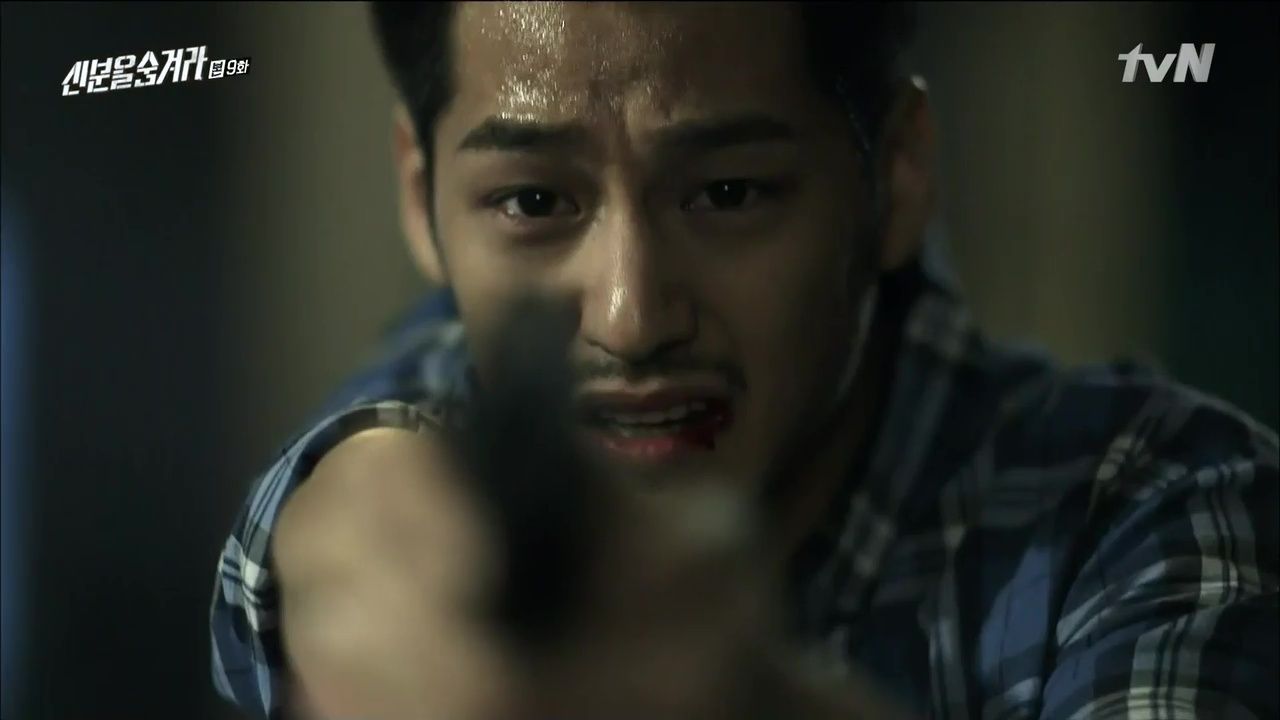 RELATED POSTS
Tags: featured, Hidden Identity, Kim Bum, Lee Won-jong, Park Sung-woong, Yoon So-yi