High Society: Episode 15
When a triumphant return should be a gamechanger for this series, it turns out that it gives us more of the same dynamics we've come to know. Even if everyone's responses to this turn of events may differ, it also does little to overturn the business politics already set in motion. Because evidently you can reappear onscreen as if nothing had happened in the time in-between, and believe that an original goal can still be realized.
It actually astounds me how this is at all possible, but we're also talking about a show where it's never too late for its leading lady to change her ultimate goals in life.
SONG OF THE DAY
BEAST – "그곳에서 (At That Place)" [ Download ]
Audio clip: Adobe Flash Player (version 9 or above) is required to play this audio clip. Download the latest version here. You also need to have JavaScript enabled in your browser.
EPISODE 15 RECAP
Upon hearing the news that Chairman Jang has collapsed again, Joon-ki drops Yoon-ha off at the hospital. Being told that he needn't be so kind to her, he gets out to ask her why things still feel unresolved between them.
She has no reason to point fingers at him when they both felt the grass was greener on the other side. Furthermore, she's already erased the period she was in love with him from her heart, which she says was a pointless period of her life. She thought that love would help her deal with her reality.
Hearing that pains him, and though Joon-ki agrees, he didn't want to keep living in his present reality by choosing love. While he's optimistic that they could overcome their differing perspectives someday, Yoon-ha believes that won't be the case.
Yoon-ha wonders if Chairman Jang is in critical condition when she hears that no one, including family, is allowed to see the patient. Just as Ye-won entertains the idea that this incident could also be a part of their father's plan, we turn the clocks back to fifteen hours prior.
Since previous attempts to make contact have proven unsuccessful so far, Chairman Jang believes formerly missing Kyung-joon is too cunning to fall for the line that his mother has fallen ill (as opposed to the chairman himself).
Ye-won isn't surprised to hear that her father has tracked Kyung-joon down. Her brother will have no choice to return to Korea, and Chairman Jang is notorious for never forgiving anyone who's betrayed him.
She is willing to chat with Yoon-ha, who asks when unni started dreaming of eventually taking over the company. Ever since their father manipulated her by grooming Kyung-joon as heir, Ye-won replies. That's how she learned to use others, too.
After saying that she always thought their mother loved her other children more than her, Yoon-ha wonders if Kyung-joon might return or stay in hiding. Ye-won doesn't care either way, and she certainly never considered Yoon-ha as a formidable rival.
But according to Yoon-ha, maybe she should; she's found a way to preserve herself while also being a chaebol's daughter, and now wants to be where Ye-won is: in line to take over Taejin. Really? You just acknowledged how terrible you were at the job you have now.
Ye-won is willing to humor her little sister, telling her that the only way to oust her from the succession line is by beating her sales records. How convenient that Yoon-ha can fall back on the one idea that could allow her to do just that, otherwise known as Ji-yi's social media promotional video.
And to get that going, she calls Joon-ki into her office, asking if he remembers when she first brought him here. He does, but he recalls that her original goal in joining Taejin wasn't about rising up the corporate ladder.
But Yoon-ha says that's changed now—she's decided to live in the reality she was born into. She wants to come out on top even though she doesn't know how to deal with working with other people. To that, Joon-ki advises that one needs to be capable to work in a group setting.
When Yoon-ha asks for his help in that regard, Joon-ki agrees. He'll hand over the promo video to her once it's complete, and she'll put that up in her brand-new social media account where it will make waves online. Uh, they both know that an online following doesn't just appear out of nowhere, right?
She worries that him helping her will put him in an awkward place with Ye-won (even though she just asked him for his help). But no need—Joon-ki is content with being useful.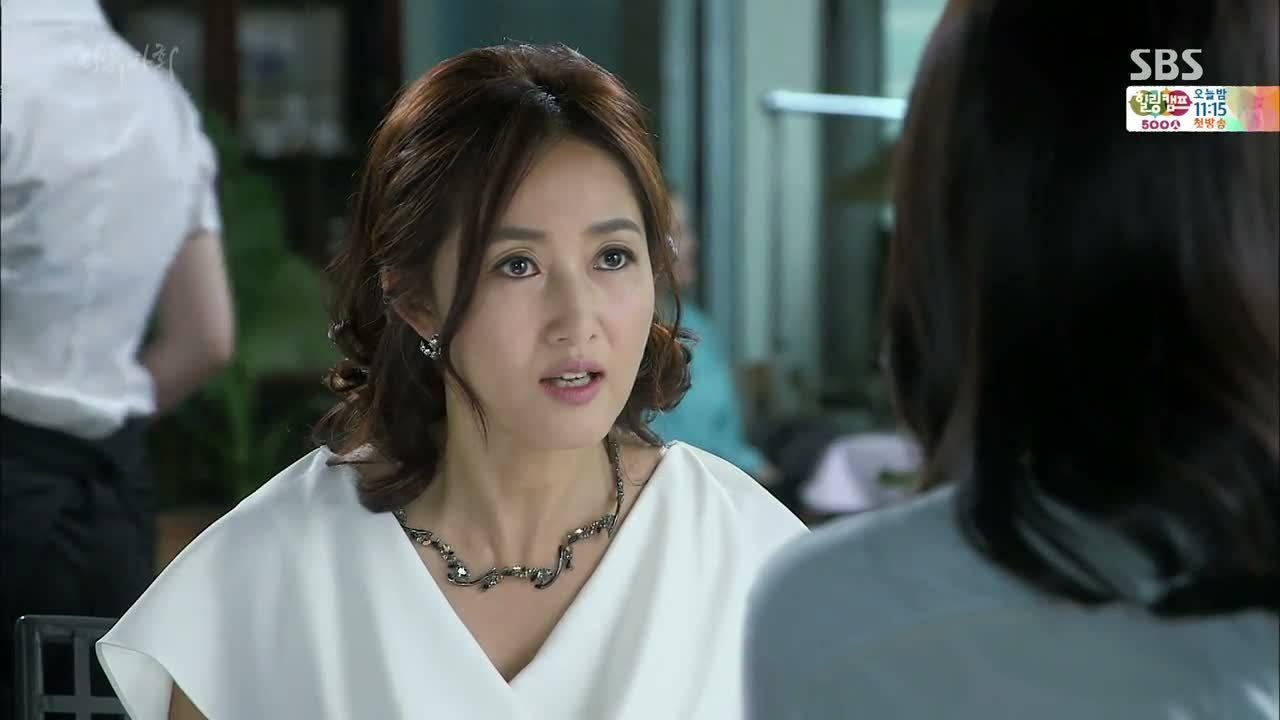 After being rebuffed by her son, Chang-soo's mother declares that Chang-soo is sure to be shocked by the decision she's made. Next thing we know, she's sitting with Ji-yi, going from feeling offended to tickled pink by her roundabout way of doling out compliments.
Still, the reason why Chang-soo's mother is here is to let Ji-yi know that she can see Chang-soo again. Seeing her son utterly broken-hearted may have weakened her resolve, but she reminds Ji-yi that this does not mean she approves of them getting married one day.
Gaining approval from Chang-soo's mother is enough for Ji-yi though, as she tearfully admits that she'd lied about her claims to liking Chang-soo's mother earlier. The latter figured as much, adding that she's usually very sweet to people.
Although Ji-yi believes Chang-soo's mother to be a good person, she won't get back together with Chang-soo. Just like how Chang-soo's mother would never approve of their union, neither would Ji-yi pursue a marriage that was opposed by her fiancé's family.
She'll follow Chang-soo's mother's words of stepping down if she truly loves Chang-soo, and have a normal happy marriage with someone of her own station. Chang-soo's mother can hardly believe her ears.
Back at the office, Yoon-ha and Joon-ki engage in flirty banter thanks to that video. It makes him happy that they can speak so freely with each other again, and Yoon-ha admits that it reminds her of back when they were first dating. The entire exchange puts her in a good mood and she laughs again while watching the promo video of herself.
Chang-soo lets out a deep sigh when his mother makes an unexpected visit to tell him about how Ji-yi didn't want to get back with him despite her approval of them to date. He tells his mother to stay out of his love life from now on, then wonders why she's always so suspicious of other people, Joon-ki included.
He's not trying to lecture his mother, but he believes there's a difference in living a long life vs. a wise one. He'd like it if his mother would stand by whatever decision he makes, even if she doesn't like it.
He was the one who always gave into his mother; he still very much loves her, but he's growing up with each passing day and will take care of her one day. He breaks into a smile when he sees how those words move her.
Now vice chairman of Taejin Group, Ye-won is pleased to hear that Kyung-joon may not return to Korea. Little does she know that he already has, as Kyung-joon arrives home to greet his very shocked mother. Astounded, Madam Min can only ask, "Did you have a good trip?" When he says he did and that's all he has to say, she drops the subject and turns away.
But Kyung-joon trails behind her, knowing that there's more to this conversation. He still doesn't know what to say though, so Madam Min fills up the empty space by asking how he could've done this to her.
He apologizes that he put himself first in his disappearance, and says no matter how torn up she'd be about her children, she couldn't possibly love them more than she loves herself. As a fellow parent, he understands the idea of trying to live out one's dream through their child.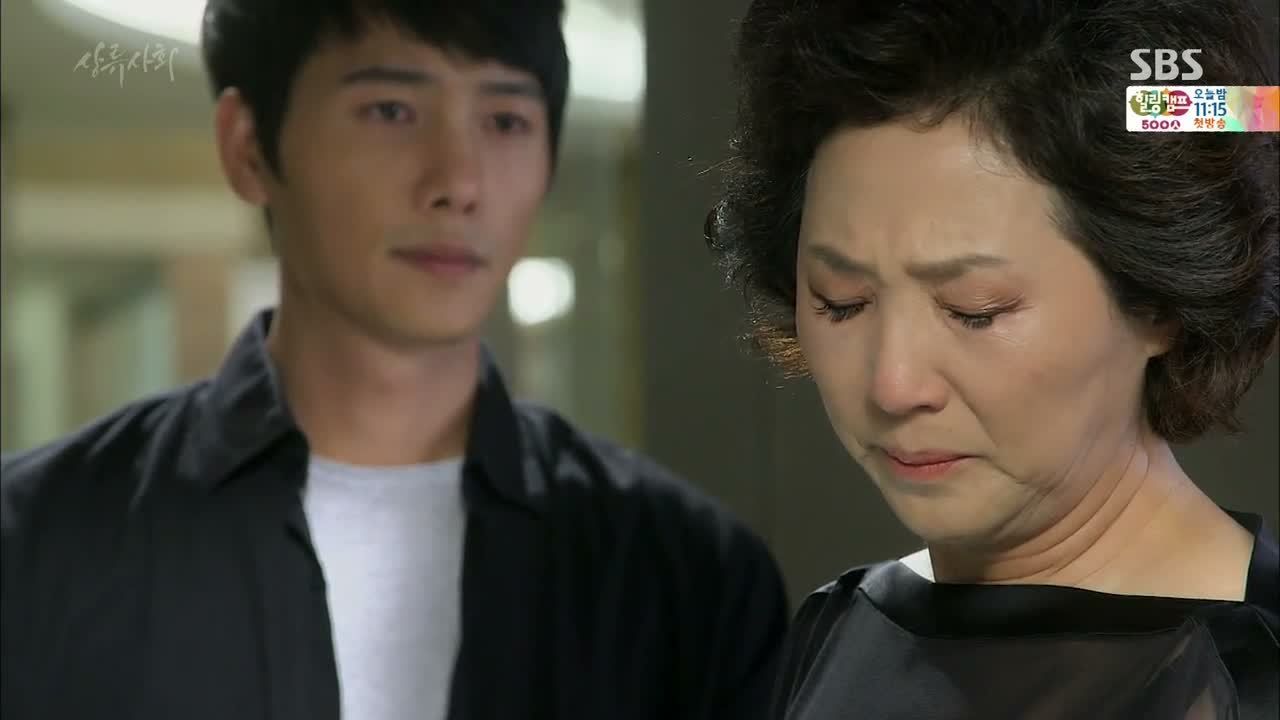 He'd been groomed to be an heir ever since he'd been a boy, a destiny he'd known that he could never escape from. Tears welling up in her eyes, Madam Min confesses that she was wrong to love her son more than her husband. She'd been willing to sacrifice parts of herself if it meant that Kyung-joon could be happy. "But what is this?!" she cries.
Left upset about being left in the dark about Chairman Jang's ongoing health, Lady Kim agrees to leave behind her life here. Her voice becomes shrill when Mama Lee overestimates her age by a decade.
Ye-won is mostly amused when Kyung-joon walks into her office alive and well. She doesn't buy the whole "I left to carve my own path" excuse, and asks what he had hoped for when he supported Yoon-ha to become the Taejin Group heir.
Kyung-joon doesn't believe that their youngest sister is as naive and inexperienced as Ye-won thinks, but she's tested out that theory herself. He says Ye-won only sees things she wants to see, when in fact he knows a lot more than she thinks he does. He does a lot more too, words which earn a double eyebrow raise out of Ye-won.
Ye-won portrays the perfect obedient successor to a T when she meets her father. It wouldn't surprise me if it pleases her when she brings up meeting Kyung-joon, and Chairman Jang is all, Kyung-joon who?
Joon-ki is taken aback by Kyung-joon's surprise return, and when the latter recognizes him as Yoon-ha's boyfriend, he explains that he and Yoon-ha are no longer together.
When Yoon-ha is invited to appear on a popular beauty TV show, she agrees since that will help boost sales. But that smile turns upside down as soon as she meets with Ye-won, who delights in pointing out how little Yoon-ha has contributed toward the company ever since she started working here.
At the threat that her job could be in jeopardy, Yoon-ha argues that Chairman Jang appointed her to this position. But times have changed now that Ye-won is vice chairman—the power cards are in her hands now, but Yoon-ha can go tattletale to Daddy if she still wants to.
Two can play at this game with Yoon-ha tossing back that that's exactly what she'll do. She lets the idea of Joon-ki being fired bounce off of her too, and asks if it's okay if Joon-ki works for her instead after Ye-won fires him.
Ye-won thinks back to an earlier conversation with Joon-ki when she'd transitioned from asking about his work experience to any lingering feelings for Yoon-ha. She'd like to see her little sister live the normal and happy marriage she'd been dreaming of (in other words, booted from the company).
In order to do that, Joon-ki would seemingly help Yoon-ha out, and Ye-won had added that she always takes care of her own people. Joon-ki had been hesitant towards the idea, and when he'd ask what would happen if he'd refused, Ye-won had replied that he'd be looking for work elsewhere.
Yoon-ha agrees to doing an interview on top of her TV show appearance, eager to gain as much exposure for the campaign as possible. She likens her struggle to climb the corporate ladder to Papa Choi's humility in keeping his job (not the same thing, Yoon-ha), and she'll need someone by her side in this ongoing war with Ye-won. Won't Joon-ki be that person?
She gets upset when he doesn't give her an answer straightaway, and then responds to the news of hearing that her not-so-dead brother dropped by with a flat, Oh yeah? Did he punch you? followed by a warning that Joon-ki better watch out.
Yoon-ha runs back to her office to find it empty, though there's a note from Kyung-joon that he'll see her at home.
Chairman Jang isn't thrilled about meeting his prodigal son, scolding him as soon as they're alone. Citing that their goals as father and son have never aligned, Kyung-joon explains that he's been a long-time investor in a different company. He's worked hard to achieve his dream, even if it isn't the empire his father has created.
He plans on taking his own path from now on, and hadn't considered that time could be on his side. His father is only human after all, powerless against time—had he realized that earlier, he would've never attempted to run away and live a different life.
This will be start of a new war between them, Kyung-joon continues. There's emotional pain visible in Kyung-joon's eyes as he says the words, but Chairman Jang is willing to take his son head-on.
Ye-won is displeased to hear Joon-ki's hardly making any progress. Upon hearing that Yoon-ha isn't much of a threat, Ye-won asks if Joon-ki knows her sister better than she does, or perhaps still has feelings for her. She's willing to give Joon-ki another shot, however, although this time it's more to test him than Yoon-ha.
Joon-ki finally responds back to his father's texts, calling him "Dad" vs. the more formal "Father" address. Speaking of texts, Ji-yi gets one from Chang-soo, who asks to meet her in person.
He picks her up after work, and when Ji-yi says she wants to keep this conversation as short as possible, he complains that she's gotten worse in the time they've been apart. She gives in to going out for a delicious meal, and Chang-soo squirms at the plate of chicken feet.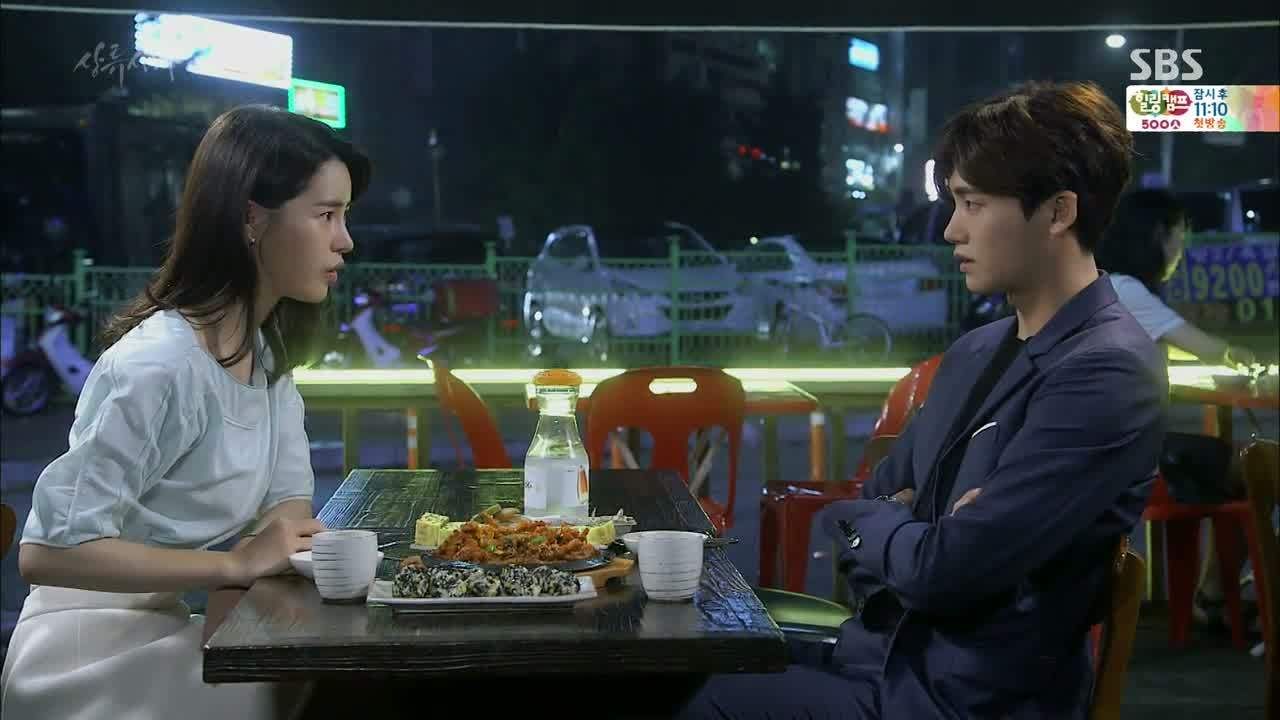 He complains that there's nothing for him to eat here, then eyes her when she says it's easier to date people within one's social class. He already knows that Ji-yi has met with his mother and what that conversation entailed. He acknowledges that he left Ji-yi to fight those battles against his mother alone while they were dating because he didn't rein his mother in.
He's never "moved neighborhoods" in his life and doesn't know the first thing about it, and she tells him not to then. Moving should never be a hasty decision, because one could be locked into a place they don't want to be in.
Chang-soo says she can move in to his neighborhood then since she's used to it, to which Ji-yi replies that it's way too expensive. She's given it a lot of thought ever since they broke up: there are some concepts that get understood without an explanation between those of the same social class.
Even her mother had told her how much easier it was to marry someone of a similar background, Ji-yi says. That's how the rest of the world lives their lives, so they should do the same. Bringing up the story about the frog and the scorpion, she suggests they both live instead of choosing someone who would bring the other down.
Chang-soo remains silent to all this despite being the one who called her out because he had something to say. Following her speech, Ji-yi carefully raises her eyes to meet his gaze.
Still, Chang-soo seems pleased that Ji-yi truly had feelings for him. He wonders why she dated a playboy rather than a good guy, to which she scowls that she was probably better suited for a playboy.
When Chang-soo calls to request that Yoon-ha fire her, she decides to stay out of it. She runs into Joon-ki, who's also working late doing research for her. Taking that as a sign of loyalty, she cheerily bids him good night.
He calls out her name, and when she spins around to face him again, he says that he hopes she beats Ye-won. Little does Yoon-ha know that Joon-ki's already prepared his resignation letter.
Chang-soo is already waiting on the rooftop when Ji-yi arrives home. At the sight of her sniffles, he asks if she'd been drinking. She has, and he seems okay to keep talking if she's had one bottle of soju. But she's had a bottle and a half, which Chang-soo takes as his cue to leave since she's a bit too tipsy for a sensible chat.
When Ji-yi tries to stop him, Chang-soo immediately covers himself up. Hehe. She insists that it was only one bottle, then regales him with a sad twist to the frog and scorpion story: When the scorpion reached the other side of the river, it saw the frog.
He doesn't believe that she's had just one bottle, but finds her inebriated behavior downright adorable. It's nice to see them both smiling for once, and he says he came because he had something to say, but it's a conversation for when they're both of sober minds.
She tells him to say it now, claiming that today would be his last chance to do so. He doesn't quite get what's gotten into her, especially when he feels he explained himself and his mother well enough. He even offered to meet her at her level and move to her neighborhood.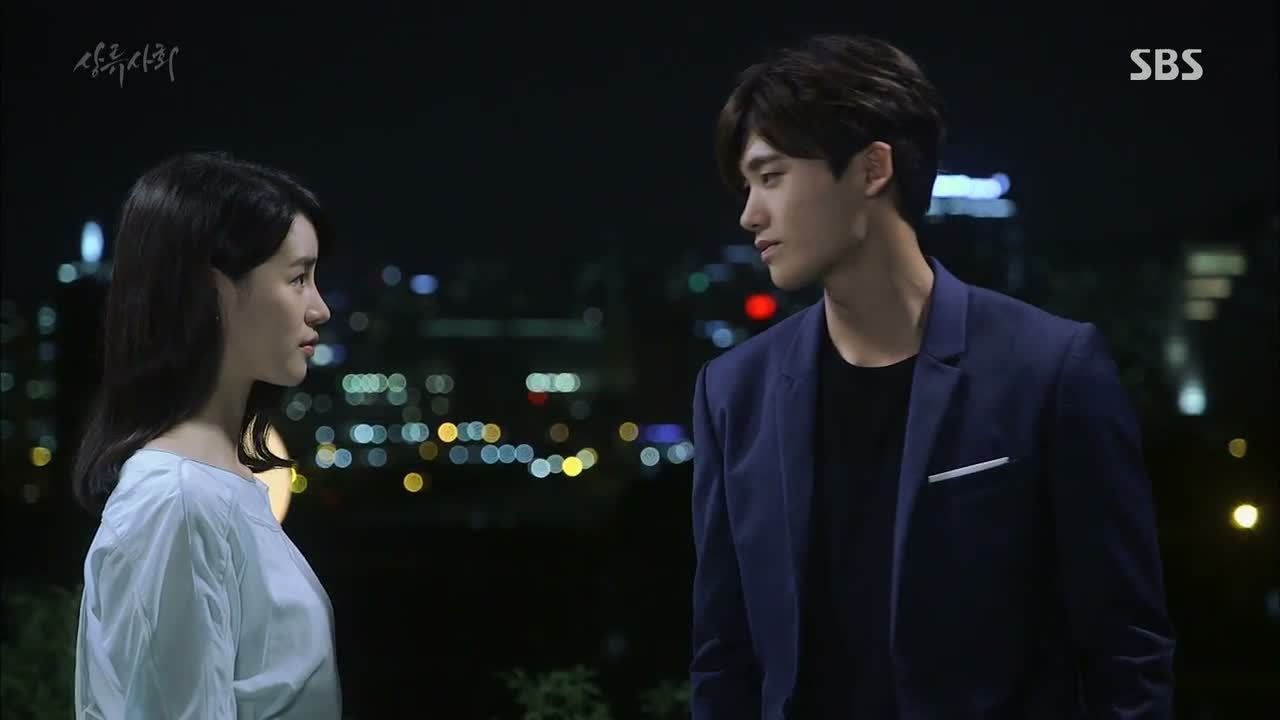 But Ji-yi still holds fast to the idea that she won't marry into a family that opposes their marriage. Chang-soo: "Can you live without me?" Ji-yi: "I can."
Chang-soo appears surprised by that answer too, and tears fill her eyes as Ji-yi proclaims that she'll never love him again and die alone. He asks if she realizes what decision he's made so that he can be with her, the plans that he's set for them.
Ji-yi figures that they'll try to work it out at first only to end things anyway. When he has nothing to say to that, she asks if he felt hurt by that answer. "Yes," he replies. She claims that she said all that to hurt him, because that's the current state of her heart.
She can't bring herself to get back together if they're going to part ways again. "We won't break up again," Chang-soo softly replies. Ji-yi doesn't believe him though, because while money is unchanging, people's hearts can easily change with time.
There are tears in Chang-soo's eyes now as he asks if he made her into this: "Did you become like this because you loved me?"
Unable to be near him, Ji-yi walks away, and Chang-soo says the words: "I love you." It stops her in her tracks, but she says she's drunk right now and she'll forget everything he said tonight. Left outside with his broken heart, Chang-soo lets the tears fall.
While the TV host finds Yoon-ha endearing (because someone should) Joon-ki hands in his resignation. Ye-won sees this as a lost opportunity—perhaps one needs to lose everything he has before coming to his senses.
Joon-ki believes one never loses everything in life; rather people try not to make the mistake that a part of their life is their everything. He doesn't answer when asked if he still has feelings for Yoon-ha, though acknowledges that he feels at ease with this decision of leaving this position (and essentially his ambition). The things that he thought needed to be fueled in his life seem to be stronger than he'd originally thought, he says.
Yoon-ha drops by Ye-won's office to gloat about how her sales records are higher than when unni first started. But everyone including Ye-won knows Yoon-ha didn't achieve that on her own—plus, she just missed Joon-ki who just quit.
Shocked by the news, Yoon-ha runs back to Joon-ki's desk, only to find it empty. She misses him at the elevator by mere seconds, then travels down to the parking lot just in time to see him drive off.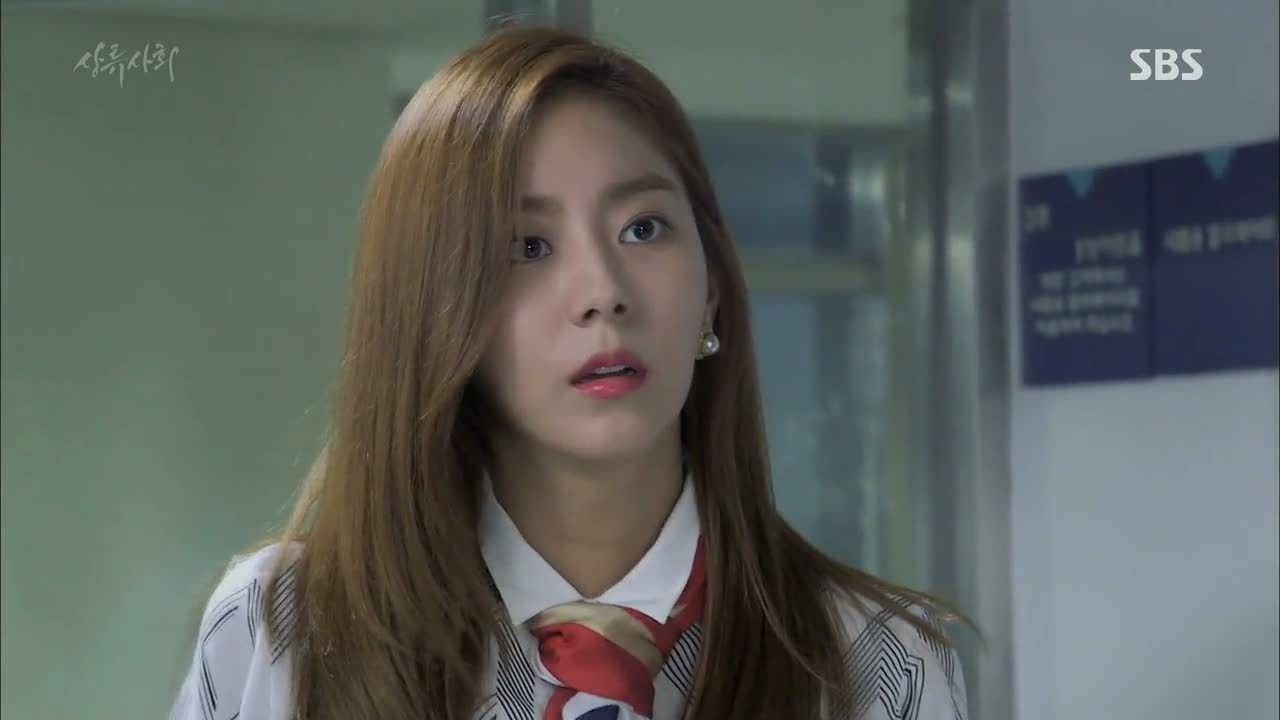 COMMENTS
Given how Kyung-joon's "death" spurred so much angst within the Jang family in this series, one would think that his reappearance would bring with it a similar impact. Instead, much like the rest of the conflicts in this series, there's a lacking oomph in its execution. But first things first: What in the actual fuck, Kyung-joon? Did you expect things would pick back right up where you left it?
What nags me most about his Lazarus return is how his re-entry essentially negates the entire emotional rollercoaster his family went through during his death/disappearance. His MIA status devastated his family—his mother and Yoon-ha in particular—and the explanations for himself leaves much to be desired. I don't blame him for trying to escape the prison that is living with his crazed chaebol family, and yet he doesn't take responsibility for the trauma he'd left in his wake. Stranger still are the unequal responses among his family members to his return. I can understand Ye-won being more amused that her former rival was caught in the act than anything else, but then we see Yoon-ha respond to her brother waiting for her with an Oh yeah, that's cool statement when she had sobbed over his supposed death for hours.
Which brings me to Yoon-ha, who has decided to contradict herself for the umpteenth time by changing her life goals in the eleventh hour. I don't quite get the purpose of hanging a lantern on her original intentions (of holding onto her job until Kyung-joon's case was settled) and then brushing it under the rug a moment later. So even though she now possesses an eerie self-awareness in that she knows how terrible she is as a mid-level manager, she now wants to run an entire conglomerate. Because she wants what unni has. Why now of all times, you ask? Your guess is as good as mine. But I suppose any goal is better than none at this point. Even if she doesn't have to work for it (seriously, everyone else does all the work, but she gets the credit).
Even sadder is that Yoon-ha isn't the only person leaving us confused in this hour. It's evident that it's up to Chang-soo to do something about his separation from Ji-yi. He's made some baby steps, but I can't help but wonder what decision he's said he made. He doesn't say what that is outright in this hour (likely so that it can be resolved in the finale), but we know that it must involve Ji-yi. What'd I hate to see is him using a form of that guilt trip he used on his mother ("Remember, I chose you") to get back together with Ji-yi. That's not how I want for this couple's reunion, especially since they still have the potential to defy some character elements we've seen in past dramas between this rich guy/poor girl romance. Something has got to give, and at present, it doesn't seem like Chang-soo is willing to fully let go of either.
However much it pains me to say it, I'd rather see Ji-yi be alone if Chang-soo is unable to make an informed decision that's healthy for their relationship. I never want love to be a sacrificial lamb between two characters I truly care about, but neither do I want that unintentional sting drag them both down either. What's a girl got to do so that she can get that ending Ji-yi mentioned, where the scorpion safely crosses the river and sees the frog waiting for him?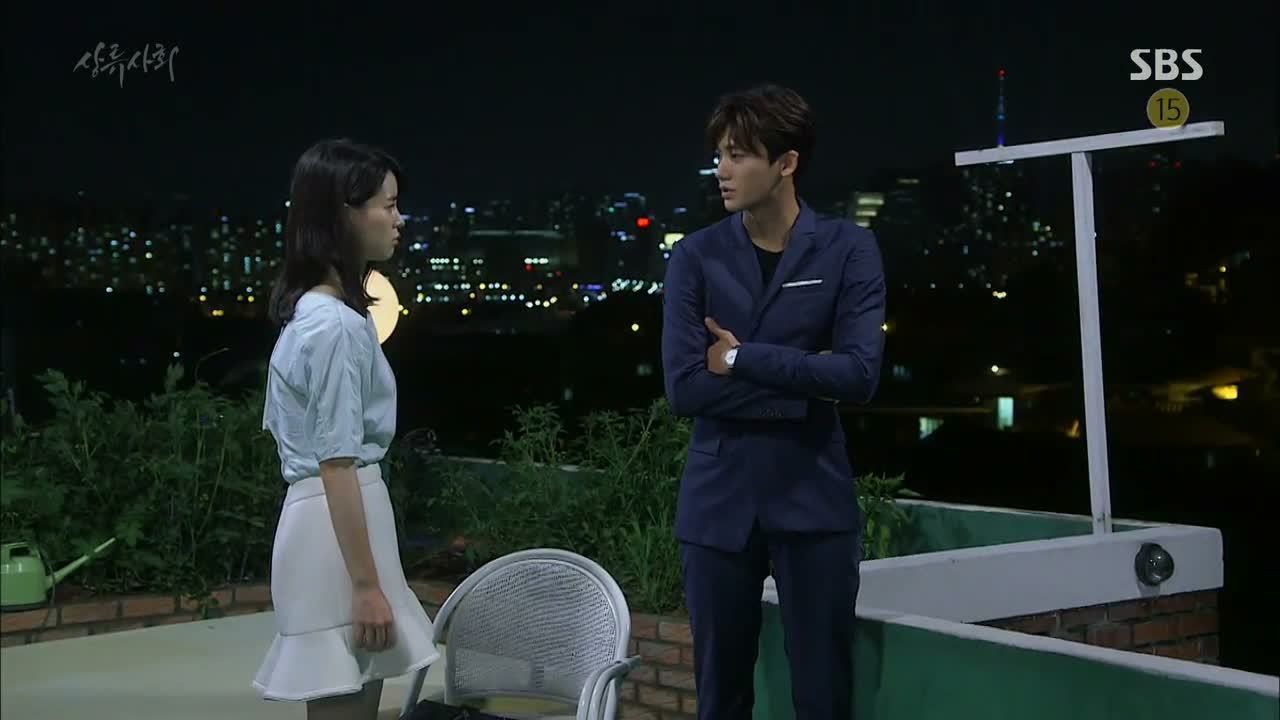 RELATED POSTS
Tags: featured, High Society, Im Ji-yeon, Park Hyung-shik, Sung Joon, UEE