High Society: Episode 7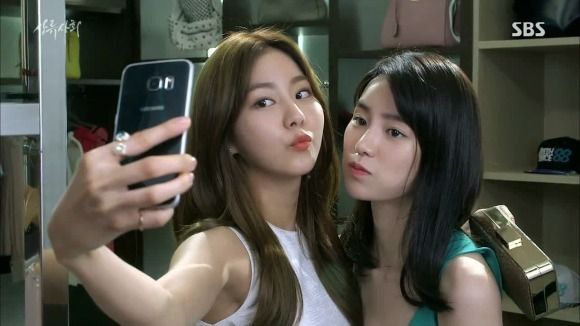 Friendships will be put to the test this hour as our characters deal with long-buried truths that have come to light. Important decisions will need to be made and the words spoken now will be more crucial than ever. Some are luckier than others when it comes to a shot at reconciliation, but one can only wonder if that simply places a temporary bandage on the relationship.
With the major heir out of the picture, Yoon-ha's place in the family becomes center stage because everyone says so. She may not have much of a choice in the matter, but she is free to act upon her decisions as she sees fit.
SONG OF THE DAY
Ailee – "열애설 (Scandal)" [ Download ]
Audio clip: Adobe Flash Player (version 9 or above) is required to play this audio clip. Download the latest version here. You also need to have JavaScript enabled in your browser.
EPISODE 7 RECAP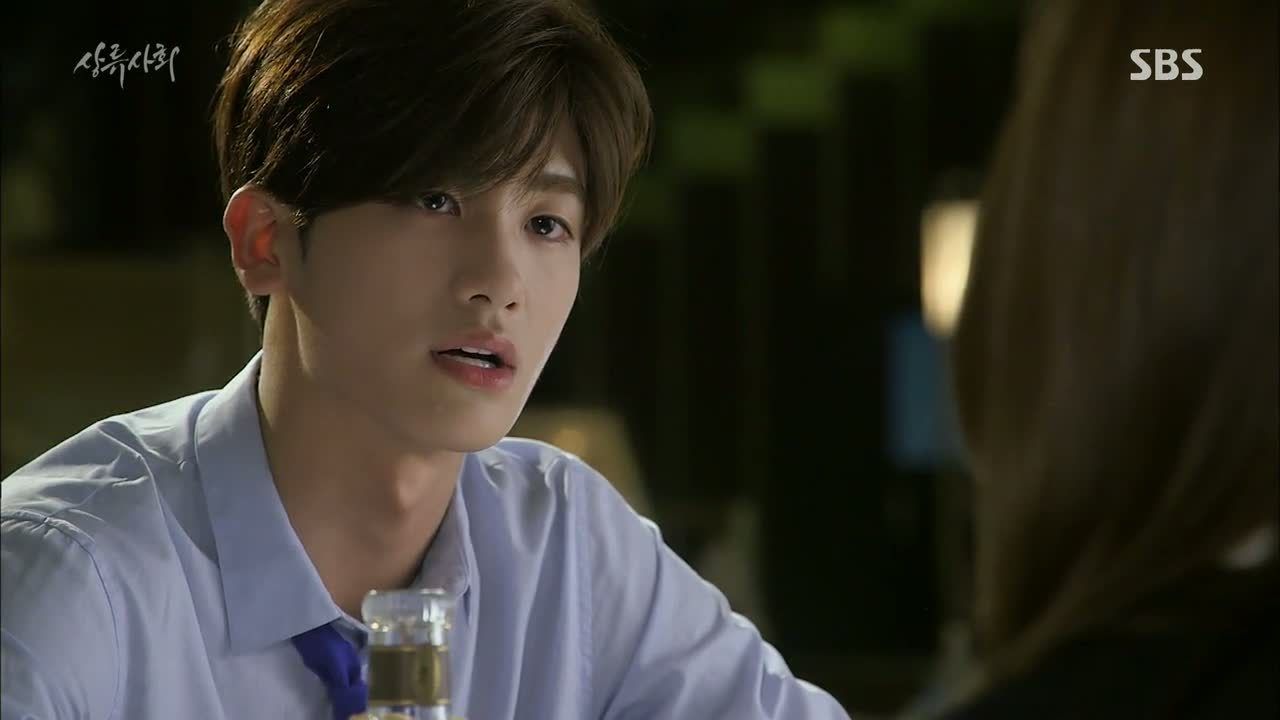 When confronted with a tensely awkward moment upon Yoon-ha's appearance, Chang-soo diffuses the situation but keenly observes Joon-ki and Yoon-ha's interaction before casually asking if they're seeing each other. Joon-ki doesn't deny it, to Yoon-ha's delight.
Chang-soo coolly plays off the moment, saying he could've been more careful if he'd known earlier. He's been on a seon with Yoon-ha, after all. Whereas Chang-soo speaks candidly about this truth, Yoon-ha gets upset that she didn't get to tell her friend about their one-time date first.
Even now, Chang-soo can empathize with Ji-yi's hurt feelings about being left in the dark, but Yoon-ha spins that statement to be about her because she just found out about Chang-soo's relationship with Ji-yi today.
She's clueless as to why her name has topped the search engines today while Chang-soo explains how he set up this outing so they could all talk through it, but Ji-yi won't be coming.
He argues in her defense that if he were in Ji-yi's shoes, he wouldn't want to see the friend who deceived him that long ever again. "It was probably hard for our Ji-yi to be friends with you," he notes before leaving behind a still very confused Yoon-ha.
Despite her dampened mood, Ji-yi picks up when Chang-soo calls. She's quick to point out how casually he speaks of Yoon-ha—why not date each other if they're both rich? When Chang-soo calls that a skewed perspective, she says he was the one who argued that there was a difference between social classes.
Realizing that this argument will end up in circles, Chang-soo bids her goodnight and hangs up. Evidently Ji-yi hasn't eaten in light of today's revelations, but then realizes that there's no reason to starve herself because of it.
Still puzzled at how the public found out about her not-so-covert part-time job, Yoon-ha explains to Joon-ki that she declared herself completely independent from her family starting today. Although Joon-ki understands how one could declare financial independence, cutting emotional ties is much harder. But Yoon-ha says she's been emotionally detached for a long time now because she once lived apart from her family as a tween.
At her self-declaration that she's often highly suspicious of people, Joon-ki asks if that applies to him as well. We know and he knows, but only she knows now that she wasn't with him. She has a number of reasons why, like how Ji-yi once liked him, that he's Chang-soo's friend, and his good relationship with his mother.
This is the first time she's ever opened up to someone so easily, and she swears that once she lets someone in, she trusts them forever. Ji-yi is one of those people, which makes her wonder if she might be really upset with her. That's probably a yes right about now.
Just when Yoon-ha decides to go see Ji-yi, she gets a call from home. Joon-ki insists on taking her home, arguing that he's never done so before and that's one of the joys of dating. "Won't you make me happy?" How is that a question? Of course she does.
Noting that Yoon-ha has always been the odd one out, because god forbid she associated with the help, Ye-won remembers how her younger sister lived overseas at a young age. But living in China back then would prepare her little for actually running an office there now.
The way Ye-won and her secretary spin how this is all supposedly Chairman Jang's pre-meditated plan for Yoon-ha to become a contender frankly gives Yoon-ha more credit than she deserves. However Ye-won still believes that this sense of uncertainty is still yet another test given to her by their father.
Still, one news article could put Yoon-ha in a positive light, and it doesn't hurt that she's easy on the eyes. Ye-won finds offense in that, because she thinks So-hyun is prettiest.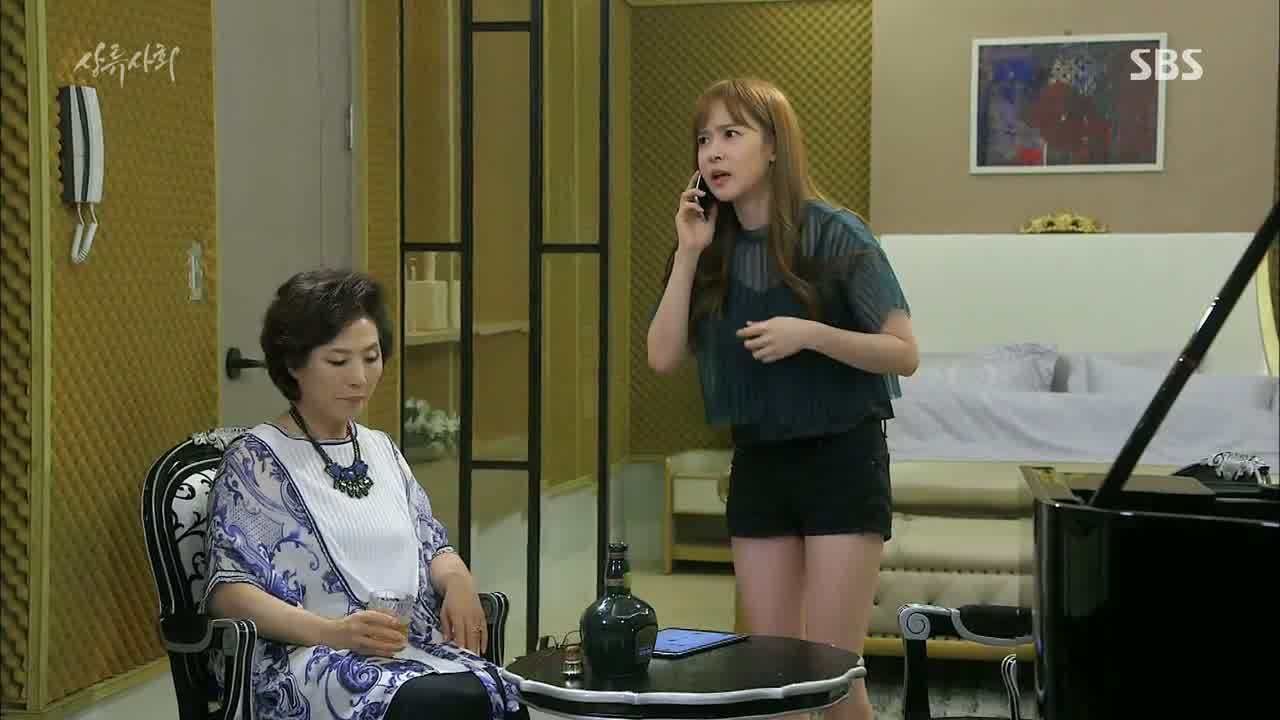 Speaking of whom, So-hyun clamors to fill Madam Min on how Yoon-ha's exposé broke her previous record of most social media attention, of which the latter couldn't care less about. Hearing that Yoon-ha is coming home, So-hyun says that must mean little sis hasn't actually left yet. But what grabs Madam Min's attention is the news that Yoon-ha owns some company stock, thanks to Kyung-joon.
Chang-soo gets called out by a friend to a club, where he runs into Joon-ki's ex. She's livid to hear that he's already seeing someone else, asking if he asked her if she was a chaebol's daughter beforehand. That piques Chang-soo's curiosity: "What's that supposed to mean?"
Madam Min is convinced that Yoon-ha knows something about Kyung-joon that the rest of the family doesn't, to which I'm going to say, likely not. The rest of the family takes interest in Kyung-joon's will being read out tomorrow, though the bigger question is: Why would a man his age have already prepared a will? This important insight brought to you by the airhead sister in the family.
So-hyun even points out that everything that's happened so far hasn't been what they predicted. She wonders if Yoon-ha might end up becoming Kyung-joon's daughter's new guardian, given how close Yoon-ha was to their brother.
Ji-yi is busy drunkenly lamenting her fortune from her rooftop when Yoon-ha finds her. She's too hurt to be outright angry with her friend, and has tears in her eyes when she mentions how Yoon-ha tried telling her the truth earlier today.
She's angrier at herself for not having figured it out sooner—even though she suspected when Yoon-ha and Chang-soo recognized one another, she never imagined that her friend might be rich herself. Back then, she thought Yoon-ha's family could be working for Chang-soo's family or that she had a sponsor. Yoon-ha: "But when I denied it, you believed me right away."
It breaks my heart to see Ji-yi look so defeated, as she says she believes herself to be cursed. Then that sad moment turns on its head as she laments how it's hard enough for people to meet one wealthy person in a lifetime, but there are two chaebols in hers.
The realization that Ji-yi's well into her second bottle of soju breaks the tension between them, and Yoon-ha tells her friend that she likes Joon-ki too much to have any feelings for Chang-soo. But Ji-yi admits that she's still sad because while she was never jealous toward a chaebol's son, she was envious of chaebol daughters.
She wants to be someone that Chang-soo could go on a seon with, date, and then marry. "But why did I become a woman who can date [him], but not marry [him]?"
Being the ever-amazing person she is, Ji-yi sympathizes with her friend's struggle of keeping her wealthy background a secret. Living an honest life would've been hard for someone whose lifestyle everyone envied, and no one would truly understand her suffering.
Moved, Yoon-ha downs some soju before gathering up the courage to open up to Ji-yi about her family. Her mother voiced her disapproval at her ever since she was young, and she was the only one to be hit among her siblings. "I was always alone," Yoon-ha says tearfully.
"I had trouble breathing ever since junior high. It was better being lonely on my own rather than feeling lonely within my family," Yoon-ha confesses. She suffered from emotional abuse from her mother, but she still understands where her mother is coming from. Are we… not going to talk about how Ji-yi's parents are divorced? No, still you?
Yoon-ha envies her friend's generous personality, which Ji-yi has stolen her heart with. Somehow Yoon-ha's kind words actually console Ji-yi, and this heart-to-heart has made her feel a lot better. Yoon-ha: "I love you."
The mood turns when Ji-yi says she misses Chang-soo now, which has Yoon-ha realize that Joon-ki's still waiting for her in his car. But Ji-yi is against inviting boyfriends over if one of theirs is absent, so Yoon-ha calls Chang-soo over.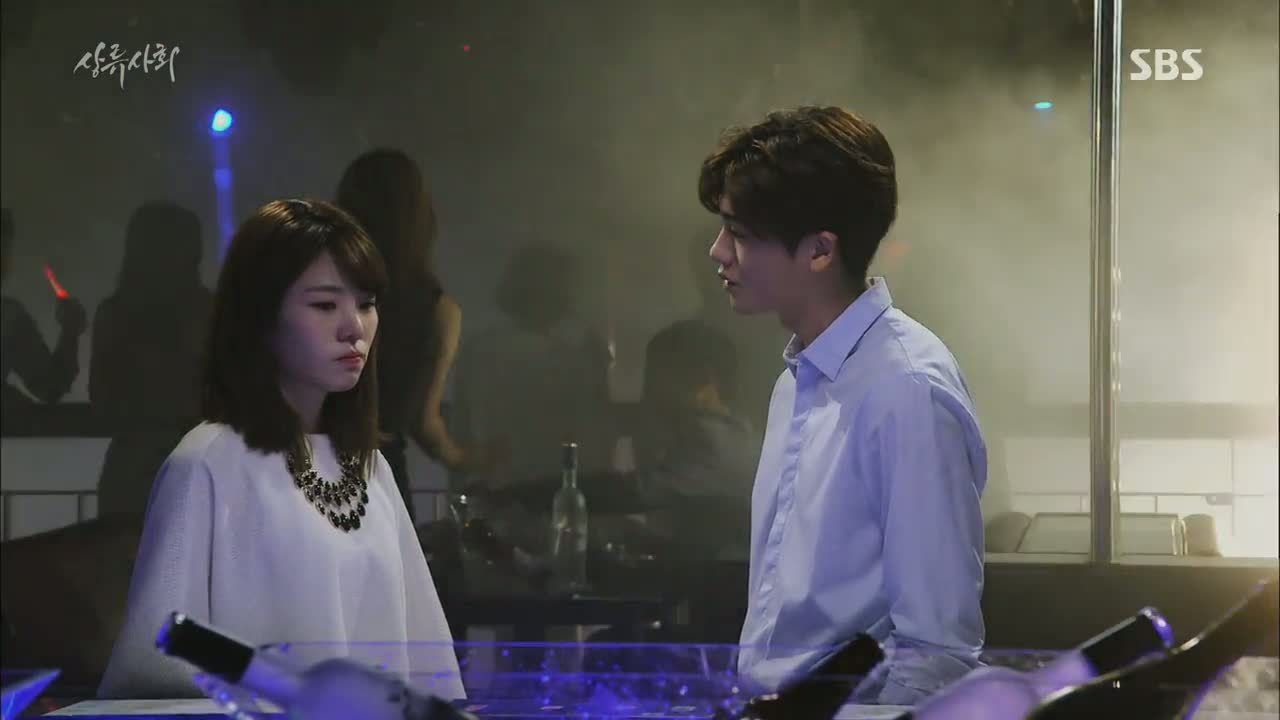 We rewind back to Chang-soo's conversation with Joon-ki's ex, who's interested in whether Joon-ki's new girlfriend is more prestigious and wealthy than she is. Chang-soo won't stand to hear his buddy being insulted, but she leaves him with words to ponder over: "You think Joon-ki is staying by your side as a friend because he actually likes you? If he doesn't see a use for you, he throws you away."
Chang-soo finds Joon-ki waiting down below when he pulls up. He laughs dryly when Joon-ki defends Yoon-ha's nosy habits, noting that they haven't been an item for that long. Thank you. Joon-ki counters that their feelings for each other trumps a period in time, then tells Chang-soo to stop beating around the bush.
"I don't really know you," Chang-soo states. "Whether or not the Joon-ki I know is the actual you, I can't be certain." Hearing Joon-ki toss back that he thought he knew Chang-soo rather well only infuriates him, though Chang-soo keeps his cool.
It nags at him even more when Joon-ki says everyone caters to Chang-soo's needs anyway. But Chang-soo believes that of all people, his best friend should be different. "You don't know me, either," he realizes.
Having reconciled, Yoon-ha and Ji-yi chat about the perks and woes of her lavishly rich lifestyle. Chang-soo is surprised by this sight, thinking that they should be fighting right now. The girls dish it right back, then they high-five at the idea that Taejin Group is probably larger than Yumin.
Chang-soo appeals to Joon-ki for help, which the latter doesn't give. Yoon-ha says she had too much to drink, Joon-ki says he can take her home. When Ji-yi says the same thing to her sweetheart, Chang-soo flatly tells her, "Go inside and sleep. Don't come crying to me later." Pfft.
After Joon-ki and Yoon-ha leave, Chang-soo apologizes to Ji-yi. She says (in banmal) that's the second time he's said sorry, and he says she's the first girl he's ever apologized to. He's impressed by her optimistic nature when she says she considers it a good thing to be the first of something in his life and that he's laughing now.
His anger and frustration dissipated, Chang-soo pulls her close as she nestles into his chest.
Joon-ki drops Yoon-ha and her car at home, and when she asks if he's just going to leave, he places a kiss on her forehead. She sits down with her mother, who asks what Kyung-joon's last words to her were. Yoon-ha honestly replies that it was about the guy she's seeing, whom she's seriously considering marrying.
She informs her mother of her emancipation from this household; she no longer wishes to remain in a house without her brother. "I wasn't able to choose the family I was born into, but I will choose my family from now on." She plans on creating a warm family environment with her special someone. Whoa, getting a little ahead of ourselves, aren't we?
Hearing all this scares Madam Min, who wonders just how Yoon-ha did all that and coerced Kyung-joon into buying company stocks for her. That's news to Yoon-ha's ears, but Madam Min doesn't believe a word of it, thinking that her daughter lied to her about everything since then.
Madam Min challenges Yoon-ha's capabilities of breaking free from his household. She's still hung up on those company stocks (which she hasn't confirmed), but Yoon-ha says she just wants to live a normal, humble life. Madam Min calls her daughter selfish for continuing to live her own life after her brother's death disappearance: "Can you still call yourself human after that?" Jeez louise, woman.
Chairman Jang won't let her walk out that door freely, and furthermore, she's needed at the company. Not quite the comforting "your family needs you here" chat, Mom.
Yoon-ha doesn't understand why Kyung-joon would have reserved stocks for her, which is when she remembers the key he gave her. She heads for the now-empty library where Ye-won is waiting for her.
Yoon-ha denies that she's searching for something and declines her unni's help for getting acclimated at the office because she won't show up for work. She's already cleared the matter with their father, a statement Ye-won takes note of.
The two sisters leave together to avoid suspicion, though Ye-won orders her secretary to dig into Yoon-ha's activities. Once in the clear, Yoon-ha heads back inside, searching through the drawers for the key, to no avail.
Her eyes well up with tears at the sight of the bench she and Kyung-joon shared their final chat on. She sobs at the happy memories she shared with Kyung-joon.
Chairman Jang gets the lowdown on Joon-ki the following morning. He wonders how his daughter could be dating someone so beneath her station, to which his right-hand man mentions that Joon-ki possesses model-like features. Does this show realize that this is the second time they've used physical attractiveness as a defense for their leads this hour?
Apart from the fact that Yoon-ha slept at home despite declaring herself financially independent from this point forward, she reflects upon these recent truths made known to her before sitting down with her father about the media debacle about her having a part-time job.
She argues that her father could use it to his advantage, playing up the story that he's instilling good life lessons for his privileged daughter. When asked when she plans to move out, Yoon-ha says her opinion doesn't matter when Chairman Jang will do as he wishes anyway.
He orders her to show up to work at the company, surprised when she readily agreeable. Yoon-ha attributes it to women usually being fickle, and asks for a few days to prepare herself.
Chairman Jang and Madam Min sit to hear Kyung-joon's will, which names Kyung-joon's child to inherit all of his assets and Madam Min as the child's legal guardian. She's not surprised to find Yoon-ha waiting in her room to tell her about working for the company now. But when Yoon-ha brings up Kyung-joon's name and about his death/disappearance, she sends Yoon-ha away.
Yoon-ha calls to let Joon-ki know that she won't be moving out after all. He takes a mental note of that, then keeps asking her questions about her next steps. His persistence isn't lost on her, but a quick sidestep is enough for her to change the subject.
Agreeing to spend the day together, Yoon-ha recalls her friend's wishes for some opulent indulgence, which would be one happy memory that she'd remember for a lifetime. So she sends a car to Ji-yi's place, then calls up Chang-soo (whose mother thinks they're seeing each other again) to join them on a double date.
Elsewhere, Lady Kim trades out her sparkly figure skating outfits for bright-colored suits. It's her attempt to looks more like a classy chaebol woman, and fishes for compliments from Mama Lee.
She reveals her desires to bear Chairman Jang's child, since that would provide her with some security. Lady Kim admits that the thought crossed her mind in her thirst for revenge, and Mama Lee has her reflect on the kind of impact that would have on the child.
Ji-yi gasps when pulling up to Yoon-ha's lavish mansion, then turns into an excited fangirl when she meets So-hyun in person. So-hyun is flattered up until the moment Ji-yi mentions that she made a spelling error in one of her recent posts. Ha.
Ji-yi looks to be on the verge of tears when Yoon-ha shows her a closet full of clothes, shoes, and accessories she bought for her friend. Now she can finally give them to her, and directs her to choose her outfit for her fancy night out tonight.
The girls have fun trying on dresses together and prettifying themselves for their big night out. They take a selfie together, and Yoon-ha has no idea that that key she's been looking for is tucked amongst her various accessories.
While Yoon-ha and Ji-yi enjoy drinks in the limo, the mood is strained in Joon-ki's car ride with Chang-soo, who announces that his father has decided to give him stocks from the hotel without his other two hyungs finding out. He asks Joon-ki to take care of the matter.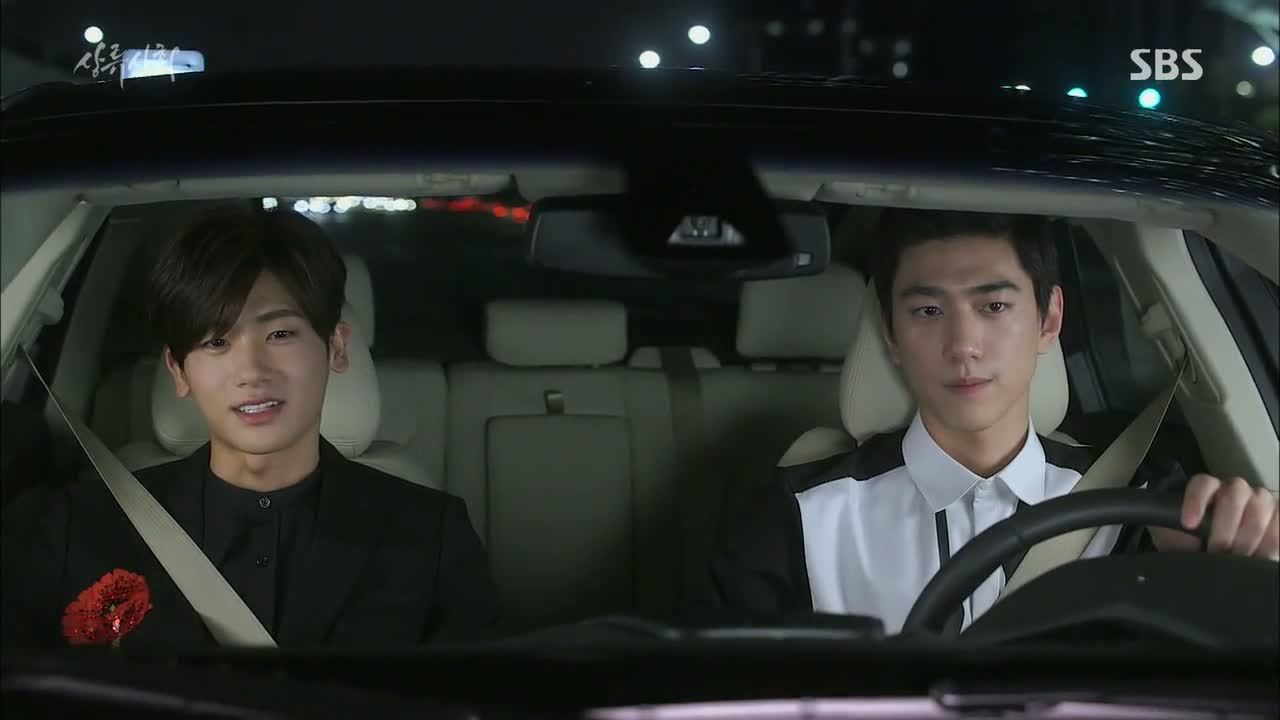 Joon-ki points out that Chang-soo holds a smaller percentage than his elder brother, to which Chang-soo says he own real estate, which is a better investment. He scoffs at Chang-soo's mention of meeting his ex who seems to harbor a lot of grudges against him—they must share some common ground then since it seems like Chang-soo's also holding a lot of grudges against him lately.
Chang-soo takes a beat before saying that he'd never talk about his friend behind his back, and Joon-ki changes the subject by asking after his buddy's future with Ji-yi. Chang-soo turns the question back on him, and Joon-ki replies, "How can a man and woman date each other if they already know what the outcome is?"
He disagrees when Chang-soo says it's the same for him: "You've already determined the outcome."
The mood is still strained between them while they wait for their ladies outside. That's when the limo pulls up and Ji-yi and Yoon-ha emerge in their fancy dresses.
Chang-soo breaks into a smile, but then starts to be a tease, telling Ji-yi that he won't say what she wants to hear from him. Ji-yi pouts, and Chang-soo returns, "You'd think I'd fall for it, didn't you?" Ji-yi scowls back, "Can't you just say that I look pretty?"
Both pair of friends look at their partners for the evening—one friendship on the mend, the other threatening to come apart at the seams.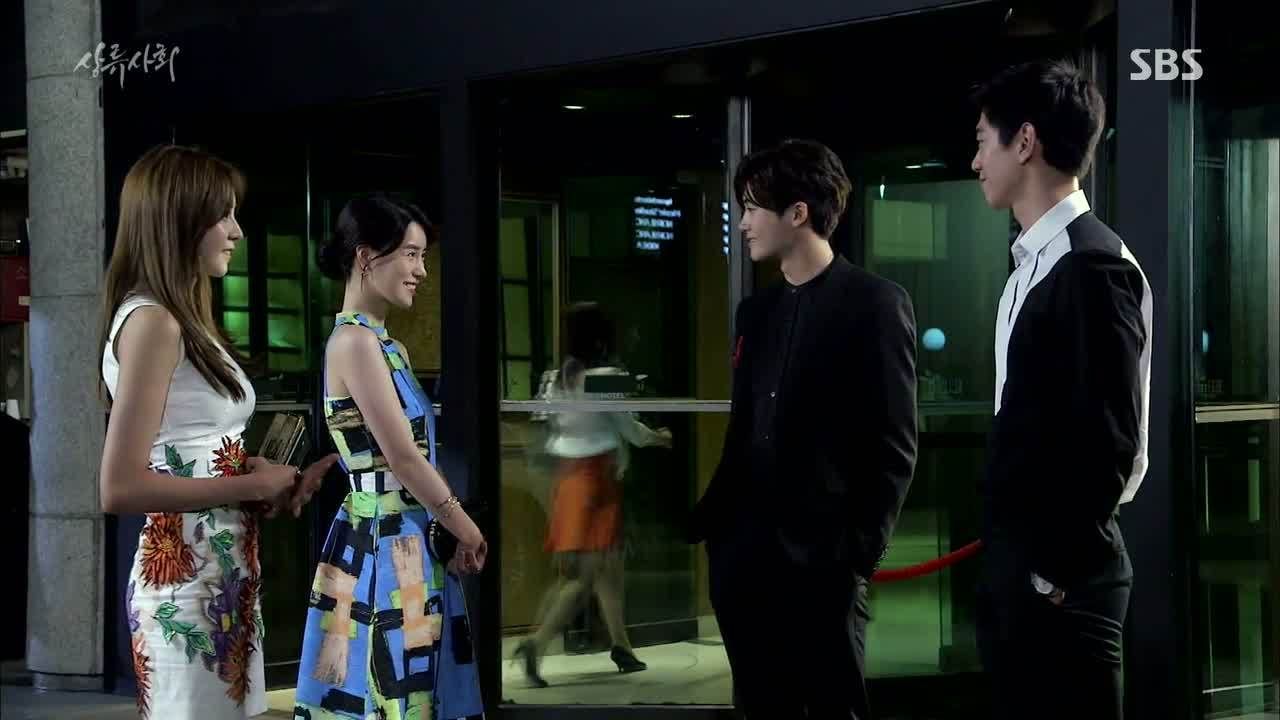 COMMENTS
We're at a weird place with both of our friendships, and to be frank, I feel more awkward for our main four characters in that last shot than they do. The revelation of Yoon-ha's wealthy family and that's why she and Chang-soo run in the same social circles has led to two different outcomes between them: one friendship has reconciled rather quickly while the other is shaken from its foundation. Of these two, I'm drawn to how Chang-soo is faced with questioning the one friendship he never had to before. We know that he hates to feel used by others, and at present, he's still scoping out the situation with Joon-ki. He even calls Joon-ki's bluff when told to come right out with it, and it's Joon-ki who then clams up again.
It doesn't help that our leading couple are people we still don't quite fully understand in this series. You'd think by the halfway point in a series, you would at least know a main character's motivation regardless of whether it makes sense or not, or if you do or don't agree with it. It's the idea of clueing us in as viewers that's essential if we're to follow along in step with them, and yet we're still left in the dark. Instead you have Joon-ki, who has remained a mostly static character who may or may not have a grand plan for success in place, and a heroine who touts ideals that get cast aside not long afterward.
So because there's so little to decipher from Joon-ki the cipher, my attention is drawn to Yoon-ha. Even if we were to call the jinx a fluke, there have been other instances since then where her behavior doesn't match the words she professes. It blows my mind to think that her most important ideals like earning money to be financially independent and placing emotional and physical distance from her crazy family were discarded when a convenient plot point suddenly became important. More than the idea that a show needs to keep its story chugging along, it's the fact that doing away with Yoon-ha's core principles pokes holes in the veracity of the high-minded declarations she makes. In other words, the more you break down a character's integrity in the decisions that she makes and the actions that follow, the less reason I have to care for her as a viewer.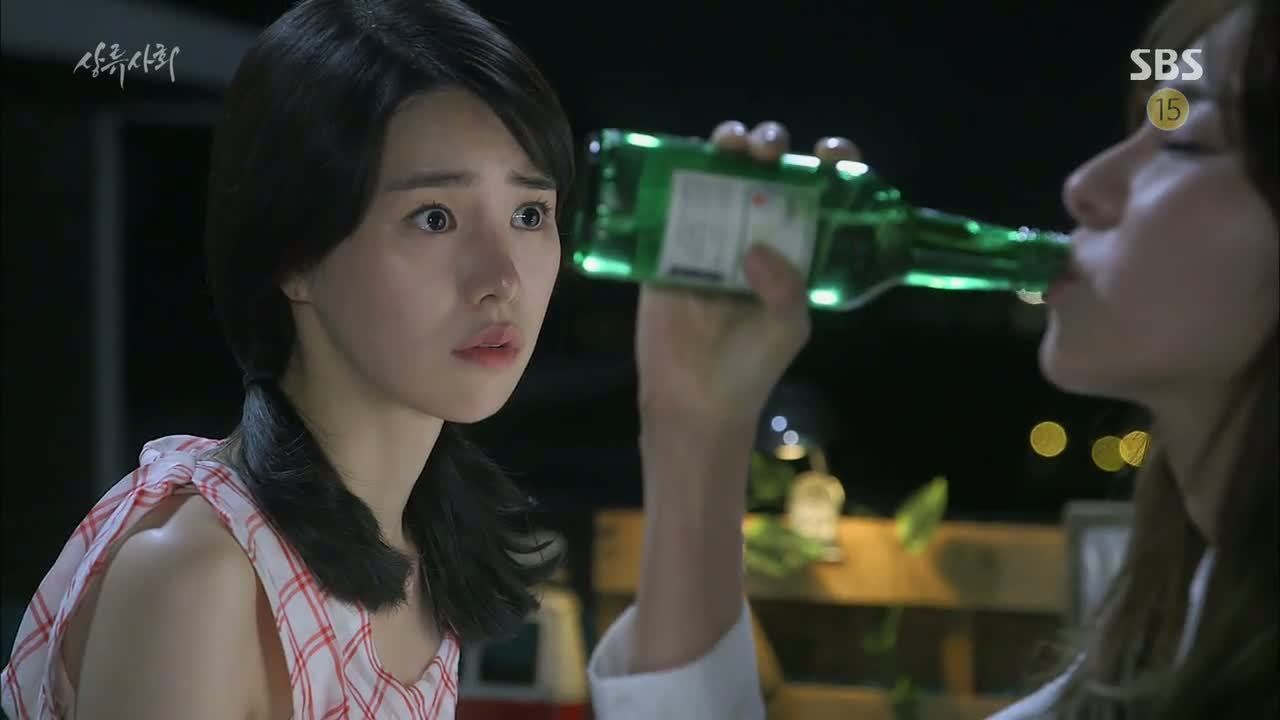 What should be a moment of pity for her as Yoon-ha opens up to her best friend — who must be an actual saint — I couldn't help but think how unfair Ji-yi has it being friends with Yoon-ha. And how Yoon-ha thought of how understanding Ji-yi would be about keeping her in the dark, only to be upset when her friend was legitimately hurt over it. Ji-yi's unconditional love for Yoon-ha is one of the slim threads that keep us connected to Yoon-ha. One can only hope that Yoon-ha won't think that she can fall back on the idea that Ji-yi will accept her no matter what to do whatever she likes, following Chang-soo's words of advice about not taking advantage of Ji-yi's sweet nature.
Yoon-ha's family is an even stranger lot of beings, because they actually think that Yoon-ha is some sort of strategic mastermind. It's a warning bell when the dumbest sister is the one coming up with the smartest hypothesis in the hour, because it shows promise that the writer can insert sense and logic into its characters but using the least important mouthpieces to do so. What's even more mind-boggling is how the last fifteen minutes tried to balance the idea of her newest determination of working at Taejin (when she was prepared to take her Taejin perks and be financially independent not too long ago) and make it up to her friend with things presumably bought with her family's money. Next thing you know, they'll be telling us that her relationship is a sha—… wait a minute.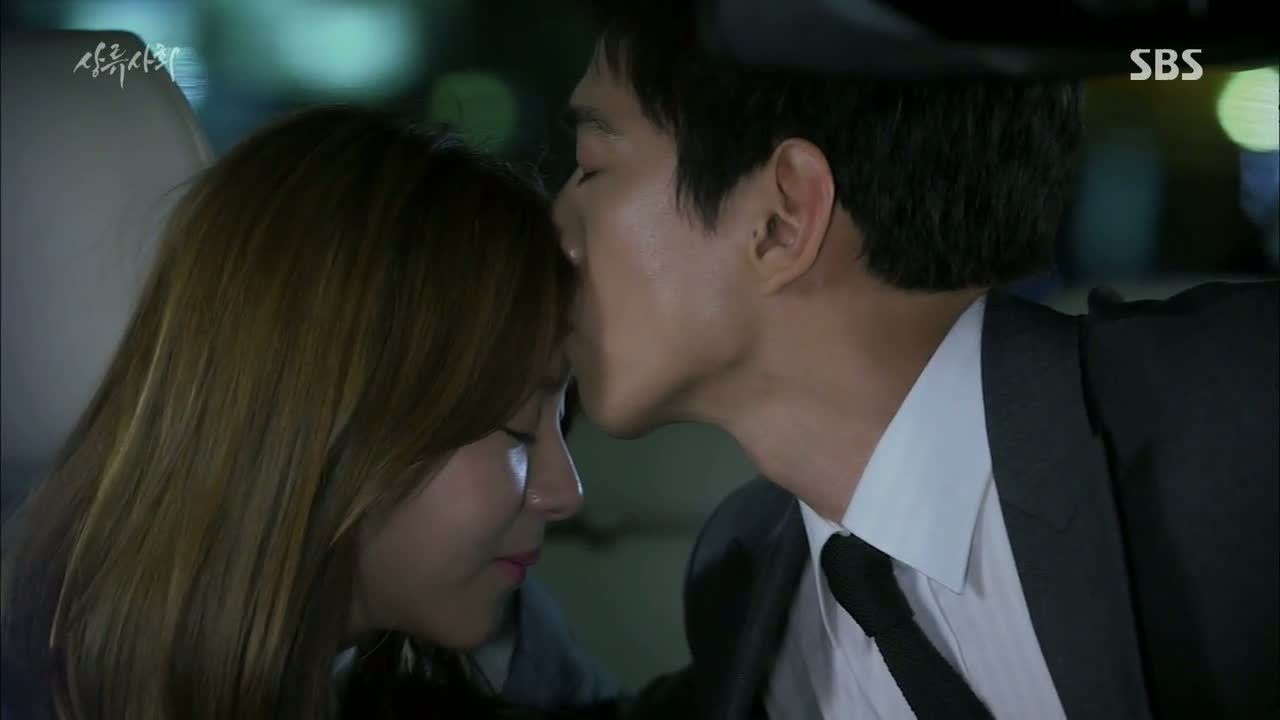 RELATED POSTS
Tags: featured, High Society, Im Ji-yeon, Park Hyung-shik, Sung Joon, UEE