I Remember You: Episode 11
The Big Reveal is here, and we're given much more than just the identity of Lee Joon-young. The attempt to humanize him and evoke sympathy is somewhat successful, in that we realize the dire circumstances that created the monster he became. In that same vein, we see the reflection of those circumstances—loneliness and abandonment—in Min's upbringing and how that affected his current being. It's a strong case for the argument that monsters are created, as victims of circumstance.

EPISODE 11: "Birth of a Monster"
Ji-an recalls her fear of death in the moment and admits that she was scared she would never see Hyun again. He steps closer to confirm that she's alive and that he's here, and in that moment, Ji-an goes in for a kiss.
Hyun reacts stoically, and Ji-an opens her eyes mid-kiss, suddenly realizing her mistake. She breaks away and desperately searches her mind for an explanation. And she comes up with: "I usually do this when I die and come back to life." *facepalm*
She digs herself a deeper hole by rambling on about natural selection, which gets Hyun to smile in amusement. She concludes her mortification by saying it was instinct and walks away with her things to hide away in embarrassment. Before she locks herself inside the room, Hyun expresses his appreciation for her coming back alive, and she thanks him for finding her.
Hyun notices a black notebook on the table and his smile drops. He flips through the notebook and realizes that it's the Officer Yang's missing notebook. His lips curling into a smile, Hyun deduces that Lee Joon-young saw his ad in the fishing magazine and responded.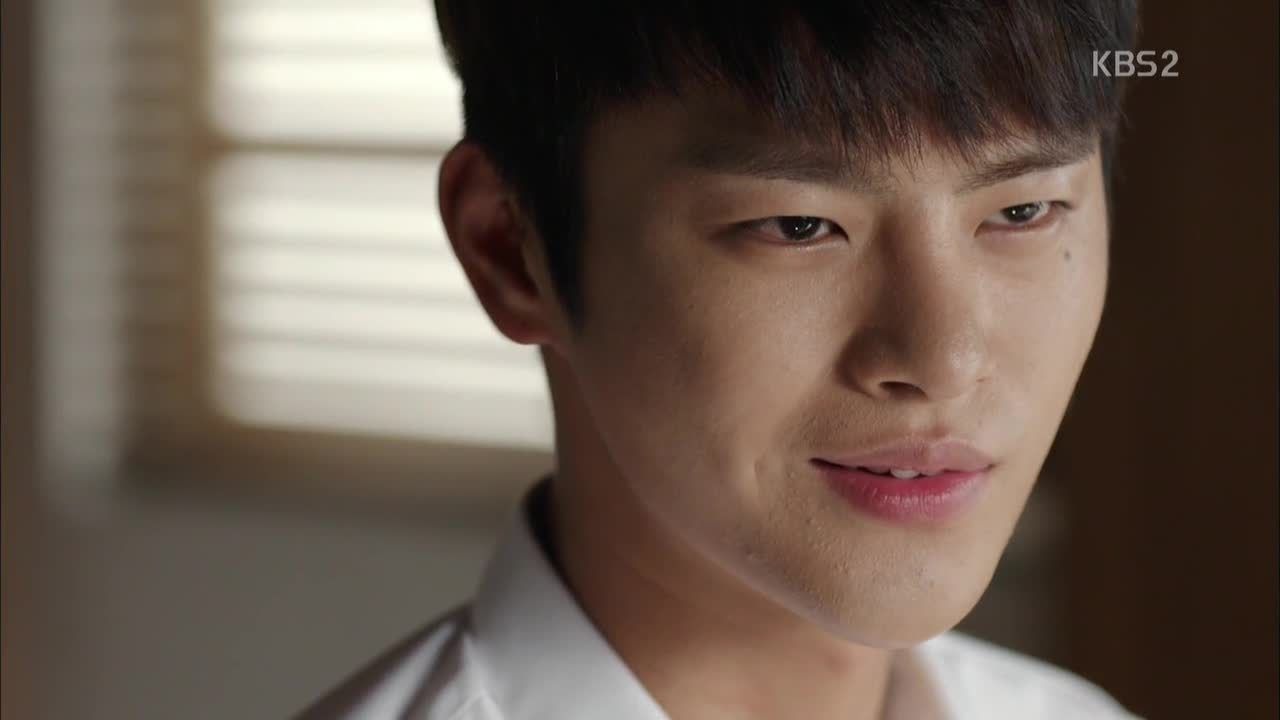 In his basement, Hyun looks at the evidence: the notebook, newspaper clippings, and the banks account book. He decides that whatever he finds, he won't run away anymore.
Ji-an kick the air in frustration, wondering if she should have just died then instead of dying of mortification now. She turns towards the door and sees Hyun staring at her. He shows her the notebook and tells her that Lee Joon-young seems to have paid him a visit.
Joon-ho sharpens his knife in his kitchen and makes dinner. He looks out of his window and smiles eerily.
The next morning, Hyun and Ji-an follow the clues in the notebook to a small village home, where a family and 13 workers disappeared overnight in 1993. It's a cold case, but Hyun figures that the case will probably show them more about Lee Joon-young.
Walking through the home, Ji-an shrieks in surprise when a woman runs through the home. Hyun sends her a disapproving look, and she sheepishly admits that she's afraid of ghosts.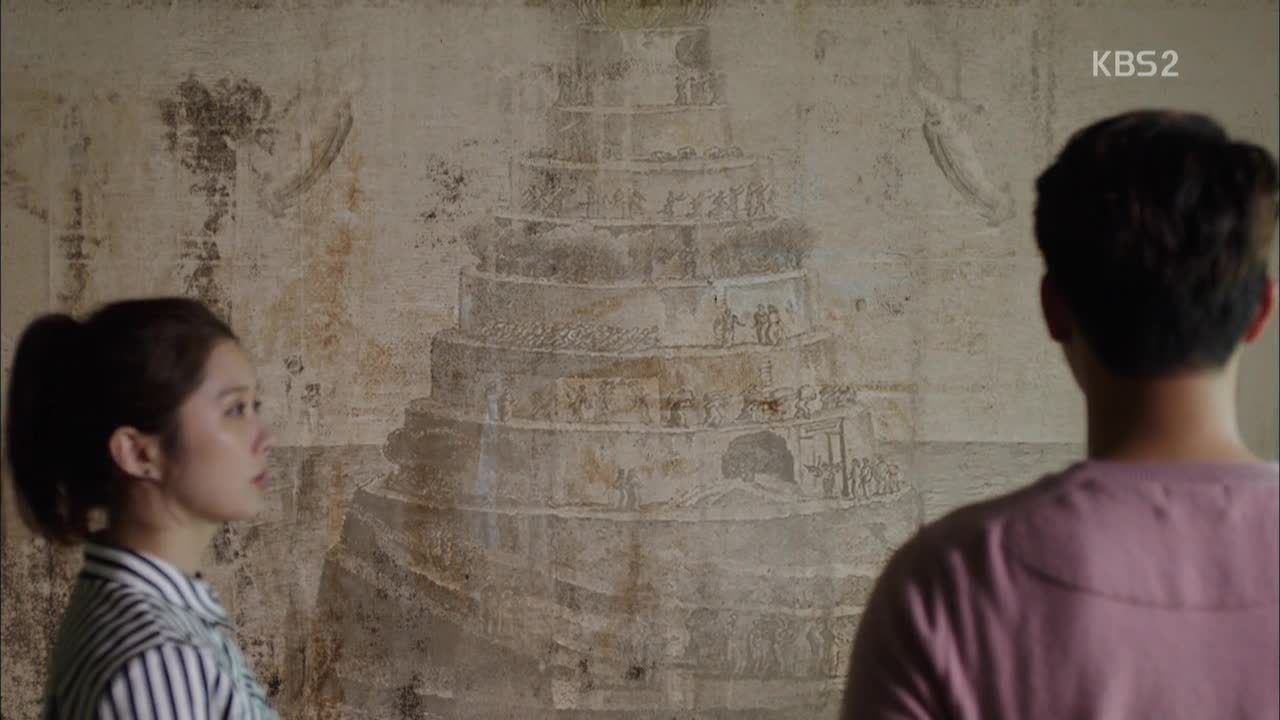 In the room they enter, there's a picture drawn on the wall. Hyun recognizes it as Purgatory, as known under Catholicism. He pounds on the wall, listening for a hollow room, and then he grabs a hammer to knock down the wall.
Min gets a text from "uncle," telling him that the person got to his doorstep. What does that mean?
Hyun breaks down a section of the wall to reveal a secret door. The two enter this room and find a coffin with a skeleton. But why would a body be hidden here?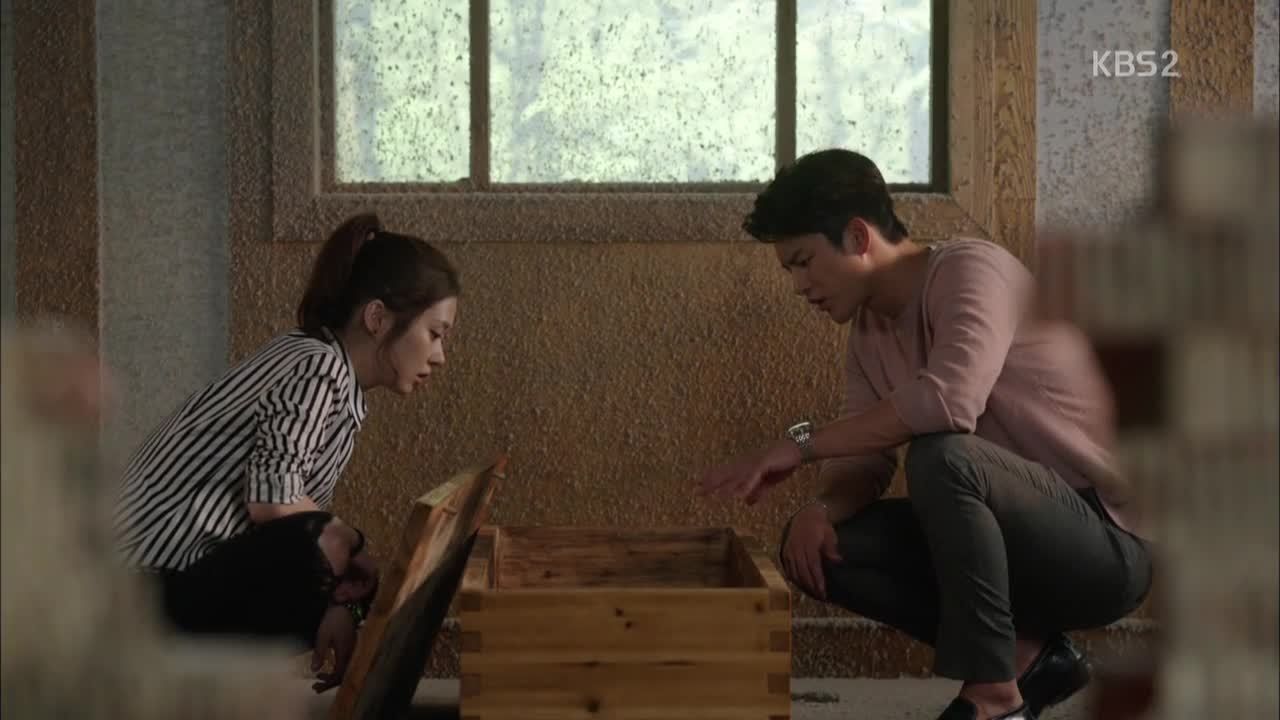 By the sight of the rosary and Catholic symbolism, Hyun presumes that the body was hidden to be erased from memory and, in turn, sin. In Catholicism, if a person committed suicide or was murdered, the body could not reach heaven. With enough time, the case would be forgotten and the person could possibly escape Purgatory.
Hyun recognizes the bone structure to be of a woman, but they need expert eyes to tell them more. And he knows just the person: Joon-ho.
As they leave, Hyun mentions that they should talk to the ghost who's been following them. When they reach the top of the stairs, a woman stares at them through the window, catching Ji-an by surprise.
In the interrogation room, Hyun asks the woman to tell them what she knows. She followed them because she wanted to tell them, right? The woman smiles and says that she had only heard the story through the other workers on the field.
The discovered skeleton was the youngest daughter of the family who lived in the home. One day, she came home severely injured, and soon after, her belly grew. Her pregnancy was hidden from the outside world. When she gave birth, her first words were: "Get that thing away from me."
Our suspect doesn't address the question of rape and continues her story — that the child was raised in private with no record of relations to the family. Looking at Hyun, she pointedly mentions that the child was different. His mother, family, and everyone despised and feared him. As a result, he spent most of the time alone.
Hyun realizes now that Lee Joon-young had possibly been telling the truth in his interrogations with his father, though his father thought they were all lies. Our storyteller continues: After his mother committed suicide, the child was trapped alone forever. She became his only contact with the outside world, as she delivered his meals. Sometimes, she would bring him books to keep him company.
They ask if she remembers this child's face, and she tells them with certainty that she does. Hyun and Ji-an stare at the drawing of this child, a match to Lee Joon-young.
Team Leader Kang returns to work with a cast, and his team celebrates his return with a welcome back party. Just as Myung-woo begins to cut the cake, Team Leader Kang stands up for another dramatically boring speech about the lessons he's learned and how beautiful life is.
He suddenly stops when he notices Ji-an isn't present. She exits the interrogation room with Hyun, who passes by the party with little care. Ji-an sticks around just long enough to suggest other purposes of cake, and a cake smearing party ensues.
Hyun drives away, thinking back to the rest of the story. On the day that everyone disappeared from the home, the woman had released Joon-young. She was knocked unconscious, and she woke up to all the dead bodies in the home. Hyun imagines this scene with Lee Joon-young, looking innocently sinister.
Joon-ho puts together the bones of the discovered skeleton, and he takes off his gloves to touch the bones with his bare hands. He says aloud, "It's been a long time… Mom." Yes, he is Lee Joon-young.
From behind, someone comments on his reunion with his mom. It's Lawyer Jung, and Joon-ho tells him that Hyun will arrive soon. Joon-ho asks why he prompted his hyung to come. "What do you really want, Min?"
Min asks right back, "Then what about you, Uncle? Didn't you want to see him again, going so far to live next to him?" Joon-ho confirms that possibility and tells Min to share his reason. "I just wanted him to know."
Before he answers what he wanted Hyun to know, Min decides to leave. He doesn't want Hyun to figure everything out like this. Now that wouldn't be fun, would it?
As he thinks back to his childhood, Min clarifies what he wants Hyun to know, "What it's like to be abandoned, to be completely forgotten, to disappear. I want hyung to know that feeling. I want to show him what his abandoned brother became."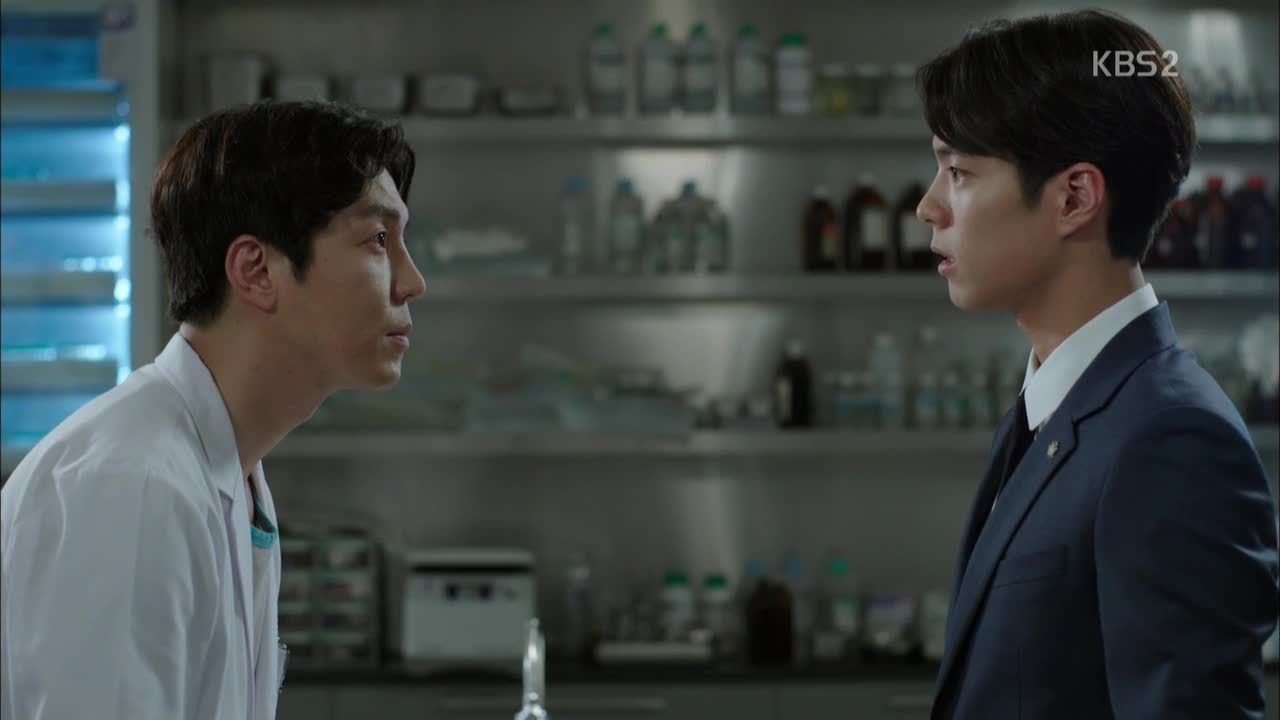 Hyun catches him walking out and asks for his help. The Three Musketeers reunite in the autopsy room, where Hyun explains how he found the skeleton. He wanted to meet someone, and the response to his message was this body. He prefaces their involvement with their helpfulness in their previous case and asks for their thoughts.
Min suggests that this woman's skeleton may hold the person's story. The person may be hoping for understanding, even possibly sympathy. Joon-ho confirms this possibility, saying that some people search for that one person's understanding. Min agrees, "Humans are feeble, no matter how strong they seem."
Hyun accepts their points as valid, but he admits that he's not interested in understanding or sympathy. He's distracted by a message from Ji-an, asking if he needs anything from the supermarket. That prompts his leave, and he suggests that the three of them go out for soju later.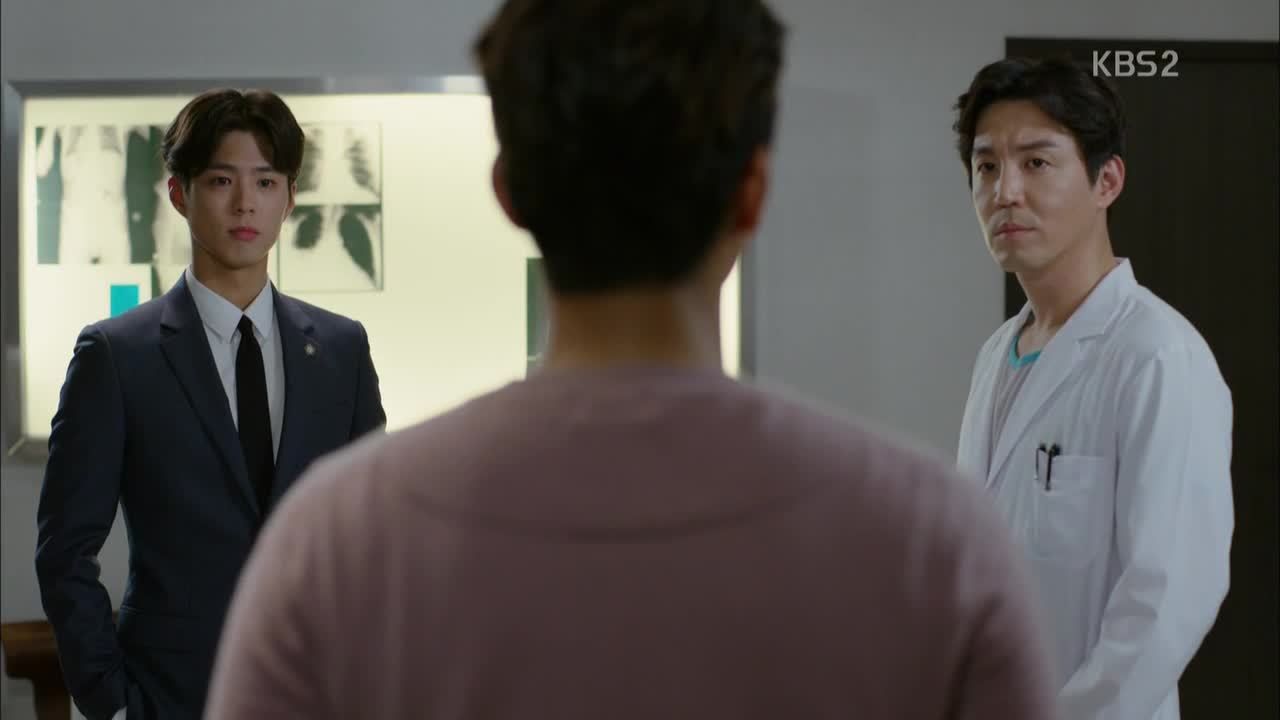 Hyun finds Ji-an grocery shopping and takes over. Ji-an mentions that she should host Joon-ho and Lawyer Jung some time, since they helped save her. Hyun doesn't think it's a good idea and suggests that she stay away from those two. As he walks off, Ji-an wonders if he's just jealous.
Their next stop is the pillow shop, where Ji-an explains that she suffers from neck and back pain because she faced off one hell of a guy recently. The employee sends Hyun some cheeky looks and recommends their second best pillow because the number one pillow is your lover's arm pillow. The two wade in the awkward assumption. Haha.
Hyun cleans the house and ponders why he returned to Korea each time, which correlates with the murders and bank deposits that occurred. Ji-an offers to help clean, but Hyun doesn't allow her to impose on his hobby.
He asks his stalker if she remembers why he returned to Korea, and though Ji-an initially shakes her head, she remembers each reason. A theory competition and special lecture in 2011, the detective institute in 2012, and his first summer break as a professor in 2013. He asks Ji-an to tell him everything that he did during these times.
Sitting together on the stairs, Ji-an recalls that he would have fans who'd give him gifts every time he came to Korea. Hyun only now remembers these gifts and realizes that he never opened them.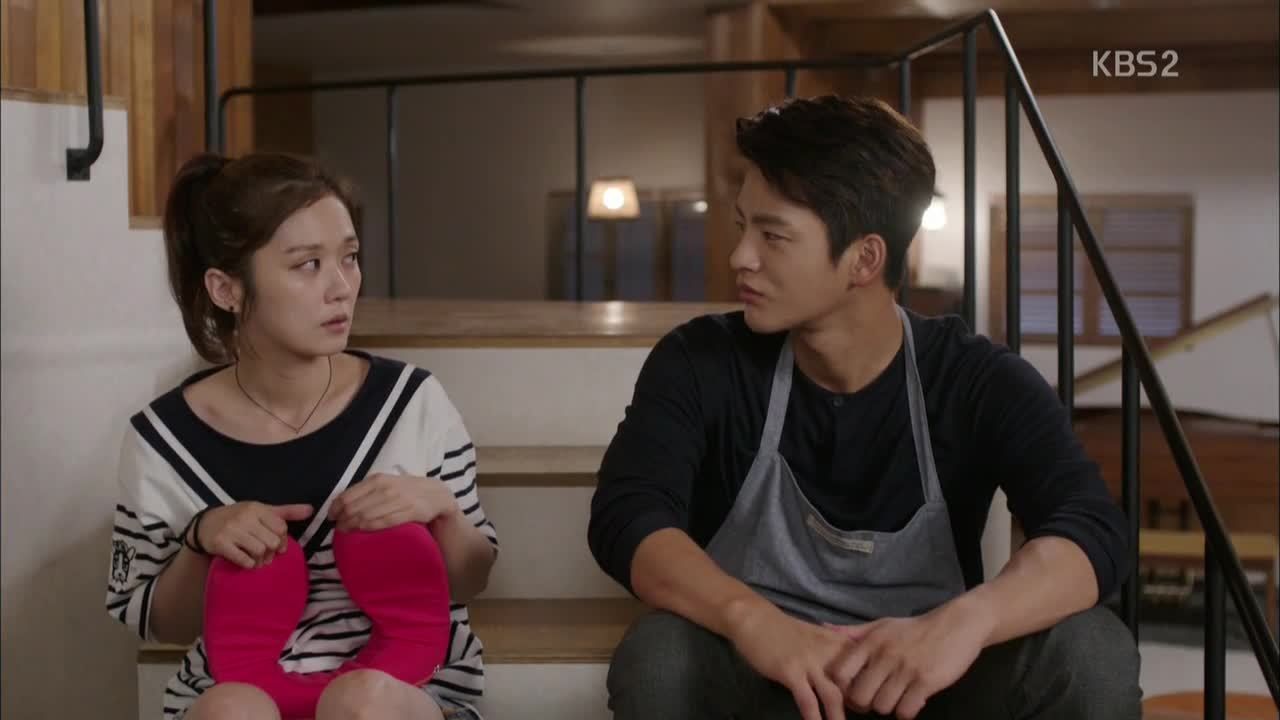 He thanks Ji-an by patting her on the head and complimenting that she's useful sometimes. And she returns the gesture, saying that she'll wait. In her head, she clarifies that she'll wait for Hyun to explain the story behind his brother.
Staring at Ji-an, Hyun's smile drops, and he tells her that his mind is complicated. As Ji-an shrugs and walks away, Hyun calls for a favor in English, which earns him a glare from and English-illiterate Ji-an.
The team is on a new case, this time with the death of a minor, a high school boy. Ji-an and Hyun arrive at the scene together, and Myung-woo tries to recall why this is so suspicious. He vaguely remembers their conversation that hinted that they lived together, but Hyun snaps him out of his recollection.
Joon-ho analyzes the wounds on the student, who has no form of identification on him. Myung-woo insists that it's a crime committed by a peer, and Joon-ho specifies that the wounds seem long-term. Hyun adds that typically, this would be a case of family abuse or school bullying. Ji-an suspects that the crime scene isn't necessarily this location, based on the dirt on his shoes and scrapes on his fingers. It seems that someone dragged him to this location.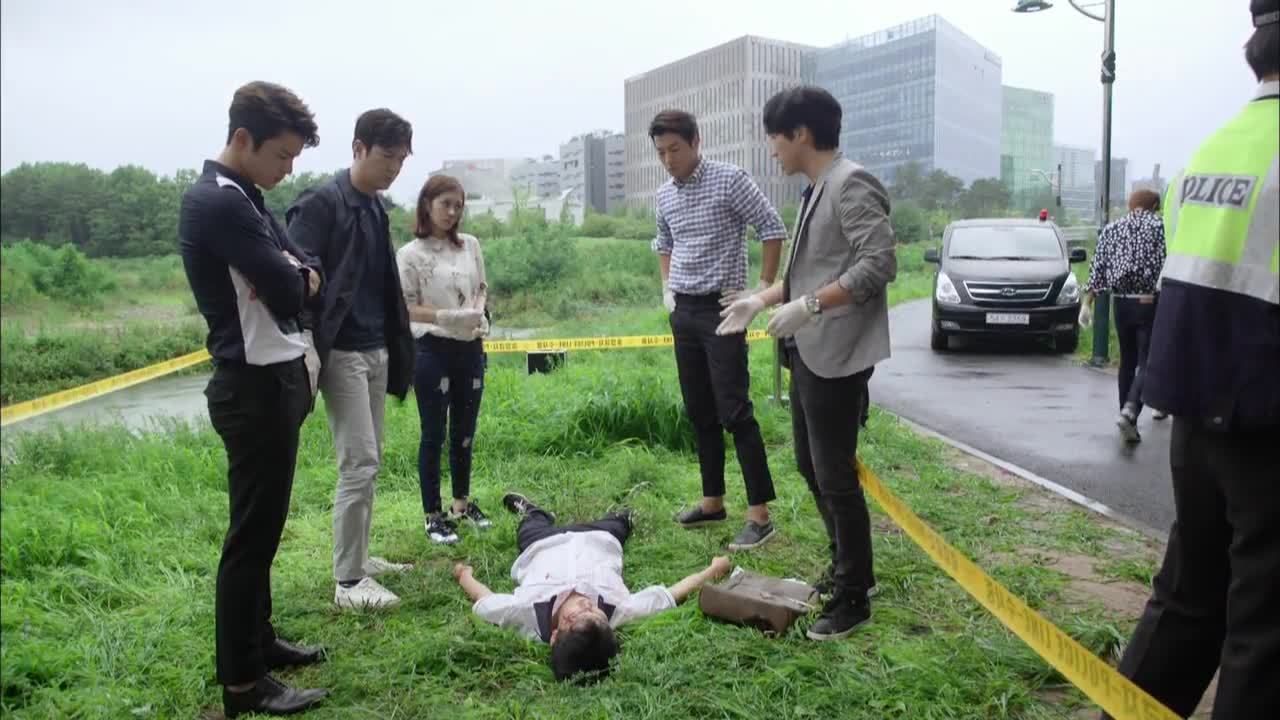 Hyun notices that the student seems to be undernourished, since his clothes are slightly bigger, though Joon-ho notices that the brand of his accessories suggest that he's well off. This location seems to avoid the surveillance of any cameras, making it a perfect spot for undocumented abuse. Team Leader Kang notes that criminals are at times like profilers and asks if Joon-ho is a profiler too. 50/50 chance, try again.
The student's parents come into the autopsy room, and the mother breaks down at the sight of her son. His father hangs back in shock. The mother tells our investigators that Yong-jae was an adopted child, but she cared for him like her own precious child. His father mentions the possibility of the high school gang, and Hyun steps in, seemingly suspecting the parents. Where did they just come from? Could they search their home, if they have nothing to hide?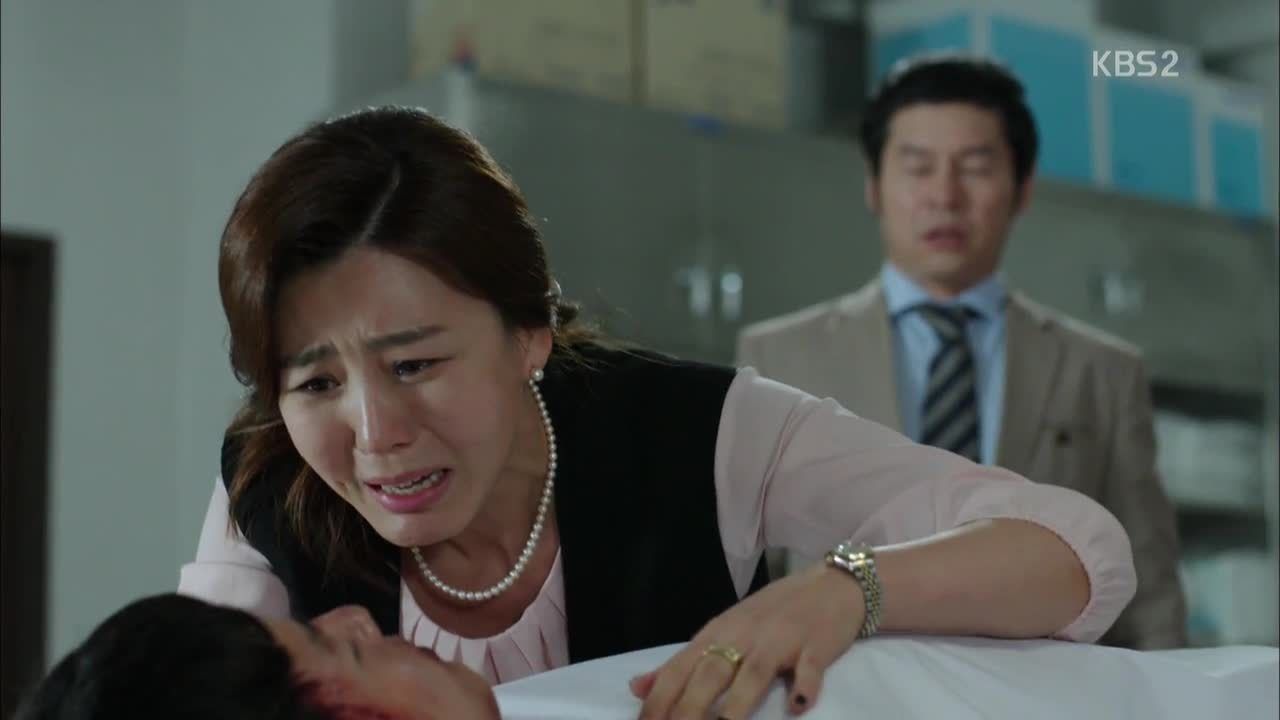 Hyun and Ji-an go through the home, but the search comes up empty, with no useful evidence. Hyun notes that something is off, or possibly it's fitting. The things that the student wears are clean, but the objects that should stay home are quite dirty. He dresses well, but he's messy indoors — kind of like Ji-an.
Hyun takes out a family photo, which he claims to have "borrowed," and it shows Yong-jae isolated from his family. He wonders if our victim suffered from emotional abuse as well.
Eun-bok and Seung-joo find the contact information of the bullies, though they claims something seems off. Myung-woo continues working on the case, and he's met with a delivery man who has a package for David. He offers to give it to Dave, though the man insists on David (ha). Hyun arrives and takes the package.
In his basement, Hyun opens the package and reads the note, which tells him that the remaining 5 boxes will be sent as soon as possible. Hyun takes a deep breath and opens the lavender boxes. They each hold a crossword puzzle and a picture note in the same style as the ones he's been receiving.
Hyun realizes that Min has been trying to send him messages all along. Was he asking Hyun to stop him? He tries to put together the words and numbers in the clues, but he can't seem to figure it out.
In his art studio, Min thinks back to the times he saw Hyun in Korea. Each time a fan delivered his lavender box, Min had watched from afar.
Looking at the crossword puzzles, Hyun finds that the clue cards may not pertain to the message. The flipped mirror image of the crossword puzzles partnered with a binary code reveal a new message.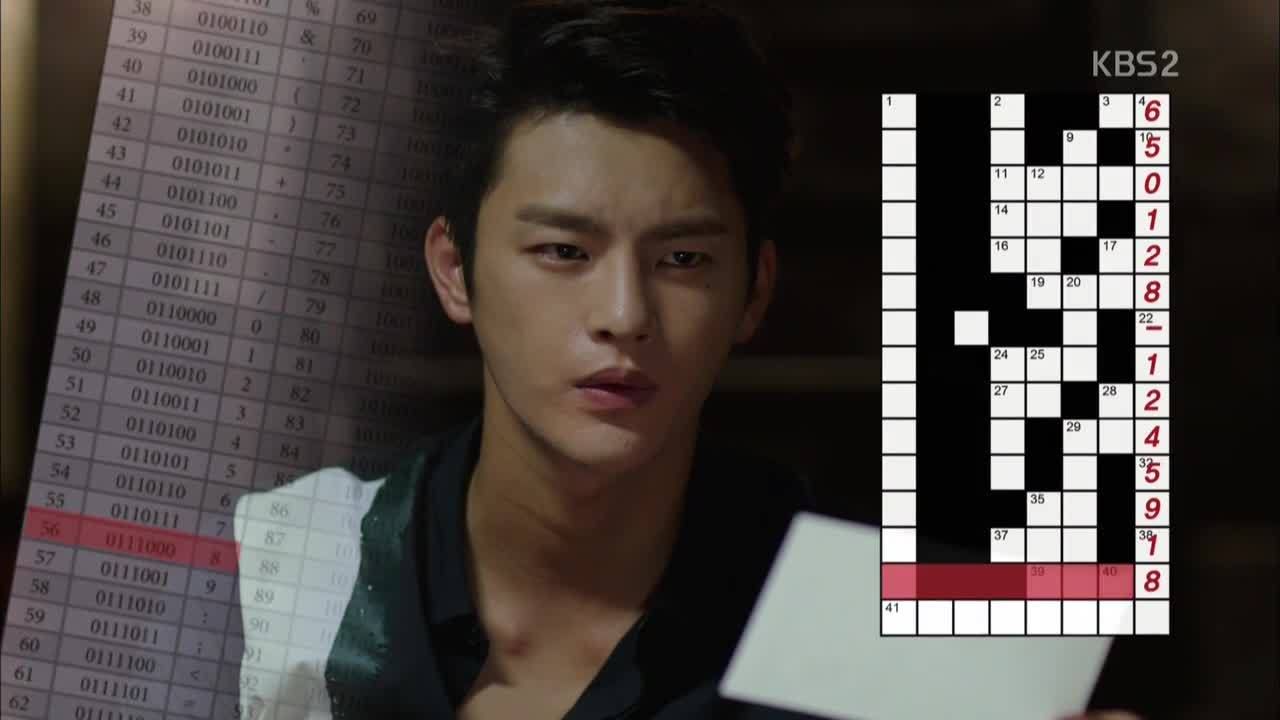 Hyun finds Indebted Friend and asks him to look in to the three people that these numbers pertain to: family issues, relationship issues, relation to crimes, or abandonment. Suddenly, it occurs to him that abandonment could be Min's murder motive.
He asks Indebted Friend to find whether or not these people are related to any of the picture people he shared with him earlier, and this time, Hyun asks for a favor instead of using his debt. Indebted Friend looks surprised, and Hyun follows up by explaining that the friend plays a big role in art, and art is relevant in everything. He gives his friend 3 days.
Our investigative team stakes out for a couple days to find the high school bullies and finally chases them down. Ji-an and Team Leader Kang are stationed by the victim's home. Team Leader Kang tries to make conversation by asking how she's doing, but they're interrupted by Myung-woo's update that they've caught the bullies. But Ji-an exits the car and stays behind, claiming that something still feels off.
When she arrives outside the home, she unexpectedly finds Hyun there. They watch as the victim's family exits from the home happily, seemingly unfazed by the death in the family. Hyun asks Ji-an to request them as witnesses.
Myung-woo and Team Leader Kang interrogate the high school bullies, who keep their mouths shut. But they betray a bit of fear behind their cockiness when Myung-woo slams his laptop threateningly.
Hyun addresses the parents in the interrogation room, with Lawyer Jung there to support their defense. He asks the parents to provide alibis for the day their son died. He claims that something felt very off since the day that they discovered their dead son. In the autopsy room, Joon-ho echoes the same sentiment.
They weren't dressed like people who had worried overnight about their missing son. There were no call records to their son when he was obviously missing, and they had cancelled the hearing at the school for the bullies, even though Yong-jae was clearly affected.
The team finds the surveillance footage of the bullies beating up Yong-jae, but Hyun continues with his theory. He speculates that the parents wanted to cancel their adoption. Did they want Yong-jae to die? Or what about this: Where they relieved that their son had died?
Yong-jae's mother neither confirms nor denies this fact and demands for evidence. In the surveillance footage, a witness passes by. The witness stops but ultimately walks away, ignoring the scene. It's too dark in the footage to tell, but we see that this witness is Yong-jae's mother.
Lawyer Jung thanks Hyun for his imaginative speculations but notes that nothing can be confirmed without evidence. In addition, the parents did not directly kill their son, though they may have abandoned him.
In the elevator, Lawyer Jung asks the parents to come clean, at least in front of him. He's legally bound to keep his clients' secrets, and Yong-jae's mother obliges with the truth.
Hyun meets with Indebted Friend, who followed through with his promise. Indebted Friend hands him an envelope with the information, but Hyun hesitates to open it. He leaves with a simple "Good work," and reluctantly opens the envelope.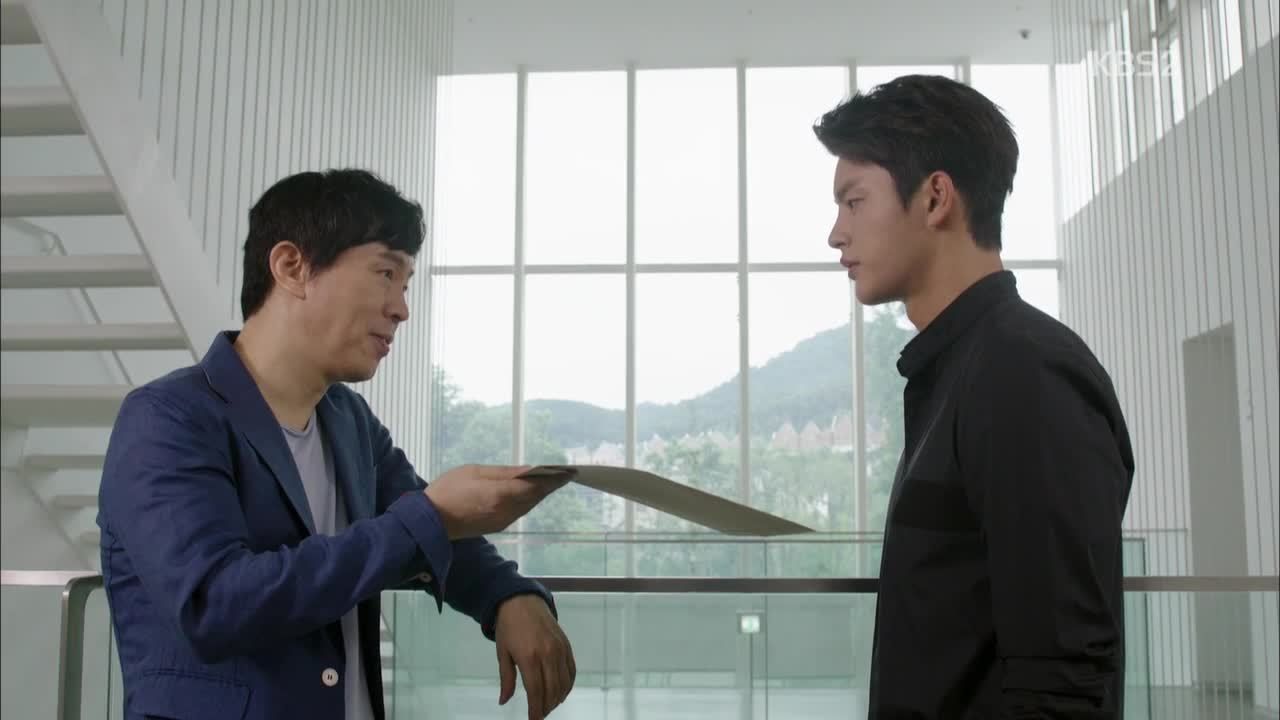 Min stands by Yong-jae's dead body and tells him, "You have a person who's abandoned you but no one who will remember you. Not even your parents, siblings, or friends. I will remember you."
On his way out of the room, he runs into Joon-ho, who watches him suspiciously.
Yong-jae's mother receives a card in the mail, and it's one of the cryptic messages delivered to Hyun and the victims. Uh-oh.
Min drives off, and Hyun stops before taking out the documents in the envelope, already suspecting yet fearing that the one person in the envelope is Min.

COMMENTS
The pace of this show really factors in the development and focus on characters, and I enjoy this introspective look into our three main geniuses/psychopaths. The reveal of Min and Joon-young were not big surprises, and I think the reveals were perfectly timed–keeping us prepared through foreshadowing but also providing us more than just the label on the person. I expected Joon-young's reveal to be a little more unsettling, but I found myself surprisingly sympathetic towards his character. While Hyun may feel little sympathy for the man who killed his father and kidnapped his brother, I can't help but feel sorry for him. He grew up abandoned, unappreciated, and forgotten, suffocated to the point of psychotic revenge on the people who surrounded him. I presume that Hyun will soon feel the same way, or at least show an inkling of sympathy, especially since his younger brother is a perfect reflection of Lee Joon-young.
At the same time, I'm not sure how trusting I should be of Joon-young. It's true that he's made a successful alias as Joon-ho, and it seems like he's thriving by using his genius psychopathic tendencies in a good way. But that's very little to put my trust in. I would like to believe that this gray area, this complexity in his character gives him more humanity, but that would be naïve. Just because he's supposedly a better person now and searches for sympathy by sharing his story, doesn't mean his past just disappears. He still took away Hyun's family and Ji-an's father, and we don't know what role he played as Min's uncle. Did he purposefully create these circumstances to mirror his, so that Min might become the person he became? Was that his attempt at stirring sympathy from Hyun? It's working on me, but you need more than just your sob story to get to robotic Hyun.
Speaking of Hyun's robotic nature, I found his reaction (or lack thereof) to Ji-an's kiss completely hilarious. It was in character of him to just stare at her, and I love that his initial deadpan melted when a flustered Ji-an started making irrelevant excuses for her behavior. Though the romance was muted for this episode, I can see their partnership becoming increasingly stronger, with Hyun realizing Ji-an's usefulness in knowing him. She seems to know him better than himself, and I think he's warmed up to the fact that she obsessively stalked him. It's paying off now, and he's learning to appreciate it. Especially with two psychos on his tail.
RELATED POSTS
Tags: featured, I Remember You, Jang Nara, Seo In-gook