I Remember You: Episode 8
Finally finally finally, we confirm one mysterious piece of Hyun's past — one down, one more to go. Part of the thrill is in how all these little revelations are teasingly hinted at, and when Show decides to put us out of our misery by delivering the final punchline. We get another psychopath-of-the-day, but this episode is really all about the brothers, of the past and the present.

EPISODE 8: "Remember Me"
After Lawyer Jung drops Ji-an off, he purposely leaves a few of her groceries behind in his car before passing the bags to her. As she unlocks the door, an assassin pounces on her from behind, and they ensue in a rather violent brawl. For her petite size, Ji-an's punches don't land softly and the two are pretty evenly matched. Eventually, the assassin throws Ji-an down like a rag doll and corners her, but in his moment of distraction, she stabs his feet with a pen. You go girl.
Hyun compares the painting of the red car that was sent to him in the mail side-by-side with the one of the purple flowers. He thinks back to the stalker that he and Ji-an had during their "date" yesterday, and immediately clues in on the possibility of Ji-an in danger. He drives to her place in a state of anxiety, but his call to Ji-an goes unanswered, and Team Leader Kang doesn't provide any useful information on her whereabouts either.
Lawyer Jung is calmly biding his time outside Ji-an's apartment, and debates to himself if he should let her live. He comes to a decision and heads into her apartment, pelting the assassin with oranges before tackling him into a choke-hold. He whispers an order for the assassin to make his escape, and the assassin bolts. Yup, they are in cahoots.
Ji-an is visibly shaken and Lawyer Jung explains that his "heroic" arrival was due to Ji-an's "forgetfulness" in leaving some of her groceries behind. Hyun arrives just in time to see the assassin running away, but gives up the chase to check on Ji-an. He's suspicious of Lawyer Jung's presence, but in the midst of her explanation, Ji-an faints.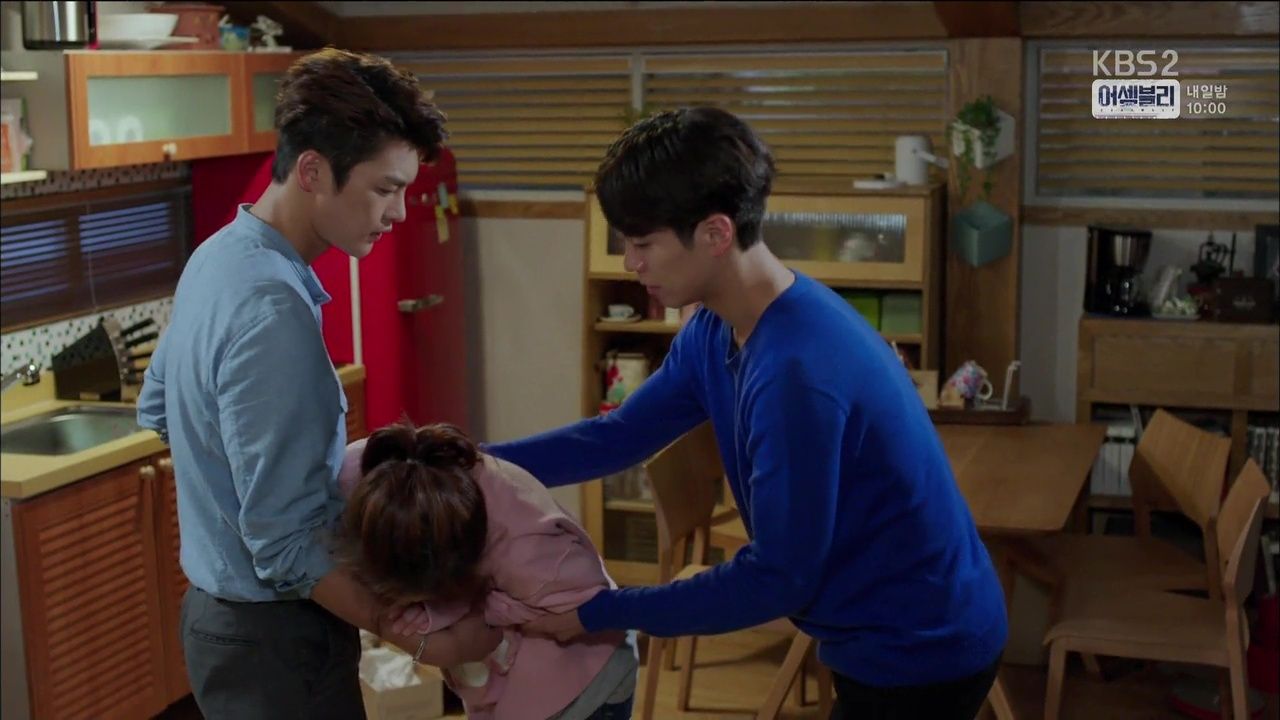 They get her to the hospital, and it's a relief that she only has a minor concussion. Lawyer Jung recounts the details of how he came to be at Ji-an's house, and Hyun fixates on their coincidental bump-in and the car's coincidental breakdown. He brings up Lawyer Jung's skepticism concerning coincidences, and proposes that these occurrences were planned in advance. Lawyer Jung smoothly deflects, labeling it as an opportunity to get closer to Ji-an and Hyun.
Hyun glosses over Lawyer Jung's cover story for now, and suggests purple-flower serial killer Yang Seung-hoon's hand in this attack. Lawyer Jung plays along with this theory, and Hyun is skeptical that Lawyer Jung isn't involved somehow.
Hyun catches Ji-an's head as she nearly rolls off the bed. Aw. Staring at her bruised reflection, she swears to catch the culprit who did this to her. Noticing Hyun's intent stares, she squirms in discomfort and with a small smile, he takes her hint to turn away from her.
Ji-an laments about not having thanked Lawyer Jung enough, and Hyun grumps that she already thanked him more than enough back at her house. Ha, I love huffy Hyun. She understands Hyun's reservations about Lawyer Jung, but states that she felt his genuine concern when he saved her.
Discharging herself, she's shocked to see the yellow police tape on the door of her house. Hyun asks if she has no recollection of her actions, and we see that before heading to the hospital, she secured her house in a daze, despite the guys' protests.
Heading into her house, Ji-an grumbles about the messy state of her place, whereas Hyun deadpans that it's not too different from its usual state, earning a glare from Ji-an. She packs her bag, planning to spend the night at the police station, to deter future attacks from the assassin. Evidently concerned about the threat of Seung-hoon's hired hands, Hyun ekes out half an invitation to his place before he quickly swallows back his words.
He gives her a ride to the police station, but at the last moment, his conscience gnaws at him and he gets incredibly clooose to her to fasten back her seatbelt. He's annoyed at his own concern for her, but he eventually brings Ji-an to his house to stay for the next few days. He thinks he's doing this huge favor for Ji-an, but she claims that he's merely repaying his past debt with interest (since he stayed in her house when he was a murder suspect).
Just as he's about to enlighten her on the layout of the house, Ji-an cuts him off, since her stalking activities allowed her to know the house as well as the back of her hand. He goes all OCD on her, instructing her to touch items only in their assigned space, and she cheerfully agrees.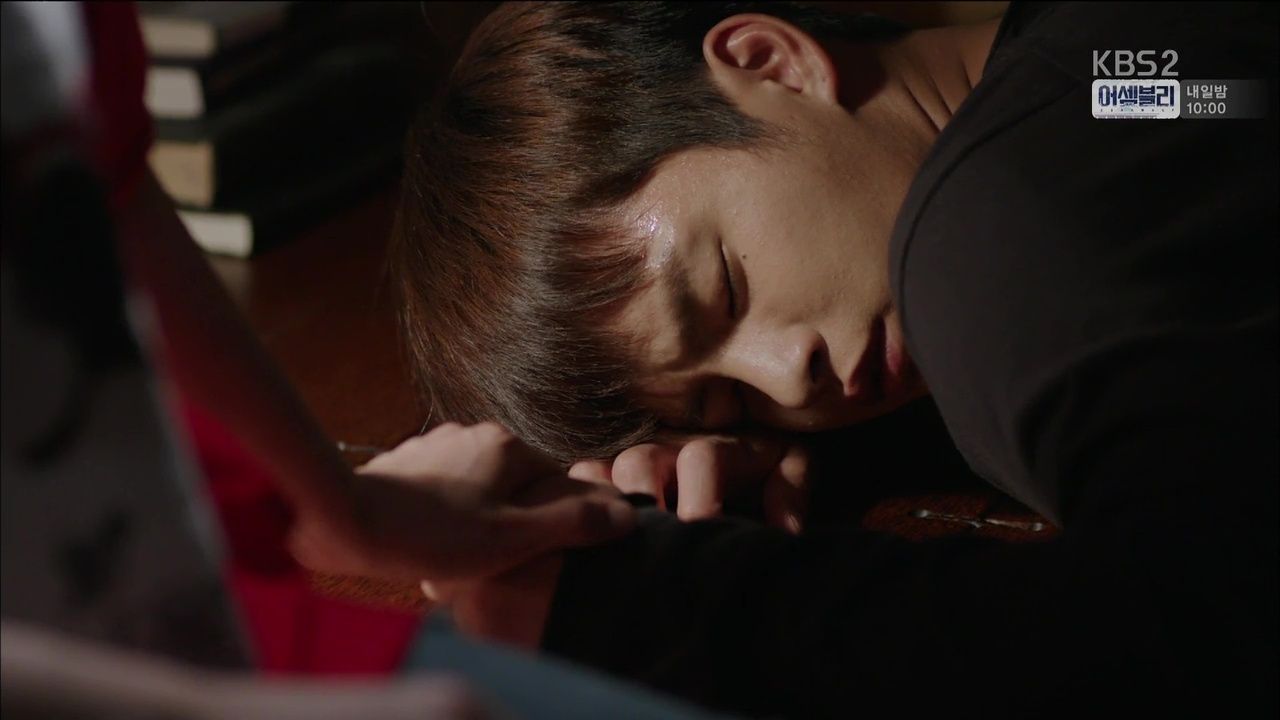 At night, Ji-an is woken up by sounds of Hyun groaning in his sleep. She follows the sounds to the office, where he's hunched over the desk, clearly having a nightmare. Turns out he's reliving the moment little Min was being driven away in someone's car, and he's chasing after it, shouting "No!"
When she tries to wake him up, Hyun utters Min's name, and Ji-an realizes that Hyun's still looking for his little brother. She decides not to wake him, and softly caresses his hand. To her surprise, Hyun grabs onto her hand tightly.
She spends the night sprawled on Hyun's desk, and wakes up the next morning to find him busying himself in the kitchen. She hesitantly asks if he's okay, referring to last night, but he replies that he was extremely put off by her unsolicited venture into his room. He shudders at the memory of waking up to her face and hand-holding, and Ji-an snarks back that he was the one totally holding onto her.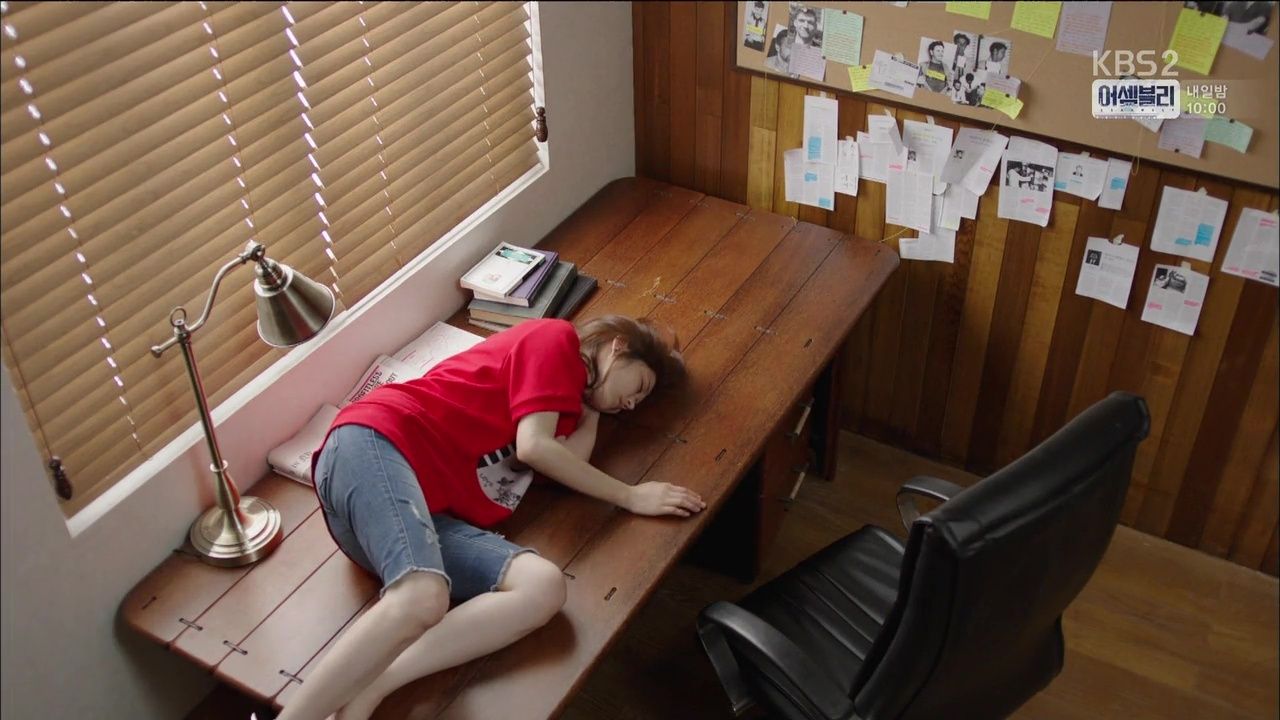 Team Leader Kang calls Ji-an in concern, having seen the police tape at her house, and Chief Hyun is appalled that Ji-an didn't file a police report. She instructs the team to look into Ji-an's past cases, in the event that the attack was a revenge assault. Chief Hyun asks if Ji-an has a place to stay, and at her delayed response, Team Leader Kang offers up his house. Um, except you live with the Deputy Chief.
Lawyer Jung is on the phone with Yang Seung-hoon and says that he's changed his mind (to let Ji-an live). He lays out his cryptic plans to make use of Ji-an to get to his final target (likely Hyun), before getting rid of her himself.
He receives a call from Ji-an, and the two meet up at a cafe. Ji-an relays her suspicions that Seung-hoon's the one behind her attack, since she's responsible for his lock-up in China. Lawyer Jung seems disappointed that that's the only thing Ji-an wants to discuss, but Ji-an expresses her gratitude for saving her once again.
She asks if he has any special interest in her, and he affirms that this is his second time having such an interest in a specific person. She hazards a guess that the first time was for his first love, but Lawyer Jung gives a non-committal response.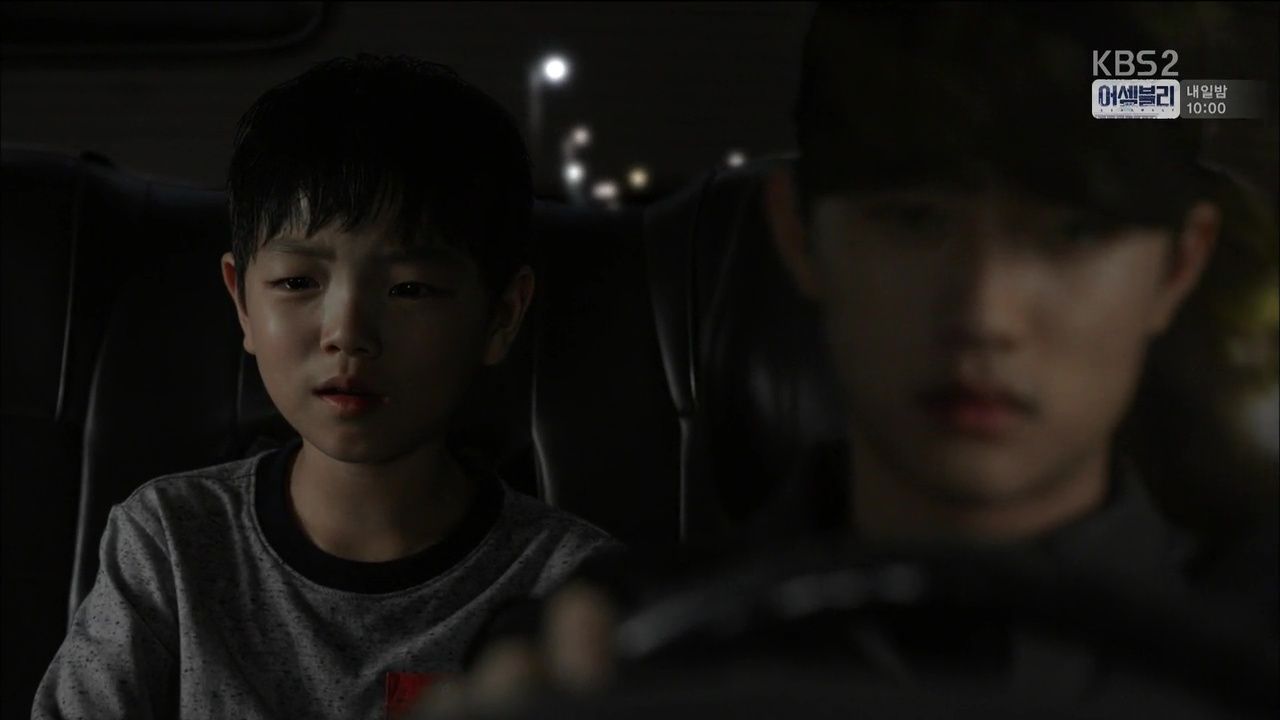 Thinking back to his childhood days as little Min, we see that he was actually referring to big bro Hyun, who was his idol and the person he loved the most. But when Dad locked Hyun up in the basement, Min was neglected and left alone to entertain himself. The night that Joon-young came to kill Dad, Min escapes out of the window, but takes shelter from the rain in a random car. And who else would be the driver of the car but Joon-young.
When Min tries to escape, Joon-young locks the door and drives away, while little Hyun chases desperately after his little brother (same dream that Hyun had earlier). Hyun fell unconscious when he tripped, and Min whines continuously for Hyun during the car ride, but Joon-young doesn't budge. In the present, Lawyer Jung thinks to himself that his brother abandoned him, and gave him over to Joon-young.
Hyun is visiting Joon-ho's office, inquiring about viable methods to commit a murder without leaving a corpse (since Prosecutor Shin mentioned that this was Joon-young's specialty). Joon-ho suggests feasible ways of destroying the corpse, although the key is in disposing the body in a place where it can't be found. For corpse-less serial murders, the murderer would likely have his own unique modus operandi for getting rid of the bodies.
Hyun gets a call from his friend, and heads down to the art gallery to meet him. The friend has found out some information about the two-headed painting, which is that an employee at a certain Incheon shipping company drew a very similar sketch of the double-eyed signature before.
Immediately, Hyun applies for a job there, and the employer is speechless that someone of Hyun's qualifications would want to work with them. Hyun manages to out-talk the employer at every turn, and ends up finagling a part-time job out of the meeting. He starts off his first day by probing about the workers' headcount and shift schedule.
He gets a call from Team Leader Kang, asking why their adviser hardly shows his face at work. But Hyun simply states that he's currently at his part-time job, and Ji-an mutters that this must be the reason she never sees him at home. Myung-woo's ears prick up at the mention of home but Ji-an hurriedly changes topic to her assault case — the team hasn't found a single fingerprint that her attacker left behind.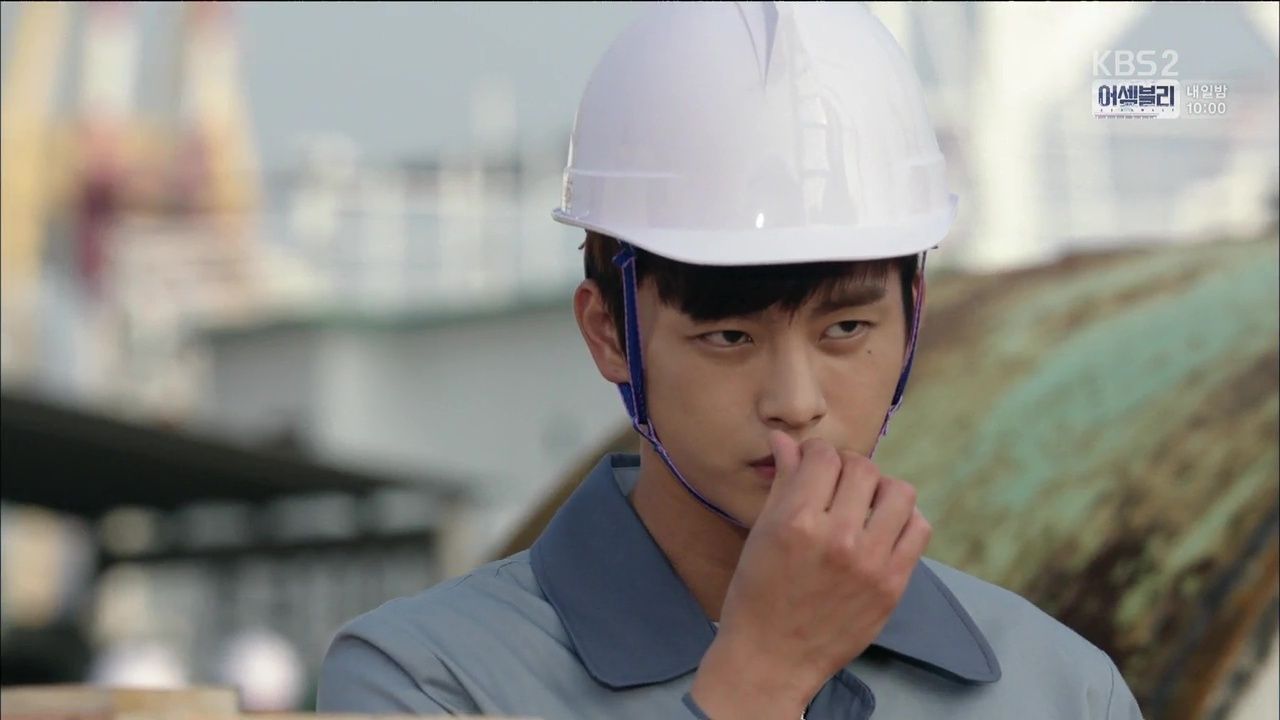 Hyun is hard at work at his part-time job, until his spidey sense zeroes in on blood stains on one of the wooden crates. Suspicious, he overturns the crate, and a body falls out. Eeep. Ji-an's team is specifically called in to investigate this murder, and they adorably puff up a little in pride.
Hyun's boss explains to the team that "a rude new employee" was recently hired, who carelessly dropped a crate that revealed the body of their female bookkeeper. The team asks to interview this eye witness, and they all stop short to see Hyun already crouching over the corpse. They finally put two and two together and realize this is the part-time job he was referring to.
Having been contacted by Hyun, Joon-ho arrives on site soon after. He carries out his investigation, and hypothesizes the cause of death to be an injury to the brain. There are also signs of self-defense, so the murderer's DNA might have been left under the victim's nails. Joon-ho's unsure about the time of death since the body seemed to have been refrigerated, but Hyun's boss helpfully adds that the victim came to work three days ago before disappearing without notice.
Hyun and Joon-ho are on the same page, in that there are too many mistakes for this to be a planned murder, especially since the disposal of the body was unprofessional. The plan was for the wooden crate to be shipped onto the boat, and the special mark on the label would tip off someone on board to throw it into the sea, creating a murder without a body.
Ji-an interrupts Hyun's train of thought, and asks if he's found a clue to lead them to Joon-young. Hyun has no idea what he's looking for, but for now, he will concentrate on finding the murderer of the female worker. Refusing to let him evade the topic, Ji-an plays the partner card and begs him to be honest for once. Hyun poses this question to her: "If you could catch Lee Joon-young, and you did catch him, what would you do?"
She says that she was asked the same during her recent visit with vengeful killer Dae-young. In the flashback, she laments the fact that he chose the path of revenge, but Dae-young tells her not to judge him until she faces her enemy, because she doesn't know if she'd choose revenge too. Ji-an admits that she had no response to that.
Hyun and Ji-an both agree to relate any findings to each other, but before they part, he gently tucks a stray piece of hair behind her ear.
The men of the team split up to search the crate storage room for evidence, and Hyun wonders about the murderer's motive, since no evidence of sexual assault was found.
He mingles with the workers and asks if there's anyone whose relationship with the victim recently experienced a sudden turnaround, for better or for worse. The name Jang Il-joo is floated around, and the workers recall that he has been acting haughtier than usual.
Seung-joo manages to find blood in one section of the room, making it the plausible crime scene. Myung-woo is out in the yard, and spots a suspicious worker roaming about. The worker immediately flees, and Myung-woo chases him down with a flying tackle. In a matter of minutes, he handcuffs the worker, whom I assume to be the Jang Il-joo they're looking for.
Team Leader Kang and Myung-woo successfully persuade Il-joo to come clean with his guilt, and they're ready to close the case with his swift confession. However, Hyun has a different purpose in mind as he heads into the interrogation room and locks the rest of them out. Hyun turns off the cameras and mic in the room, and the rest of the team is bewildered at Hyun's actions.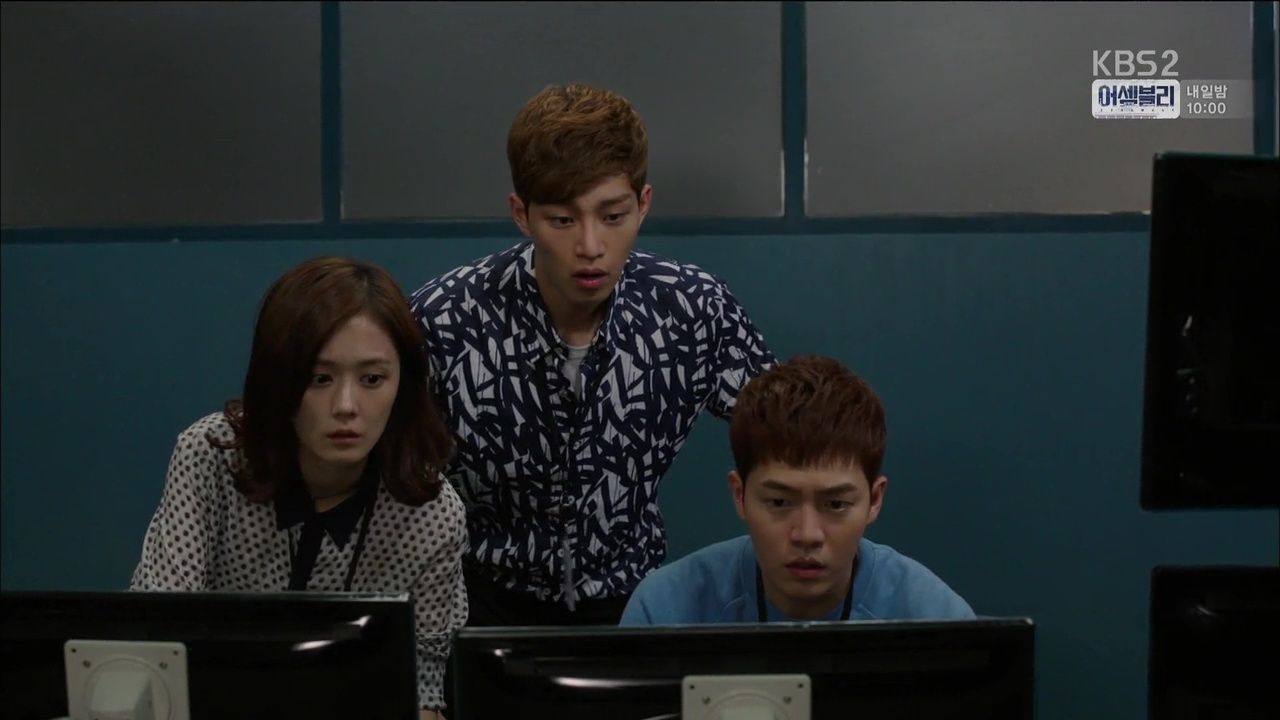 Hyun shows Il-joo a snapshot of the double-eyed signature, and Il-joo's face immediately registers recognition. Confident he's on the right track, Hyun persuades Il-joo to come clean with the truth in exchange for an easier prison sentence. Il-joo admits to killing the victim, because she found him in the middle of transporting a dead body.
He confesses to regularly transporting dead bodies for someone else, but has no idea who the killer is, since all he received was a phone call instructing him to smuggle the delivered boxes onto the ship, where they will eventually be thrown overboard. The boxes were delivered occasionally and Il-joo received a good amount of money for each delivery.
Until one day, he saw what was hidden in the boxes, and spotted the double-eyed symbol on the corpse. His curiosity was aroused and he started to open the boxes to take a look at the drawings on the body parts. And the latest delivered body was… Prosecutor Shin.
Unfortunately, Il-joo can only identify the voice of the caller, having never met him in person. When Hyun asks how many bodies in total he has transported, Il-joo rips his bracelet apart and the beads drop all around him. He says, "One bead per person. As a souvenir." Chills.
The team is fuming that Hyun confronted the suspect off-record, but he merely feigns ignorance that the mic and camera were turned off. He claims that the suspect didn't give him any extra information, but exchanges a glance with Ji-an on the way out.
Lawyer Jung is in his art studio, working on one of his many paintings, with his signature of that distinct symbol. He thinks back to his meeting with Ji-an, where she commented that he must have really liked his first love, humanizing him a little in her eyes. Lawyer Jung states that he actually sees this person from time to time nowadays, but this person doesn't recognize him. Ji-an encourages him to approach the person first, but Lawyer Jung would rather it become a game: Remember me.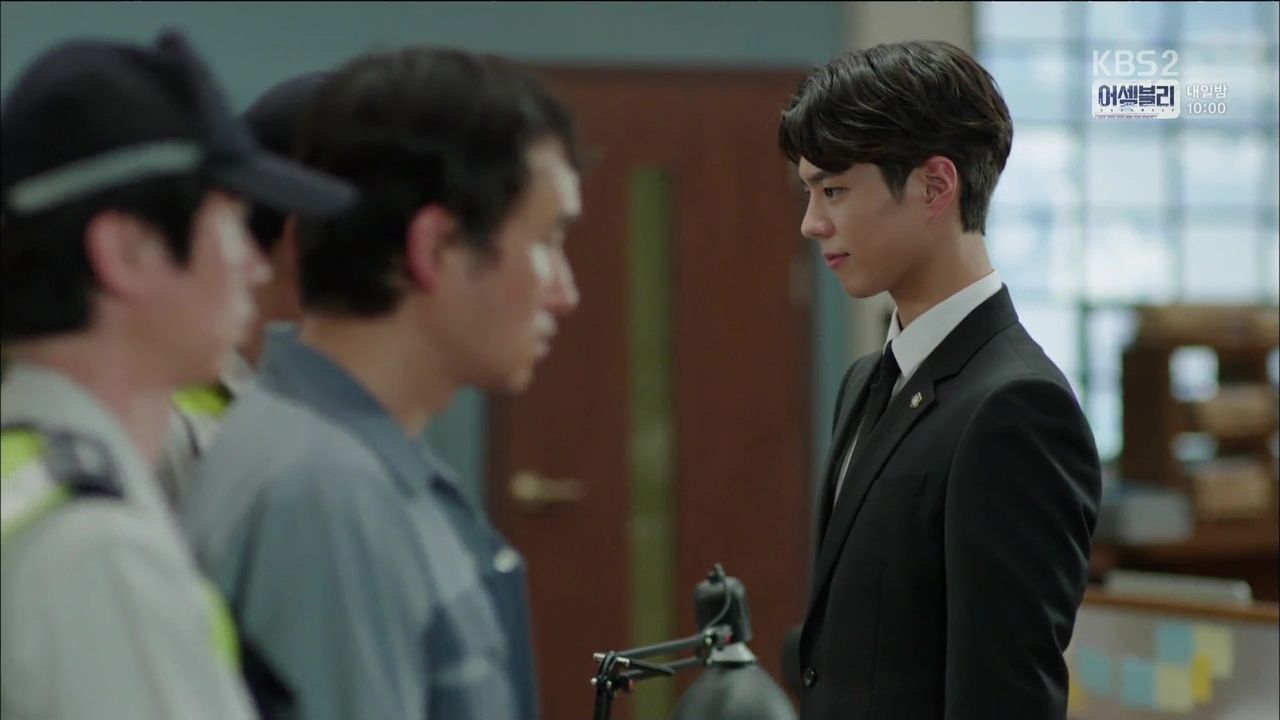 Lawyer Jung arrives at the police station, and body transporter Il-joo stops in his tracks when he overhears Lawyer Jung's voice. The eerie music clues us in that Lawyer Jung must be the caller he's dealing with, but Il-joo hurriedly turns his face away before Lawyer Jung notices.
Walking away from Ji-an, Lawyer Jung's face hardens into an icy stare, while Hyun sits in the interrogation room, cupping the beads and letting them fall. Two brothers. Different sides of the crime.
COMMENTS:
I was holding out hope that Min wouldn't go psycho-evil on us, but I guess if you grew up in the presence of another psycho, it's hard to avoid that fate. This ties in nicely with the never-ending question of the nature of monsters — If Min grew up anywhere else but with Joon-young, could he have avoided this doomed path? While he might be committing these murders just for the thrill, I think a good part of it can be attributed to a little brother seeking attention from his idolized hyung.
Fortunately, the writers haven't forgotten about Seung-hoon who's stuck in China, and the presence of the two-headed painting in that case makes for a plausible theory that Lawyer Jung intended that as a clue for Hyun. If you think about it, that painting was what led Hyun to follow the trail to the port, so it's highly probable that Lawyer Jung already anticipated Hyun's train of thought. It's all a game to him, pushing the limits of how much it will take before Hyun recognizes him. But little does he know that Hyun lost most of his memory regarding his childhood, causing him to only have sporadic memories of Min. It's quite tragic that Min's fervent adoration for his brother has been replaced by pangs of jealousy at Hyun's close relationship with Ji-an and Jung-ha, as well as simmering resentment at being forgotten. He has no qualms in doing whatever it takes to repay that hurt onto his brother, although the question is: How far will he go?
It's quite funny how Show pokes fun at the first-love cliche, when both the interviewer (in Episode 2) and Ji-an mistake the two brothers' childhood obsessions as their first loves. It's telling that while Min's "first love" arrow points to Hyun, Hyun's is directed at Joon-young, due in part to his selective amnesia. And maybe only time will tell if Min's arrow was technically reciprocated, given how desperate little Hyun was in chasing Min.
I hesitate in labeling Lawyer Jung as an antagonist since it's a vague grey area, but I want to give props to the writers for making both the investigator and the criminal equally intelligent. It's fun when the villain outwits the good guys, but it's way more exhilarating when the good guys can reciprocate in equal amounts. A neck-and-neck evenly matched race is miles better. Also, let's give Park Bo-gum a hand for doing a ridiculously splendid job of putting up that innocent facade, which dissolves in seconds to a creepy murderous stare. That subtle duality in Lawyer Jung is a huge factor in this show, and the actor is simply hitting it out of the park.
Ji-an is perhaps my favorite type of heroine ever. Instead of being the typical female lead who squeals over a small paper cut, she kicks ass, fights back against criminals twice her size, and easily brushes off any injuries to her face. In short, she's her own Prince(ss) Charming, and it gets me fully onboard the budding romance between Hyun and her. I totally dig the two-way support system they've built up, seeing how they are comfortable crashing in each other's houses and are starting to treat each other as equals. I vote that they become permanent roomies, even if we have to rotate houses. Also, is it me, or is Hyun flashing a lot more of that attractive smile?
It's an added perspective for Ji-an that she's perhaps not as morally righteous as she has assumed herself to be. Dae-young's words to her definitely left an impact on her, given how she's unable to answer Hyun's question on what she plans to do with Joon-young. It's easy enough for her to say right now that she's not going to head down the path of revenge, but when push comes to shove, and Joon-young really appears in front of her, is she going to be able to hold true to her words? Maybe yes, maybe not. And that's what we're going to find out.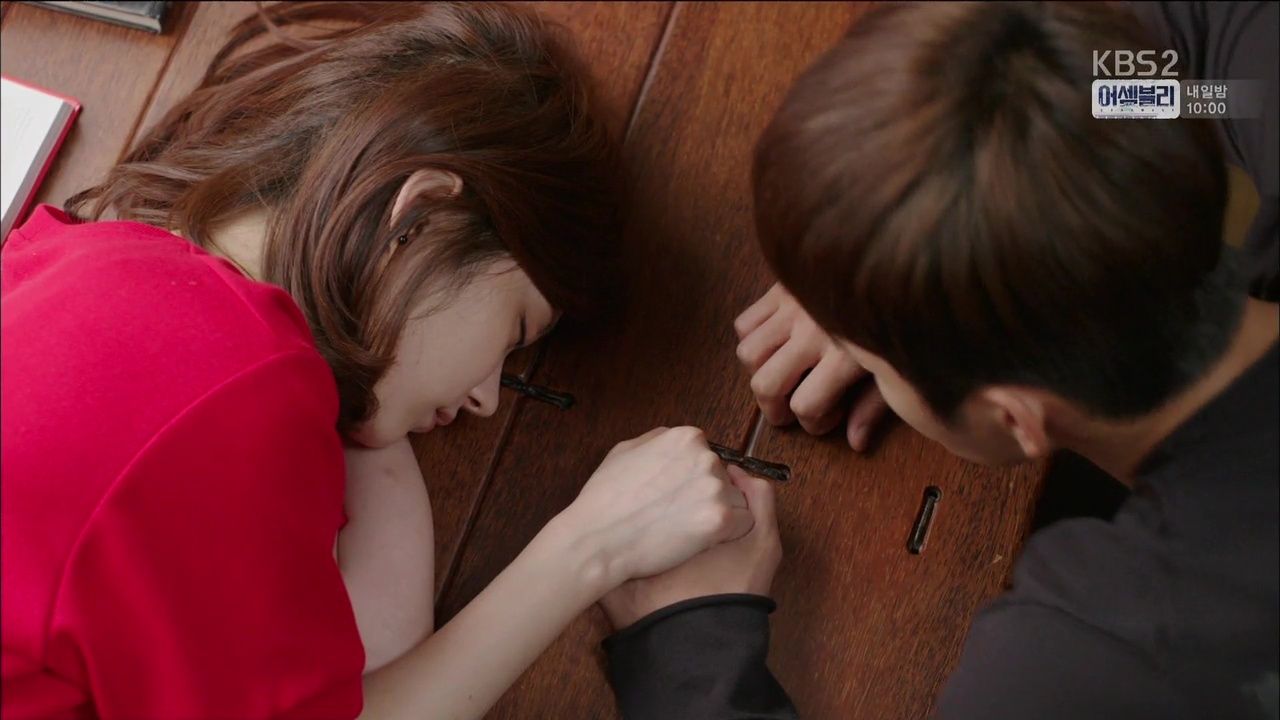 RELATED POSTS
Tags: featured, I Remember You, Jang Nara, Seo In-gook