Mask: Episode 16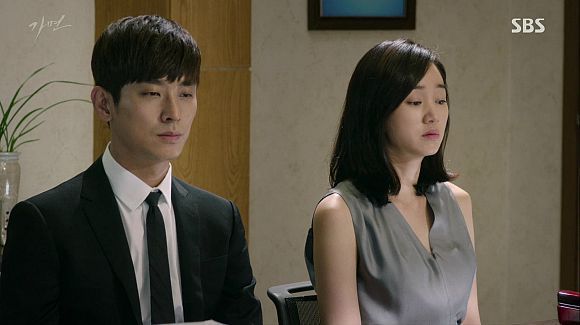 Ji-sook has thwarted Seok-hoon again, which means he's forced to come up with another plan, and we all know how well his on-the-fly plans tend to work out. Especially when just about everyone is onto him, and Ji-sook is no longer scared of him. How far is Seok-hoon willing to go for his revenge, and will Ji-sook and Min-woo find each other again in time?
EPISODE 16: "The Puppet's Heart"
As Ji-sook wraps up her announcement to give half of her SJ shares to charity, the lights above her head start to spark, then fall. Min-woo runs and grabs her, spinning her to safety, and they fall to the stage together.
Everyone is fine and the family goes home, and Seok-hoon promises to get to the bottom of the accident. Considering that the accident was staged by him, but intended to kill Min-woo, I'll say he's more likely planning to find out what went wrong.
In the privacy of their room, Ji-sook tells Min-woo this is what she meant when she said he was in danger. They both suspect Seok-hoon, but can't prove it. Ji-sook asks Min-woo to trust her, and she tells him that they should get a divorce.
Mi-yeon asks Seok-hoon if the lights really were an accident, because she thinks someone did it on purpose. Since he's the one investigating it, she wants to know who was the target, Min-woo or Ji-sook. Knowing the answers to her questions already, she pointedly says that if the target was Min-woo, she'll never forgive the person who planned it.
Min-woo heads downstairs for a drink, stunned by Ji-sook's request for a divorce. In their room, Ji-sook falls asleep and dreams of the two of them standing on opposite sides of a road, smiling at each other. They start to walk towards each other, but before they meet in the middle, a truck barrels down on Min-woo and kills him. Seok-hoon joins them and says that divorce won't stop Min-woo's death.
Ji-sook holds a small press conference about the charity she's going to establish, but alters her original claim to donate fifty percent of her assets — she actually plans to donate ninety percent. Seok-hoon enters the room and she mentions someone else who shares her values, and just throws him right under the bus: "You plan to donate fifty percent of your shares too, right?" I officially love her.
Later Ji-sook says that she knows his entire plan, for her to inherit Min-woo's assets after he's been given the company then find a way to take them from her. He asks if this charity is her plan to stop him, and says that nothing will change if she donates her money, and she should spend it on better things.
She disagrees — the world will change, if people like him change their mindset. She invites him to change the world with her, but he smirks that she should change her perspective or things will get difficult for her.
Papa Choi gets another blackmail letter, this time ordering him to give sixty percent of his assets to Min-woo immediately or the video of Mi-yeon letting Eun-ha drown will be released. He calls Seok-hoon to prepare the necessary documents, and of course Seok-hoon doesn't argue.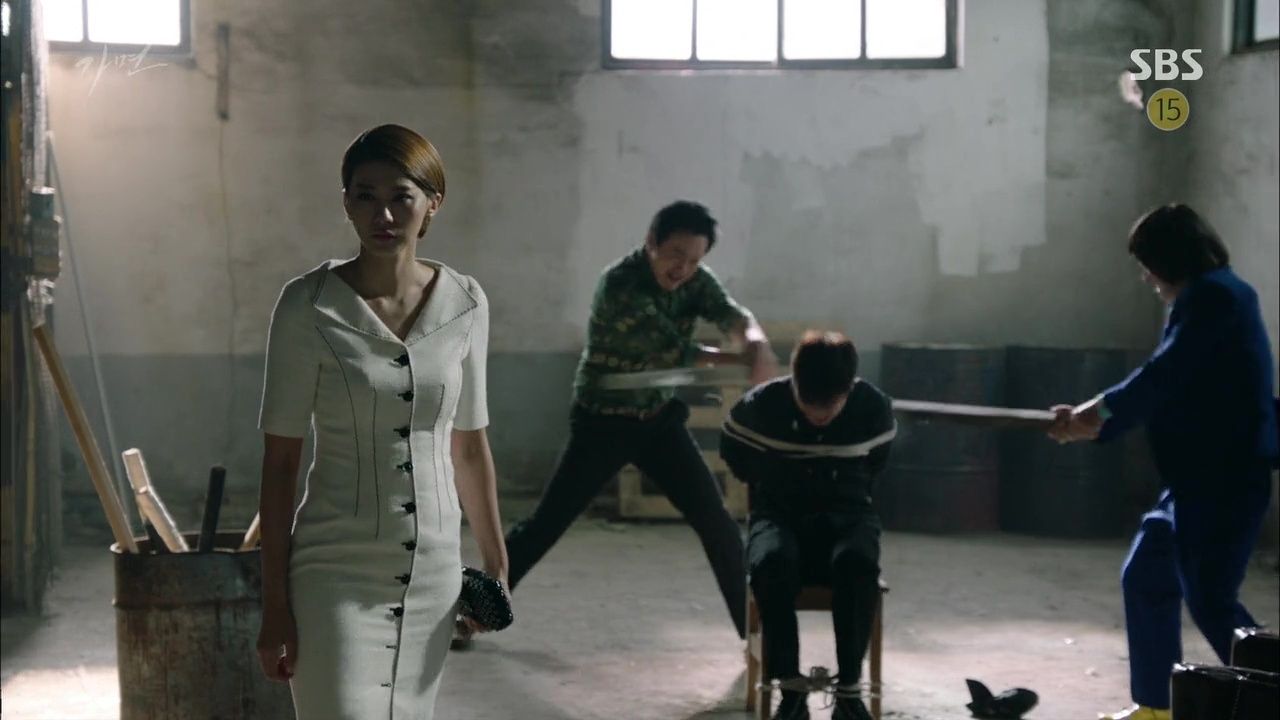 Director Shim questions the man that tampered with the light fixtures in an abandoned building, with Mi-yeon looking on, but she stops them when they start to apply violence to get answers. But she changes her mind, and allows them to beat the man to get him to fess up to whoever hired him.
Ji-sook comes to the office to talk to Min-woo, and admits that she's seeking a divorce to save his life. He refuses the divorce, since he could lose his position in the family, but specifies that he needs Seo Eun-ha, not her.
Ji-sook goes to Ji-hyuk for company, and tells him she's getting a divorce. He's so cute, offering to yell at Min-woo for her if she wants. She says that Min-woo is a good man — that's why she needs to divorce him. She does admit there's not much she likes about him, and besides, he's too tall and he can't sing. Awww.
Seok-hoon does some more target practice and remembers his mother's funeral, and seeing Papa Choi there. Ah, so his vendetta is a bit more personal than just hating all rich people. His aim is improving, which is just scary.
Ji-sook visits Eun-ha's apartment again and remembers a conversation with Seok-hoon when she'd asked if he even loved Eun-ha. If he loved her, he wouldn't have let her die feeling alone. She'd accused him of not really loving her, pushing him even when he'd grabbed her in anger, and she'd threatened to send him to jail.
That evening at dinner, Ji-sook announces to the whole family that she wants a divorce. She promises to stay in the house until after the elections, and not to let the media hear of this, but she wants the divorce immediately. Papa Choi asks why, and she says it's because of Seok-hoon. As long as he's in the house, she can't stay. Well, that's brave.
She plays the infidelity card and shows Papa Choi the photos of Seok-hoon with Eun-ha, who claims it's old news and nothing to worry about. Ji-sook says it still happened, and it's hard on her to see Seok-hoon every day. Choi falls on Mi-yeon's side, and orders Seok-hoon out of his sight. After Seok-hoon leaves the room, Papa Choi asks why Ji-sook is bringing this up now. She says she just can't stand the guilt anymore, but she still wants the divorce.
Stepmom is furious and ranting at Mi-yeon to divorce that no-good cheating jerk, until finally Mi-yeon yells at her to stop. Stepmom realizes she must have known about their affair, and Mi-yeon admits she knew even before she married him. Her mother screams and hits her, saying she's better than this.
Seok-hoon comes in and apologizes, and Stepmom gets right in his face to say she never liked him because he wasn't of high enough status for her daughter. Seok-hoon only says that Eun-ha was all in the past and there's nothing going on now, and the strange thing is that it's actually true.
Papa Choi tells Min-woo in no uncertain terms that he cannot get a divorce, because they can't allow any scandals to taint their deal with Congressman Seo. If he gets a divorce, he'll never get SJ Group. He says that Min-woo had better do whatever it takes, even if it means he has to give up normal married life.
Min-woo talks to Ji-sook, asking if this is really what she wants. When she says it is, he agrees to an immediate divorce. They decide to go tomorrow, and Ji-sook wishes that when she's gone, Min-woo will find a good wife and be happy. In turn, he wishes for her to find a bad man, one much worse than him. Awww, petty Min-woo is kinda sweet.
After things die down, Mi-yeon comes clean to Seok-hoon — she knows that Min-woo's wife isn't Seo Eun-ha. She also knows that he's known all along, since he and the real Eun-ha were lovers, he would know that this woman isn't her. She knows that if Ji-sook is found out, Seok-hoon and herself will be in the most trouble, so she assumes he tried to kill Ji-sook to keep their secret.
She's way off, but since the man who tampered with the lights was too scared of Seok-hoon to talk, even after a brutal beating, she can only guess the truth. But she tells Seok-hoon that the man talked, and told her that Seok-hoon was behind it. On the inside, she begs Seok-hoon to say she's wrong… which he does. He pretends to be upset that she would think such a horrible thing of him, that he would try to kill someone, and invites her to keep investigating and find out for herself.
Min-woo and Ji-sook file for divorce, and are given a four-seek grace period to get counseling and consider this decision. In counseling Ji-sook complains that Min-woo is a neat freak, and Min-woo says that she has too many secrets. She calls him violent, and he says she's not trustworthy. The counselor suggests separate sessions due to their high-running emotions, which is telling in itself.
Ji-sook is honest in her sessions, saying that married life wasn't really that difficult, and that she actually likes his neatness. She says she wanted to find out why he was so angry, and that he's got a big heart. Min-woo also says he wanted to stay with Ji-sook, because she was so sad and he wanted to know why.
When Ji-sook is asked when they were happiest, or when Min-woo is asked when Ji-sook was prettiest, they both have the same response: "I have to choose one?" That's so sad, and so sweet. But in their pride they declare counseling useless, and agree to separate.
But everything is a reminder of the other, such as when Ji-sook decides to hold a party to celebrate the success of her coffee shop, and people wonder if Min-woo will be there. And evidently, Chang-soo and Maid Yeon-soo are dating now, and Min-woo gets annoyed at their over-the-top couple aegyo.
Seok-hoon facilitates the transfer of sixty percent of the SJ Group shares to Min-woo, but Papa Choi wonders why he hasn't asked him why he's doing it. Seok-hoon says he always just does as he's told, and Choi asks if he would do as he's told if he were told to divorce Mi-yeon. He's not swayed by Seok-hoon's "I've always worked hard for you" argument, saying that lots of people would be willing to work hard, but he wants his daughter to have a man who loves her.
Chang-soo and Yeon-soo are both being driven crazy by their cranky bosses, so they decide to cook up a plan to get the two of them back together. Okay, Min-woo is right, these two are disgustingly adorable. They arrange a dinner for Min-woo and Ji-sook and leave them alone there, and they figure they may as well eat, since they aren't enemies or anything.
Ji-sook orders Min-woo's usual, and he changes the order just to be ornery. Aww, he's so cute when he's grumpy. They shoot polite barbs at each other over the meal ("You look good, is it because you don't have to see me anymore?"), though their snark starts to look like actual concern at some point in the meal.
Mi-yeon decides to tag along with Min-woo and Seok-hoon on a business meeting-slash-hunting trip, since her husband told her to keep investigating him and she's taking him up on that. Seok-hoon says that's good, since nobody will suspect him if there's an accident and she's there as witness.
When they get home, Min-woo tells Ji-sook to take all the bedroom furniture when she moves out. She looks at her birthday plant, the one they were going to take care of together, and remembers telling him that her best birthday present was him. They fight over who gets to keep the plant, and accidentally drop and smash the pot. Min-woo obviously feels like the jerk, but he doesn't say anything and just leaves.
Scar finds a guy to "accidentally" shoot Min-woo while on their hunting trip, which will come as a surprise to exactly nobody. Mi-yeon asks Min-woo not to go, sensing something is off, and even offers to stay home with him. But it's an important day to make business contacts and he plans to go.
But he looks her in the eye and asks if she knows something — if she tells him more about why she's worried, he won't go. But all she has is a bad feeling, and denies that it's just that she doesn't want him taking over the company.
Ji-sook finds out about the hunting trip and that Min-woo now controls sixty percent of the SJ Group shares, and Seok-hoon calls her right on cue to gloat. He says he's sending her a gift, and in walks the prosecutor to arrest her for embezzlement. Seok-hoon snarls into the phone that she shouldn't have given away Eun-ha's money, and that her new charity foundation will be discredited.
Ji-sook agrees to cooperate with the investigation against her, if the police send someone out to the area where the hunting party is happening, not that she has much choice. But the prosecutor doesn't send anyone as he promised, and instead calls his buddy Seok-hoon who tells him to keep her at the station.
As the hunting party gets started, Mi-yeon tries one last time to get Min-woo to go home with her. She's nervous that they're going where there's no cell service, but Min-woo shakes her off and she's forced to follow. The party splits up and Min-woo goes off on his own, with the hitman right behind.
Ji-sook is locked in the interrogation room for a long time, screaming for help, and by the time the prosecutor comes back she's passed out on the floor. They call an ambulance and when she's wheeled outside, she jumps up and runs, taking a nearby car and escaping. She heads for the location of the hunting party, hoping to keep ahead of the cops just long enough to get there before Min-woo is hurt.
The hitman draws a bead on Min-woo, but the sound of the cops cars chasing Ji-sook gives him pause. He gets Min-woo in his sights again, as Ji-sook goes running through the woods calling Min-woo's name.
She runs into Mi-yeon first, but instead of helping her, Mi-yeon points her rifle at Ji-sook's face and demands that she explain why she came to her family and ruined everything. Ji-sook only says that Min-woo is in danger, and Mi-yeon is concerned enough that she lowers the gun.
Too impatient to wait for the hitman, Seok-hoon finds Min-woo and lines up a shot himself. He takes careful aim at Min-woo's heart, pulls the trigger… and Ji-sook comes out of nowhere to whirl Min-woo to the ground, and he takes the bullet in the shoulder. The police arrive, and Seok-hoon loses his chance, again.
Min-woo wakes in the hospital to find his entire family happy to see him alive him except for Seok-hoon, who looks distinctly unhappy. Ji-sook is conspicuously absent. Seok-hoon says it was an accident and that a hunter has turned himself in. Mi-yeon looks genuinely upset, and we see that she'd seen Seok-hoon leaving the scene of the shooting.
After Min-woo is healed, he and Ji-sook go to the courthouse to finalize their divorce. Ji-sook asks for a favor first, that Min-woo looks into her eyes for a moment. He does, and she smiles and says she can move on now. But Min-woo stops her and tells her to listen.
He says that he doesn't care who she is, or if he's in danger when he's with her. He says he's happy with her, and tells her not to leave him just to save him. Leaving him would be the same as killing him. Ji-sook asks him to say all that again, slowly, but instead he simply says, "I love you, Byun Ji-sook."
Min-woo fusses at her for not admitting she didn't really want the divorce, but she says he never said it, either (and I didn't miss that tiny smile). He says that he's saying it now, and pulls Ji-sook in for a long, slow kiss. They stand on the steps of the courthouse, kissing and not caring who sees.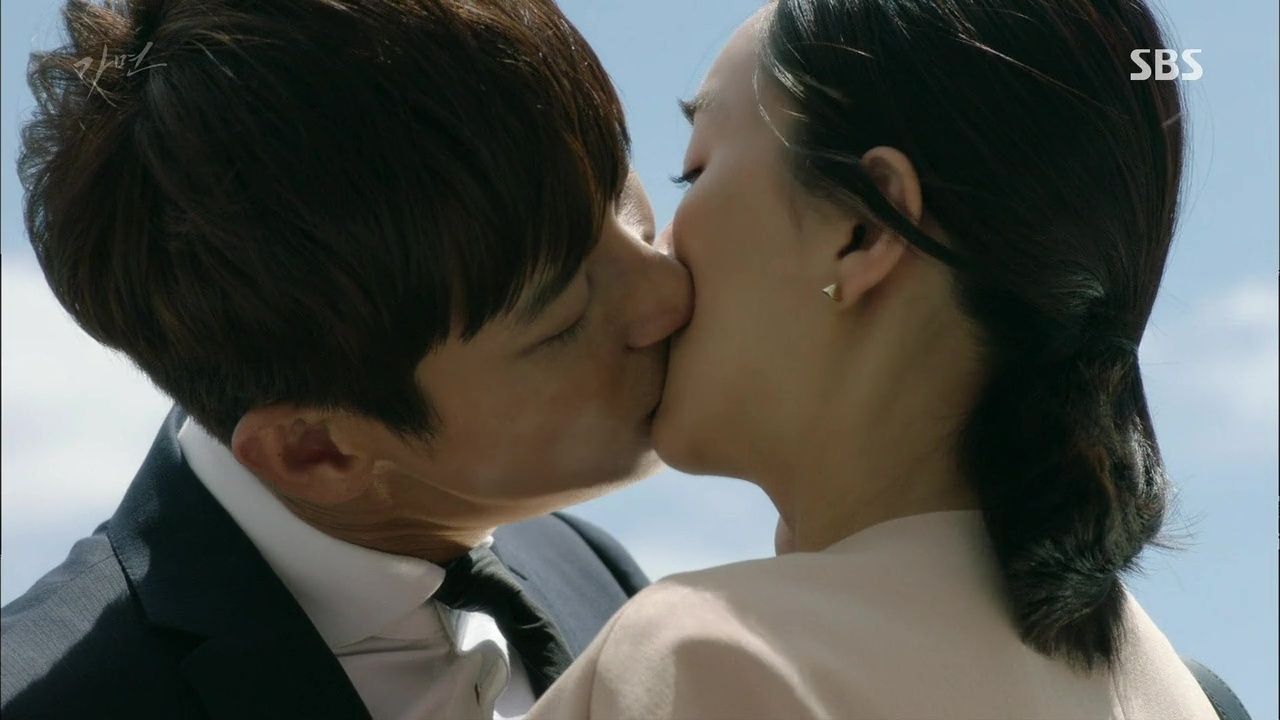 COMMENTS
Now you listen here, Show. This better not be a fake-out dream, or a daydream, or a drug-induced hallucination of Min-woo's while he's still in the hospital. If it is, I am coming over there and we will have words. Do you hear me??
And if it isn't, then hooray! I'm happy to see Min-woo and Ji-sook finally on the same page, even if it did come with an awkward time skip, and I'm wondering what happened with her being arrested (the main reasons I'm worried this final scene was just a dream). We're winding down to the final two weeks, and Seok-hoon is getting desperate enough to actually take matters into his own hands. We're going to need more than Min-woo and Ji-sook in a tentative truce for the sake of the company — their lives are in danger, quite literally, and they need each other. Not just as partners, but with a solid, strong, united and unshakable bond against the people who want to hurt them. And with the full knowledge of who each of them are (Min-woo said he loves her, and he said her real name for the first time, Ji-sook! I swooned) and exactly what kind of relationship they're in. No more dancing around it — they're in love. They'll need to be rock-solid if they're going to get through what's coming, especially since it's still unclear who's the bigger threat, Seok-hoon or Mi-yeon.
Aside from all of the questions I have about that ridiculous hunting trip (who goes hunting in their business suits, or wearing all white? And Seok-hoon, don't you think forensics would know it was your gun that shot Min-woo?), this was a pretty exciting episode. Seok-hoon has crossed a line by attempting to murder Min-woo himself, so he's clearly losing his patience and ability to gauge a situation. I expect him to self-destruct at any moment. He's going to try something too big for him to handle, and it's going to blow up in his face spectacularly because Min-woo and Ji-sook aren't the kind of people to hide or shrink away from danger. In fact, they go running right for it. I really doubt there's anything Seok-hoon could do at this stage to scare either of them — he's going to have to step up his game if he wants to get the upper hand.
Mi-yeon though, is giving me whiplash at this point. I can't figure out what she's feeling or thinking at any given point. She's scared for her brother, then she's pointing a gun at his wife. She's threatening Seok-hoon, then she's defending him against her mother. I do think that, unlike Seok-hoon who seems to be losing his grip on logic, Mi-yeon is actually becoming more willing and able to think a situation through and figure out a way to get what she wants. The problem with Mi-yeon is, at the same time as she's becoming more capable and decisive, she's also becoming more violent. I was shocked when she allowed Director Shim to torture that man, because until now, she's always been devious but never physically harmed anyone. I'm not even going to try to figure her out anymore, she's too volatile at this point. I will, however, enjoy watching her thwart whatever plan Seok-hoon comes up with next, just because she can.
But I hold onto my hope that the final scene was real, and that Ji-sook and Min-woo are finally a strong team. And between Ji-sook's knowledge of what Seok-hoon is capable of and her willingness to stand up to his every challenge, and the fact that Mi-yeon clearly doesn't want Min-woo to be harmed, they'll find a way out of whatever the Terrible Two throws at them. And I definitely hope that, now that they're together, their dynamic doesn't change — I sort of enjoy seeing White Knight Ji-sook protecting her damsel-in-distress Min-woo. The flipping of the trope has been so fun to follow, and it better not change now!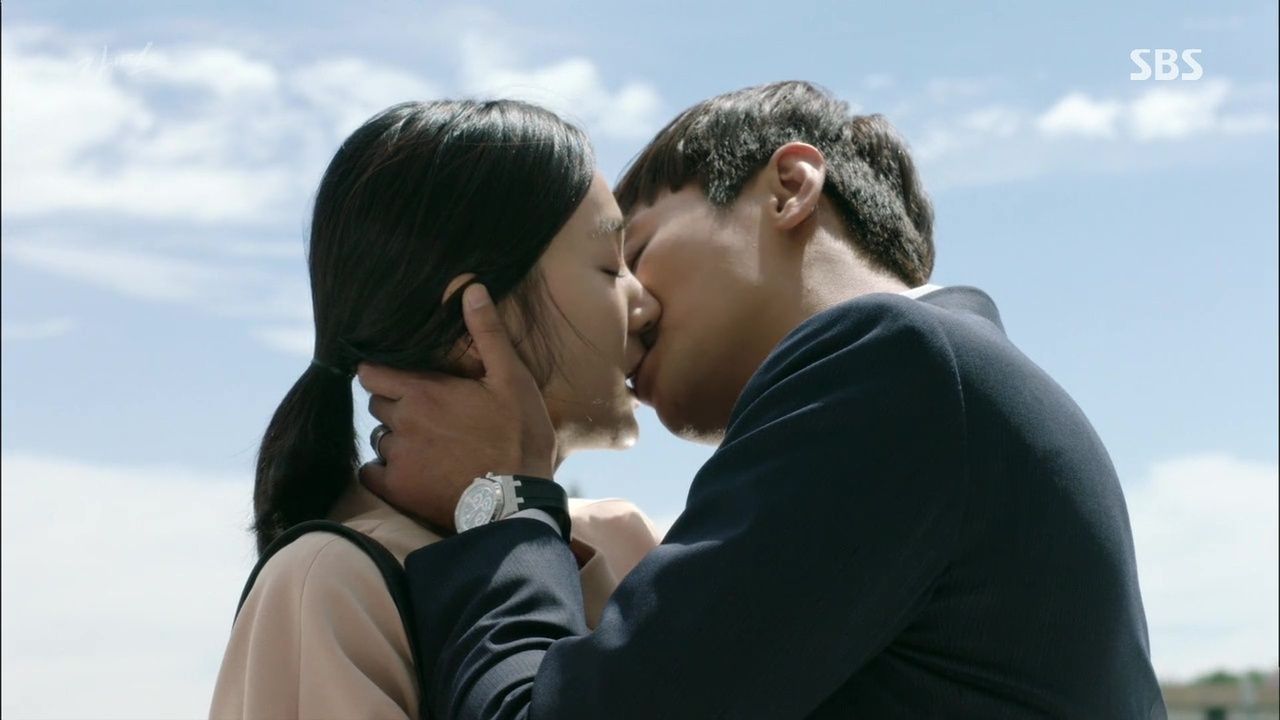 RELATED POSTS
Tags: featured, Joo Ji-hoon, Mask, Su Ae, Yeon Jung-hoon, Yoo In-young