Ryu Soo-young, Dasom to headline KBS comedy Taming Mother-in-Law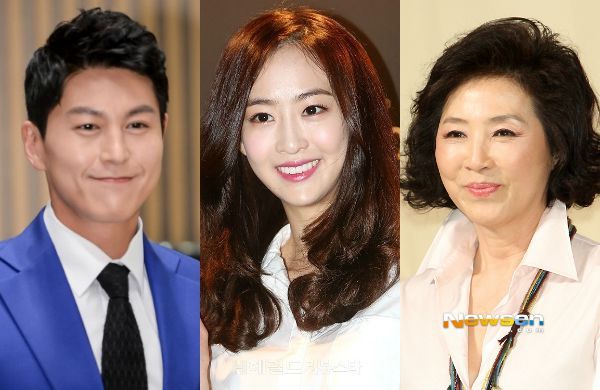 KBS has announced its (probable) lineup for upcoming drama Taming Mother-in-Law, with its three main leads either now confirmed or in final talks to settle their participation: Ryu Soo-young (Endless Love, Two Weeks), Sistar idol Dasom (Melody of Love), and veteran dramaland mom Go Du-shim (High Society).
The drama's initial promotional round hit a hiccup with its original title, Killing Mother-in-Law, and the very vague description that didn't make clear whether the killing was literal or metaphorical. The title was then changed, and the plot clarified to be about a fake mother-in-law relationship: The female lead character (Dasom) is an idol singer past her popularity prime who dreams of making her comeback, and to improve her image, she takes on the daughter-in-law role in a "taming mother-in-law variety experiment."
Within the variety program, Dasom clashes with Go Du-shim, who has been the faithful wife in the head family of an ancestral clan for the last 25 years, and is determined to preserve the dignity of her place. Basically, it's old versus new, traditional versus modern, up versus down and all that. She's warm "on the inside," which is code for mean-on-the-outside, and prone to acting out of impatience, which leads to misunderstanding.
Ryu Soo-young plays the eldest son of the head family who's "good at nothing but mathematics," which is at least helpful in that he is an assistant professor of math. I find it amusing and realistic that despite his good looks and stable career, his family position keeps women at bay—no modern woman wants to marry into an old-fashioned family that still adheres strictly to tradition, which makes her position difficult and burdensome. Hm, where would he find such a woman, I wonder?
It's no surprise when the two ladies butt heads while on the show… and then, to cap off those horrors, the "worst-case scenario" comes to pass when they become actual mother- and daughter-in-law. Eventually, they work things out and come to value the meaning of family and reconciliation and all that, but in the meantime we're promised lots of conflict and humor in the light family comedy.
Taming Mother-in-Law will be a Monday-Tuesday drama on KBS following I Remember You, and is, interestingly enough, planned for a 12-episode run. It kicks off in August.
RELATED POSTS
Tags: Dasom, Go Du-shim, Ryu Soo-young, Strange Daughter-in-Law