The Time I've Loved You: Episode 10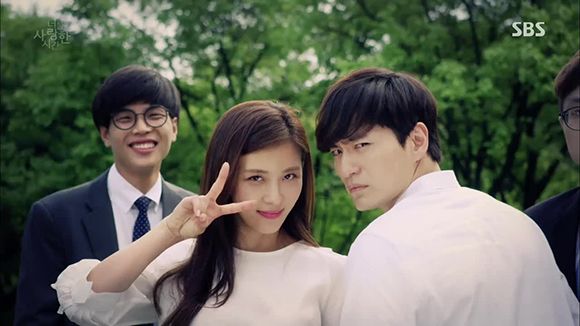 Get ready for less of the relationship we might've once cared about for the one that no one wants or understands, least of all the two people directly involved. It's an hour where Hana has to defend her unholy union to those who actually love and care about her with very mixed results, culminating in a tidal wave of red flags that she's very likely picking up on but ignoring nonetheless. Because nothing, not even sanity, is going to stand between her and lo—…ts of mistakes.
Ratings-wise and without listing every other weekend drama, The Time I've Loved You has consistently been in last place and clocked in at 5.5% this episode.
SONG OF THE DAY
Suzy – "왜 이럴까 (Why Am I Like This)" from the OST [ Download ]
Audio clip: Adobe Flash Player (version 9 or above) is required to play this audio clip. Download the latest version here. You also need to have JavaScript enabled in your browser.

EPISODE 10 RECAP
Won arrives at the wedding after enjoying a flight where he's waited upon as opposed to the other way around, and afterward attends a party with Hana, Na-young, and their other high school buddies.
Immediately, the others pick up on the strange vibe between Won and Hana, wondering if they've been in a fight. Both deny it, but Won handles the deflection much smoother than his counterpart.
Even when Na-young confronts him with the knowledge that Hana is dating Seo-hoo again, Won acts like it's no big deal and jokes as he would if Hana were in any other relationship. Na-young takes the opportunity to half-jokingly suggest that Won can date her now if he likes.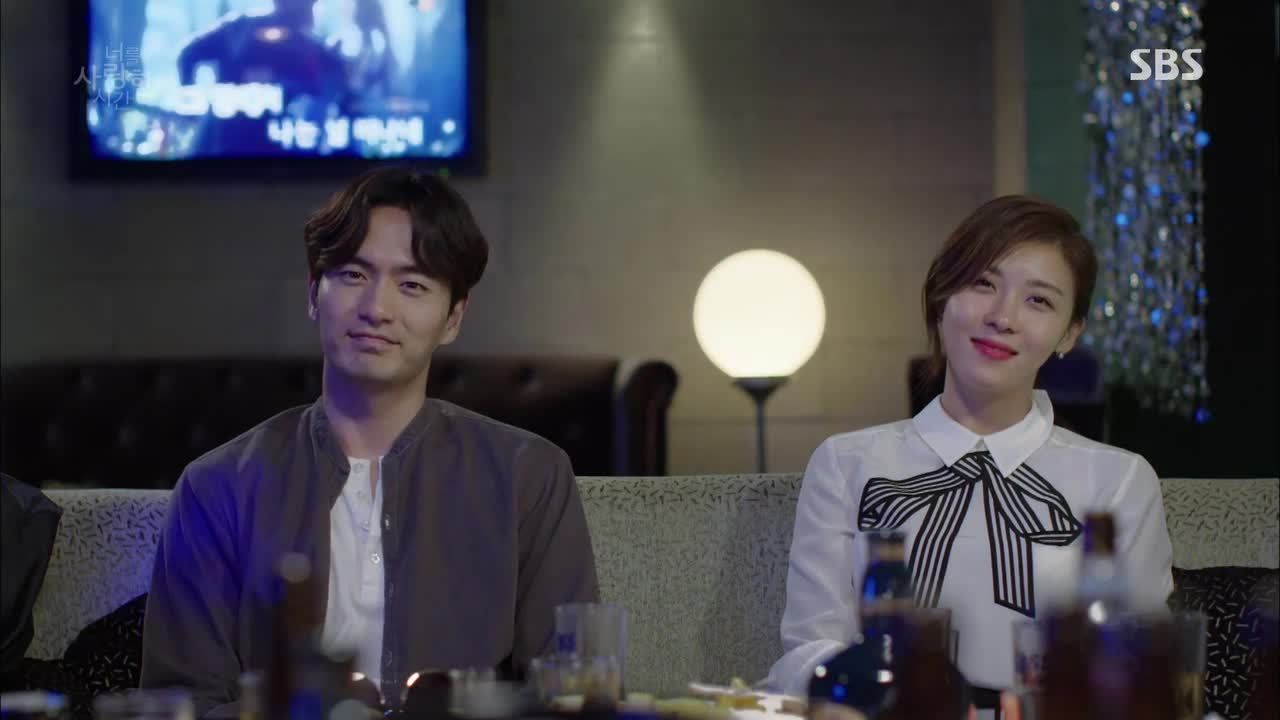 Though Hana doesn't notice, Won watches her interact with Seo-hoo when he calls to ask where she is and how long she'll be—you know, the usual controlling boyfriend stuff.
Hana looks at Won and flashes back to when he'd hugged her before leaving on his vacation, and said: "No matter what happens, I'm always going to be on your side as your friend." Which really throws me for a loop because he'd made a whole point of saying he couldn't be on her side before and that things between them would change. I guess that's that?
"How are things with Cha Seo-hoo?" he asks her, trying to be nonchalant and friendly. "Good," she answers curtly. She asks him about his vacation spent being ascetic, and notes that he's changed a bit from his month away—he seems manlier now. And healthier.
She's being totally serious, so Won seems to be copying her intonation when he says he's also noticed something different about her… she's a lot shorter than he is. Leave it to Won to turn every serious moment into a joke, leaving Hana at a loss for words.
Mi-hyang pouts that Won never called her once from his trip as they enjoy sponsored facial masks and sponsored beer, asking what he thought about while he was all by his lonesome. He just says he looked at his life and tried to sort out what he should dispose of and what he should keep.
While Won receives a commendation for being the most caring flight attendant at work, Seo-hoo calls Hana to ask if she regrets not taking him to the wedding party yesterday. She stalls awkwardly and claims it's because he doesn't know her friends very well, but he says she'll come to regret it…
…As he appears at her office door. He later explains that he likes working with her, because it means he can see her anytime and watch her work anytime. She tries to focus him back on the job at hand, but he definitely didn't come here just to work.
She stops him from doing anything physical at her workplace, and attempts to focus him again. But her words may as well be a foreign language to him, since all he can focus on is her lips as they move as his own form a lascivious smile.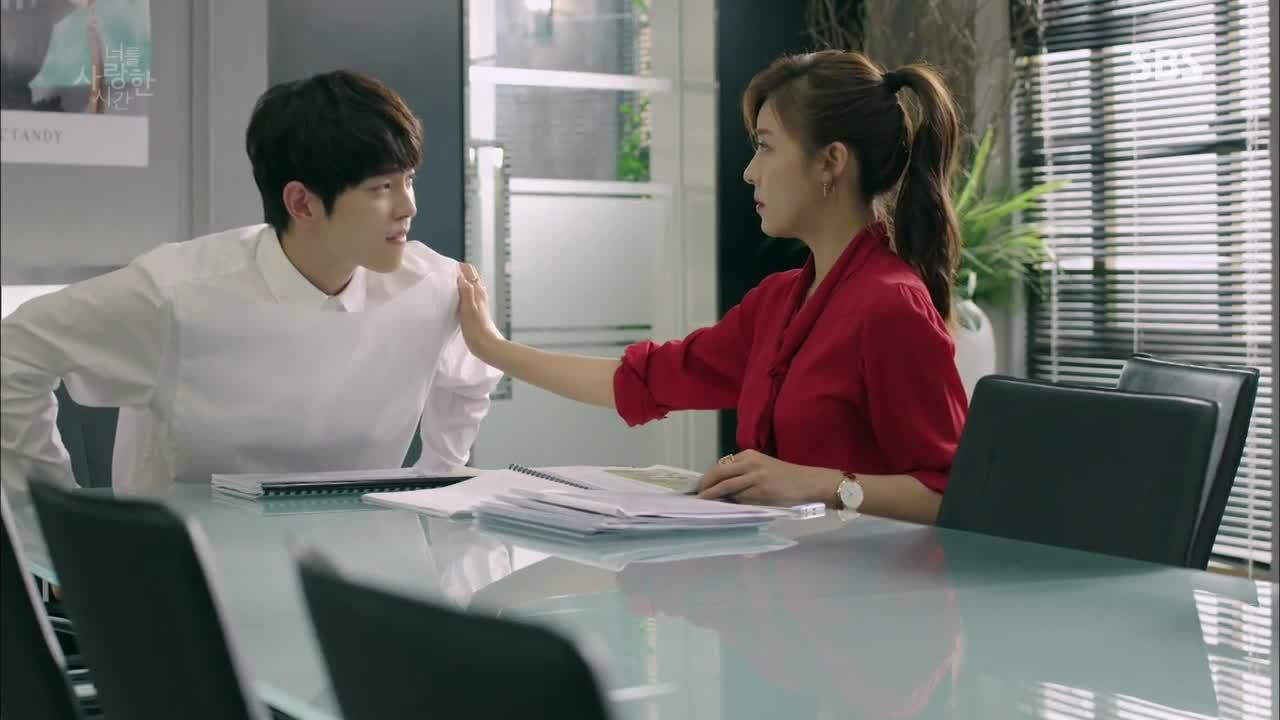 He gets upset when she receives a text from Na-young that makes her smile, because it contains an official photo taken of Won for his Best Employee award.
He's very concerned about who she's talking to and why, and when she says it's just Na-young, he demands that they go out with her later. "I need to know why you're laughing," he explains. For the love of womanhood Hana, please wake up and realize he's a controlling asshat. Please.
Won goes out with his buddies to celebrate his commendation, and ends up singing the soulful lyrics to Kim Bum-soo's "I Miss You" when he's drunk. It's pretty clear who he's missing.
Speaking of, Hana walks in on Seo-hoo during a practice session, and he wastes no time pulling her into his lap on the piano bench. It's really discomfiting that she looks so uncomfortable, yet she says nothing in protest as Seo-hoo pulls her in for a kiss.
While in the car, Hana broaches the topic of Seo-hoo going to their main office in China to please their overseas investors, and he says anything's fine as long as he's with her. But not anything, since her phone rings and he orders her not to answer any calls when she's with him.
She does anyway, but it's too late and she misses the call. Her mother worries about her not answering, and voices her concerns to her husband: "What if she's dating some weird guy again?" What if indeed.
After a kind warning by Min-ji that the design team is taking a renewed interest in the Seo-hoo collaboration now that things are looking up, Hana crashes their office to remind them that she's in charge—and anything they come up with needs to go through her. They've already stolen one project from her, she won't let them take two.
When Seo-hoo sends her a text that he'll come pick her up after work, Hana calls to tell him not to bother—she'll be working late anyway. Seo-hoo's got other problems too, since his manager notifies him that his Big Bad Agency will be suing him for breach of contract in light of all he's doing with Hana's company.
Seo-hoo's glad about the lawsuit even though it unsettles his manager, since he can use it to air his grievances against his agency and end his slave contract with them. Because that always works.
Won ends up training all the newbies while So-eun watches intently, and afterward she finds him sitting alone. Even so, he doesn't want to sit with her. "Your love is also one-sided, isn't it, Sunbae?" she asks suddenly.
She tells him that she saw Hana and Seo-hoo together, and I love that Won tells her to get to the point. "If you're staying next to Hana Unni as a friend, then I want to do the same. Staying by your side as a hoobae, please let me do that." Won shakes his head and tells her not to do something like that. Well, at least he's clear with someone.
Won finds Hana wandering the grocery store with an empty cart, which means there must be something wrong. She says it's nothing, but when she finds out that Won took the last bottle of wine she wanted, she play-fights with him to try and steal it for herself.
It feels a bit like old times when they move venues to something that will cover them from the rain with beers in hand. Hana quickly changes subjects when Won asks her how things are going with Seo-hoo (fine, as usual), and mentions how badly she wants to eat chicken feet with him back at their rooftop hideout.
"I think I'm getting old," she sighs. Won: "You just realized that now?" Hah. She mentions that she used to like the feeling of having her heart flutter so much so she couldn't think of anything else, but now it's too draining for her.
She feels like she's at the proper age for her heart to start getting a little more numb, but adds that it isn't easy. Won reminds her that having a beating heart is a good thing, but she says she's just trying to keep going forward without looking back.
Won supports this side of Hana, the side that pushes onward until the bitter end. He's a bit surprised that she never went to their rooftop while she was away, but only gets a few moments to say it before they go running in the rain.
Using only the newest and best appliances, Won makes his cousin a dish he ate while traveling abroad. She advises him to try dating, though she realizes that while he can, he's deliberately choosing not to.
Then she asks how easy it was for him to suppress his feelings for a month-long vacation before coming back to just be friends with Hana again. "Am I making it look easy?" he asks ruefully. "It's not easy. I'm just trying my best."
Hana leaves for a one-night business trip, and Dae-bok finds out that she's going with Seo-hoo while on one of his dates with Assistant Hong. She finds his concern for his sister admirable, and Dae-bok puffs up his chest to say that he'd be the most liked male figure in the family… if it wasn't for Won.
Since Mi-hyang's decided to start fangirling over Teacher Park, she waits in line for an autograph only for him to ask if she's not headed over to the bathhouse today.
Horrified, Mi-hyang now knows why she thought he was familiar-looking—she'd encountered him before while on her way to a bathhouse, and the two had bickered since he'd accidentally hit her while jogging. Whoops.
Why Hana should be surprised to find that Won is the flight attendant for her and Seo-hoo's flight back from Somewhere (because that trip already happened) when she knows the airline he works for isn't clear, but he maintains a professional air for the flight while sneaking the occasional smile to Hana.
But it's all a front, since it's hard for him to bear seeing the two of them together. Nor does Hana make it any easier for others to discern her feelings, since she goes from looking acutely aware and uncomfortable with Seo-hoo to smiling and laughing with him later.
Seo-hoo wants her to invite him out with all of her friends including Won, which Hana is hesitant about. "I love you Seo-hoo, but don't think all the people around me will accept you." Yes, because they know he's the worst.
He takes offense to that, acting like he doesn't need to be accepted, though Hana points out that he wouldn't have asked to meet her friends otherwise. "It's because I want to know all about what you do and the people you know," he defends before adding, "I'm putting this effort in for you." Ughhhhhhhhhhhhhhhhhhhhhhhhhhhhhh.
"Then try to wait for me," Hana says. "I've changed since the last time we were together. I hope you would have changed too."
Seo-hoo drops her off at home, which gives Mom her first glimpse of him since everything happened. She reacts as expected and drags Hana inside to face her father, who asks if his daughter's gone out of her mind.
Hana knows she's in trouble, but tells her mother that she's decided to trust Seo-hoo again. Despite her mother telling her exactly why that's a terrible idea, Hana says that Seo-hoo is really trying this time, and so is she. Mom doesn't know what to do, and who can blame her?
Seo-hoo stops to talk to Won outside his house, and bluntly says that they need to become friends before adding sarcastically, "You understand what being a friend means, don't you? Friends, just like what you and Hana are."
Won picks up on his tone and doesn't like it, but Seo-hoo continues that he'd like to experience the kind of close friendship that Won and Hana so clearly share. "You only ever think about yourself," Won grits out.
Seo-hoo can't deny that, so instead he just warns Won that he doesn't want to be the third wheel in his and Hana's relationship. Won has to reassure him that he has no interest in their relationship.
Dad calls Won out for drinks, and to ask him if he knew about Hana seeing Seo-hoo again. Won nods. "Then you should have told me, or tried to stop her," her father sighs exasperatingly.
He likens this feeling of disappointment with Hana to when it happened once before, which was the day she gathered all her friends for her engagement ceremony without the consent or blessing of her parents. It turned their lives upside down, only for her to return from said ceremony and lock herself in her room for days without eating.
Now thinking about that, there's no way Dad can allow himself to consent to her current relationship. Won attempts to defend Hana by saying that it must have been a difficult decision for her too, to which Dad aptly asks why she made it at all then.
He turns his ire onto Won for not stopping her sooner. "You and Hana have been stuck together for years. What were you doing that you couldn't even win Hana's heart?" Won seems to be trying to convince himself as much as Dad when he says that she'll be alright, but Dad doesn't want to hear it. He doesn't want Won coming around the house anymore, either.
Hana finds her dad drinking alone in the living room, and he sits her down for a talk. He says he still remembers the little girl who loved her daddy so much she wanted to marry him like it was yesterday.
"For me, even if the man you choose is the best man in the world, it would still be a loss to give you to him. No matter how rich or powerful he is, if he makes my daughter shed even one tear, I would be against him. Because my daughter is the best in all the world," Dad says emotionally.
It's enough to bring tears to Hana's eyes as she says she's sorry, that she did wrong, and that she'll do better. I'll believe it when I see it.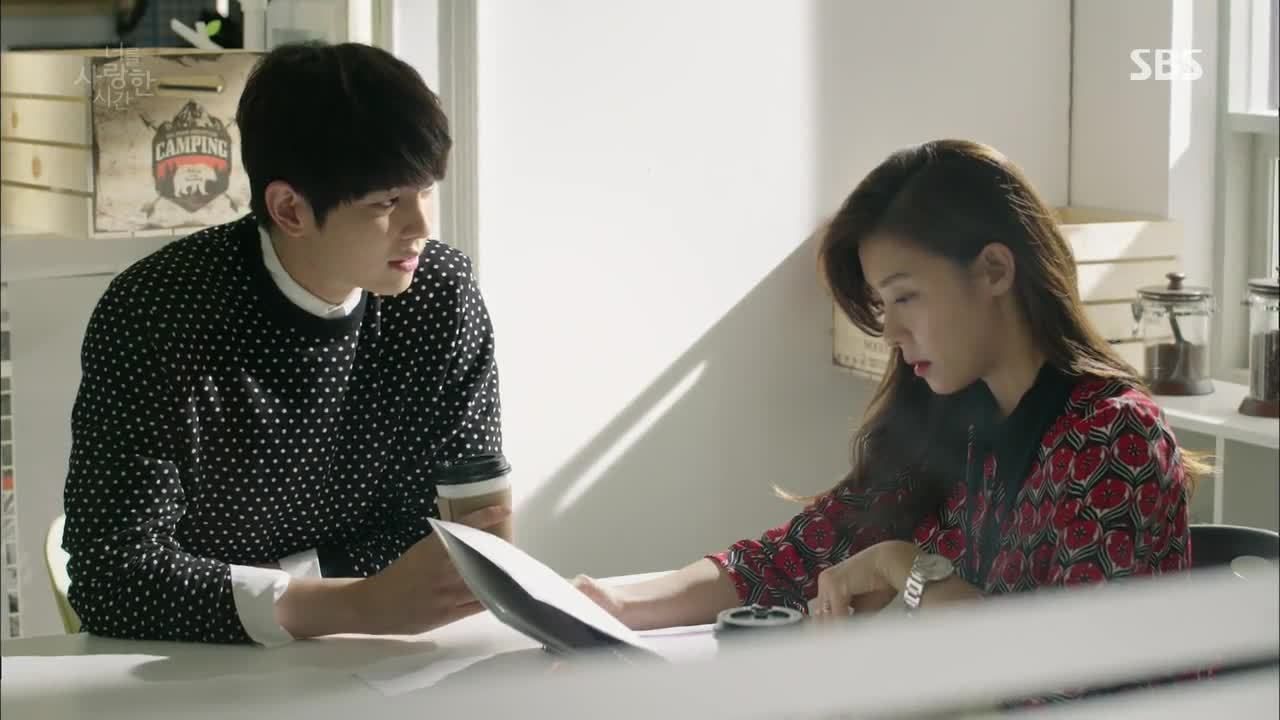 Seo-hoo pops up to bother Hana at work again, and her telling him she actually has work to do doesn't stop him from sitting across from her and staring at her while she does it. She also has to make a concerted effort to keep his hands off her in a public setting.
He wants to take her for a drive that night, but she declines by saying she has work and she can't be home late. He figures out that things are weird at home because of him, but instead of giving her space, he just promises not to get her home too late.
Hana almost gets frustrated enough to tell him something, but, psych!
Instead, she waits to tell him what time it is when he uploads a picture of them on social media. She chastises him for not calling her before showing up at her office and even now for not asking her before uploading the photo.
"I tried to understand you no matter what you did before. Because I loved you, I just let it all go and thought it was okay. But I feel differently now. I wish you could be more considerate of me," she says. Seo-hoo seems legitimately dumbfounded and unable to cope with the idea that Hana just talked back to him.
Won hangs out with newly married buddy Chang-soo, who brings up the ridiculous fact that Won and Hana had two different graduation photos. Cue flashback of Hana telling Won she wanted them to take their college graduation photos together, even though they'd end up graduating at different times with Won going to the military.
Even so, Won made it to her graduation in his army fatigues just so he could take a picture with her. Likewise, Hana had to make a special trip when he graduated so she could be in his picture.
Hana calls Na-young after her tiff with Seo-hoo, and Na-young's no help to her since she only speaks sense. Though Hana claims that she won't allow herself to be hurt this time, Na-young asks her to seriously examine whether she believes people can change.
Still, Hana wants to have her cake and eat it too, so she asks for Na-young's support even though Na-young says she's the one who chased her own luck away.
As if things couldn't get any worse, Hana sees the picture Seo-hoo posted on social media and pulls a 180 on how she feels about it. She texts Seo-hoo: "What a pretty picture. Should we go out tomorrow?" Are you f*cking kidding me?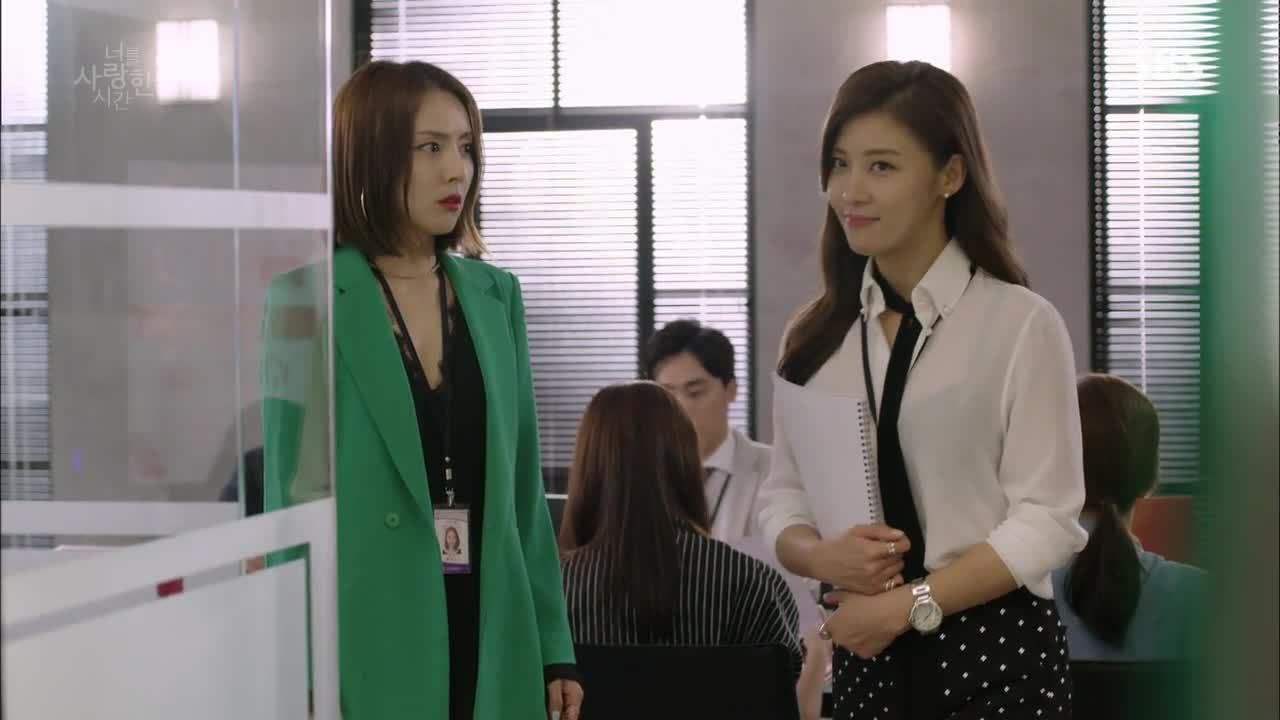 Because of her work on the collaboration with Seo-hoo, the Chinese company Hana had originally courted for her project contacts her company wanting to work with her. That means the project that Team Leader Hwang and the design team stole from her gets returned to her, effectively putting her back in charge.
While all this is going on, Mom slips and hurts her back at home, and Dae-bok calls Won over to help out.
Seo-hoo's been unable to get ahold of Hana for ten whole minutes, so when she finally does pick up the phone, he's not happy. But at least he perks up when she tells him that she got the Jumei project back. She has to call him back and tell him she can't see him that evening when Dae-bok calls to tell her about Mom.
Won and Dae-bok work together to sell cleaning products help clean the house since Mom can't, and it seems like all's forgiven with Dad since he's soon sharing meals again with her family.
While Hana walks Won out and laughs when he gives her a whistle to use whenever she's in trouble, her family ends up facing Seo-hoo, who's come on his own to kneel before them.
Flash back to Won's graduation photo day, where Hana jokingly admits she had to give up her overseas training opportunity in Paris in order to attend. Her next opportunity wouldn't come for three years, which is where she met Seo-hoo.
In voiceover, Hana says, "The choices we made in order to stay together then have become the reasons we can't be together now. How could we have known better then?"

COMMENTS
I'm sure that Seo-hoo appearing before her parents isn't out of a need to be accepted by them as much as it's driven by his need to control Hana's life—and so far, the only place where he hasn't had permission to do that has been her house. Judging by the fact that he can't stand the idea of her being away from him for longer than ten or fifteen minutes at a time, this move seems in keeping with his character. I just hope that Hana's parents don't buy any of his schtick.
Otherwise, this was an episode where forward plot and character development went to die. I'm honestly a bit mystified as to how we just saw an hour of moving shapes and colors on a screen that did nothing to progress any agenda but that of the show's sponsors. And if you think about each scene independently and even as a whole, there are maybe about three which could have existed without the sole focus being on what was for sale.
I'm not against PPL as a necessary evil to fund any given show, but watching a plot that has all but ceased to be about its characters and exists instead only by virtue of being propped up and written around whatever product is being pushed in that moment is kind of like watching everything wrong with dramas in one concentrated dose. This has been an issue with The Time I've Sold Myself in the past, but it took over so completely this hour that it was just absurd enough to be frustrating without being unintentionally funny enough to turn itself into a parody.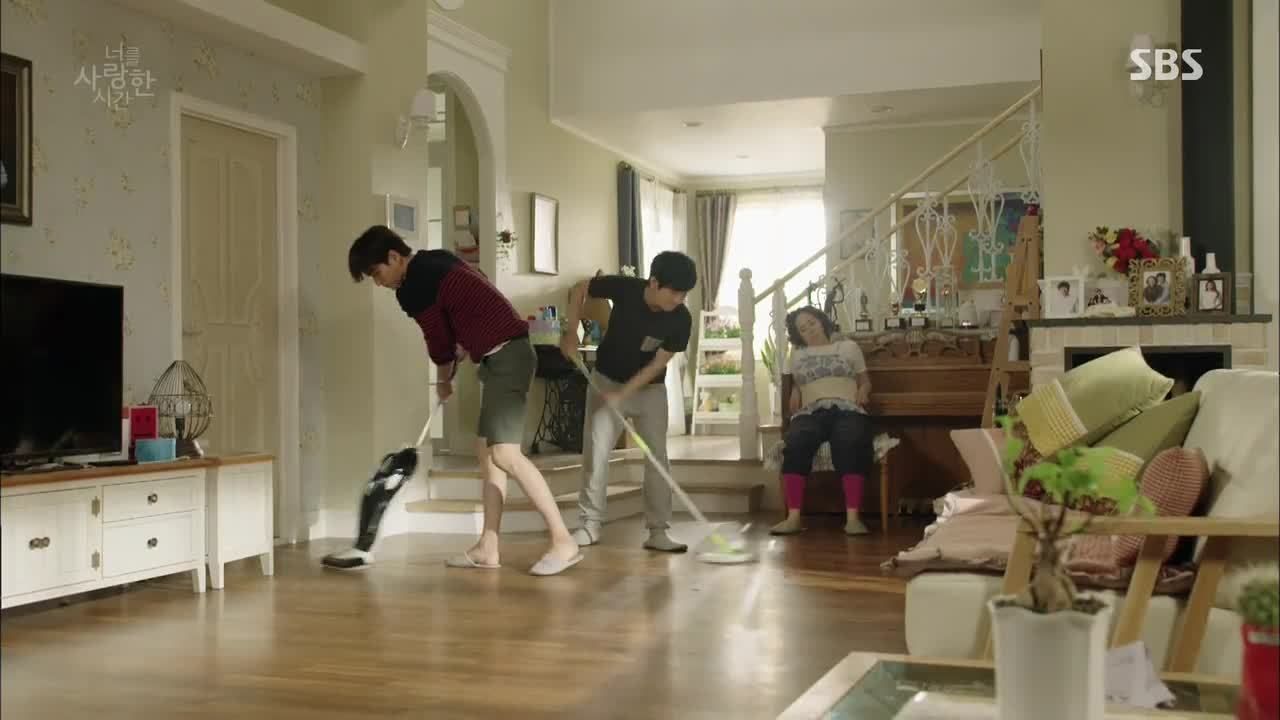 Out of those few scenes which could actually stand on their own, two of them centered around Hana's father—first when he talked to Won about what he did or didn't know, and second when he tried reminding his daughter that self-worth exists. The only interesting revelation this hour was that Hana never even had her parents' blessing for the first time around with Seo-hoo, because it makes you wonder if she was willing to abandon everything she knew and loved for him even then.
Hana has officially passed beyond my realm of understanding, and I'm genuinely confused about the signals she sends through her body language versus the few words that come out of her mouth. She never looks happy to be with Seo-hoo, whom she now openly claims to love. There were multiple moments where Seo-hoo's tyranny wasn't lost on her, but she used only one of them to actually tell him how his actions have been inconsiderate—which is a really nice way of putting it—and to reiterate how she's supposedly changed from the person she was when they first dated.
And that moment might've legitimately been able to hold water and act as just the tiniest glimmer of progress if she hadn't sent him that text about the picture and effectively negated everything about the stand she took against him. It's like taking no steps forward and ten steps back into the black hole otherwise known as Cha Seo-hoo.

RELATED POSTS
Tags: featured, Ha Ji-won, Lee Jin-wook, The Time I've Loved You