The Time I've Loved You: Episode 7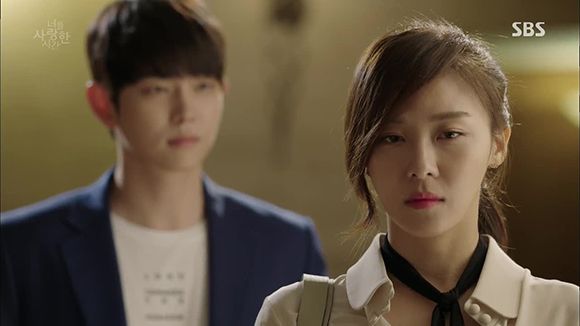 Hana decides she needs some space to sort things out for herself and her career, which is a good move in theory, but doesn't seem to work out so well in practice. It's tough when your job description is flexible enough to include becoming an indentured servant to the concert pianist whose choice of shoes for his next performance will decide whether the nation's fashion economy will live another day, but I guess it also doesn't help when that pianist is your ex-fiancé. And also that he's kind of a douche. Or worse—a misunderstood douche.
SONG OF THE DAY
Gavy NJ – "여자사람친구 (Just A Friend)" [ Download ]
Audio clip: Adobe Flash Player (version 9 or above) is required to play this audio clip. Download the latest version here. You also need to have JavaScript enabled in your browser.

EPISODE 7 RECAP
Won and Hana's family start to get worried about her when none of them can find her, either by reaching her on the phone or at the office. Hana calls her mother to say that she'll be sleeping over at a friend's, but when Dae-bok shows Won the file Hana left in her room about her upcoming project with Seo-hoo, Won understands why she's being evasive.
Hana's checked herself into a hotel for the night to treat herself, and attempts to will away all thoughts of Seo-hoo that keep popping into her head. She's unsuccessful, and tells herself that she'll exclude men from her life until she can set her work life straight again.
No wonder Mom looked nervous when she received that call from Hana—she knew Hana wasn't staying at a friend's house, but had to lie to everyone else that she was. Instead she visits her daughter at her hotel room to lend emotional support, but not without a little scolding first.
Mom joins Hana in her pity party, as she rails against the fact that she lost the Chinese market project she'd been working on for a year to Team Leader Hwang. When Mom says she should've just quit, Hana acknowledges that she thought about it, but it's all just so unfair.
She goes into how she worked hard to become a professional in her career, and how she dedicated herself solely to that project to the point where she lost sleep and didn't even date properly for a year. What's worse, she adds, is that her coworkers treat her as if she's so desperate to date that she gets blinded by men.
So in the end, she cries, she's been made an idiot because of men. "Everyone made me a fool, there's no one next to me," she sniffles. Mom takes offense to that—she's right here, after all. Hana apologizes and hugs her mom, thanking her for being there for her.
"And… you have Won," her Mom mentions. "You have Won right by your side." Why is it that Hana seems surprised to hear that Won spent all day looking for her? Mom adds that she can't understand why Hana hasn't grabbed onto Won when Won is one in a million. "You have a diamond right in front of you, why are you looking elsewhere?"
"Honestly Mom, why wouldn't I see Won as a man?" Hana confesses before adding, "But you should give up on Won."
Flash back to the days of the 2002 World Cup, where Won had taken his then-girlfriend to a party only for Hana to show up. All the girls present hated her, and Won's girlfriend had deliberately snuck grass into her food before spraying her in the eyes with makgulli in a jealous rage.
The girl, unable to believe that Hana and Won were just friends and now believes the rumors are true, had yelled at Hana to just admit she's "maintaining her aquarium" or get out of Won's life. (The aquarium saying is a common way to refer to someone who strings people along and toys with their feelings as if they like them, when in reality they don't.)
Of course Won had stayed with Hana, where she worried later that she'd never be able to get married if rumors about her were already spreading. "You'll have to take responsibility for me," she told Won, which we all know means "You'll have to marry me."
And though Won replied that he would take responsibility for her for the rest of her life, he made sure to add: "As a friend." Hana huffed and puffed, "Do you really not see me as a woman?" To Won, it didn't matter if he did or didn't, since he promised to take care of her forever anyway.
That only irritated Hana further. "Why would you be responsible for me? My husband should be responsible for me!" All the better for him, Won replied playfully, since it'd mean he'd have less of a job to do.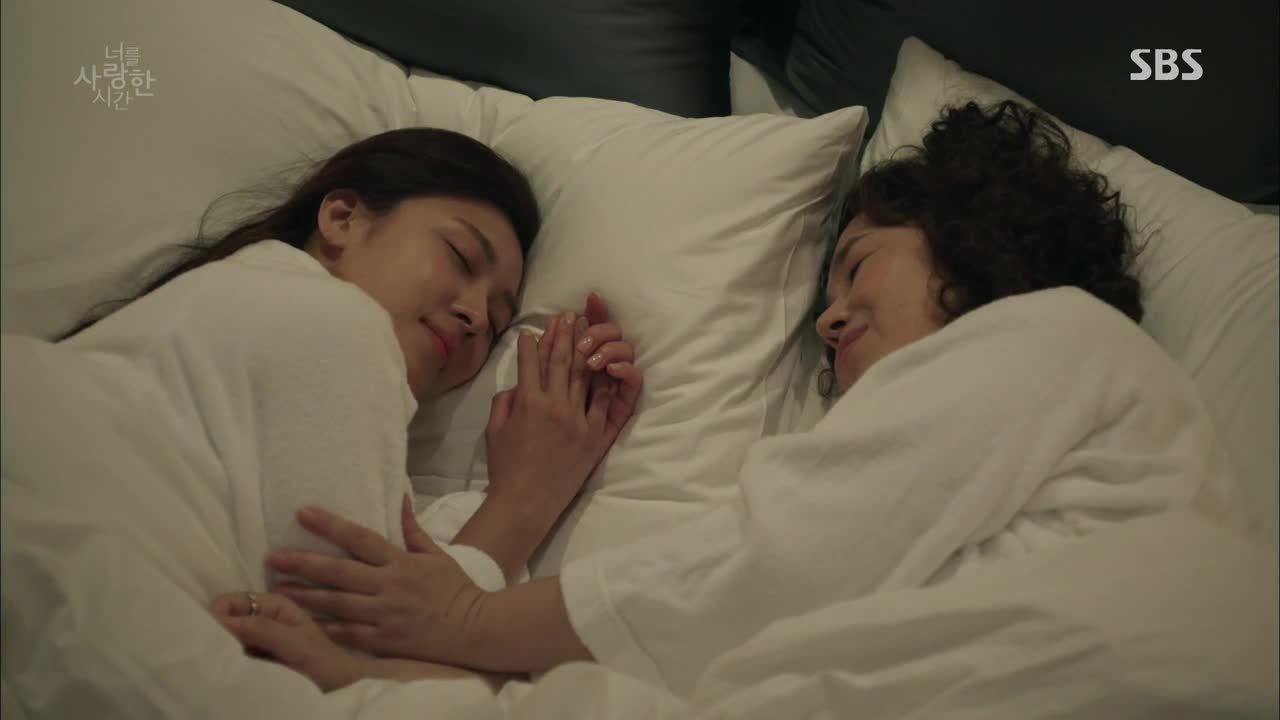 In the present, Hana tells Mom that's why she has to stop pushing the idea of her and Won together, and Mom accepts. They fall asleep facing each other, a perfectly supportive pair. It's always nice to see mothers who aren't awful in dramaland.
Neither Seo-hoo or Won can reach Hana that night, and Won changes his work schedule the next morning so he can keep looking for her. So-eun's with Mi-hyang when she finds out (of course), and definitely wants to know what caused Won to miss work.
Won tries looking for Hana at work to no avail, and wonders if she could be with Seo-hoo. He overhears Team Leader Hwang talking nasty about Hana and considers calling Seo-hoo… but ends up meeting him at the company elevator anyway.
When Seo-hoo callously asks where Hana is, Won's at least gratified to know that it means she hasn't been with him. "Nice to see you, Cha Seo-hoo," Won says in a way that makes it clear it's not nice to see him at all. "Stop looking for her. Even if I knew, I wouldn't tell you."
Seo-hoo takes that to mean that Won doesn't know where Hana is either, and warns him to hurry up and find her—or else he'll find her first. Won accepts the challenge, sure that he'll win. And maybe he will, since Hana calls him moments later.
But Seo-hoo uses Hana's boss to put the pressure on her to show up for work or else, so he may win after all. Then he flashes back to their engagement party (sorry I mistook it for a wedding folks, but to be fair, the flashbacks are pretty vague here), where he'd run all the way to Hana's house after missing the ceremony…
…Only to find Won bringing her home, and Won being the one to console her. He thought to himself that he'd lost again to two people who were like oxygen to each other.
Every time he'd try to draw near to her, he'd been blocked by the invisible wall she and Won built around themselves: "That day I saw for myself that there was something within their hearts that they weren't even aware of." He never made his presence known to either of them.
Hana shows up at home like nothing happened, and reacts like a child when Won scolds her for worrying him like she did—she didn't even show up for work or call him, how did she think he was going to react? "I wanted to call you last night," she calls after him. "But I didn't. On purpose."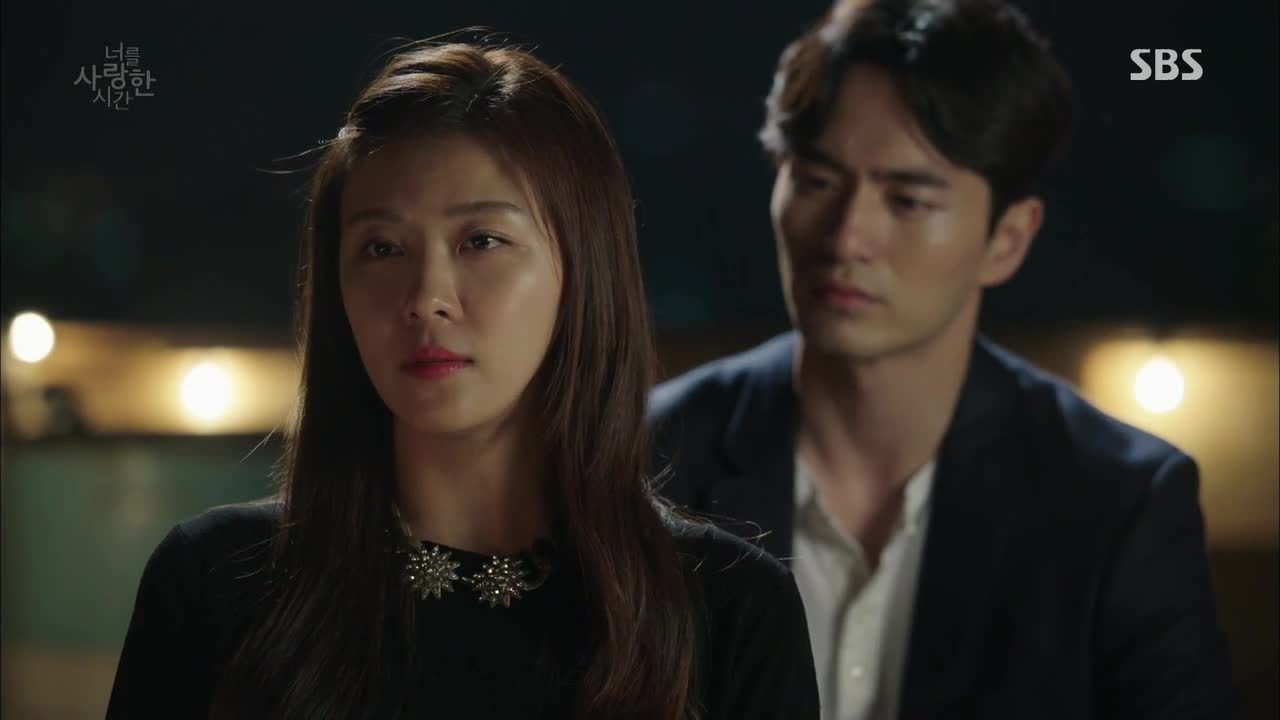 On their rooftop (where day has instantly turned into night), Hana explains that when she had her office troubles the day before, she realized the only place she had to go was either home or to him. When Won asks why she didn't call him then, she admits that she was embarrassed because she'd bragged about the project she was working on to him and lost it because she apparently loses her mind when she's around men.
"I'm going to put some space between us," she says decidedly. "All this time, I think I've been depending on you too much. Whenever I'm having a hard time, you're always there. It's become a habit, so now I can't solve anything by myself. I get swayed easily, which is how I've lived so far, so now I'm going to practice being independent. And for the time being, I'm not going to have men in my life."
Won looks at the bright side, and asks if that means she sees him as a man. Hana doesn't really answer that insinuation but says he's still counted as a man who needs to be counted out for the time being. Though he doesn't betray his feelings out loud, Won thinks, "Why does it have to be now, Oh Hana?"
Hana explains her reasoning as being professional—since she's known around the office for being involved with men, she wants to fix her image so she can be judged fairly based on her capabilities. So that means Won can't go looking for her in the office anymore, which he says he won't do. But he's still mad.
That gets fixed in no time at all when Hana makes enough aegyo faces at him to last a lifetime, and he can't help but give in. Besides, it's not like it changes the fact that they're a package: Hana plus Won ("Hana" means one in Korean, and Won sounds like the number one in English, so it's one plus one.)
But Won warns her against disappearing again without a warning, because then she'll really see him angry. They turn to playing like their old selves while we hear Hana say in voiceover, "Behind my pain and frustration, there always lies a chance, hidden like a treasure, for me to start over again."
Later that night Won also thinks to himself, "The thirty-four-year-old Hana is still growing up. As part of her learning curve, she chose for now to put men aside for work. My heart's decision must also be put aside for a while to support Hana's decision."
In order to make up for her failure at work, Hana's told to put all her efforts into her project with Seo-hoo. Seo-hoo looks quite happy to have her working with him, while the opposite seems true for her. "Where were you?" he demands to know. "It was a personal matter," Hana replies coolly.
Since Hana has to please Seo-hoo to keep her job, he takes advantage of that by making her haul around the posters she has to get cleared from him all the way back to his hotel without lifting a finger to help her.
But then she grows uncomfortable when he sits next to her and lays down the law on personal and professional boundaries, which Seo-hoo seems to accept without issue.
After a cradle-robbing interlude with Assistant Hong and Dae-bok, we return to find Hana struggling to keep Seo-hoo on task. She's trying to do her job, but when he interrupts her to not to ask her out to dinner, but to ask what she wants for dinner since he arrogantly assumes she's going to eat with him, she loses her temper.
She still keeps herself in check and remains formal, but reiterates that she's just with him to do her job. But she gets a reprieve when Seo-hoo's teacher shows up, and calls Won to check if he's still going to some gathering they've got later. She can tell just from his voice that he's still angry with her.
Flash back to when Hana had tried to set Won up with a friend of hers, only for him to flatly refuse her and ignore Hana's efforts. He'd been angry at her back then for taking a stranger to their rooftop, and she's reminded of it now as she tells him how she spent three days that time trying to make things right.
"Of course," he remembers. "But you know I don't let go of my anger just because three days have passed, right? You have to work harder." It's worth noting that he's clearly teasing her here, though maybe he's still got a little grudge he's holding onto.
Things are awkward when Won returns to work, and So-eun attempts to clear things up by calling him aside for a private chat. It's good because he'd been wanting to talk to her too, and clear some things up.
But it's not the kind of news she wants to hear, since he keeps it short and sweet and says: "From now on, I hope there won't be a reason for me to hurt your feelings." She's been shot down, albeit kindly, though Mi-hyang does find her sobbing later and gives her a shoulder to cry on.
After attending a drinking party with their old high school buddies, Hana and Won retreat to their rooftop. (I guess she's not distancing herself from him after all?) She comes clean about the project she has to do with Seo-hoo since she felt that not telling him was dishonest, and though Won already knew about it, he appreciates her loyalty.
He tells her he'll be gone for three days for a flight to the United States, and Hana jokes that she wants to go with him—but doing so would really mean the end of her job. "Should we go on a date when I come back?" Won asks suddenly.
"A date?" Hana repeats. Then she replies, "Sure."
In a short exchange with his manager, Seo-hoo seems nonchalant about the fact that he wants to cancel his European tour so he can come back to Korea faster, claiming that he performs better when he chooses how and where he works.
"What I'm hearing is that you would perform better if you're with that person," his manager quips back, clearly referring to Hana.
Won goes on his flight and sends Hana a text, which Hana explains in voiceover as being something he does every day when he's on a long-distance flight.
"Having been together for a long time," she says in voiceover, "it's not about how much we know each other, but how big the emptiness is whenever we're apart."
She's unhappy when Seo-hoo picks her up the next morning, and shows as much when she refuses to say more than absolutely necessary on their car ride to the concert hall.
He wants her to watch him practice, something she doesn't want to do since she feels it's unnecessary for her job. He convinces her to stay by saying it is necessary, since she needs to know everything about his performance to do her job. Oh, because it makes total sense that she'd need to match shoes to the concerto he'll be playing and not just to his clothes—only designers with a death wish would do something like that.
When he starts playing, Hana's face seems to lose all its color. She knows this piece because she helped him pick it when they were together. She'd even asked him to play it for her at his next performance, but he'd refused, and instead offered to play it at a special performance just for her.
Which is what he's doing now, at last. Tears spring to Hana's eyes as she watches him play, but when he finishes and looks up, she's gone.
She's gone to Director Byun to ask to be removed from the project with Seo-hoo unless her role in it is revamped, because as of now she's being treated like his secretary and is getting dragged around like one. In the end they're just his sponsor, so there's no reason for Hana to be Seo-hoo's slave.
Seo-hoo looks through his various books of sheet music to find all the little notes Hana used to leave him inside, like which piece made him look the coolest, which was the first he let her listen to, etc. He smiles to see them now.
Hana greets Won's return with a huge hug, and they follow it up by playing arcade games like they used to do when they were little. But when he doesn't divulge anything after she asks if he has anything to say to her, she finds it suspicious—after all, they promised that they wouldn't have secrets from each other.
Won argues that he never made such a promise, and besides, she wouldn't even understand a man's problems. Hana says to try her: "This noona will listen to all your worries."
So Won finally opens up, and asks, "Do you know what the most important thing is? Timing." But his timing goes wrong when Hana gets an emergency call from work and has to leave their playdate early.
Only when she's gone does Won take out a ring-shaped box and tells it, "You'll have to wait a little longer." Omo. Is that…?
But the emergency turns out to be a carefully orchestrated event to get Hana back in the same room as Seo-hoo, since he's invited the entire marketing team out for a night of drinking. She knows the trap she's been caught in, so she's not about to refuse the drinks sent her way.
Meanwhile, Won heads over to Hana's house to play video games with her little brother, only to find out that Dae-bok saved the bunny Seo-hoo got Hana from the garbage. Won's not happy that it's back in the house, and therefore back in Hana's orbit.
Hana tries to leave the bar on her own, refusing to acknowledge her drunkenness to Seo-hoo. He insists on taking her home, but she stops him: "No! I hate you! I'll say it clearly: I. Hate. You." And besides, he's a year younger than her, and should be calling her noona.
That's when Won arrives, and Seo-hoo mutters under his breath that of course Won's here. Won totally ignores him as he takes Hana's purse and kneels down so she can climb on for a piggyback ride.
Hana seems to ignore him too, even when Seo-hoo repeatedly and pitifully says her name to try and get her attention. "Hana. Hana…" He's left to watch them leave with reddened eyes wet with unshed tears.
Flash back to Hana apologizing to Won for bringing an unauthorized person to their rooftop hideout by inviting him to a tent fort she's prepared, along with a watermelon where she's carved the word miahn (sorry) for him.
And then their watermelon seed spitting contest soon devolves into them just running around and chasing each other, as happy as happy can be.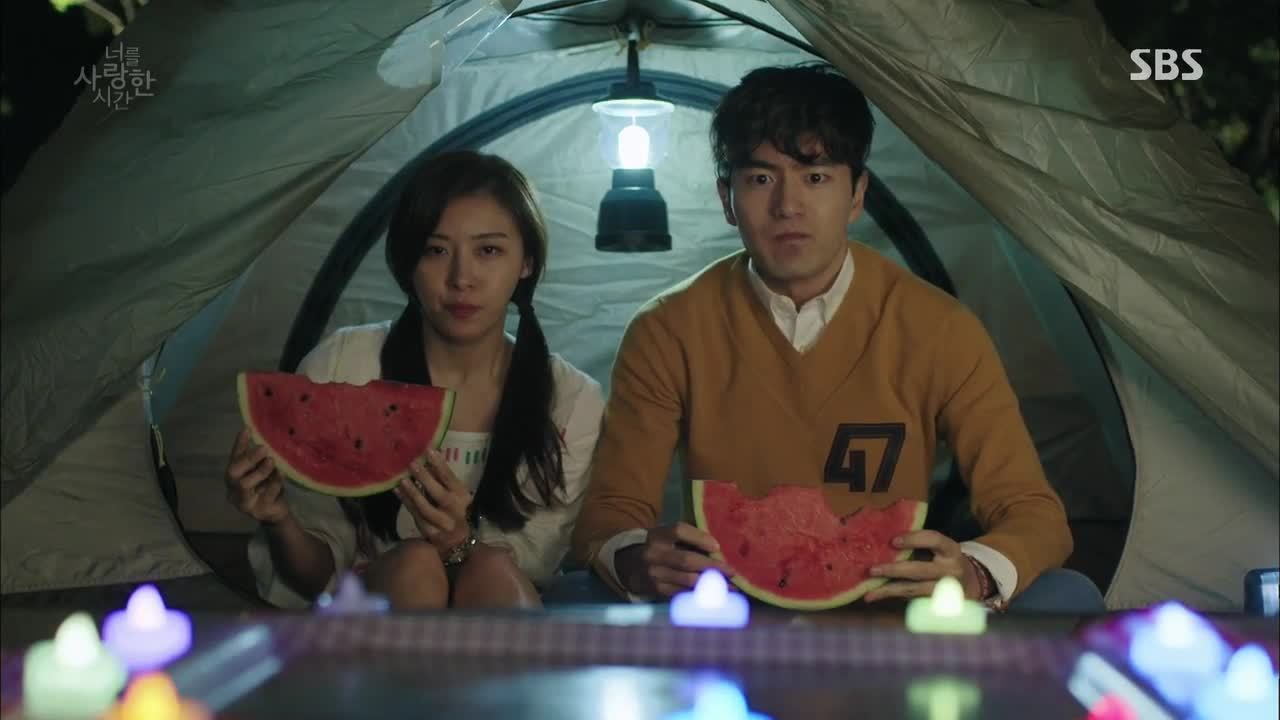 COMMENTS
I'm sure it'd only be to Seo-hoo's benefit to stop beating around the bush and just have a real conversation with Hana, but the same can be said for Won too. If that's an engagement ring he's waiting to give to her, then he's sure changed a lot over a relatively short span of time—is it really just the re-emergence of Seo-hoo that's got Won thinking he has to tie Hana down for good? But if it was just that he was jealous, wouldn't he have acted when Hana was with that awful ex of hers? Or Sung-jae?
Whatever the case, Won's feelings have changed and Hana still has absolutely no idea. At this point I can't really blame her, because Won's been pretty firm about keeping her in the friend zone all these years despite his feelings for her. Every time he's had an opportunity to hint that there could be something more, he's shut the very idea down, so unless Hana's a mind reader, it's not her fault that she doesn't see Won as even a remote possibility.
She seems more okay with that idea than he is, so I wonder if it'll come as a surprise to her if/when Won ever works up the courage to pop the question. He's right about timing, but he always seems to be on the right end of that spectrum when it comes to Hana, at least in comparison to Seo-hoo. In an ideal world where answers exist, we could feel just a little bit bad for our angsty piano player, but it's hard to muster up empathy when he allowed three years to pass without ever giving Hana an explanation and now expects to be welcomed back into her life with open arms.
It's all the more bizarre when he doesn't get what he wants and turns into a sad puppy, because he's not the spurned lover in this situation, no matter how he's fixed the narrative in his mind. If he was a no-show for the engagement party and saw his understandably upset fiancée being consoled by her best friend, then it was his job to step in and explain himself. But this slinking back into the shadows business while being secretly sad about Hana and Won's closeness? Not cutting it. Not cutting it at all.
Plus, he's not exactly earning points by ordering Hana around like an unpaid intern. It's clear he's jumping through a whole lot of hoops just to get himself back in her orbit again, but my biggest question isn't just why, but why now?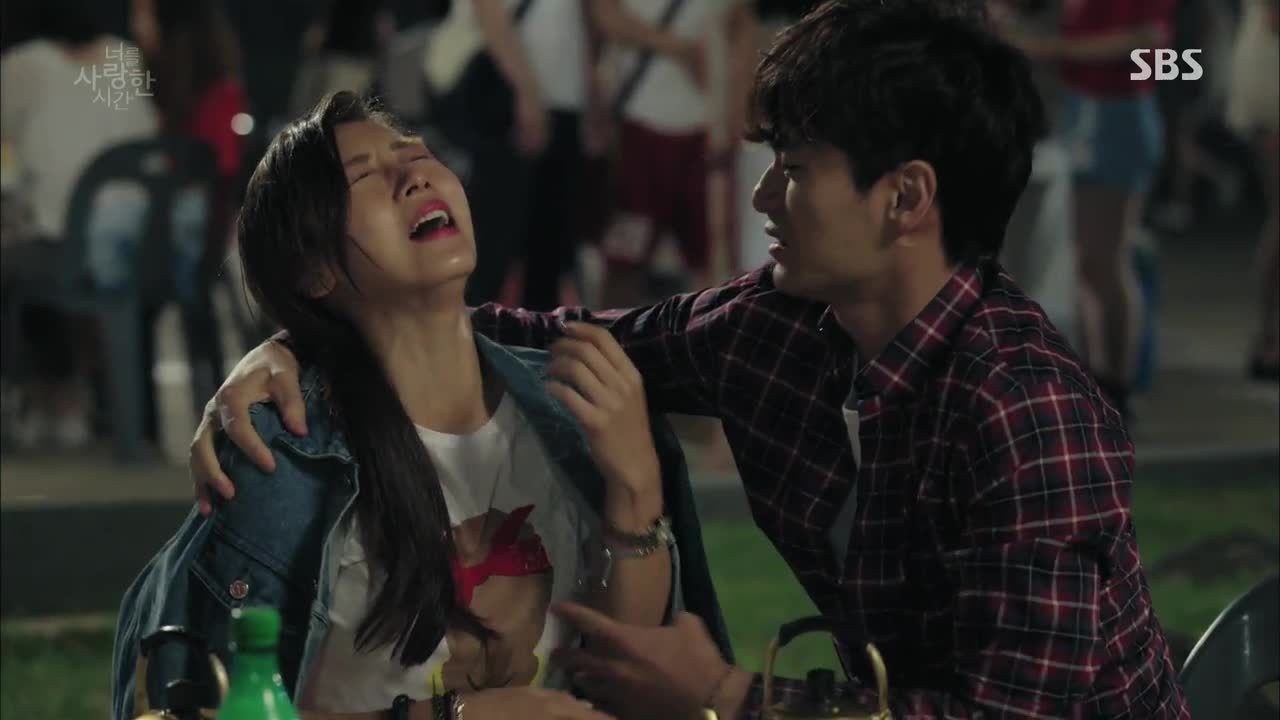 RELATED POSTS
Tags: featured, Ha Ji-won, Lee Jin-wook, The Time I've Loved You