Classic 1N2D hijinks in New Journey to the West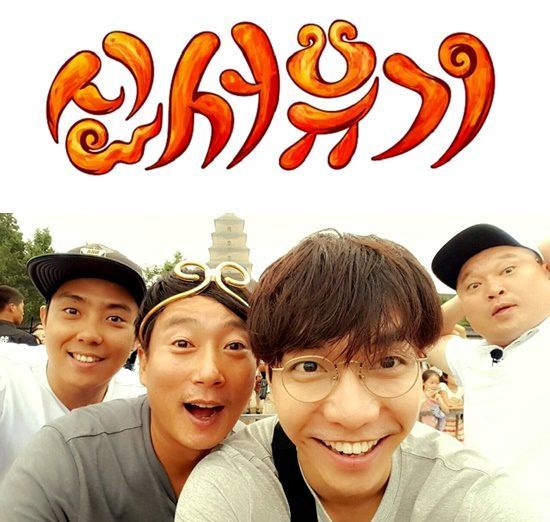 The first teaser is out for Na PD's new experimental web variety show New Journey to the West, starring former 1 Night 2 Days members Kang Ho-dong, Lee Seung-gi, Lee Su-geun, and Eun Ji-won on a 5-day reunion trip to China. The series will be aired online via Naver TVcast, and the teaser opens with Kang Ho-dong asking, "What's an internet broadcast? What are you going to do with the internet? I feel like I'm going to shoot the show but not be able to watch it. I have to be able to watch myself, right?"
Ji-won adds that his dad was excited about them reuniting for a new show and asked where he could watch it. Ji-won: "You can't. Dad, you can't watch it." LOL. I'm glad I'm not the only one wondering how everyone will watch this show, because conceptually I like the idea (and the freedom) of new media, but yunno, will my grandma be able to watch the show? The teaser follows up with the caption: "Pleeeease tell your parents how to watch this show."
I'm glad to see that the trip isn't just them sightseeing (because what would be the fun of that?), and they're back to playing games for food in classic 1N2D fashion. The boys endlessly tease Ho-dong for doing things the old way, and Su-geun spends a lot of time being punished in various ways like being electrocuted, or my favorite — suggesting a punishment haircut and then being the one to lose.
The show plays on the narrative from the Chinese novel Journey to the West, in which a monk leads three characters on a pilgrimage to atone for their sins. Seung-gi plays the monk, of course, and even when he's stuffing his face with food, the captions say it's because he's worried about the three disciples in his care.
Ji-won seems exactly the same as always, picking fights with Na PD over game rules: "You didn't say 1, 2, 3 and THEN ddeng!" and getting hit so often by Ho-dong that he starts feeling phantom pains when he knows he's about to be hit. Ho-dong says that he's going to pretend the cameras aren't there and just enjoy the trip with the guys, which I don't think he's actually capable of, but okay.
Seung-gi asks Na PD, "You're not going to not feed us this time or anything, right?" Cut to: Na PD slooooowly enjoying a delicious dish in front of Ji-won, who watches and gripes, "Do you really have to eat in front of me?" Heh. And at the end of the teaser, Su-geun sees a man eating street food and asks, "How do you say, 'just one bite' in Chinese?"
The captions say that they'll: "Run like Running Man, exercise like Neighborhood Variety Sports, and sightsee like Youths Over Flowers. We don't know exactly what it is, but we hope it's funny. Real makjang action adventure." I mostly get a Youths Over Flowers vibe from the show, since it's pretty much four longtime friends on a budget backpacking trip. And I don't think lacking for funny will be a problem.
New Journey to the West premieres September 4 online via Naver TVcast.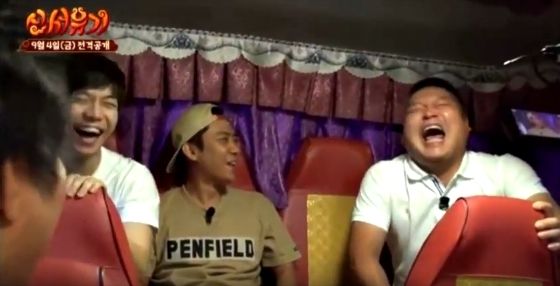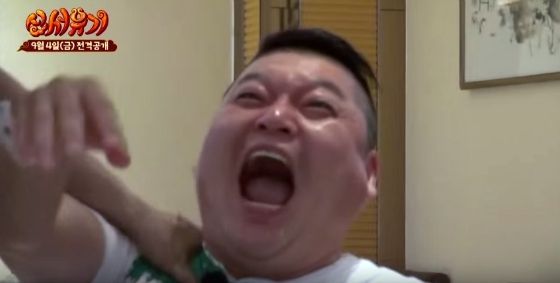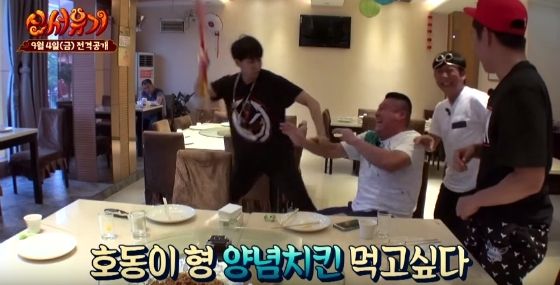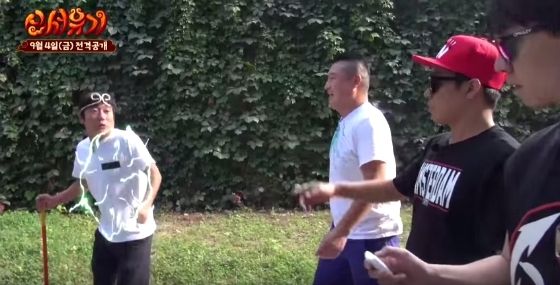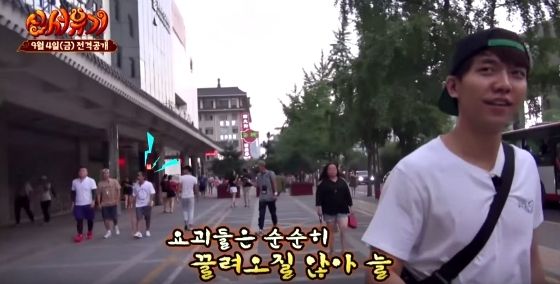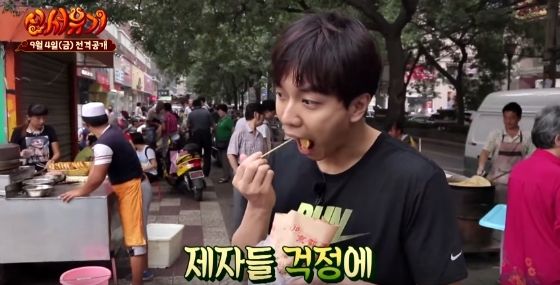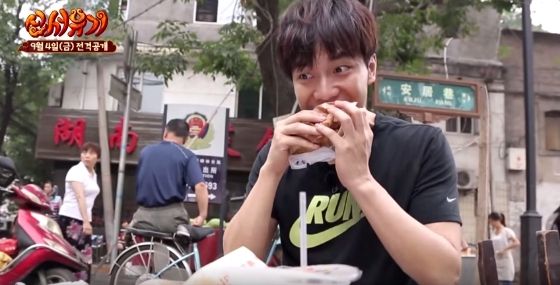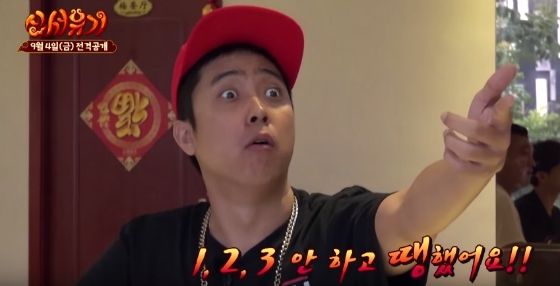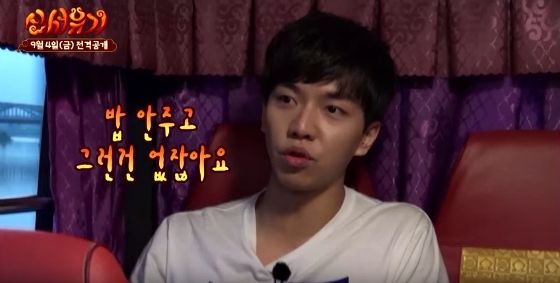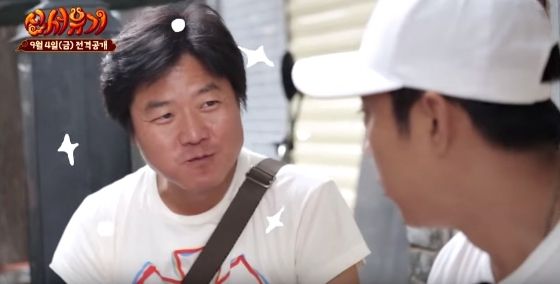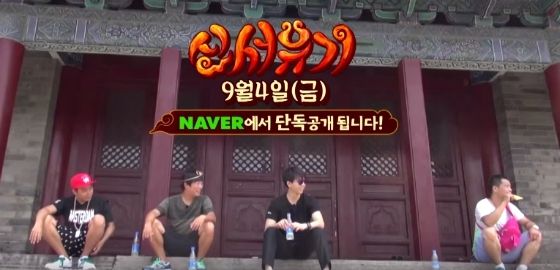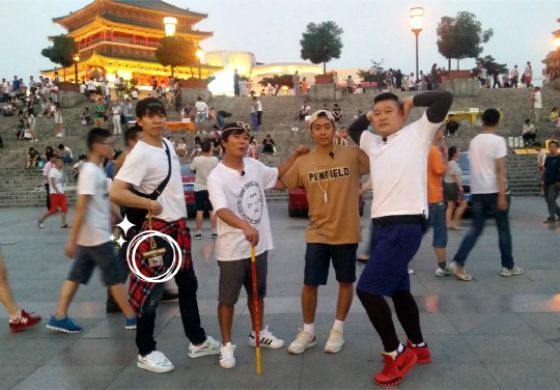 Via DongA
RELATED POSTS
Tags: Eun Ji-won, Kang Ho-dong, Lee Seung-gi, Lee Su-geun, New Journey to the West