Hidden Identity: Episode 15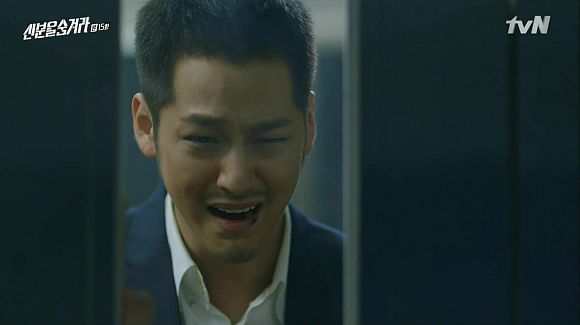 Just when you thought you knew what everyone was about and what side they're on, it's flipped on its ear. If you assumed that all the secrets had been revealed, I'm here to tell you — don't get too comfortable. The truth is darker and more shocking than the Investigative 5 Unit could have ever possibly imagined.
EPISODE 15 RECAP
Chairman Lee stands with every gun in the place aimed at him, including his own assistant's. Director Choi chides Chairman Lee for thinking that money is enough to buy loyalty, and Chairman Lee doesn't respond, only looks over at Min-joo.
Tae-pyung is beside himself that Min-joo and Gun-woo have been taken, but Team Leader Jang tells him to calm down — they'll be fine. The remaining team members are in a bind, though… Chairman Lee's men took everything from his office, including the CCTV footage, so they have nothing to go on.
Chief Han leads Gun-woo and Min-joo into an office building, and Gun-woo catches a glimpse of Yoo Jin-woo at work in his lab. Gun-woo asks Chief Han about Tae-in, if he is there and alive, but Han just says ominously, "I'm not sure I would consider him 'alive.'"
Duk-hoo discovers that another man named Kim Jong-woong was there when In-ho killed that agent (the night Tae-hee died), and he was arrested as a spy soon after that incident. Tae-pyung and Jang visit him in prison, and he sighs that he hasn't heard the name "Ghost" in a long time.
He confirms that Director Choi was originally tasked with killing Jung In-chul (the original agent who went rogue and became the Ghost) and failed, but that he himself saw him killed that night at the docks. But then, twenty years later, there was a rumor that he came back from the dead to take revenge. That's why he's called the Ghost.
Kim Jong-woong claims to have seen him himself eight years ago, and that he hadn't aged at allin twenty years. His face was a bit different, but it clearly looked like the same man. He thinks that it wasn't Jung In-chul, but his son. Wait, so is Director Choi not the Ghost, then?
Back in his office, Director Choi talks to Chairman Lee's (former) assistant, Chief Jung, about hope, and how they all started out with it eight years ago. He says that when he first met Chief Jung back then, he was worried because he looked just like his father, but doubted that he shared the same beliefs.
Director Choi says that even now he worries whether their mission is the right thing to do, but Chief Jung maintains his characteristic brooding silence. They remember their first meeting eight years ago, when Jung had expressed his wish to avenge his father and Choi had agreed to help him. Now, Choi wonders if the world will remember them as terrorists or idealists, and Jung says that he doesn't care.
The remaining Investigative 5 Unit members don't find any records of Jung In-chul having a son, but they do discover that his wife's sister had adopted a boy when he was seven years old. He'd been registered as Park Tae-min, but his teenage passport photo confirms him as the man we know as Chief Jung.
Jang recognizes him immediately, having just seen him at Chairman Lee's building, and Jung's words that he'll be seeing Jang soon have a more ominous ring to them now. Tae-pyung is shocked but Jang just says the pieces are finally coming together.
It turns out that Chairman Lee wasn't killed, and even he wonders why Director Choi kept him alive. Choi says he needs a list of all the influential people he bribed over the years. It's possible he plans to kill them all — but he says they're like cancer, you kill one and another crops up, just like Chairman Lee himself.
He offers Lee a chance to get rid of his own cancerous cells, but Lee smirks that he knows he's dead once he hands over the list. In answer, Choi has Min-joo led into the room, and Chairman Lee suddenly looks scared. Chief Jung wraps a cord around her neck and starts to throttle her, and Lee falls right into line.
Min-joo is returned to their room and Gun-woo taken out, and he's strapped to a hospital bed in a dark room. Yoo Jin-woo comes in to take some samples, telling the goon watching them that he should leave or be at risk of contamination. Once they're alone Jin-woo shows his face to Gun-woo and tells him the injection is only saline, and Gun-woo asks desperately if Tae-in is alive.
Jin-woo confirms that he is, and says he's here against his will, too. He doesn't care if he's killed when this is all over, but he tells Gun-woo that his wife and baby have to live. Gun-woo tells Jin-woo that he must find a way to contact his team, and they'll help. Meanwhile Tae-in is getting sicker and sicker, and only has a few hours left before the virus's cultivation is complete.
Chief Jung tells Director Choi that he'll kill Chairman Lee and Min-joo as soon as he has the list of bribed officials. But Choi says that's not necessary, since Lee's life will be Hell once they get the list, anyway. Jung agrees, and Choi addresses him affectionately to tell him to be safe.
Back in his lab, Jin-woo asks the goon to step out for a moment in case something goes wrong with his next procedure. The goon doesn't go for it, but sure enough, whatever Jin-woo mixes up causes the goon to pass out.
Duk-hoo briefs the team on Chief Jung, who moved to America when he was younger and joined the Delta Special Forces. He then worked for Hexagon as a mercenary, giving him a similar background to Nam In-ho. Jang puts the clues together and deduces that Chief Jung may be Jung In-chul's son, making him the real Ghost.
Just then Jang gets a call from Jin-woo, who quickly tells him that he's in the same building with Gun-woo, Tae-in, and Min-joo. He refuses to tell them where, for fear of his wife and child being harmed, and begs Jang to save them. He agrees to tell Jang their location once his wife is safe.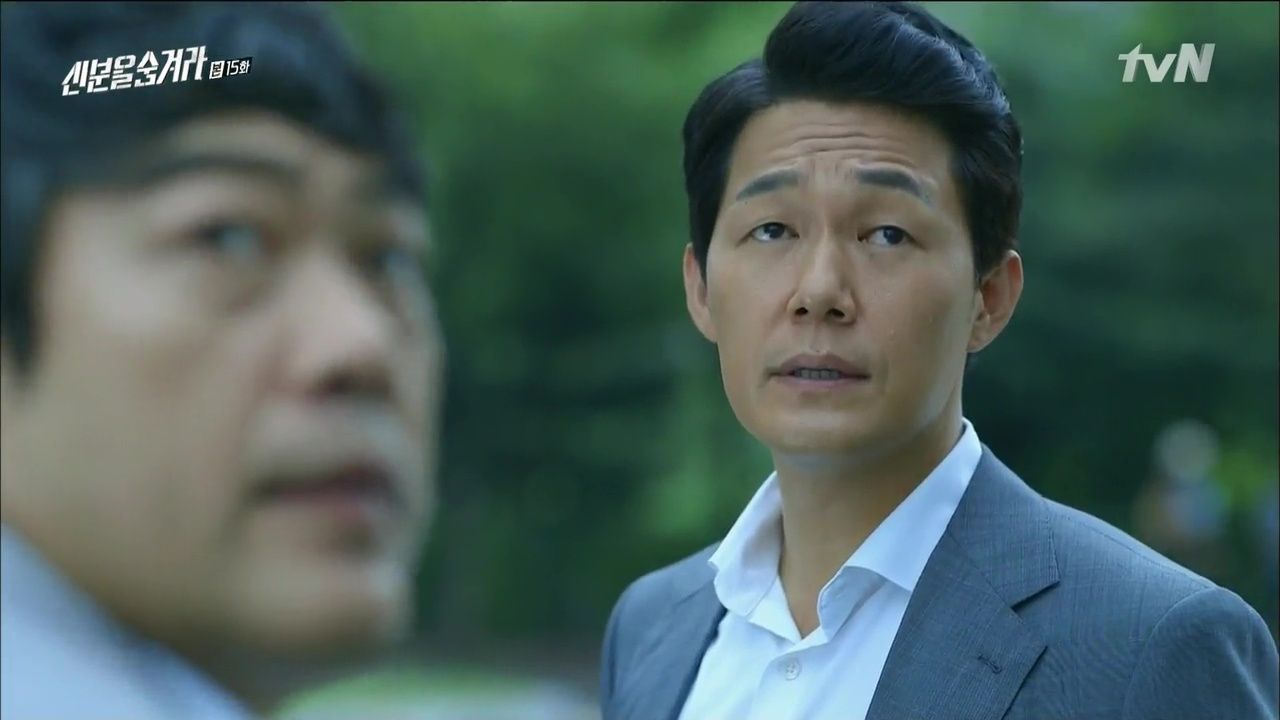 All Jin-woo knows is that when he was allowed to speak to Ha-young, he could hear children playing in the background. We discover that she's being held at an orphanage, in a storage shed, which explains the noise of children playing.
Tae-pyung figures out, based on Ha-young's usual habits, the location where she was likely taken from, and Jang notices that the CCTV camera on that street corner is broken. But he finds another camera that captured the kidnapping reflected in a window. Smart.
It also caught the license plate of the car Ha-young was taken away in, and the car is tracked to a small town called Myungdo. They lost track of the car after that since it's a rural area, but Duk-hoo discovers an orphanage that's funded by Benny Capital. Which just happens to be located in Myungdo. Bingo.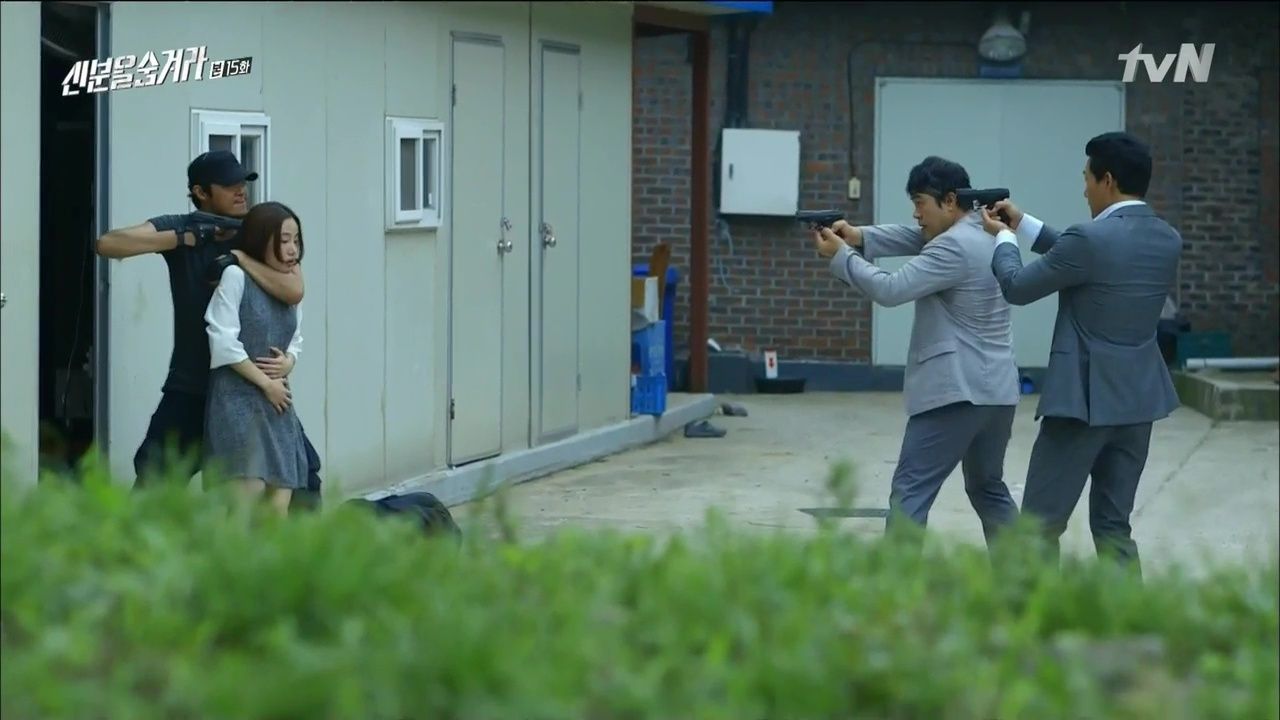 Team Leader Jang and Tae-pyung sneak up on the orphanage, and Tae-pyung is the first to find one of the Ghost's men and disarm him. He leads them to the shed, but yells out to his partner that the cops are here. The second man comes out with a gun to Ha-young's head, and Jang calmly warns him to put the gun down.
The man refuses and tells them to put their guns down, so Jang just fires one shot — into his head. Wow, even Tae-pyung looks impressed. They all go inside where Jang questions the nun in charge of the orphanage.
She refuses to speak a single word, but Tae-pyung notices an old photo of a group of children, with a young man smiling with them. Tae-pyung recognizes the young man as Director Choi. Wow, and the nun starts to become inexplicably emotional.
The Sister finally speaks when Jang shows her a picture of Chief Jang, saying that Director Choi first came here a long time ago. We see that, the night Jung In-chul was killed, Director Choi had been in a car nearly with their young son. The little boy had witnessed the whole thing. No wonder he's so bent on revenge. Director Choi had brought the boy to the orphanage himself.
Again connecting the dots, Jang asks the nun if those children in the photo are possibly… and she nods yes. They're all the children of the betrayed agents. Director Choi had brought them all here, and supported them – he's been planning this for thirty years. The shot of young Director Choi playing happily with the orphaned children, while ominous music plays in the background, is just bonechilling.
This explains why they were so loyal to him, even submitting willingly to their own deaths. It all makes so much sense now, why they would rather die than betray the man who's been their only family most of their lives. And Director Choi, even having practically raised and guided them their whole lives, was willing to let them die for his revenge — and there's only one left.
Jin-woo takes advantage of his guard's distraction to place another call to Jang. Once he hears Ha-young's voice, he tells Jang where to find him and his teammates, but Chief Han rips Jin-woo's phone away to issue Team Leader Jang a cheery hello. Jang orders the SWAT team to the location, and he and Tae-pyung also rush in that direction.
Chairman Lee and Min-joo are taken to Lee's house to get the list of names, and Lee asks Chief Jung to guarantee his daughter's life if he produces the list. Jung of course promises nothing, but Lee has no choice but to hand over the USB with his list on it. While Jung is looking away, Min-joo sees her father's hand creep towards his safe again and take out his gun.
He manages to shoot Chief Jung's assistant before Jung shoots him, but Min-joo smacks the gun out of Jung's hand before he can take another shot. Alone and without his weapon, Chief Jung quickly escapes the situation.
Min-joo calls Team Leader Jang just long enough to give him the address where Tae-in and Gun-woo are still being held. Chairman Lee is injured pretty badly and she begs him to hang on, but he's getting weaker and only has enough energy to say he's sorry. She shakily takes his hand and forgives him — Chairman Lee says that he's happy, and he dies.
The goon who's been guarding Gun-woo goes back into the room with him, and just barely has time to see Gun-woo's handcuffs sitting unused on the desk before Gun-woo attacks. He knocks the man out and takes his gun, but Director Choi has already been tipped off by Chief Jung and is leaving the premises.
Gun-woo finds the locked room where Tae-in is being held, and gah, he looks so sick. Gun-woo can only watch through the window as Tae-in weakly gasps that it's a relief to see him.
Director Choi is long gone by the time the SWAT team arrives, along with Jang and Tae-pyung. The two men find Gun-woo beating on Tae-in's door, and Tae-in smiles to see them. He makes eye contact with Jang, who gives a resigned nod, and puts a supportive hand on Gun-woo's shoulder. Oh no.
A team of doctors arrive to clean up and treat Tae-in, and even Duk-hoo comes to watch, though the team has to stay outside the room for fear of contamination. The doctor reports to Jang that the antivirus isn't working, and Tae-in only has a few hours left. Jang informs the team, but Gun-woo refuses to let his friend go like this.
He says he'll save him no matter what it takes, even chiding Team Leader Jang for giving up on Tae-in. But in his room, Tae-in whispers to Gun-woo to hold his head up and not cry, because he's going to see Tae-hee. "Please… be happy. Live on behalf of me and Tae-hee."
Tae-in starts to gasp in pain and begs the team to leave — he doesn't want them to see him die. He smiles as he remembers happier times with Gun-woo and Tae-hee, back when she was alive and they were all friends, and soon the doctors deliver the news that he's gone.
Before he passed, Tae-in had asked Team Leader Jang to look after Gun-woo, and thanked him for everything. Now Jang cries, and Gun-woo goes for a drive, fighting his own tears. They get the best of him and he pulls over to sob out his grief.
Once in a safe place with his remaining men, Director Choi intuits that Chief Jung has something to say to him privately. Jung says that before they release the virus to the general public, he thinks they should test it out on an isolated village first.
Choi reminds him that this is not just revenge, but that they're trying to open people's eyes., His father wouldn't want meaningless murder. Oh, is that not what you've been doing? Choi gets his way, but something in Chief Jung's eyes makes me nervous.
Back in the office everyone is silent, lost in their own thoughts. Min-joo is the first to give in to tears, having lost two people she loved today, and Jang watches them all from his office. He starts to address them, but the Chief of Police barges in and asks Team Leader Jang to come with him — Director Choi wants to see him.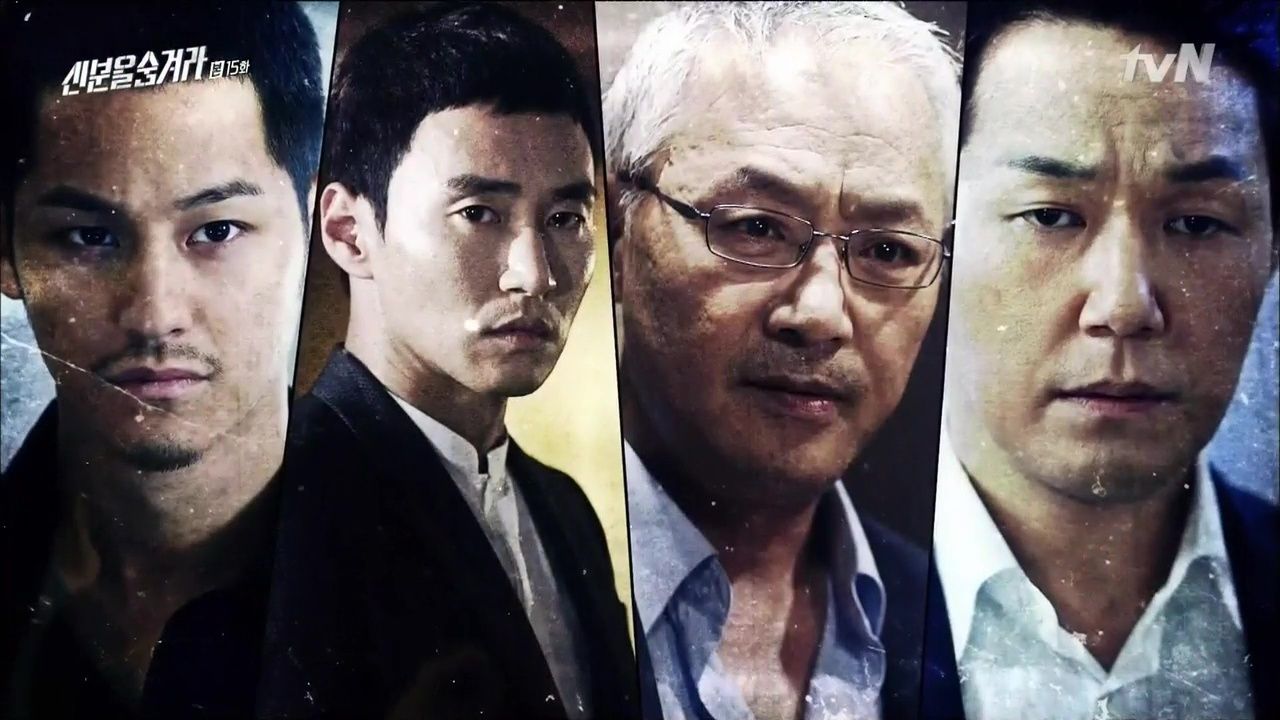 COMMENTS
A moment of silence for Tae-in, who truly gave everything for his friends, his country, and most of all, his sister. The poor guy couldn't cut a break, but his involvement in the case was instrumental, and they wouldn't have gotten half as far as they did without his willingness to put his life on the line. Repeatedly. I wish he'd gotten more screen time, and a chance to truly reconcile with Gun-woo, but he want out with class, dignity, and noble purpose.
So who is the real Ghost? Though Chief Jung could claim the name, being the son of the original man pegged as the Ghost, I think the true title still goes to Director Choi. He's been raising these children for this specific purpose (revenge on their parents' killers) for thirty years, and has no qualms about letting them die once their purpose is served. I can actually understand his original idealism that led him to feel compassion for these children, having seen their fathers unjustly murdered for no reason other than loyally serving their country. Choi had every justification for wanting justice for his betrayed countrymen.
But to take their children and purposely set them up to be murderers and criminals for his own purposes, then either let them kill themselves or have them killed once their job is done, is just the purest of evil. Aside from the fact that this isn't what their fathers would have wanted for their children (plot hole — where were their mothers??), these kids didn't have any other choice. They were almost certainly brainwashed from the moment Choi got his hands on them, and were given no fair chance at a different life. I don't even have words for how disgustingly vile and wicked that is. Choi can insist all day long that he's just seeking revenge for his wronged comrades… but the truth is, he's about as malevolent as it gets.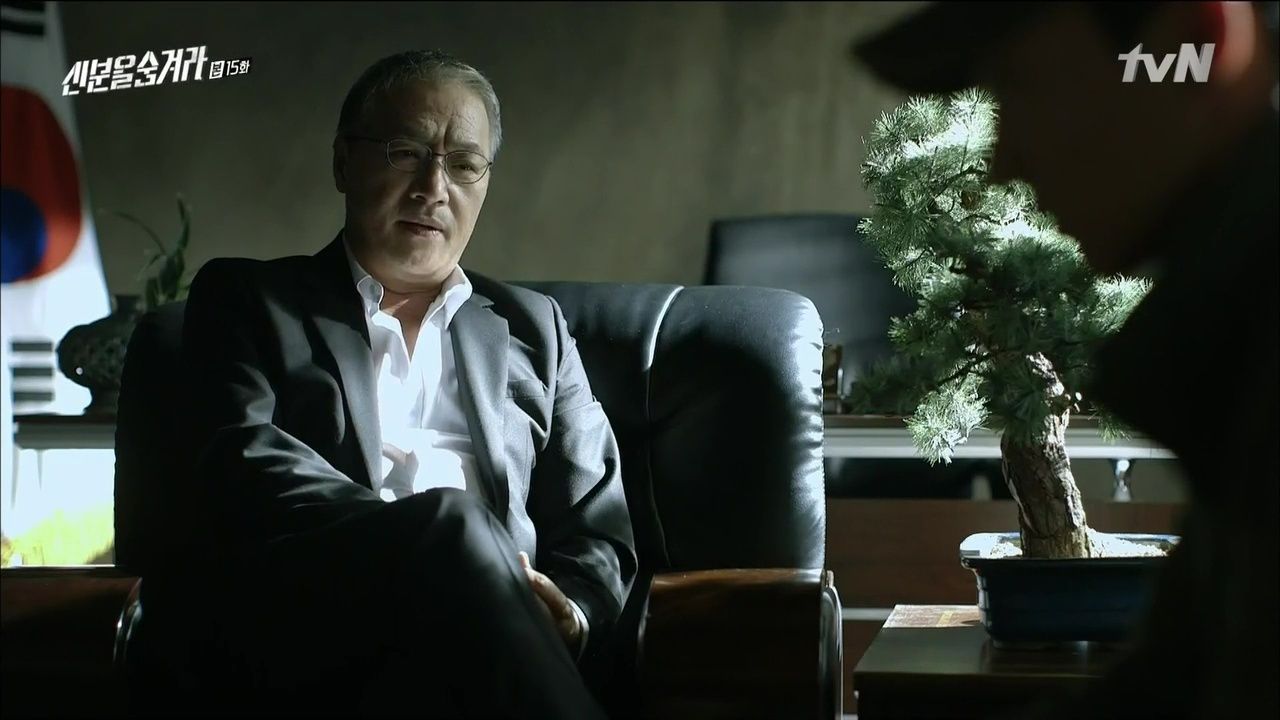 One of the things that Hidden Identity does best is its way of keeping secrets, and making the viewers think things are a certain way, then suddenly with one word it all flips and we realize that the truth is something completely different. The reveal of Choi as the Ghost in Episode 13, then the discovery that Chief Jung might actually be the Ghost, then the understanding that Choi has been orchestrating everything for decades and really IS the Ghost, was exciting and breathtaking. I could mention several more examples of this style of twisty storytelling in the course of the show, but I'll keep it short. I just wanted to give props to the writer for keeping us on our toes!
That said, there's still one big problem with the writing that bothers me. One of my biggest complaints about this show, which I've touched on briefly before, is the coincidental convenience with which the team discovers just the right information at just the right time, every time. Once or twice and I would be able to overlook it, but it happens nearly every single episode, and I just have to say something. For the team to consistently just suddenly discover that certain information exists when before it didn't, or wasn't deemed important, and then have that information be crucial to catching today's criminal, is just lazy writing. It's as if the writer writes the story into a corner then has to create new characters/evidence to get out of it, or use previously expendable information and make it all-of-a-sudden important. But either way, we're gonna notice if you do it too often.
Especially when the information comes out of freaking nowhere… for example, in this episode, why would Duk-hoo, in the middle of a crisis, suddenly look into a guy who's been in prison for eight years? Another notable instance was in Episode 9 when Gun-woo went AWOL, and Team Leader Jang suddenly pipes up that he must have taken his captors to a safe house, when they were just talking about his phone records. Say what now? Nobody had even mentioned safe houses or anything like it, and they weren't even discussing Gun-woo's location at the time. The jumps in logic are just too jumpy, and it's insulting to your audience to do it so often and think we won't notice.
But for the most part I've enjoyed Hidden Identity, and I'm impressed that it kept up its fast-paced storytelling, gorgeous camerawork, and compelling characterizations all the way through the run of the show. Not to mention, it gave us some of the most interesting and fun villains, who were never simple or one-note cutouts but fully-fleshed and motivated in their work. And best of all, I feel as though the show has some more surprises in store for us in the finale, and I can't wait to see how it all ends.
RELATED POSTS
Tags: featured, Hidden Identity, Kim Bum, Lee Won-jong, Park Sung-woong, Yoon So-yi