Hwang Jung-eum on building her character for She Was Pretty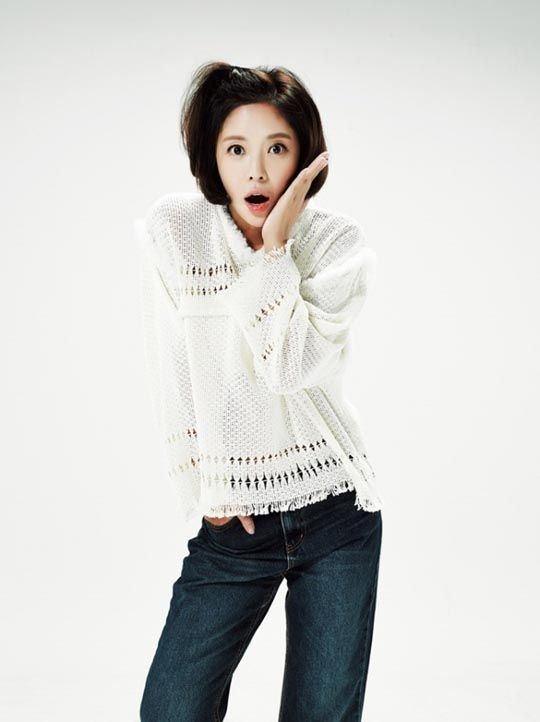 Three weeks out from She Was Pretty's premiere, the MBC romantic comedy is ramping up its promotion. We recently got a cute teaser out of leads Hwang Jung-eum and Park Seo-joon, and now we have a new promo shot of Hwang (…just the one, stingy bastards), as well as a brief interview with her about the drama and her approach to the character.
In the show, Hwang Jung-eum plays Kim Hye-jin, a formerly pretty and currently ugly woman who falls in love with a man who had the opposite life trajectory (going from ugly to hot). Admittedly, the one-line premise made me a little iffy about the show, since I don't want a drama to reduce people to being only as good as their looks (although I realize that society will do that anyway), but I am a little comforted at the thought that the writer for She Was Pretty is Jo Sung-hee, who previously worked with Hwang on High Kick Through the Roof. Though Hwang had acted prior to the 2009 family sitcom, High Kick really was her breakout, and I remember her standing out among the cast. Maybe the reunion will be good for them both?
About her character, Hwang Jung-eum said: "When she was young, she lived a shining life where she was always the lead character. But she's turned thirty and now lives a life more like an extra, where nobody pays her the least attention. Still, she's sweet and good-natured, and she has a positive and enthusiastic personality that represents this struggling young generation. She's a refreshing character we haven't seen much in dramas before, so I'm looking forward to it."
When asked how Kim Hye-jin differs from Hwang's previous characters, she replied, "In previous projects, there were a lot of external devices that represented the character's job or personality, but not so much in She Was Pretty. She's extremely ordinary but doesn't lose her pure spirit, and I'm working hard to express Kim Hye-jin. Putting an emphasis on those parts, it'll be fun to watch how things go."
Hwang was asked how it felt reuniting with High Kick Through the Roof writer Jo Sung-hee, as well as what her first impressions of the script were. Answer: "First off, I had faith in writer Jo Sung-hee. And reading the synopsis for She Was Pretty, I had the feeling that the set of this drama would be really enjoyable. Kim Hye-jin is a character with a lot of appeal, and I hope that viewers can relate to her and enjoy watching her.
Hwang has had a hot streak, with successful turns in Secret and Kill Me, Heal Me. So what does she think about her prime days as an actor? "I feel like every day is even better than the last. [Laughs] As an actor, it's a given that you must do a good job with the acting. To that end, in order to express the character well, I need to keep up a continuous flow of positive thoughts. Putting in that effort daily, I think you progress, whether externally or internally. When tomorrow comes, I try to make tomorrow a new heyday for Hwang Jung-eum."
She Was Pretty premieres on September 16.
Via TV Report
RELATED POSTS
Tags: Hwang Jung-eum, interviews