KBS's Master of Trade—Inn 2015 kicks off with a marathon script read
Time to check back in with KBS's upcoming period drama Master of Trade—Inn 2015, which was formerly titled simply The Innkeeper. The drama stars Jang Hyuk (Shine or Go Crazy), Kim Min-jung (Gap-dong), Han Chae-ah (Oohlala Spouses), and Yoo Oh-sung (Joseon Gunman), and the script reads apparently took place a few weeks ago, although we only recently got the photos from the reading.
The reading reportedly took place over a whopping 13 hours, which sounds insane; I hope they weren't all stuck in one room the whole time, though with a full cast numbering 80 actors, I can see it taking that long to get through everyone. The drama follows the main character (Jang Hyuk), the inheritor of a defunct inn in the late Joseon era, who then works his way up and becomes a great merchant, while challenging the established ways of commerce that favor corrupt deals between government and business.
The Korean word in the title literally means inn, though the multi-volume novel on which the series is based was translated as The Innkeeper. But since they've tweaked the title, we're going with the more literal translation. The "2015" of the title may be a bit confusing since the drama is a historical series, but I suppose it helps to differentiate this one from KBS's 1983 drama, which was based on the same source material.
Master of Trade—Inn 2015 is directed by sageuk veteran PD Kim Jong-sun of dramas Dae Jo Young, Taejo Wang Geon, and King Gwanggaeto. Writing are Jung Sung-hee and Lee Han-ho of King Geunchogo and Ja Myung Go—so, lots of sageuk experience here. The series is set to follow KBS's current Wednesday-Thursday show, political drama Assembly, and will premiere in September.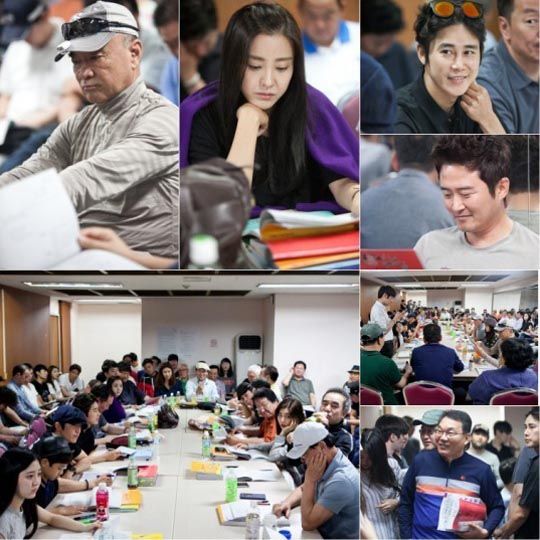 Via Ten Asia
RELATED POSTS
Tags: Han Chae-ah, Jang Hyuk, Kim Min-jung, Master of Trade–Inn 2015