Kim Woo-bin and Suzy couple up in Lee Kyung-hee romance drama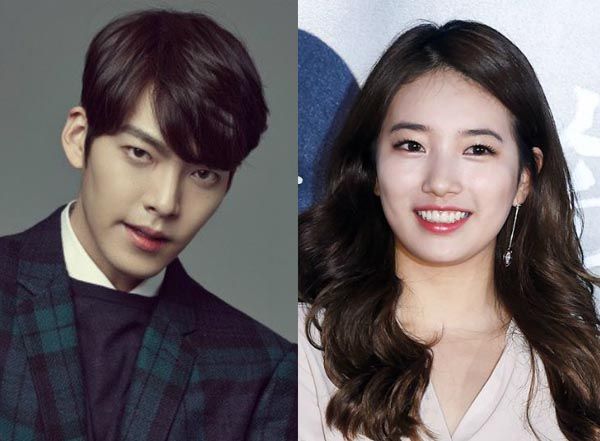 Wow, well if this isn't a new (drama) power couple in the making: Kim Woo-bin (Heirs) will be headlining a drama with Suzy (Gu Family Book), and it'll come from writer Lee Kyung-hee, who has penned a number of hit dramas, among them Nice Guy, Thank You, A Love to Kill, and I'm Sorry, I Love You.
The drama must have been casting in super-secret meetings, since both stars are confirmed (which hardly ever happens these days, in the age of the wishy-washy press release). Kudos on pulling that off, that's for sure. The new project is called Lightly, Ardently, a (working) title that's meant to be contradictory; the first word speaks of a thoughtless or unserious kind of love, while the second suggests deeply emotional.
The drama tells the story of a couple who were painfully separated in an ill-fated relationship, who meet again later as total opposites, one as a haughty superstar and the other as a documentary PD. I have no trouble imagining Kim Woo-bin as a Hallyu singer-actor megastar, with a sharp brain and ultra-cynical personality. Suzy will be attempting an image transformation (let's all cross our fingers on this one), going from innocent and sweet to an extremely servile, feeble, but also materialistic character who has no pride when it comes to money. That's quite the mix of traits, but sounds like it'll make for an interesting character. The romance will start off prickly but develop into a more ardent connection, and knowing writer Lee, the developing melo will be sure to tug, if not break, our hearts.
It's true that Lee's most recent drama, weekend family series Wonderful Season, wasn't quite as successful as her others, though she's done much better in the miniseries melodrama format (her bread and butter, really). There's still lots of time to see how this one develops, since the casting has been confirmed pretty early in the process; Lightly, Ardently is being planned for a 2016 airdate.
Via Sports Seoul
RELATED POSTS
Tags: Kim Woo-bin, Suzy, Uncontrollably Fond