Last: Episode 1
Last breaks in fast and stylish — not the story of a man falling into ruin, but almost a classic underdog tale. Because he's at the bottom, the only way he can go is up, right? It's a reassuring safety net, because while it's fun to be at the edge of your seat, it's also fun to just sit back and enjoy the game, especially when you've got a calculating, fast-thinking hero who can use his fists as well as his brain. But don't be deceived: Here, the stakes are life and death.
Unfortunately, this is only a first episode recap, but you know you want to watch them all! I certainly will be.
EPISODE 1 RECAP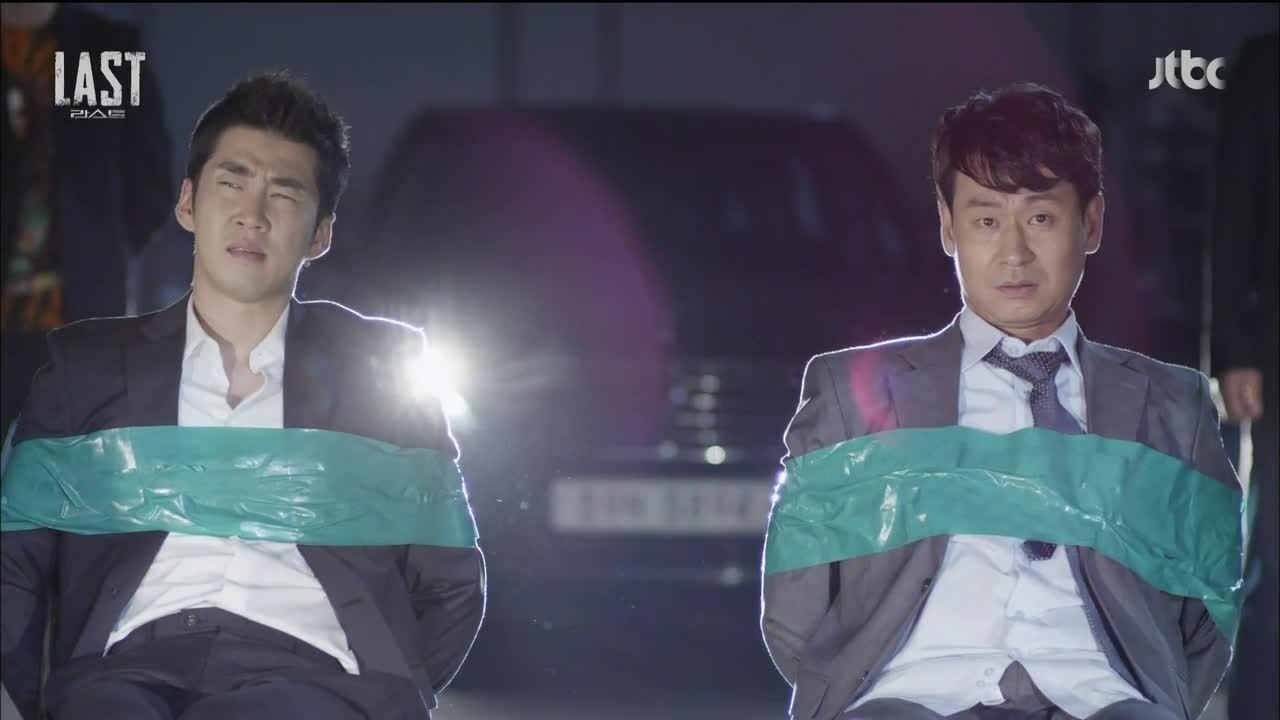 The lights flicker on in a dark warehouse, illuminating two bound men. One of them is our protagonist, JANG TAE-HO (Yoon Kye-sang). Across from them, an older man flashes a joker card at Tae-ho. Goons forcibly pour alcohol down the struggling men's throats, while Tae-ho tells us in voiceover that he lost 35 billion won — that's the reason he's about to die.
Rewind. Tae-ho and his colleague, PARK MIN-SOO (who is the other man who gets tied up with him in the warehouse), discuss a big investment, and we find out a large sum was borrowed from a loan shark. Min-soo worries about the huge figures, but Tae-ho confidently tells him it's in the bag. Once they pull this off, they're guaranteed a fortune of at least 100 million…but, if he fails, they're dead.
He drives a woman to a scenic field, and the playful banter suggests she's his girlfriend. He announces to her that he's leaving Korea since he's been scouted by a big bank for big bucks. Will she marry him and go together to New York? He presents a ring with the promise that he'll earn that money soon, and support her.
She turns him down, complaining that he always decides big things by himself, but he remains cocky. She'll reconsider once he's earned that much, she laughs, and unfazed, he assures her she'll be wearing his ring soon enough. They kiss.
Tae-ho tosses the rejected ring into his car's glove compartment that night. His way is blocked by a homeless trio, and irritated, he drives right at them, coldly swerving at the last moment.
The new day sees Tae-ho mobilize his crew for their big investment, involving a company called Daedong Bio. It all starts off to plan, but things suddenly go very wrong, in a calculated move that Min-soo is certain is sabotage — but by whom? And just like that, they've lost 35 billion won.
They're on the edge of panic when their loan shark, PRESIDENT JUNG (Lee Do-kyung) calls to find out what's going on, and more importantly, is his 7 billion safe? Tae-ho assures him it is, but President Jung wants to see him in person.
Tae-ho acts fast, gathering together all their important documents and hard drives, he explains to Min-soo that they have to go on the run — no phones, no going home. President Jung will kill them. But in the car park, Jung's minions surround them, cutting off their escape. Tae-ho plays it cool like he was on his way to Jung's office anyway, but the head goon leers that they're going someplace else.
And now we catch up to our prologue, as the circle of headlights click on and President Jung confronts his would-be runaways, all avuncular. Tae-ho argues that there was nothing wrong with their plan — someone must have betrayed them. Jung blows his top and tells them that the CEO of Daedong Bio fled with every last bit of the company money. This really shakes Tae-ho, and Jung seethes that he's going to get his own back.
Tae-ho begs for another chance — just one more day of trading to earn back what he lost. By now, Jung is eager to cut his losses since the law is going to be after Tae-ho soon enough. But he offers him one last gamble: to pick a card from the two he holds. If he chooses the king, they live, but if it's the joker, they die.
Tae-ho picks left: the joker. President Jung tells the goons to finish them, and turns to go. Tae-ho desperately pleads to see the other card, and Jung is furious at the implication that he played dirty. Mocking Tae-ho for his over-cleverness, he reveals the second card. It's a king.
The two men get liquor poured down their throats, and unconscious, they're bundled into Tae-ho's car, which the goons push off the dock.
Tae-ho comes to as the car fills up with water, and tries unsuccessfully to rouse Min-soo. He scrabbles in the glove box and retrieves the ring box and a pen, but I don't know why he stabs himself with it (to wake himself up?). He yells that he won't die here, and with a last, furious kick, smashes open the windscreen.
Water floods in, and Tae-ho struggles to free Min-soo, who finally regains consciousness. Tae-ho swims out in relief, but Min-soo can't follow. He's stuck. Tae-ho tugs, but it's no use and Min-soo falls back. I swear he's crying even though he's underwater.
On the dock, dripping Tae-ho takes out two goons with a metal pipe, and makes off in their car. He sits outside an apartment block, waiting. Ah — a taxi drops off his un-fiancée, whose name is YOON JUNG-MIN (Goo Jae-yi), but before he can go to her, Jung's men arrive, looking for him, although they don't pay any attention to her.
Tae-ho immediately turns around and drives away unnoticed…but not for long. With roadblocks ahead, he takes a different route, and runs into police again. He mows through them with desperate determination and they give chase, only to find the car abandoned a few blocks over. Tae-ho runs away on foot, into the night.
Tae-ho pawns in the rescued engagement ring for a thick wad of cash and sets himself up in a swanky hotel. Hm, not really a smart move considering that's all the cash you've got. But his complacence is broken when he reads in the newspaper about the Daedong CEO's disappearance.
From a hotel payphone, he calls in to the office to get the latest news, but his man's repeated inquiries about where he is clues him into the fact that someone else is there. On cue, President Jung barks his name into the phone, which sends Tae-ho packing — all the way out of the cushy hotel.
In humbler surroundings, Tae-ho examines the pitifully small handful of notes and coins he has left, and settles for ramyun. He's mid-chew when he hears a news report revealing that the body found in a reservoir two days ago, divested of all its organs, was identified as the CEO of Daedong Bio. The shop ajusshi turns around to discuss it with him, but he's gone.
That's because he's busy in an alley, throwing up what little food he ate. He knows it's President Jung's work. The memory of Jung's threats, and everything he's just been through, washes over him. It hits home that the same fate awaits him if he's caught. Overwhelmed for the first time, he staggers away.
Tae-ho sleeps on a bench, and his grimy, dishevelled state says he's been roughing it for days. He gets moved along, and we next find him gulping thirstily at a public tap. As he makes his way on, he turns back to contemplate a discarded tray with scraps of food left on it. Agh, I feel hungry just looking at him looking hungrily at it. He looks around to see if anyone is looking, and reaches out.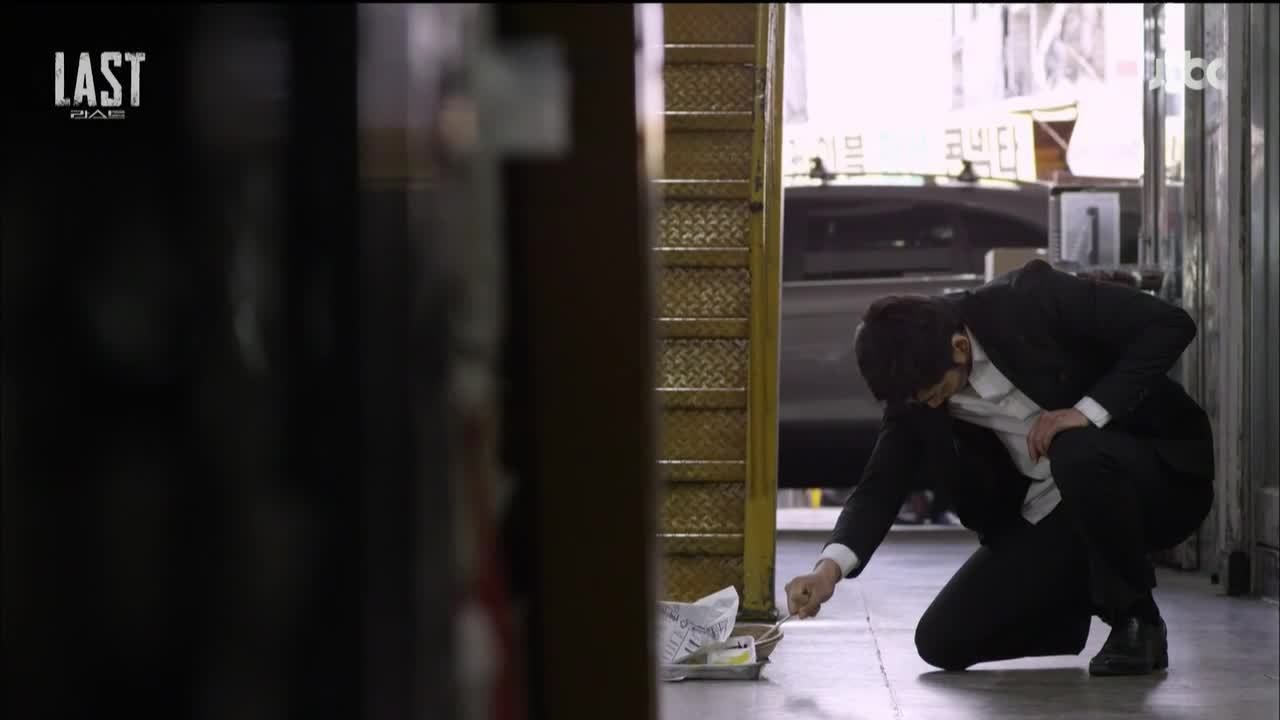 But he has an inner struggle whether to really take it. Just as he falls back, unable, he spots a notice for free lunch given at Seoul Station for the needy, and makes his way there. For the first time, he registers the world of rough sleepers, beggars and vagabonds.
One such fellow mistakes Tae-ho in his suit for someone well-to-do, and offers a manufactured tale designed to draw some charity. A fellow vagrant, CHA HAE-JIN (Gong Hyung-jin) criticizes his poor technique and sets out to show him how it's done, when he notices Tae-ho's condition.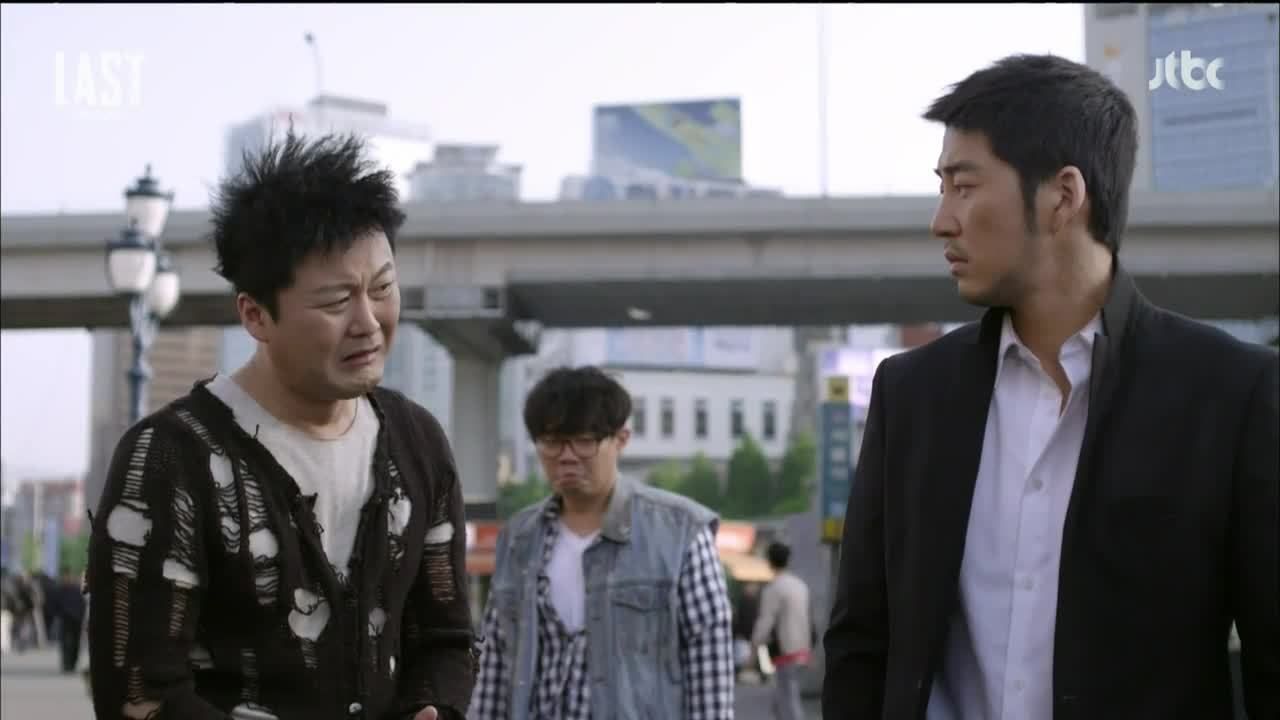 Turning back to the first guy, Hae-jin — an ex-manager — scolds him for missing the obvious fact that Tae-ho doesn't have money. "He's been on the streets for a week," Hae-jin tells his hobo-hoobae. Tae-ho, meanwhile, is bewildered.
A senile grandpa comes by to collect Hae-jin and the other guy (who is an ex-hacker) for their "business lunch" and addresses them with office titles. Hae-jin in turn addresses him as "Chairman" and confirms that Tae-ho's a new intern.
Everyone lines up for food, and Tae-ho gazes hungrily at the full plates, waiting his turn. An aproned woman comes out and scolds Hae-jin for bringing liquor disguised in a water bottle. She pours it out at his feet, ignoring his protests. This is SHIN NARA (Seo Ye-ji), and she's popular with the crowd. She silently notes the new face and Tae-ho drops his eyes first.
The lively mood is broken by the arrival of a gang of thugs who jump the queue. This is too much for starving Tae-ho, and he growls at them to get in line like everyone else. Uh-oh.
They drag him off to an alley and their one-eyed leader scoffs that the noob doesn't know who he's messing with. He leaves his lackeys to soften him up.
Beaten bloody, Tae-ho returns to the soup kitchen in the hope of a meal, but droops when Nara tells him they're all out of food. Taking in his injuries, she recommends he visit a free homeless hospital. "I'm not homeless," he tells her, and limps away.
Hae-jin's band settle in their subway spots, playing cards and passing the time, but shrink upon the arrival of the one-eyed guy's patrol. We see Tae-ho is curled up not far from them, but he keeps his head down when they pass, watching them go.
The senile grandpa ("Chairman") comes over to commiserate about Tae-ho's empty stomach. Handing Tae-ho a page torn from his notebook, the Chairman pats him kindly and tells him to get some food. When the camera pans, we see "100 million won" scrawled on the notepaper. Tae-ho sleeps that night huddled on a piece of old cardboard, his dreams filled with the memories of the last days of his former life.
He goes to the soup kitchen again, longing for a warm bowl of rice while everyone else tucks in. He wishes he could throw away his pride and just beg, but he's certain that there's no way back for him if he crosses that line. Hae-jin notices him leave.
He returns to the subway, still hungry, and the sight of a fallen sausage gnaws at him. Staring at it, he vows to climb up again. As if in answer, his eye catches a 5000 won note just beyond it, and he swoops on it. But no sooner does he have it in his hand, when the one-eyed guy — who is known as SNAKE-EYE — comes along, lackeys in tow.
He demands Tae-ho hand it over, but he argues that since he found it, it's his. Snake-eye sneers that Tae-ho should learn to read the atmosphere. He relieves Tae-ho of the money, explaining for the new boy that everything in Seoul Station belongs to him — even the bird poop. He kicks the sausage towards him in exchange. The homeless eat to survive, after all, he derides, pushing past him.
"Hey," Tae-ho's voice changes dangerously, "That's my money." Quick as a flash, he turns around and socks Snake-eye one in the face, flooring him. From a distance, we see Hae-jin gape with shock, having witnessed the whole thing.
Tae-ho retrieves Snake-eye's wallet, and although it's stuffed full of big notes, he shows the lackeys that he's only taking the single note that was taken from him. He's barely turned away when the lackeys mutiny against their fallen leader, fighting each other to take his wallet.
In a small restaurant, Tae-ho watches a pot bubble on the stove while the owner-grandma chatters on the phone. He tries to get her attention but she snaps that his food's not ready yet. However, moments later, when another man comes in, she serves it to him.
Upset, Tae-ho complains that he was there first, and she argues back that she did him a favor even letting him in, homeless punk though he is. Enter: soup-kitchen girl Nara. It turns out that the owner is her grandmother.
Nara sets his meal front of him with some encouraging words, and I feel like I'm watching a really private moment as Tae-ho nearly cries as he finally gets some food in him.
He's met outside the restaurant by a crowd of Seoul Station's denizens, and they all hail him with formal bows and swear fealty. Snake's former lackey gives an account of their day's earnings and proffers it as tribute. Tae-ho doesn't get what's happening, and the lackey has to explain that he's the new king now, since he felled Snakey.
Tae-ho declines, but Lackey urges him to accept. There's a sudden ruckus as an angry guy attacks Tae-ho for stealing a march on him — he was planning to usurp Snake-eye! He actually challenges Tae-ho to a leadership duel there and then, but is defused by Hae-jin. Instead, the date is set for tomorrow.
Hae-jin introduces himself properly to Tae-ho, and we next rejoin them in a bathhouse. Hae-jin says he has valuable information which could save him, but Tae-ho's not interested. When he mentions him accepting the tribute money, Tae-ho scoffs, "Is 100 thousand won even money?" And yet he hit a guy for a mere five, Hae-jin astutely notes. Touché.
He tells Tae-ho how ten percent of Seoul's beggars move in groups. He calculates that if he collected all their takings in a year, it would equal a staggering 10 billion (tax-free!) won. He gives Tae-ho the downlow on how revenue is generated underground. Aside from begging, the other big ones are identity fraud and organ harvesting.
By now, the men have moved on to the launderette, and Hae-jin waxes enthusiastic about how much money there is to be had if you're high enough the pyramid — Snake-eye was number seven. If Tae-ho knocked the top dogs out, he could potentially claim that 10 billion all for himself, he squees. He also keeps marvelling over Tae-ho's fit body HAHA.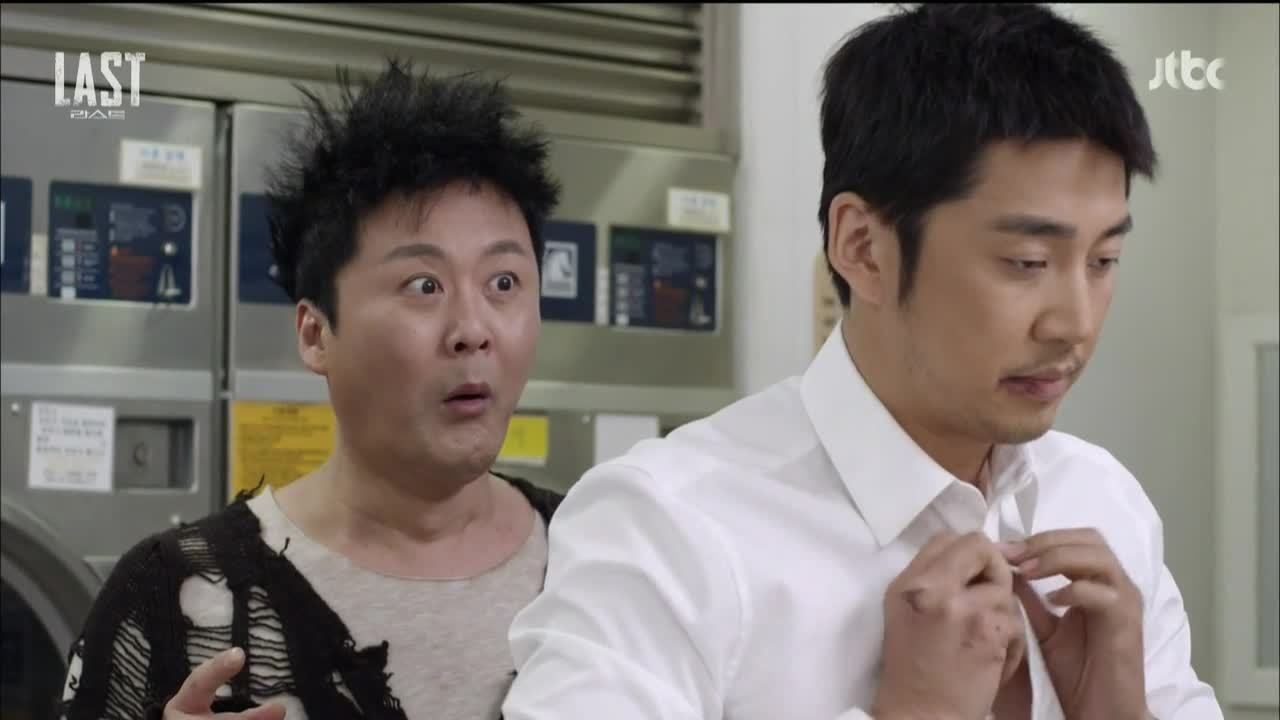 Again, Tae-ho is all thanks-but-no-thanks — he wants to fight his own way. Now bathed and shaven, and suit freshly laundered, Tae-ho looks like his old self again. Hae-jin watches him go. He's joined by the Chairman, who's convinced Tae-ho will be back, since getting up again isn't so easy.
Tae-ho waits for un-fiancée Jung-min at her house again. She almost passes him on her way out but backs up in shock. In reply to his casual greeting, she hits him repeatedly, angry that he didn't call, and because he lied about what he did for a living. She's already heard about his illegal trading activities from the police. He apologizes — it wasn't meant to end up this way. That much she accepts, but she points out that he's got people other than the police on his tail.
Right on cue, loan shark boss President Jang's minions show up and surround them. Tae-ho tries to get Jung-min released but they don't want to leave any witnesses. She steps up and tells the goon to get lost, and also not to lay a finger on Tae-ho either. That's pretty badass.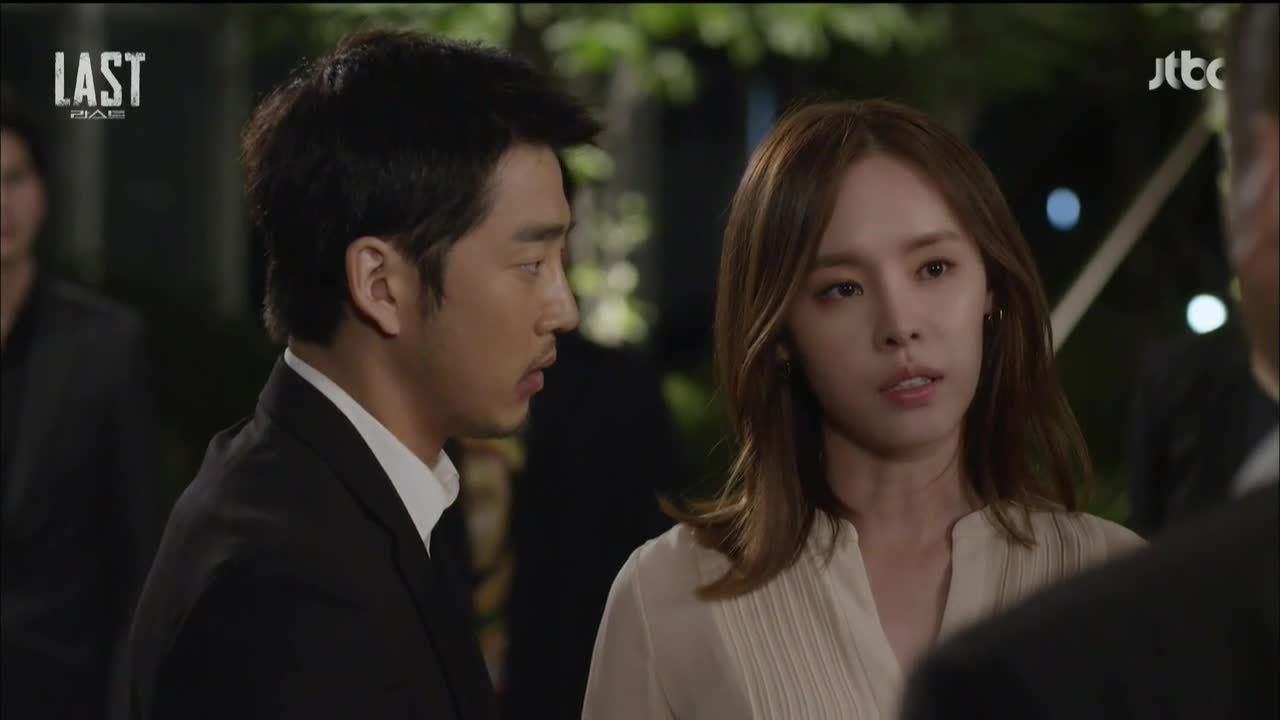 Goon wonders if she's a crazy bitch (but it's hilarious because it's so polite, like, "Excuse me madam, might you be a crazy bitch?") and she slaps him ferociously. A fight breaks out, but almost immediately, another group of men — bodyguards — surround Jung-min and Tae-ho protectively, fast incapacitating the goons. She asks them not to tell her father.
She's the illegitimate daughter of the chairman of a big conglomerate, she reveals to Tae-ho over dinner. She just got herself onto the family registry, but other than that, has no involvement with his family. It's a big thing to hide, and Tae-ho declares that they're now level. He renews his proposal to her, but she tells him to get real — isn't he a penniless outlaw?
Tae-ho insists he's nowhere near finished, but she cuts him off: Is he a gambler who can't quit, or a fanatic certain of his own salvation? "Both," replies Tae-ho. He plans to win back what he lost and gain salvation — and he'll have her, too. But she coolly tells him she has no more use for him. She's already found someone better — in fact, he's on his way now. She scoffs when he mentions love — she was just a trophy that Jang Tae-ho, who never loses, wanted to own. His lip curls, and he promises he will make her his trophy. Oh, that's so romantic!
Tae-ho lays a funerary white chrysanthemum on the dock where he lost Min-soo, and performs memorial rites for his friend. "I'm sorry hyung. I'll repay my debt to you, no matter what," he vows, tears in his eyes. "That's why I have to live just a little bit longer."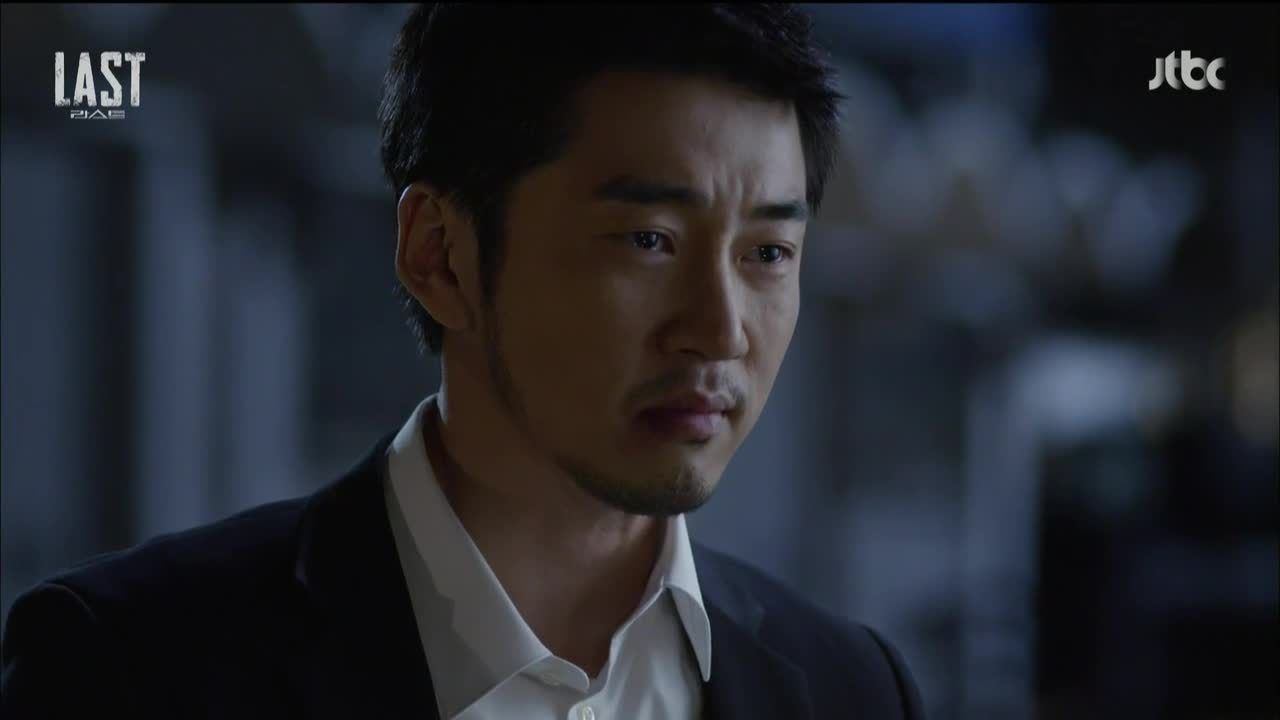 He goes looking for Hae-jin, and asks him how he can become "Number One."
On the rooftop, Hae-jin runs through his enemies — Snake-eye was the easy one, the real fight starts now. He runs through six to three, and reveals that number two is the bearded guy who got served before him at grandma's restaurant, a prize fighter. As he speaks, we see the leaders gather for a meeting called by the biggest adversary of all: Number One, KWAK HEUNG-SAM (Lee Beom-soo), who is, according to Hae-jin, invincible.
Tae-ho looks out into the night. "Kwak Heung-sam…I'll get you," he promises.
COMMENTS
I really like Yoon Kye-sang in these darker roles. Full Sun already showed us how seamless he is in drawing in the nuance and shifting emotional gears, but while Jung Se-ro was essentially a nice guy thrown into bad circumstances, Tae-ho is conflicted and complex right at the get-go, more anti-hero than hero. Importantly, he has a cool head, which means even when everything is falling apart, he's calculating and focused, and this is probably the attribute that will serve him best underground (literally underground)…in the long term. Because interestingly, all his immediate gains so far have come from him losing his head in the heat of the moment, like knocking out Snake-eye.
I laughed my socks off at the chain reaction that set off — the mix of animal dominance, feudalism, and chivalric code. It's a fun thematic symbolism, and there's even a bit of honor-among-thieves thrown in. Who knows if it's deliberate, but it's a fascinating comment on the invisible world he now finds himself part of. Because they live closer to the line, their struggles are driven by the most basic instincts — to survive the next day and find the next meal, which is characteristic both of the animal kingdom and the medieval.
I wondered at first if this would end up being an iteration of the savior narrative — once-rich, smart fund manager goes in and immediately becomes king of the underworld because he's once-rich and smart. But I don't think so anymore for a couple of reasons (and also because there are still fifteen episodes, so it's hardly immediate). At the bottom himself, he has as little access to privilege and resources as any other beggar, and becoming number seven was a fluke. But that fluke is the result of his refusal to kowtow and accept the status quo, and becomes his channel into the pyramid of power. And money. Because the dynamics of this world aren't so different from the world above: Money still rules, as does force. Once Tae-ho recognizes this, it becomes a game that he can win — must win, because Jang Tae-ho never loses — and that may well be his real catalyst.
Nevertheless, Seoul Station is a delicate and volatile ecosystem, as Tae-ho's easy coup proves. With his new goal, he's already speculating on the shortest way to the top, and he's got allies (maybe even lackeys). The group we were introduced to — Hae-jin, the ex-hacker guy and the Chairman — nearly add up to your archetypal five-man band (minus The Chick, I guess — Nara?). And people might just be the crucial element in achieving Tae-ho's ambition, because strength in numbers can outweigh the power and force of the ruling few — but not unless he first wins hearts and minds. It's interesting the way Hae-jin attaches himself to Tae-ho, because it's evident that while he dreams of rebellion (and riches), the quality needed to realistically pull it off is something he doesn't himself possess, but sees in Tae-ho. So his arrival is in turn the catalyst to Hae-jin's ambitions, and without whom they are little more than a beggar's idle pipe dream.
His relationships with people show conflicting sides of his character. He seems most genuine and uncomplicated with Min-soo, and not only because Min-soo is dead (which made me really sad!). But with un-girlfriend Jung-min, there were tense undertones in their exchanges that makes me believe she's right, in that their relationship wasn't really emotion-based. I don't know how much we'll see of her since she's not listed as a major character, but I strangely liked her — she's straight-talking and direct — and wouldn't say no to more interludes like their last. Seo Ye-ji's character Nara, on the other hand, we've yet to really know.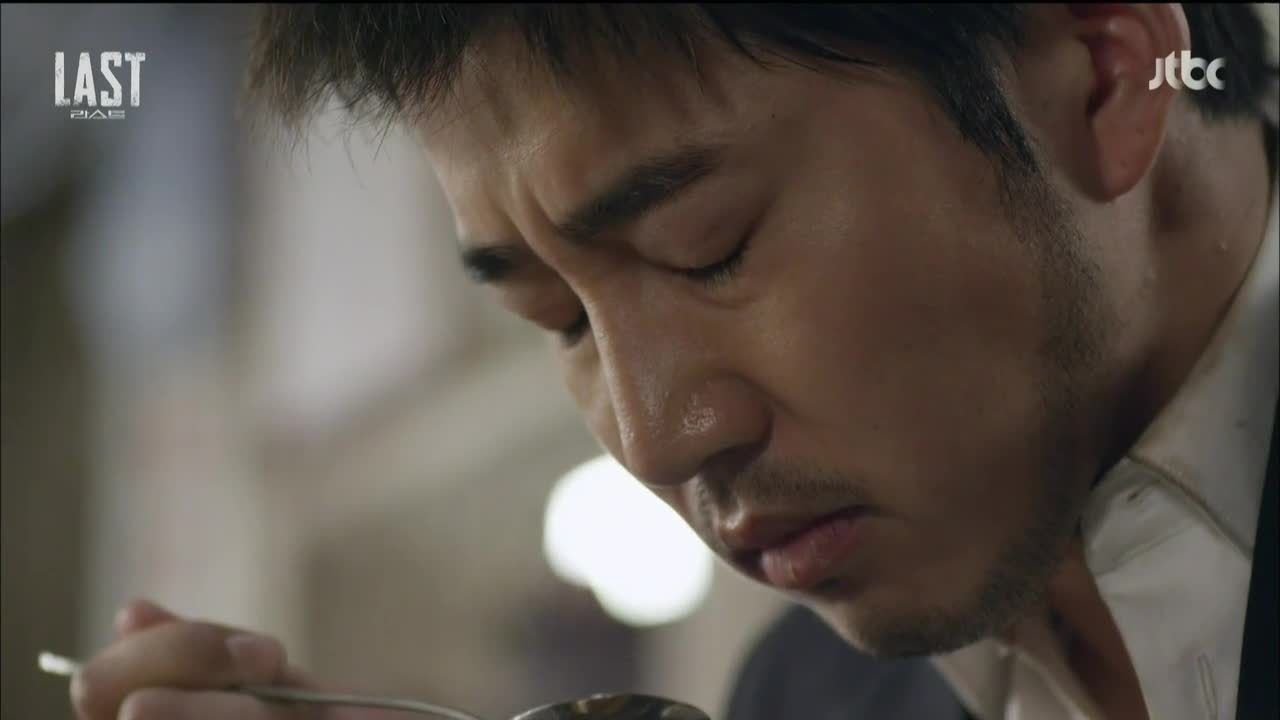 We're given a stark look at the gritty daily reality of having absolutely nothing but your wits and the clothes on your back. It's impressive how doggedly Tae-ho holds onto his last shred of pride, and in the end, that's what separates him from the others — even when he's brought to his knees, he refuses to lower his head. It's a long way he's fallen all at once — like landing on the snake that sends you aaaaallll the way back to the bottom of the grid when you're two squares from winning, in a game of Snakes and Ladders.
We watch the shape of that pride change dramatically as his perception of the underground also changes. From seeing himself as better than them, that world and its denizens become increasingly real and human to him, as the hunger, privation and his own lack of power set in. As Chairman-grandpa observed, he's already become embedded in their world, willingly or unwillingly, although he hasn't yet learned to relate to them. His visible turmoil as pride battled with hunger was powerful and stirring, and the first time he's truly confronted with his profoundly changed circumstances. No time was it more apparent than in Grandma's restaurant, in how emotionally he eats that kimchi jjigae — sorrowfully, painfully, joyously, prayerfully. It's intense and desperate.
I haven't watched the second episode yet, but I'm going to assume it completes the set-up that this episode began, and also give a fuller introduction to the villains and power-players. Until then, I'm here to cheer for slippery Tae-ho who's more tempted by gambles than he likes to admit (did you see that flash of excitement when President Jung gave him that last chance?), and my sneaking suspicion is that he gets a rush just from playing the game. There's also the hint of a mystery surrounding the failed stock plan, which I'm certain we'll hear more about. With all these mixed motives, and big stakes feeding high ambitions, there's every possibility that Last, while striking some deep emotional chords, is also going to be a fun caper!
RELATED POSTS
Tags: featured, first episodes, Last, Lee Beom-soo, Park Ye-jin, Seo Ye-ji, Yoon Kye-sang