Last: Episode 9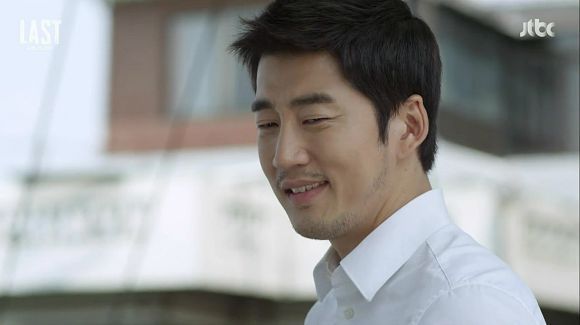 With Straw Cutter out of prison, we get a few more pieces of the puzzle of Heung-sam's past and learn a little more about the Seoul Seven. But that's not necessarily a good thing, as Straw Cutter is known for his fierce loyalty – and he's looking for Sergeant Bae. Heung-sam scrambles to keep Bae's whereabouts (or lack thereof) a secret but it only makes the situation worse, and if he doesn't do something quickly, all hell could break loose.
EPISODE 9 RECAP
Still overwhelmed by the gigantic pile of money Heung-sam showed him, Tae-ho thinks over the choice he was offered — try to get the money the hard way by taking it by force, or go the easy route and join up with Heung-sam. He waits for Nara to get off work at the clinic, since he never got a chance to call her back the night before.
As usual Nara pretends to be unaffected by him, but he adorably asks her to show him a new breakfast restaurant since she forbade him to eat at Granny's anymore. Nara accuses Tae-ho of playing with her, but he says shyly that he had a hard night, and just wanted someone to talk to.
She takes him to Granny's place after all, though she initially declines to eat with him. He's all, "I'm not so ugly you'll lose your appetite," which makes her laugh, so she sits with him.
Ha, just as Nara is telling Tae-ho not to tell Granny he was here, we see that Granny is watching them eat with the biggest grin on her face. She even chases the other guys off as they wake, making sure Tae-ho and Nara have a nice private meal.
Tae-ho tells Nara how he used to be a stock broker, and began manipulating stocks out of greed. He says he used to be quite well-off, but he's not bragging — it's remorse, because he was so arrogant back then.
Nara says he still seems pretty arrogant, and makes him laugh. She says he doesn't need to confess to her, but Tae-ho wanted to be honest with at least one person. Nara seems touched that he chose her, and he explains that she was the first person who cared about him when he became homeless.
Tae-ho sincerely thanks Nara, and she asks him not to get involved in dangerous affairs anymore. He agrees to obey her, if she'll let him eat here again. Cuteness.
Straw Cutter, The Seoul Seven's Number Three, is released from prison early for good behavior. Poison Snake and Crocodile pick him up, and tell him about Snake Eye (the original Number Seven) and that Sergeant Bae is missing. Poison Snake tells Straw Cutter that a lot has changed, but that Heung-sam is the same as ever.
Heung-sam and Praying Mantis prepare for some meetings regarding portioning out President Jung's businesses. Praying Mantis reminds his boss that Straw Cutter will be looking for Sergeant Bae, and Heung-sam laughs that he was always loyal.
Jung-min's half-brother Jae-sung returns home, now that there's an opening at the family company, but he notices her nervous look and says not to worry — they're family. Jung-min asks her father why she was told to stop firing Director Choi's subordinates as planned, and Chairman Yoon says that Jae-sung will be taking care of that.
Jung-min isn't happy, since it means that Se-hoon is no longer in charge, but her father tells her to focus on the Mi Rae City construction project. Jae-sung warns his half-sister not to associate with Se-hoon, because he'll never ascend to the top — just like her mother could never hope to take his mother's place. Ouch.
Se-hoon seems too preoccupied to worry about the change in plans, and asks Jung-min about her ex-boyfriend instead. He says he just doesn't want to make his same mistakes and lose her, and that that concerns him more than the company. He already suspected her brother would be rehired, and says it's hard to distinguish yourself without competitors anyhow.
Ship-jang giggles at Tae-ho in their office, saying that his breakfast with a beautiful woman restored his virility. Awww, Young-chil seems jealous — looks like someone had a little crush on Nara. Hae-jin isn't amused and pulls Tae-ho aside to talk.
But he doesn't want to talk about Nara — Hae-jin wants to know if Tae-ho decided to team up with Heung-sam. He says they had no choice but to go along with the plot to scam President Jung, but this Mi Rae City deal makes him nervous, and it's not right to drag the guys along with him if he's not honest.
Tae-ho doesn't exactly answer, but he says that if things go well, they'll all get a hefty paycheck. Hae-jin asks what happened to his determination to get to the top and become Number One (that's what I'm wondering), saying that he heard he's not even taking boxing lessons from Jong-gu anymore.
Tae-ho says he's simply chosen the easy path — the hard path wasn't working for him. He tells Hae-jin that he's welcome to go back to the streets at any time, but Tae-ho can't do it anymore.
Hae-jin says that's not his point, but he does say that Jong-gu would be disappointed in Tae-ho right now. But Tae-ho refuses to make his own life a disappointment, in order to save Jong-gu disappointment.
Meanwhile Jong-gu visits several gyms in the area, but all of them tell him he's too old to compete anymore. The best advice they can give him is to become an instructor.
Mi-joo isn't happy to see Jong-gu at the club, and reminds him that he stopped drinking and doesn't belong here. He's in a thoughtful mood, wondering what he should do now, and asks her for advice. She refuses, so he settles for asking her to contact the errand center that's helping look for Eun-ji.
Jong-gu turns to go, but Mi-joo stops him and says for him to look for Eun-ji on his own from now on. She's not unkind about it, in fact she seems sad, but she's determined to build a firm wall between them.
Hae-jin tells Tae-ho and the guys about Straw Cutter, and how he apparently killed a homeless man five years ago. He seems calm, but he can flip into a rage at the slightest provokation. The Chairman directs Hae-jin to find out as much about Straw Cutter as possible, since the more Tae-ho knows, the better.
Heung-sam gathers the men to greet Straw Cutter, but he's late so Heung-sam goes to his penthouse in annoyance. Crocodile loudly wonders where Sergeant Bae is these days while Praying Mantis stares holes through his skull, and Tae-ho claims not to know anything.
Mi-joo warns Heung-sam that rumors say he's responsible for Sergeant Bae's disappearance, but Heung-sam says that facts are what's important. Mi-joo wonders if Straw Cutter will agree. Heung-sam tells her to just make sure Jong-gu doesn't become a drug addict again, and she asks in return when he'll tell her where Eun-ji is. Heung-sam just smiles wickedly.
Hae-jin and Young-chil hang around near Straw Cutter and his men that evening, and he really seems like a changed man. He no longer drinks or smokes, and tells the hobos not to commit any sins to be treated like human beings. He asks after Sergeant Bae, but nobody's seen him lately.
Hae-jin introduces himself as an admirer, and asks Straw Cutter to tell them stories about his youth. Good thinking, but Straw Cutter isn't flattered and doesn't want to talk about when he was the terror of Seoul Station, and insists Hae-jin tell them all what was so great about him then.
Hae-jin stammers through an answer that doesn't please Straw Cutter, and he pulls Hae-jin close to say that he knows he's been watching him. Just as things are starting to look dangerous, Praying Mantis arrives to fetch Straw Cutter. Whew.
Heung-sam rewards Tae-ho for his hard work on President Jung's affairs by telling him that one of Jung's men has turned himself in for the murder of Min-soo, Tae-ho's friend. He's even offered to say that President Jung fled overseas. But the bad news is that the cops are still looking for the man who was in charge of the Dae Dong Bio incident, so Tae-ho's not completely off the hook.
On his way out, Tae-ho passes Straw Cutter, who asks if he's the new Number Seven. They exchange tense greetings and go on their way, but Tae-ho is unsettled.
Heung-sam heartily greets Straw Cutter, who says blandly that he was too busy looking for Sergeant Bae to come to his little welcome back party. He wants to talk in private so Heung-sam sends Praying Mantis out — but Praying Mantis only pretends to leave and waits with knife at the ready, unwilling to leave Heung-sam alone with Straw Cutter.
Straw Cutter brings up the rumor that Heung-sam had Sergeant Bae killed, but Heung-sam insists he wasn't involved. Straw Cutter sighs that he didn't think so, because it's loyalty that got them all here, and Heung-sam says he hasn't changed. He's always been loyal to a fault.
Straw Cutter's answer is a simple, "Find Sergeant Bae." And if someone got rid of him, he wants them found too. Heung-sam says that won't be easy the way so many people come and go from Seoul Station, and Straw Cutter brings up the man he killed five years ago.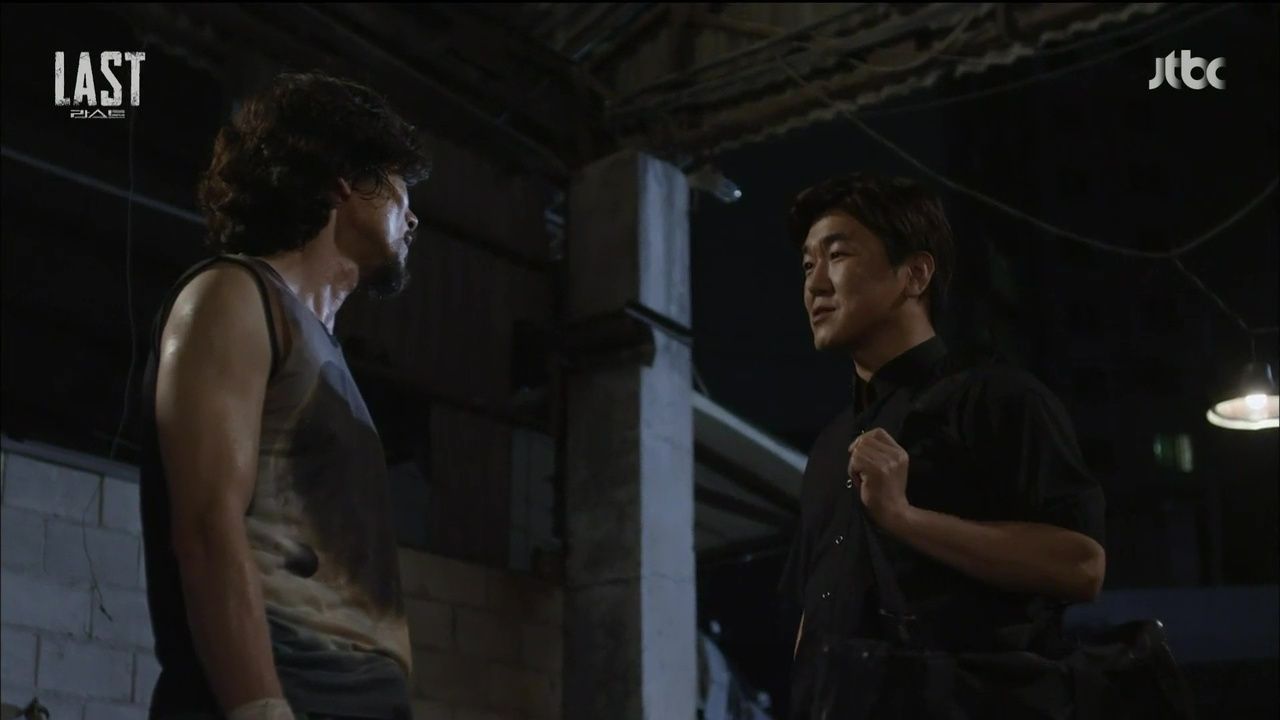 He says he spent five years in jail in Heung-sam's stead, which seems to shake up Heung-sam. Straw Cutter tells him again to find Sergeant Bae, "… or you're not worthy of being Number One." Heung-sam tells him cheerfully to stop whining like a little bitch and act like a man. Damn.
Jong-gu works on his boxing skills, but he's still healing from the fight at the penthouse and one of his wounds starts to bleed. Straw Cutter comes to ask if he can stay a few days, complaining that he can't ask Heung-sam because he's been corrupted by money.
Apparently these two had an agreement to duel for the Number Two spot, but Straw Cutter asks for time to handle the Sergeant Bae situation first. Jong-gu says he can have the Number Two position if he wants it, but Straw Cutter wants to follow the rules.
Jong-gu remembers an incident when he and Straw Cutter had found Heung-sam standing over a dead man, baseball bat in hand. Heung-sam had told them not to try to discover who the man was or why he killed him. Hearing sirens, Straw Cutter quickly wipes Heung-sam's prints off the bat and covers it with his own.
Heung-sam tries to stop him, but Straw Cutter argues that it's more important that their Number One stays free. His last words to Heung-sam and Jong-gu are that as hobos, all they have is their loyalty to each other.
Back in the present, Praying Mantis reports that Crocodile and Poison Snake have been looking for Sergeant Bae. He offers to tell Straw Cutter the truth, but Heung-sam says that he'll just kill Praying Mantis. Then he'll kill Tae-ho, then Heung-sam himself. So Praying Mantis offers to "take care of" Straw Cutter instead, but Heung-sam warns him away — Straw Cutter went to prison for a murder Heung-sam committed.
Jong-gu has Nara patch him up, and she fusses at him for not taking care of himself. Tae-ho bounces in all smiles, but things get awkward with Jong-gu is there. Nara asks if they fought, but they deny it.
Tae-ho is adorably embarrassed when Nara tells Jong-gu they're going on a date, but Jong-gu just warns him about Straw Cutter. Tae-ho says he had nothing to do with Sergeant Bae's disappearance, which reassures Jong-gu, and he tells Tae-ho not to get involved.
Poison Snake is furious at Crocodile, having figured out that he said something to Sergeant Bae that made him try to kill Tae-ho. Crocodile whines that all he said was they should teach Tae-ho a lesson, and Poison Snake deduces that Sergeant Bae isn't missing — he's dead, by Praying Mantis' hand on orders from Heung-sam.
Crocodile wants revenge, arguing that by giving a newbie so much favor, Heung-sam brought it on himself. He proposes that they make sure Straw Cutter hears that Tae-ho was responsible for Sergeant Bae's death. Tae-ho would be dead that very day.
Aww, Tae-ho is grumpy when Nara's idea of a date turns out to be delivering meals, but she says this is just as fun as dinner or a movie, and cheaper. Tae-ho complains that she only agreed to a date in order to rope him into helping her.
At least she made extra meals for them to share, and Nara yammers about her old neighborhood while they eat. Tae-ho asks if all her work and volunteering isn't tiring, saying that it's okay to admit it. Nara says that things like shopping and clubbing probably aren't fun anyway, and Tae-ho references Aesop's fable about the fox and calls that sour grapes.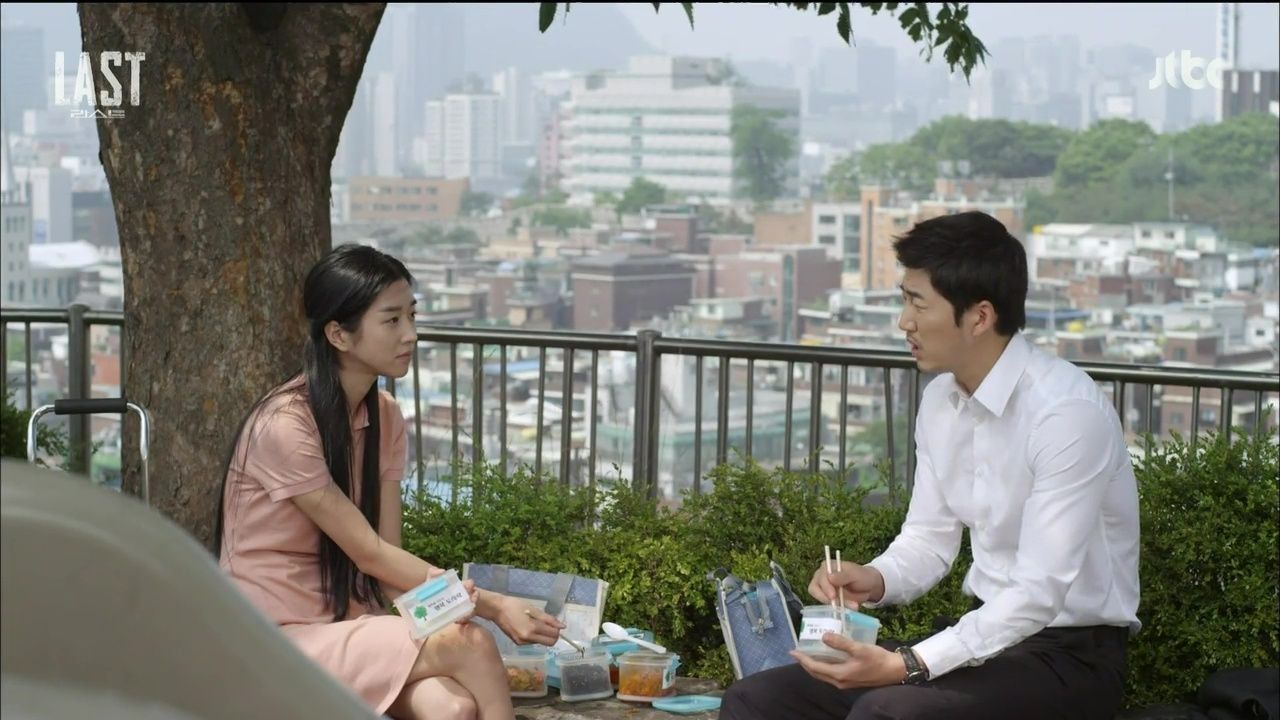 A bit annoyed, Nara asks if that's why Tae-ho is working so hard to get back to that life and those "fun" things. Looking chastened, Tae-ho simply says, "I… will become a villian." He plans to become rich and powerful, so nobody can touch him.
He says he'll help Nara so that she can do whatever she wants. Rather than answer, she packs up lunch and takes him to her little flowerbed, and says that this is really where she's from.
In flashback we see a woman lying in the snow in that exact spot, and Granny comes by in time to hear a baby crying in the woman's arms. The woman was already dead, but Nara survived, and was raised by Granny. So Nara means it literally when she says she's from this very flowerbed.
Moved, Tae-ho says they have something in common, because he also came to live at Seoul Station after cheating death. Nara just says that everyone wants to be happy, so if money and power will make him happy, then that's what he should do. But she's a nosy fox, and she's not interested in grapes, sour or not. She wants to be happy with other people.
Tae-ho admits that he doesn't fully understand Nara because he's always been a selfish person. But for some reason, he wants to protect her desire to help others, and he asks for her help understanding.
Se-hoon worries Heung-sam by calling him to meet, but he's mostly just feeling sentimental and misses his hyung. He updates Heung-sam that Chairman Yoon has given his son a job and some of former Director Choi's responsibility, though he doesn't seem too worried.
Heung-sam asks if he still has the daughter on his side, and Se-hoon assures him that he's her only ally now. He tells Heung-sam to make sure Tae-ho is well-prepared for whatever they have planned, and Heung-sam says he's the kind of guy who thinks ahead — he'll be fine.
Se-hoon laughs that he's starting to get jealous, and curious about Tae-ho. He catches on that something is off with Heung-sam, who just says that it cost him a lot of time and money to get his brother the identity of Kang Se-hoon. All he has to do in return is live a good life, and let Hyung worry about the dirty things.
Jong-gu waits for Mi-joo after work, but she ignores him and drives home without a word. Tae-ho sits in his office and starts to call Nara, but loses his nerve each time. He gets a text from Se-hoon asking to meet him the following afternoon to go over paperwork.
In the morning, a pair of hobos (on orders from Crocodile) tell Straw Cutter that Sergeant Bae told them he was going to duel Tae-ho, then disappeared. Straw Cutter shows up at the office space where all the other guys are, knocks Ship-jang unconscious, and demands to know where Tae-ho is.
He's meeting with Se-hoon, and ignores his phone when they try to call him. Tae-ho suggests they set up a dummy company for their plan (I'm still unclear on the details, other than that they think it's a bad idea for the New Seoul Hope Society, Heung-sam's current front, to be involved).
Se-hoon catches Tae-ho's expression and asks if he doesn't like him, but Tae-ho says it seems to be the other way around. Jung-min enters and Se-hoon introduces her, saying that Tae-ho will be meeting with her in the future, and clocks their uncomfortable reactions.
Tae-ho gets another call on his way out, and this time it's Heung-sam with a warning that Straw Cutter is looking for him. He tells Tae-ho to come straight to the penthouse and he'll fill him in.
But Jung-min catches Tae-ho in the lobby, and she is livid. She thought he was in New York getting a fresh start. Tae-ho says coldly that he doesn't need her permission to change his plans, and that he knows Se-hoon is her boyfriend. He suggests they pretend not to know each other, and just focus on the project.
When Heung-sam gets to the penthouse, Straw Cutter is already there waiting. Craaaaap. He breaks Heung-sam's precious vinyl record, and asks where Tae-ho is now. Heung-sam looks furious but he keeps himself under control, and tells Straw Cutter that he's welcome to take care of Tae-ho — but not yet.
Straw Cutter is aghast that Heung-sam considers business more important than loyalty, but Heung-sam tells him not to believe the rumors about Tae-ho getting rid of Sergeant Bae. Straw Cutter just says that he was curious all the while he was serving Heung-sam's sentence — who was that man he killed?
The police couldn't identify him, so why would the Seoul Station's Number One beat him to death? Straw Cutter says that one of his cellmates had a friend visiting Korea who'd said he'd be coming into a lot of money soon, and mentioned Seoul Station's Number One… then disappeared.
Straw Cutter had asked what he did for a living, and it turns out he sold the identities of Korean children who were adopted overseas. Straw Cutter had figured out that the man and Heung-sam must have done business once, and he'd tried to blackmail Heung-sam.
Heung-sam pretends ignorance, but Straw Cutter threatens to go to the police with this information if he doesn't give him Tae-ho. If he does, this will go to the grave with him. Heung-sam shoots Praying Mantis a glance, who palms his shiny knife.
But Straw Cutter mentions that he wrote all this down in case he needed life insurance, and asks Heung-sam one last time what he'll do — will he give him Tae-ho? And Tae-ho, with his usual impeccable timing, chooses that moment to walk into the room. Awkward.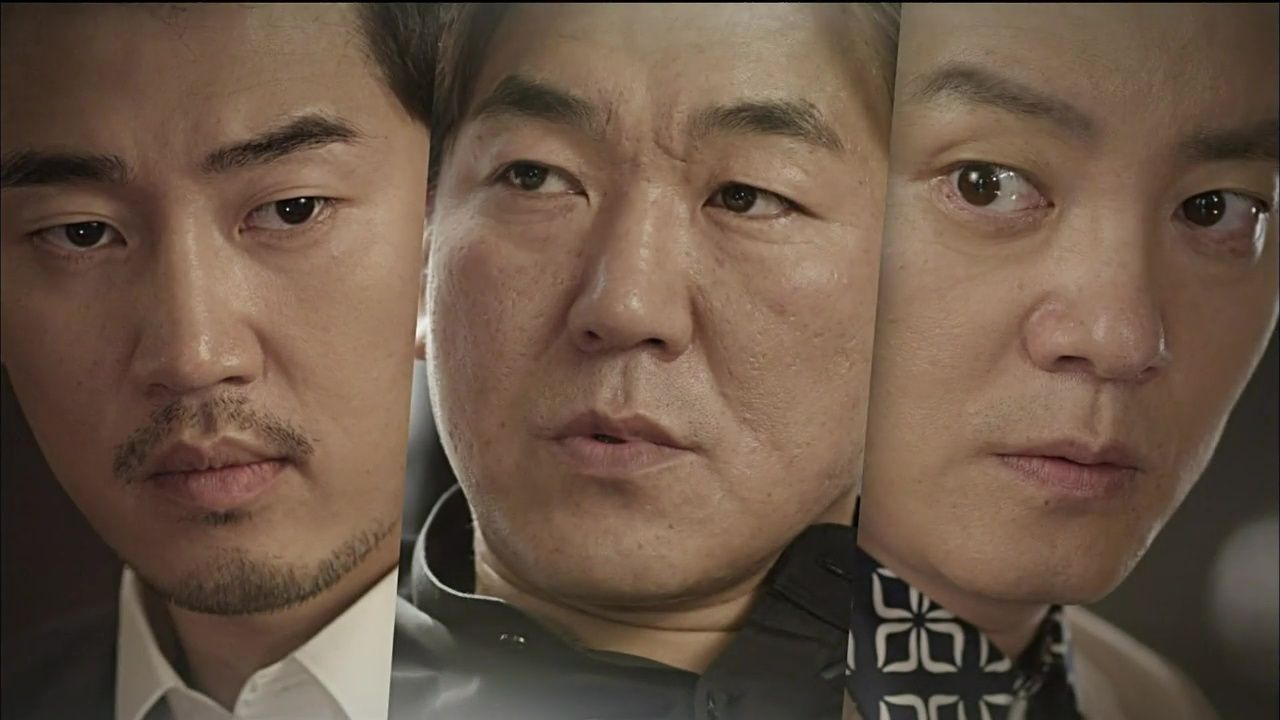 COMMENTS
Apropos of nothing, can I just say how much I love Praying Mantis? I don't even know why, but something about him is so endearing. Maybe it's his fiercely-adorable-yet-frightening devotion to Heung-sam, and the way he seems so unemotional on the surface, while you can just feel that underneath, he's probably the most emotional of anyone in this show. He's somehow lovable in a really dark and dangerous way, and I'm dying to know why he's so committed to Heung-sam. I'm guessing his life was saved by Heung-sam at one point, so that now he would literally do anything for the man. I can't wait to find out his story.
Tae-ho is starting to make me super nervous — while I believe him when he tells Nara that he regrets his greed and bad decision-making in the past, he's still susceptible to the lure of money. He even flat-out admits that he plans to become a villain and prioritize money and power. And he's still willing to get his friends involved, even after getting Min-soo killed over the Dae Dong Bio incident. Even giving him a huge benefit of the doubt that maybe he's got something up his sleeve again and really does have the boys' back, and even with Hae-jin starting to become concerned and warning him no to take advantage of their trust, he's not being forthright with them and it makes me very concerned. I want Tae-ho to get the better of all these horrible Seoul Seven scum (minus Jong-gu, of course), but more than that, I want him to become a better person. If he doesn't learn from his mistakes and gets one of his friends hurt, or god forbid even killed, I'll never forgive him.
I do like that Tae-ho and Nara are becoming closer, because I think she's going to be the key to keeping him from going down the dark path for good. I think that at some point he'll have to choose which he wants more — money and power, or her love. It won't be an easy choice for him, because he's always gone for money and power in the past, and love has never seemed important to him. He didn't even really care for Jung-min beyond feeling that he owned her. I believe that he already has more feelings for Nara than he ever did for Jung-min, but it's going to take some time for him to realize it. But Nara is starting things off right by taking him on a "date" where they help others, showing him that being of service to others is more important than money or prestige. And I appreciate that she teaches by example instead of preaching at him. I just hope he learns the lesson before it's too late and someone dies because of him.
As much as I want to like Heung-sam because he's so charismatic, and there's a lot about him to make him a sympathetic character, we're starting to see how very dangerous he can be to those around him. Not necessarily in a direct way, but because now we know of two separate incidents in which someone else took the blame for Heung-sam's actions. Last week we were told that Jong-gu took the fall when Heung-sam started the fire that burned Mi-joo, and that Jong-gu lost his daughter while he was in jail. Now we find out that Straw Cutter pretended to have killed a man to save Heung-sam from going to prison. It makes me worried when Heung-sam tells Se-hoon that he's sacrificed everything to give him a good life, and I'm pretty concerned about what that means. I think we've barely scratched the surface of Heung-sam's secrets.
I'm curious to know what it is about Heung-sam (is it more than that charisma?) that makes men willing to ruin their lives for him. We've been told by Straw Cutter, who's seeing him for the first time in years, that he's different than he used to be. It's certainly obvious that he's much more power-mad and controlling now than in the flashbacks we've seen. I wonder if he would be willing to put his life in danger for another person now, like he did back when he started that fire — something tells me he wouldn't. He's such a confusing man, and I'm having difficulty with the concept that a man who would risk his life for a woman, is the same man who would also let multiple people go to jail for him. But that mystery is part of what makes him such a great character, because it's much more fun to have a villain we love to hate and hate to love, than one that's just flatly evil with no shades of grey.
RELATED POSTS
Tags: featured, Last, Lee Beom-soo, Yoon Kye-sang